Axios Generate
March 22, 2023
🐪Halfway there! Today's newsletter has a Smart Brevity count of 1,200 words, 4.5 minutes.
⏰The countdown begins: Axios' second annual What's Next Summit is next Wednesday on March 29 in Washington, D.C.!
You'll hear from music producer Timbaland, United Airlines CEO Scott Kirby and more on the trends and innovations shaping our future. Register for the livestream
🎶Happy birthday to the legendary guitarist and songwriter George Benson, whose brilliance animates today's intro tune ...
1 big thing: The one IPCC graphic you need to see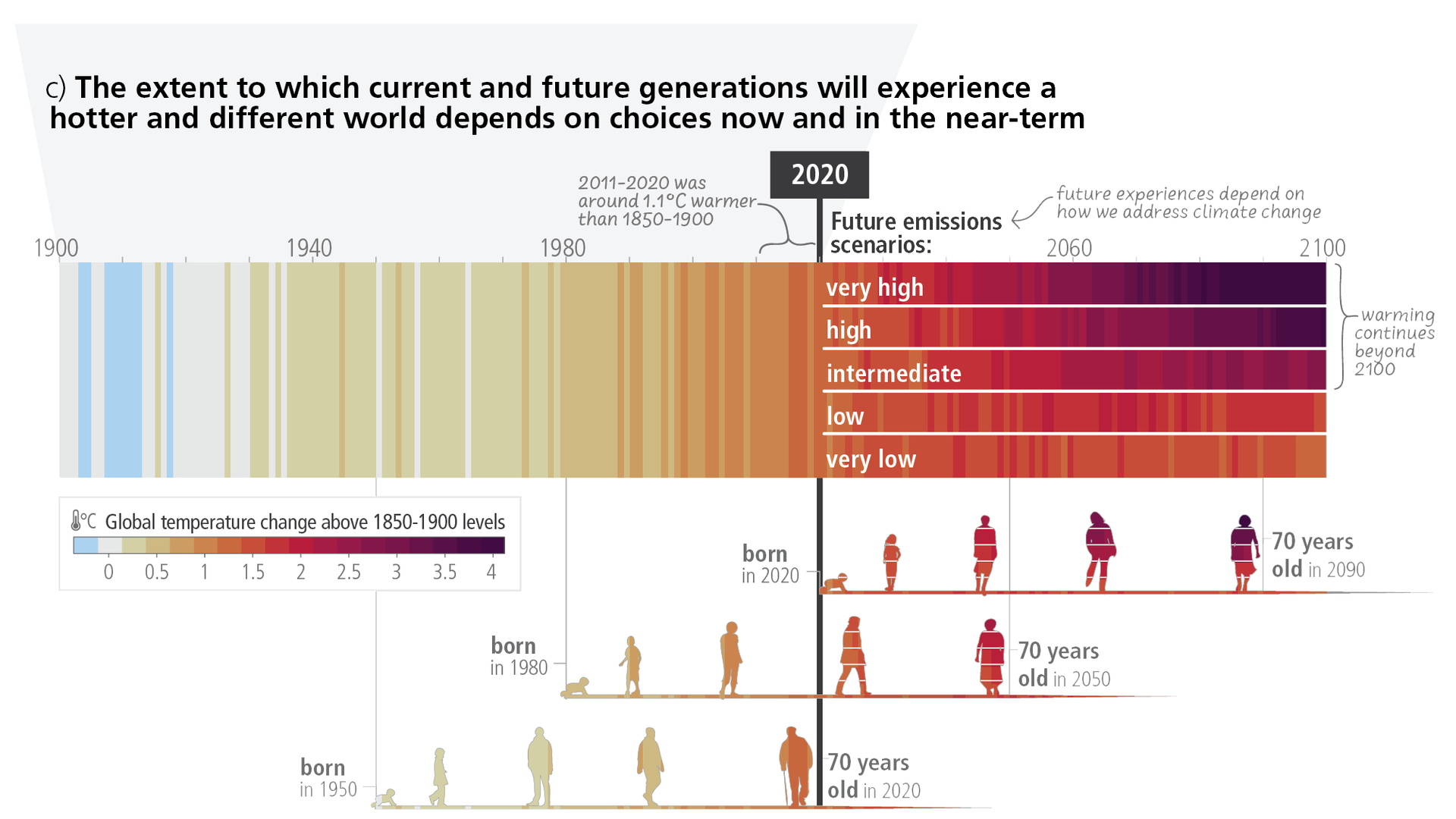 A groundbreaking new graphic from the UN climate panel conveys the most important scientific findings about climate change, Andrew writes.
Why it matters: From the annals of the UN's Intergovernmental Panel on Climate Change (IPCC) sixth assessment report comes a unique global warming data visualization.
It illustrates how future warming depends on various emissions scenarios, and shows how climate change already affects — and is poised to alter — the lives of generations born in 1950, 1980 and 2020.
It underscores the responsibility people currently have to alter course on greenhouse gas emissions in the decades ahead.
Zoom in: The IPCC report, released Monday, contains stark findings, including that the world is way off track in limiting the severity of global warming; but there's still time to rein in emissions from fossil fuels, land use change and other sources.
For the 1950s group, much of the climate change they have experienced has occurred since the 1970s, when the fingerprints of greenhouse gases became more pronounced.
Those born in 1980 have already seen large and rapid shifts in climate and will be 70-years-old during the middle of the century, which is the timeframe for when nations' emissions are supposed to hit net zero.
People born in 2020, however, could see a world that warms dramatically more than it has so far, if emissions remain high.
Color bands on future icons delineate different future climate experiences.
The intrigue: Alex Ruane, part of the IPCC report's core writing team and a NASA climate researcher, tells Axios the generational icons show three groups of people, rather than only the oldest and youngest.
It's meant to depict how climate conversations are taking place today between grandparents, parents and children.
"Those conversations really are happening about the current state of the world and the future state of the world that we're leaving for our children and grandchildren," Ruane said in an interview.
The youngest generation faces potentially sweeping climate shifts by the end of the century.
"It's not just that it's getting warmer, but if you look at that furthest future generation, the difference between the upper body and the lower body is really the difference in the choices that we're making," Ruane said.
There is "a massive difference" of 2.5°C (4.5°F) between the upper and lower set of temperature projections by the time the younger generation has reached age 70 in 2090, he added.
This is more than twice as large of a difference as the entire warming the world has faced since the preindustrial era, which is about 1.2°C (2.16°F).
What they're saying: "All of this disruption that we've seen in our experience is only half of the disruption that is dependent on our choices," Ruane said.
He noted this leaves out the risks that more warming could trigger climate tipping points, bringing even more dramatic shifts.
What a deluged California means for farmworkers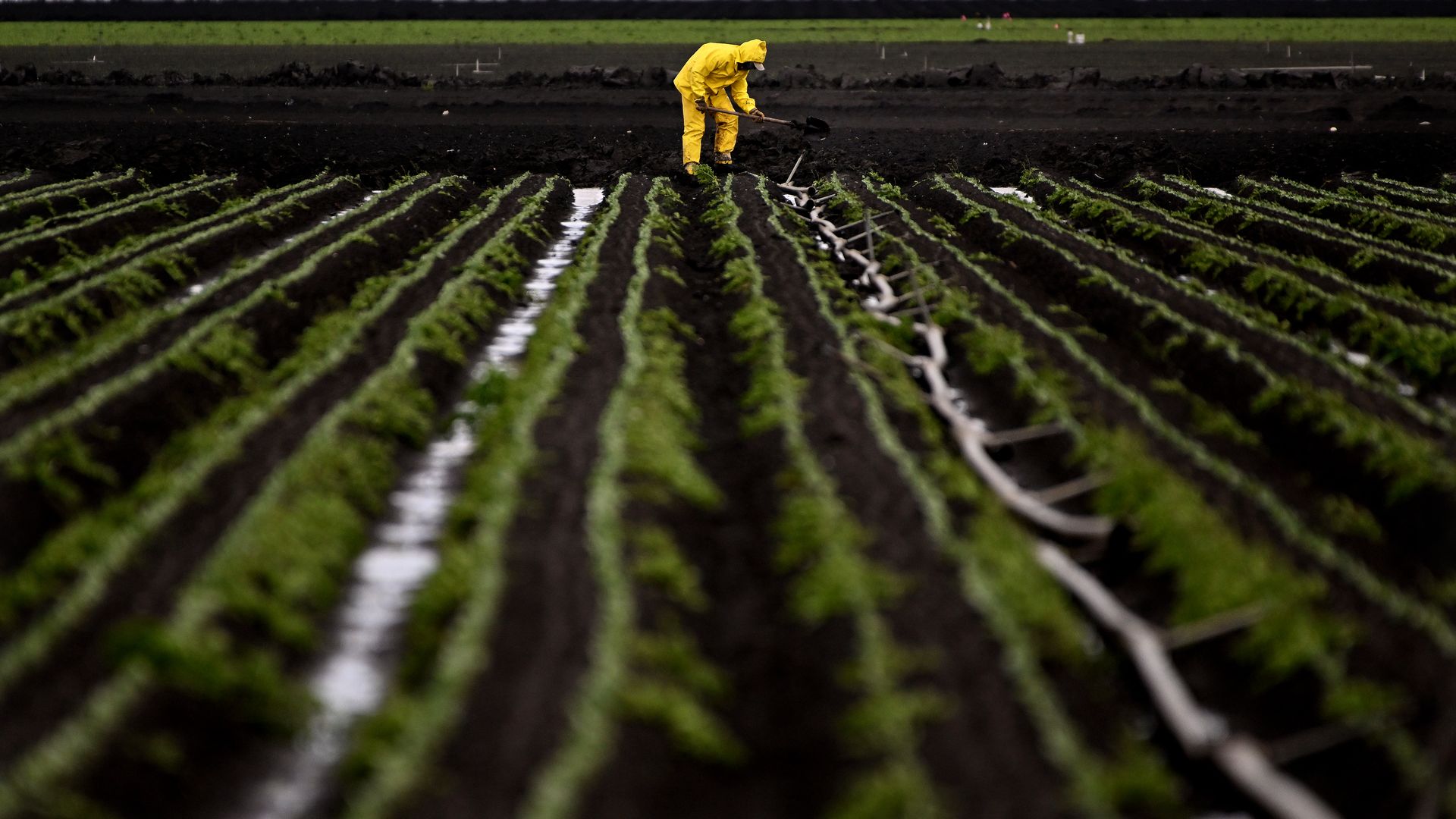 As the latest storm associated with a strong atmospheric river sweeps through parts of California, already strained farmworkers across the state are bracing for yet another setback, Axios' Ayurella Horn-Muller reports.
The big picture: The rounds of atmospheric river events have decimated crops and reduced work opportunities for many farmworkers, who lack access to social safety nets.
What they're saying: Hernan Hernandez, executive director of the nonprofit California Farmworker Foundation, tells Axios that lasting structural damages from the rounds of storms are compounding with the loss of work for farmworkers, particularly in Monterey, Santa Cruz, Santa Barbara and Ventura counties.
"Our concern is that we had a storm three, four weeks ago, right? It was bad, but it was nowhere near what we're seeing today," says Hernandez.
For many farmworkers, Hernandez says, "whole [crop] seasons are gone" and homes are "literally uninhabitable."
Threat level: Prior to the onslaught of flooding, prolonged drought has been "taking a toll" on the agricultural sector, "reducing water availability and increasing crop water demands," per a 2022 Public Policy Institute of California brief.
Daniel Giménez, a Rutgers University professor of environmental science, tells Axios that as climate change events alter the water cycle, this alters soil health and consequently food production.
TotalEnergies' window into the majors' thinking
TotalEnergies' 2023 capital investment in "low-carbon" sources will outpace spending on new oil and gas projects for the first time, the company said, Ben writes.
🗞️Driving the news: A strategy document and presentation yesterday found the oil and gas giant touting increased investments in areas like renewables, hydrogen and carbon capture.
TotalEnergies defended investments to maintain oil production and grow its gas business — even as it announced new emissions targets.
Why it matters: Strategies vary, but TotalEnergies' presentation underscores how majors have coalesced around a basic message: Robust global oil and gas demand means investment is needed, even as they diversify.
The other side: Via Reuters, Mark van Baal of the shareholder activist group Follow This said TotalEnergies is "determined to hang on to their fossil business model as long as possible. Only shareholders can change their mind."
The big picture: TotalEnergies' planned capital spending is $16-$18 billion this year, with new oil and gas projects at around $4.5 billion while low-carbon is around $5 billion.
The company said new oil investments are needed to compensate for natural decline from their existing fields and meet demand.
Between now and 2030, it sees capex split roughly into thirds: low-carbon projects; new oil and gas projects; maintenance of the current fossil portfolio.
Battery materials cost breather
No wonder automakers are cutting electric vehicle prices, Axios' Nathan Bomey reports.
State of play: Lithium prices are suddenly plunging after spiking in 2022. Cobalt and copper prices, also critical to current EV batteries, have also declined, making it easier for companies like Tesla to slash prices.
The intrigue: "The sharp moves have confounded many analysts who predicted that prices would stay high, or even climb," the New York Times reports. "Instead, the drop in commodity prices has made it easier for carmakers to cut prices for electric vehicles."
The big question: Whether supply can keep up with demand as more automakers and consumers transition away from gas vehicles.
Charted: Reaching Paris likely means lots of CO2 removal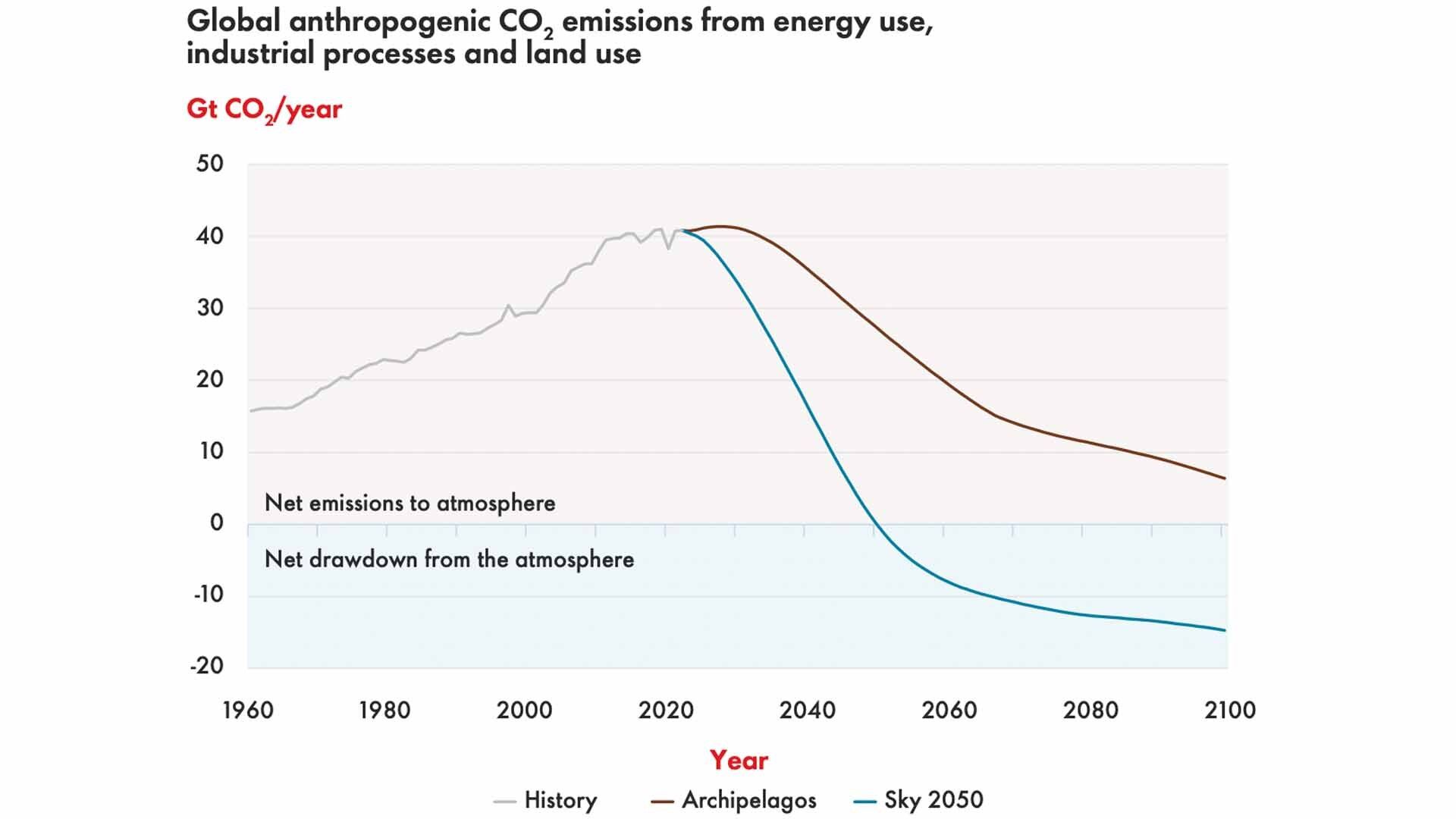 Meeting the Paris Agreement's target of limiting warming to 1.5°C above preindustrial levels will require pulling lots of CO2 from the atmosphere, Shell analysts conclude, Ben writes.
🖼️The big picture: Check out the dark blue "Sky" line above. It's their name for a 1.5°C pathway. That large "net drawdown" is needed even with an aggressive move to cleaner energy.
What they found: Shell sees "no realistic path to an instant and steep drop in emissions," a summary notes.
"Overshoot" of 1.5°C target is inevitable — and that means sucking CO2 from the atmosphere via steps like bioenergy with carbon capture becomes key to cooling things back down.
🏃🏽‍♀️Catch up fast: It joins analysis this week from UN-convened scientists on the fast-closing 1.5°C window. They conclude various carbon removal methods likely will be necessary.
One big question: Whether removal can reach the scale the analysis envisions.
🧮 Number of the day: 34%
That's the share of Americans who would consider an electric vehicle for the next model they buy, per a new Reuters/Ipsos poll, Ben writes.
Quick take: Predicting actual purchase decisions is super dicey, but it's nonetheless a data point that shows growing demand for EVs.
📬 Did a friend send you this newsletter? Welcome, please sign up.
🙏 Thanks to Lisa Hornung and Javier E. David for edits to today's edition.