Axios Generate
September 22, 2020
Good morning. Today's Smart Brevity count: 1,233 words, < 5 minutes.
🚨 ICYMI: "General Electric Co. plans to stop supplying equipment to new coal-fired power plants, exiting a market that relies on the dirtiest fossil fuel to focus on gas turbines and renewable energy equipment." (Bloomberg)
🎵 And let's wish happy birthday to Nick Cave, whose complicated passions animate today's intro tune...
1 big thing: Making sense of new corporate pledges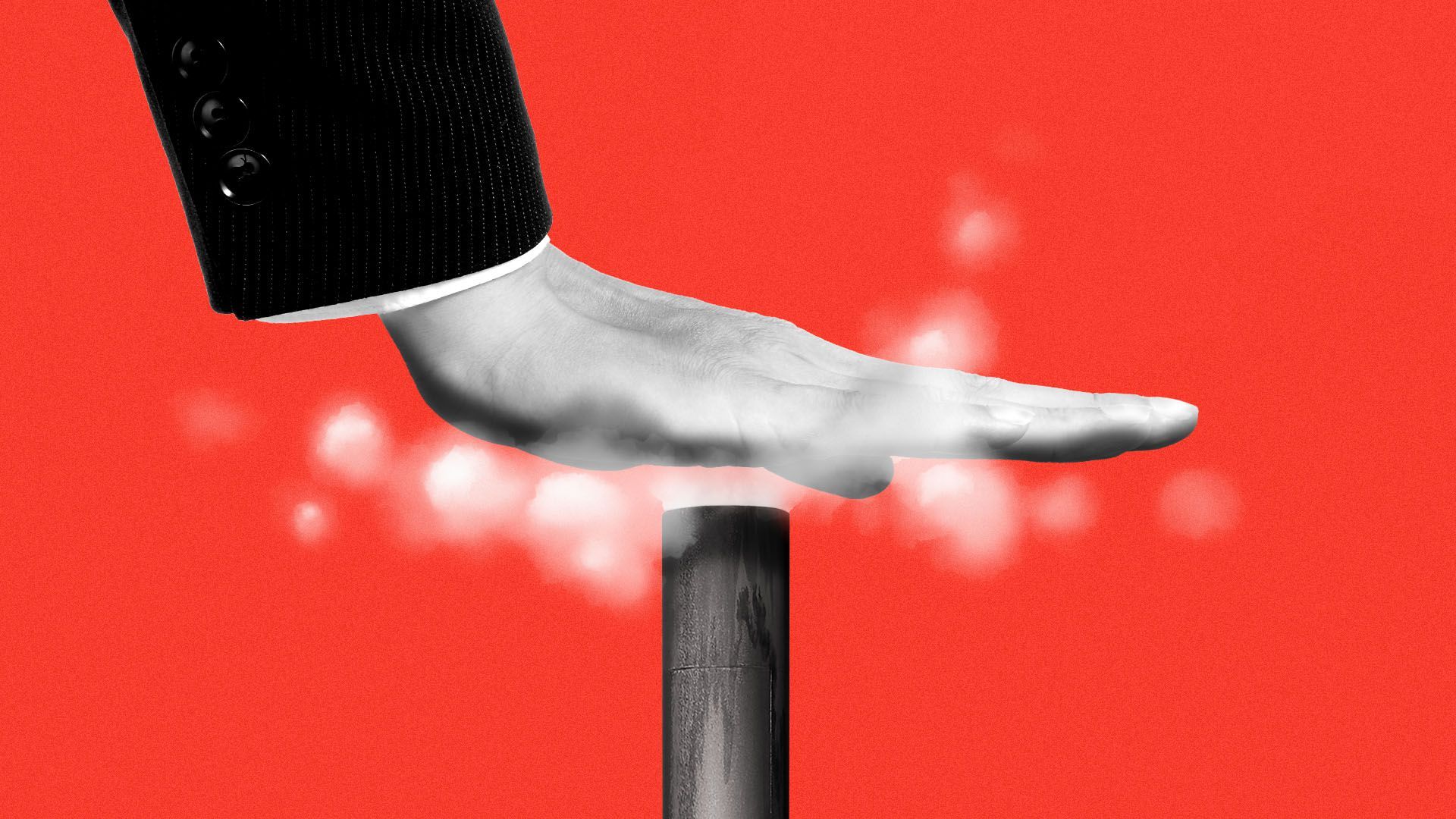 Giant corporations that make sustainability pledges have long faced justified skepticism over greenwashing, but several recent moves look somewhat more "green" and less "washy."
Driving the news: We're in the midst of a burst of new pledges by big multinationals, some of them around the annual "climate week" gathering of policymakers, companies and advocates.
Catch up fast: The many moves yesterday and in recent days and weeks include...
Why it matters: Climate pledges are getting less airy and, if carried out, would see companies accomplishing more tangible actions.
For instance, BP's long-term plan to diversify away from its dominant fossil fuel business will steeply cut its oil production over the next 10 years.
On the energy user side, consider that Walmart is vowing to reach its goal without buying offsets.
And this Vox piece looks deeply at Microsoft's recent moves.
What they're saying: "Lots of people were right to criticize early efforts as more marketing than material, but I think we have reached an inflection point and corporate climate commitments will get more ambitious and robust," says Joseph Majkut, director of climate policy at the think tank Niskanen Center.
He sees several forces at play, including...
Corporations understanding that "young, dynamic, and intelligent job candidates want to work for a company that is leading on climate."
The "economics and risk management" side of things. "For a lot of companies, clean energy is the cheaper and more resilient option," he says, while others are "getting ready for a transition they expect will only accelerate."
The intrigue: Corporate ethics expert Alison Taylor said companies are being pushed to address ongoing "contradictions" in their climate plans, such as how banks have renewable energy funds and oil industry clients.
"I think there is a ton of pressure to join these dots and address these contradictions, both because shareholder activism is increasingly focused on political spending, and also because employee activists often have enough passion and access to highlight these gaps," adds Taylor, who's with NYU's Stern School of Business.
"Both these trends push for more ambition and more disclosure on reputational grounds," she says.
Yes, but: "I don't think these issues are being addressed adequately, to date," Taylor tells me.
But she also sees some interesting developments occurring amid escalating pressure.
Taylor points to how several European oil giants have pulled out of some lobbying groups over their climate stances, and notes that "pressure on Amazon with regard to oil and gas clients is not going away."
Bonus content: Walmart's pledge
Carnegie Mellon University energy and climate expert Costa Samaras says Walmart's pledge to meet their goal without using offsets — that is, helping fund forest or clean energy projects elsewhere — is noteworthy.
The big picture: "[D]ecarbonizing the electricity used in their 11,500 stores and all of the vehicles in their fleets are visible actions that change the dynamic and hopefully encourage their competitors to do the same," he says.
2. Poll: Dem voters care about global warming
A plurality of Democratic voters list climate change as the topic most important to them, new polling shows.
Driving the news: The chart above shows the results of an NPR/PBS NewsHour/Marist survey conducted in mid-September.
Why it matters: It's the latest sign of the topic taking on greater political importance for Democratic voters.
"Before the 2018 election, health care was the clear top issue for Democrats, followed by climate change and immigration," NPR notes in its coverage.
Other polls have also shown that climate change is a higher priority for Democratic voters in this election cycle.
Go deeper: The new politics of global warming
3. Nikola is down but not out
Nikola Corp., a high-flying electric truck startup until just days ago, has come back down to earth but somehow hasn't crashed — at least not yet.
Driving the news: Founder and executive chairman Trevor Milton quit Monday amid reported federal probes of allegations that he lied about Nikola's tech and progress.
Why it matters: The tumult sent the stock price tumbling, and revealed the jeopardy facing the startup with almost zero revenue or commercial production but a big dollar market value largely based on expectations.
The intrigue: So far, Nikola's big corporate partners are standing by them. GM said its deal with Nikola — which includes an 11% stake, building its Badger pickup and supplying tech for its semitrucks — is intact.
And remember GM has some connections to Nikola. Steve Girsky, a former GM exec who is on Nikola's board, has stepped into Milton's shoes in the top slot.
What they're saying: "We will work with Nikola to close the transaction we announced nearly two weeks ago to seize the growth opportunities in broader markets with our hydrotec fuel cell and ultium battery systems, and to engineer and build the Nikola Badger," GM said.
The waste company Republic Services, which has ordered 2,500 electric garbage trucks from Nikola, said it will "continue to work with Nikola and our other suppliers to develop electric recycling and waste collection vehicles."
Anheuser-Busch, which announced an order for hundreds of big trucks in 2018, has not publicly backed away. They did not respond to an inquiry Monday.
4. Sen. Tillis: Trump expands drilling ban to N.C.
North Carolina GOP Sen. Thom Tillis, facing a tight re-election race, said President Trump is expanding his recent offshore drilling ban to include the coast of his state.
Driving the news: The administration told Tillis that the state "will be included in a Presidential Memorandum withdrawing new leasing for offshore oil and gas developments for the next 12 years," his office said.
Why it matters: It would mark a reversal of part of the White House plans to make far more waters available to oil companies in coming years.
And it shows how coastal drilling is increasingly stitched into the 2020 election cycle.
Catch up fast: Two weeks ago Trump extended the ban on the Gulf shores of Florida — a crucial swing state — until 2032.
Trump's order also removed the Atlantic shores of Florida, Georgia and South Carolina from any leasing through that date.
Of note: The White House and the Interior Department declined comment on Monday night.
Go deeper: Offshore drilling ban will extend to North Carolina, Sen. Tillis says (Raleigh News and Observer)
5. Airbus eyes 2035 for big hydrogen-fueled planes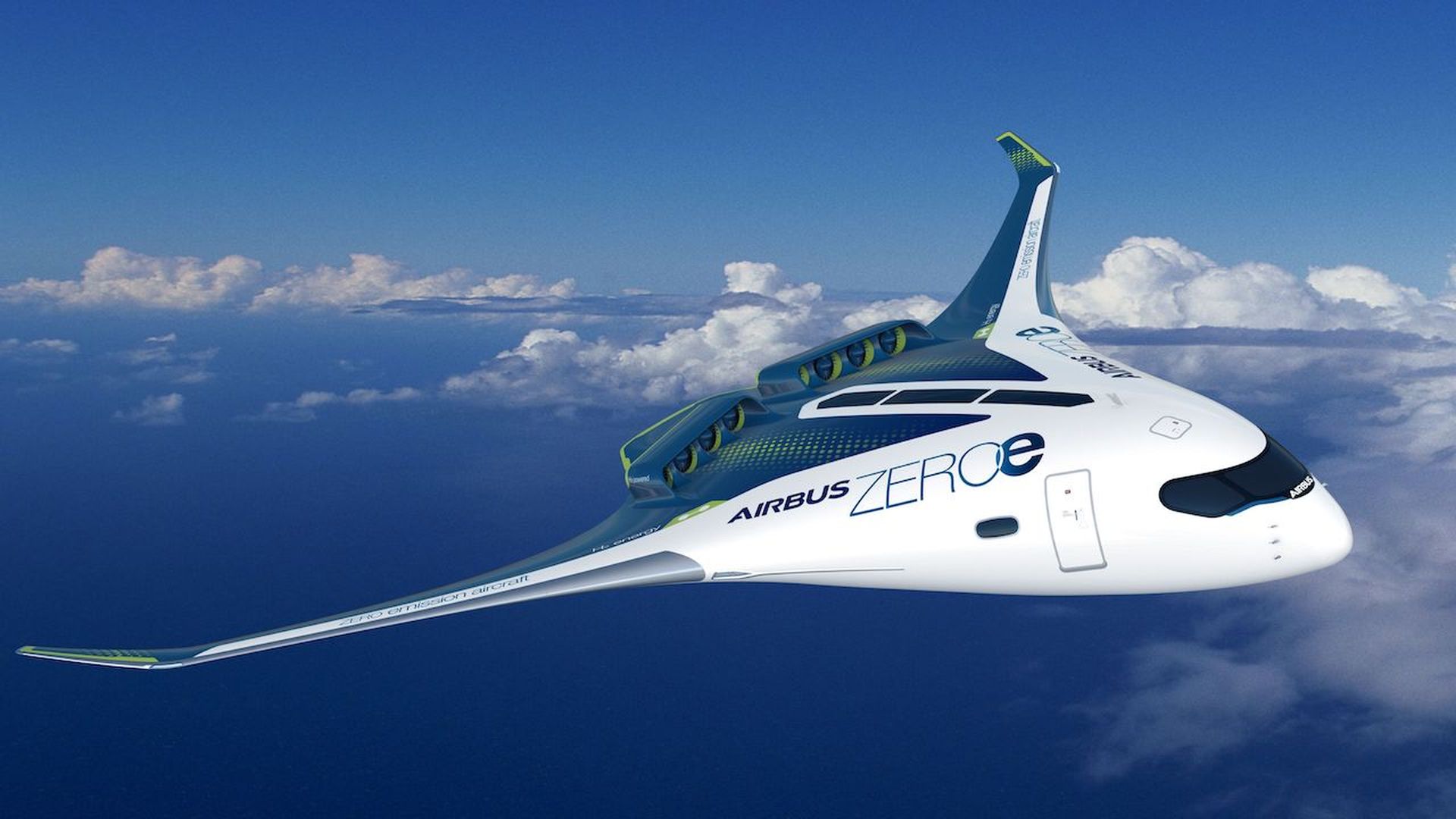 Ok — I mostly just like that image above, but you're looking at it because Airbus has released three "concepts" for big zero-emissions planes that could take flight by 2035.
Why it matters: Carbon emissions from aviation are an important source of planet-warming gases. They had been rising until the pandemic hit and likely will again.
Driving the news: Airbus showed pics of three planes that would use hydrogen as their main power source, calling it "likely to be a solution for aerospace and many other industries to meet their climate-neutral targets."
The one above is a "blended-wing body" design with an "exceptionally wide" design that allows multiple hydrogen storage options.
The others are a shorter-haul turboprop design, and a jet with a range of 2,000+ nautical miles.
Both of those two have an outward appearance that's more like today's passenger planes.
The big picture: "Airbus estimates hydrogen has the potential to reduce aviation's CO2 emissions by up to 50%," they said.
With the 2035 operational target, Airbus said it's planning nearer-term steps by 2025 to prepare, with plans over the "coming months" to begin testing hydrogen fuel cell and combustion tech.
Go deeper: Airbus wants to build zero-emission planes by 2035. Here's how (CNN)