Axios Generate
June 28, 2022
🌞 Good morning. Today's newsletter, edited by Mickey Meece, has a Smart Brevity count of 1,140 words, 4.5 minutes.
🚨 Situational awareness: The White House announced $700 million in private sector investments to help build 250,000 EV chargers per year.
🎶 Happy birthday to singer/songwriter Mark Stoermer, the bassist for The Killers, who have today's intro tune.
1 big thing: Companies are off track on net-zero goals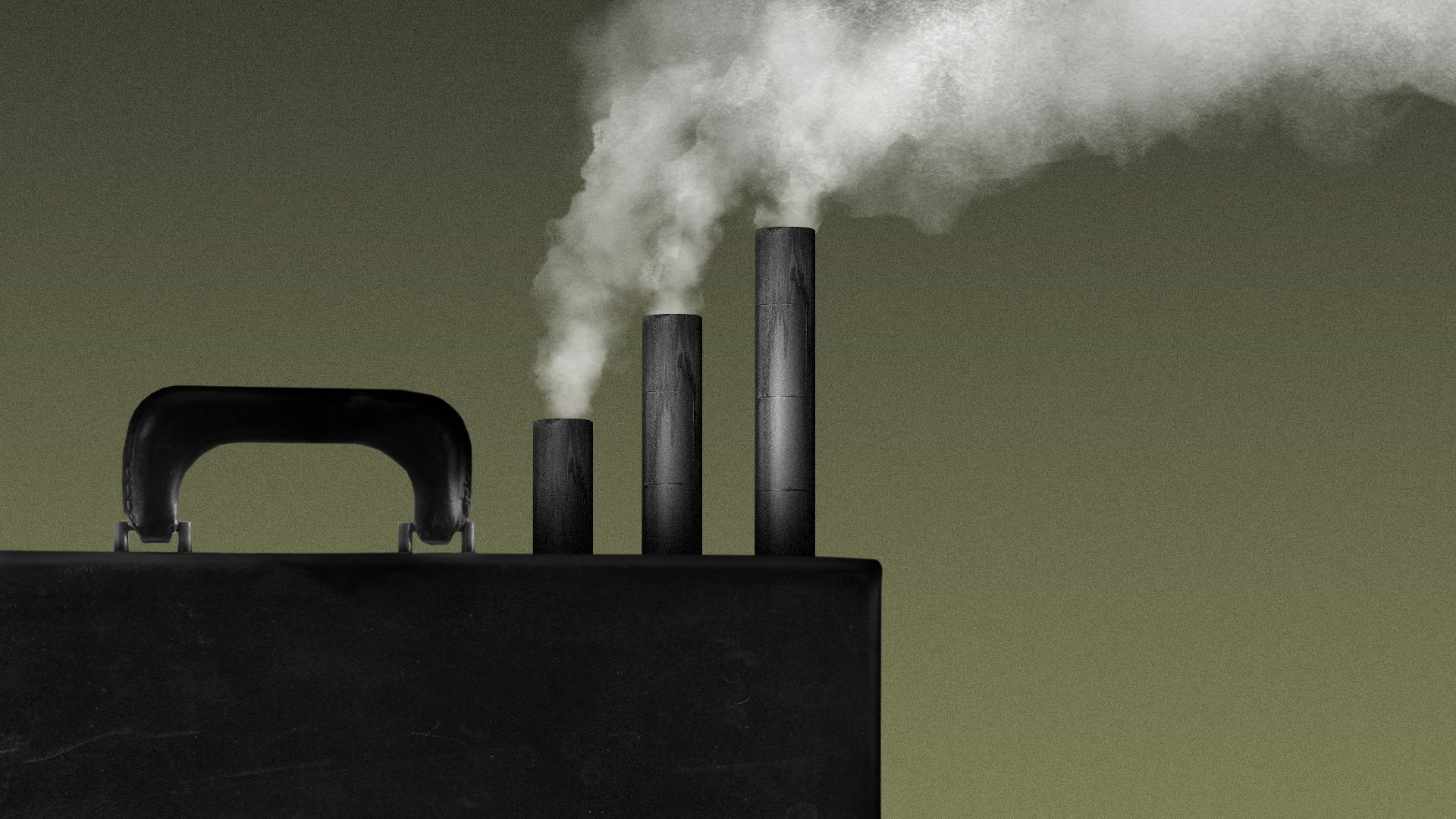 The stampede of major companies to sign onto net-zero emissions targets is not being accompanied by robust decarbonization plans to achieve these goals, a new report from investment research firm MSCI finds, Andrew writes.
Why it matters: Despite the signs of progress, corporate emissions are not decreasing at a pace consistent with the Paris Agreement goals.
Based on its analysis of publicly listed companies, direct, or Scope 1, greenhouse gas emissions will increase this year compared to 2020 levels, though not back to pre-pandemic highs.
The latest MSCI Net-Zero Tracker shows that the world's publicly listed companies, including Big Oil and gas, are on a trajectory that is aligned with causing a global temperature increase of 2.9°C.
That's down just 0.1°C from the previous iteration of the report, issued prior to the Glasgow Climate Summit last year.
The forecast is based on MSCI's implied temperature rise calculation, which assesses a company's climate impacts.
Zoom in: To meet the Paris pact's most ambitious target of limiting warming to 1.5°C above preindustrial levels, companies would need to make far more significant emissions reductions.
Only 11% of the 2,900 companies that MSCI analyzed are putting in place policies to align their emissions for meeting 1.5°C.
Fewer than half, or 46%, had policies aiming for the Paris Agreement's 2°C temperature target.
Context: The MSCI report examines the climate impact of listed companies based on their reported and projected emissions, and calculates the time remaining to reach net-zero emissions.
It helps show the companies that are climate laggards and those that might be legitimately lauded for their progress in cutting emissions.
Not surprisingly, the report finds the energy sector is the most emissions-intensive, listing Saudi Aramco, BP, Chevron, ExxonMobil and PetroChina among the world's top emitters.
"The window for preventing the worst effects of a changing climate continues to close amid a Russian invasion of Ukraine that has set off a scramble for fossil-fuel energy," the report states.
What they're saying: "A planet that is 2.9°C warmer by 2100 is not just a more volatile world, it is a dislocated world," Sylvain Vanston, executive director of climate change investment research at MSCI, told Axios via email. "'Disorderly transition' scenarios are a euphemism for chaos."
"Every effort to cut a company's absolute emissions is critical because every tenth of a degree matters," Vanston said.
What's next: Vanston says the findings lend support to moves to require climate disclosures for investors, such as the SEC is currently considering. "What gets measured gets managed," he said.
2. G7 agrees to pursue a price cap on Russian oil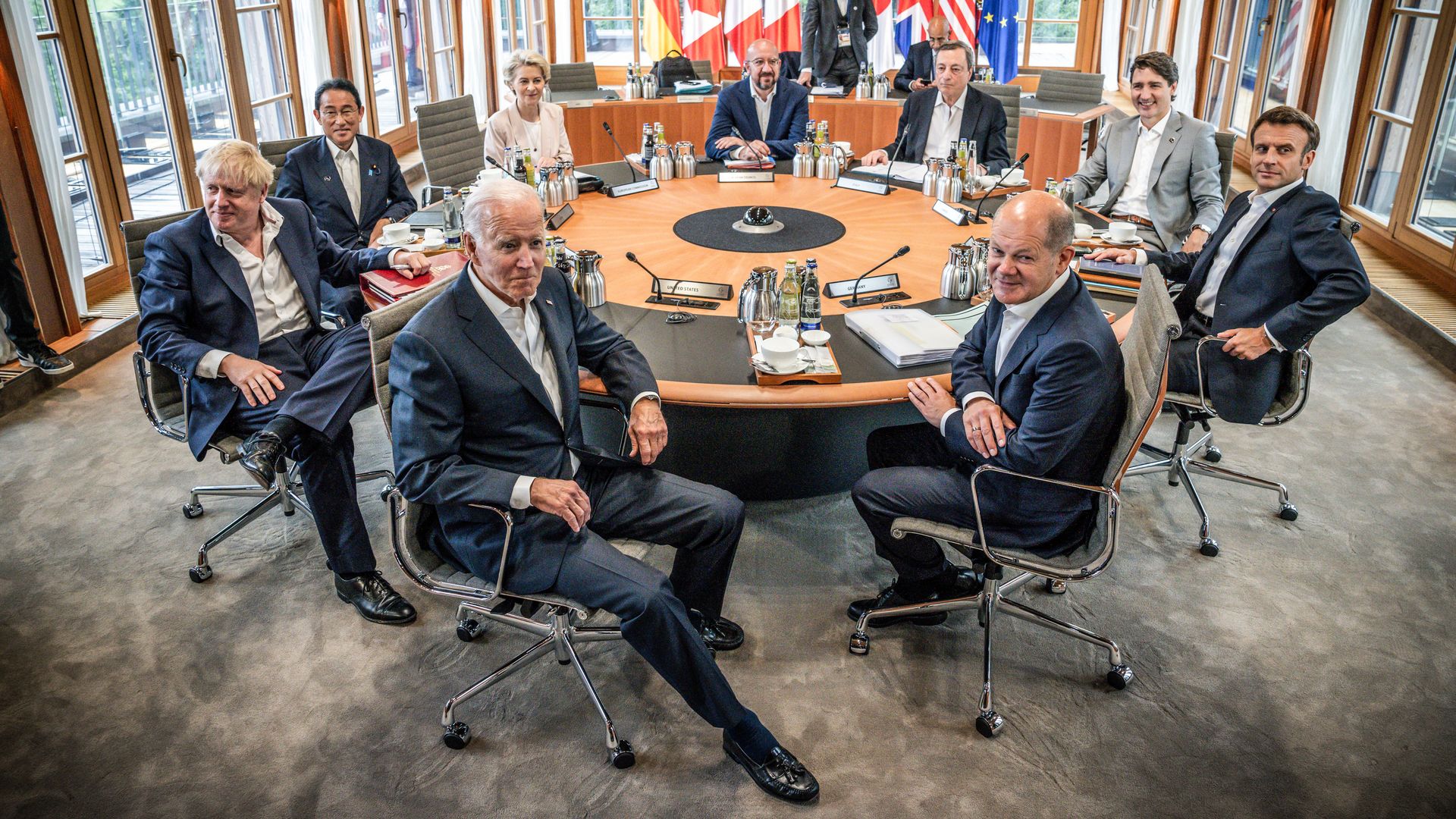 Leaders from the Group of Seven wealthiest nations have agreed to work out the technical details of a novel proposal to set an artificially low price cap on Russian oil exports, Andrew writes.
Why it matters: This approach could lower Russian oil revenue while boosting global supplies, thereby lowering global inflation and curtailing Russia's oil profits.
State of play: The G7 wrapped up today, and the language in the final communique emphasizes countries' commitment to "phase out our dependency on Russian energy."
It also indicates countries will "urgently" task ministers to "evaluate the feasibility and efficiency" of a price cap and other measures to reduce Russian oil revenues.
"Limiting the cost of Russian oil will put downward pressure on global energy prices in a way that dampens the impact of Putin's war on the U.S. economy," said Treasury Secretary Janet Yellen in a statement this morning.
Zoom in: The communique language also provides some wiggle room for G7 countries to fund fossil fuel projects overseas, "except in limited circumstances... consistent with a 1.5°C warming limit."
It also recognizes a key role in boosting natural gas supplies as a response to the Ukraine war-related energy crisis and warns against locking in the use of such infrastructure for decades, which could render the Paris targets unachievable.
"We stress the important role increased deliveries of LNG can play, and acknowledge that investment in this sector is necessary in response to the current crisis," the communique states, calling it "a temporary response."
3. How Russia skirts sanctions on energy
There's a big global sale on Russian oil right now if you're able to buy — with prices at least $30 less per barrel than European Brent crude, according to some estimates. Russia is keeping a tight lid on price information, however, Axios' Emily Peck writes for the Markets newsletter.
Why it matters: Yes, the sanctions against Russia were swift and severe, but all this time Russia has been selling a whole lot of oil. The country has been able to offset a decline in oil sales to the West by increasing its sales to Asia.
"Energy is a huge soft spot in the sanctions regime," says Elena Chachko, a fellow at Harvard Law School who specializes in sanctions law.
Details: India is importing 1.1 million barrels of Russian crude a day, according to data provided by Kpler, an analytics firm that tracks oil shipments. This time last year, the country was buying 173,000 barrels a day.
India effectively stopped buying crude from Nigeria, Angola, Mexico and the U.S. in favor of the cheaper Russian stuff. They haven't stopped buying from the middle east — they don't want to antagonize that region, says Viktor Katona, lead crude analyst at Kpler.
Meanwhile, China is importing more from Russia as well, but its demand is low as COVID-related lockdowns have resulted in a domestic stockpile.
The lower-priced oil is also tamping down inflation in the two countries, Katona says.
4. Methane emissions are increasing, watchdog finds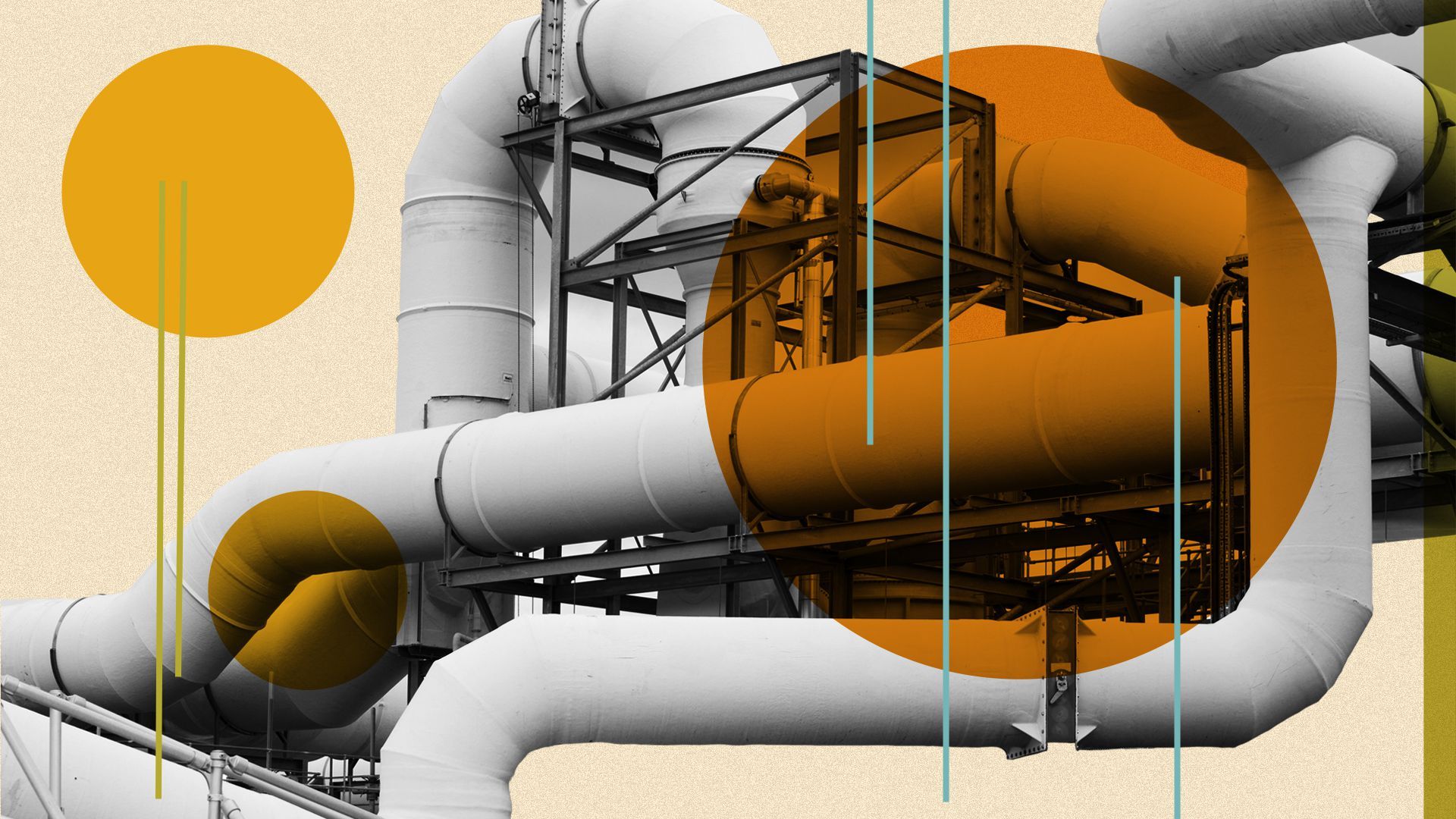 Methane emissions are sharply increasing despite a global consensus to crack down on the powerful global warming gas, according to new data from the French methane tracking firm Kayrros, Andrew writes.
The new report, based on satellite data, examines some of the biggest energy-producing regions in the world, including the U.S., Iraq, Kuwait, Algeria, Iran and Turkmenistan.
Why it matters: Methane acts on much shorter timescales than carbon dioxide, and emissions cuts could reduce near-term warming. Its major sources include oil and gas drilling and infrastructure, landfills and agriculture.
A coalition of more than 100 nations is taking part in the voluntary Global Methane Pledge, which looks to cut methane emissions by 30% by 2030.
Zoom in: The report released yesterday found that major oil, gas and coal-producing basins, including the Permian in the U.S., have seen increases in methane emissions so far this year that exceed an uptick in energy production.
The report found there was a 33% increase in methane emissions from the Permian Basin between the first quarter of 2022 and the previous quarter.
Much of the increase comes from small, privately-owned operators, the report states. These firms tend not to publicly report their methane emissions and have not committed to reducing them, it notes.
What they're saying: "This is an alarm call for the fossil fuel industry," said Antoine Halff, co-founder and chief analyst at Kayrros, in a statement.
📬 Did a friend send you this newsletter? Welcome, please sign up. Have a great day and thanks for reading!