Axios Generate
May 05, 2022
🚀 Off we go! Today's Smart Brevity count is 1,238 words, 5 minutes. 
🚨Today: Join Axios Pro's Megan Hernbroth at 12:30pm ET for a live interview with DOE Loan Programs Office director Jigar Shah. Register.
🎶 In May of 1985 U2 released the EP "Wide Awake in America," which has a flat-out stunning live track that's today's intro tune...
1 big thing: Northwest heat wave was one of globe's worst
The heat wave that enveloped the Pacific Northwest and a swath of western Canada last summer, killing hundreds, was one of the most extreme such events on record for anywhere on Earth, a new study shows, Andrew writes.
Driving the news: The study, published Wednesday in the journal Science Advances, ranks the severity of extreme heat events by looking at the difference between the peak air temperatures and that region's typical temperature variability.
The team of United Kingdom-based researchers found only five other heat waves around the world since 1960 were more extreme than the Pacific Northwest event of 2021.
Why it matters: The research answers the question of how rare this event was from a global standpoint, and in the process, demonstrates the malicious influence of gradually increasing average temperatures.
It shines a light on the boiling a frog in gradually warming water myth (except with climate change, we would be the frog).
Previous studies of the Pacific Northwest heat wave have shown that it would have been virtually impossible to occur without human-caused global warming.
What they did: Researchers used two data sets of past global weather conditions as well as simulations of the future climate under varying rates of greenhouse gas emissions to show how heat waves are changing.
They calculated 10-year running means for given locations, enabling them to determine how unusual a temperature reading may have been compared to that average (expressed in terms of standard deviations).
What they found: Extreme heat events are becoming more frequent and severe due to the climate change-related increase in average temperatures.
Another key conclusion is that regions that have avoided an extreme heat wave in recent decades may not be so lucky as climate change continues, and may see particularly acute impacts since they are not prepared for them.
Only five events ranked higher on the study authors' list of severe heat waves, including a 1998 heat wave in Southeast Asia and a 1985 event in southern Brazil.
Yes, but: The study was motivated in part by concerns raised last summer that as global warming continues, extreme temperature events are outracing the average and becoming even more extreme.
The findings instead show that heat extremes are increasing in tandem with average temperatures.
"The heat extremes will not be more intense, compared to the climatology of that decade — the climatology will get hotter so the extremes will do too," Vikki Thompson, study lead author and a researcher at the University of Bristol, told Axios via email.
2. CO2's relentless climb
Levels of carbon dioxide in the atmosphere during April reached the highest levels on record for any calendar month, averaging 420 parts per million (ppm) for the first time since observations began in 1958, according to new data, Andrew writes.
Why it matters: The amount of carbon dioxide in the air is rapidly increasing due to the burning of fossil fuels like coal and natural gas for energy, among other human activities.
The big picture: Only steep emissions cuts beginning this decade can bring down CO2 levels sufficiently in order to meet the temperature targets laid out in the Paris Agreement.
Zoom in: The new data from the Scripps Institution of Oceanography, shows that April had a monthly average CO2 concentration of 420.02 ppm.
This is up from 316 ppm at the start of the Mauna Loa record, and 400 ppm in 2013.
The National Oceanic and Atmospheric Administration reports its new numbers today, and they are set to closely match the Scripps readings.
The annual peak typically occurs in May and could be higher than 420 ppm.
What they're saying: Pieter Tans, who tracks greenhouse gases for NOAA, told Axios the data presents a stark picture.
"The world effectively has made no serious progress compared to what is required," Tans said.
3. Europe's push to ban Russian oil hits turbulence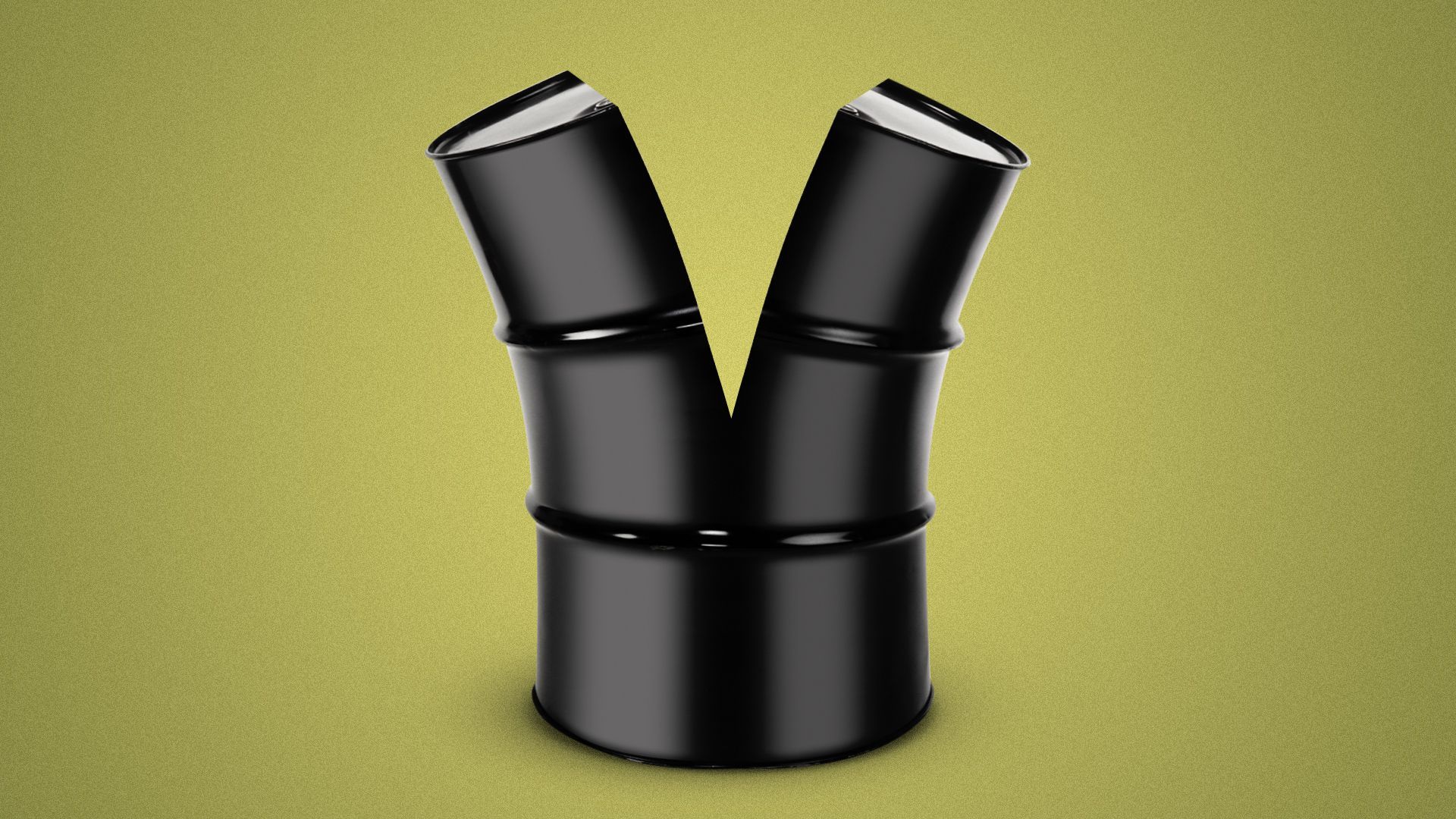 The European Union's new proposal for a phased-in embargo on Russian oil is facing immediate headwinds amid complaints from Hungary and Slovakia, per multiple reports.
Driving the news: European Commission President Ursula von der Leyen "faces a battle to save her proposed ban on Russian oil imports, after Hungary and Slovakia raised major objections," Politico reports.
And the Financial Times reports: "Hungary and Slovakia have been offered an extra year to comply but a Slovak official told the Financial Times that the country needed at least two."
Why it matters: The plan announced Wednesday — if enacted — would be the bloc's strongest move yet to wean itself from heavy reliance on Russian energy. But it requires backing from every member state.
The intrigue: Politico notes the "key question" is whether the two countries are "playing hard to get in the hope of securing better terms."
4. First look: Gravity storage project begins in China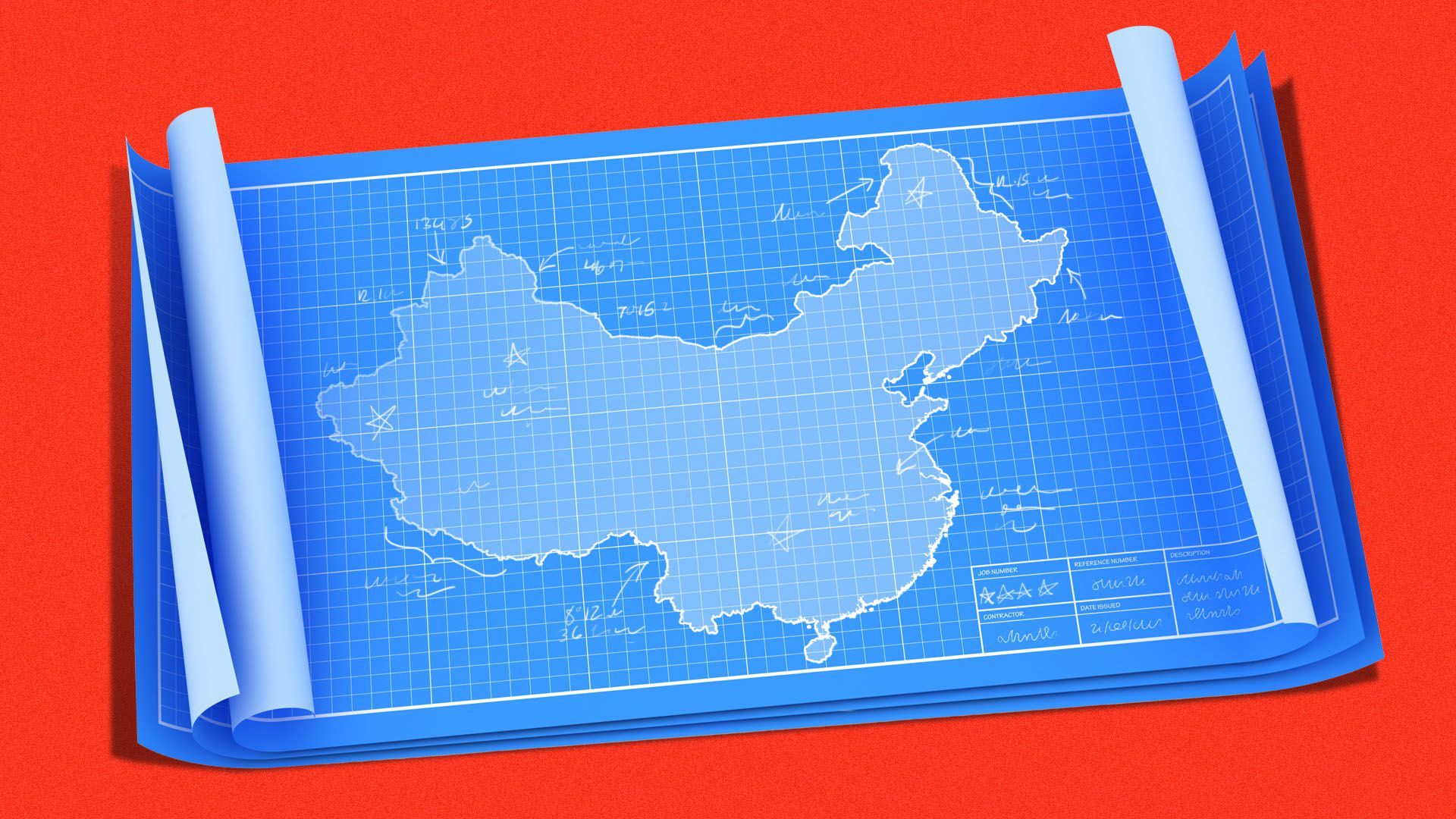 The storage company Energy Vault has begun construction of a utility-scale project in China, Ben writes.
Why it matters: It's the first commercial-scale deployment for the company founded in 2017.
The 100 megawatt-hour system is being built adjacent to a wind farm in the Jiangsu province outside Shanghai.
How it works: The system raises 30-ton composite bricks so that "potential energy is stored in the elevation gain of the brick," their site notes.
When power is needed, it "releases kinetic energy back to the grid via controlled lowering of the bricks using gravitational force."
The big picture: China, the world's largest carbon emitter, has vowed an emissions peak this decade and carbon neutrality by 2060.
Storage helps enable high levels of intermittent renewables on power grids.
CEO Robert Piconi called the construction a "significant milestone" for a "critical enabling technology" to support China's clean energy and climate goals.
Energy Vault is among several companies aiming to commercialize gravity-based storage using solid materials.
5. Shell's big quarter and renewables reveal
Shell reported a $9.1 billion first-quarter profit this morning, rounding out a lucrative stretch for oil majors amid high commodity prices, Ben writes.
The intrigue: The Q1 data is the first time Shell has separately reported financials from its renewables and "energy solutions" division, which includes various power services. Shell reported $344 million in profit from the division.
Why it matters: Bloomberg notes that while it's relatively small today, its performance "will be key in convincing shareholders that the company can make a profitable transition to clean energy."
Go deeper: Shell posts record quarterly profit, lifted by energy price surge (Reuters)
6. Progress stalls on gas flaring cuts — World Bank
A new World Bank report finds a "disappointing" level of progress over the last decade in curtailing the burning of natural gas at oil production sites, Ben writes.
Why it matters: Gas flaring is a sizable source of carbon emissions.
The report, based on satellite measurements, shows progress in decoupling flaring from oil production beginning in the mid-2000s.
But that has largely plateaued on an aggregate global basis, despite improvements in some regions.
Zoom in: Last year 144 billion cubic meters of gas were "needlessly" flared at upstream oil and gas sites, generating 400 million metric tons of CO2-equivalent emissions, it estimates.
What they're saying: "Ending this polluting practice must be central to decarbonization efforts," Zubin Bamji, program manager of the bank-led Global Gas Flaring Reduction Partnership, said in the report.
Bamji, in the foreword, said wasted gas should instead displace dirtier fuels and boost energy access in poor nations.
😮For a sense of scale, Bamji notes: "[T]he volume of gas flared worldwide is greater than the European Union's 27 member states gas imports from Russia."
📬 Did a friend send you this newsletter? Welcome, please sign up. Thanks for reading and see you back here tomorrow.