Axios Generate
February 17, 2023
🍺 Oh yes! Friday. Today's newsletter has a Smart Brevity count of 1,155 words, 4.5 minutes.
🗒️ We'll be off Monday for Presidents Day and back in your inboxes Tuesday. Enjoy the long weekend!
📬 Did a friend send you this newsletter? Welcome, please sign up.
🎶 At this moment in 2001,* OutKast was #1 on the Billboard Hot 100 with this week's final intro tune...
1 big thing: The climate change real estate bubble
A climate housing bubble threatens to erode real estate prices in much of the U.S. in the coming years, posing particular challenges for low-income residents, a new study finds, Andrew writes.
Why it matters: With more severe and frequent extreme weather events, the resilience of homeowners and communities is on the line.
How lenders, insurance companies and others incorporate escalating flood risks into property prices is a key question facing at-risk communities.
Zoom in: The study, published Thursday in Nature Climate Change, finds that nationally, property prices are currently overvalued by between $121 billion and $237 billion, when compared to their actual flood risk.
The current prices mask the true danger that these properties are exposed to, because of factors such as outdated FEMA flood maps, incentives in the National Flood Insurance Program and home buyers who lack climate change information.
The paper is the result of a collaboration between experts at the Environmental Defense Fund, First Street Foundation, Resources for the Future, the Federal Reserve and two universities.
Scientists relied on First Street's updated modeling that simulates rainfall-induced, or pluvial flooding, as well as coastal flood events.
Between the lines: The authors found that right now, 14.6 million properties face at least a 1% annual probability of flooding, putting them in the so-called 100-year flood zone.
However, this is expected to increase by 11% in a mid-range emissions scenario, with average annual losses spiking by at least 26% by 2050.
In dollar terms, the areas with the greatest property overvaluations are along the coasts, where there is overlap between rising seas, fewer flood disclosure laws, and a high number of residents who may not view climate change as a near-term threat.
Much of the overvaluation comes from vulnerable properties located outside of FEMA's 100-year flood zone.
Once the higher flood risks become evident, homeowners will lose equity in their property, which is a particular threat to lower-income homeowners.
What they're saying: "There is a significant amount of 'unknown' flood risk across the country based solely on the differences in the publicly available federal flood maps and the reality of actual flood risk," Jeremy Porter, head of climate implications at First Street Foundation, said in a statement.
Bonus: Mapping overvaluation hot spots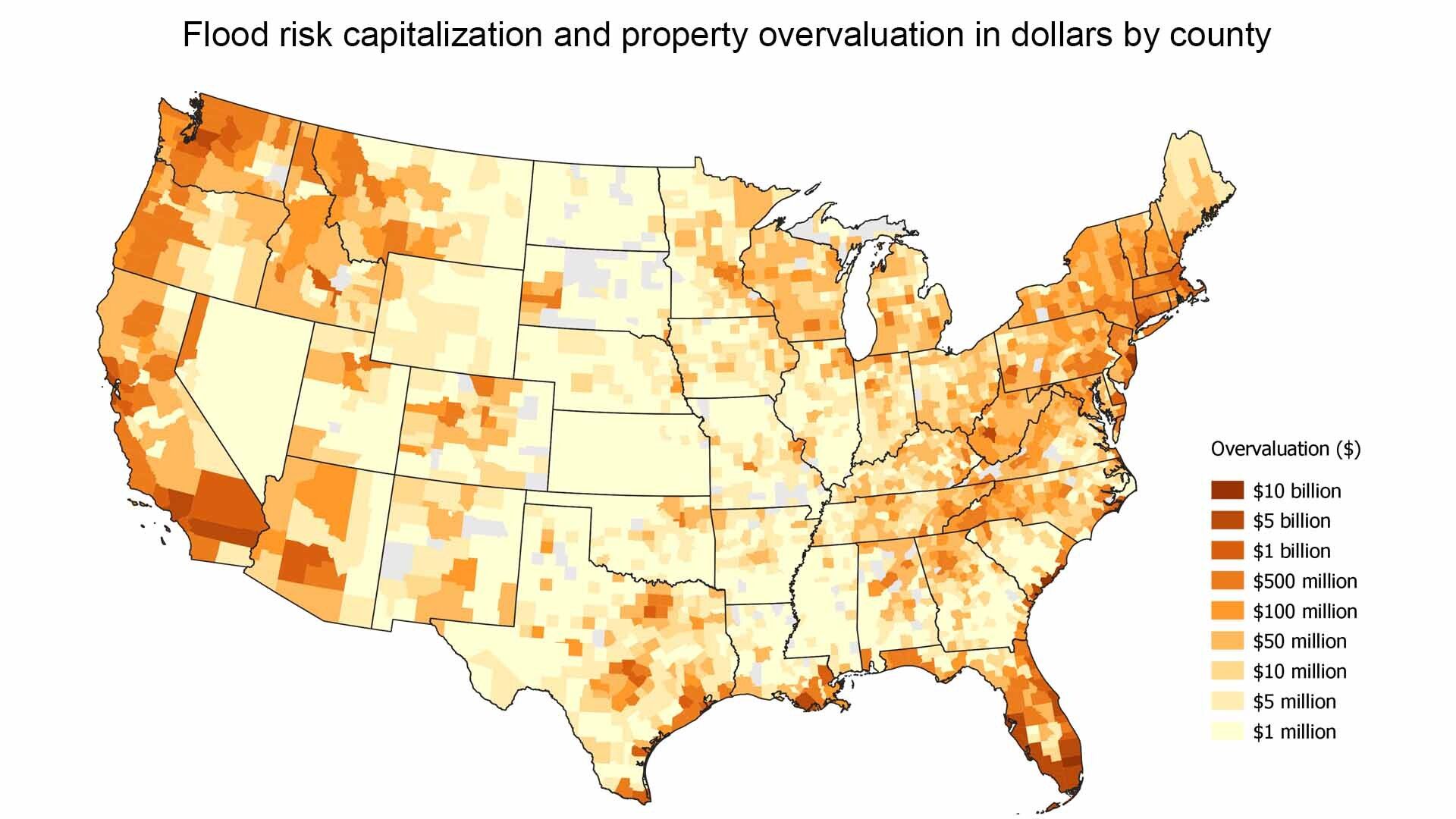 The pattern of the total overvaluation of at-risk properties in the Lower 48 states reveals hot spots of risk, Andrew writes.
Zoom in: Specifically, coastal areas show high amounts of overvaluation.
Spikes also show up in West Virginia and other parts of Appalachia.
In Texas, it is clear that the biggest cities, including Houston and Dallas, have a significant amount of overvaluation.
Florida tops the list, accounting for about $50.2 billion based on the actual threat, the study found.
2. Ford's battery deal draws blowback over China ties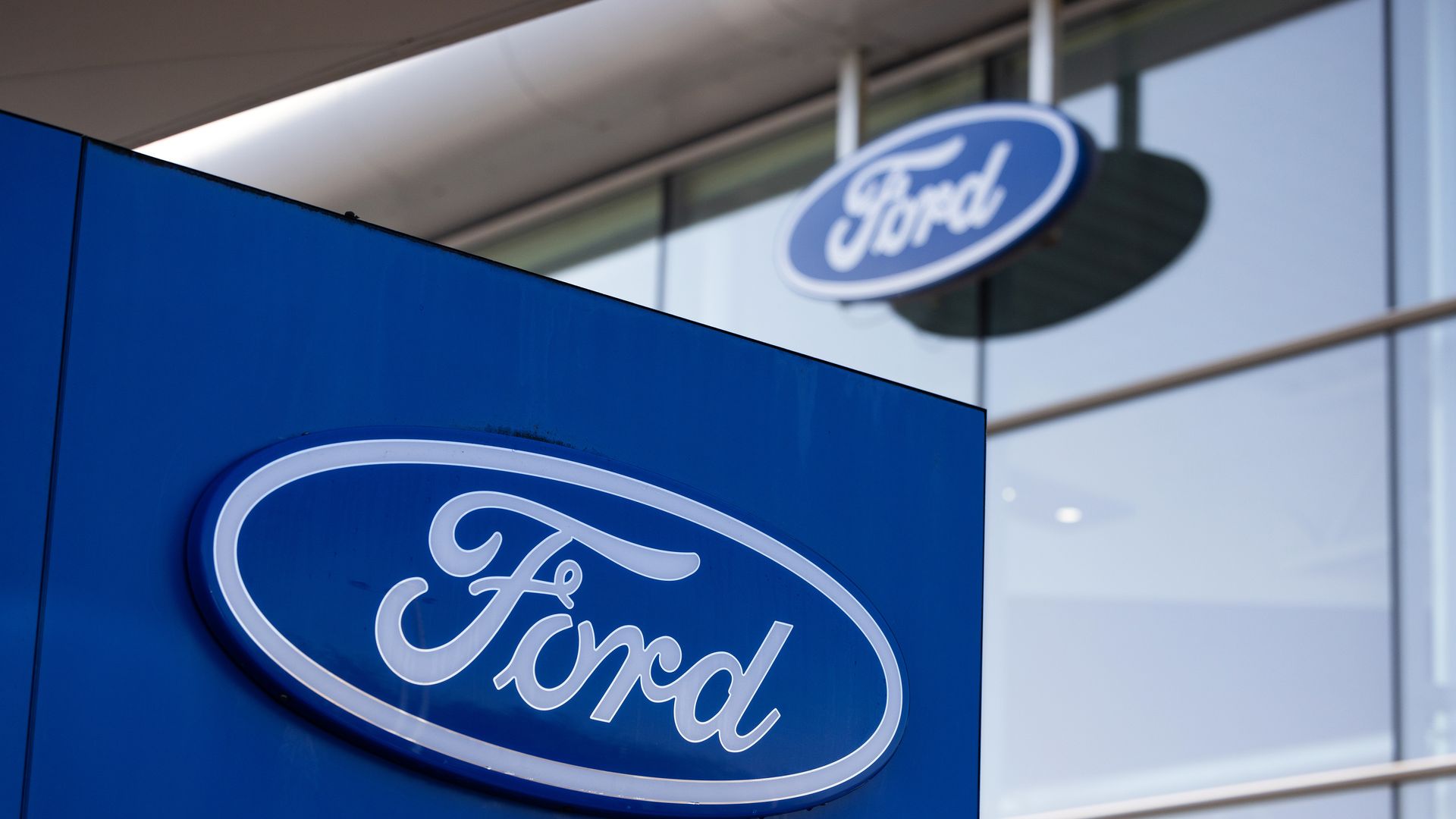 Ford kicked a hornet's nest with its big investment in domestic battery production that uses tech and services from Chinese heavyweight CATL, Ben writes.
Driving the news: Axios Pro Energy Policy (sign up!) scooped yesterday that Sen. Joe Manchin has asked to review Ford's contract with the Chinese firm.
A spokesperson previously said the energy committee chairman has "grave concerns about vehicle supply chain reliance on China" and "Ford has serious questions to answer."
🖼️ The big picture: Ford has emphasized that they'll own and control the Michigan plant.
CATL will "help us get up to speed so we can build these batteries ourselves — batteries made here in Michigan and built for America," executive chairman Bill Ford said Monday.
But that hasn't prevented criticism from Capitol Hill amid heightened tensions with China.
What they're saying: Sen. Marco Rubio, the top Republican on the Senate's intelligence committee, wants the interagency Committee on Foreign Investment in the United States to review the deal.
CFIUS has the power to block certain transactions.
The intrigue: Bloomberg reports Chinese officials will study the deal to ensure CATL's "core technology isn't handed over" to Ford, though the piece says it's unlikely to be scuttled.
3. Fossil fuel subsidies hit new record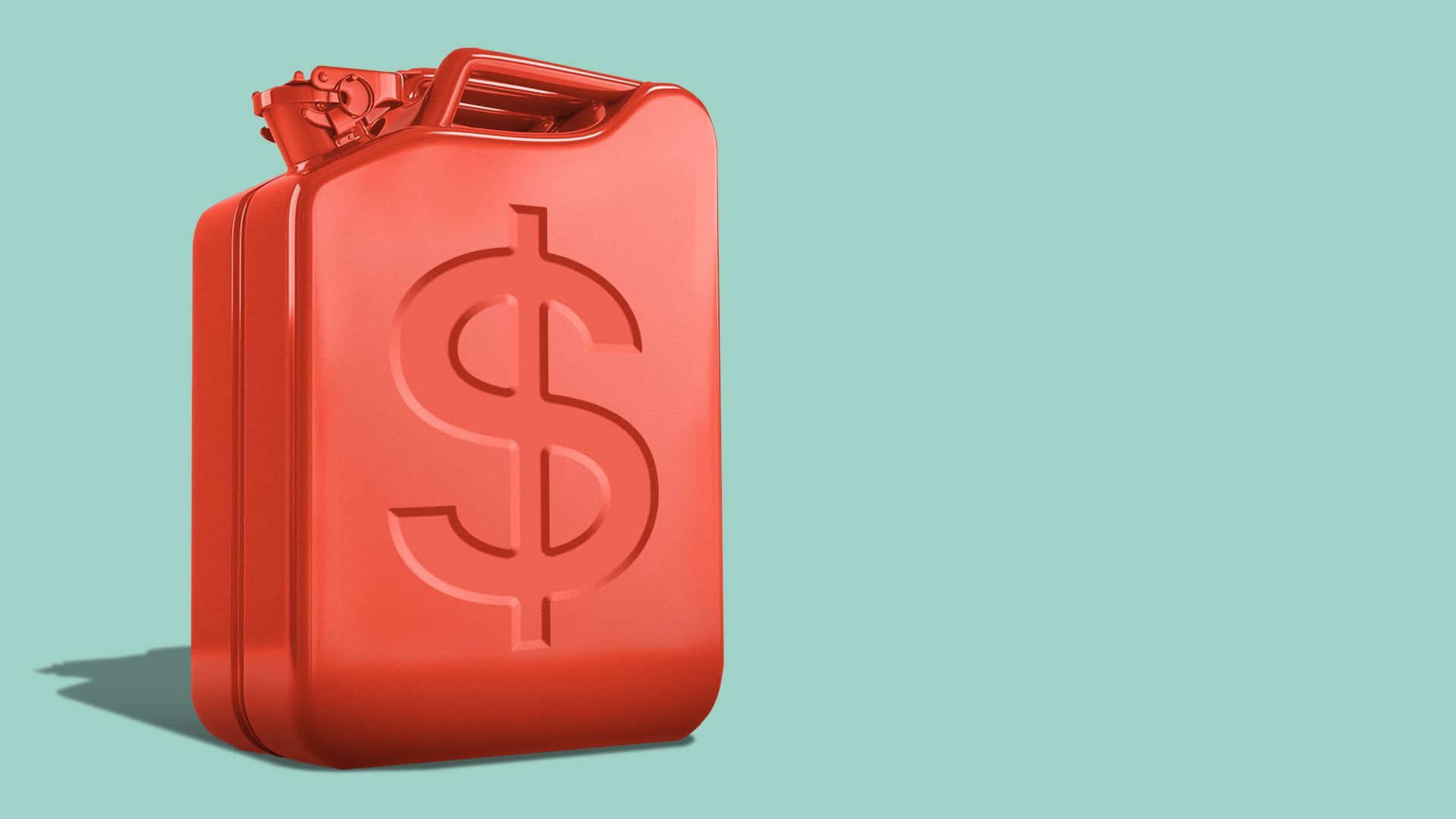 New estimates show government subsidies that ease fossil energy consumption costs smashed records last year despite nations' vows to phase these payments down to fight climate change, Ben writes.
Driving the news: Subsidies for oil, gas and power reached more than $1 trillion as governments looked to help shield consumers from last year's price spikes, per the International Energy Agency. That's more than double 2021 levels.
Why it matters: Russia's invasion of Ukraine caused household energy costs to soar last year.
IEA says some subsidies are defensible "given the hardship that full exposure to market-driven prices could have caused." But the subsidies' scale is "still a worrying sign for energy transitions."
Threat level: While governments are looking to speed low-carbon energy growth, "these price interventions worked in the opposite direction by favoring the incumbent fuels."
Of note: The subsidies are concentrated in emerging market and developing nations.
But IEA notes significant spending to cut consumer bills — largely in Europe — is "not necessarily captured in our methodology."
4. Catch up fast on business: BP, LG Chem, Tesla
⛽ BP is acquiring TravelCenters of America Inc. in a deal valued at $1.3 billion, a move the energy giant said benefits both its traditional fueling and EV charging businesses, Ben writes.
Zoom in: Investments in "convenience" are among what BP calls its "transition growth engines" as it diversifies.
What they're saying: "By enabling growth in EV charging, biofuels and [renewable natural gas] and later hydrogen, we can help our customers decarbonize their fleets," CEO Bernard Looney said in a statement.
⛏️ Battery giant LG Chem is making a $75 million equity investment in Piedmont Lithium and signed a four-year offtake agreement for 200,000 metric tons of lithium chemicals.
Why it matters: Big players in the battery materials supply chain are racing to lock down raw materials to help automakers meet EV goals and sourcing rules in the new climate law.
🚗 Tesla is recalling 362,758 vehicles equipped with its controversial "Full Self-Driving beta" (FSD) software that federal safety investigators found can occasionally disregard traffic laws, Axios' Joann Muller reports.
5. A warning on oil and gas investment needs
Global exploration and production investment jumped in 2022, but must keep growing to reach $640 billion in 2030 to meet long-term needs, a new analysis argues, Ben writes.
Why it matters: "A cumulative $4.9 trillion will be needed between 2023 and 2030 to meet market needs and prevent a supply shortfall," per the International Energy Forum and S&P Global Commodity Insights.
The big picture: IEF — a coalition of energy ministers from over 70 nations — and S&P say cash-rich companies have capital to invest more even as they prioritize shareholder returns and debt payments.
"The question is now, will companies re-invest, and if so, where?"
The "primary hurdle" has "shifted from capital availability to willingness to invest."
The intrigue: Impossible to see, the future is. A separate IEF report this week takes stock of many conflicting analyses of future oil demand in decades ahead.
But the new investment report says that more spending is needed to offset declines from existing projects "even if demand growth slows toward a plateau."
* The #1 songs on the Billboard Hot 100 in early 2001 were an absolute murderers' row, Ben says.
🙏 Thanks to Nick Aspinwall and David Nather for edits to today's newsletter.