Axios Generate
January 28, 2021
Good morning! Today's Smart Brevity count: 1,350 words, 5 minutes.
🚨"Electric-vehicle maker Faraday Future has agreed to go public through a merger with blank-check firm Property Solutions Acquisition Corp in a deal valuing the combined entity at $3.4 billion, the latest firm to take the SPAC route to enter public markets." (Reuters)
🎤And this weekend brings the birthday of singer and songwriter Jody Watley, who has today's intro tune...
1 big thing: Takeaways from Biden's sweeping climate order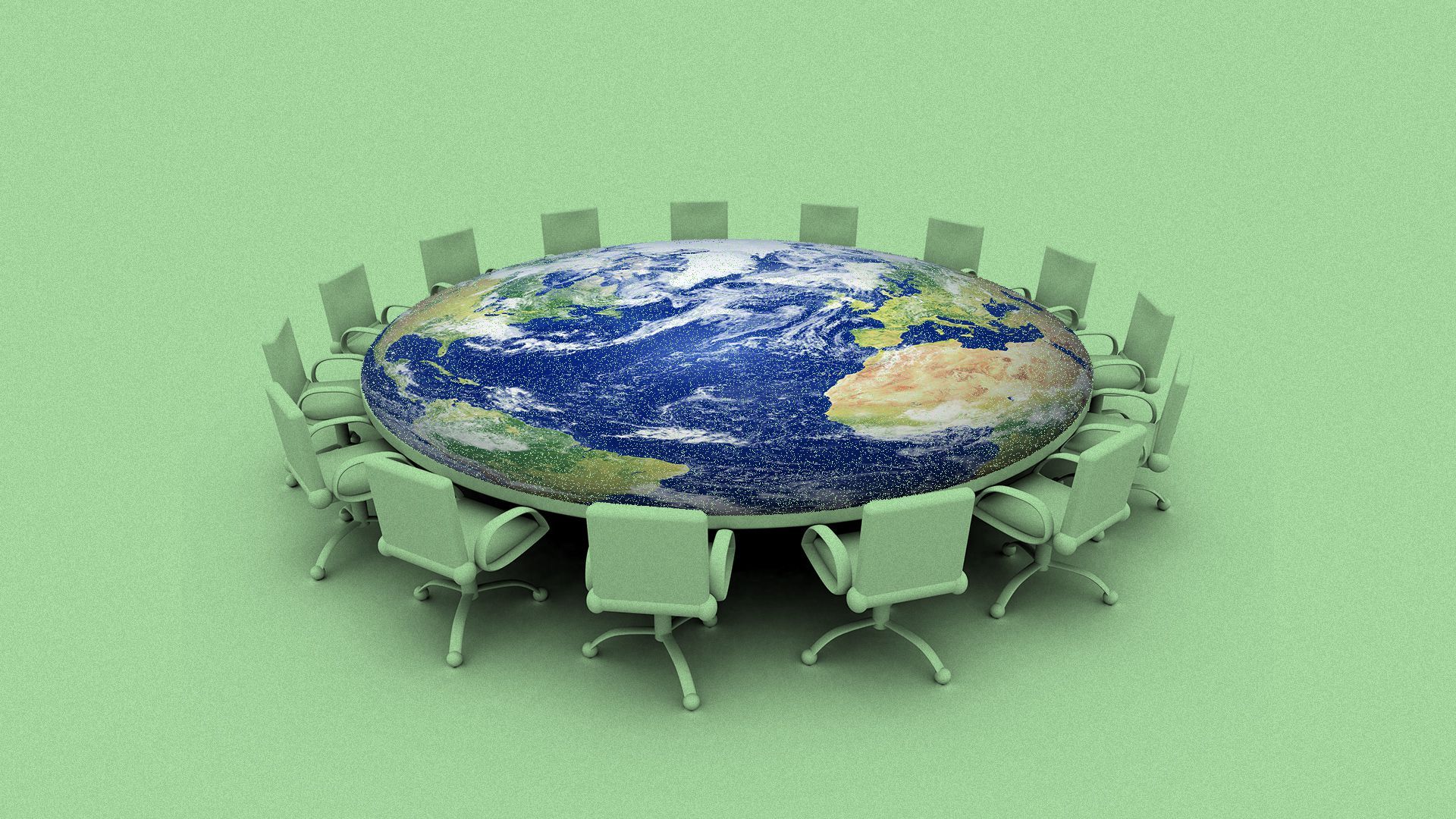 President Biden's mammoth executive order on climate policy weighs in at over 7,500 words and resists any single narrative, but I've got a few initial takeaways.
Catch up fast: I summarized the order in yesterday's newsletter.
Why it matters: The order aims to marshal the entire federal government behind new initiatives, so that means agencies that may not have the muscle memory or expertise of the resource and environmental branches like EPA and DOE.
A few other (deep) thoughts for now...
Time, part 1: Executive orders are largely statements of intent to make and enact policy (though the oil leasing freeze is more immediate, so more on that in a moment). So whether this succeeds at enabling steep emissions cuts, helping fossil fuel industry workers transition, or easing racial disparities in pollution exposure, to name just three goals, won't be known for years.
Time, part 2: OK, that said, one noteworthy thing is that the order says the administration is shooting to reveal its updated pledge under the Paris Agreement — called a "nationally determined contribution" — ahead of the April 22 global "climate leaders summit" Biden will host.
Congress: For all the focus on executive actions in yesterday's splashy rollout, remember that some key parts of Biden's agenda will need Capitol Hill to succeed — including huge new investments in climate-friendly infrastructure deployment and Biden's goal to hugely scale up clean energy research, development and deployment funding.
Let's talk about the public lands oil leasing ban: It's already facing industry litigation, but even if it stays intact, there's already a dispute about how consequential it is.
Where it stands: Industry groups slammed the order, seeing it as part of a one-two punch — and a sign of broader anti-development headwinds from Biden — after last week's Interior Department order that puts major new (albeit temporary for now) restrictions on issuing permits to drill on existing leases.
Yes, but: But an Interior "fact sheet" on the order's leasing freeze notes the industry has "stockpiled" millions of acres of leases on public lands and waters and have many permits in hand. "Onshore and offshore, the oil and gas industry is sitting on approximately 7,700 unused, approved permits to drill," they note.
What they're saying: This morning the Financial Times has an excellent look at the freeze that gets to something I've been thinking about too in recent days: It's arguably less aggressive than Biden's campaign plan, which called for outright banning permitting on public lands and waters.
"I would say it's a best-case scenario for the oil industry under a Biden administration," S&P Global analyst Parker Fawcett tells the FT. "Leases are already plentiful — it's the permitting that matters."
What we're watching: Another thing that caught my eye is that the order envisions a muscular role for the Treasury Department, including working with U.S. and multilateral development finance agencies on climate initiatives.
That's important because climate activists have long seen untapped potential there.
2. Microsoft backs direct air capture player Climeworks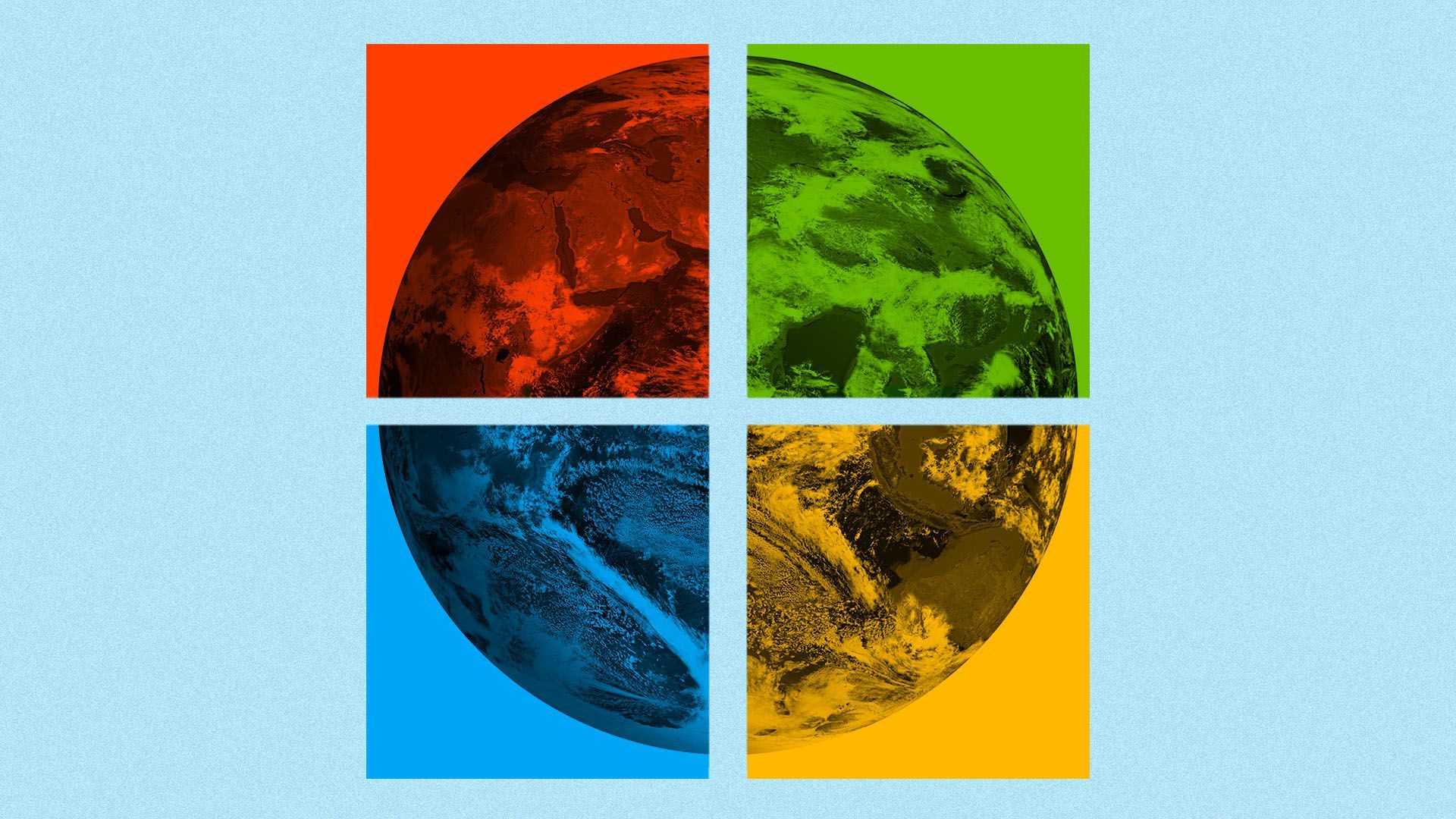 Microsoft this morning disclosed investments in more climate-related companies as part of efforts to make good on its year-old pledge to become "carbon negative" by 2030.
Driving the news: One company the tech behemoth is staking is Climeworks, a firm looking to scale up deployment of direct air capture technology that removes CO2 already in the atmosphere.
The size of the investment was not disclosed. Microsoft also revealed that it's a customer of the Swiss firm.
"Through Microsoft's purchase of negative emissions from Climeworks, we will permanently remove 1,400 metric tons of carbon," Lucas Joppa, Microsoft's top environmental official, said in a blog post.
Why it matters: It's part of a growing move by deep-pocketed companies and investors to back the fledgling direct air capture sector — and pay them for carbon removal.
The volumes currently being removed are a tiny drop in the bucket, but DAC could be among the technologies that eventually join the list of meaningful tools against warming.
Another firm, Carbon Engineering, counts backers including Bill Gates, Chevron and Occidental Petroleum.
Climeworks' other investors and customers include e-commerce heavyweight Shopify.
The big picture: The Climeworks investment is among several updates this morning from Microsoft on its climate efforts, including two other new outlays from its $1 billion Climate Innovation Fund.
It is backing the early-stage, climate-focused VC fund Congruent Ventures, as well as the foundation-backed Southeast Asia Clean Energy Facility, which Joppa notes "aims to drive market adoption of existing technologies in underfunded markets."
By the numbers: Microsoft also tallied some of what's happened since its pledge last January.
President Brad Smith said in a separate post that Microsoft cut its overall emissions by 6%, or roughly 730,000 metric tons.
"We have purchased the removal of 1.3 million metric tons of carbon from 26 projects around the world," he said.
Bloomberg looks more at those efforts and some of their hurdles here.
3. Exxon says changes are coming as pressure mounts
ExxonMobil, under pressure to boost financial performance and do more on climate, says it's on the cusp of changes.
Driving the news: The oil giant said Wednesday it would soon update shareholders on plans to "build long-term, sustainable value," and new steps to commercialize tech that's "key to reducing emissions."
It came after investment group Engine No. 1 — which is pushing for changes in capital spending and climate posture — formally nominated four people to Exxon's board.
Why it matters: Exxon is feeling the heat.
The fight over its board makeup follows years of rocky financial performance, aggressive spending, and as the industry faces calls from investors, the public and governments to do more on climate.
Exxon, like other companies, has recently cut capital spending as the pandemic has hammered prices and demand. And it unveiled new targets for curbing emissions intensity last month.
But it remains under pressure as European-based majors are acting more aggressively to diversify (though oil and gas remain the dominant business lines for these companies on both sides of the Atlantic).
The intrigue: The Wall Street Journal reports Exxon is "is discussing adding one or more new directors to the board."
It also reports Exxon's talks with the D.E. Shaw Group, another group of activist investors pushing for more disciplined spending and stronger emissions efforts. D.E. Shaw may support Exxon's plans, according to the piece.
What's next: Exxon reports fourth-quarter earnings on Tuesday, so we'll be looking for more info — at least hints — of its plans.
What we're watching: How this all plays out when shareholders vote at Exxon's annual meeting later this year.
Exxon says it has "engaged with Engine No. 1 since mid-December." But Engine No. 1's statement yesterday said Exxon has taken only "incremental steps in the face of financial and shareholder pressure."
The nominees include Anders Runevad, former CEO of wind turbine heavyweight Vestas, and Alexander Karsner, a strategist with X, the "moonshot factory" of Google parent Alphabet.
4. Robert Downey Jr. launches planet-focused VC funds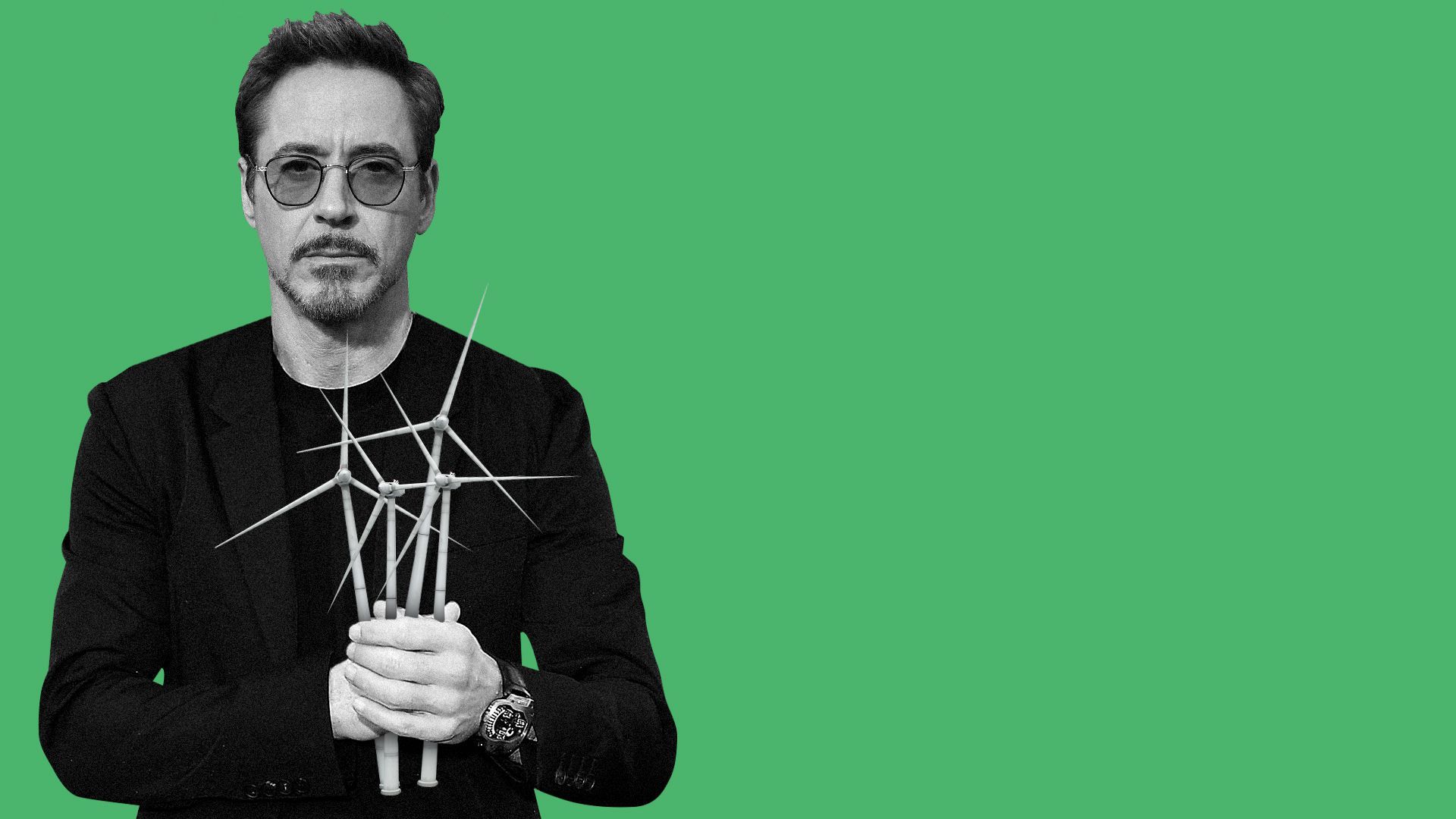 Axios' Dan Primack reports that Robert Downey Jr. is launching two venture capital funds focused on startups in the sustainability sector, the latest evolution of a project he launched two years ago called Footprint Collective.
Between the lines: The announcement Wednesday is a bit of life imitating art, as Downey Jr. spent 11 films portraying a character who sought to save the planet (or, in some cases, the universe).
Details: Footprint Collective, which to date has invested only Downey Jr.'s money, will raise capital from accredited investors via the "Rolling Funds" feature of investment platform AngelList.
It plans to raise two funds, one focused on early-stage startups and one on later-stage startups, with AngelList allowing up to 2,000 "qualified" investors per fund.
If fully subscribed, that could work out to $160 million raised over two years.
🎧 Downey Jr. spoke with Primack about the effort on the Axios Re:Cap podcast.
5. 1 heavy thing: an electric excavator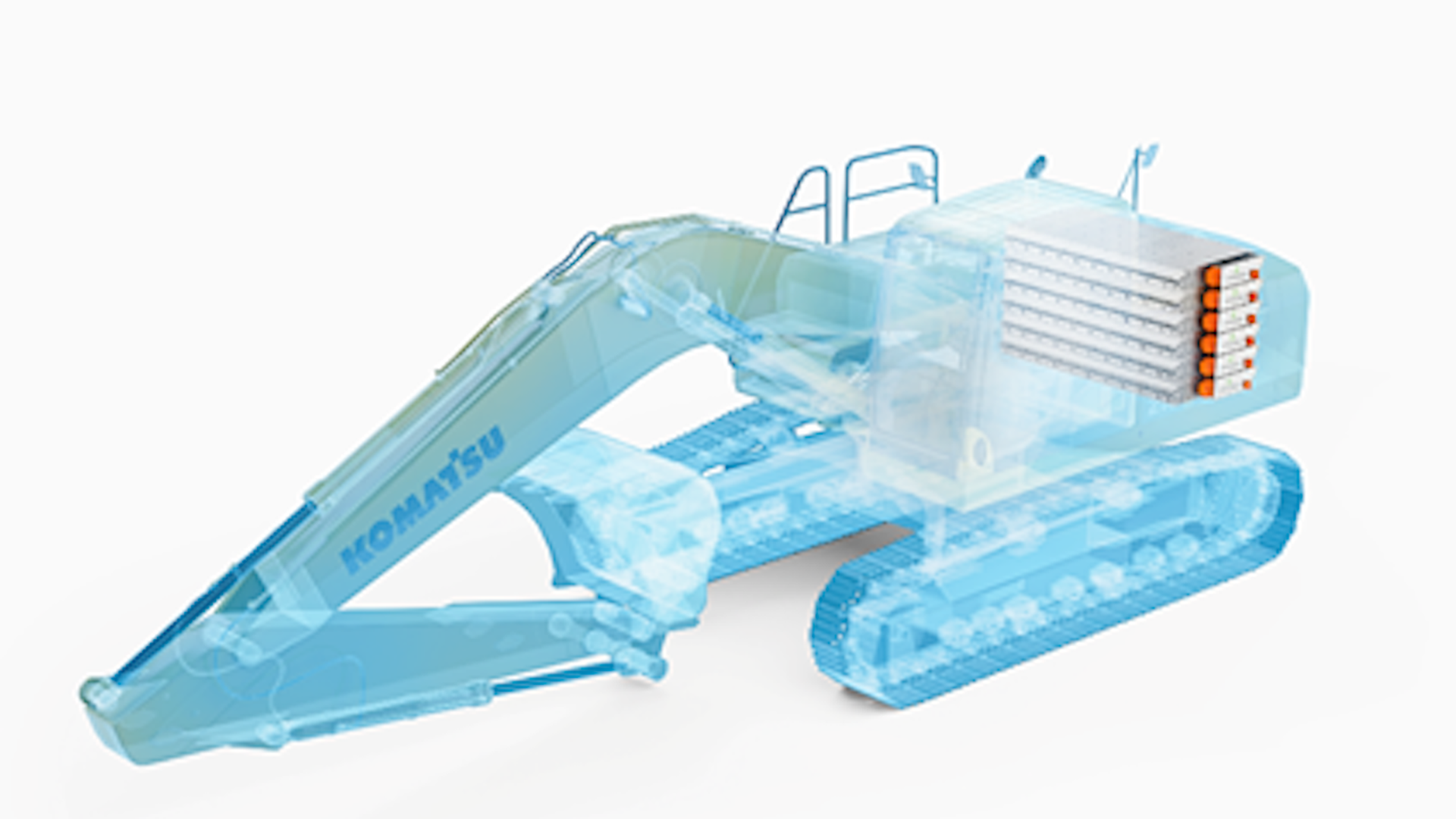 The electric vehicle tech company Proterra is teaming up with construction equipment player Komatsu to develop a battery-powered hydraulic excavator.
Driving the news: The announcement says Komatsu plans to use Proterra's battery tech to develop a "proof of concept" model this year, with commercial production eyed for 2023 or 2024.
Why it matters: It's the latest move in the diversification of Proterra, which made its name as an electric bus maker but has moved into battery systems, charging infrastructure and more.
"The collaboration represents Proterra's entry into the off-road vehicle market and the company's first Proterra Powered battery-electric construction equipment," the company said.
6. Number of the day: 64%
Via Axios' Rebecca Falconer, that's the percentage of people from around the world that say climate change is a global emergency, a UN poll published Wednesday finds.
Why it matters: It's the biggest global survey on climate change ever conducted, with some 1.2 million participants from 50 countries — including the U.S., where 65% of those surveyed view climate change as an emergency.