Axios Generate
April 20, 2021
Hi readers! Today's Smart Brevity count is 1,297 words, 5 minutes.
🗓️ Join Ben and Axios' Margaret Talev tomorrow at 12:30pm ET for a virtual event on sustainability with Sen. Joe Manchin (D-W.Va.) and Southern Co. CEO Thomas A. Fanning.
🎶 On this date in 1992, "A Concert For Life" took place at Wembley Stadium for AIDS awareness and in honor of late Queen singer Freddie Mercury.
Among the musicians appearing was David Bowie, and they're together on today's intro tune...
1 big thing: Ocean climate solutions are having a moment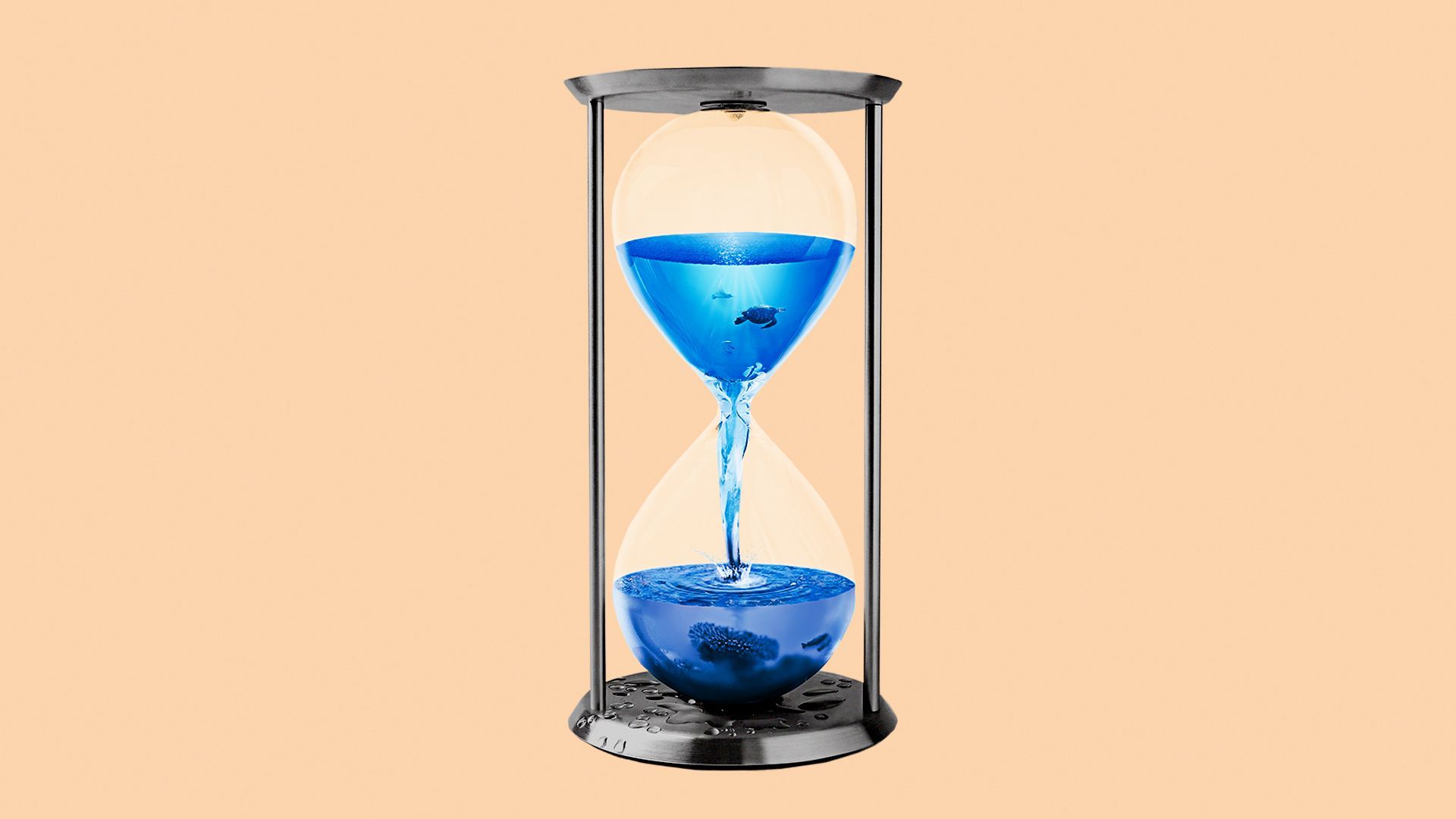 A growing alliance of policymakers, activists and conservationists are looking to the ocean for climate solutions, from setting aside vast stretches of open water to protecting coastal marshes and mangrove forest, Andrew reports.
Driving the news: President Biden's top climate aides will use a virtual event Tuesday to showcase the benefits of so-called blue climate solutions.
John Kerry, President Biden's climate envoy, and Energy Secretary Jennifer Granholm will join high-ranking environmental officials from around the world.
The big picture: Jane Lubchenco, a top White House climate scientist, tells Axios the ocean is just now being seen as an increasingly important part of the climate change mitigation and adaptation portfolio.
How it works: While ocean activities cannot produce the same level of emissions cuts as, say, decarbonizing the transportation sector can, the sliver of emissions cuts above or undersea are relatively large.
One 2019 study estimates up to 21% of the carbon emissions cuts needed to meet the Paris Agreement's most ambitious temperature target could come from ocean-based solutions, Lubchenco said.
Such cuts would come from boosting natural absorbers of carbon emissions, like mangroves, expanding offshore wind farms, deploying floating solar arrays, and pursuing wave and tidal energy.
Work is also underway to assess whether carbon can be captured from the air offshore and sequestered in the seafloor. Other ocean sequestration technologies are being studied, too.
Some want to use deep seabed mining, which is controversial for its potential to harm sea life, to obtain copper, cobalt and other materials needed for clean energy technologies.
Threat level: The time for decisive action to protect the sea is now, Lubchenco says.
As the deputy director for climate and the environment at the White House Office of Science and Technology Policy, Lubchenco will be moderating the virtual event on Tuesday.
She says it will show that many countries "Are coming together to demonstrate their commitment to ambitious ocean climate action."
Yes, but: There's also the ocean climate impacts side of the ledger to consider, which will be discussed at the meeting as well. A new United Nations report out Monday underscored how climate change is altering the oceans.
What's next: The oceans meeting will involve some of the participants in a major ocean conservation announcement coming Tuesday morning.
2. Carbon emissions are roaring back from COVID-19
Global energy-related carbon emissions will surge this year as coal, oil and natural gas consumption return from the pandemic that caused an unprecedented emissions decline, the International Energy Agency estimated Tuesday.
Why it matters: The projected rise of nearly 5% would be the largest since the "carbon intensive" recovery from the financial crisis over a decade ago, IEA said, putting emissions just below their 2019 peak.
Threat level: Tragic pandemics are a terrible reason for emissions cuts and they're not a climate policy.
But IEA head Fatih Birol, in a statement, called the carbon bounce-back a troubling sign.
"This is a dire warning that the economic recovery from the COVID crisis is currently anything but sustainable for our climate," he said in a statement.
"Unless governments around the world move rapidly to start cutting emissions, we are likely to face an even worse situation in 2022," Birol said.
The big picture: IEA sees overall global energy demand rising 4.6% this year, pushing it back above 2019 levels, but varies by region.
Most of the increase comes in emerging markets and developing countries, while energy use in "advanced economies" will be 3% below pre-COVID levels, they estimate.
Yes, but: Knowing the future is hard.
"The pace of global vaccine rollouts, the possible emergence of new variants of the Covid-19 virus, and the size and effectiveness of economic stimulus measures all represent major uncertainties," IEA notes.
Bonus: Fossil fuels' COVID whiplash
The chart above shows IEA's projections for changes in CO2 emissions from coal, oil and natural gas.
Driving the news: It sees global oil demand rising over 6% this year, but staying below 2019 levels.
But global coal demand is expected to be higher than 2019 and approach its 2014 worldwide peak, IEA projects.
IEA sees China, the world's largest coal consumer, accounting for 55% of the 2021 increase in global coal demand.
China's coal demand, which rose slightly last year, will be at a record high in 2021, per IEA.
3. Exclusive: A new player in the solar equity push
A new coalition has formed aimed at helping ensure federal efforts to expand solar power don't leave the poor and communities of color behind.
Driving the news: The dozen-plus members of the Solar Access for All Coalition include Earthjustice, Coalition for Community Solar Access, GreenLatinos, Solar United Neighbors and the NAACP.
Why it matters: The White House wants clean energy policy to enable economic and environmental gains for communities that have long borne disproportionate pollution burdens.
But a lot of blanks remain to be filled in.
The big picture: "For too long, the benefits of a clean energy economy have eluded communities of color, indigenous communities, low-income, rural, and frontline communities disproportionately impacted by climate and environmental change," they said in a letter to congressional leaders.
How it works: Goals include adding solar power to 30 million homes, 15 million of which are low- and moderate-income, and making sure people from underserved communities are part of the solar workforce.
They unveiled a policy agenda today. Just a few planks...
Not only extending solar investment tax credits as the White House plan calls for, but structuring them to spur deployment in underserved areas.
Providing zero or low-interest financing via the Energy Department's Loan Programs Office.
$30 billion in funding for state, local and tribal communities to deploy distributed and community solar, with a significant amount targeted to communities the group represents.
Various solar workforce development initiatives.
What's next: Earthjustice's Luis Nasvytis Torres tells Axios the coalition's plans include "directly lobbying members of Congress and the administration to include the core proposals within our roadmap in whatever infrastructure legislation moves this year."
4. Exxon's carbon storage pitch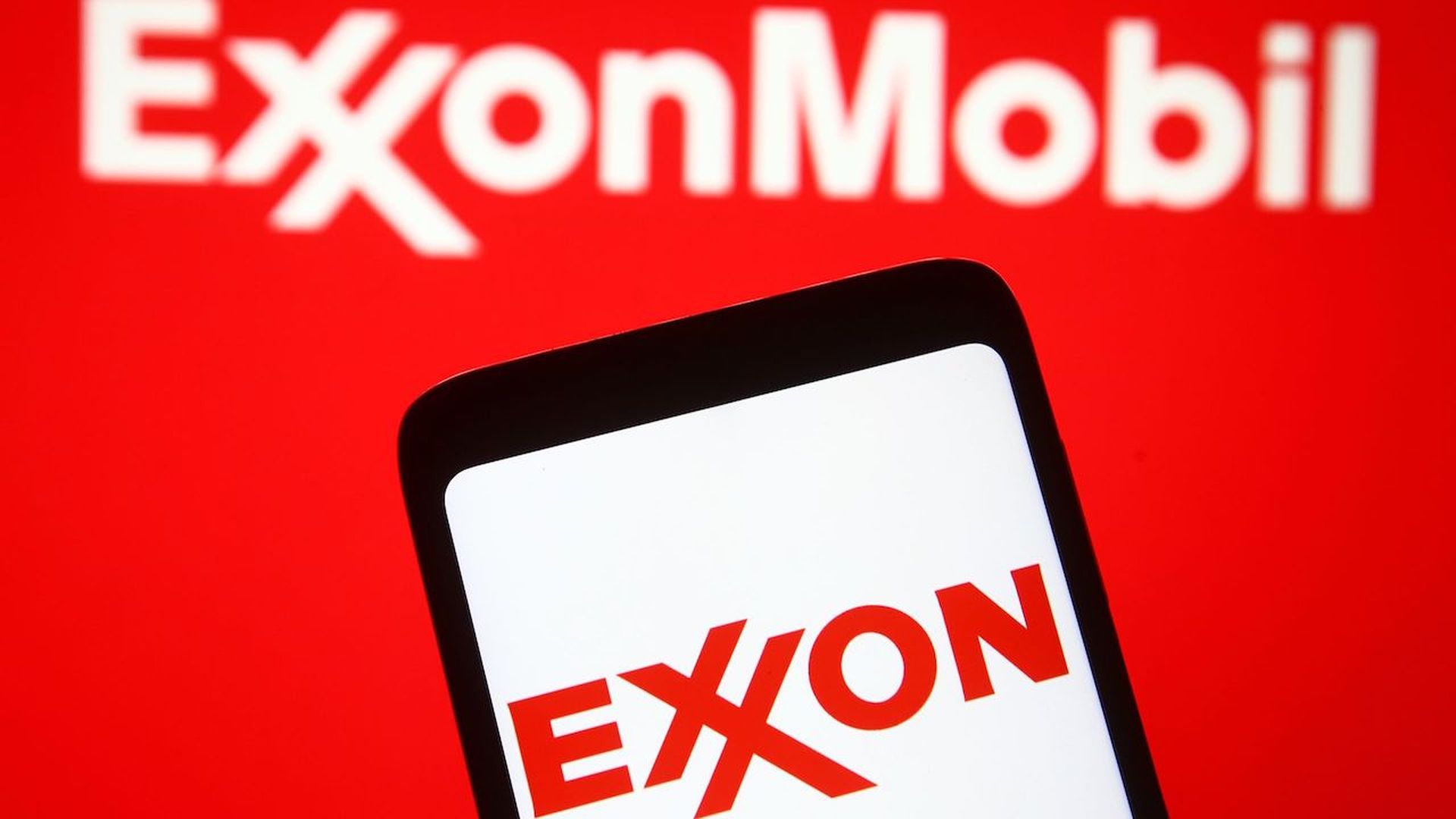 ICYMI: Exxon is calling for expansive industry-government collaboration to develop big carbon capture and storage projects around Houston, Texas.
Why it matters: Technology to trap emissions and permanently stash them underground could become a tool against global warming, but deployment has been very slow to get off the ground and remains in the nascent stages.
The Houston area is dotted with major petrochemical, manufacturing and power facilities.
The big picture: Exxon's proposal argues the region is ripe for the effort — it has lots of industrial facilities and it's located near subsea geologic formations that can store large amounts of CO2.
"It would be a huge project, requiring the collective support of industry and government, with a combined estimated investment of $100 billion or more," Joe Blommaert, head of ExxonMobil Low Carbon Solutions, said in a blog post.
The intrigue: Exxon said it has already briefed officials and industry groups, including Texas Gov. Greg Abbott (R), Houston Mayor Sylvester Turner (D), Sen. John Cornyn (R), and the Greater Houston Partnership.
Casey Norton, a spokesperson, said they have "had conversations" with the Biden administration, but did not provide further details.
5. Catch up fast on DC: Treasury, science, labor People: The Treasury Department offered more information Monday on plans to expand its focus on global warming, and said John E. Morton, a climate finance expert who served in the Obama administration, will lead the efforts. Go deeper
Yes, but: Politico reports that Secretary Janet Yellen's choice of Morton "riled environmental activists who want the Biden administration to take a harder line with Wall Street firms that finance fossil fuel producers."
Changes: The Biden administration has removed Trump-appointed atmospheric scientist Betsy Weatherhead from her role overseeing a comprehensive report on how climate change is affecting the U.S., the Washington Post first reported Monday. Read more
Negotiations: "The country's largest mine workers union signaled on Monday that it would accept a transition away from fossil fuels in exchange for new jobs in renewable energy, spending on technology to make coal cleaner and financial aid for miners who lose their jobs." (New York Times)
6. Number of the day: 15
The Verge reports: "Toyota, an early pioneer in electrification that has since fallen far behind its competitors, finally announced an electric vehicle strategy that will result in 15 new battery-electric vehicles released by 2025."