Axios Generate
March 27, 2019
Good morning! D.C. readers: You're invited to Transforming Transportation. Join Axios Autonomous Vehicles reporter Joann Muller on Thursday at 8am for a look into the policies and innovations defining the next era of transportation. RSVP here
Yesterday the incomparable Diana Ross turned 75, so needless to say she's got today's intro tune...
1 big thing: What's next for electric bus player Proterra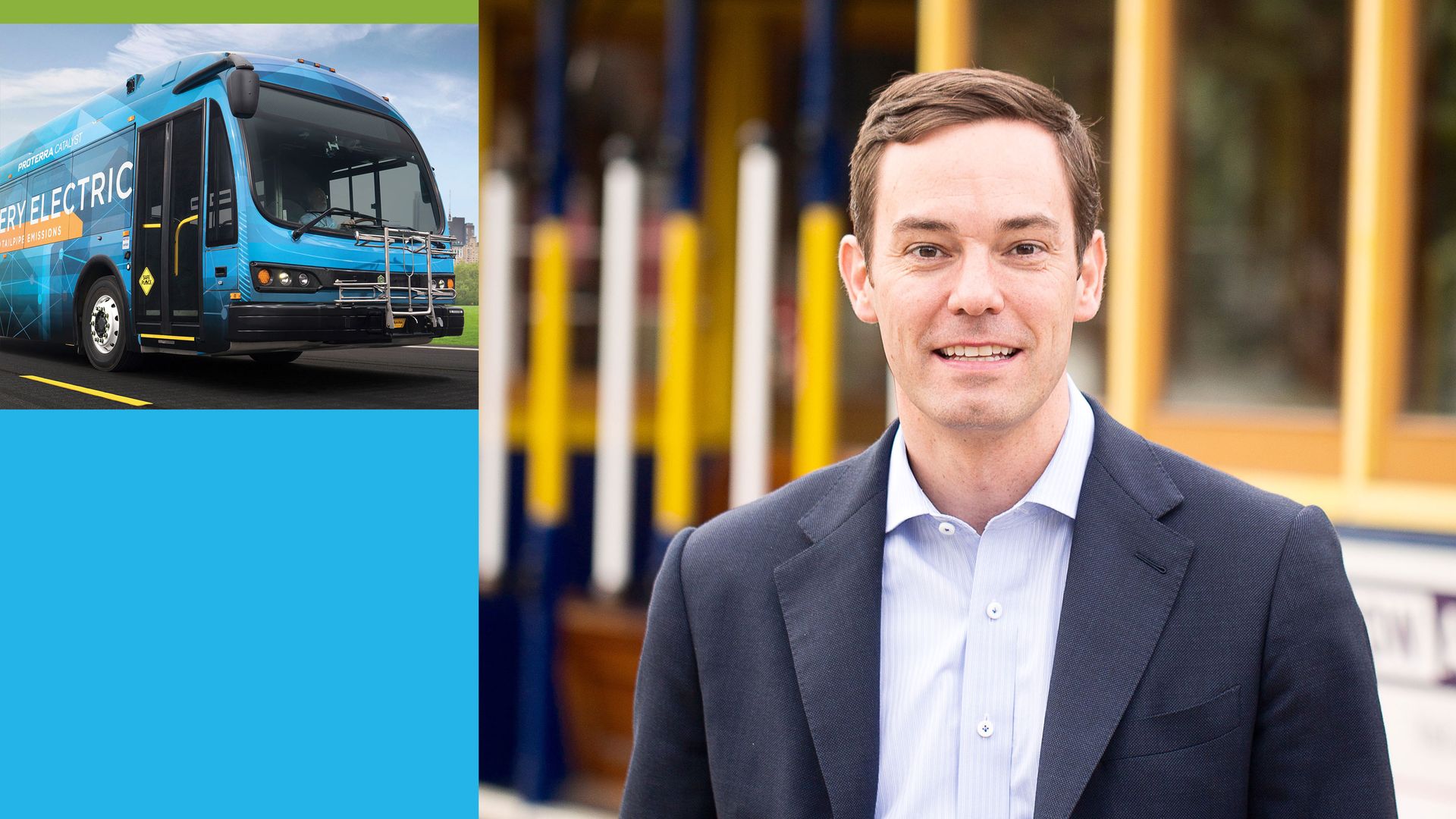 Electric buses are having a moment as falling battery costs make them increasingly competitive with diesel vehicles, and local and state clean-air and climate policies help drive deployment.
Driving the news: Major oil companies have approached electric bus maker Proterra — a heavyweight in the U.S. market with more than 300 buses delivered to cities and transit agencies and hundreds more on order — about investing in the company, but CEO Ryan Popple tells me he's steering clear for now.
I sat down with Popple, who told me why he's skeptical of funding from Big Oil, regions where the company is eyeing possible expansion in the future, and the opportunities beyond buses.
Here are a few takeaways...
Battery costs: Popple said battery costs when he became CEO in 2014 were 4-5 times higher than they are today. That improvement rate won't continue now that they're in the $200s per kilowatt-hour range, he said, predicting annual cost declines the single digit percent in the next few years.
Fuel costs: A Bloomberg NEF analysis last year said that e-buses are already competitive with diesel on a total lifetime cost basis, owing to the price of liquid fuel. Popple tells me...
"Ultimately our goal is to get the bus to parity with the diesel bus, not on a TCO [total cost of ownership], on an up-front basis," Popple says.
"I don't think we'll ever get all the way there, because I actually think that once we're within a 2-year fuel payback, the diesel bus market goes extinct," he adds, referring to the idea that the higher up-front cost of the e-bus is made up within 2 years.
He predicts that a tipping point will be when e-buses are down to $100,000 more than a diesel bus in up-front costs.
Expansion: The company entered the Canadian bus market last year and also sells battery packs to Europe, but Popple says attempts to compete head-on in Europe against legacy automakers would not make sense.
Emerging markets: Popple is cautiously thinking about emerging market economies, including Latin America and India — places he envisions Proterra potentially teaming up with home-country partners.
Big Oil: Popple revealed that the venture capital arms of major oil companies have made inquiries about potentially investing in Proterra, which has raised over a half-billion dollars overall, including a $155 million round closed last September.
Popple credits oil majors for making more moves on climate change recently, but he remains wary.
"I would be worried to really disclose what we are up to, what our strategy is, to an oil major until you really see shareholders and boards of directors state that, all right, this is our carbon budget for the next 25 years, we are going to ride out oil, but we are going to actively invest in the energy transition," he says.
2. Making sense of the Green New Deal vote
By now, you probably know that yesterday the Senate thwarted the Green New Deal resolution as every Republican and a small handful of Democrats voted no in the symbolic vote, while most Democrats voted "present."
Where it stands: Plenty has already been said about the vote that Republicans called for knowing that it was politically tricky for Democrats.
As the headline on this New York Times piece aptly put it, "Senate Blocks Green New Deal but Expends Plenty of Carbon Talking About It."
But a couple things about the politics of the day and the fight caught my eye...
1. Climate is clearly having a moment in national and presidential politics, and it's one that could very well last, breaking with past election cycles where it scarcely surfaced.
For instance, former Colorado Gov. John Hickenlooper, who's running in the 2020 election, moved yesterday to distance himself from the GND.
The decision to promote his opposition as he seeks traction in the race is noteworthy, signaling how climate has broken through into a mainstream political topic.
2. The symbolic GND debate showed that the sweeping resolution is politically untenable right now and that Republicans see a political opportunity in attacking it. A half-dozen White House contenders among Democrats declined to vote yes on the resolution that they themselves co-sponsored.
Yes, but: There's also been a recent shift on the right, showing some erosion of the GOP's frequent rejection of mainstream climate science.
Instead, Republicans are increasingly offering their ideas, even as they stop far short of the kind of aggressive proposals that advocates want as scientists say that steep global emissions cuts are needed — and soon.
Politico gets into that dynamic under the headline, "Republicans grasp for climate message."
What's next: House Speaker Nancy Pelosi and other Democrats are rolling out a climate bill today.
Senate Democrats, meanwhile, today are announcing an ad-hoc "special committee on climate change" to be led by Sen. Brian Schatz.
3. Oil giant Equinor's battery move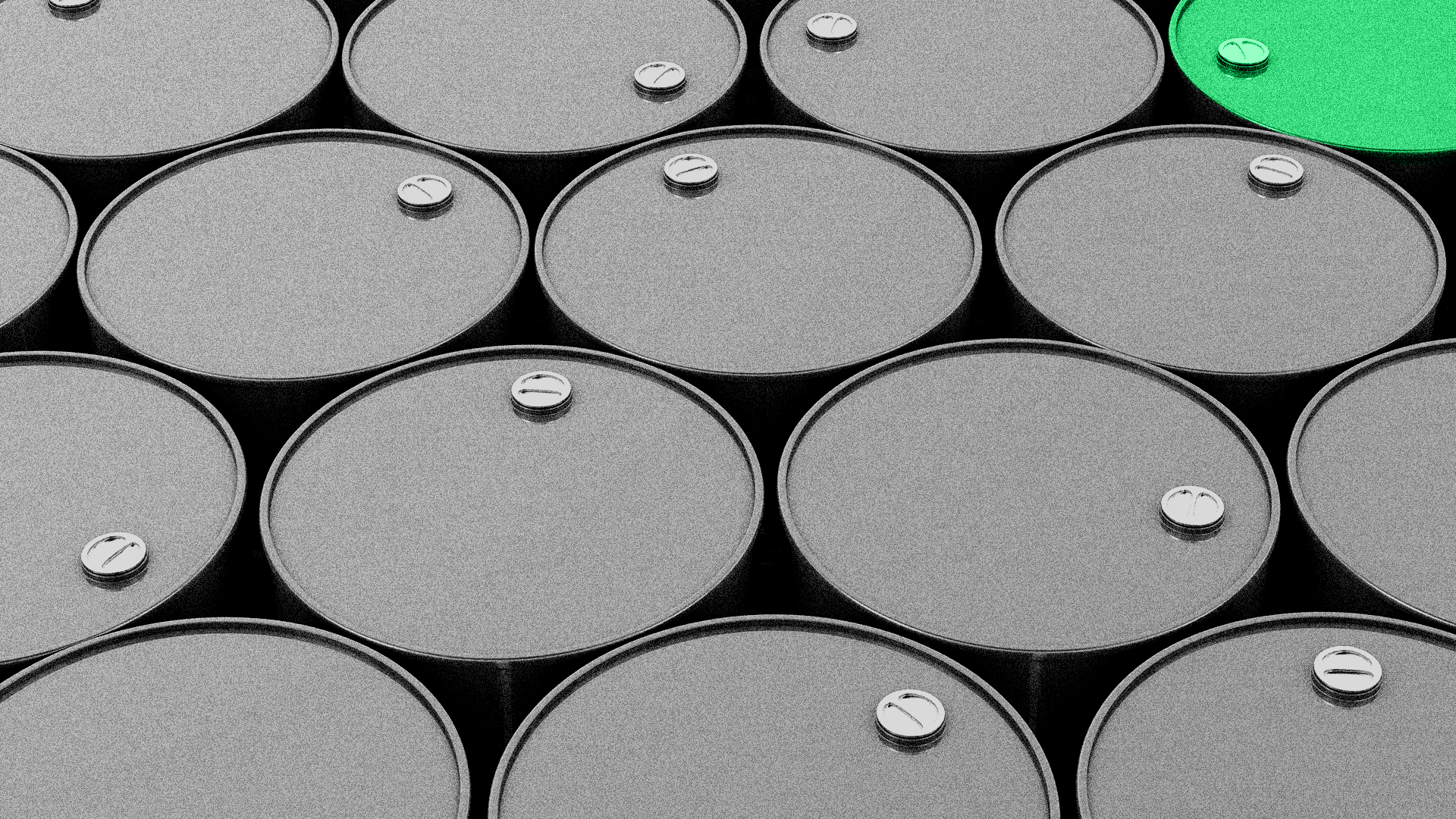 Equinor, the Norwegian oil-and-gas behemoth, is among two new investors in Volta Energy Technologies, a consortium that provides venture financing to startups seeking breakthroughs in battery technology.
Why it matters: The investment is a major sign of how the world's biggest oil companies are diversifying into low-carbon vehicle and grid tech, even though it remains a small part of their portfolios.
It also signals a major expansion for Volta, which launched in late 2017 and has an agreement with Argonne National Laboratory to help validate promising tech using private funds.
It has invested in four startups so far, including Ionic Materials, which is trying to commercialize solid-state batteries, and Conamix, which is developing a system to produce high-energy batteries with electrodes that don't rely on cobalt.
Where it stands: Equinor and the big Korean auto supplier Hanon Systems have both made a 5-year commitment, according to Volta.
They join existing Volta backers, which include the utility giant Exelon and the lithium supplier Albemarle, and bring the total funding to $180 million, a spokesperson said.
Go deeper:
* * *
Speaking of Big Oil, BP said Tuesday that it's launching a 3-year, $100 million effort to cut greenhouse gas emissions from its oil-and-gas exploration and production operations.
Why it matters: The effort is another sign of how the world's biggest fossil fuel companies, under pressure from investors and activists, are taking more steps to curb emissions.
The big picture: Via Bloomberg, "The new Upstream Carbon Fund is in addition to the $500 million that BP has already pledged to invest each year in low-carbon energy technology. The London-based company said it's already achieved more than 70 percent of the 3.5 million-ton sustainable reduction in greenhouse gas emissions its targeting from 2016 to 2025."
4. Power giant seeks edge in clean tech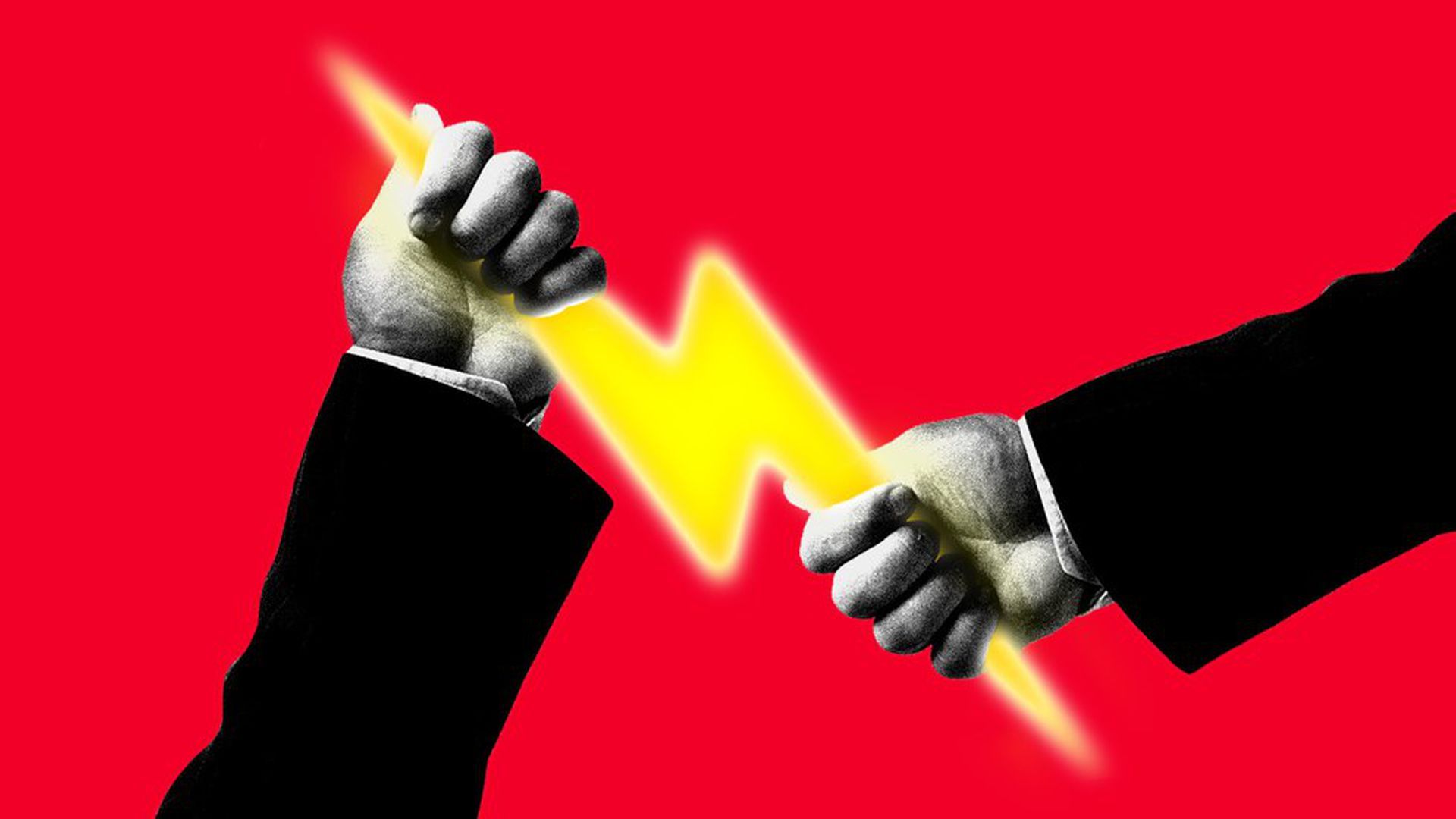 NEW YORK — A power technology conglomerate, known mostly for traditional energy sources like natural gas, has launched a new company to provide solar electricity and battery storage, Axios' Amy Harder reports.
Why it matters: The announcement from Mitsubishi Hitachi Power Systems Americas, made Monday at the Bloomberg NEF conference, shows how the world's biggest energy and technology companies are adapting to a world, or at least many parts of it, that is demanding cleaner energy sources.
Driving the news: The new company, called Oriden, is a project development firm under the umbrella of Japanese company. The name is a play on the English word "origin" and the Japanese word "denki" (電気), meaning electricity.
"We offer nuclear, we offer coal, we offer hydro, we offer offshore wind, we offer natural gas. We want to be able to offer our customers whatever they want to buy. And we're strong believers that the future here in the United States is a combination of natural gas, renewables and storage."
— Paul Browning, CEO and president, Mitsubishi Hitachi Power Systems Americas
One level deeper: Browning tells Axios in an interview that the decision was partly in response to some state moves away from natural gas, including California and Arizona.
"We have to be thinking about what's next," says Browning, adding that hydrogen as a form of storage is also something the company is pursuing.
5. Importance of New Mexico's "clean" standard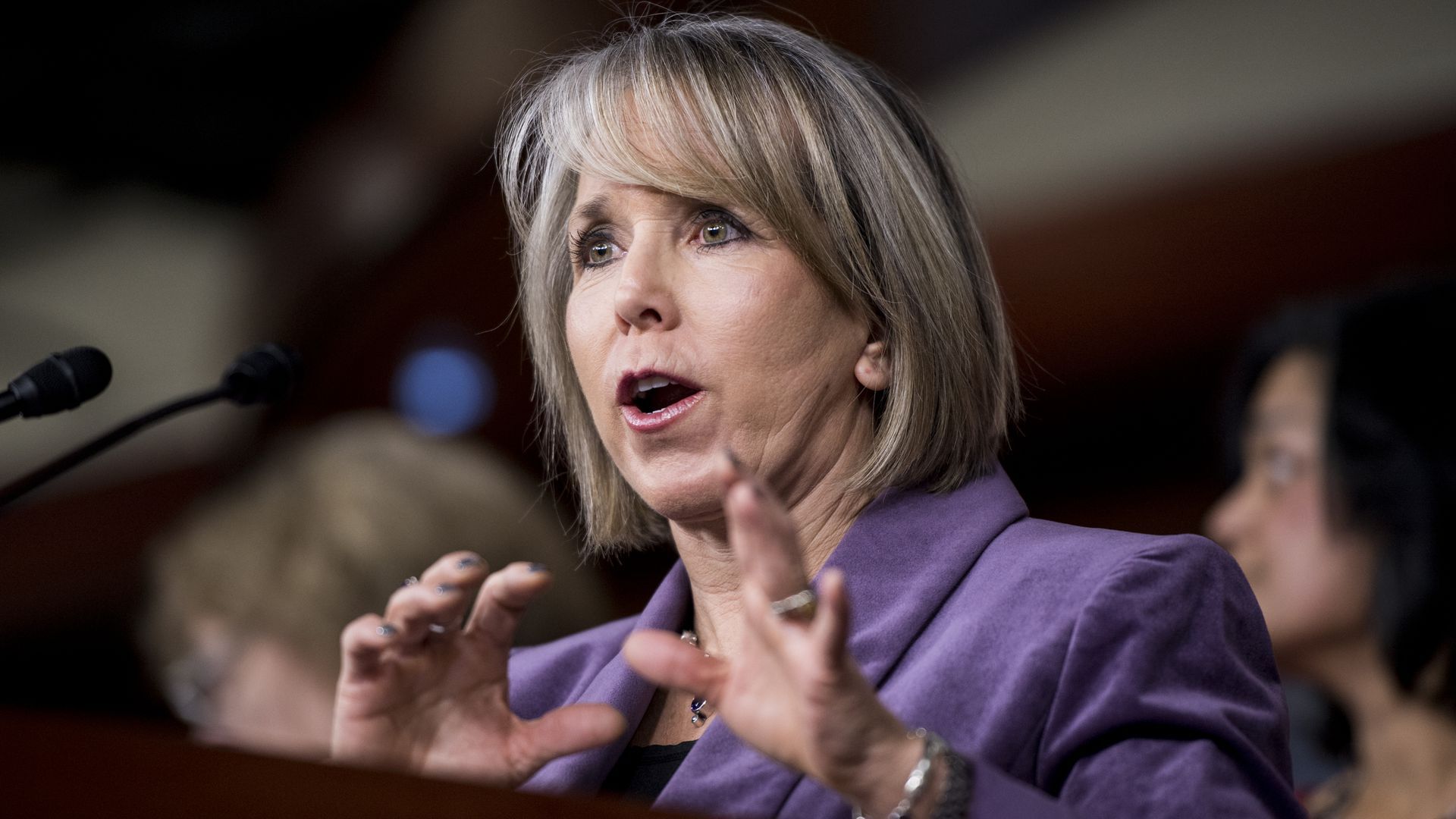 Axios Expert Voices contributor David Livingston of the Atlantic Council sizes up the "Energy Transition Act" (ETA) that New Mexico Governor Michelle Lujan Grisham signed into law on Friday.
The big picture: It commits the state to 100% carbon-free electricity by 2045, along with interim renewable energy targets.
Why it matters: Despite the fanfare and handwringing in Washington over the Green New Deal, carbon taxes and related measures with little near-term political tractability, improvements in state clean energy standards have garnered bipartisan support and made meaningful market impacts.
Details: The clean energy standard established by the ETA grew out of renewable portfolio standards, which 38 states and the District of Columbia use to mandate a given share of electricity production from renewables by a target date.
More than 60% of U.S. renewables growth from 2000 to 2015 was driven by state-level RPS compliance.
Clean energy standards do not preclude the exclusive use of renewables to meet their targets, but are more technology-neutral and can thus accommodate nuclear power, carbon capture and storage, or other technology that can compete on cost and zero-emissions credentials.
What's next: California set the tone in late 2018 with a bill that commits the state to 100% carbon-free electricity generation by 2045. A number of states across the U.S. heartland may now follow suit.
Livingston is the lead for climate and advanced energy and deputy director in the Atlantic Council's Global Energy Center.