Axios Generate
November 08, 2021
🥞 Good morning! This week, Andrew is in Scotland while Ben is back in the U.S. Today's Smart Brevity count is 1,219 words, 5 minutes.
🚨 Situational awareness: Barack Obama will warn COP26 today that "international cooperation has atrophied" and tell young people "you're right to be frustrated" on climate, but also say "meaningful progress" occurred last week, per CNN.
🎶 At this moment in 1987, Bruce Springsteen was atop the Billboard album charts with "Tunnel of Love," which provides today's intro tune...
1 big thing: COP26 is about to get tougher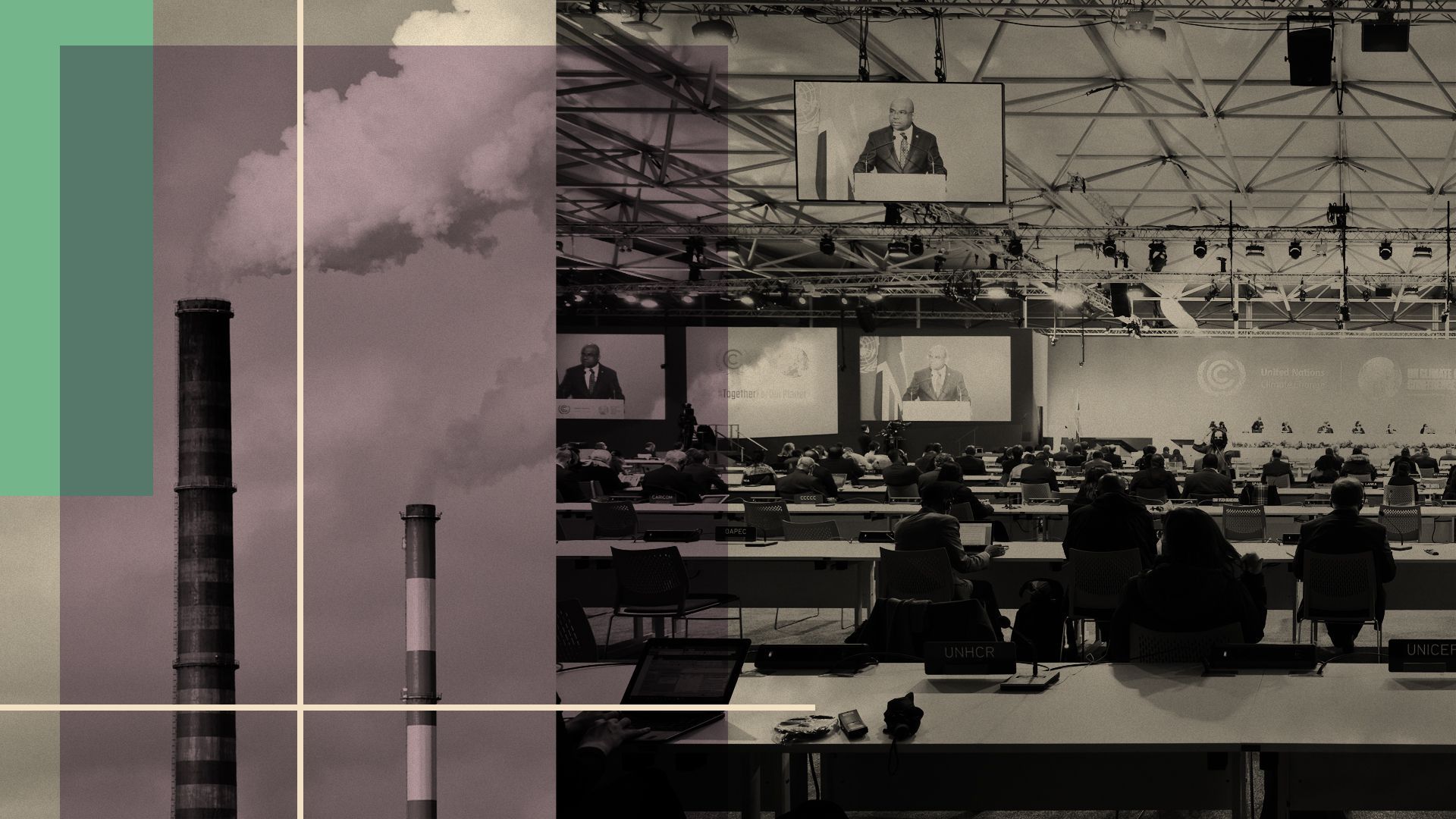 GLASGOW, Scotland — The drumbeat of public and private announcements during the first week of COP26, including big moves on deforestation and methane emissions, is now giving way to a more formal, contentious and political phase, Andrew writes.
Why it matters: The summit's a key test of whether all countries of the world can work together through a voluntary system to rein in global warming before it worsens more significantly.
Driving the news: A list of the outstanding issues reads like a final exam at a diplomacy school, but they boil down to two things: money and emissions targets, says Nigel Purvis, president and CEO of Climate Advisers, a public policy firm.
1. Emissions targets: The success of this COP will rest in part on creating a system to ensure that emissions pledges are made more consistent with Paris Agreement goals.
Current targets would see global average temperatures overshoot the Paris Agreement's most ambitious target of 1.5ºC of warming above preindustrial levels.
The U.S. and other members of the intergovernmental High Ambition Coalition want another review of targets in 2023 and annually after that.
That would be a departure from the Paris text, which calls for the next review in 2025.
2. Market rules: Ministers and negotiators must navigate a treacherous path to reach an agreement on rules to set up a carbon market, which would see countries and companies pay to reduce emissions by investing in projects elsewhere, in return for emissions reduction credits.
Some developing nations favor the creation of a small transaction tax in this market to help them adapt to global warming, which may not fly with developed countries.
3. Climate finance: With climate disasters mounting and the 1.5-degree goal slipping away, developing countries want additional financing commitments and mechanisms to be written into any Glasgow deal. For them, this is a critical issue, because industrialized countries have failed to meet their pledges.
4. Loss and damage: This COP is tackling an issue that has long been treated as a no-go zone in climate negotiations: whether and how wealthy countries, whose emissions have mainly caused the ravages of ongoing climate change, should pay damages to developing nations suffering from their effects.
So far, the U.S. has acknowledged loss and damage are occurring but has been resistant to go further.
What they're saying: "In my mind, there's no way developing countries are letting this conference end without an updating of that pledge; a new target on finance," Purvis, a former climate negotiator at the State Department, said.
"The mood among developing countries is sour," said Mohamed Adow, director of the Nairobi-based climate think tank Power Shift Africa, in an email. "Real progress needs to be made on adaptation funding and the setting up of a loss and damage mechanism to address those growing needs."
2. Sizing up the bipartisan infrastructure bill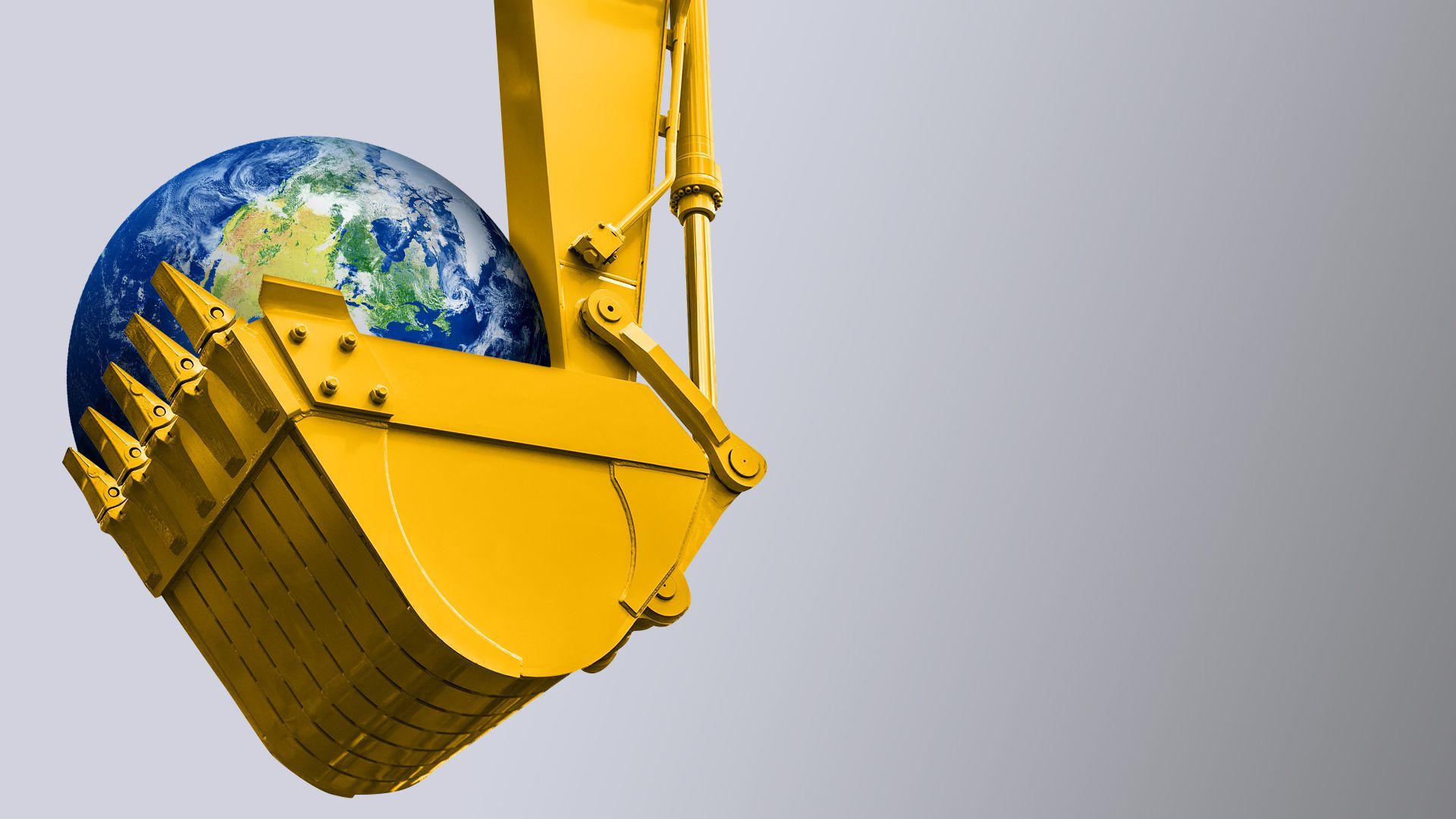 Is the newly enacted infrastructure bill just small steps on climate or a BFD? The answer to both questions could be yes, Ben writes.
Catch up fast: The House voted late Friday to send the $1.2 trillion bill to President Biden.
It has massive investments in roads, bridges, transit and other "hard infrastructure" provisions, including billions of dollars for EV charging.
It includes $47 billion in climate resilience measures, and, per the White House, $65 billion in clean energy and grid-related investments.
The big picture: I'm outsourcing to the REPEAT Project, led by Princeton energy expert Jesse Jenkins, working with the firm Evolved Energy Research and Dartmouth's Erin Mayfield.
They project the bill provides just "nominal" emissions cuts between now and 2030 compared to current policy.
They estimate energy and industrial CO2 emissions 30% below 2005 levels in 2030 — way off President Biden's pledge of a 50% cut in U.S. greenhouse gas emissions by 2030.
Yes, but: "The bill contains very important innovation policy investments whose impacts are difficult to model, but enable deeper cuts in the 2030s and 2040s by helping drive improvement in key technologies like clean hydrogen, carbon capture, advanced nuclear and geothermal, and long duration storage," Jenkins tells me via email.
He also flagged major investments in transmission, and CO2 networks and storage. Third Way's Ryan Fitzpatrick has a rundown.
What we're watching: All eyes are now on bigger spending and tax legislation Democrats hope to move on a party-line vote soon.
It's stuffed with provisions to drive the nearer-term deployment of more mature clean energy and emissions-cutting tech — enough, analysts say, to enable steep emissions cuts this decade.
3. Catch up fast: Bad data, energy crunch, litigation
Emissions: A Washington Post investigation finds that many countries are badly underreporting their emissions to the UN, and the collective gap is "big enough to move the needle on how much the Earth will warm."
China and India: "An energy crisis in two of Asia's key economies that caused power shortages and threatened slower growth is beginning to ease, though further risks remain." (Bloomberg)
Damages: "Developed countries including the UK face a legal claim of hundreds of billions of pounds to compensate poorer nations for damage from storms and rising seas caused by climate damage." (The Times)
📷 ICYMI: Check out our photo essay of COP26 protests worldwide over the weekend.
4. Climate shuffles superpowers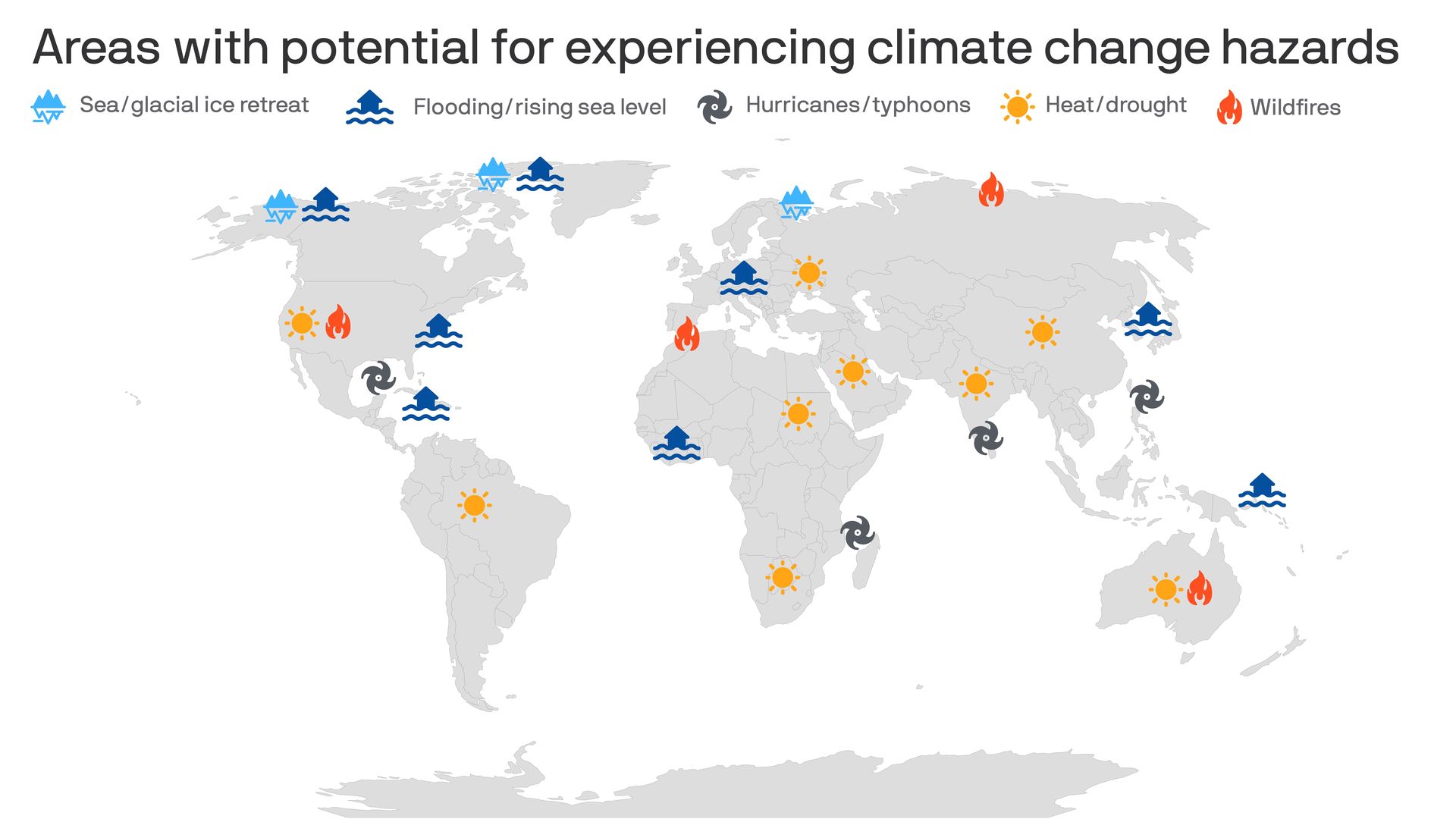 Drought, rising sea levels and melting ice caps are transforming the geopolitical map at the same time China's rise and revanchist Russia are testing the limits of American power, Axios' Zachary Basu reports.
Driving the news: These dynamics, outlined in the first-ever National Intelligence Estimate (NIE) on climate change, released last month, played out this past week at the COP26 climate summit in Glasgow.
President Biden rebuked China's Xi Jinping for failing to show up or present new commitments.
Why it matters: U.S. intelligence assessments show climate change is threatening military assets and opening new fronts in the great-power competition defining the 21st century.
Biden has sought to place the "existential threat" of climate change squarely at the center of his national security policy, while at the same time casting China as the "biggest geopolitical challenge" facing the U.S.
Those two priorities are inextricably linked: China is the world's largest source of carbon emissions, and its cooperation is critical to preventing some of the worst effects of global warming.
5. The challenge to building our way out of climate change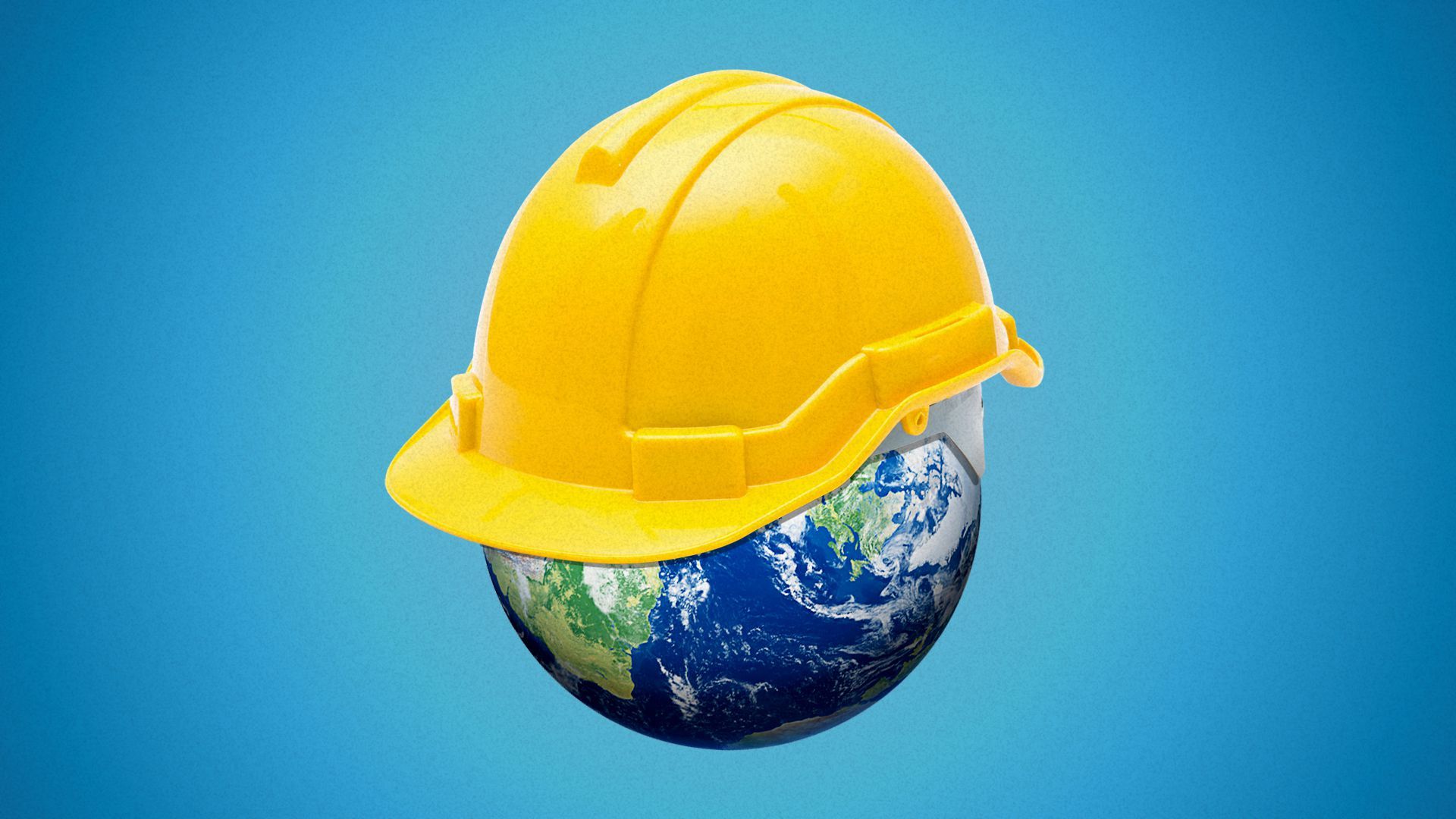 Averting catastrophic climate change — while ensuring economic growth for the world — will require renewable energy and carbon removal projects on a massive scale.
But there's strong ingrained public resistance to big infrastructure projects, including among many environmentalists, Axios' Bryan Walsh reports.
Driving the news: On Friday at the UN climate summit in Glasgow, the U.S. Department of Energy announced it will launch a major research effort to bring the cost of carbon removal below $100 a ton by 2030.
That's good news for the climate, as the UN Intergovernmental Panel on Climate Change has calculated the world may ultimately need to remove 100 billion to 1 trillion tons of CO2 by the end of the century to keep temperature rise below 1.5°C.
But beyond the scientific challenge of vastly reducing the cost of effective carbon removal — which is currently as much as $2,000 per ton — achieving it on a massive scale would require building out an entirely new kind of energy infrastructure.
The catch: The development required for net-zero carbon is increasingly meeting local resistance on the ground, including from people who identify as environmentalists.