Good morning and welcome back!
The U.S. hasn't produced this much oil since this David Bowie album came out in November of 1970 (read on for more on that), so the title cut is today's intro tune . . .
https://www.axios.com/newsletters/axios-generate-00f2ab49-d699-47f7-bdd3-d539ab1ca8cc.html?chunk=0#story0
Shell's profits surge as Big Oil earnings reports begin
Rising tide: Royal Dutch Shell's profits, helped along by the rise in oil prices in recent months, more than doubled in the fourth quarter compared to the same period a year before, showing a net adjusted profit of $4.3 billion compared with $1.8 billion the same quarter a year ago, CNBC reports.
Yes, but: The Wall Street Journal (among others) reports that the company's cash flow was less than expected.
U.S. policy: The company took a $2 billion charge related to the effects of the new U.S. tax law. But that aside, CEO Ben van Beurden says the cuts in corporate tax rate are helpful, given that the company is investing roughly $10 billion annually in the U.S. over the next several years.
"That investment of course is going to be doing well in a much more advantageous tax environment," he told Bloomberg TV.
Big picture: The CEO, in the Bloomberg interview, chatted about the company's positioning in a world where oil demand could peak within a couple of decades.
Shell will continue its recent moves into electricity as part of the effort to have a "future proof" portfolio, he said. Last year Shell bought the electric vehicle charging company NewMotion and the British power company First Utility.
"We think the power business is going to be the fastest growing part of the energy system and just need to be part of that as well," he said.
What's next: ExxonMobil and Chevron report tomorrow.
https://www.axios.com/newsletters/axios-generate-00f2ab49-d699-47f7-bdd3-d539ab1ca8cc.html?chunk=1#story1
Two ships colliding in the night: fossil fuels and climate change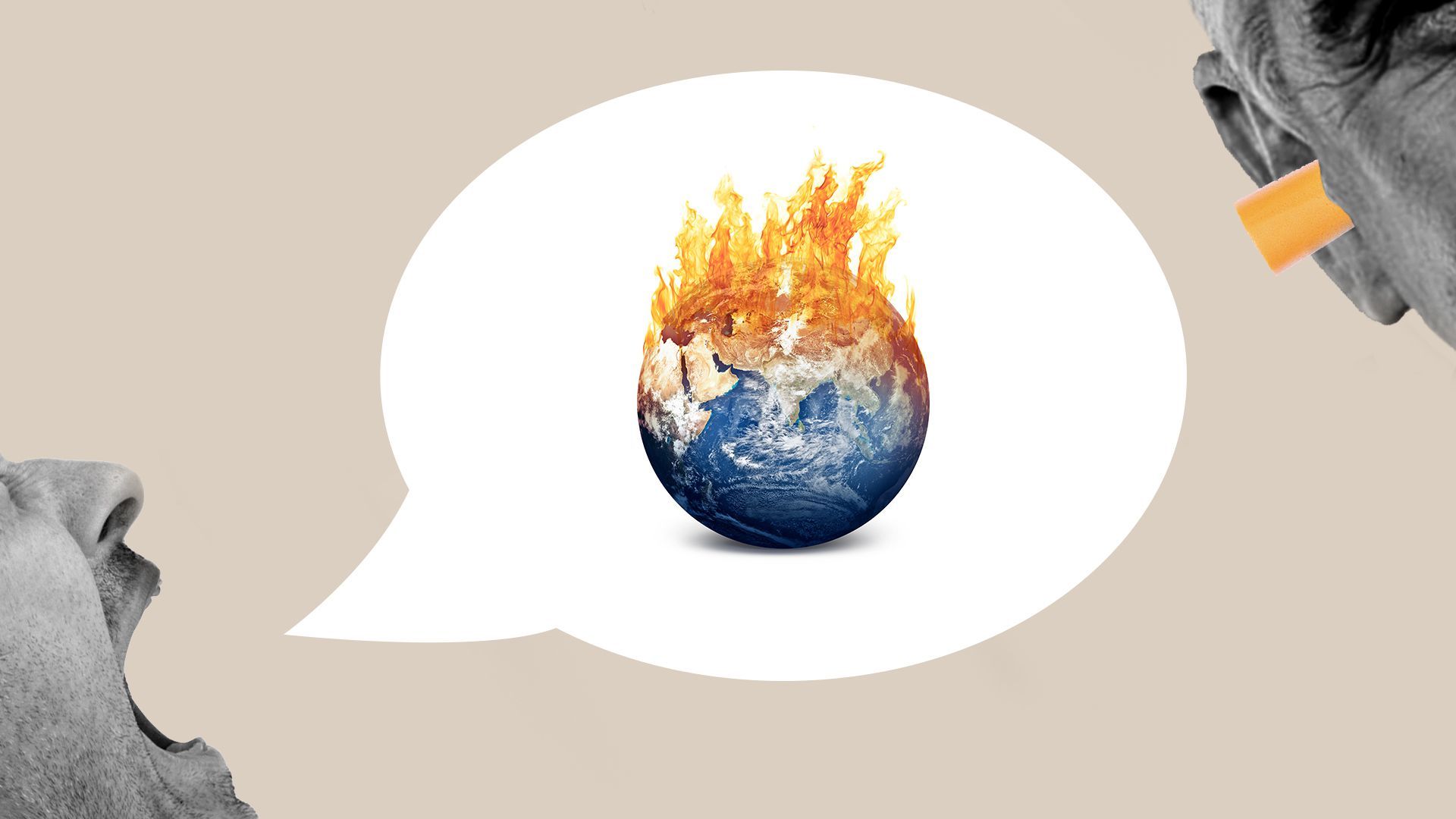 Illustration: Rebecca Zisser / Axios
My Axios colleague Amy Harder reports...
The far left corners of the Democratic party and environmental movement held an event Wednesday night to launch Fossil Free USA, a campaign urging America to transition entirely away from oil, natural gas and coal, with no regard to the reality that the global economy remains heavily dependent on fossil fuels.
That follows Tuesday's State of the Union speech, where President Trump said America is forging ahead with its fossil-fuel dominance, with no regard to the serious problem of climate change.
My thought bubble: It's like they're two ships not passing, but colliding in the night. Trump's backers say the far left and their alarmist messaging pushes them away from acknowledging climate change, while the far left is fed up with decades of delay and neglect of climate change.
There's no public dialogue between the two extremes while a quieter middle tries to get something done, to little avail yet. Meanwhile, we keep burning fossil fuels unabated, climate change is getting worse and most people don't care.
Washington usually operates in black and white political terms, but it's times like these — rhetoric-rich, substance-poor SOTU moments — where things crystallize. Energy and climate is one of the biggest policy areas where leaders of both parties have almost no common ground.
The bottom line: Extreme partisanship + very low voter priority = perfect recipe for deep political stalemate, which is what we have here.
Click here for the rest in the Axios stream.
https://www.axios.com/newsletters/axios-generate-00f2ab49-d699-47f7-bdd3-d539ab1ca8cc.html?chunk=2#story2
DOE news: Draft plan cuts renewables and an aide's coal focus
The next budget fight: In news further pointing to the administration's focus on fossil fuels, The Washington Post obtained some draft White House budget documents for DOE — ones that show it will ask Congress for deep budget cuts to DOE's renewable energy and energy efficiency programs.
The numbers: It would slash them by 72% overall in fiscal 2019.
Yes, but: White House spending plans are aspirational and political documents and often bear little resemblance to what Congress actually approves. But as WashPost notes, they "will mark a starting point for negotiations."
Not mincing words: Council on Foreign Relations president Richard Haass said via Twitter that the proposed cuts described in WashPost show that "Flat-earthism is alive and well."
An aide's "total purpose": S&P Global piece yesterday reports that at a coal conference in West Virginia Wednesday, a Trump administration official said he's in Washington for one reason — to help the coal industry.
"The good news is I'm with the federal government and I'm here to help. I went to Washington, D.C., for one purpose and that was to help create coal jobs in the United States. That's my total purpose for being there. I'm not a researcher, I'm not a scientist, I'm an advocate for the coal industry."
— Doug Matheney, a special adviser in the DOE's Office of Fossil Energy
Why it matters: Amy notes in the Axios stream that this is an incredibly blunt, politically transparent admission of Trump's pro-coal agenda. Politicians of all stripes often push policies that favor one type of energy source over another, but department officials don't usually articulate it quite so clearly.
https://www.axios.com/newsletters/axios-generate-00f2ab49-d699-47f7-bdd3-d539ab1ca8cc.html?chunk=3#story3
Renewable notes: offshore wind, lobbying, and a European milestone
Growing up: Greentech Media looks at a new report from MAKE Consulting that concludes that offshore wind is finally coming of age in the U.S.
"MAKE analysts forecast a compound annual growth rate of more than 50 percent for the market to 2026, mainly by state-level procurement in the absence of major federal policy incentives. Massachusetts, New York and Maryland are already showing promising initiatives that will kick-start the market," they report.
Why it matters: Offshore wind is a potentially huge source of electricity, but the industry has been slow to get off the ground in the U.S. compared to Europe.
Lobbying up: NextEra Energy, a big power company that's heavily invested in renewables, has tapped WilmerHale to lobby on wind energy permitting, a recently published filing shows.
The view from Europe: Via Yale Environment 360, "Driven by rapid growth in renewable energy in the UK and Germany, the European Union generated more electricity last year from renewable sources of energy than coal, according to a new report."
https://www.axios.com/newsletters/axios-generate-00f2ab49-d699-47f7-bdd3-d539ab1ca8cc.html?chunk=4#story4
Oil surge hits the Nixon high
Ahead of schedule: New Energy Information Administration data shows that rising U.S. crude oil production crept over 10 million barrels per day in November for the first time since 1970.
The 10.038 million barrels of daily output in November was this close to the all-time high reached a little over 47 years ago.
Why it matters: Cracking the 10 million barrier is a symbolic reminder of how the U.S. has become a global oil powerhouse on the strength of the fracking boom that bolstered production in Texas, North Dakota and elsewhere.
The rise of U.S. production — which is now on par with Saudi Arabia and could challenge Russia this year — has forced those countries and other petro-states to recalibrate their strategies.
"This is significant in market terms, and it's very significant psychologically. The U.S. is back big time as an oil producer and could be by next year the largest in the world. We're one of the big three now, and we could be number one."
— Prominent oil analyst Daniel Yergin
told CNBC
.
By the numbers: EIA has already predicted that U.S. production will shatter previous records this year and average 10.3 million barrels, rising even higher in 2019 to crack the 11 million barrier late in the year.
But even that may be too conservative. Yergin tells CNBC that U.S. production could surpass 12 million daily barrels by the end of 2019.
What's next: "We expect to see this rising U.S. production narrative dominate the discussion at least through 1H 2018 and weigh on prices," Hedgeye Risk Management's Joe McMonigle said in a short note yesterday.
https://www.axios.com/newsletters/axios-generate-00f2ab49-d699-47f7-bdd3-d539ab1ca8cc.html?chunk=5#story5
Don't forget about offshore
A burst of offshore oil-and-gas news underscores how shale is hardly the only game in town despite all the attention it gets...
Mexico's move: Via The Financial Times, "Mexico secured almost $100 [billion] in investment in its most successful oil tender to date as Anglo-Dutch oil major Royal Dutch Shell positioned itself as the biggest player in deepwater exploration and new companies including Qatar Petroleum burst on to the scene."
Why it matters: The consultancy Wood Mackenzie, in a short note, said the big bids are evidence of Mexico's success in opening its energy sector to outside investment.
"The Majors used this round to increase acreage exposure to some of the most attractive Deepwater areas in the world. Their interest today is a vote of confidence in Mexico and a testament to the country's prospective acreage and competitive fiscal environment," WoodMac analyst Maria Cortez said.
Big picture: The Houston Chronicle ties together new moves from Chevron, Shell, BP and Total...
"Some of the world's biggest oil companies announced this week that they've made major deepwater discoveries in the Gulf of Mexico and North Sea, signaling that the moribund offshore energy sector is coming back to life as rising oil prices and lower development costs hold the promise of new profits," the paper reports.