Good Monday morning ... energy and cybersecurity are often intertwined. So I recommend you sign up here for Codebook. Axios' Joe Uchill will bring you the latest in cybersecurity policy and defense news twice a week, beginning tomorrow. 
OK, let's dive in. My latest Harder Line column takes a close look at Exxon's climate-change strategy: its report to investors and a little-noticed session on the topic with analysts earlier this month. And then Ben Geman will take things over for the rest of today's news.
https://www.axios.com/newsletters/axios-generate-00e10056-4f04-43ee-9ba0-dc728b69f191.html?chunk=0#story0
Inside Exxon's climate-change strategy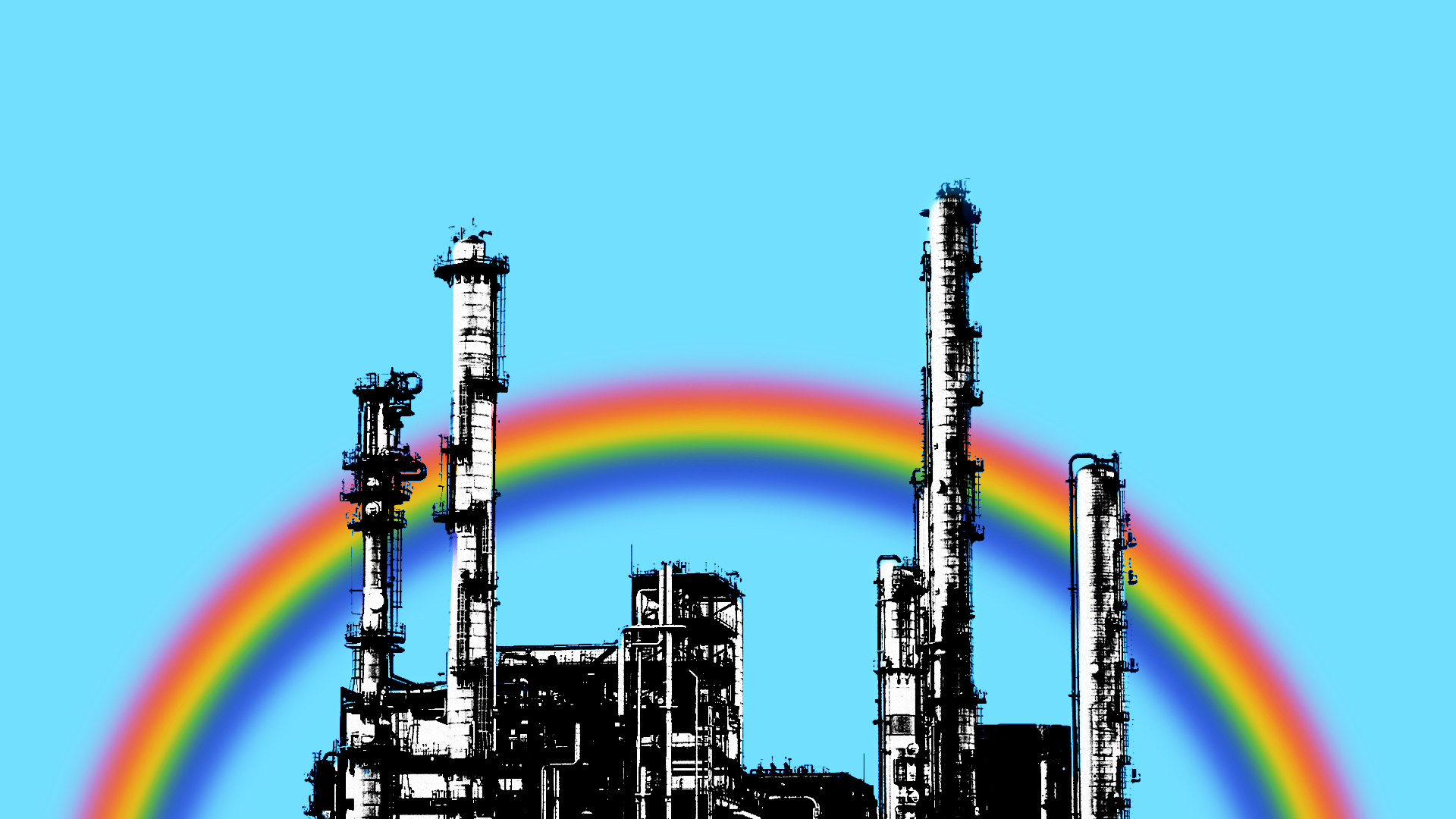 Illustration: Rebecca Zisser/Axios
ExxonMobil is betting on two costly technologies — carbon capture and biofuels — and overly optimistic data to drive its climate-change strategy.
Why it matters: As the world's largest publicly traded oil company, Exxon is the face of America's fight over climate change and fossil fuels. While other oil majors like Shell and BP are branching out to wind and solar, and investing in electrification technologies, Exxon has made its existing natural gas and liquid fuels business the focus of its climate strategy.
Exxon is at the center of lawsuits alleging big oil companies knew about and concealed the dangers of climate change for decades, and a record share of its investors have urged it to be more transparent about the risks climate poses to its business. That's a trend proliferating within other publicly trading fossil-fuel companies.
A new Exxon report on navigating a carbon-constrained world, combined with recent comments by top executives, make Exxon's approach clear. The company is doubling down on a decade-old strategy by making relatively small, long-term investments in two costly technologies: carbon capture and algae biofuels as a way to stay focused on its core hydrocarbon business. 
Exxon held a first-ever dedicated session on climate change with analysts earlier this month during an annual meeting, a discussion that received little outside coverage. An Exxon spokesman, when reached for comment, referred to that session.
Bottom line: Exxon's strategy is based on a range of scenarios with favorable assumptions for its core fossil-fuel business that lets it address climate change without fundamentally changing its business model as a company that extracts fossil fuels. That makes it an outlier among giant oil companies that are making bigger bets outside the core hydrocarbon space.
Drill down for the rest in the Axios stream here.
https://www.axios.com/newsletters/axios-generate-00e10056-4f04-43ee-9ba0-dc728b69f191.html?chunk=1#story1
China's crude oil contract takes flight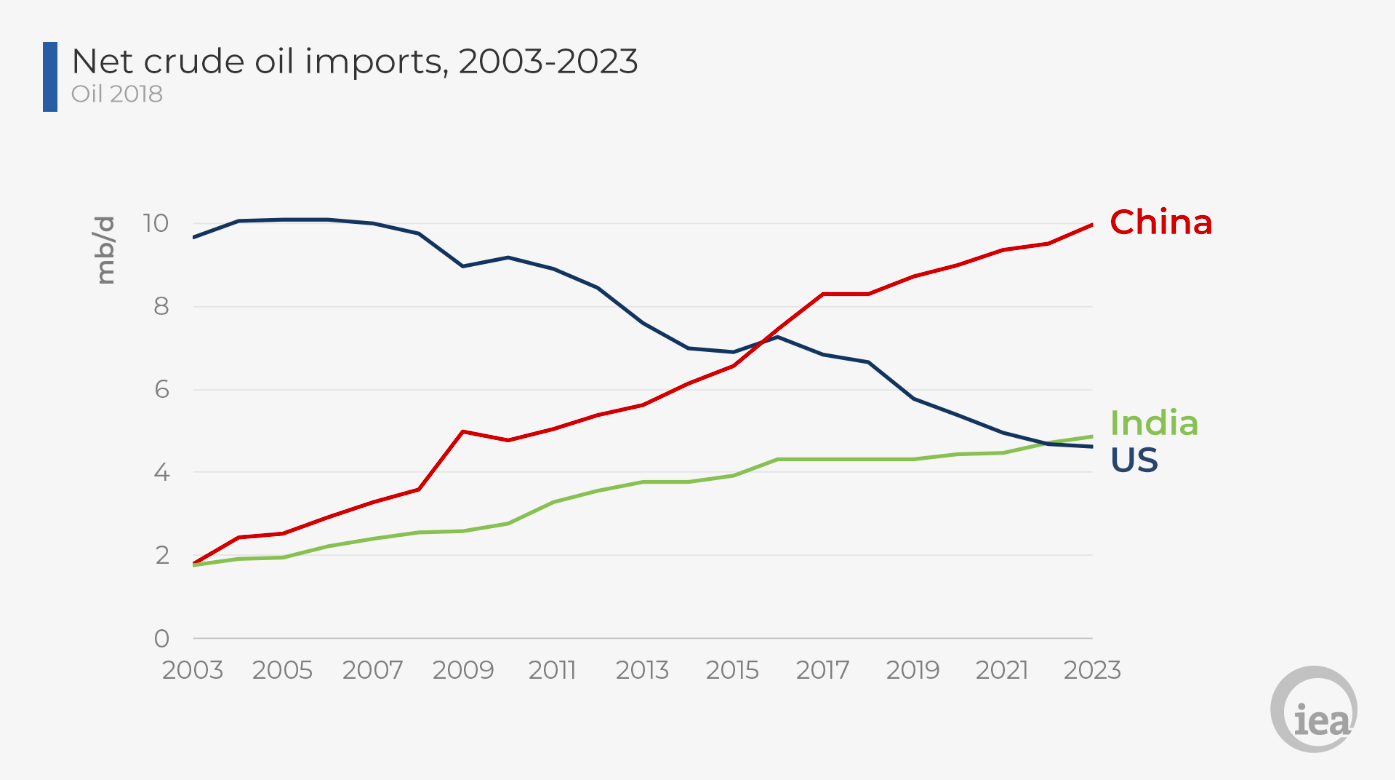 Import needs for China and India are growing while the U.S. requires less. Screenshot: International Energy Agency's Oil 2018 report
Launched: China, the world's largest crude oil buyer, today began trading of the first yuan-denominated oil futures trading contract on the Shanghai International Energy Exchange.
Why it matters: It's a move by the energy-hungry nation to bolster its influence over pricing. Per the Financial Times:
"The aim is to wrest some control, away from US dollar-based international benchmarks, such as the West Texas Intermediate and Brent markers, so that prices reflect as closely as possible the crudes processed by Chinese refineries."
Early results: "The most actively traded futures contract due for delivery in September closed up 3.3% at 429.9 yuan ($68.07) per barrel...after opening up more than 6% from a starting reference point of 416 yuan per barrel," The Wall Street Journal reports from Shanghai.
What's next: A note Monday from Wood Mackenzie looks at the potential influence. "As a start, we expect more influence on Basrah Light and Oman prices as they account for a significant portion of the contract volumes. China imports about 600 kb/d of Oman crude," per research director Sushant Gupta.
"In the longer term, the futures exchange will enable China's crude-buying patterns to become more transparent to the world. Prices assessed at the Shanghai exchange will reflect China's crude supply and demand. They could also become a reference for China's crude market, which is likely to start having a bigger influence on global crude prices," Gupta writes.
https://www.axios.com/newsletters/axios-generate-00e10056-4f04-43ee-9ba0-dc728b69f191.html?chunk=2#story2
Latest in policy: new WH aide and EPA auto moves
Familiar face: E&E News broke the story over the weekend that Wells Griffith, an Energy Department official who worked on President Trump's campaign, is heading to the White House as an international energy and climate adviser.
Why it matters: The move fills a void left by February's abrupt departure of George David Banks, who was unable to get a full security clearance.
Griffith is principal deputy assistant secretary at DOE's office of international affairs, and he's serving a three-month stint on the National Economic Council that could lead to a longer placement, according to E&E.
Per Bloomberg, he'll work on topics such as "policy questions about liquefied natural gas exports to Europe and coal power plants around the world."
The big question: What will be the direction of White House climate policy amid the broader personnel shift that has led to the departures of topic officials including Rex Tillerson. We explored the topic here.
Auto rules: Via WSJ, EPA has tentatively concluded that carbon emissions and mileage rules for cars and light duty trucks covering model years 2022–2025 should be scaled back.
The Office of Management and Budget website shows that EPA's reconsideration of the rules arrived for review on Friday.
Why it matters: The regulations are a pillar of Obama-era climate policy.
What we're watching: Whether the White House can avoid a showdown with California over that state's Clean Air Act powers to set tougher rules that a number of other states may also adopt.
https://www.axios.com/newsletters/axios-generate-00e10056-4f04-43ee-9ba0-dc728b69f191.html?chunk=3#story3
Latest in lobbying
EV charging: Electrify America, a Volkswagen unit that's investing in a nationwide charging infrastructure effort, has registered to lobby for the first time, a new filing shows.
Why it matters: Electrify America plans to invest $2 billion over the next decade on electrification initiatives. It's part of the settlement of VW's diesel emissions cheating scandal.
Patricia Readinger, a senior Transportation Department official in the Obama administration, will be lobbying for the company.
Solar: Sunrun, now the largest residential solar company, has tapped the boutique firm VantageKnight, a filing shows.
Oil-and-gas: The Washington, D.C., office of France-based multinational oil giant Total has registered to lobby, according to a newly posted filing.
"Our task here is to follow developments in D.C. across all of our business lines, both in the U.S. and overseas. We are also tasked with raising the profile of Total's interests in the U.S. where we have been operating assets for over 60 years," Mark Anderson, the senior VP for public affairs who is also registered to lobby, tells Axios.
Puerto Rico: The energy services firm Mammoth Energy Services has brought on Akin Gump for work on "railroad transportation and utility restoration."
More Puerto Rico: The law firm McConnell Valdés, on behalf of the power company Engie North America, has tapped the firm Cumberland North America for work related to the island's energy system.
https://www.axios.com/newsletters/axios-generate-00e10056-4f04-43ee-9ba0-dc728b69f191.html?chunk=4#story4
Quote of the day
"You've got a geopolitical mega storm coming in May."
The context: McNally, president of the Rapidan Group, is talking about looming events including the next White House decision on Iran energy sanctions. He expanded on the comment too, saying via Twitter:
"May 2018: Iran sanctions, Venezuela 'election' & sanctions, Iraqi elections, possible Trump-KJU sitdown. Unusually high # of major foreseeable
#
crudeoil risk events falling in one month. Good month for analysts not to plan vacations."