Axios Generate
January 25, 2021
Good morning. It's with a bittersweet heart I share that today is my last day at Axios. I'm joining BreakthroughEnergy, an organization founded by Bill Gates that supports society's shift to cleaner energy. I will lead a new journalism initiative there that tells stories about the opportunities and challenges of the energy transition. Please read more in my LinkedIn post. 
This isn't a complete goodbye. As we work to launch the project, I'm going to continue my Harder Line column for Axios on a monthly basis as an outside contributor.
Let's dive into my last weekly scheduled column for Axios, where I take a big, historical view on where we're with energy and climate change. I'll share that, and then Ben Geman will get you up to speed on other news. 
Today's Smart Brevity count: 1,245 words, 4.7 minutes.
1 big thing: History curving on energy and climate change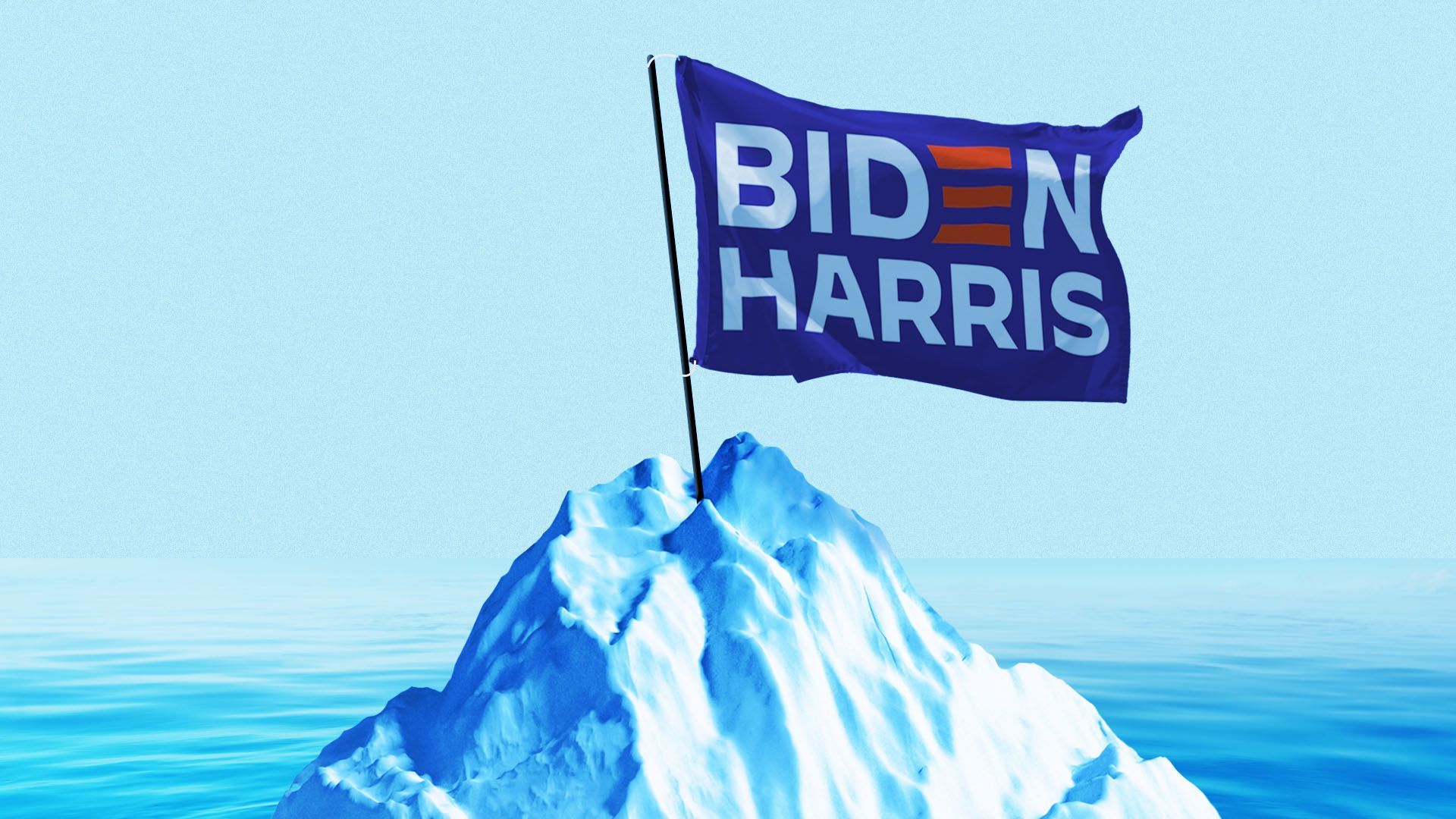 Like the curve of Earth we can't see from the ground, we're on a curve in history that we won't fully recognize until decades in the future.
Driving the news: The inauguration of President Biden completes an economic and political consensus that climate change is an urgent threat the world should aggressively address. Whether this consensus produces action remains deeply uncertain.
The big picture: Sometimes history is recognized instantly, like the Capitol insurrection or the pandemic. Because climate change is inherently gradual, history happens so subtly that we may miss it in a world gripped by faster-moving crises.
I asked Daniel Yergin, an energy expert famous for writing a Pulitzer Prize-winning book about the history of oil, how he thinks historians in 2050 will look back on this time for energy and climate change.
"History curving," answered Yergin, whose consulting firm, IHS Markit, has traditionally been most focused on the oil and gas sector but whose fastest-growing business today focuses on climate change.
2050 is a common benchmark year by which climate change progress is measured. It's a generation away for us humans, but a blip for our planet.
Flashback: This historical curve began with the Paris climate agreement in 2015, which prompted investors, corporations, the public and politicians to prioritize the problem.
Those shifts cemented the curve in history, despite President Trump vowing in 2017 to withdraw America.
Biden, who officially announced on his first day in office that the U.S. is rejoining the accord, will accelerate policies and technologies that have been growing over the last six years.
But, but, but: Evidence indicating the world is beginning to address climate change doesn't actually make the challenges easier. In fact, some are getting bigger and others are merely becoming clearer.
Where it stands: Oil, natural gas and coal accounted for 81% of the world's energy consumption in 1990. Thirty years later — in 2020 — that figure dropped to 80%, mainly because of the pandemic, according to the International Energy Agency.
The challenges are many and overlapping. Read my full column to look at two foundational ones: Politics and technology.
The bottom line: We're on the curve, but we don't know its destination.
"Optimistically, historians will say that the Biden administration was able to create a sense of collective urgency that enabled the U.S. to take the kinds of risks that ultimately solved the problem," says Jason Grumet, president of the Bipartisan Policy Center.
"The other path would be that the U.S. squandered its last opportunity to change the structure of its economy in time to avoid the worst effects of climate change." 
2. Big this week: Biden order, DOE hearing, Tesla earnings
Here are a few things we're watching over the next few days...
White House: President Biden is expected to sign an executive order on climate policy, per a memo the New York Times obtained — which noted plans for a Wednesday release — and other reports.
Congress: Jennifer Granholm, Biden's nominee for secretary of energy, will appear before the Senate's energy committee on Wednesday.
And tomorrow the Senate's commerce panel will hear from Rhode Island Gov. Gina Raimondo, Biden's nominee to run Commerce Department.
Earnings: Companies reporting Q4 results this week include Tesla, the country's dominant electric vehicle maker, which reports after markets close Wednesday.
Also, CEO Elon Musk said he plans to provide details this week on his pledge to create a $100 million prize for the "best" carbon capture tech.
3. Europe's electricity inflection point
Renewable sources overtook fossil fuels as the largest source of power generation in the European Union for the first time last year, new analysis Monday shows.
Why it matters: It's an inflection point. Wind — now the largest source of renewables in the bloc — and solar have been growing while coal-fired production has fallen sharply in recent years.
The chart above shows both absolute shares of renewables and fossil fuels, and coal vs. wind and solar together.
The report is from the clean energy think tanks Ember and Agora Energiewende.
The intrigue: Some of the 2020 data shows the effects of the pandemic, with coal's most recent decline influenced partly by decreased overall power demand along with continued displacement by renewables.
But overall, COVID-19's "impact on the overall trend from fossil fuels to renewables was quite limited," the report finds.
Wind and solar capacity additions were "surprisingly robust" despite the pandemic.
Yes, but: The changing generation mix in the continents' power sector isn't happening fast enough to be consistent with the EU's wider climate goals, the groups say.
"The transition from coal to clean is...still too slow for reaching 55% greenhouse gas reductions by 2030 and climate neutrality by 2050," the report states.
What we're watching: Ember analyst Dave Jones, asked whether renewables will beat fossil fuels again this year, said, "it will probably be close." But the overall trajectory is clear.
"As demand picks up again post-COVID, it's possible there is a very small rebound in fossil generation," he said, adding it would be "slight and temporary."
"The trend is clear: Wind and solar are helping to quickly phase out coal. Hopefully, it will start to do the same for gas generation."
4. Shell buys another European EV charging player
Shell is buying the European electric vehicle charging company Ubitricity, the companies announced this morning without disclosing the deal's size.
Why it matters: Ubitricity says it is the largest charging public charging network in the UK, with over 2,700 charge points, and operates in several cities.
It's the latest sign of how European oil giants are moving into climate-friendly areas like renewables and other power services, though fossil fuels remain their dominant business lines.
The big picture: Shell has made multiple moves in the EV charging space, in recent years acquiring NewMotion, which is also in Europe, and the U.S. company Greenlots.
Go deeper: Shell buys UK's largest electric vehicle charging network (Financial Times)
* * *
Speaking of Big Oil, Reuters reports: "Top oil and gas companies sharply slowed their search for new fossil fuel resources last year, data shows, as lower energy prices due to the coronavirus crisis triggered spending cuts."
And via Bloomberg: "Total SE has had the fastest start in the race between oil supermajors to achieve net-zero carbon emissions."
5. Lucid Motors' EV manufacturing plan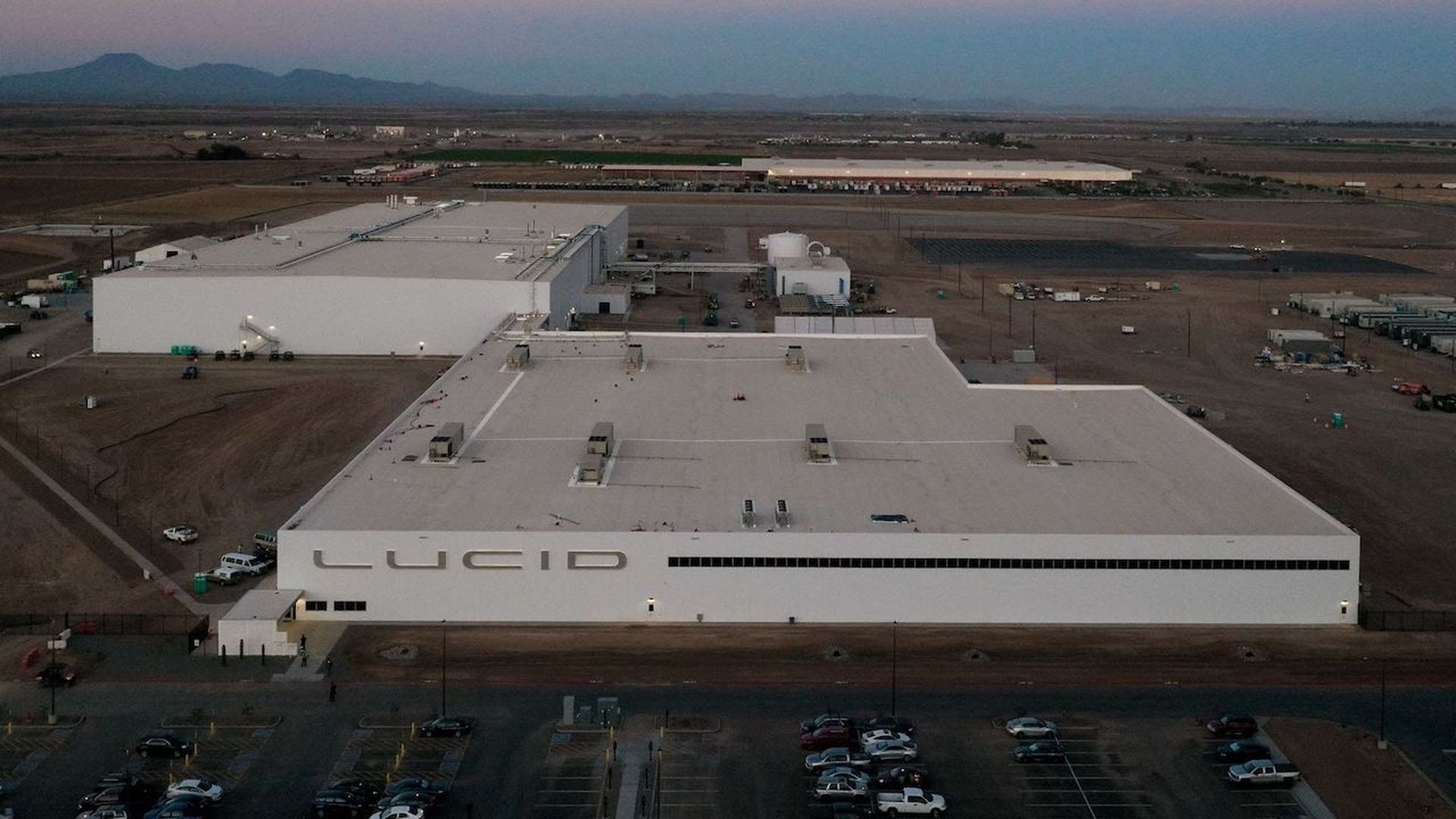 Axios' Joann Muller reports...The U.S. auto industry is spreading west, with electric vehicle companies opening factories far from Detroit, in places like California, Arizona and Texas.
Why it matters: With hundreds of millions of dollars in fresh capital, along with newly issued public stock symbols, many are unproven newcomers with ambitions to become the next Tesla.
What we're watching: Among the startups is Lucid Motors, whose CEO is a Tesla alum wary of the "production hell" his former boss, Elon Musk, famously described while trying to launch Model 3.
"Why boast about something you've not done very well?" Lucid CEO Peter Rawlinson tells Axios.
"Production hell means you didn't plan very well," adds Peter Hochholdinger, Lucid's VP of manufacturing.
How it works: Rawlinson describes Lucid's manufacturing strategy like a chess game, with lots of moving pieces and one move dependent on the next.
The planned factory, on 500 acres in Arizona, one day will be capable of making 400,000 cars a year.
But right now, Lucid has just one electric luxury sedan, the Lucid Air. It plans to produce 7,000 this year, and eventually 34,000 annually.
"We don't want to spend $1 billion on a factory for 400,000 units and have all that capital tied up," he said.
So Lucid is building its factory in phases, as needed, similar to "just-in-time" supply chains.
Its next model, an SUV, arrives in 2023, with an expected production of 85,000-90,000 units, says Rawlinson. By then, phase two of the factory will be complete.
By 2030, all four phases will be completed, he says.