Axios Gaming
February 06, 2023
Happy Monday.
Filing this newsletter while on a train to D.C. Not at all stressing that the power socket next to my seat doesn't seem to be working. Nope...
Today's edition: 1,181 words, TK minutes
1 big thing: Hogwarts complications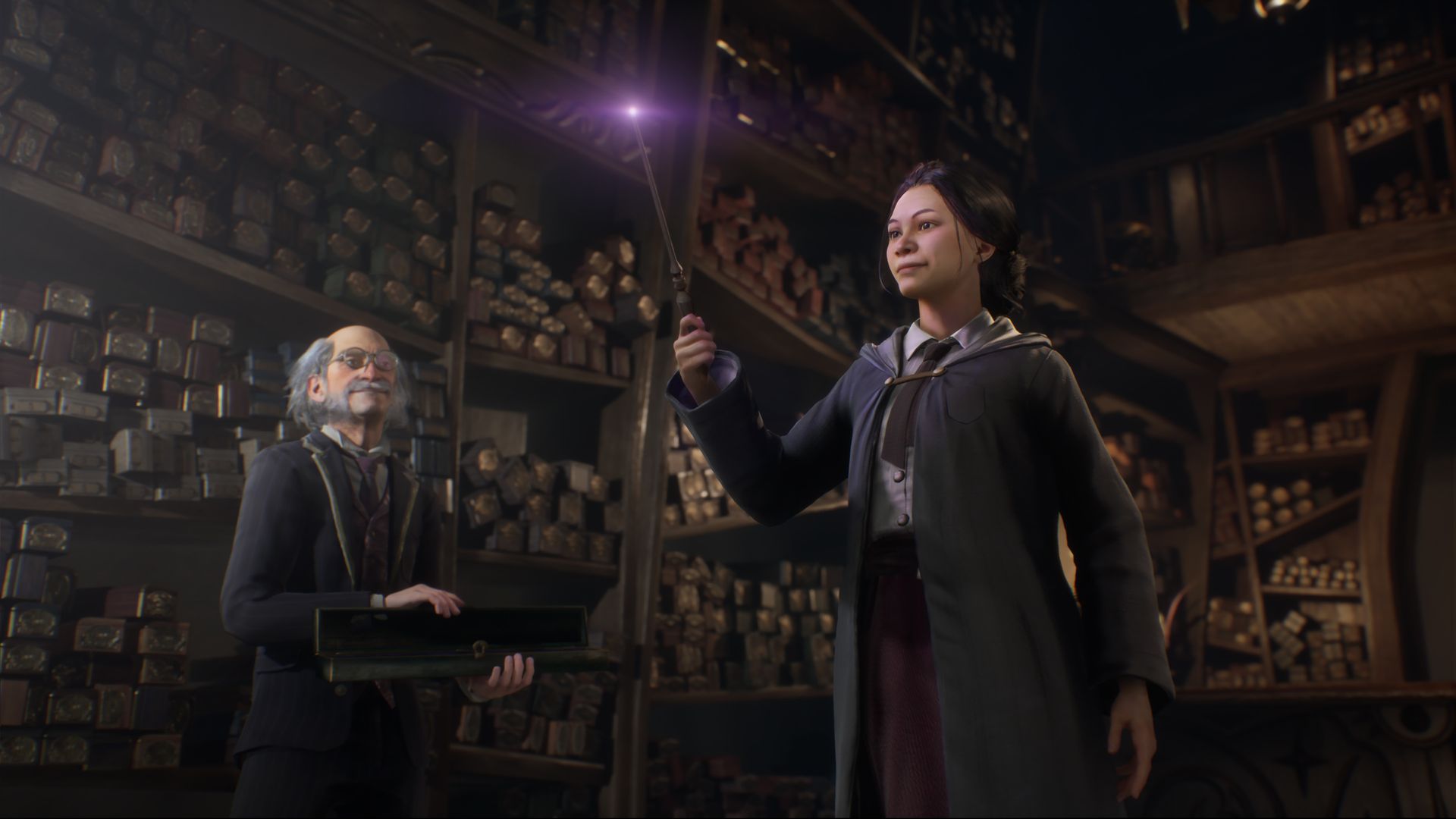 Hogwarts Legacy, the new video game stemming from author J.K. Rowling's "Harry Potter" series, is launching this week to big sales and big controversy.
Why it matters: The game, which lets players create their own wizard and go through magic school, has become a flashpoint for reviewers and fans regarding what to do about work associated with Rowling.
The Harry Potter author has been accused of transphobia — she denies it — since 2018, when she "liked" a tweet that said that trans women are "men in dresses." (Per Politico she said it was for research purposes.) Among her many comments on gender since then, she has mocked the idea that the phrase "people who menstruate" could refer to anything other than women.
Amid calls for boycotts of Hogwarts Legacy, the game has still managed to top key PC and console bestseller lists weeks before its release, indicating high pre-order demand.
Driving the news: In a deviation from standard pre-release coverage, many outlets are putting caveats in their Hogwarts Legacy reviews, while others are sidestepping the game entirely. (Access to the game, so far, is controlled by Warner Bros., which like any other publisher, chooses which outlets to send review copies to.)
IGN, the most popular video game media site in North America, ran a rave, but included a sidebar labeled "concerning J.K. Rowling" that states inconclusively: "As critics, our job is to answer the question of whether or not we find Hogwarts Legacy to be fun to play and why; whether it's ethical to play is a separate but still very important question."
A Canadian outlet, TheGamer, is among those that won't review Hogwarts Legacy. The publication also won't create online guides for the game, a greater source of revenue, editor-in-chief Stacey Henley tells Axios. "This is not because of any issue with royalties or monetary support for J.K. Rowling, but because we feel the continued popularity of Harry Potter only provides her with a larger platform and further legitimizes her views, which we in turn feel are harmful to trans people."
Between the lines: Rowling may profit from Hogwarts Legacy, but she didn't write it. It was developed by Warner Bros.-owned Avalanche Software.
The game's official FAQ notes that "J.K. Rowling is not involved in the creation of the game," but critics have said its popularity would still benefit Rowling.
Meanwhile, some fans have sworn off buying the game due to what the Washington Post recently described as "the pain and difficulty in being a Harry Potter fan of late."
What they're saying: The game's actual creators have largely avoided explicitly addressing the Rowling issue, though there have been hints.
News that the game will let players make trans characters by decoupling body and voice selections from gendered terms in the users' character creation process has been viewed as a subtle repudiation of Rowling.
Warner Bros.' management has steered even more clear. Asked about possible boycotts in August, the company's head of gaming, David Haddad, told Axios: "We're going to stay very focused on the game that we built and the great job that the Avalanche studio has done." He added: "We want everybody that loves this world and loves these stories and loves these characters."
In December, Rowling acknowledged calls for boycotts of Hogwarts Legacy after GameSpot staffer Jessie Earl called support of the game "harmful."
Rowling quote-tweeted the claim, calling it "purethink" and snarked that people who disagree with her should burn down libraries.
GameSpot has since published an essay by Earl about Rowling's views and the game. It has not yet published a review of the game.
2. Funding for AI game dev
Latent Technology, a U.K.-based startup that's building AI-based tech for developing video games, has raised $2.1 million in pre-seed funding, led by Root Ventures and Spark Capital, with Bitkraft also participating, Axios' Kia Kokalitcheva reports.
Why it matters: "Generative AI" technology is taking the tech world by storm with the promise of changing how everything from the written word to art is created.
The intrigue: Latent's tech aims to make it possible for game makers to skip manually animating every possible body motion and angle (each step, each turn of the body, etc.). This current process is painstaking and takes countless hours.
"It's not truly interactive — that means if you were to throw a rock in a game at a character, that character wouldn't react to that rock unless there was an animation designed specifically for it," co-founder and CEO Jorge del Val Santos tells Axios.
Instead: Latent's tech uses machine learning (specifically, reinforcement learning) trained on motion capture data to enable video game characters to react to virtually anything that happens in a game.
It's a bit like telling OpenAI's ChatGPT to write a paragraph about a specific topic in a specific style — you're creating the prompt but not the writing.
"What we will do is use actual data recorded from humans.... The character will be able to extrapolate from the data," explains del Val Santos.
What's next: Del Val Santos says the company expects to release a demo in collaboration with a gaming company in 18 to 24 months.
Thought bubble from Stephen: Latent's approach tracks with other studios we've covered, where AI isn't seen as a tool for making games outright but for making it easier for people to make games.
As gaming hardware becomes more powerful and the complexities of game graphics increase, AI can be a tool to help game creators still achieve their ambitions, supporters of the tech say.
3. Need to know
💰 Activision has agreed to pay the Securities and Exchange Commission $35 million to settle an investigation that found that the game maker's since-revised policies around workplace complaints and whistleblowers could have led to inaccurate disclosures about misconduct at the company.
🤔 More games now facing shutdowns: Smilegate and Remedy's Crossfire X shooter (May 18 — unusually, the game's single-player mode will also be deactivated); Velan Studios' multiplayer dodgeball combat game Knockout City (June 6).
⚾️ MLB The Show 23, the industry's main, licensed baseball game, will include a special Negro Leagues storyline mode that will let players control the likes of Leroy "Satchel" Paige and John Jordan "Buck" O'Neil.
🏆 Assassin's Creed Valhalla has won the first-ever Grammy for best video game soundtrack (though games have won in some non-game-specific categories before, Eurogamer notes).
🤣 Tim Schafer, one of the pioneers of video game comedy and founder of award-winning studio Double Fine Productions, will be the 2023 Hall of Fame inductee for the Academy of Interactive Arts & Sciences.
4. Your screenshots, Pt. 3
One more batch of reader screenshots to share before we put this series to rest for a bit.
Above, reader Joanna shares a glimpse of her son Ethan's adventures in Space Engineers: "This screenshot is of him mining for ore. His engineer character sitting that close to the drills is like being in the splash zone at a water park attraction."
Below, reader Nathan marvels at Grounded: "Me and my buddy have been playing this game since the beta came out, and I just can't get over how good the yard looks."
🎁 Like the newsletter? Refer Axios Gaming to your friends to spread the word and get free stuff in the process. Follow the link here to begin.
🐦 Find me on Twitter: @stephentotilo.
Thank you to Peter Allen Clark for editing and Amy Stern for copy editing this newsletter.
"I have important cargo I need smuggled to Rainbow Road. People say you used to drive?" "It's-a me. Mario."