Axios Gaming
July 10, 2023
Happy Monday.
This newsletter was written while I kept one eye on my cat, who I think is to blame for some, uh, non-litter-box moments the last few days. (Or has he been framed by our other cat? Hmmm.)
Today's edition: 1,149 words, a 4.5-minute read.
1 big thing: Superhero surge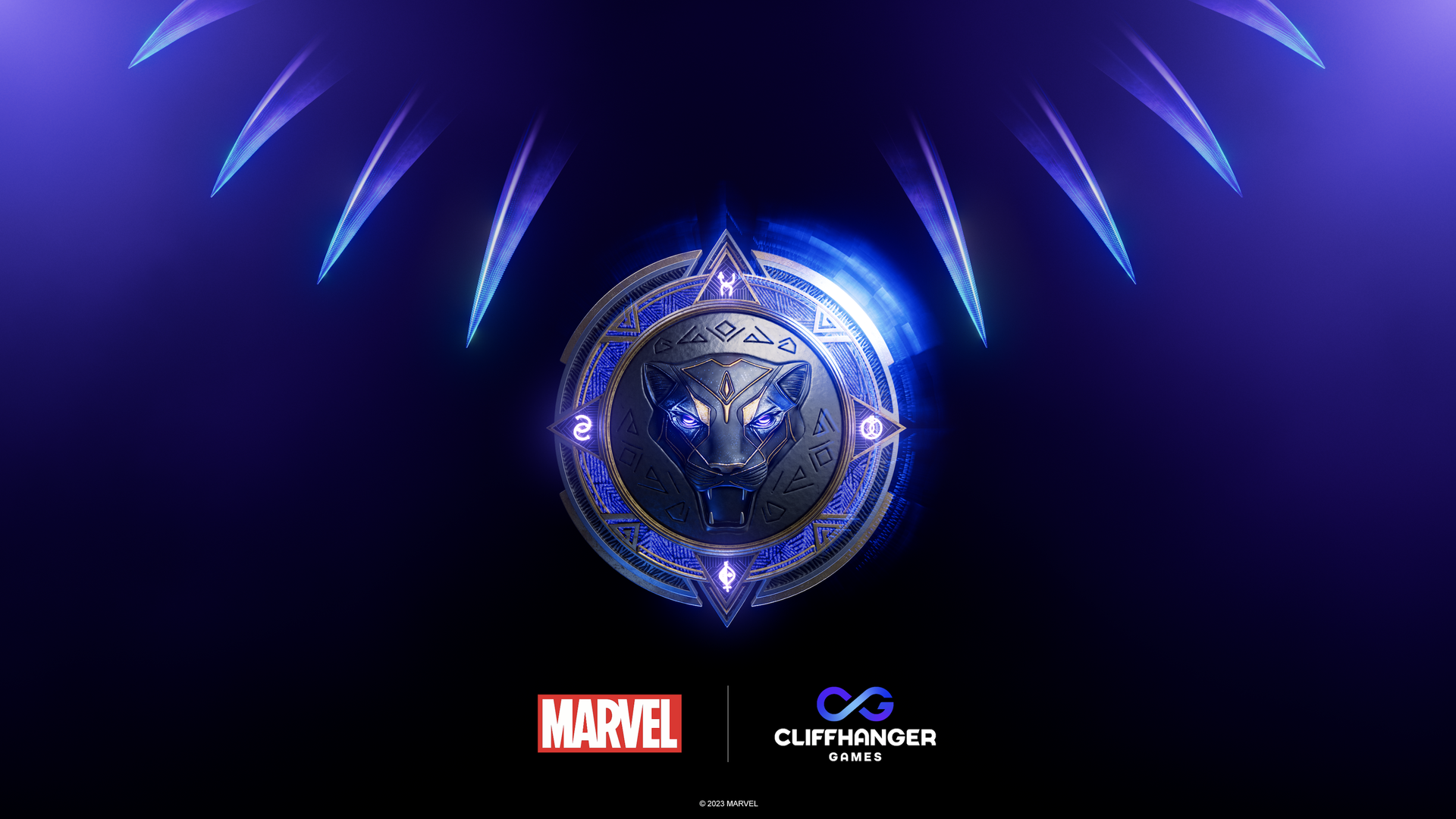 Electronic Arts finally confirmed today that it is making a video game based on Marvel's Black Panther, one of five major superhero games on the horizon.
Why it matters: Hollywood already has a constant flow of superhero movies, and now big-budget gaming is in the midst of the same.
But what might have once seemed like a safe bet hasn't proved to be. Recent superhero games have underperformed.
Details: EA's Black Panther game is coming from its new Seattle-based studio Cliffhanger Games, which is led by top people from another major studio in the area, Warner Bros.-owned Monolith Productions.
EA says the game will be a third-person, single-player adventure set in an "expansive and reactive world."
An official post announcing the game described the developers as beginning a journey, but, technically, their Black Panther title has been in development for over a year (word of it leaked last July via Giant Bomb and was corroborated by Axios in October).
EA and Cliffhanger did not announce platforms or a release timeframe, suggesting there's still lots of dev time ahead.
State of play: EA has signed to make two other Marvel games, including a single-player Iron Man adventure that was announced last year.
Yes, but recent big-budget superhero game development has mostly been a struggle.
The big picture: The proliferation of superhero games, at least the ones featuring Marvel heroes, comes from Disney, which has been aggressively licensing its top franchises, including Star Wars, to top publishers in recent years after backing off prior strategies involving internal game development or long-term exclusive partnerships.
The bottom line: Insomniac's Marvel's Spider-Man and 2020 spinoff Miles Morales are the genre's big recent successes, seemingly making the case that teaming a talented studio with a top superhero is a winning formula.
But recent performance of these games suggests that success is hard to replicate, even as many top teams are in the midst of trying.
2. Classic games disappear
87% of video video games released before 2010 are not commercially available on modern platforms, according to a new study conducted by the Video Game History Foundation.
Why it matters: Old books, movies and music are easy to buy and enjoy; old games are not.
What they're saying: "Historical video game availability is dire," the foundation's Phil Salvador wrote in the study, which was released today.
The study, titled "Survey of the Video Game Reissue Market in the United States," was conducted by the foundation and the Software Preservation Group, working with researchers from the University of Washington.
Details: Researchers checked to see if games on older systems were offered by their rights holders today, through continued sales of the originals, remasters or any other version that didn't fundamentally change them.
The 13% availability rate of classic video games is one percentage point worse than the survival rate for American silent films, according to Salvador's findings.
Less than 5% of games from the Commodore 64, a popular home computer in the 1980s, are still available today, according to the report.
Among a sampling of 1,500 classic games from any system, and looking at 129 titles from that group that were released in the 1970s, researchers found just one was currently commercially available.
Between the lines: Classic video games often become unavailable because the constantly evolving tech standards lead to platforms that don't run older software.
Publishers and other rights holders offer few re-releases, focusing on selling newer titles, if they're still active in the gaming industry.
Be smart: In 2021, Microsoft gaming chief Phil Spencer told Axios he hoped for an industry-wide, emulation-based solution to preserving older video games.
3. Sega workers win union vote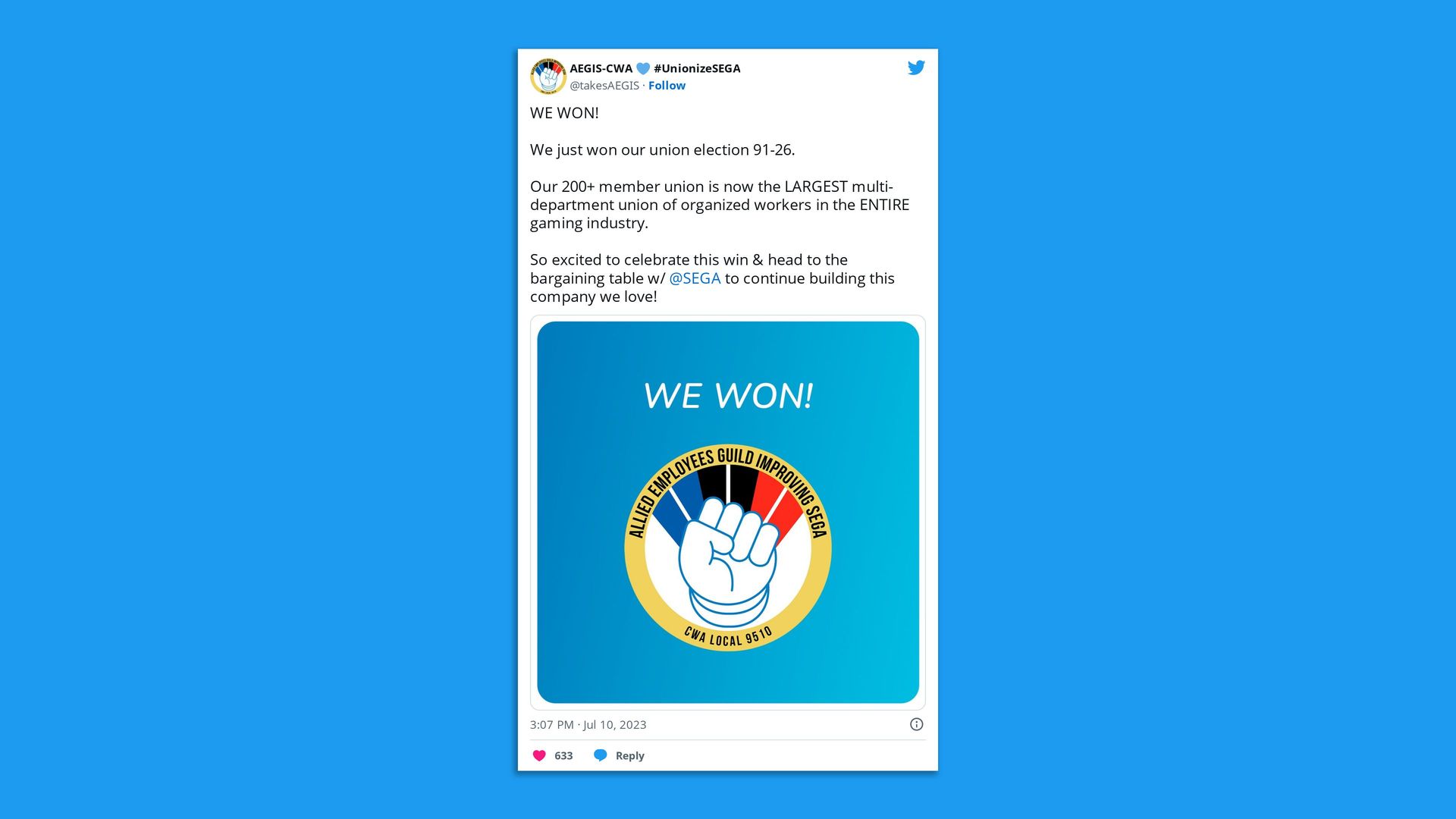 Sega of America workers have officially voted to form a union, following a vote today administered by the National Labor Relations Board.
Driving the news: The tally was 91 to 26 in favor, making Sega the first major Japanese publisher to have its workers organize in the U.S.
While Sega games are primarily made in Japan, the U.S. group that voted today consists of workers from marketing, localization, testing, product development and other departments.
Sega had declined from voluntarily recognizing the union when workers said in April that they wanted one, leading to the NLRB vote.
The big picture: Since early 2022, workers at studios owned by Activision and Microsoft have voted to unionize, with just one union drive at Boston-based Proletariat failing.
Game companies in the U.S. have historically not been unionized, despite recurring concerns of low pay, long hours and limited advancement opportunities.
5. America's gamers
Nearly 213 million Americans play video games at least one hour a week, slightly down from pre-pandemic numbers.
Driving the news: That still represents nearly two-thirds of the country's population, according to the latest annual survey by the Entertainment Software Association.
Average age: 32 (down from 33 last year)
The amount of kids playing boomed, from 71% of Americans under 18 last year to 76% this year.
The most popular platform: Mobile (64% of American gamers), followed by console (54%), then PC (45%).
Be smart: In 2021, the ESA found there were 227 million people playing video games in America, many brought to the pastime via COVID-induced lockdowns.
🎁 Like the newsletter? Refer Axios Gaming to your friends to spread the word, and get free stuff in the process. Follow the link here to begin.
🐦 Find me on Twitter: @stephentotilo.
Thank you to Scott Rosenberg for editing and Kathie Bozanich for copy editing this newsletter.
Didn't think introducing my kids to video games last summer would tilt the numbers that much.