Axios Gaming
June 29, 2022
Happy Wednesday to you. Some of the news you'd expect up top today, but then we're going back in time — way back.
Today's edition: 998 words, a 4-minute read.
1 big thing: A game for everyone else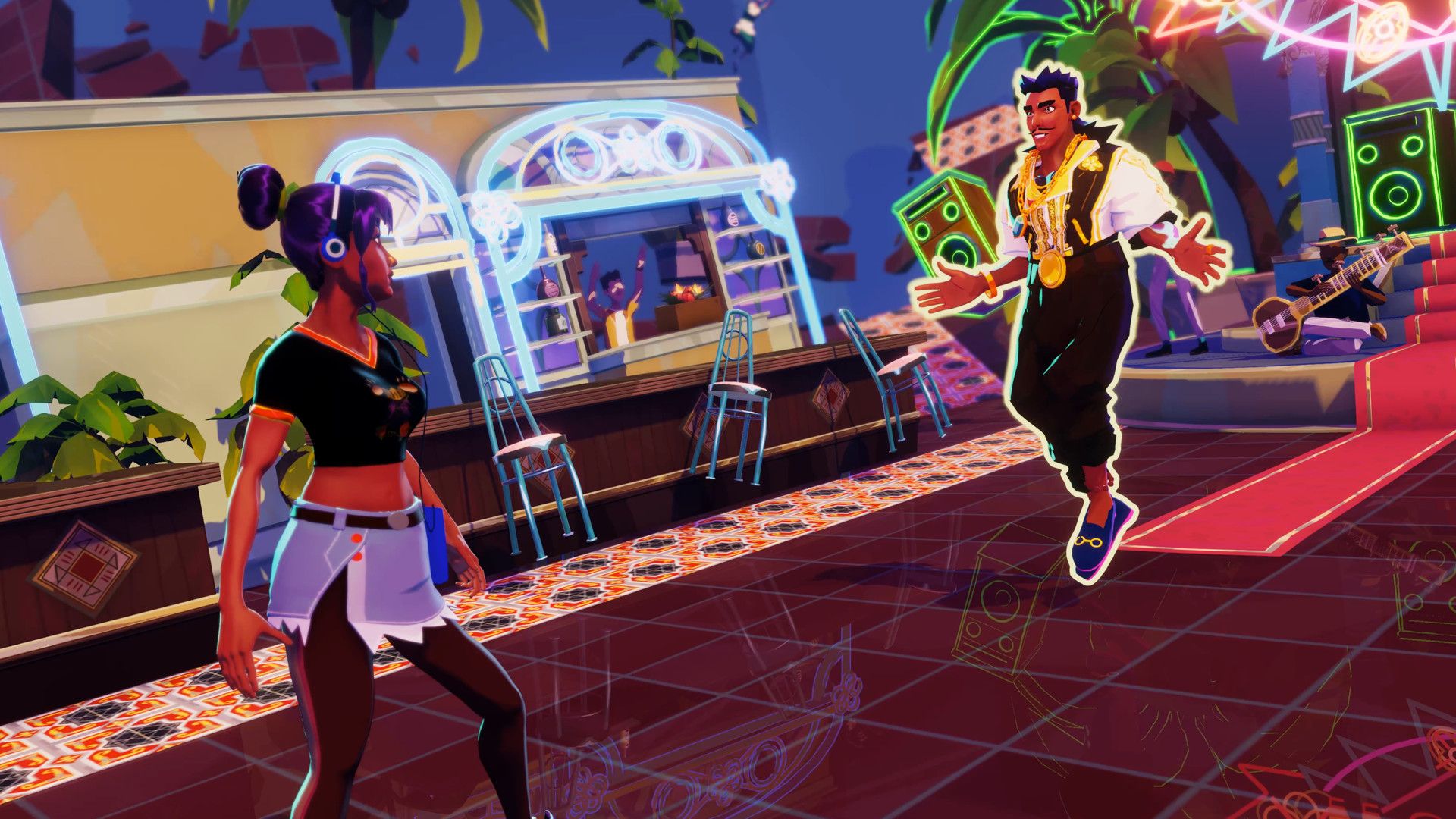 The upcoming video game Thirsty Suitors recently took top honors in the gaming category at the Tribeca Festival.
But such awards are not what really motivates lead designer Chandana Ekanayake, who is inspired to attract players who can relate to its largely non-white characters.
Why it matters: Video game content, especially in story-driven adventures like Thirsty Suitors, typically centers on the experience of white or Japanese lead characters.
But Thirsty Suitors is unabashedly about the experience of Jala, a woman who immigrated to the U.S. with her parents when she was a kid. She proceeds through the game skateboarding, battling her exes and trying to impress her mom with her cooking.
It's the work of Outerloop Games, a small but diverse team of game creators spread around the world whose focus, in their words, is to create "accessible games with depth about underrepresented cultures and themes."
Details: Thirsty Suitors is a "role-playing game that has more adult relationships," Ekanayake tells Axios.
Jala returns to her hometown in suburban Washington state and players immediately skateboard her through a dream-like romance quiz that helps establish some of her strengths and weaknesses in the game.
From there, the story proceeds one chapter-length day at a time, as she encounters her exes and fights them — not with the purpose to defeat them, but to reach some sort of relationship resolution.
The adventure is colorful, playful and atypical of most video games in that it doesn't have evil bad guys: just friends, ex-lovers and family members with problems.
Origins: The seed of Thirsty Suitors was planted in 2017, when Ekanayake saw a Netflix comedy special by Hasan Minhaj about growing up as a brown person in white America around 9/11.
Ekanayake, who immigrated from Sri Lanka when he was 8 years old and grew up in Maryland, could relate. And he began wondering why there weren't more stories, especially in games, about immigrants in America.
What they're saying: "I read every single comment, and I shouldn't," Ekanayake says, about user feedback to the game.
He sees the reactions from some who slam Thirsty Suitors as "woke."
"But for every one of those, there are people saying, 'I see myself on screen,'" he says. That sends a clear message: "We're doing the right thing."
2. Quebec language law concerns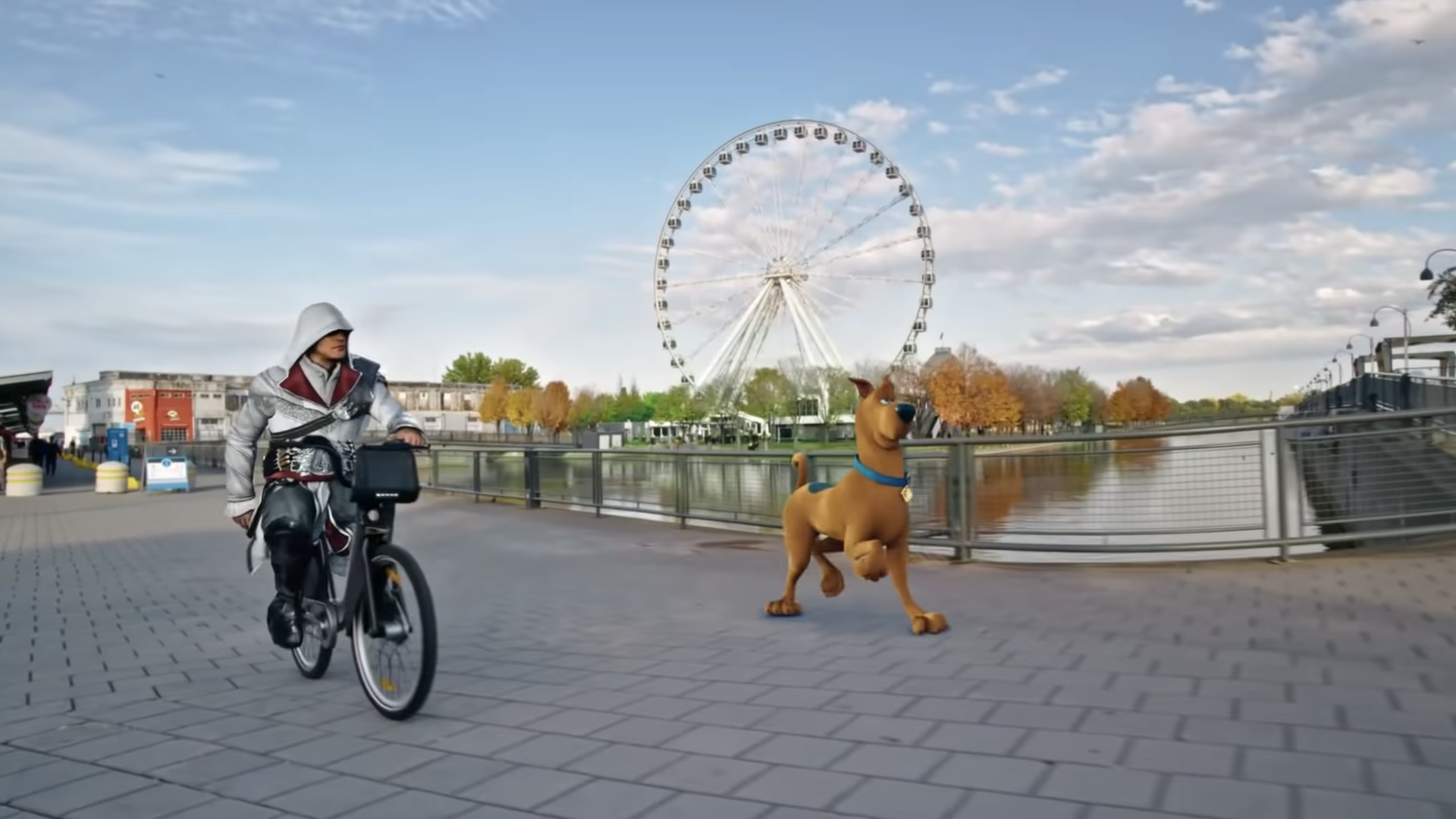 Game creators in Quebec are concerned that a new language law in the province will drive away workers who don't speak French, the CBC reports.
Why it matters: The regulations will impact one of the biggest game development scenes in the world, with hundreds of studios and more than 10,000 developers in Montreal alone.
The CBC report cites a dismayed game developer who said he'd been assured company meetings in a local studio were held in English and that understanding French wasn't required.
But the new law, Bill 96, would only offer government services in French to any immigrants who've been in the province for six months or more.
The result: Fears from some in the industry that non-French speakers won't feel welcome in the area and will seek work elsewhere.
What they're saying: A rep for Montréal International, a public-private partnership that has wooed multiple mega-studios to the region, confirmed in a written statement to Axios that software developers are worried about the affect of the new law.
"While some of our clients have expressed concern about the impact of Bill 96 on their operations, Montréal International is currently working with the Office québécois de la langue française to answer any of their questions."
3. Need to know
🕹 Atari will release an interactive history called Atari 50: The Anniversary Celebration, in November for PC and consoles. The project will include interviews and more than 80 games from the Atari 2600, Jaguar, Lynx and more.
🖥 Sony is getting into the PC gaming peripherals business with a new line of monitors and headsets, under its Inzone brand, The Verge reports. This follows Sony's gradual release of major PlayStation games onto PC, which began in 2021.
☹️ Pokémon Go maker Niantic is laying off 8% of its workforce and canceling four in-development projects, Bloomberg reports.
🌨 Activision Blizzard plans to acquire Boston-based development studio Proletariat to assist with making Blizzard's World of Warcraft, Venture Beat reports. Proletariat announced yesterday that it will shut down its magical battle royale game Spellbreak in early 2023.
4. Looking back: Justice Thomas' gaming dissent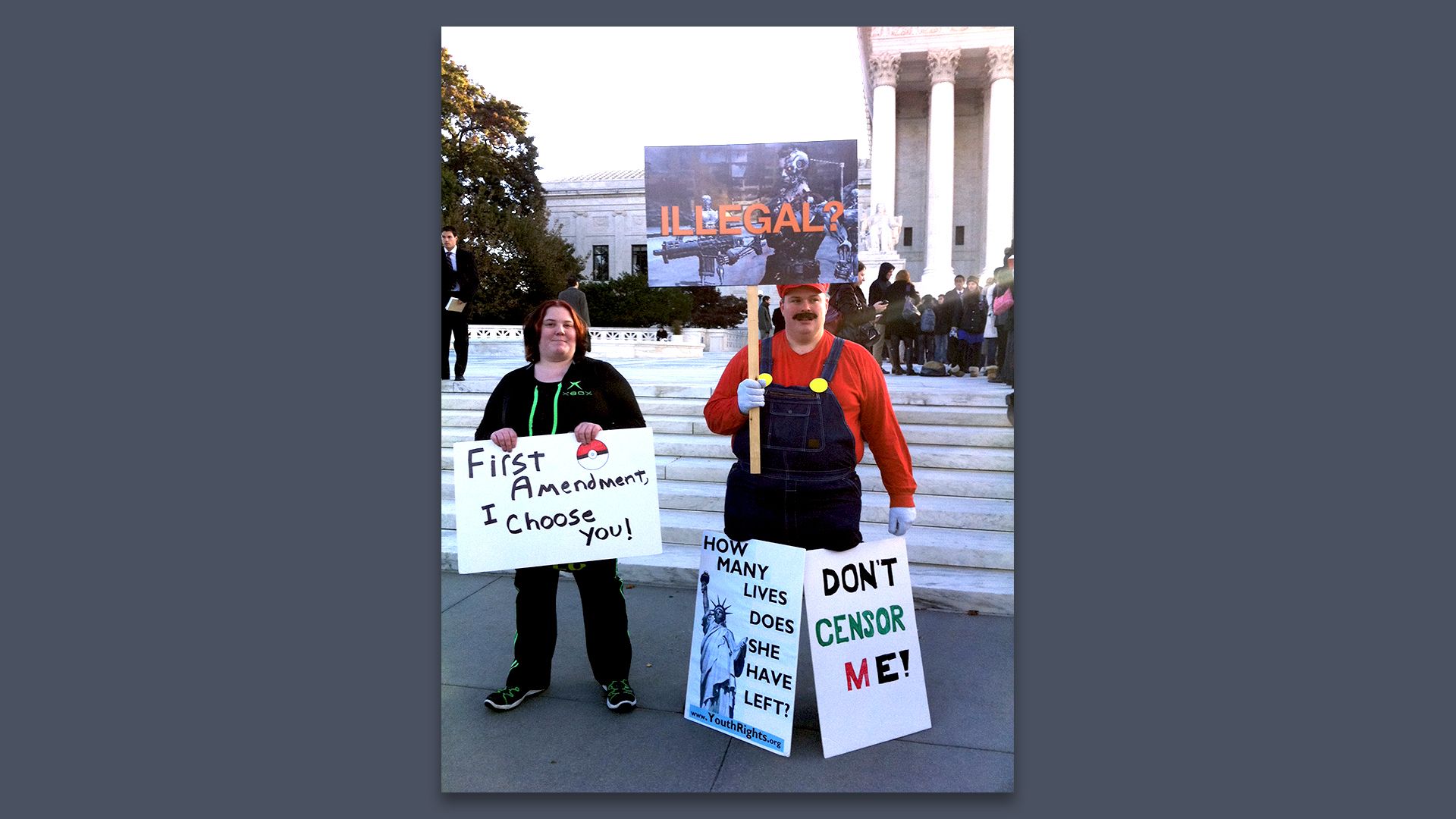 This week's retro photo was taken at the steps of the U.S. Supreme Court by me on Nov. 2, 2010, before I attended the oral arguments for the court's only-ever video game case.
The matter at hand was whether California could make it a crime to sell violent video games to kids.
In a 7-2 ruling, the Court ruled the law unconstitutional.
The 18-page majority opinion by conservative justice Antonin Scalia (joined by liberals including Ruth Bader Ginsberg) affirmed that games, like other art forms, are speech protected under the First Amendment.
The justices found "unpersuasive" California's argument that violent games required special legislation.
But, since last week, I've been thinking a lot about Justice Clarence Thomas' dissent. It mostly focused on his belief that the Constitution's authors did not intend for the First Amendment to protect how people speak to kids.
"The history clearly shows a founding generation that believed parents to have complete authority over their minor children and expected parents to direct the development of those children," Thomas wrote.
His basis began with colonial Puritan traditions where "fathers ruled families with absolute authority."
Parents of the time were in charge of what entered their children's minds (not, say, tavern keepers in the Massachusetts Colony), he said, citing historical writings.
In a footnote addressing Thomas' argument, Scalia retorted: "He cites no case, state or federal, supporting this view, and to our knowledge there is none."
Thomas' angle confused me at the time and seemed an outlier approach based on views of 17th and 18th-century lifestyles.
With the Court's recent decisions, however, Thomas' approach seems destined to hold more sway.
🎁 Like the newsletter? Refer Axios Gaming to your friends to spread the word and get free stuff in the process. Follow the link here to begin.
🐦 Find me on Twitter: @stephentotilo.
🤷‍♂️ I'm remembering the thrill of nearing my press seat in the Supreme Court and discovering that my view of most of the justices would be blocked by a column.