Axios Gaming
June 22, 2023
Happy Thursday.
It's time for some video game courtroom drama.
Today's edition: 1,135 words, a 4.5-minute read.
1 big thing: Nintendo's massive Switch lineup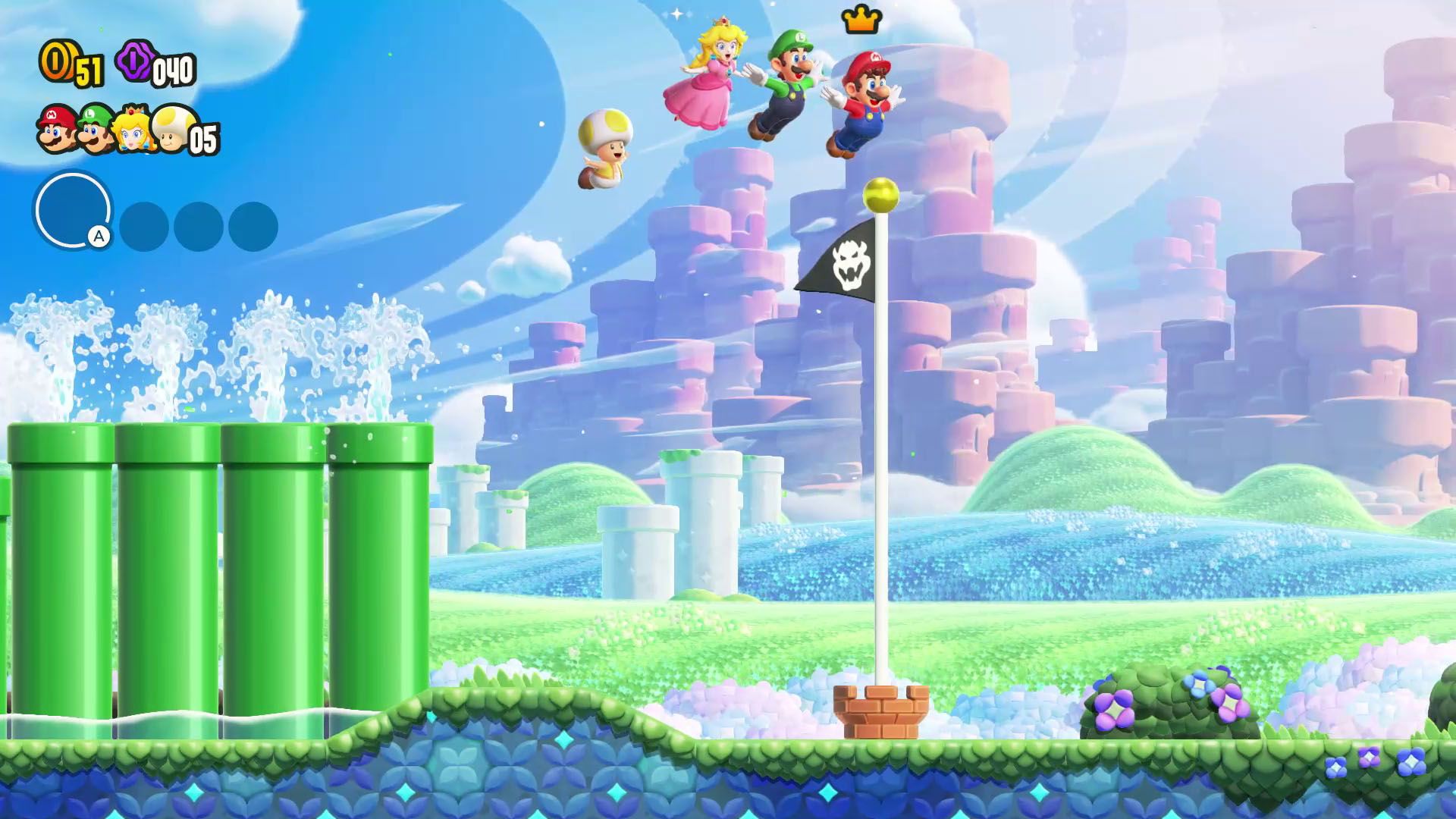 Super Mario is getting a big new video game soon, Nintendo announced yesterday. So are Peach, Luigi and even Wario (relation to Mario perpetually unclear).
Why it matters: Even with its hardware sales slowing, Nintendo has now laid out a strong software lineup that will stretch into the console's eighth year.
Details: Across a 40-minute online showcase yesterday, Nintendo revealed a batch of Switch games featuring Mario's extended cast:
Super Mario Bros. Wonder (Oct. 20) — The first original side-scrolling Mario console game in over a decade.
WarioWare Move It (Nov. 3) — The latest in a comedic series of "microgame" collections, in a franchise featuring the miserly anti-Mario.
Super Mario RPG (Nov. 17) — A long-awaited remake of the 1996 Super Nintendo role-playing game.
Luigi's Mansion: Dark Moon (2024) — An upgraded version of a 2013 ghost-hunting game featuring Mario's brother.
An untitled Princess Peach game (2024).
The big picture: Nintendo, which historically would have moved on to a new hardware generation by now, is set to have a big year of game sales.
The Legend of Zelda: Tears of the Kingdom, released in May, sold 10 million copies in its first three days on the market.
The intrigue: The Peach game will be the first starring the princess since 2005's Super Princess Peach.
Peach has been an optional playable character in Mario games as far back as 1988's Super Mario Bros. 2.
But she's also been relegated to roles that played into tropes about female characters — waiting on Mario to rescue her in some adventures, or, in Super Princess Peach, using mood swings like anger and sadness as superpowers against enemies.
The character got a modern makeover in this year's blockbuster "The Super Mario Bros. Movie." In the film, Peach (voiced by Anya Taylor-Joy) is a strong leader who trains Mario to fight in the mushroom kingdom.
Shigeru Miyamoto, who led the creation of Nintendo's Mario games, told Variety in April that Peach initially was presented in a way to give gamers a goal (to rescue her), but that the company "did have desires to make her a playable character, make her have her own story, be a more powerful princess, etc."
What's next: There won't be a new Switch system any time soon, it seems, as Nintendo continues to roll out potential blockbusters like these for its current, popular platform.
2. Microsoft: PlayStation chief originally didn't sweat Activision deal
Sony PlayStation boss Jim Ryan privately didn't think Microsoft was trying to take Call of Duty exclusive when it bid for Activision Blizzard, a Microsoft lawyer said in court today.
Driving the news: The private email to former Sony Computer Entertainment Europe president Chris Deering was quoted during Microsoft's opening statement as part of hearings over the Federal Trade Commission's attempt to secure a preliminary injunction against the deal and ultimately block it.
Why it matters: Ryan and the PlayStation team have been the chief antagonists against Microsoft's $69 billion bid for Call of Duty publisher Activision Blizzard, citing concerns over Microsoft pulling COD from PlayStation.
Details: "It is not an exclusivity play at all," Ryan wrote to Deering after the deal was announced. "They're thinking bigger than that."
"I'm pretty sure we will continue to see CoD on PlayStation for many years to come," he said. "We'll be okay. We'll be more than okay."
Ryan has been called as a witness to the trial but so far has only committed to appearing via a pre-recorded deposition.
The first witness called by the FTC was Microsoft game studio chief Matt Booty, who was grilled over decisions over game exclusivity.
Booty was queried about emails he wrote in 2019 and 2021 (some covered by Axios on Tuesday) in regards to Microsoft's exclusivity strategy. In one he said there was "no f'ing way" that Microsoft should bring its games to competing services.
He later said he was frustrated at the time with Nvidia's handling of Microsoft's games on its GeForce Now service and that Microsoft's strategy since then has changed.
The big picture: The FTC raised the issue of Microsoft and double standards, arguing that it has tried to keep games in its portfolio off of competing platforms, including titles from ZeniMax, the publisher it bought in 2021.
An FTC lawyer questioned Bethesda publishing chief Pete Hines, who confirmed that a planned Indiana Jones game, first slated for multiple consoles, was switched to Xbox-only after the acquisition. Pressed by the judge as to why, Hines said the decision was based on hitting a licensing deadline.
Microsoft has argued that it considers most games on a case-by-case basis but is not incentivized to take Call of Duty exclusive.
The FTC says Microsoft can afford to take a loss to harm its competitors.
Between the lines: Court filings in the case have trickled out other revelations, including Microsoft's acknowledgment that most of its cloud gaming subscribers use that service on their own Xbox systems to try a game before downloading and not to play games remotely (as marketed).
3. Need to know
💰 Microsoft is raising the price of its Xbox Game Pass service from $9.99 a month to $10.99 a month, its first increase since its 2017 launch, The Verge reports.
🎮 EA is rebranding itself as part of a reorganization that will see the company operating its game studios into two groups: EA Entertainment and EA Sports.
🤔 Roblox will officially allow its users to create games and experiences aimed for players 17 or older, the company announced, saying more than a third of its users are in that age group.
4. The week ahead
Friday, June 23
Saturday-Sunday, June 24-25
Monday, June 26
Tuesday, June 27
Wednesday, June 28
Thursday, June 29
Friday, June 30
5. I played … A Little to the Left
I've been trying some new games with my kids, hoping to find some puzzle games we could solve together.
One refreshing hit with them: A Little to the Left (played an hour on Switch, also out for PC), a lovely puzzle game about arranging picture frames, cat toys, books and other common items just right.
Sometimes, there's more than one solution. A batch of colored pencils, for example, might be organized by color, sharpness of tips or length of their erasers.
What we like: After lots of action-packed games, it's been a relaxing change of pace. And the puzzles are short enough that it's a cinch to take turns.
🎁 Like the newsletter? Refer Axios Gaming to your friends to spread the word, and get free stuff in the process. Follow the link here to begin.
🐦 Find me on Twitter: @stephentotilo.
Thank you to Scott Rosenberg for editing and Kathie Bozanich for copy editing this newsletter.
I show my daughter the Peach game. She says: I wanted a game that lets you be Zelda.