Axios Gaming
March 27, 2023
Happy Monday.
I'm back from GDC with barrels of reporting to share with you. This'll take a few editions.
Heads up: Axios' second annual What's Next Summit is this Wednesday, March 29, in Washington, D.C. You'll hear from music producer Timbaland, head of YouTube Neal Mohan, White House Office of Science and Technology Policy director Arati Prabhakar and more on the issues and innovations shaping our future. Register to livestream the event here.
Today's edition: 1,521 words, a 5.5-minute read.
1 big thing: Xbox vs. PlayStation gets a congressional twist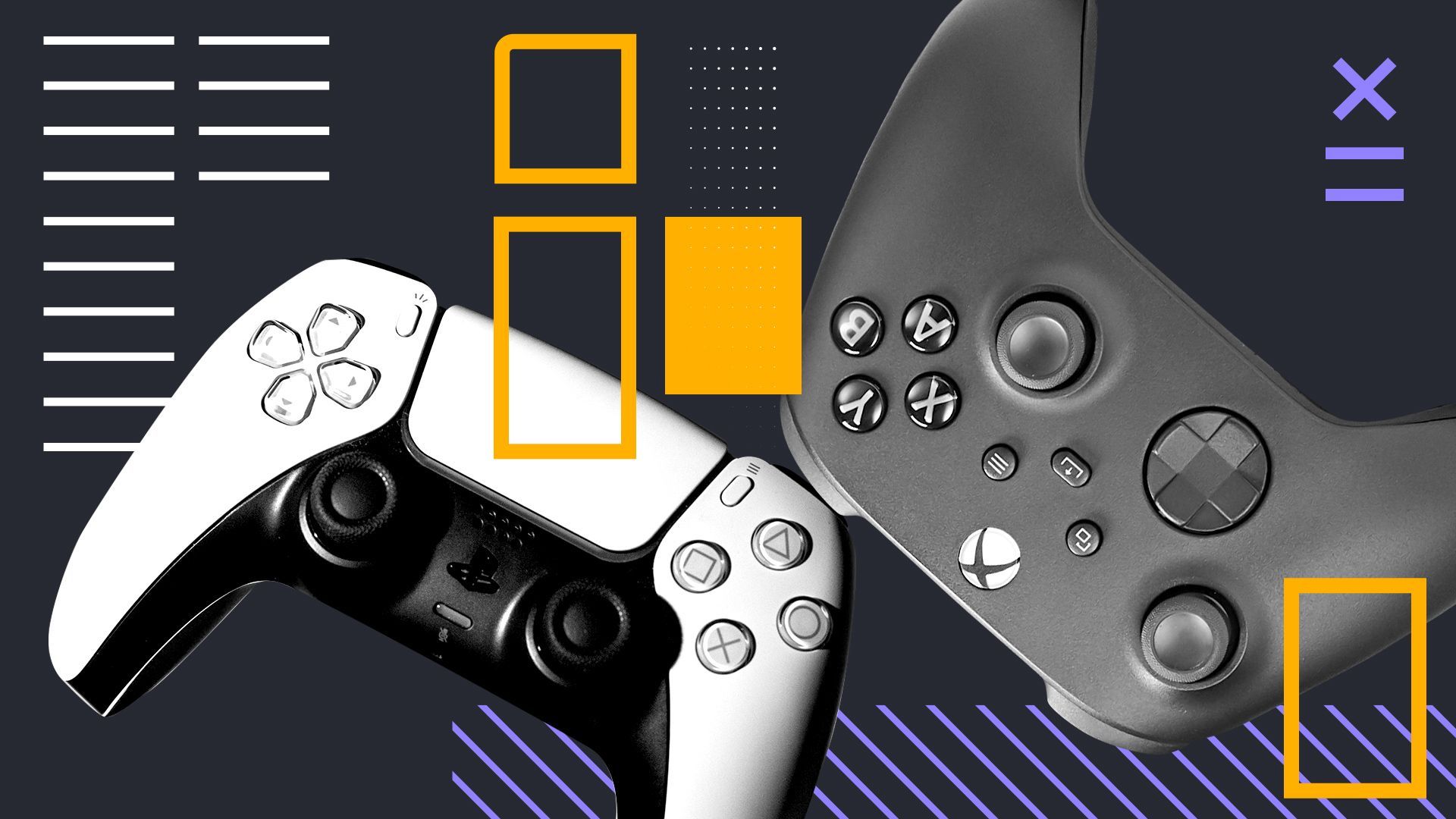 Members of Congress from both sides of the aisle are pressing the Biden administration to take action on PlayStation-Xbox console competition in Japan.
Driving the news: Policymakers raised concerns last week to Biden officials, saying Sony's business practices in its native Japan are blocking U.S. companies from competing in that country's gaming market and could be running afoul of U.S.-Japan trade deals.
The unexpected pressure became public on Thursday when Sen. Maria Cantwell (D-Wash.) pressed U.S. Trade Representative Katherine Tai on it during a trade hearing.
Ten members of the House also sent two letters on Thursday to Tai and Commerce Secretary Gina Raimondo urging action.
What they're saying: "Today, we write to bring to your attention the imbalanced Japanese video game market, which we are concerned may be a result of a discriminatory trade practice that could violate the spirit of the U.S.-Japan Digital Trade Agreement," states one of the letters, signed by four Republicans from the House, including Carol Miller (R-W.Va.) and Mike Carey (R-Ohio).
The Republican letter alleges that Sony PlayStation has 98% of the "high-end console market in Japan," signs deals designed to keep hit Japanese games from Microsoft's Xbox, and says such moves "may violate Japan's antitrust laws."
"The Japanese government's effective policy of non-prosecution when it comes to Sony appears to be a serious barrier to U.S. exports, with real impacts for Microsoft and the many U.S. game developers and publishers that sell globally but see their earnings in Japan depressed by these practices," the letter continues.
A letter to Tai and Raimondo from six Democratic lawmakers from Washington state covers similar ground.
Between the lines: Article 8 of the 2019 U.S.-Japan Digital Trade Agreement calls for the countries to enable "non-discriminatory treatment of digital products" which would include games. It's less clear if it would also pertain to game consoles.
State of play: Sony has had a steep advantage over Xbox in Japan for decades, though the secrecy around gaming contracts obscures the underlying causes.
Sony does occasionally secure major platform exclusives, as with SquareEnix's Final Fantasy XVI, a Japanese-made game expected to be big with Japanese (and global) audiences and that's only slated for PlayStation, no Xbox.
But Japan's console market is also not quite a two-horse race: Nintendo, excluded from the definition of "high-end consoles" cited by the policymakers, crushes Sony and Microsoft.
The big picture: The heat on Sony is unmistakably coinciding with the Japanese company's own pressure on antitrust regulators to block Microsoft's $69 billion bid to buy Activision-Blizzard.
"Sony's anti-competitive tactics deserve discussion, and we welcome further investigation to ensure a level playing field in the video game industry," Microsoft spokesperson David Cuddy told Axios.
While Microsoft isn't saying just how involved it was in orchestrating this push, its government affairs team has discussed these issues with members of Congress, Axios understands.
What's next: At Thursday's Senate hearing, trade rep Tai promised Sen. Cantwell to look into things. "This one is new for me," she said.
2. Ubisoft AI's human requirement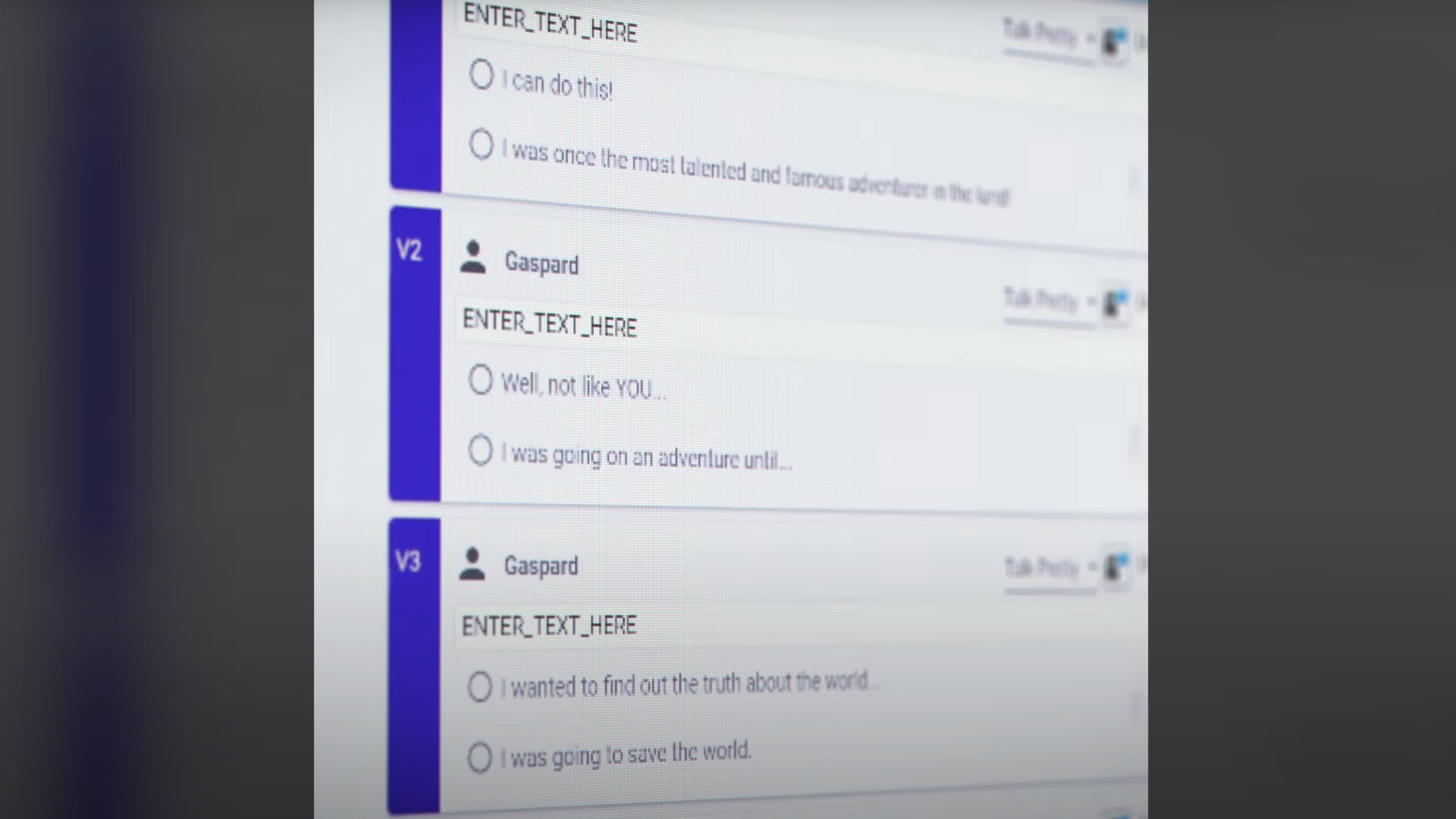 Ubisoft's new artificial intelligence tool Ghostwriter is designed to help the company's writers, not put them out of work, one of its creators, Ubisoft research scientist Ben Swanson, tells Axios.
Why it matters: Ghostwriter was one of the highest-profile AI announcements at last week's Game Developers Conference.
With the buzz came debate among attendees and observers about the impact such tools may have on creative people in the field.
Catch-up quick: Ghostwriter is a newly designed tool for creating more varied "barks" — or spoken lines, heard in the background — in games filled with computer-controlled crowds.
As explained in a GDC talk last week, a Ubisoft writer comes up with a character and a situation, then Ghostwriter generates numerous lines the character might say, allowing the writer to select, edit and incorporate their favorites.
What they're saying: "Artists, writers and coders will always be at the heart of the development process, and while AI can assist creators in their workflow, it's the artistic vision and perspective of individuals that are essential in the creation of games," Swanson says.
The Ghostwriter tool was built at the request of Ubisoft writers to see if AI and machine learning could help with one of the more tedious tasks of writing massive open-world games, he said.
Scripts for such games can stretch to 100,000 lines of dialogue, he noted, and help on barks can make a game world richer.
Ubisoft does not plan to use Ghostwriter to "generate plot, character backstories, lore or any of the other core elements of our narratives," Swanson says.
What's next: Ghostwriter is still in its test-and-learn phase and is not yet part of the production flow for any of Ubisoft's titles, Swanson says.
3. Need to know
🤔 The U.K.'s competition regulator says it no longer believes a Microsoft purchase of Activision Blizzard would result in a problematic lessening of competition in the console market, because it no longer believes Microsoft would be incentivized to take Call of Duty exclusive.
The commission, which has the power to block the deal in the UK, will issue its final ruling by April 26.
😲 Ubisoft is skipping E3 but will hold a showcase in Los Angeles on the Monday of E3 week, VGC reports.
💬 AI bots are being enlisted to monitor and even help clean up toxic online gaming chat, the Wall Street Journal reports.
⚔️ Dark and Darker, one of the hotter upcoming PC games, has been pulled from PC marketplace Steam following allegations of asset theft by gaming company Nexon. The game's dev studio, Ironmace, has denied the claims.
📉 Nasdaq has warned esports group FaZe that it faces delisting if its stock remains valued at less than $1 per share, Kotaku reports.
👀 Nearly half of new hires at Activision Blizzard in 2022 identified as non-white and nearly a third were women or non-binary, according to new data released by the game publisher. Both percentages exceeded current employee makeup, suggesting the company's workforce is becoming more diverse.
🎮 More U.S. military weapons systems are using video game-style controllers, Task and Purpose reports.
🚜 Tractor companies are lining up to debut their latest real-world farm machines via the Farming Simulator franchise, The Guardian reports.
💰 The city of Dallas is giving video game company ProbablyMonsters $1.5 million in grants over five years, to open a studio in Fort Worth, the Dallas Morning News reports.
The deal is contingent on ProbablyMonsters employing 300 people at an average $75k/year, though the studio declined to confirm details.
4. I played ... Terra Nil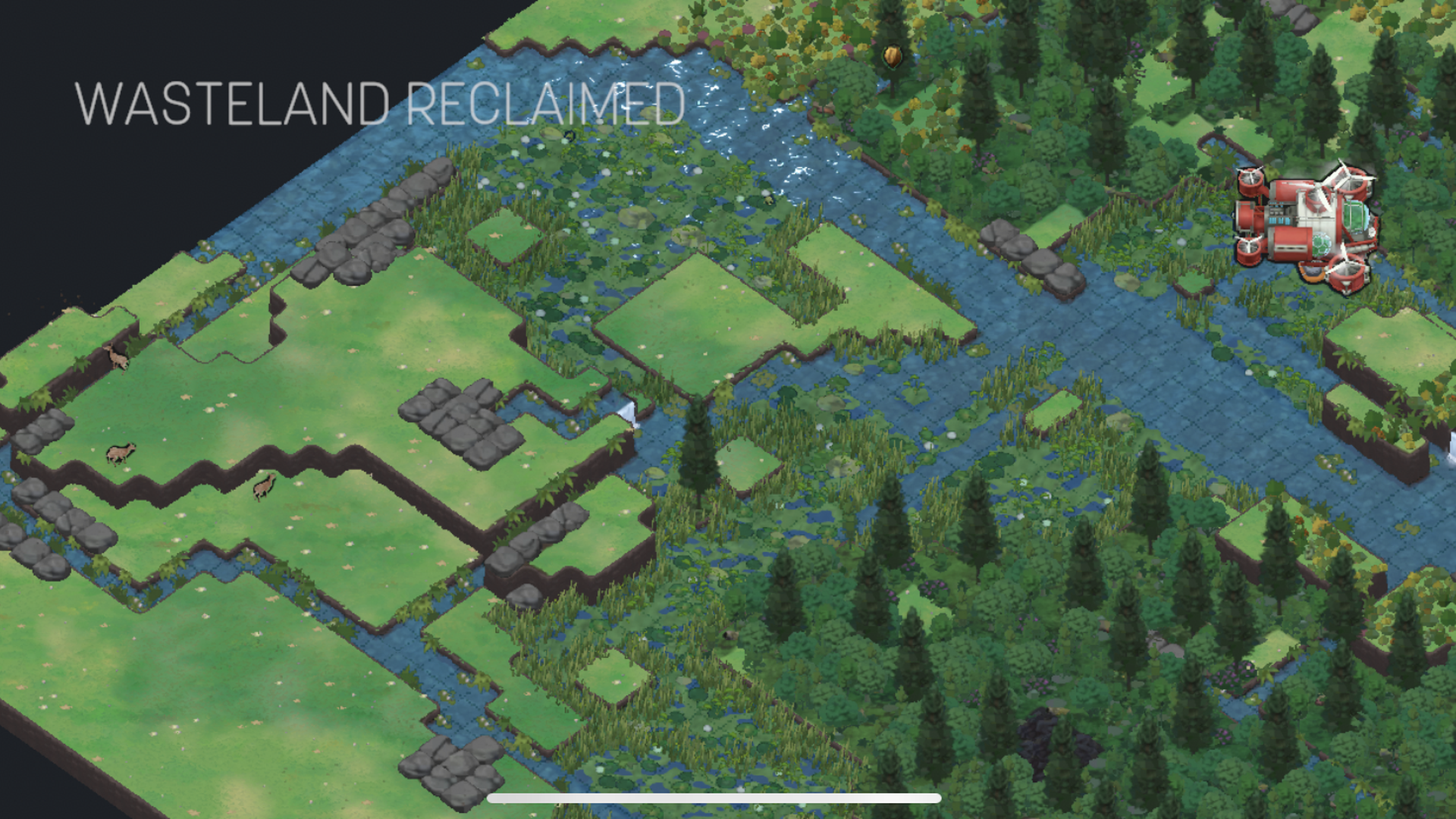 One way to think of Terra Nil (six hours played on iOS, also available on Android and PC) is that it's a reverse-SimCity.
Another: It's a game about taking the mess we've made of the world, cleaning it up and going away.
It's also just a supremely satisfying strategy game.
Players start with a ruined expanse: maybe a dried-up riverbed or a wrecked and flooded city.
Then, in phases, you deploy fanciful machines to tweak the climate, clean up the debris, bring plants and animals back to the region.
The only problem is that all the machines you've deployed now litter the map, so the game's final requirement for each level is to strategically peel back all those constructions and recycle them into nothingness.
In a first playthrough, it's not that tough. But it sure is lovely, turning each hideous landscape into something beautiful.
Note: If you want to play on mobile, as I did, the game is only available to paying Netflix subscribers and is downloadable via the streaming service's mobile app.
5. Preview of an AI experiment
At past Game Developers Conferences, I've tethered my interviews with a gimmick, like asking people to prepare a question for the next interviewee, asking them to each play and critique Tic-Tac-Toe, etc.
For this year's gimmick, I enlisted ChatGPT to help interview some of the world's best game designers.
Why it matters: I wanted to see if AI could make a GDC interview better,  funnier, or just rejoice at how inferior it was to a human interviewer.
Today, I'll explain the approach I took.
First test prompt: "Write me an interesting interview question for the developers of Stray."
Result: "Can you walk us through the design decisions you made when creating the unique mechanics of controlling a cat in Stray, and how did you balance the realistic movement of a feline with the need to make the controls accessible and fun for players?"
My take: Too generic.
Second idea: Force ChatGPT to include a specific word.
Prompt: "Write me an interview question for the developers of Elden Ring. Include the word tomato."
Result: "Elden Ring is said to have a highly detailed open-world filled with lore and secrets to uncover. Can you give us an example of an unexpected or humorous detail that players might come across during their explorations, such as a hidden tomato garden or a character with an unusual affinity for tomatoes?"
My take: Not bad. Not sure I'd have had a better tomato question.
The bottom line: I went with the second idea, and thought it'd be best to let my interviewee pick the keyword.
You'll find out soon how that went.
🎁 Like the newsletter? Refer Axios Gaming to your friends to spread the word and get free stuff in the process. Follow the link here to begin.
🐦 Find me on Twitter: @stephentotilo.
Thank you to Peter Allen Clark for editing and Kathie Bozanich for copy editing this newsletter.
I keep thinking about a crime report that might as well be a high school math problem: Man allegedly steals $5,251.51 in Switch games in a 101-minute period across multiple visits to a Walmart, smuggling the games in a $32 jacket. Hmm.