October 05, 2021
I hope your Tuesday is going well. Mine's good. Cannot wait to find out what new plot twists were added to "Destiny 2" today.
But, first, the newsletter.
Today's edition is 1,179 words, a 4.5-minute read.
1 big thing: A blockbuster year, with months to go
The scale of deals in gaming in 2021 is already double the full dollar amount from 2020, according to a new industry report.
Why it matters: 2021 has seen a dizzying amount of mergers, acquisitions and investments as everyone wants in on the sector, and as the big players already inside it are spending a lot to get bigger.
Between the lines: Industry analysts at Drake Star Partners have counted some 844 transactions in the first nine months of this year, totaling $71 billion for announced and/or closed deals.
That includes major third-quarter deals such as Netmarble's $2 billion acquisition of casino game developer SpinX, Tencent's $1 billion purchase of the Sumo Group (most recently developers of PS5 launch game "Sackboy: A Big Adventure"), and Unity's purchase of cloud-streaming platform Parsec for $320 million.
The most active acquirer has been enigmatic Swedish studio consortium Embracer Group, which has purchased 18 companies. They're followed by Tencent (14) and Epic (5).
Game studios themselves raised some eye-popping figures, with ProbablyMonsters securing $200 million in fundraising and "Splitgate" makers 1047 Games raising $100 million, both in the past quarter.
The big picture: Investment isn't settling on any one thing, as outsiders buy in (Netflix purchasing its first studio), midsize publishers try to grow (see studio purchases by Team17 and Focus) and larger players (Zynga, Roblox, ByteDance) expand.
Nine of the 15 biggest deals for Q3 were in mobile.
And then there's blockchain, a little-covered but heavily invested subsector of gaming. Drake Star estimated that NFT/Blockchain gaming companies have raised $1.8 billion since January.
The bottom line: While a lot of money is changing hands, it's unclear what all this activity does in terms of game quality and player happiness, which tend to truly determine success.
Some of gaming's most avid acquirers have a track record of ruining studios. Others have proved good parents.
Everyone says the deals will lead to great projects, of course.
But competition remains fierce — and relatively healthy — in an industry in which anyone from around the world can create the next surprise hit, even if no one bought them for a billion dollars (yet).
2. Smash's big finish
Nintendo's mighty crossover game, "Super Smash Bros. Ultimate," capped off three years of ambitious expansion with the announcement that "Kingdom Hearts" hero Sora will be added to the Switch fighting game's roster on Oct. 18.
Why it matters: This wasn't just the addition of a character that had secretly topped Nintendo's official fan request poll six years ago. It was a stream watched by more than 500,000 people that demonstrated the convergence of some of the industry's major trends:
Disney's growing gaming presence: Sora is the first Disney-backed character to join the 89-character "Smash" roster, which already features heroes and villains licensed from Konami, Sega, Capcom, Square, Namco and several Microsoft-owned studios.
Sure, Sora isn't quite as Disney-fied as his "Kingdom Hearts" co-stars Mickey Mouse and Donald Duck.
But this does mark yet another prominent Disney deal, in a year when the company has also revealed major game projects with Xbox, PlayStation, Ubisoft and Take Two.
Metaverse as marketing tool: For all the talk of digital playgrounds as potentially transformative platforms for communication, Nintendo is keeping pace with Epic and "Fortnite" in demonstrating how it can also work as a forest of digital billboards.
Sure enough, the news that Sora can soon brawl with Mario, Pikachu and the guy from "Doom" in "Smash" was coupled with the news that 10 of the multimillion-selling "Kingdom Hearts" games are coming to Nintendo Switch.
Rise of cloud gaming: Those "Kingdom Hearts" games coming to Switch can't all natively run on the platform, so Nintendo is offering them via cloud-streaming, meaning players press buttons on their own device, which receives the graphics and sound from remote hardware via the internet.
That approach can work well for players with strong internet connections and a tolerance for a little lag. It's fueled much of Microsoft's and Google's gaming plans of late.
The Switch has had some cloud-based games but nothing as popular as "Kingdom Hearts."
3. Ubisoft's shaky experiments
Ubisoft's next "Ghost Recon" game is a 100+ player free-to-play contest in which players race to grab intel and safely extract via helicopter.
Why it matters: It's called "Ghost Recon Frontline" and it's not going over well with its first public audience.
The live chat under a video reveal event today was filled with the letter "L." The 20-year franchise's subreddit is in meltdown mode with fans saying "Frontline" is not what they asked for.
Between the lines: YouTube reaction isn't everything, as the initially despised but currently thriving "Pokémon Unite" has proved.
But Ubisoft's got problems as it tries to steer its franchises toward more multiplayer-centric experiences that bear striking similarities to blockbusters like "Fortnite," "Overwatch" or, in "Frontline"'s case, "Escape From Tarkov."
The problem: Ubisoft appears to be chasing design trends that may have worked with large audiences, but they are doing so with series that have been known for other approaches.
And yet Ubisoft is often going to those hardcore franchise fans first, as they did with today's "Ghost Recon" event, expecting them to be excited about these radical shifts in design.
4. Need to know
🚫 Facebook's big outage yesterday stopped users of Oculus VR headsets from downloading new games or playing online, aggravating some users already sore over the requirement of Facebook accounts to use the VR devices.
〽️ Official in-person Pokémon tournaments will return in 2022, after the most recent season was halted in mid-2020. Masks will be required and venues will be capped at 30 people.
🎮 The Entertainment Software Ratings Board is hosting a free webinar tomorrow designed to help parents ensure that playing games at home is a positive experience.
💰 Streamer Nick "Nickmercs" Kolcheff has signed an exclusive deal with Twitch, after that platform's loss of some other big names. Terms of the deal weren't disclosed.
5. Worthy of your attention
Video game culture owes a lot to hidden object games [Nicole Carpenter, Polygon]
A so-called casual genre, hidden object games are played enthusiastically and widely, but largely dismissed as fluff — the same way romance novels are perceived. Hidden object games, some of which center on romance and gothic storytelling, have faced the same fate of those very books, deemed inconsequential or unworthy of analysis and enjoyment.
6. Two mesmerizing new sci-fi games
"The Eternal Cylinder" is a wonderfully odd PC and console game about controlling aliens on a very strange planet. They face one big problem: there's a huge cylinder rolling across the landscape and they need to outrace it.
Impressions: I've played a few hours and like it.
The hook is the amazing world and the odd creatures you'll discover.
Also set in space, "JETT: The Far Shore" is an unexpectedly slow-paced PC and PlayStation game about the majesty of exploring a new planet. You control the pilot of a speedy space-plane that zips over vast oceans and plains.
Impressions: It's brilliant to look at but diminished by clunky controls.
Most sci-fi games are fast and frenetic. This is more the speed of "2001," which is at least a commendable challenge to convention.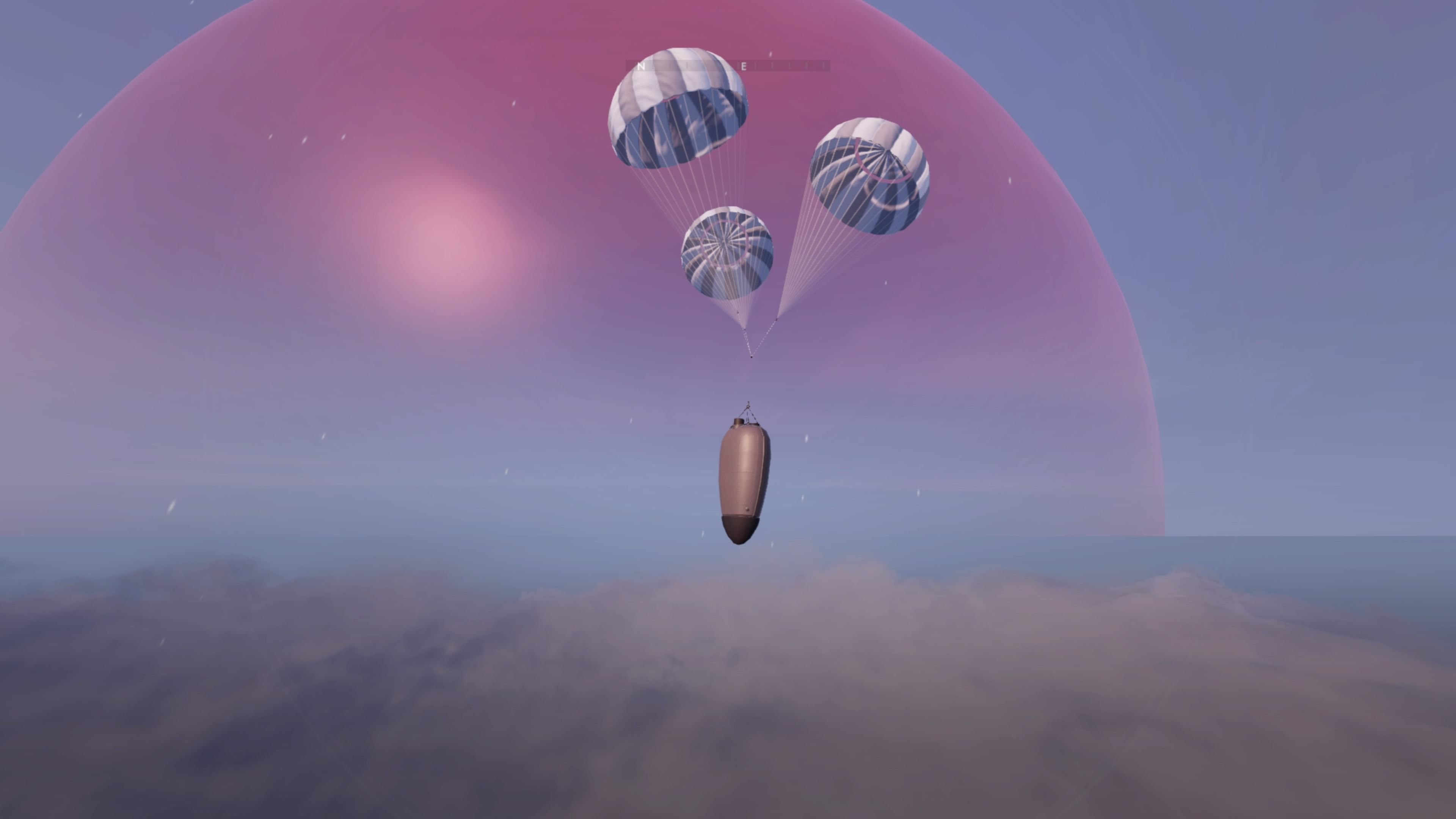 🎁 Like the newsletter? Refer Axios Gaming to your friends to spread the word and get free stuff in the process. Follow the link here to begin.
🐦 Find us on Twitter: @megan_nicolett / @stephentotilo.
We're all trying to outrun that cylinder.