June 29, 2021
Happy Tuesday. We hope you're doing well. This is Axios Gaming with Megan Farokhmanesh and Stephen Totilo.
Today's edition is 1,235 words, a 5-minute read.
🎁 Like the newsletter? Like people who also might want to read it? Refer Axios Gaming to your friends to spread the word and get free stuff in the process. Follow the link here to begin.
1 big thing: Game development's secret tax
Game developers are speaking out about their fickle careers, which are rife with long hours, stagnation and the threat of layoffs.
Why it matters: Longtime designer Laralyn McWilliams calls this "one of the unspoken taxes of being in game dev," pointing in a Twitter thread to 10 moves in 27 years that span cities from Raleigh, North Carolina, and Ann Arbor, Michigan, to Seattle, Los Angeles, and Chicago.
"It almost certainly destroys your spouse/partner's career because they have no consistency, no long track record, less opportunity for advancement. And it becomes harder and harder to make friends in new cities as you age, especially for an introvert like me."
McWilliams also shared a story about talking career advancement with a colleague: "I said, 'I burned my entire life and my husband's on the altar of game development.' I have no regrets because game dev and design is at my core ... but it's a hard road for sure."
What they're saying:
An executive producer at Bungie commiserated with McWilliams over 11 moves in 22 years. "Also 'what spouse' can be the other side effect of all this," she added.
Others have found a way to enjoy long careers in one place. "It can be done," said one developer, citing 27 years in Massachusetts. Another developer at Arkane Studios called themselves "extraordinarily lucky" to have spent 30 years working in Austin.
The bottom line: The problems McWilliams points to are more complicated for immigrant developers.
Developers who come work on visas are more susceptible to having their lives uprooted when a sudden layoff occurs; many visas require them to find employment in weeks, or face deportation.
"One of the reasons myself and so many other immigrants have stayed in Montreal is the number of studios," said one programming project lead. "You can change jobs without giving up your friends, property and quality of life."
2. Marvel's next big mobile game
Marvel may be a better-known company in the west, but Korean mobile gaming giant Netmarble will be the creative force to watch when the companies launch an open-world role-playing game called "Marvel Future Revolution" later this year.
Why it matters: The power of modern phones is emboldening studios to make the kinds of games that previously would have only been expected on PCs and consoles.
"Marvel Future Revolution" will let players fight and talk their way through zones based on various interpretations of the Marvel super-hero universe.
The developers say players will explore huge areas that they'll share with other players.
What they're saying: "We forecast open world will become one of the major genres [on mobile] in the future," Netmarble U.S. president Simon Sim told Axios during a demonstration of the game.
Open-world games allow players to explore vast worlds, freeing them from the restrictions of linear corridor-based layouts.
Such games are rare on mobile due to their technical complexity and the presumed appetite of the audience, but miHoYo's open-world "Genshin Impact" proved a huge hit on mobile last year, earning $1 billion in its first six months, according to Sensor Tower.
What's next: Netmarble is promising hosts of characters, costumes, multiplayer options, added zones and additional story, suggesting this is a long-term project for the studio.
Marvel's last ambitious super-hero team game, "Marvel's Avengers" from Square Enix, was one of the most high-profile flops of last year due to disappointing gameplay, but Marvel and Netmarble officials declined to say if they learned any lessons from that.
Instead, they pointed to their last collaboration, "Marvel Future Fight," a simpler game which has drawn 120 million players.
3. Sony adds another top studio
Sony's PlayStation division has purchased Finnish studio Housemarque, makers of the sensational PS5 game "Returnal."
Why it matters: Sony's recipe for PlayStation success centers on hot exclusive games, which are more easily had when you own top-caliber studios.
Between the lines: It's not a terribly surprising acquisition, given Housemarque's long-time partnership with Sony.
The Finnish studio has released games on other platforms since its founding in 1995, but it also showed up with stellar exclusive releases on or close to the launch dates of the PS3, PS4 and PS5.
Last year, Sony bought another long-time nearly exclusive partner, Insomniac, for $229 million.
In recent years, Housemarque publicly stressed about the commercial struggles of its games. The company's Mikael Haveri told Axios recently that making "Returnal" with Sony was key to reinvigorating the studio.
The big picture: The games industry is increasingly high-stakes, which has both shortened the list of medium-sized studios willing to go it alone and pressured big publishers and platform holders to strengthen their development resources.
Long-time indies such as Insomniac and Texas-based Gearbox sold to big players in the past two years.
Since 2018, Microsoft successfully wooed a slew of indies, including Double Fine, Obsidian, and Ninja Theory, all before that Xbox team's bigger-profile purchase of Zenimax.
What's next: Housemarque co-founder Ilari Kuittinen told GQ that the studio has big plans for its future games, but, first, the developers are due for a vacation.
4. Maybe just a typo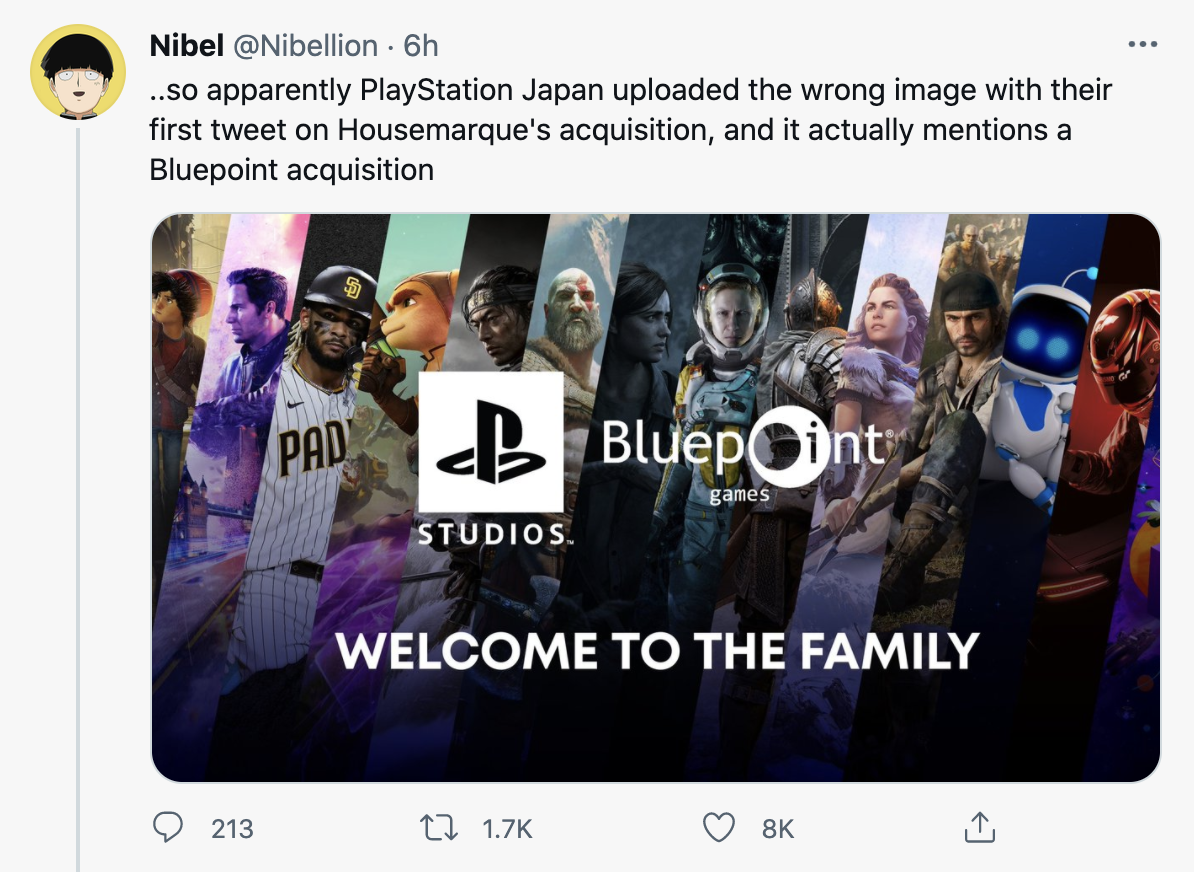 Sony Japan tweeted about the Housemarque acquisition this morning, but the image they used indicated they'd acquired a different studio, longtime partner Bluepoint Games.
A typo or a premature announcement? Sony isn't saying, but it's fun to speculate.
5. Need to know
Now for some quick news.
Krafton is buying thingsflow, giving the powerhouse behind "PUBG" a company that specializes in Hellobot, a webchat bot that Krafton says has 4 million users in Japan and Korea.
Developers at "Destiny" studio Bungie had to stop working yesterday due to extreme heat in the Pacific Northwest, Forbes reported.
Bungie is hiring for a "Destiny" historian.
Xbox Cloud Gaming is now available for all iOS and PC users via xbox.com/play, extending Microsoft's reach for its no-console-needed approach to gaming.
Former Bioware boss Casey Hudson is hiring for a new studio called Humanoid, but offering few teases about what it's making beyond that it is something original and "awesome."
Wall Street analysts are giving up on covering GameStop and other meme stocks, Axios' Courtenay Brown reports.
Simulmedia is hoping console and PC gamers will be into mobile-style ads that offer perks to those who watch them, Axios' Sara Fischer reports.
6. Worthy of your attention
⌨️ Grappling with the death by suicide of a major figure in the gaming emulation scene (Patrick Klepek, Waypoint)
"It's frequently difficult to point to a single cause that leads a person to kill themselves, and Near's problems started years ago. But the harassment that Near received recently has started a conversation about mental health and harassment, causing many to wonder what they could have done differently to support them."
The National Suicide Prevention Lifeline (1-800-273-8255) provides 24/7, free and confidential support for anyone in distress, in addition to prevention and crisis resources. Also available for online chat.
7. The secret of Simlish
How do you create "The Sims'" iconic gibberish language? You make it up on the fly, according to voice actor Andrew Chaikin. Chaikin said that during his time doing voiceover for the series, he learned that "there is no Simlish — and no script. The actors just make up gibberish."
It did, however have to "sound like *American* gibberish. Not Swedish, or Japanese, or random nonsense. And since we're voicing hundreds of situations, it couldn't just be the same gibberish over and over."