July 28, 2021
Time for your daily dose of gaming news with Megan Farokhmanesh and Stephen Totilo.
Today's edition is 1,072 words, a 4-minute read.
1 big thing: Why some young people aren't gaming
Time is more of a barrier than money when it comes to why some young adults don't play video games, according to a new poll from Generation Lab, shared with Axios.
Why it matters: There are more entry points to gaming than ever, but there's no guarantee that young people will embrace games simply because they're more commonplace.
By the numbers: Generation Lab surveyed 503 people between the ages of 18 and 29 to understand their gaming habits. (The margin of error is ±4.2%.)
25% of respondents say they don't have any games downloaded to devices they own.
Of the non-gamers responding to the poll, 42% said they don't play because of a lack of time; 14% blamed financial constraints.
VR and multimedia tie-ins wouldn't draw the non-gamers in, according to the survey.
Non-gamers said Hulu, Netflix and other streaming services satisfied their entertainment diet.
What would draw them in: 46% of non-gamers said they'd be more interested in games if they could socialize in them.
As for people who do play:
They're averaging nine hours of gaming a week.
56% say they do not think they'll grow out of gaming.
And in a warning for boosters of subscription services, 77% say they'd like to try new games by buying them one at a time, rather than via a monthly subscription service.
2. Ubisoft workers demand company accountability in open letter
Close to 600 current and former employees of "Assassin's Creed" publisher Ubisoft are standing in solidarity with protesting workers at Activision Blizzard with a letter that criticizes their company's handling of sexual misconduct.
The big picture: The activism around misconduct at Activision Blizzard is spreading across the industry.
Details: The Ubisoft group says it is frustrated by the company's actions since last summer's cascade of accounts about sexual misconduct and toxic working conditions at many of its studios. (Read the full letter.)
"We have stood by and watched as you fired only the most public offenders. You let the rest either resign or worse, promoted them, moved them from studio to studio, team to team, giving them second chance after second chance with no repercussions. This cycle needs to stop."
The workers call for "a seat at the table when it comes to deciding how to move forward from here."
What they're saying: "We want to be very clear that we take this letter — and the issues it raises — very seriously," a Ubisoft rep told Axios.
The company says many changes over the last year have been driven by employee feedback.
"We absolutely stand behind these efforts and the positive impact they have had on our company culture while also recognizing that we must continue to engage with our employees to ensure we are creating a workplace where they feel valued, supported, and most importantly, safe."
What's next: The Ubisoft letter proposes that Ubisoft, Activision Blizzard, and other top publishers and developers work together on a "set of rules and processes for handling reports of these offences."
3. Walkout organizers want to start a movement
Activision Blizzard walkout organizers are calling today's efforts a demonstration that "this is not a one-time event that our leaders can ignore."
Why it matters: Within the video game industry, sweeping promises for change are often followed by a handful of half-measures that fail to solve the systematic problems that caused them.
"We will not return to silence; we will not be placated by the same processes that led us to this point. This is the beginning of an enduring movement in favor of better labor conditions for all employees, especially women, in particular women of color and transgender women, nonbinary people, and other marginalized groups."
The walkout has received a groundswell of support across the video game industry, as developers and fans have used the #ActiBlizzWalkout hashtag in solidarity.
Blizzard co-founder and former executive Mike Morhaime tweeted today that he stands "in virtual solidarity" with those walking out: "I promise to be part of the change."
Earlier this week, Morhaime — who stepped down from Blizzard in 2018 and left the company entirely in 2019 — issued an apology on Twitter. "To the Blizzard women who experienced any of these things, I am extremely sorry that I failed you."
4. Sony and Xbox are both sales winners
Sony says it has sold 10 million PlayStation 5 consoles as of July 18, claiming it is the fastest-selling PlayStation model to reach that mark.
Microsoft has not released sales figures for its Xbox Series X and S consoles, but company CEO Satya Nadella said yesterday that it's the fastest-selling Xbox.
Why it matters: People are buying these hard-to-find consoles as demand outstrips supply.
In an apparent win for both, Sony said its baseball game, "MLB The Show 21," has sold a record 2 million copies so far and reached 4 million players.
If you did a double-take on those stats, bear in mind that "The Show" was sold on PlayStation and Xbox this year (thanks to a requirement by MLB).
It also was on Xbox's Game Pass subscription service.
So putting the game on a subscription service did not negate the game going multiplatform — letting Sony net huge sales.
Sony also noted that PS5 exclusives "Returnal" and "Ratchet & Clank: Rift Apart" have sold over 560,000 and 1.1 million copies, respectively.
5. Need to know
🌚 Veteran game developers from studios including Naughty Dog, Sony, and Infinity Ward are forming a new AAA studio called That's No Moon.
Why they're naming themselves after a Star Wars quote about the Death Star: "We really wanted to convey ideas of wonder and awe," studio CEO Michael Mumbauer told Axios.
🐺 Esports league Evil Geniuses is partnering with UK soccer club Wolverhampton Wanderers FC, making it the first esports team to have a physical presence in Asia-Pacific, Europe and North America.
The deal puts the organization's valuation at $225 million.
🪦 RIP "Dr. Mario World." Nintendo is ending support for its mobile match-three "Dr. Mario" game on Oct. 31, two years after its launch.
6. Worthy of your attention
Inside Blizzard developers' infamous Bill "Cosby Suite" (Ethan Gach, Kotaku)
"The 'Cosby Suite' and 'Blizzcon Cosby Crew' chat also call into question recent statements by current and former high-ranking Blizzard developers. While Street recently apologized for a sexist panel response to a World of Warcraft fan at Blizzcon 2010, he did not give any public indication that he was aware of or involved in something like the 'Cosby Suite,' despite it being publicly mentioned in California's current lawsuit."
7. Donut ask
At this rate, you're more likely to find the donuts than a console.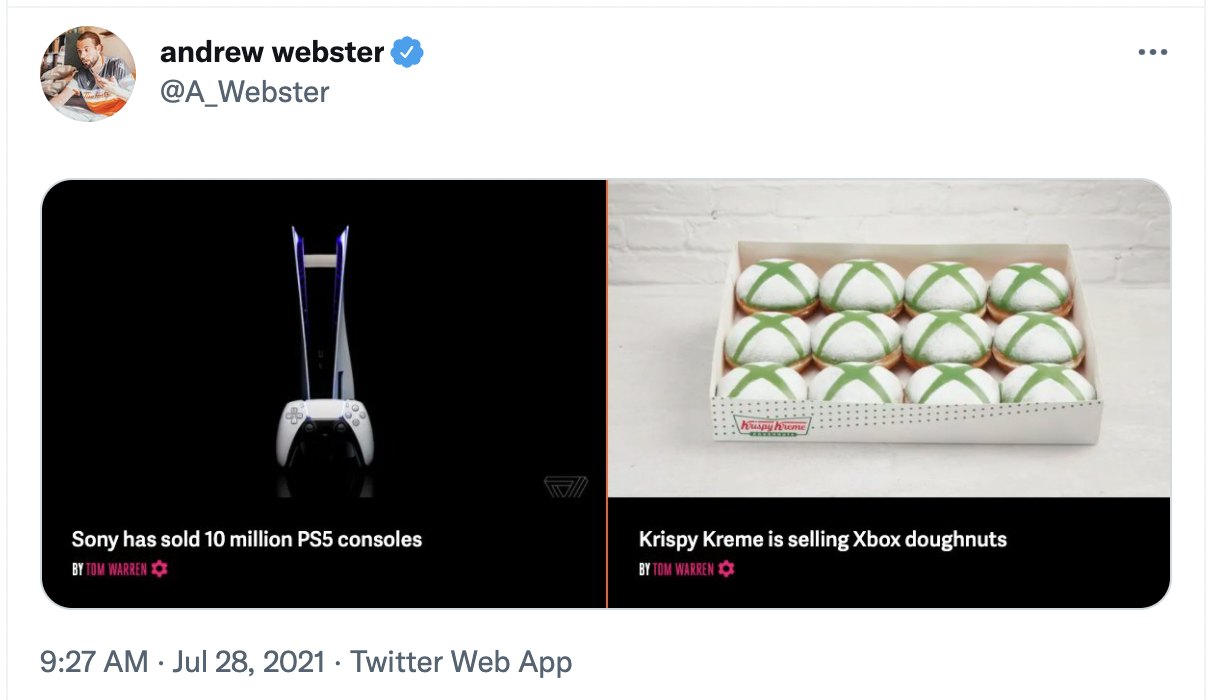 🎁 Like the newsletter? Refer Axios Gaming to your friends to spread the word and get free stuff in the process. Follow the link here to begin.
🐦 Find us on Twitter: @megan_nicolett / @stephentotilo.
Editor's note: An item in the Need to Know section of yesterday's newsletter was corrected to show that "Splitgate" will be released sometime in August (not Aug. 2).