April 13, 2022
Welcome back to another edition of Axios Gaming. It's Wednesday, day three in this week's Megan-led bonanza.
Today's edition is 1,138 words, a 4.5-minute read.
1 big thing: Niantic's new bet
Pokémon GO creator Niantic hopes to re-create its AR success, and show off more of its location-based tech, with the reveal of its new augmented reality game today, a pet simulator Peridot, Axios' Peter Allen Clark reports.
Driving the news: In the new mobile game, players foster, raise, train and even breed creatures of all sizes, shapes and colors called Peridots, or "Dots," for short.
Niantic senior product manager and producer Ziah Fogel said that each Peridot is "100% unique," using sets of procedurally generated attributes and personalities.
Similar to Pokémon GO, players are encouraged to physically walk around in the world, looking for points of interest that might have items and help their Dots forage for food.
Using a phone's camera, the Dots show up in the real world and Fogel said they can recognize obstructions or topography.
There is also a "breeding system."
Once a player raises a Dot from a baby to an adult, they can find a nest. Nests are unique places in the world, like Arenas in Pokémon GO. There, players can choose to breed their Dot with other players' or with Dots seeded throughout the world.
Following the success of Pokémon GO, Fogel said Niantic wanted to create something original and "iterate on and improve the pet simulation genre."
She said that they took a lot of inspiration from simulators like Nintendogs or The Sims.
One big difference? "There is no punitive element in this game," she said. "The creatures will never die."
Niantic is hoping that the communities that are built with Pokémon GO will be equally engaged with IRL events to show off their Dots and breed new ones.
"The aim is we're creating communities of players than can show off these amazing creatures," she said, and that it could be thought of as an AR Westminster Kennel Club Dog Show.
The big picture: Since its launch in 2016, Pokémon GO has been a massively successful game for Niantic, pulling in more than $5 billion in lifetime revenue.
The game is considered a worldwide cultural phenomenon, attracting loyal fans and huge events, online and in-person, each year.
But Niantic has struggled to re-create that level of success with titles that followed. Harry Potter: Wizards Unite, shut down just three years after its launch.
Its most recent title, last October's Pikmin Bloom, has fared better with 2 million downloads within its first two weeks.
What's next: Niantic says that Peridot will have a soft beta launch beta this month in select, unidentified markets on the App Store and Google Play.
2. Bungie is all in on remote work
Destiny creator Bungie is embracing remote work and going digital first, the company announced.
Why it matters: By allowing developers to be remote, the company will be able to attract more talent and cater to employee needs.
Driving the news: "Over the past two years, we have redefined how we work at Bungie," said CEO Pete Parsons on Twitter.
Bungie began its work-from-home initiative March 1, 2020, as COVID-19 began to ramp up.
"The transition to work-from-home wasn't easy, but the results speak for themselves. Today, it's clear that a digital-first workplace isn't the future of work — it is already here, and We. Are. All. In."
Current and future roles will be eligible for remote work in Washington, California, Oregon, Illinois, Florida, North Carolina and Texas. More locations are coming soon, Bungie said.
"In the last year, we've shipped some of the best content we've ever made, and it was all built start-to-finish by our awesome remote team," tweeted Destiny 2 general manager Justin Truman.
The big picture: Although some companies are returning to required in-office work, employees are struggling with the transition.
Management is ending vaccine and mask mandates at companies like Activision Blizzard and Riot, opening up a larger conversation about employee health and safety.
The bottom line: Two years of working remotely has proved that offices aren't a necessity to make a game.
3. Activision Blizzard lawsuit's lawyer trouble
California Gov. Gavin Newsom has been accused of interfering in the Activision Blizzard lawsuit, leading one of the state's top lawyers to step down, Bloomberg reports.
Why it matters: Assistant chief counsel for California's Department of Fair Employment and Housing, Melanie Proctor, as well as chief counsel Janette Wipper, are now both off the high-profile case.
Driving the news: Proctor told staff she was resigning in protest of Wipper's sudden termination.
According to Proctor, Wipper was fired after she "attempted to protect" the DFEG's indepedency.
"The Office of the Governor repeatedly demanded advance notice of litigation strategy and of next steps in the litigation," Proctor reportedly said in an email to staff, Bloomberg reported.
"As we continued to win in state court, this interference increased, mimicking the interests of Activision's counsel."
Newsom's office did not respond to a request for comment.
The bottom line: The future of the lawsuit is now murky without its top two lawyers.
4. Need to know
🚀 No Man's Sky's latest update, Outlaws, launches today and will introduce new missions, Outlaw Stations, smuggling and more.
🤔 The next-gen version of The Witcher 3: Wild Hunt has been delayed as the team moves work on the game back in-house.
💻 QuakeCon will remain as a digital only event when it runs Aug. 18-20. The event is expected to return in person next year.
🤑 Embracer subsidiary Aspyr Media has acquired MythForce developer Beamdog.
🎬 "Only" writer and director Takashi Doscher will write the screenplay for the upcoming Ghost of Tsushima film, Deadline reports.
5. Worthy of your attention
Steam Deck vs next-gen gaming — is Valve's handheld future-proof? (Richard Leadbetter, Eurogamer)
Despite ending on a less optimistic note, experiments in really pushing Steam Deck's features and performance once again results in some truly surprising results - but it's all about picking and choosing your battles for best results, and in this respect, I'm able to tap into much of the work done by my colleagues at Digital Foundry in balancing visual fidelity with performance - or referring to Microsoft's 'cheat sheet' on console equivalent PC settings in the case of Flight Simulator. In terms of bang for the buck, the sweet spots offered there often come in handy - and bearing in mind that console settings are targeting experiences that have to look good on a living room display, there are likely further 'optimisations' we can rely on - simply because dropping back on quality presets is nowhere near as impactful on a smaller screen.
6. Long live the long ladder
Metal Gear Solid 3's infamously long ladder — where hero Snake silently makes his way up for two minutes, to the tune of "Snake Eater" — may not be for everyone. Take YouTuber apel, for example, who helpfully demonstrates a glitch that allows Snake to Superman his way up.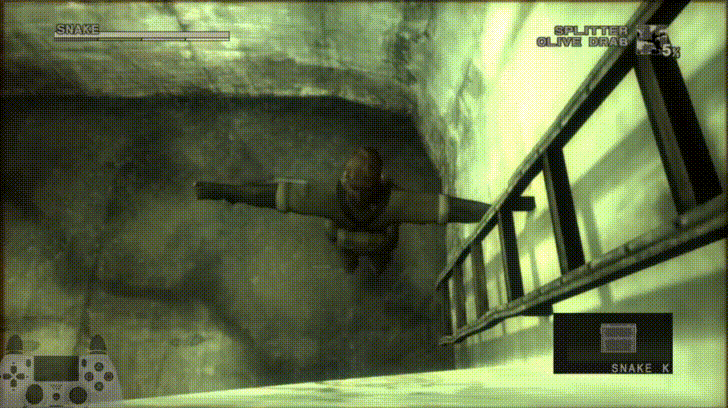 You could argue that it ruins the ambiance of the moment, but sometimes people are in a hurry. Snake's got places to be, you know?
🎁 Like the newsletter? Refer Axios Gaming to your friends to spread the word, and get free stuff in the process. Follow the link here to begin.
🐦 Find us on Twitter: @megan_nicolett / @stephentotilo.
How do I glitch up every long set of stairs in New York?