October 14, 2021
Welcome to a late-week edition of Axios Gaming with Megan.
Today's edition is 1,115 words, a 4-minute read.
1 big thing: "Squid Game" meets video games
"Squid Game" is Netflix's biggest series launch ever with more than 111 million views, but the show has taken root beyond the streaming platform in spaces like TikTok and the gaming industry.
Why it matters: The battle royale-style show's influence in video games seems to spread more every week.
In "Squid Game," 456 players compete in elimination-style games, from marbles to tug-o-war for millions of dollars. Losing means death.
Dozens of "Squid Game"-inspired mini-games have taken over "Roblox," with players making their own versions of the show's deadly challenges.
"Red Light, Green Light" — the show's first game, in which players can only advance while a giant robot is speaking, or else be shot to death — has gained a foothold especially. Fans are re-creating the game in Unreal Engine for a less kid-friendly version.
"Fall Guys: Ultimate Knockout" lead game designer Joe Walsh told TechRadar that it's reconsidering adding a scrapped version of "Red Light, Green Light" to the game.
"I think we were like, 'We'll never do "Red Light, Green Light," it doesn't make sense,'" he said. "But now seeing how popular 'Squid Game' is, I'd love for us to have another crack at something like that and see if we could do it in 'Fall Guys.'"
The big picture: Although the core of the show is about the evils of capitalism as well as human nature and friendship, the series lends itself well to a video game takeover.
It's reminiscent of games like "Danganronpa," in which students compete in a deadly killing game for their freedom — or, for a much more PG idea, "Mario Party."
What's next: Netflix executive Minyoung Kim told The Hollywood Reporter that the company is exploring ways to expand the series, "from games, consumer products and others — to really figure out what we can bring to our audiences to increase their affinity toward our content and give them more joy, while staying true to the world that our creator has built."
"This is just the start," Kim said.
2. "Aeon Must Die!"'s controversial release
Beat 'em up "Aeon Must Die!"'s release today is stirring up controversy around accusations from former employees that the game was created under toxic work conditions and ultimately stolen from its creators.
Driving the news: Former Limestone Games developers, now working under a new studio called Mishura Games, published a lengthy statement calling on Limestone and publisher Focus Entertainment to "complete their legal responsibilities."
Mishura has also requested that Focus release its alleged investigation results, as well as proof of pay for some developers' work.
"Limestone and Focus, two separate entities, co-own the IP ... no party, legal or natural person could appropriate, steal or exploit the IP by its own will," reads a statement published to the game's Twitter account on Oct. 12 under a FAQ subheaded "Did any party steal the 'Aeon Must Die' IP?"
A follow-up statement adds that "all claims remain unsubstantiated despite investigations led by two law firms and one Estonian authority."
Flashback: Last August, a group of former Limestone Games developers came forward with allegations of abuse and manipulation from their employer.
"People who have worked on every shot of this are no longer with the company holding IP rights," the developers wrote. "Some were not even paid for their work. The real IP for the game was stolen from the creators via foul play."
In September 2021, animator and former "Aeon" dev Arsen Shakhbabyan temporarily pushed the game's trailer off YouTube with a copyright claim. "I was very angry, they had the audacity [or lack of brains] to upload the same trailer to YouTube, without any changes and new fragments, as well as delete comments from any people who write the truth about them," Shakhbabyan told Eurogamer.
Mishura's statement today notes that the trailer includes a "considerable amount of work" from Shakhbabyan, who doesn't have a contract with either "Aeon"'s publisher or developer. "According to relevant laws, the IP regarding Arsen`s work for this trailer still fully belongs to Arsen."
"It is imperative for the ecosystem of the game industry to move forward from the dark ages it is clearly stuck in," the statement reads. "The industry already suffers way too much from unfair treatment of artists and developers and true creators of the games. Crunches, toxic atmosphere, unpaid hours, abuse and so on, are unfortunately all over the place."
3. One way to get a PS5 this holiday season
Sony is offering customers the chance to buy a PlayStation 5 directly from them for the holidays.
The details: The offer is invite-only, with selections being made based on "previous interests and PlayStation activities." You'll need to register with Sony first.
An invitation does not guarantee a console, however, and quantities are limited to one console per PSN ID.
Invites will go out via email beginning in November.
What you can buy:
1 PS5 console or 1 PS5 Digital Edition
2 DualSense wireless controllers (Bundles, Cosmic Red or Midnight Black)
3 DualSense wireless controllers (White)
1 PS5 Media Remote
1 Pulse 3D wireless headset
Why it matters: Consoles remain difficult to get ahold of, thanks to complications like a chip shortage related to the COVID-19 pandemic.
Buying a PS5 (or an Xbox Series X/S, for that matter) is still a scavenger hunt. You need to either be very fast for retailer restocks, very lucky, or both.
Shortages are expected to continue into next year, though the console continues to sell remarkably well.
Yes, but: It's only for U.S. customers. You can get one if you're located outside of the states and have it shipped to a U.S. address.
4. Need to know
❣️ Heart Machine's "Solar Ash" has been delayed to Dec. 2 to accommodate extra polish and bug fixes.
🌹 "Rainbow Six Siege" caster Michael 'KiXSTAr' Stockley was killed in a car accident at the age of 24.
🔜 Pokémon Go creator Niantic announced some upcoming tweaks to the game, including expanded trainer tips, new PokéStop functionalities and updates to egg hatching.
🌲 Ustwo Games released a new chapter for puzzle game "Monument Valley 2" as part of tree conservation effort Playing For The Planet Green Game Jam.
5. Worthy of your attention
'Urgent Pizza': The Untold Story of the Largest Hack in Twitch's History (Lorenzo Franceschi-Bicchierai, Motherboard)
The full story of the 2014 hack against Twitch has never been reported before, and is based on interviews with seven former Twitch employees who were working there when the breach happened, and when the company later investigated the hack and dealt with its fallout. ... The hack was so bad that Twitch essentially had to rebuild much of its code infrastructure because the company eventually decided to assume most of its servers were compromised.
6. Game dev, as explained by "Squid Game"
Two good tweets about game dev, by game devs: "Squid Games" Edition.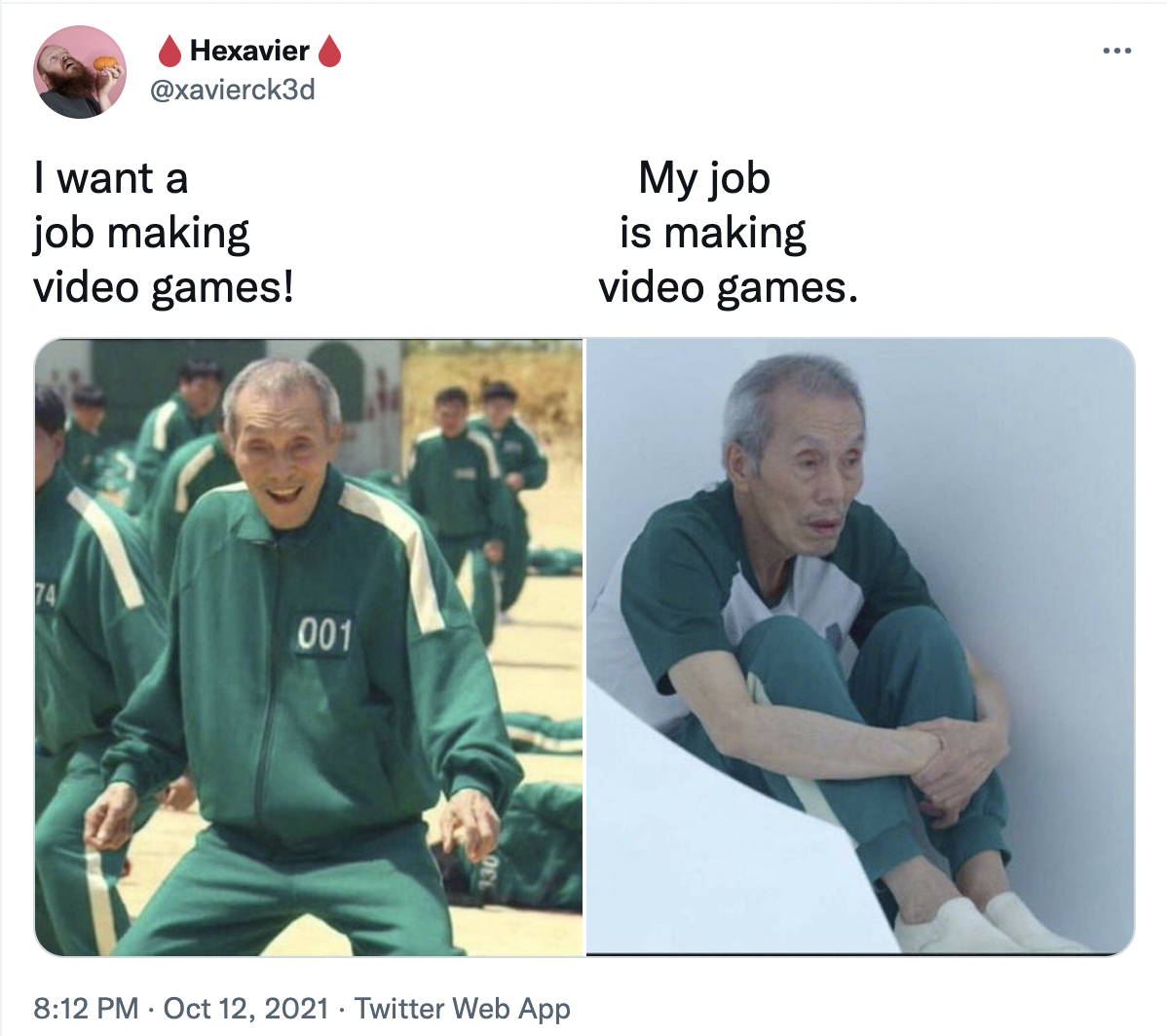 And my personal favorite: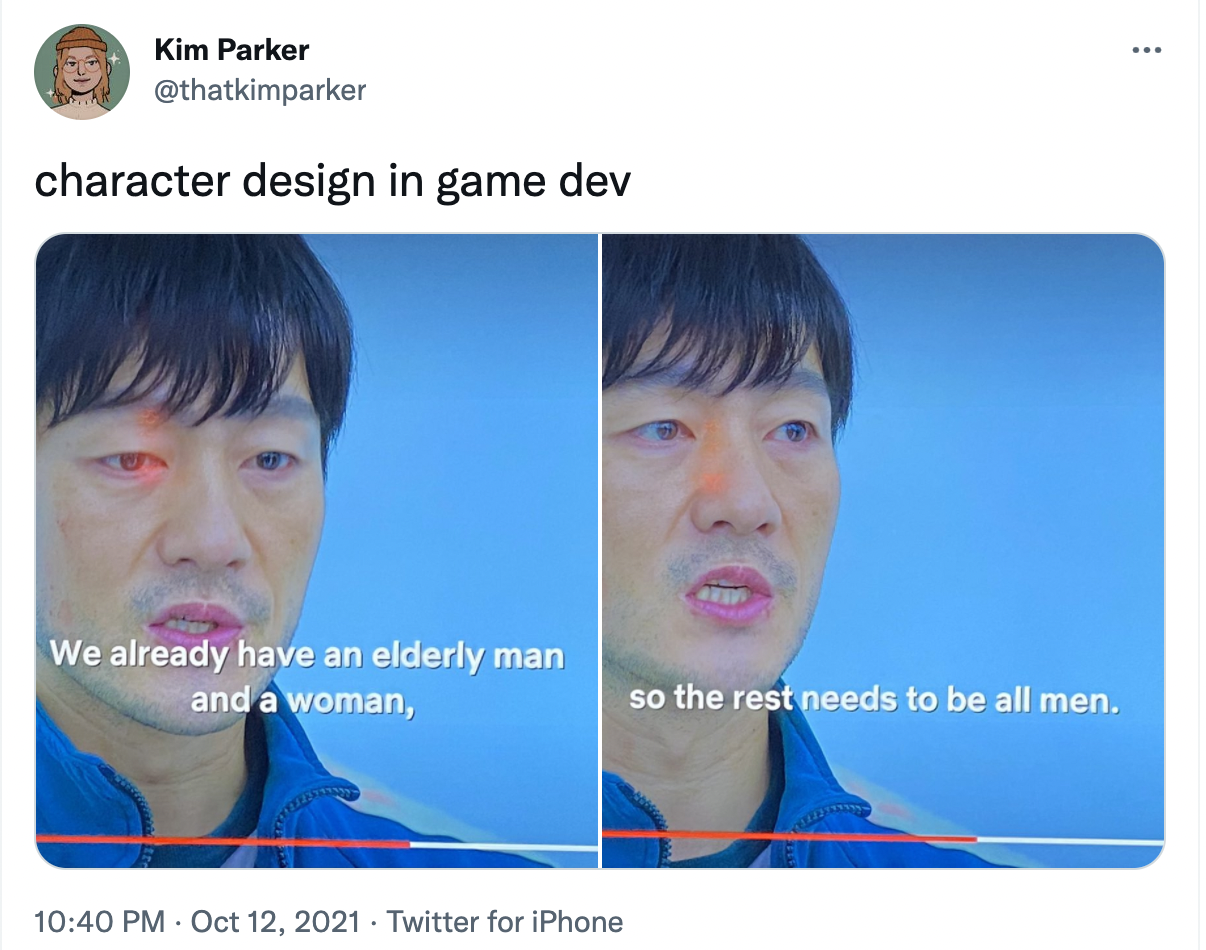 🎁 Like the newsletter? Refer Axios Gaming to your friends to spread the word and get free stuff in the process. Follow the link here to begin.
🐦 Find us on Twitter: @megan_nicolett / @stephentotilo.
How long would you survive a real-life "Squid Game"? Me? Dead within minutes.
Editor's note: Yesterday's Gaming newsletter corrected story 3 to reflect that Billy Mitchell first sued Twin Galaxies in 2019 (not 2020).