August 02, 2021
It's Monday with Megan Farokhmanesh and Stephen Totilo.
It's also our first newsletter of August. What games are you excited for this month?
Today's edition is 994 words, a 4-minute read.
1 big thing: Industry leader calls for unionization
The call for game developers to unionize is now coming from a voice close to the top. On Friday, former Blizzard senior programmer and three-time studio founder Jeff Strain released a letter encouraging his own developers to unionize.
Why it matters: Unionization is often mentioned by industry pundits and workers themselves as a crucial maneuver to empower the people who make games, but it's been a non-starter at most studios.
The details: "I welcome my employees to unionize, and I'm giving my full endorsement and support to an industry wide adoption of unions," Strain wrote in the letter, which was published by IGN.
He wrote that events this week — a reference to the ongoing furor around allegations of harassment and discrimination at Activision Blizzard — were another sign that workers need protections.
Strain added he has "nothing to fear from unionization, nor does any company that pays employees fairly and equitably, provides quality health insurance, models respect and civility for female, POC, LGBTQ+ employees, and supports a healthy, whole life."
Strain most recently ran Undead Labs, an independent studio that Microsoft acquired in 2018. Strain left earlier this year.
The big picture: Few developers in the global gaming industry operate under any collective bargaining agreement, limiting protections on workers in terms of pay, hours and wrongful termination.
Studios in Sweden, where legal support for unions are strong, are exceptions. EA's DICE studio (makers of "Battlefield") and Paradox Interactive both have CBAs.
Industry leaders have sent occasional tepid-to-warm signals in the past, but nothing as searing as Strain's letter.
In 2018, developer-founded group Game Workers Unite began advocating for unions and in 2019, the head of the AFL-CIO urged game makers to organize. Yet no broader gaming union has formed.
Between the lines: Even as some developers adopt the tactics of organized labor, some are not saying they'll unionize.
An Activision Blizzard employee who was part of Wednesday's walkout of the company told Axios last week there was "no commitment to any sort of unionization right now."
2. China's big gaming convention
ChinaJoy was held over the weekend in Shanghai, a rare public gaming event since the onset of COVID-19. Rising cases required some mid-show change of plans.
Why it matters: ChinaJoy helped show the country's rising relevance to the global gaming market, but that show of strength was limited by the continued impacts of the pandemic.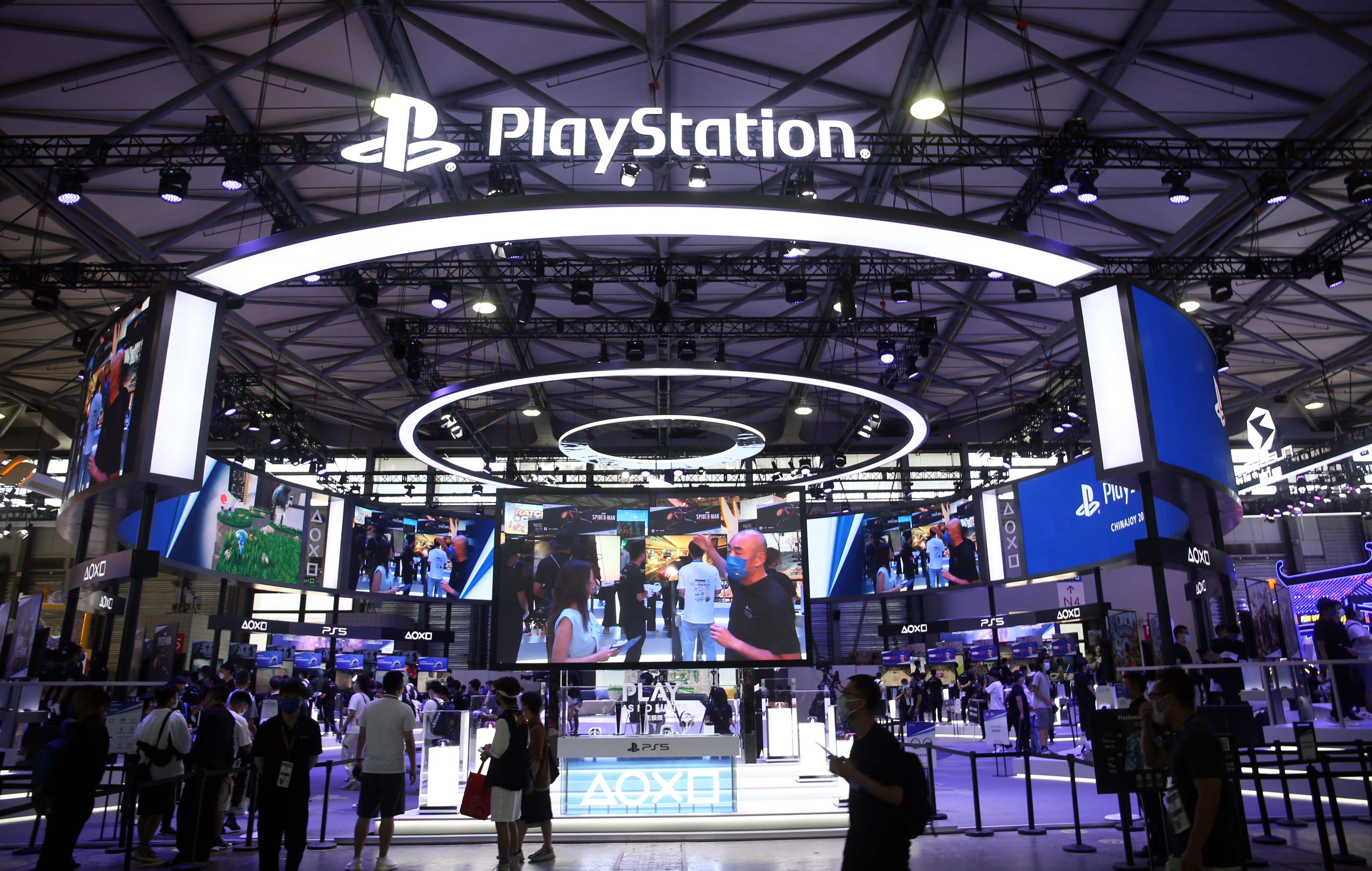 Between the lines: The event was open to the public and featured booths for Chinese gaming powerhouses like Tencent as well as outside companies such as PlayStation (Japan), Blizzard (U.S.) and Ubisoft (France), all making appeals to the local market.
Organizers had required attendees to have a recent negative covid test and required masks.
By day two, those restrictions were tightened, with bans on prize giveaways, eating and drinking, and a narrower timeframe for those negative test results, according to Niko Partners' Daniel Ahmad, who covers China's gaming scene.
3. Lowering the price to free helps
The underperforming "Marvel's Avengers" video game got a boost this weekend thanks to a promotion from publisher Square Enix to let people play the game for free.
On Saturday, the game's peak concurrent player count on PC platform Steam was 10,067, as tracked by SteamDB and first reported by TheGamer.
That's up from about 800 the Saturday before.
Why it matters: "Marvel's Avengers," had the characters, the top-flight development studio to make it an expected success, but the game been a costly dud.
The publisher hopes a free-to-try weekend followed later this month by a free Black Panther expansion can give the game another boost.
4. A most curious Tweet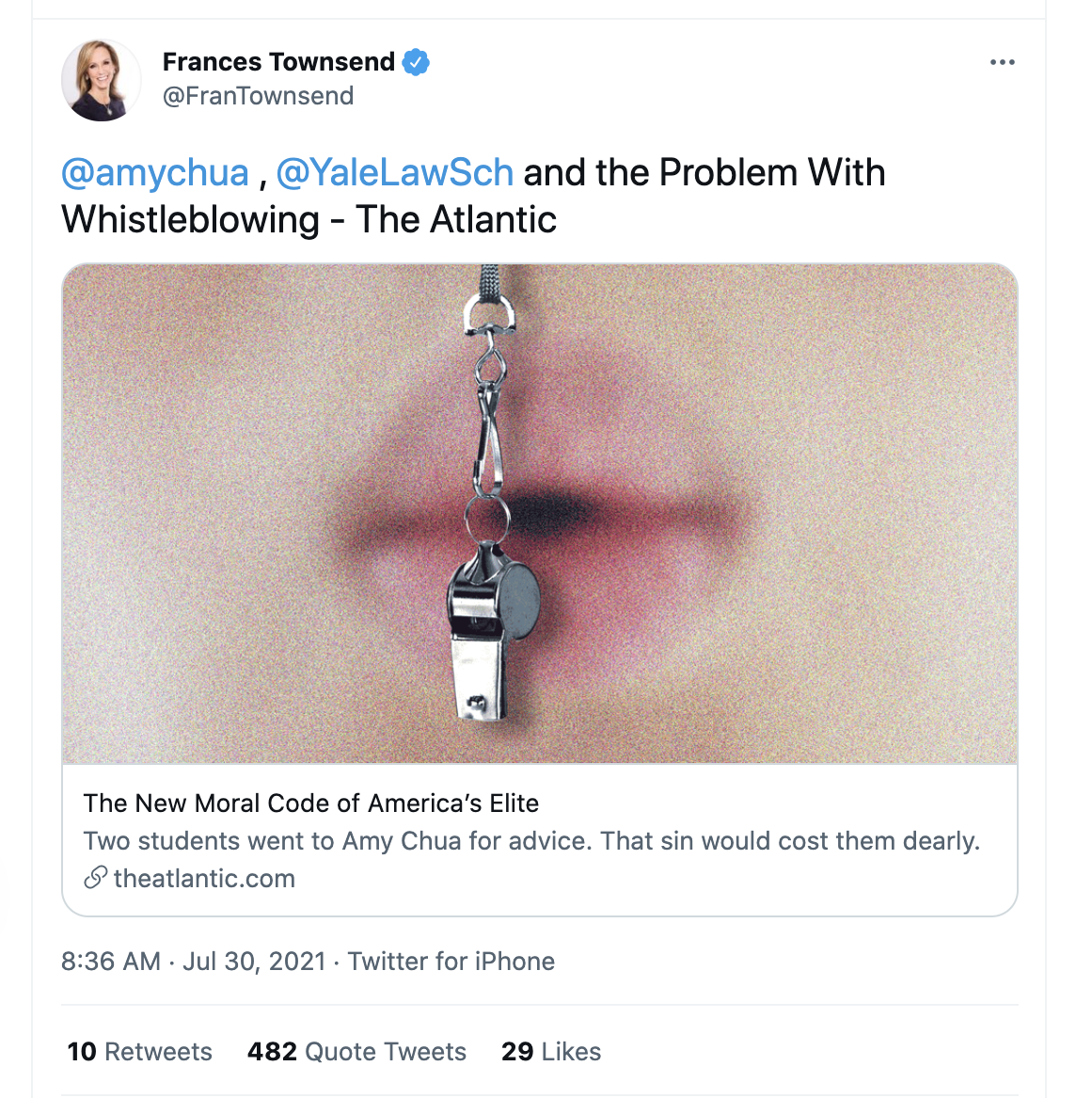 A weekend tweet from Activision Blizzard chief compliance officer and former Bush-era Department of Homeland Security official Frances Townsend on the "problem with whistleblowing" did not go over well.
Townsend's recent note to employees calling a California anti-discrimination suit against the company "meritless and irresponsible" was cited as a motivation for workers to walk out.
Townsend has made no public comment about the matter since then, but tweeted this Atlantic article, which was followed by a torrent of criticism from game developers and media, some of whom then said Townsend had blocked them.
5. Need to know
😎 "Assassin's Creed Valhalla" director Eric Baptizat will lead the "Dead Space" remake as game director, according to his LinkedIn (as first reported by VGC). As reported previously by Axios, Baptizat made the jump from Ubisoft to Motive Studio in April 2021, after 16 years with the company.
🌟 Pop star Ariana Grande is headlining Fortnite's upcoming Rift Tour concert series when it runs Aug. 6–8. Grande is the latest musician to give a virtual performance in-game, alongside names like Travis Scott and Marshmello.
🎮 PlayStation Now's August lineup is "Nier: Automata," "Ghostrunner," and "Undertale." Games will be playable Aug. 3.
6. Worthy of your attention
Gaming industry women need you to stop defining them by their trauma (Ari Notis and Patricia Hernandez, Kotaku)
At the center of the conversation are women — specifically, the abuses perpetrated against women by powerful people at powerful companies. For veteran games developer Cher Scarlett, who's been involved with recent organization efforts by fed-up industry workers, everything happening right now is a necessary conversation. But there's a price. "I don't want to be known as the Overwatch league revenge porn girl," she tweeted.
7. Games to check out this week
The Nintendo Switch has some of the week's most promising releases.
Look for "A Monster's Expedition" on Thursday. This port of last year's PC and mobile game challenges players to push stones and knock down trees to make bridges between islands. Sound simple? It's wonderfully clever.
Also on Thursday: "Picross S: Genesis & Master System Edition" is a cross of Sega nostalgia with the wonderful "Picross" gameplay that, as the portmanteau suggests, is all about making pictures in a crossword-style grid. You'd probably like it, if you like sudoku.
If you don't have a Switch, sorry.
🎁 Like the newsletter? Refer Axios Gaming to your friends to spread the word and get free stuff in the process. Follow the link here to begin.
🐦 Find us on Twitter: @megan_nicolett / @stephentotilo.
Never tweet.