October 18, 2021
Hello to you, my favorite reader. It's Megan with Monday's edition of Axios Gaming.
Today's edition is 1,055 words, a 4-minute read.
1 big thing: Valve says no to NFTs
NFTs and games that use blockchain technology have been banned from Valve's digital distribution service, Steam, while Epic says it's open to including them on its platform.
Driving the news: As noted by a developer working on blockchain gaming title "Age of Rust," Steam began notifying creators it would be kicking all blockchain games from its platform.
Epic, meanwhile, told The Verge that it's "open to games that support cryptocurrency or blockchain-based assets" and is willing to work with "early developers."
Why it matters: Steam and Epic are two of the biggest store platforms for people to buy games; how they moderate their content, and what games they have on their platform, have huge implications for gamemakers.
What they're saying:
2. Confidence is key
Video game developer Chandana "Eka" Ekanayake says a key part of co-founding his own gaming studio nearly two decades into his career was taking a deep breath and just doing something that he saw encouraged in peers who didn't look like him, Stephen writes.
"It was certainly a confidence thing," Ekanayake, who emigrated from Sri Lanka at 8 and began working as a developer at 19, told Axios. 
"I joke about this on Twitter: I wish I had 'white man confidence.' I would have started a company at 25."
Why it matters: Ekanayake is one of a handful of entrepreneurs who are working to make gaming more diverse, in terms of who makes games and what they're about.
The studio he co-founded in 2017, Outerloop Games, first released "Falcon Age," a game about falconry in which players fight colonizers. 
It was successful enough to secure funding for a more ambitious but still secret project involving South Asian culture and family dynamics.
Between the lines: Ekanayake found success for his new studio by assembling a diverse team that worked remotely from the start. 
He pitches Outerloop to potential project investors with the mission statement of focusing on underrepresented cultures and themes.
Publishers would sometimes question if games he wanted to make would find an audience. "My answer always is: I grew up in the U.S. I'm not white. A lot of media I consume is white, and I can identify with it. I think it works the other way around too, as long as it's compelling."
3. PlayStation 5 tops the charts
The PlayStation 5 was the best-selling console in the U.S. in September, according to the NPD, outselling the Nintendo Switch for the first time in 33 months.
Why it matters: The Switch has dominated the charts for roughly three years, but the shift indicates other platforms are poised to take over.
"November 2018 was the last month a platform other than Nintendo Switch led the market in unit sales (PlayStation 4)," tweeted NPD's Mat Piscatella.
Sony's PlayStation 5 earned its top spot for September on both units and dollars. It's the best-selling platform of 2021 in dollars.
Nintendo Switch still leads in units sold, however.
Yes, but: PS5s have been hard to purchase, thanks to complicating factors like COVID 19-related supply issues.
The PS5 continues to sell well, with demand remaining high despite the shortages.
4. Need to know
💍 "Elden Ring" has been delayed from its Jan. 22 release date to Feb. 25. Bandai Namco and FromSoftware will hold a closed network test for the game's multiplayer from Nov. 12 to 14.
🕺 Respawn Entertainment is cautioning players against using in-game poses due to a crash-causing bug it's currently working on.
👀 Ubisoft appears to have leaked a release date for "Rainbox Six Extraction," pointing to Jan. 20.
🐛 "Fortnite'"s next crossover is themed around the movie "Dune," out this week.
5. Worthy of your attention
Company that told Sony "go ahead, sue us" pulls replacement PS5 plates from sale, says Sony threatened to sue them (Wesley Yin-Poole, Eurogamer)
Dbrand's plates contain a microscopic texture, as do the official PS5 plates, but it's slightly different to Sony's PlayStation face button design.
"When you look at this microscopic texture inside the Darkplates, what do you see?" Dbrand said in a section of its website subtitled "Totally legal".
"If your answer is 'a familiar-but-legally-distinct apocalyptic spin on the classic PlayStation button shapes,' you might be one of our lawyers."
6. "Doom" and Twitter, a match made in Hell
If you're in the mood to tweet your "Doom," and not in the cancellation sense, Twitter user Georgi Gerganov has created a version of the game you can play by tweeting at a bot.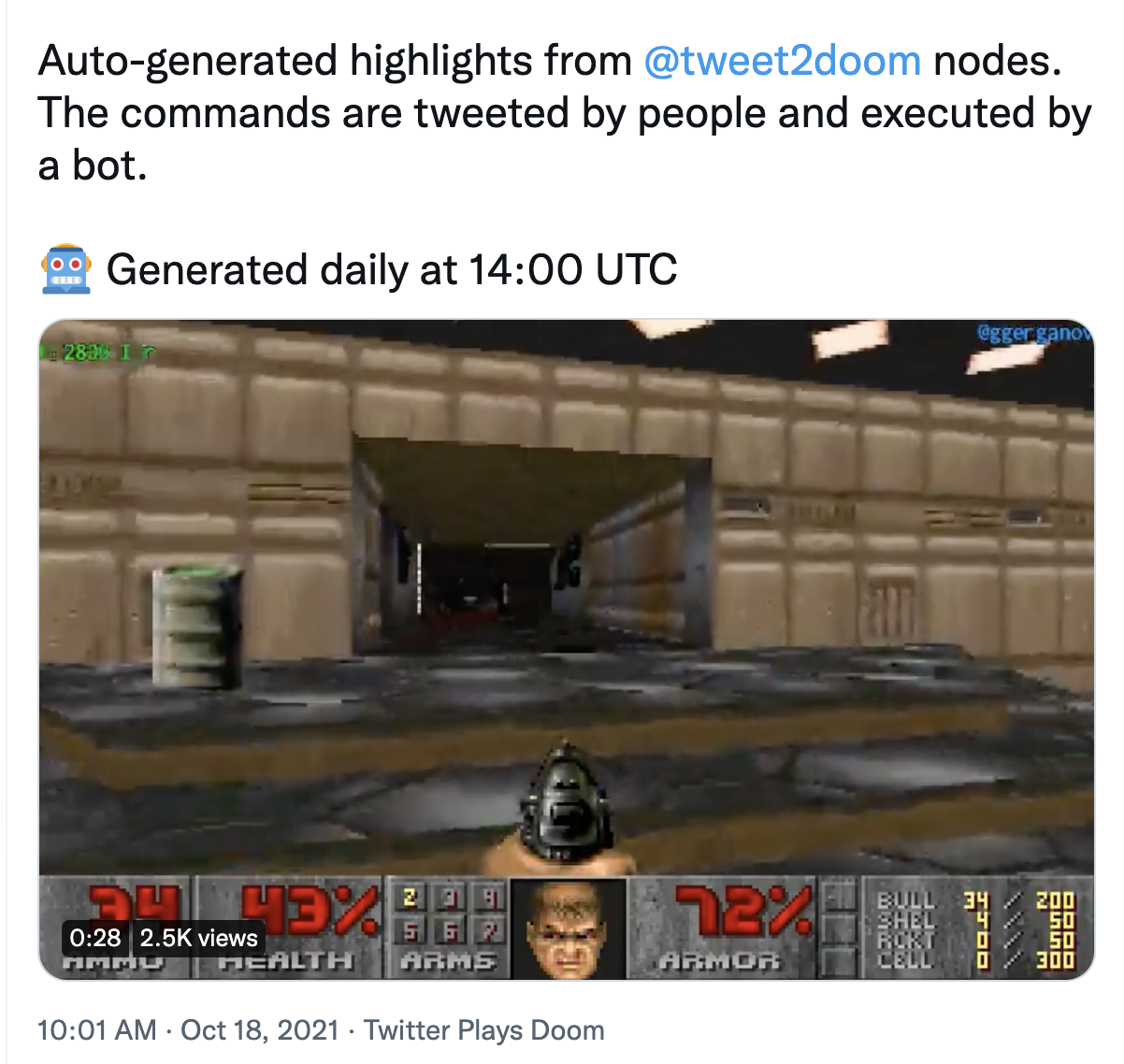 Gerganov explained on Twitter that a bot takes the command and translates it into action within the game, then generates a 10-second watchable clip.
"So far there have been a total of 2950 valid commands tweeted by 1041 unique accounts," Gerganov wrote. "The longest tweet chain has 172 nodes, resulting in a total of 11973 in-game frames. Since Doom runs at 35fps - this is almost 6 minutes of play time in that particular branch!"
People have pulled this off with "Pokémon" on Twitter, and "Doom" is already playable on pretty much everything else, from toasters to pregnancy tests. This is one of the most normal options I've seen.
🎁 Like the newsletter? Refer Axios Gaming to your friends to spread the word and get free stuff in the process. Follow the link here to begin.
🐦 Find us on Twitter: @megan_nicolett / @stephentotilo.
I've been waiting all newsletter to make a "crypto-"nite joke.