July 23, 2021
Happy Friday from Megan Farokhmanesh and Stephen Totilo. Tell us something good before we head into the weekend. (Or ask us a question for our weekly Q&A.)
Today's edition is 1,085 words, a 4-minute read.
1 big thing: The Activision Blizzard fallout
Reaction to California's explosive lawsuit against Activision Blizzard has been spreading online, as players and industry professionals express their disgust about its allegations.
Why it matters: This is no flash in the pan and is triggering new discussions about the problems with sexism in the industry overall.
The latest: Since the lawsuit was publicized on Wednesday, numerous people who work or worked at Activision and Blizzard (they're two companies under the AB holding company umbrella) have been sharing stories of harassment they experienced.
Internally, some employees are "furious" about the company's response, a source told Axios, likening it to "being gaslit by leadership."
In an email to employees yesterday, Activision president Rob Kostich described the allegations as "disturbing" and echoed a note from Blizzard president J. Allen Brack encouraging employees to report any misconduct.
But in a companywide message today obtained by Axios, chief compliance officer (and former GWB Homeland Security official) Frances Townsend slammed the lawsuit as false: "We cannot let egregious actions of others, and a truly meritless lawsuit, damage our culture of respect and equal opportunity for all employees," she wrote.
Widespread reactions:
Bungie, the large independent studio that worked with Activision until 2019, issued a statement that did not reference the suit but noted its "responsibility to acknowledge, reflect, and do what we can to push back on a persistent culture of harassment, abuse, and inequality that exists in our industry."
Moderators of the 2-million-member subreddit for Blizzard's biggest game, "World of Warcraft," called on Activision Blizzard to address the issues raised in the suit "appropriately and exhaustively."
Some midsize gaming outlets, including TheGamer, GameXplain and Prima Games, have all said they are suspending coverage of Activision Blizzard games.
Looking more expansively at Blizzard's company culture, some people online unearthed a 2010 clip in which the top designers of "World of Warcraft," with Brack among them, laughed off a question from a woman asking for the game's female characters to not all look like they stepped out of a Victoria's Secret catalogue.
If you're a current or former Activision Blizzard employee who would like to talk about your experiences confidentially, please get in touch.
2. The Games of the Olympic Games
Today's opening ceremony for the Tokyo Olympics featured athletes walking out to music from "Dragon Quest," "Final Fantasy" and more.
But if you'd prefer to play games instead of listening to them, Google's logo doodle leads to an Olympics-themed sports role-playing game called "Doodle Champion Island." (Play it here.)
Google says the game will expand to showcase more sports "over the coming weeks."
Go deeper: What it's like inside the opening ceremony of the Tokyo Olympics
3. You ask, we answer
It's Friday, so time for more reader Q&A. (Send us your questions by replying to this newsletter, and we'll do our best to answer in future installments.)
Q: I had a question about the Steam Deck — do you guys think it makes sense for Valve to invest in hardware (that will eventually be outdated, maybe sooner than expected) instead of rigging the device with cloud streaming capabilities? Any hint on why they chose one route vs. the other?
Stephen: I'd be surprised if the Steam Deck's success hinges on whether it's future-proof. Whether it's comfortable to play on the go is the bigger deal — literally, given its size and weight vs. the Switch.
Valve is in the PC market, where people are used to buying new, more powerful iterations of hardware.
If Valve wanted to support game-streaming as a way to keep up with advancing specs, it'd have been best-served to include support for cellular data. I'm not sure they want to get into that business.
Q: What kind of shift do you see taking place across video game-focused newsrooms when it comes to investigative- and accountability-focused journalists? Traditionally, some video game outlets haven't served up many hard-hitting investigative pieces... others like Kotaku have crafted a reputation for non-deferential coverage. Can you talk about the news judgment dynamic there and how you see it changing in coming years?
Stephen: As the former editor of Kotaku, I have an unusual vantage point here, of course. From what I saw, the mix of priorities comes down to the nature of the outlet and the business model around it.
Many gaming news outlets were built with a focus on product and telling people if a game was good or bad. They focused on supporting that.
Others have developed with more journalistic goals. Kotaku was originally edited by a newspaper reporter and was part of a company that saw its mission as exposing the fakeness of mainstream media. Non-deferential coverage flows from that.
These days, we're finally seeing mainstream media commit to the gaming beat full time, which gives fearless reporting a better chance of happening.
4. Need to know
Sega's popular "Football Manager" game will begin to include women's professional soccer, Polygon reports. Women players previously appeared in the game via fan-made mods.
Google Stadia is rolling out its long-promised Crowd Play feature. This will allow anyone who live-streams games using Stadia to let their viewers join the games and compete with them. Because Stadia gaming is cloud-based, the audience-participants don't need to have copies of the game, just a good internet connection.
5. Worthy of your attention
🟨 Hands on with The Playdate, the pocket-sized, crank-based console. (Chris Tapsell, Eurogamer)
If I whipped out a PS Vita on the bus, for instance, people might think, "This man is clearly a genius." The Playdate, I think, suggests a judgement along the lines of "This man is playing a miniature, bright yellow console with a crank, because turning the crank reminds him of twizzling his moustache, or the whirring spokes of the penny farthing he rides to work at the Shoreditch Boxpark."
6. Nailed it
Developer Leslee Sullivant uses TikTok to speak openly about problems in the video game industry, from sexism and bad performance reviews to clueless executive advice.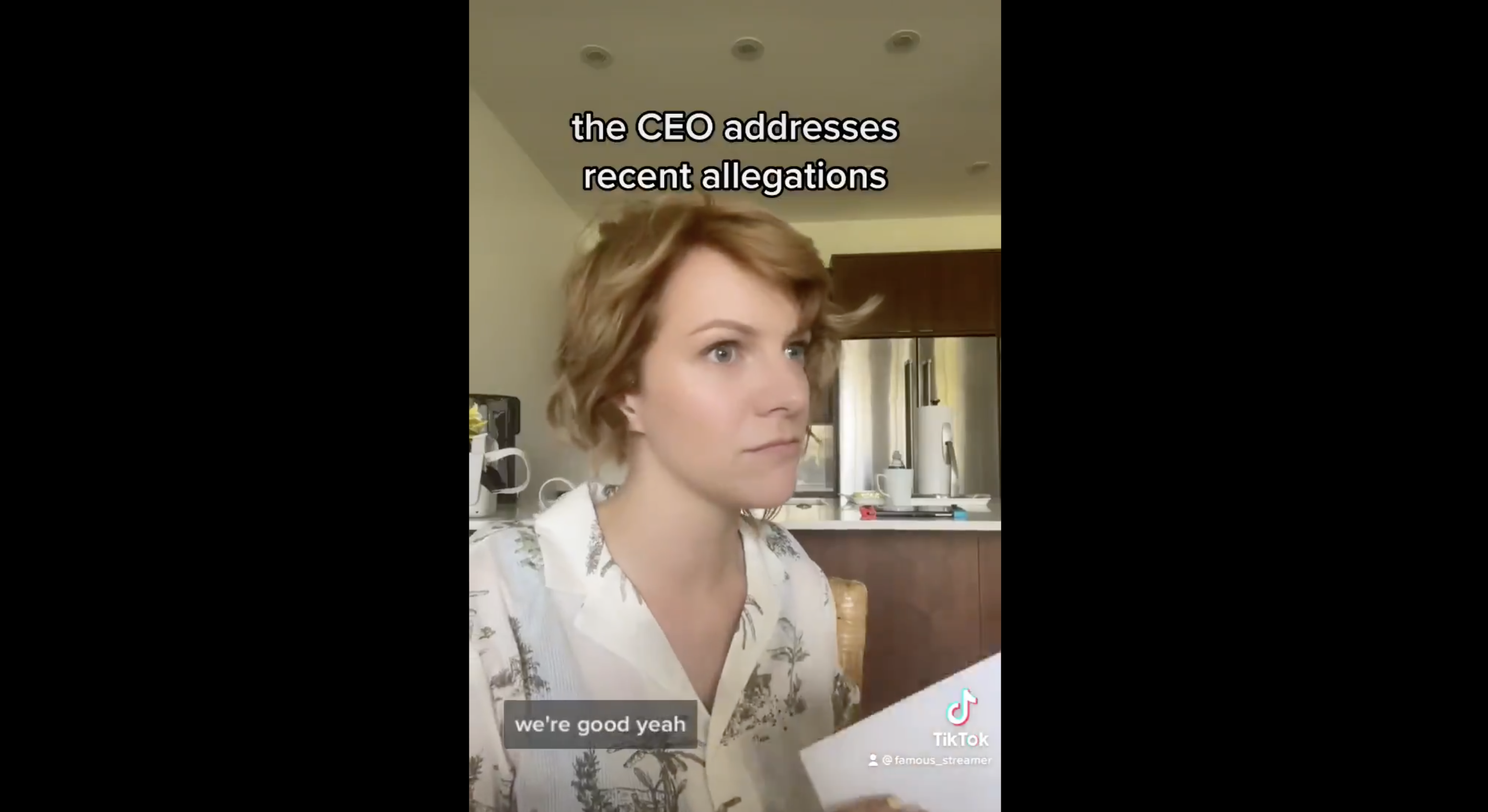 "The results are in and um, we're good, yeah. None of those things ever happened," Sullivant deadpans as the hypothetical CEO. "It's a farce, it's not true. To dive into these details some more I'll pass it to the CEO of the agency, who funnily enough just happens to be my brother-in-law."
🎁 Like the newsletter? Refer Axios Gaming to your friends to spread the word and get free stuff in the process. Follow the link here to begin.
🐦 Find us on Twitter: @megan_nicolett / @stephentotilo.
Sorry, no jokes this time.