Axios Gaming
October 27, 2021
Hi. Stephen here.
Lots of words below, so I'll keep it short up here.
Today's edition is 1,275 words, a 5-minute read.
1 big thing: Niantic hopes "Pikmin" can be the next "Pokémon"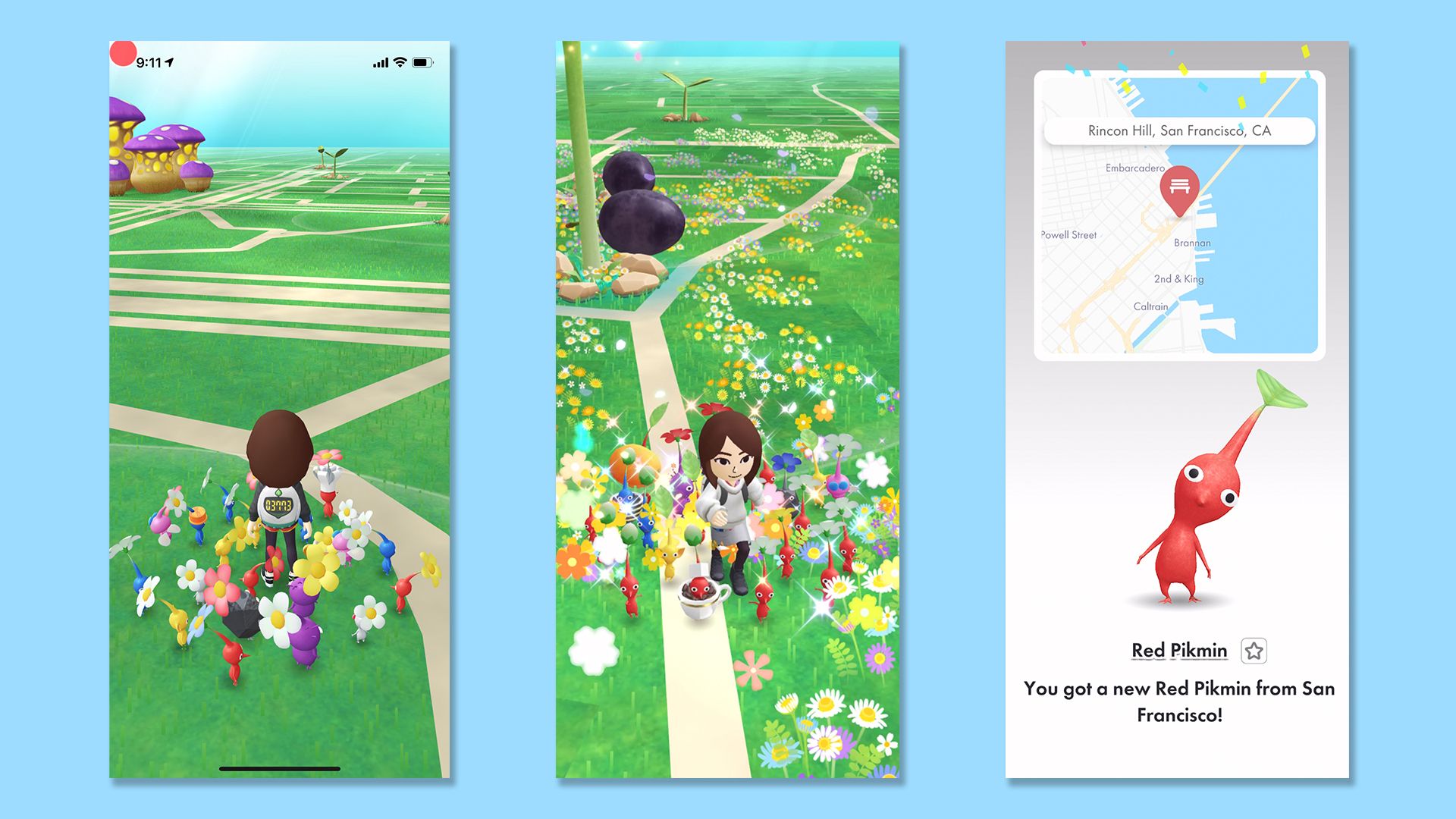 The companies that fueled "Pokémon Go" are testing the appeal of a game about taking walks with franchise characters fewer people have heard of: Pikmin.
Driving the news: The new mobile game from Niantic and Nintendo is called "Pikmin Bloom," and it began a multiday global rollout for iOS and Android last night.
The details: "Pikmin Bloom" is sort of an outdoors virtual beautification game.
Players gather an entourage of Nintendo's colorful little Pikmin plant-people by taking real-life walks.
They can then use the Pikmin to help plant virtual flowers wherever the player goes — and it lets players see flowers planted by others.
As with Niantic's other releases, "Bloom" taps into a phone's map data and the player's location to use the real world as its playing field.
The app checks iOS and Android health systems to count players' steps. A Niantic rep told Axios that people who use wheelchairs can use a special iOS option to track movement.
The big picture: "Pokémon Go" showed millions of people what location-based video games could do, but its successors have struggled.
Niantic's "Harry Potter: Wizards Unite" launched in 2019 and has had modest success, but the company plans to shut down its 2020 release "Catan" next month.
Microsoft's much-hyped 2019 "Minecraft Earth" shut down this year.
But Niantic founder John Hanke tells Axios that player retention for "Bloom" during its beta phase went "well," saying that was "one of the best indicators of how well a game will perform long term."
"Bloom" is also noteworthy for Nintendo, which has had spotty success on mobile, especially in the last few years.
The company still actively updates its 2019 release "Mario Kart Tour."
But support for 2018's "Dragalia Lost" will officially slow down next month, and 2019's "Dr. Mario World" will shut down on Sunday.
My impressions: I've been walking around with "Pikmin Bloom" for a few days now — as much as an injured foot will allow me — and it has indeed added extra delight to a midday stroll.
But with games like these, the test is whether it'll be fun days or weeks down the line.
I like sprinkling digital flowers down the sidewalk and sending my Pikmin out on eight-hour tracks to haul apples back from Brooklyn, but I don't know how long I'll care.
2. Streaming to the rescue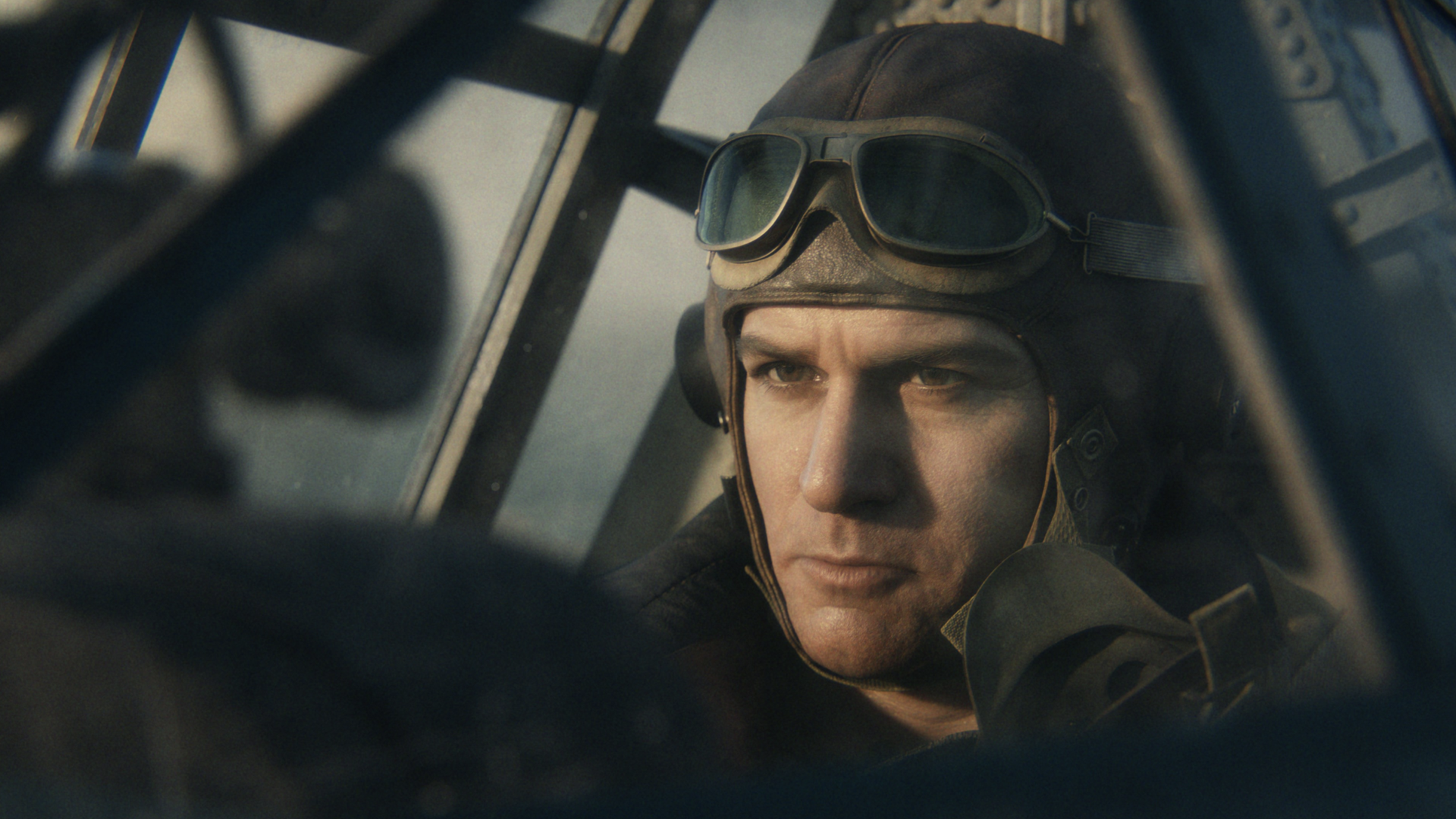 Next week's "Call of Duty: Vanguard" will offer "texture streaming tech" that can "save up to 30%-50%" of its potential installation size on PC and new consoles, according to a tweet from the game's official account.
Why it matters: The amount of hard drive space required by big-budget games at launch has become a problem for players trying to manage what they download and play.
The games get bigger over time too. Trying to download last year's "Call of Duty: Black Ops Cold War" on a PS5 today prompts an alert that more than 200 GB of space is required.
That console allots, at most, about 660 GB for game storage.
Since all modern console and PC games must be installed to run, these huge games limit the number of other games a player can easily have available.
The big picture: Streaming keeps popping up as a fix for various modern gaming tech challenges.
Nintendo was able to boast that this week's well-reviewed "Guardians of the Galaxy" can be bought for Switch, even though the game can't run on the dated hardware — because it runs over a streaming network instead.
Microsoft just started letting select users play Xbox console games over the cloud while using an Xbox, an approach that lets players sample dozens of games from the expansive Game Pass library without devoting hard drive space to them.
3. Ubisoft's nags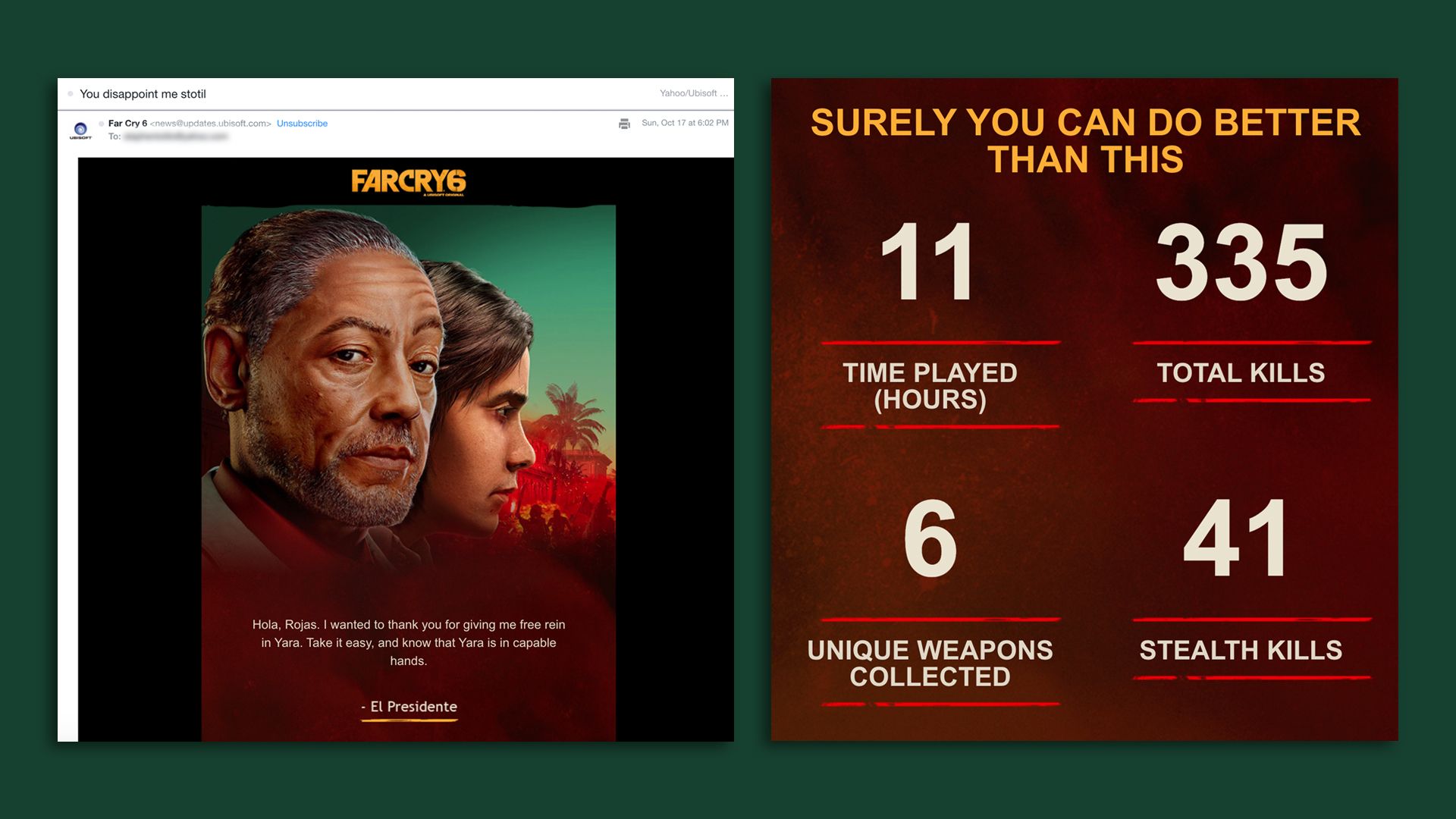 An annoying or amusing email from Ubisoft is making the rounds in the gaming press, as it shows how the publisher presses its customers to keep playing what they already paid for.
The email, which I received several days ago, was sent to many "Far Cry 6" players with the subject line, "You disappoint me [name I use for Ubisoft games]."
It's written in the voice of the game's villain, thanking me for letting him have "free rein" in the game's fictional island nation.
I had played the game for 11 hours but had let it idle for over a week.
Why it matters: Ubisoft, like other game publishers, increasingly prioritizes how long people play its games, calculating that longer play times increase the chances users will pay for add-on content.
Between the lines: Ubisoft's strategy isn't new, just tonally more aggressive than in the past.
In January 2013, its most urgent "Far Cry 3" email to me had the subject line: "New DLC packs are available now!"
In January 2015, for "Far Cry 4," they sent one topped with "Come back to Kyrat!"
In April 2018, for "Far Cry 5," they went with "The Resistance needs you!"
In March 2019, for "Far Cry New Dawn," it was "Hope County needs you!"
The company also tends to email players after they complete the main storyline of the games, telling them there's more to do.
4. Need to know
🎮 Microsoft says gaming revenue was up $501 million, or 16%, for its first quarter ending Sept. 30. The increase was driven largely by increased hardware revenue as it sold more of its new Xbox Series consoles.
⚠️ A National Labor Relations Board complaint filed by the Communication Workers of America against Activision Blizzard in September was withdrawn this month, but a union rep tells Axios that it was pulled on a "technicality" and that it will be refiled soon.
🎶 Longtime "Persona" composer Shoji Meguro has left series publisher Atlus after a nearly 30-year run, to pursue making indie games. He'll be back in the public eye soon, as he'll debut new music during the Japanese indie game showcase "Indie Live Expo" on Nov. 6.
👩🏻‍💻 Top streamer Imane Anys (aka Pokimane) will serve as the chief creative officer at new esports/YouTuber/streamer management group RTS. This year, RTS co-purchased the fighting game tournament Evo. In a release, the group says its goal is "fixing what is broken in both talent management and brand partnerships in the gaming and esports landscape."
🎬 "Dune" star Timothée Chalamet appears to have spent part of his youth running a YouTube channel about modding Xbox 360 controllers, according to a cheeky investigation by Vice Motherboard.
⚾️ Absurd online sports game "Blaseball" (not a typo) is coming back for a series of "shorts," starting Nov. 1.
Worthy of your attention
"ACTION BUTTON REVIEWS Cyberpunk 2077" [Part 1 of a 10-hour video review of the game by Tim Rogers, YouTube]
Winner of over 100 E3 2018 awards, inspirer of reversible swag jackets, spawner of 'Tuber-bribing game chairs, executor of multiple epilepsy-centric controversies, magnet of bad discourse, eight-years-in-the-oven doomed follow-up to a too-legendary spiritual predecessor and one of the most anticipated pieces of popular mainstream media in the history of anonymous public conversation, "Cyberpunk 2077" is also a video game containing at the very least a little bit of everything anyone has ever liked about any video game.
Disclosure: I've edited and/or employed Rogers for much of the past decade — and never got him to give me an estimated word count or video running time he didn't double.
6. If not Pikmin
"Pikmin Bloom" could have starred other Nintendo characters.
During a presentation of the game to reporters, Niantic co-founder John Hanke said "we experimented with a variety of gameplay types and different characters with Nintendo," before settling on "Pikmin" for their collaboration.
In a follow-up, the "Bloom" developers dodged saying which other characters they'd tried.
We'll have to wonder. "Zelda"? "Mario"? Or was this another near-miss for Waluigi?
🎁 Like the newsletter? Refer Axios Gaming to your friends to spread the word and get free stuff in the process. Follow the link here to begin.
🐦 Find us on Twitter: @megan_nicolett / @stephentotilo.
You don't disappoint me.