August 05, 2021
Megan Farokhmanesh here with today's edition of Axios Gaming.
⚡️ Questions for me? Love it. Send them my way and I'll answer for Friday's Q&A segment.
Today's edition is 1,109 words, a 4-minute read.
1 big thing: Indie darling's toxic behavior exposed
Steve Gaynor, co-founder of the award-winning independent developer behind "Gone Home," is responsible for fostering a toxic work environment that drove women to leave the beloved studio.
Driving the news: An investigation from Polygon's Nicole Carpenter details how 15 employees have left Fullbright since the onset of development on its latest project, "Open Roads," with 12 confirming directly that they left "at least in part due to Gaynor's behavior toward workers, specifically women on the team."
A former employee who held a leadership role compared working for Gaynor to "working for a high school mean girl. His go-to weapon was to laugh at people's opinions and embarrass them in front of other people."
Another employee described their "personal experience of having Steve [Gaynor] as my manager was a toxic and unhealthy dynamic."
Gaynor has "stepped back" from his creative lead and manager role, according to a statement released last night. He remains on the project as a writer.
Why it matters: Fullbright is a high-profile indie studio with a rare, positive reputation for telling stories about women, the LGBTQ community, and people of color.
Its debut release, "Gone Home," was a story of queer teenage discovery that garnered it widespread praise and accolades.
Its current project under Annapurna stars Keri Russell ("The Americans") and Kaitlyn Dever ("Booksmart") as a mother-daughter duo uncovering family secrets.
"I want women to not have to fear retaliation from a powerful 'auteur' figure for speaking up," a former employee told Polygon. "I want women to feel safe here. I want women to know that this is not normal. More than anything, I just want [Gaynor] to stop."
Following the story's publication, Gaynor issued a statement on Twitter. "My leadership style was hurtful to people that worked at Fullbright, and for that I truly apologize," Gaynor wrote.
"Stepping back has given me space and perspective to see how my role needs to change and how I need to learn and improve as part of a team, including working with an expert management consultant, and rethinking my relationship to the work at Fullbright."
The big picture: Toxic behavior in the video game industry is not relegated to big studios, but is endemic to the entirety of it.
Developers from big studios do sometimes go independent, or work on smaller teams; Gaynor previously worked games like "BioShock 2."
Activision Blizzard is currently undergoing its own reckoning, as employees come forward to talk about decades of harassment they endured.
2. Amazon's delayed New World
Amazon's troubled "New World" has hit another snag, pushing its release date back again to Sept. 28.
Why it matters: The open-world MMO was originally set for a May 2020 launch and has since been delayed four times, due to issues like COVID constraints.
"We want New World's launch to be a smooth and fun experience .... So we're going to take a few extra weeks to smash bugs, improve stability, and polish the game," the developer said via a statement on Twitter.
"This was not an easy decision to make. We know this isn't the first time we've changed our launch date in pursuit of quality."
Between the lines: Amazon Games has a poor reputation for game development, having already canceled hero shooter "Crucible" after an open, and then closed beta; fantasy brawler "Breakaway;" and an online role-playing game based on "The Lord of the Rings."
The big picture: 2021 has become the year of game delays, in large part due to COVID.
Game delays typically benefit the project in question; games released too early can be disastrous, as it was with CD Projekt Red's notorious "Cyberpunk 2077" launch.
3. Artfully escaping expectations
Beethoven & Dinosaur's upcoming game, "The Artful Escape," is a colorful examination of creating a new identity out of what people expect of you.
The details: "The Artful Escape" is a music-centric platformer in which hero Francis Vendetti struggles to find his persona as an artist.
"We all all have stage personas, and we all have this social image of ourselves that we put out to the world," Melbourne musician and co-creator Johnny Galvatron tells Axios.
Francis is the nephew of a famous, Bob Dylan-like folk singer, and everyone has expectations about what his career will be like.
"Being an artist is not to give people what they want, but to show them something that they could not have imagined," Galvatron says of the game's story.
Galvatron compares the game's journey to "Alice in Wonderland," where Francis wanders through a surreal world gathering advice from different characters.
"It's about stepping out from from the shadows of expectations of the people, you know, and societal expectations," he tells Axios.
What's next: Annapurna Interactive is publishing the game, due Sept. 9 for Xbox Game Pass, Xbox Series X/S, Xbox One, and Steam.
4. More studio acquisitions
The studios behind games such as "Duke Nukem" and "Road 96" have been acquired by Embracer Group, parent company to companies such as Koch Media and Gearbox Entertainment.
Why it matters: Embracer continues to grow its portfolio, following its acquisition of Gearbox Software in February for $1.3 billion, with eight new studios.
The full list:
3D Realms
Crazy Labs
DigixArt
Easy Trigger
Force Field
Ghost Ship Games
Grimfrost
Slipgate Ironworks
5. Need to know
🔦 "Oxenfree II: Lost Signals" will launch for PlayStation 4 and 5, in addition to its PC and Nintendo Switch release.
🧟‍♂️ "Evil Dead: The Game" has been delayed into February 2022 "to give the team some extra time for polish."
🤔 PlayStation 5 dev kits briefly made an appearance on eBay before vanishing from the site.
👀 High profile "Pokémon Go" players are lobbying for developer Niantic to reinstate features it created during the beginning of COVID, specifically around the distance needed to interact with parts of the game.
A letter from fans to Niantic argues the feature increases player safety and makes it more accessible.
6. Worthy of your attention
IGDA: "Too many studios grow without investing in a positive work culture" (Brendan Sinclair, GamesIndustry)
"We've seen far too many studios become successful and grow rapidly without investing in creating a positive work culture," [IGDA executive director Renee] Gittins says. "We feel the best thing the industry can do right now is be more proactive about development of its culture, of its HR policies, to ensure everyone within their company feels supported to ensure that everyone within their company feels supported and has the proper channels to be candid about any issues they're facing so we're not seeing as many issues of harassment or abuse within the industry itself."
7. Ratchet & Clank: Rudd Apart
Insomniac had a very specific reference in mind for one scene in "Ratchet & Clank: Rift Apart," according to animator Lindsay Thompson.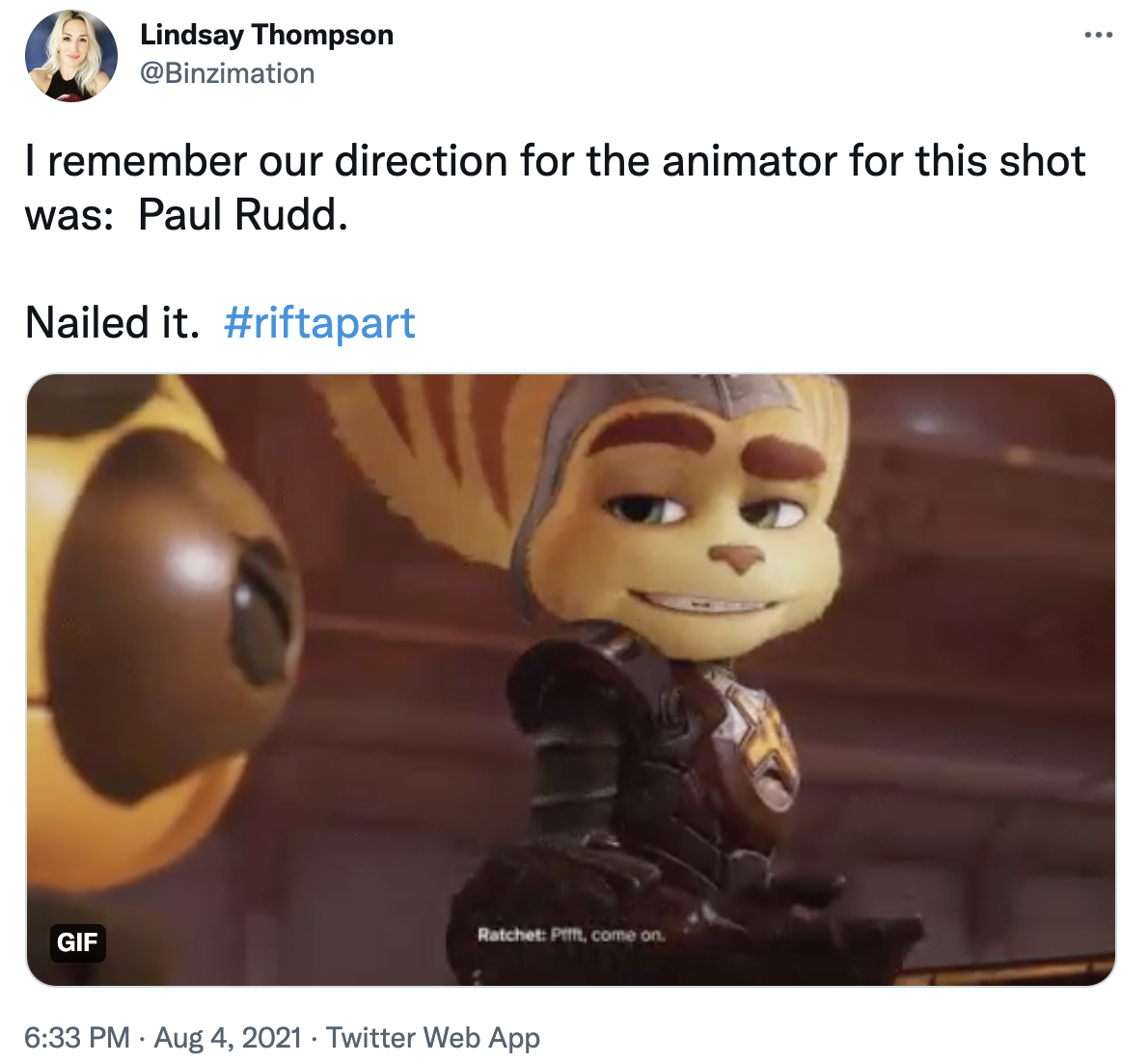 Who doesn't want Paul Rudd as a muse? Don't answer that.
Editor's note: The fourth item has been corrected to show Embracer acquired Gearbox Entertainment (not only the Gearbox Software subsidiary).
🎁 Like the newsletter? Refer Axios Gaming to your friends to spread the word and get free stuff in the process. Follow the link here to begin.
🐦 Find us on Twitter: @megan_nicolett / @stephentotilo.
Is it just me, or does "The Artful Escape's" hero look like the "Persona 5" protagonist as played by Daniel Radcliffe?