May 28, 2022
🇺🇸 Hello, Saturday. Best to you and yours for Memorial Day weekend. Smart Brevity™ count: 1,179 words ... 4½ mins. Edited by TuAnh Dam.
1 big thing: Cold truth about paper wealth
Billionaire wealth — on paper, at least — has tumbled dramatically during Wall Street's recent turmoil, illustrating important lessons for everyone about the ephemerality of stock gains and losses, writes Javier E. David, Axios managing editor for business.
Why it matters: Net worth is something of a public obsession, and a bit of a chimera avidly followed by publications like Bloomberg or Forbes. Yet the reality about paper wealth — especially fortunes tied to volatile technology stocks — is that it can be ephemeral. Attempts to put an exact figure on it can be misleading.
Elon Musk, Jeff Bezos and Bill Gates are hardly paupers. But their fortunes — most of which are linked to the value of shares in the companies they founded — wax and wane dramatically, and are subject to fickle market forces.
Musk, technically the richest person on the planet — again, on paper — isn't liquid enough to write a check to buy Twitter outright. That inconvenient truth has weighed on Tesla's stock.
And it's not just the rich: This week, JPMorgan estimated that American nest eggs have seen a collective $5 trillion evaporate in recent months. That figure could nearly double by year's end.
💡 The lesson for retail investors or someone watching the swings in their retirement account:
Your focus should be on a balanced portfolio — and the long term. Strong markets lure investors into betting too heavily on riskier investments.
2. Police failure in Uvalde: What we know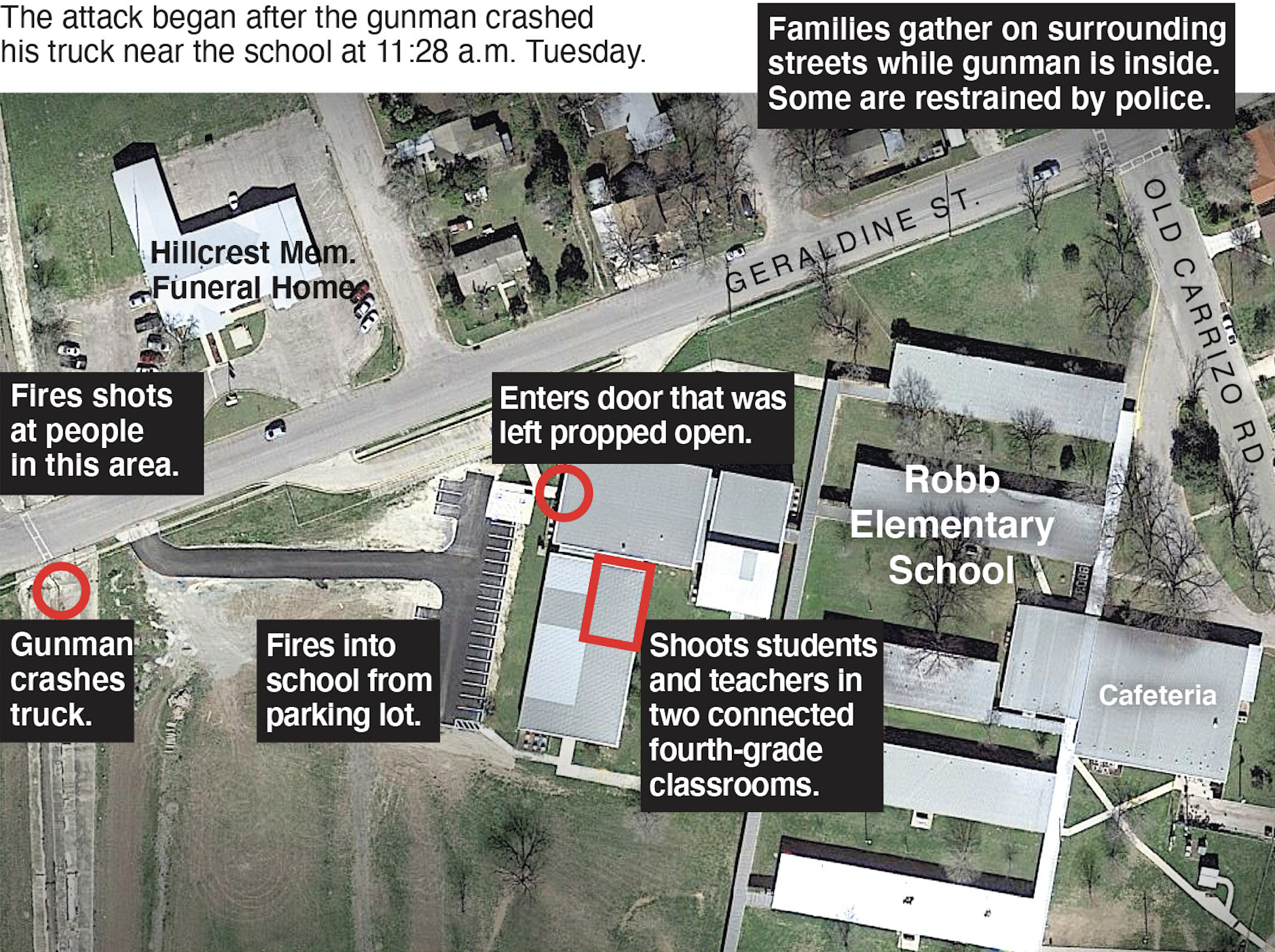 At least eight 911 calls were made from classrooms at Robb Elementary School in Uvalde, Texas, between 12:03 p.m. — half an hour after the 18-year-old gunman entered the building Tuesday — and 12:50 p.m., when Border Patrol agents and police finally stormed in and shot him dead.
Two of the calls came from adjoining fourth-grade classrooms.
A girl whispered during a minute-long call at 12:03 p.m. that she was in Room 112 — more than 45 minutes before the tactical team used a janitor's key to open the locked classroom door.
What we know, via Reuters:
The on-site commander, chief of the Uvalde school district's police department, believed that the gunman was barricaded inside and that children were no longer at immediate risk. "It was the wrong decision, period," Col. Steven McCraw, head of the Texas Department of Public Safety, said at a briefing.
Standard law enforcement protocols call for police to confront an active school shooter without delay, rather than waiting for backup or more firepower. McCraw, whose voice choked with emotion at times, said: "We're here to report the facts, not to defend what was done."
Most of the kids trapped with the gunman were 9- or 10-years-old.
Videos showed anguished parents outside the school, urging police to storm the building during the attack, with some having to be restrained by police.
What we don't know:
How many kids could have been saved. Medical experts stress the importance of evacuating critically wounded gunshot patients to a trauma center within 60 minutes — what emergency physicians call "the golden hour."
Why a more experienced commander from a bigger agency didn't take over. Police are stationed outside the home of Uvalde School District police chief Pete Arredondo, who is said to have made the fateful decision to wait.
Why officials didn't come clean sooner.
⚖️ What's next: The delay in confronting the shooter could lead to discipline, lawsuits and even criminal charges against police. (AP)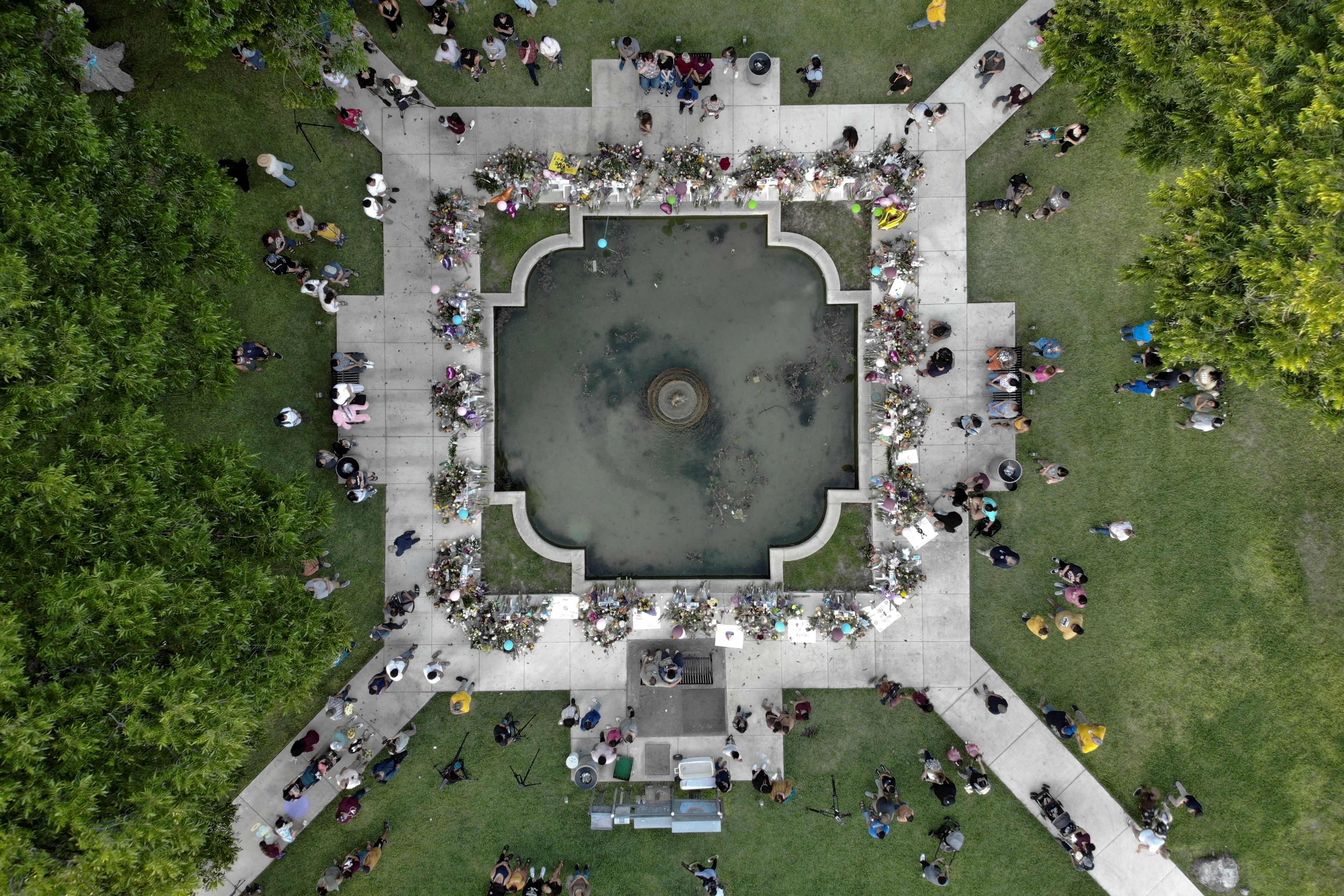 Above: Drone's-eye view of the memorial that's taken over the Uvalde Town Square in front of the Uvalde County courthouse.
A grieving husband died of a heart attack after his wife of 24 years — Irma Garcia, a fourth-grade teacher in Uvalde — was killed in the rampage along with her co-teacher. Keep reading.
The names: 19 children, 2 teachers killed in Uvalde.
3. 📈 3 good signs for the economy
Economic data signal firmer growth (Drops voice: that may slow by year-end):
Consumer spending is off to a solid start early in Q2. That, along with a decisive narrowing of the merchandise-trade deficit, shows the U.S. economy "is emerging in short order from a first-quarter pothole," Bloomberg reports.
Wall Street broke its seven-week losing streak, the longest since 2001. The S&P finished 6.6% higher for the week — its best weekly gain since November 2020. Go deeper.
The pace of inflation (graphic above) showed signs of stabilizing, Axios' Courtenay Brown and Neil Irwin write from data released yesterday. It was the index's first slowdown since November 2020.
4. 🔋 Electrifying your road trip
More Americans than ever will hit the road in an electric vehicle this Memorial Day weekend, Joann Muller writes from Detroit for Axios What's Next.
Why it matters: The U.S. is still in the early stages of a historic shift to electric transportation. EVs account for just 4.6% of new car sales — up from 2.4% a year ago. But with gas prices soaring and longer-range EVs hitting the market, EV road-tripping is becoming more popular.
Consumer Reports says you could save between $1,800 and $2,600 in operating and maintenance costs (when driving an average of 15,000 miles a year), in an electric vs. gas-powered vehicle.
🧠 Do the math: We compared the cost of a 200-mile road trip in a gas-powered Ford F-150 pickup (America's best-selling model) with the cost of the same trip in an electric F-150 Lightning, using data from the Zero Emission Transportation Association (ZETA), an industry coalition.
At $4.60 per gallon, it would cost $119.60 to fill a gas-powered F-150's 26-gallon tank.
We assumed the gasoline truck would get 24 mpg, based on Ford's specifications (real-world mileage depends on engine options and other factors).
Over 200 miles, our internal-combustion truck would burn 8.3 gallons of gas — costing roughly $38, or about 20 cents per mile. Last Memorial Day, the same trip would have dinged us about $25.
The same trip in the electric F-150 Lightning would cost about $12, or 6 cents per mile, based on national average electricity prices of 14 cents per kWh.
5. 🗳️ Red wave rising
Here's a stark stat about November's midterms from Dave "I've Seen Enough" Wasserman, House editor of the Cook Political Report:
Cook rates the competitiveness of every House race, on a scale from "solid D" to "solid R," with "tossup" at dead center.
Wasserman tells me that of the 25 ratings he has revised since January:
22 were toward Republicans ... 3 were toward Democrats.
Why it matters: Democrats' uphill fight to keep control of the House (GOP only needs to net five seats) is getting more uphill.
6. 🇺🇦 1 for the road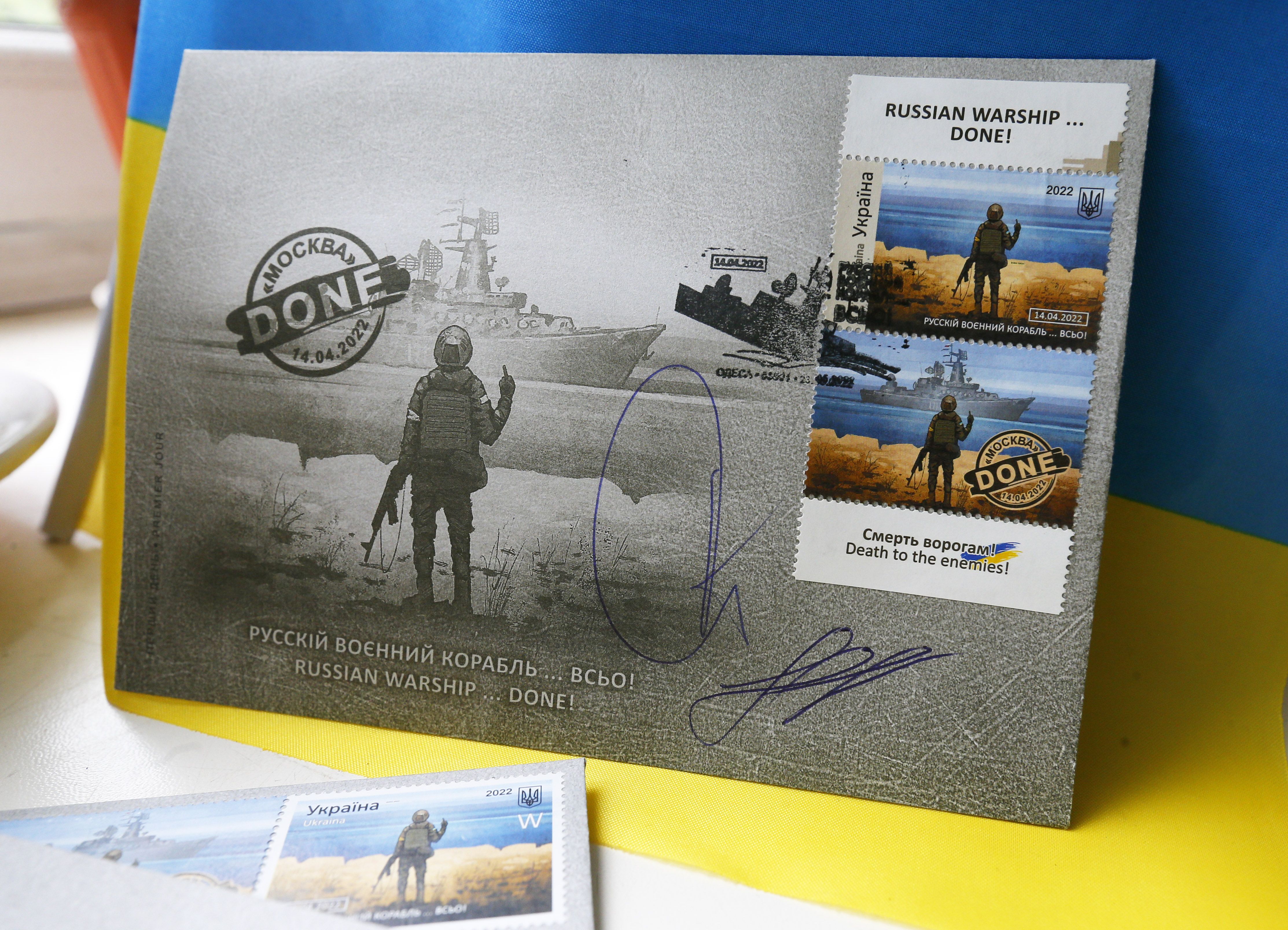 Ukraine issued a set of stamps — ''Russian warship… DONE" — to commemorate the sinking of the Russian warship Moskva.
Notice the hand gesture. In one stamp, the ship is there. In the other, it's gone.
Ukrainians lined up by the hundreds at post offices across the country when the stamp was issued this week. (WashPost)
📬 Invite your friends to sign up here to get their daily essentials — Axios AM, PM and Finish Line.