July 25, 2022
Happy Monday. Smart Brevity™ count: 1,497 words ... 5½ mins. Edited by Noah Bressner.
1 big thing: Next online era
Last week marked the end of the social networking era, which began with the rise of Friendster in 2003, shaped two decades of internet growth, and now closes with Facebook's sweeping TikTok-like redesign.
Why it matters: Facebook now wants to shape your online life around algorithmically-sorted preferences of millions of strangers around the globe, writes Scott Rosenberg, Axios managing editor for tech.
That's how TikTok sorts videos it shows users. That's largely how Facebook will now organize its home screen.
The dominant player in social media is transforming itself into a kind of digital mass media. Reactions of hordes of users, processed by machine learning, will drive the selection of your content.
How it works: Facebook and rivals call this a "discovery engine," because it reliably spits out recommendations of posts from everywhere that might hold your attention.
That's what younger users seem to prefer. And it's where Facebook expects the growth of its business to lie, now that new privacy rules from Apple, and regulators' threats around the world, have made its existing ad-targeting model precarious.
As it rolls out its changes — quickly on mobile apps, "later this year" for browser users — Facebook will continue to provide old-school friends-and-family networking via a subsidiary tab. Those posts will be chronologically ordered, as some users have long wished.
Between the lines: For roughly a decade following the 2008 financial crisis, social networks — led by Facebook, with Twitter playing an important secondary role — dominated the internet culture and economy.
Their rise came with high hopes for democratic empowerment and self-expression.
But their chief impact emerged in the transformation of the digital advertising business.
Facebook bested MySpace as it transformed a "social graph" of human relationships into a moneymaking machine that helped businesses, particularly smaller ones, target cheap ads with uncanny precision.
Keeping up with the volume of posts became a chore — which was why, from 2009 on, Facebook's news feed defaulted to an algorithmic, rather than chronological, sort.
That drove many users, particularly political organizations, to crank up the volume and try to game Facebook's program.
Over time, critics charged, this dynamic became a driver for misinformation, hate speech and harassment.
🧠 Reality check: The TikTok model shares many of the same problems.
The larger the crowd, the louder the threshold for speech to be heard.
2. 🏛️ Jan. 6 committee's busy August
At a time when the House Jan. 6 committee had planned to be locked down writing a final report for release in the fall, more people are talking and the committee is pursuing new leads.
Vice Chair Liz Cheney told Jake Tapper on CNN's "State of the Union" that the committee might subpoena Ginni Thomas, a conservative activist and wife of Justice Clarence Thomas, who corresponded with Trump officials about overturning the 2020 election.
"The committee is engaged with her counsel," Cheney said. "We certainly hope that she will agree to come in voluntarily. But the committee is fully prepared to contemplate a subpoena if she does not."
"We anticipate talking to additional members of the president's Cabinet," Cheney added. "We anticipate talking to additional members of his campaign. Certainly, we're very focused as well on the Secret Service."
Committee member Adam Kinzinger (R-Ill.) told Jonathan Karl on ABC's "This Week": "I certainly think there's evidence of crimes. And I think it goes all the way up to Donald Trump."
🥊 Reality check: Experts say DOJ faces high hurdles to bringing Jan. 6 charges against Trump or his allies. Inciting a riot is a possible charge, but the First Amendment could protect Trump. —USA Today (subscription)
3. 🇨🇦 Pope's "trip of penance"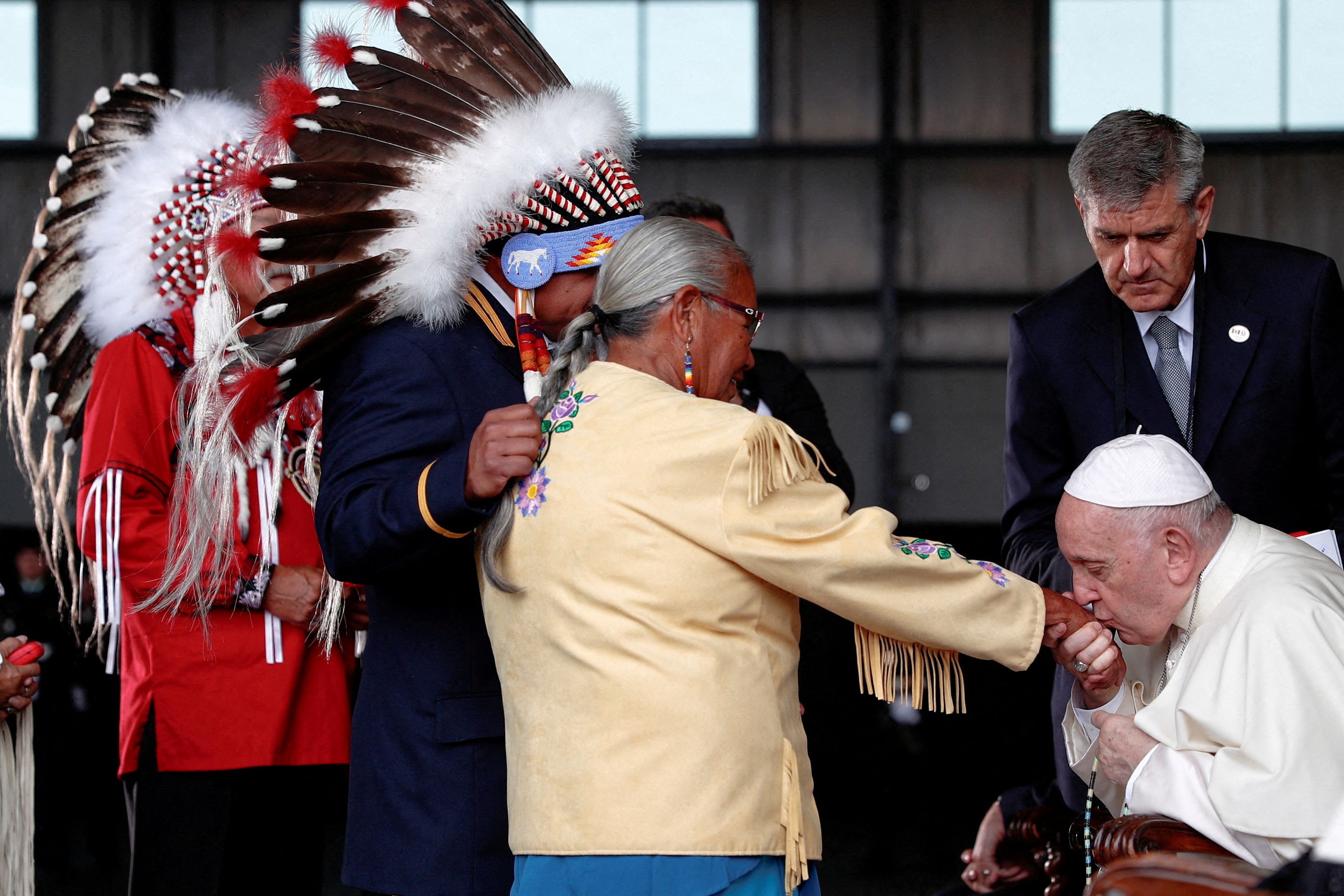 Pope Francis landed in Canada yesterday to kick off a weeklong trip that will center around his apology on behalf of the Roman Catholic Church for the abuse that indigenous children endured at mostly church-run residential schools, Reuters' Philip Pullella reports.
"This is a trip of penance," the pope told reporters after his flight took off from Rome.
Context: Between 1881 and 1996, more than 150,000 indigenous children were separated from their families and brought to residential schools.
Many children were starved, beaten and sexually abused in a system that Canada's Truth and Reconciliation Commission called "cultural genocide."
While Canada's leaders have known about high numbers of children dying at the residential schools since 1907, the issue surged to the fore with the discovery of suspected unmarked graves around former residential-school sites last year.
The papal plane touched down in Edmonton, in the western province of Alberta, where he will visit a former residential school and meet with indigenous peoples today. He'll also visit Quebec City and Iqaluit, the capital of the territory of Nunavut. He departs Friday.
After disembarking with the help of a lift, the pope, 85, boarded a white Fiat 500X, which dropped him at the hangar. He then proceeded by wheelchair.
4. 📷 1,000 words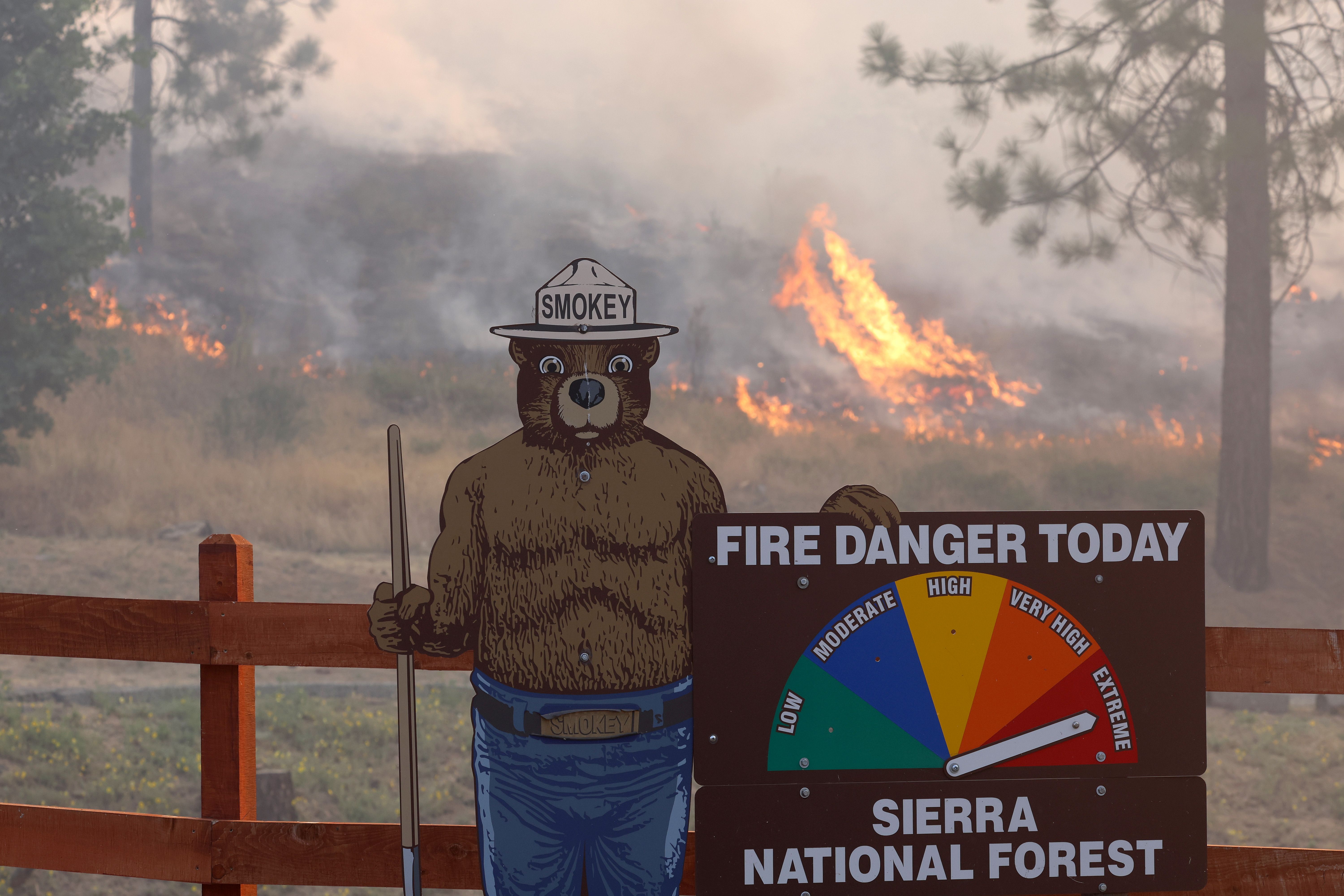 A combination of heat, low humidity and parched vegetation is bedeviling firefighters "battling an inferno in the Sierra Nevada foothills near Yosemite that has forced thousands to flee their homes," the L.A. Times reports.
Why it matters: The Oak Fire, California's biggest of the year, isn't as destructive as the August Complex fire in 2020 or the Dixie Fire in 2021 — the worst and second worst in state history. But experts fear Oak is the start of a particularly brutal wildfire season.
5. 🇹🇼 View from Taiwan: China threats shouldn't stop Pelosi visit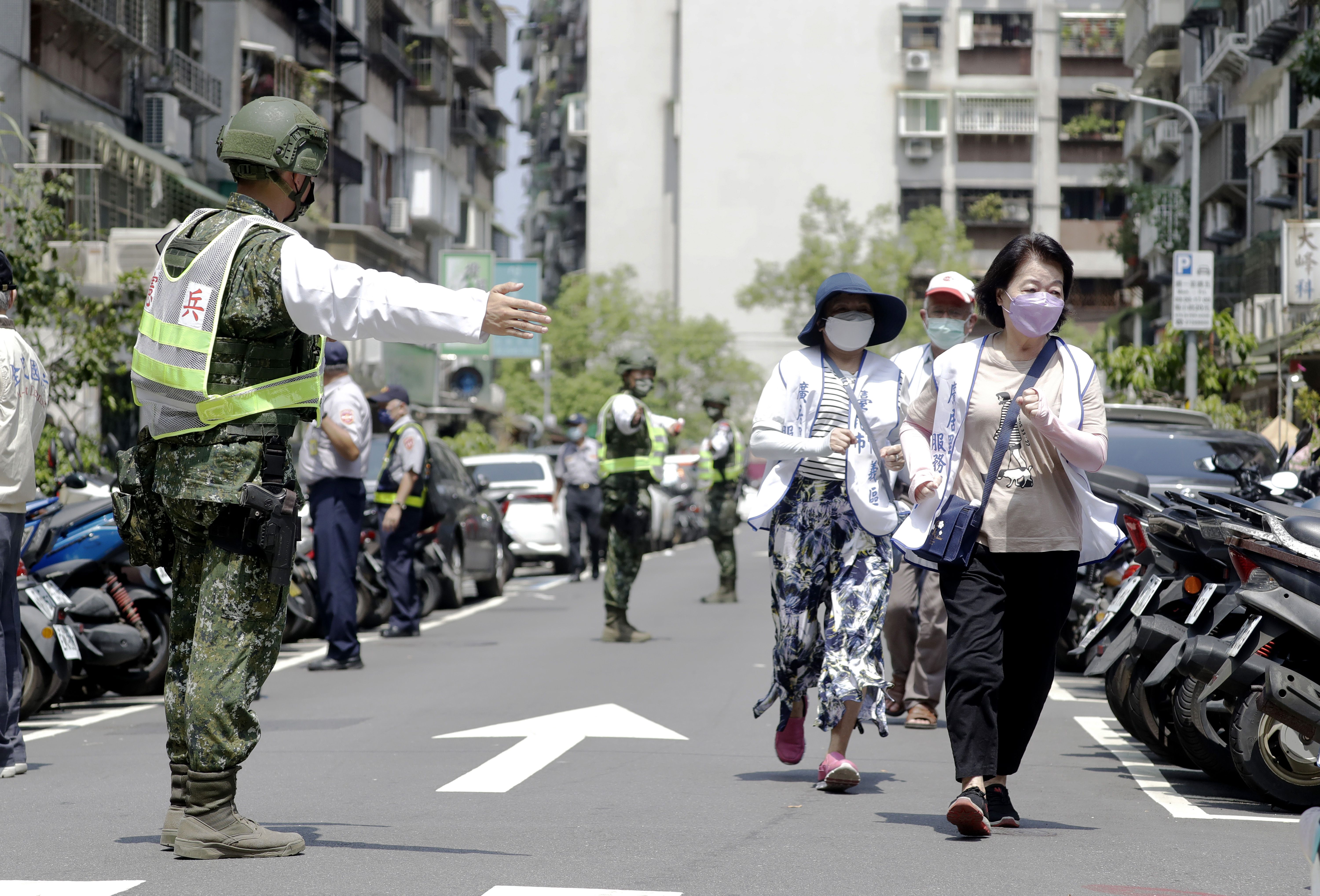 TAIPEI, Taiwan — Threats from China shouldn't stop Speaker Pelosi from visiting Taiwan, analysts on the self-governing island tell Axios China author Bethany Allen-Ebrahimian.
Why it matters: Pelosi's planned trip to Taiwan has sparked heated rhetoric from Beijing and concerns among Biden administration officials that the dispute could spiral into a cross-strait crisis.
Catch up quick: China threatened "forceful measures" if the visit occurs, and triggered White House alarm bells by privately suggesting a military response was possible, the Financial Times reported (subscription).
President Biden said the U.S. military thinks such a trip is "not a good idea right now."
Pelosi, who has not confirmed the trip, said last week that she believes "it's important for us to show support for Taiwan." It would be the first visit by a House speaker to Taiwan since Newt Gingrich traveled there in 1997.
In Taiwan, analysts and policymakers welcomed news of Pelosi's possible trip.
"It would be a very positive step forward in building up our relationships, not just with the Speaker but overall with Congress, and a symbol of how strong the US-Taiwan relationship is," said Vincent Chao, who previously served as director of the political division at the Taipei Economic and Cultural Representative Office, Taiwan's de facto embassy in Washington.
6. ⚖️ Rising support for SCOTUS term limits
67% of Americans favor term limits for Supreme Court justices, per a new poll from AP and NORC Center for Public Affairs Research.
That breaks down to 82% of Democrats and 57% of Republicans.
43% say they have hardly any confidence in the court — up from 27% three months ago.
7. RIP, federal minimum wage
Yesterday marked the 13th anniversary of a raise for the federal minimum wage, stuck at $7.25 per hour since 2009.
Why it matters: The longer it stays there, the less relevance it has, and the closer it comes to meaninglessness, Axios chief financial correspondent Felix Salmon writes.
Measured in 2009 dollars, the minimum wage has fallen over the past 13 years to just $5.27 per hour.
Most states have a higher minimum wage. D.C.'s minimum wage is $16.10 as of July 1 — more than double the federal benchmark. It's now legal in only 20 states to pay an employee as little as $7.25 per hour.
The bottom line: The minimum wage is so low that precious few employers can find anybody willing to work for that figure.
8. Nugget wars
Giant chains, including KFC, are making big-splash introductions of chicken nuggets, setting up a rematch of the chicken-sandwich wars of 2019, Jennifer A. Kingson writes for Axios What's Next.
Why it matters: With chicken consumption on the rise, fast-food titans think they can boost profits by catering to the nugget-loving tastes of younger consumers — who favor easy-to-grab finger foods and view dinosaur-shaped fare as a cultural touchstone.
KFC began testing white-meat chicken nuggets last week for a limited time in Charlotte, aiming to lure in Gen Z and millennial customers.
If it works, the nuggets will replace the current Popcorn Nuggets.
"So many ... younger consumers are not interested in eating chicken on the bone, for whatever reason," Chris Scott, head chef at KFC U.S., told Yahoo Finance. He also referred to "the boneless avenue."
🔮 What's next: Globally, there's an arms race in nugget innovation.
📬 Invite your friends to sign up here for their daily essentials — Axios AM, PM and Finish Line.