Axios Trends
March 14, 2020
Good afternoon and welcome to a special edition of Axios Trends examining how the coronavirus pandemic will reshape our world.
Every Axios subscriber gets this special edition, and all subscribers to Axios AM will get our subsequent weekly updates on this global crisis, where the Axios subject matter experts will help you navigate these times. Sign up for AM.
🚨 Breaking: ROME (AP) - Italian officials say new virus cases jumped 20% to more than 21,000.
Situational awareness ... Top headlines from the just concluded White House coronavirus briefing:
Smart Brevity count: 1,838 words, a 7-minute read.
1 big thing: The pandemic shaping the future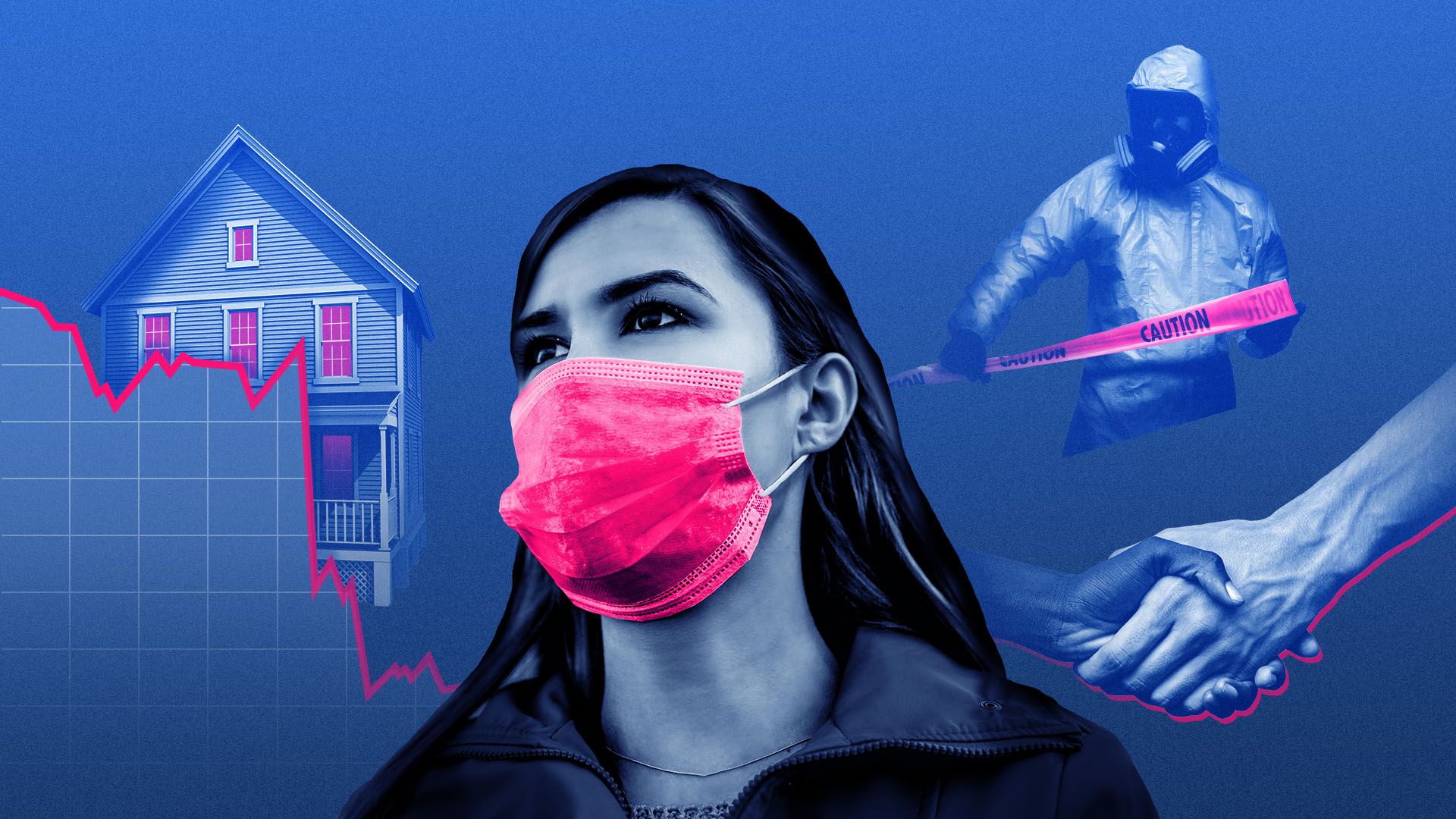 The world that emerges from the coronavirus pandemic will be fundamentally different, Axios Future correspondent Bryan Walsh writes.
Why it matters: This crisis may prove to be as significant as the 2008 financial meltdown or even 9/11.
So the choices that businesses and governments are making now will have enormous social and economic ramifications.
The intrigue: U.S. health and government officials are facing the epidemiological equivalent of the "fog of war," worsened by a massive American failure to act on weeks of warnings as the virus spread in China.
The Trump administration declared a national emergency yesterday, seven weeks after the first U.S. case was announced by the Centers for Disease Control and Prevention.
By failing to rapidly scale up testing, U.S. officials have added an additional — and partly unnecessary — layer of uncertainty about how to respond.
Harvard epidemiologist Michael Mina calls it "the most daunting virus that we've contended with in half a century or more."
Flashback: As recently as the 1918 influenza pandemic, scientists lacked the ability to rapidly respond to an infectious disease outbreak.
Today, scientists can sequence a virus in days, develop rapid tests that can determine infection before obvious symptoms, and use complex mathematical models to predict future spread.
What we'll find out in coming days:
The actual fatality rate of the virus.
How contagious it is, and the precise role that children — who seem outwardly unaffected by the disease — may play in transmission.
If the outbreak will naturally slow down when the weather warms, as tends to happen with influenza.
What's next: For now, distance becomes the first line of defense. Schools and companies are shifting online — with potential consequences.
If companies are able to function relatively well with a largely remote workforce, expect lower levels of business travel.
After decades of emphasizing the efficiency of supply chains — which often meant complex international linkages and just-in-time inventories — businesses will look to build resilient supply chains.
The bottom line: The mobility — of people, capital and products — that we've taken for granted may not outlast the virus.
2. What you need to know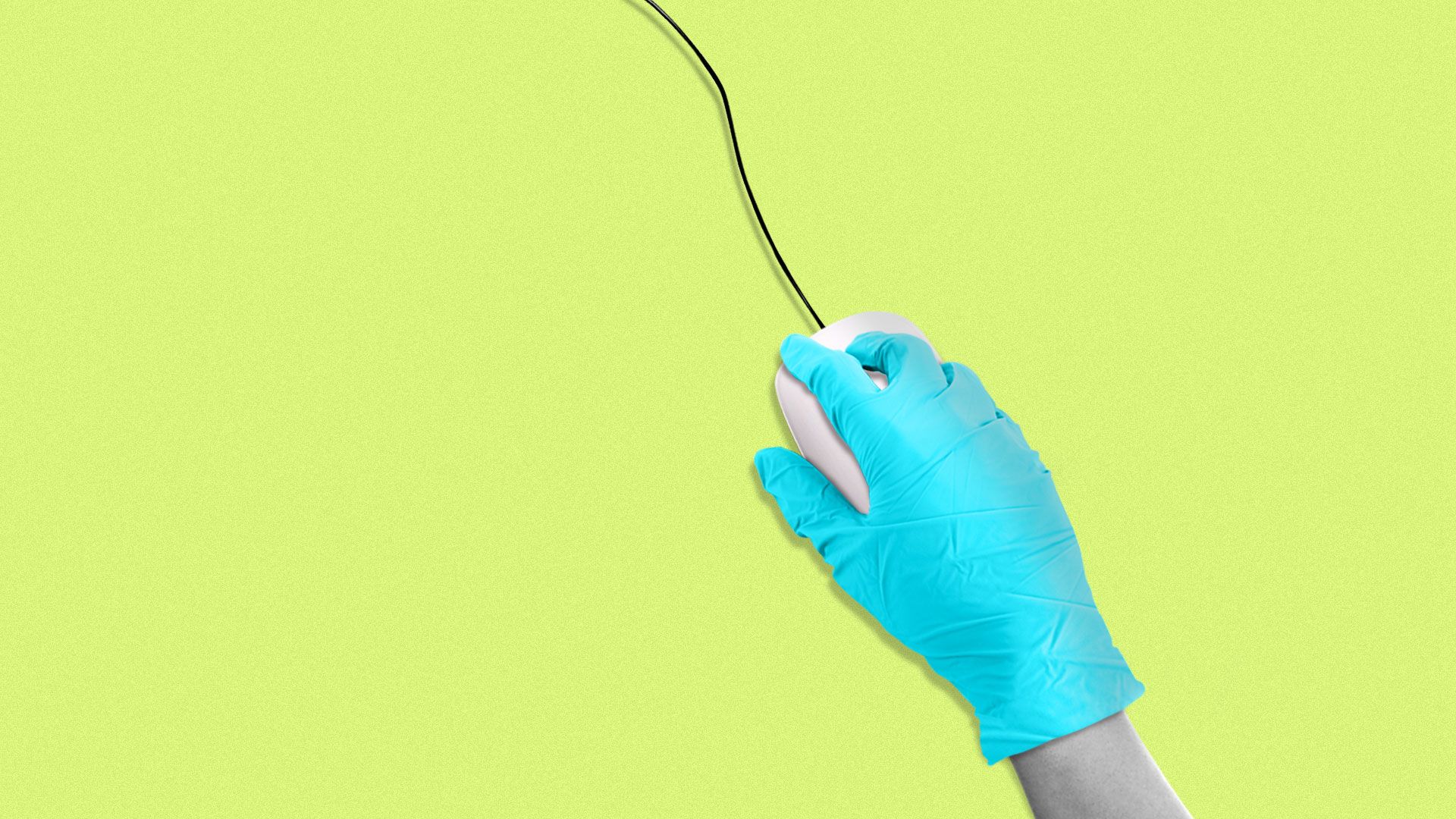 There's a lot of confusion and misinformation swirling around the virus, so here are quick just-the-facts answers to your most urgent concerns, based on current knowledge: 
Q: What are the symptoms I should watch for?
Fever (88%) and dry cough (68%) are two of the most common symptoms, followed by fatigue, thick mucus coughed from lungs, shortness of breath, muscle and joint pain, sore throat, headache and chills.
Q. If I have those symptoms, should I go to my doctor or the hospital?
Right now, the CDC recommends you distance yourselves from others, including your family and your pets. If you can, designate a separate bedroom and bathroom for yourself.
Call your provider and tell them you suspect COVID-19. Remind them of any travel and if you are over 60 or have underlying conditions like diabetes or a heart condition.
Don't share dishes/glasses with anyone; wash hands often; clean surfaces frequently. Stay hydrated.
The CDC does not recommended you go to the hospital unless you have shortness of breath, persistent chest pain, new confusion or strong lethargy, or a bluish tint to lips or face.
CDC's hotline number for questions: 800-CDC-INFO (800-232-4636).
Q: Why is there a shortage of tests in the U.S.? When will we get them?
The CDC's initial test for the virus was faulty. And, for reasons that remain unknown, the U.S. opted not to rely on the World Health Organization's test while the CDC developed a new one. Red tape slowed down academic labs that wanted to quickly develop their own.
With both academic and commercial labs now pitching in, testing is becoming more widely available. But we're still playing catch-up, and the virus has likely been spreading undetected in the meantime.
Q: What's known about children and COVID-19?
Children, fortunately, rarely seem to experience severe complications from the coronavirus, but it's not known whether children with underlying conditions may be at higher risk for severe illness.
It's unclear what about children's immune systems is protecting them.
Q: What stage is the outbreak in the U.S.?
The virus has now been confirmed in 49 states plus Washington, D.C., and Puerto Rico. However, due to the lack of testing, the level of infection in the U.S. beyond the currently confirmed 2,508 cases is unknown.
Scientists believe the number of infections doubles roughly every five to six days.
Some think the U.S. and the rest of Europe could follow Italy's exponential trajectory arc, but this will depend on how effective school closings and event stoppages are at flattening the trajectory curve of the outbreak.
3. Coronavirus in 49 states
4. The recession risk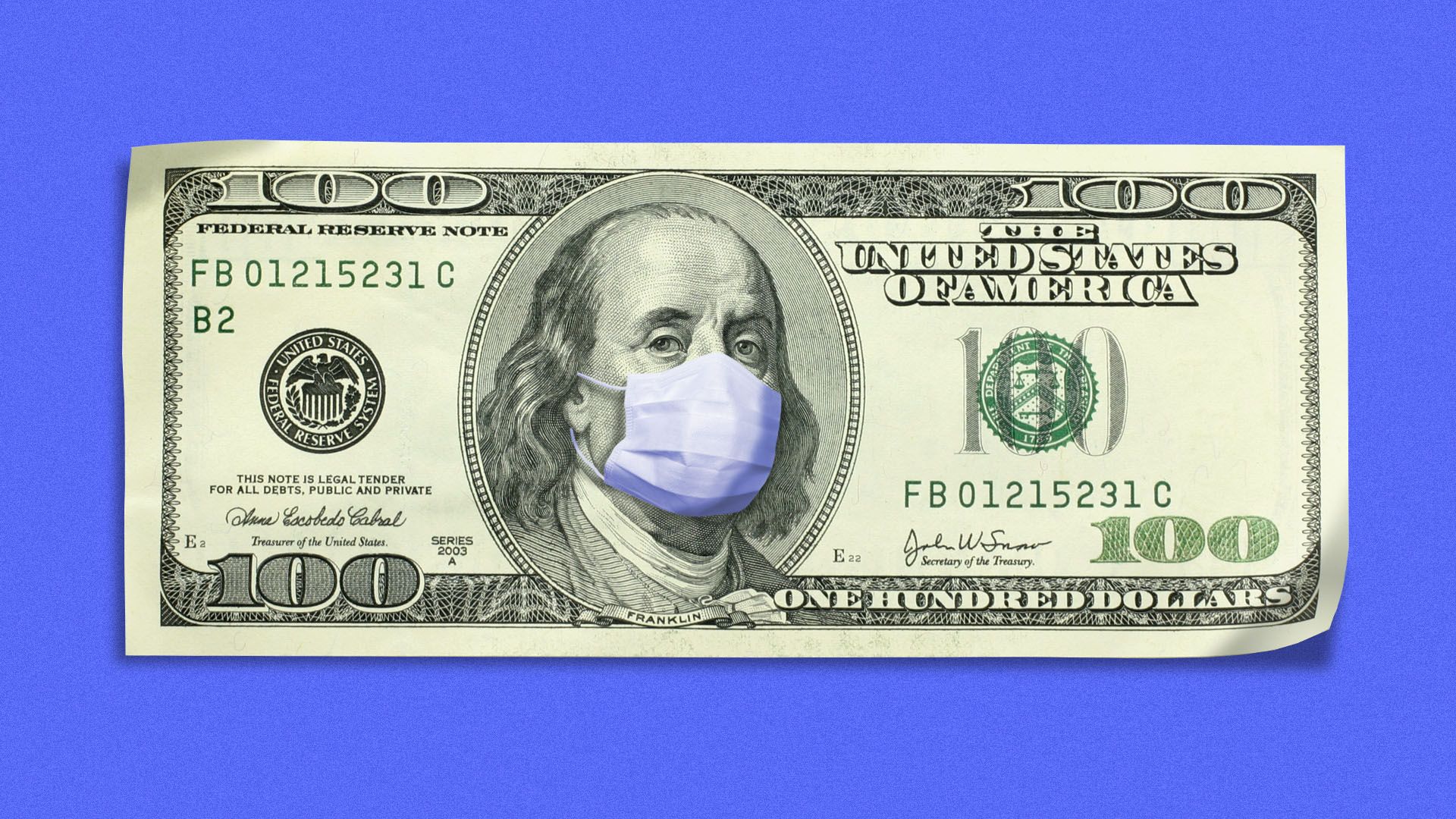 Economists are growing more certain both the U.S. and the world are going to have a recession in 2020, Axios markets editor Dion Rabouin reports.
The big question: How bad will it be?
The answer depends on how quickly the outbreak can be contained and how fast people regain confidence to participate in activities they once enjoyed.
What's happening: Economists and investment banks continue to write down their expectations for growth this year, as more economic activity is halted "until further notice."
The shutdown of the NCAA's annual March Madness basketball tournament and Austin's South by Southwest festival are just two examples of mass gatherings that were expected to generate billions of dollars.
And that's to say nothing of the millions of dollars that Chinese and European tourists would have spent, but who are temporarily banned or reluctant to come to the United States.
The bottom line: Businesses had pulled back on spending even before the year began, as a result of the U.S.-China trade war. That left consumer spending as the only thing holding up the economy, and the COVID-19 outbreak will kick that leg out from under us for an unknown period of time.
Go deeper: Listen to Dion discuss the risk of a recession with Dan Primack on the Pro Rata podcast.
5. Too much for the health care system to handle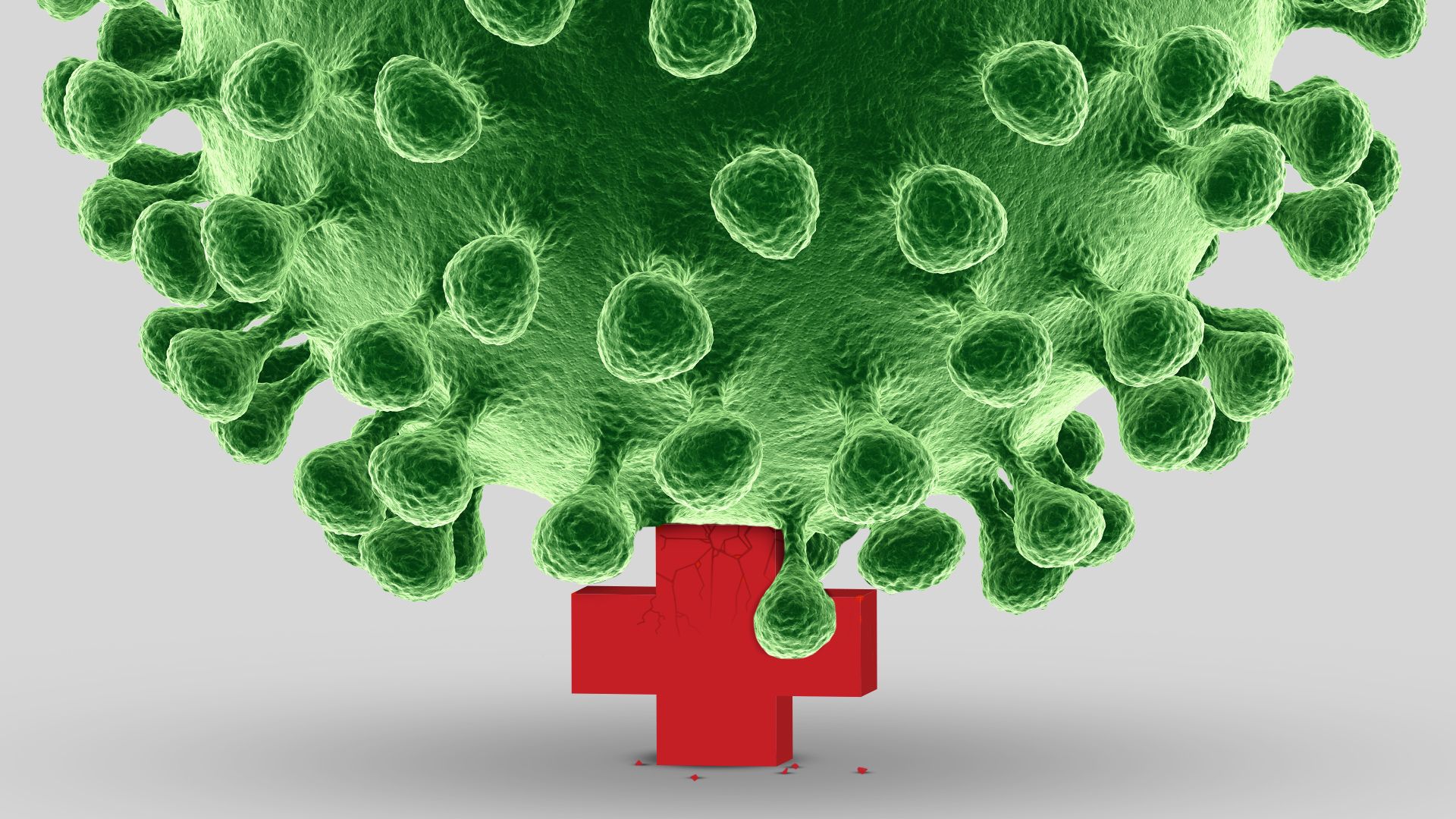 A severe coronavirus could easily overwhelm the U.S. health care system, Axios health care editor Sam Baker writes.
Most pandemics put health care workers at particular risk, both to become infected and then to spread the infection.
Experts were sounding the alarm even before the first U.S. cases about limited supplies of masks and protective equipment.
If health care workers do get sick in large numbers, staffing shortages would make it all the harder to care for new patients.
Experts fear a shortage of ventilators and intensive-care beds, if the outbreak becomes severe.
The U.S. has roughly 46,500 beds designated for ICU use, but even in a moderate scenario, it's projected that 200,000 people could need ICU treatment, according to a report from Johns Hopkins.
Yes, but: Many younger, healthier patients will likely be able to recover at home, leaving hospital capacity dedicated mainly to seniors and people with other health complications.
What we're watching: The coronavirus also seems likely to expose structural gaps in the health care system.
Insurers have promised to make coronavirus testing available for free, and a handful of hospital systems have imposed temporary freezes in billing patients for coronavirus treatments.
But relying on individual acts of corporate benevolence won't provide any blanket assurance that care will be affordable, especially to the poor or uninsured — and if people don't get care because they're afraid of the cost, rightly or not, that risks further spreading the infection.
Go deeper: Listen to Sam and Dan examine the health care issue.
6. China seizes a new role in the world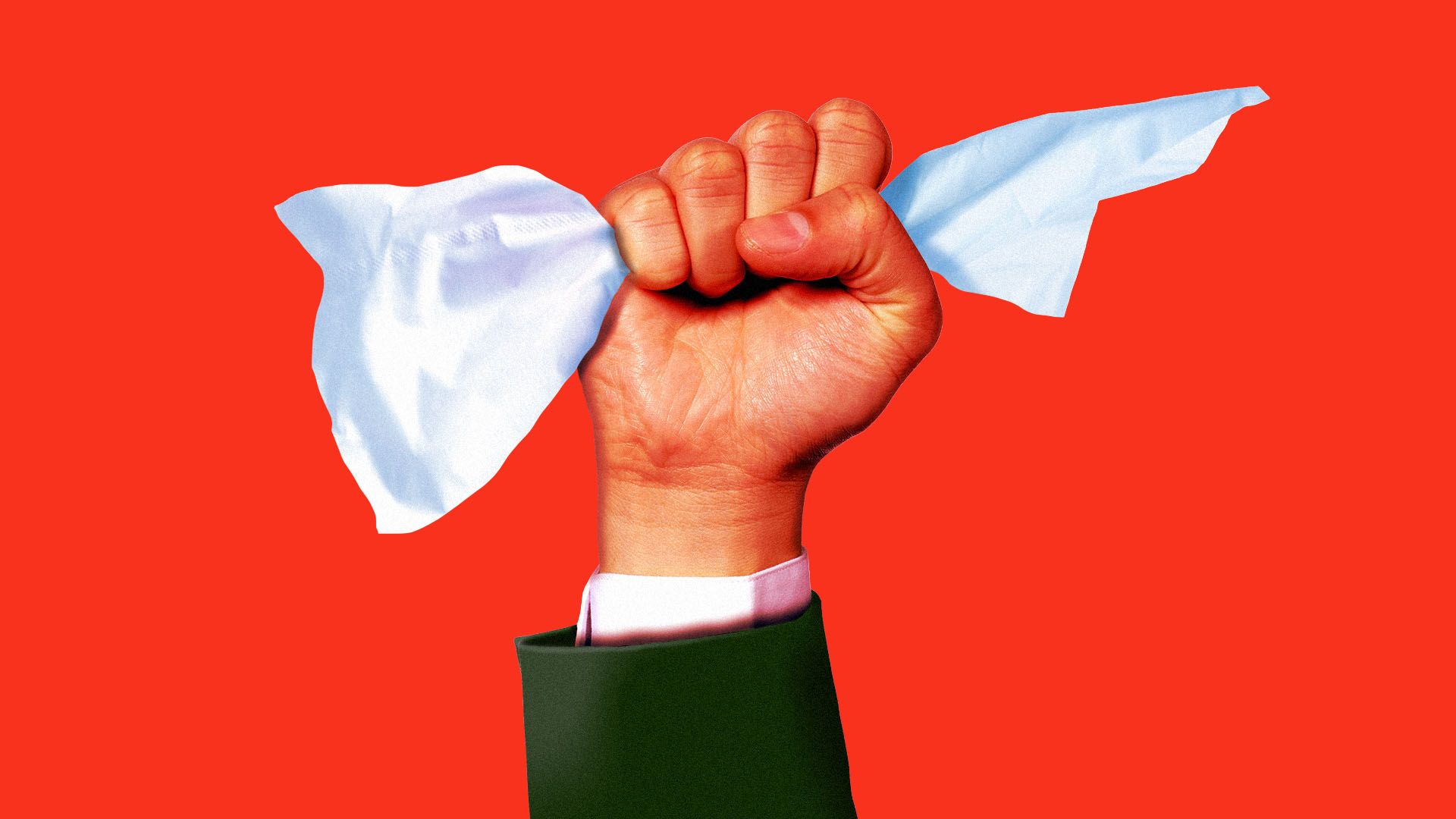 The world once looked to the U.S. for leadership and aid in global health crises.
But the Trump administration has rejected global leadership in the fight against the coronavirus and much of the initial domestic response was focused on shoring up the economy, Axios China reporter Bethany Allen-Ebrahimian writes.
Compare this with China's response. After a series of early decisions that allowed the coronavirus to spread rapidly in China (and thus abroad), China's leaders made a 180 degree turn with a set of unprecedented measures, including quarantining entire cities, to get the epidemic under control.
As the growth of new cases in China slows, Beijing's leaders are ramping up a nascent bid for global public health leadership in the fight against the coronavirus.
China is sending masks and diagnostics to Italy, which is in the throes of a severe outbreak. 
China sent a team to assist Iran.
What they're saying: "The 2009 financial crisis was a decisive moment emboldening Beijing and altering global perceptions of relative power between U.S. and China," Ely Ratner, a former deputy national security adviser under Vice President Joe Biden, said on Twitter recently. 
"I worry now we're at risk of another decisive moment for U.S.-China competition as Trump administration badly mishandles coronavirus."
Go deeper: Bethany discusses China's response with Dan.
7. A campaign season without crowds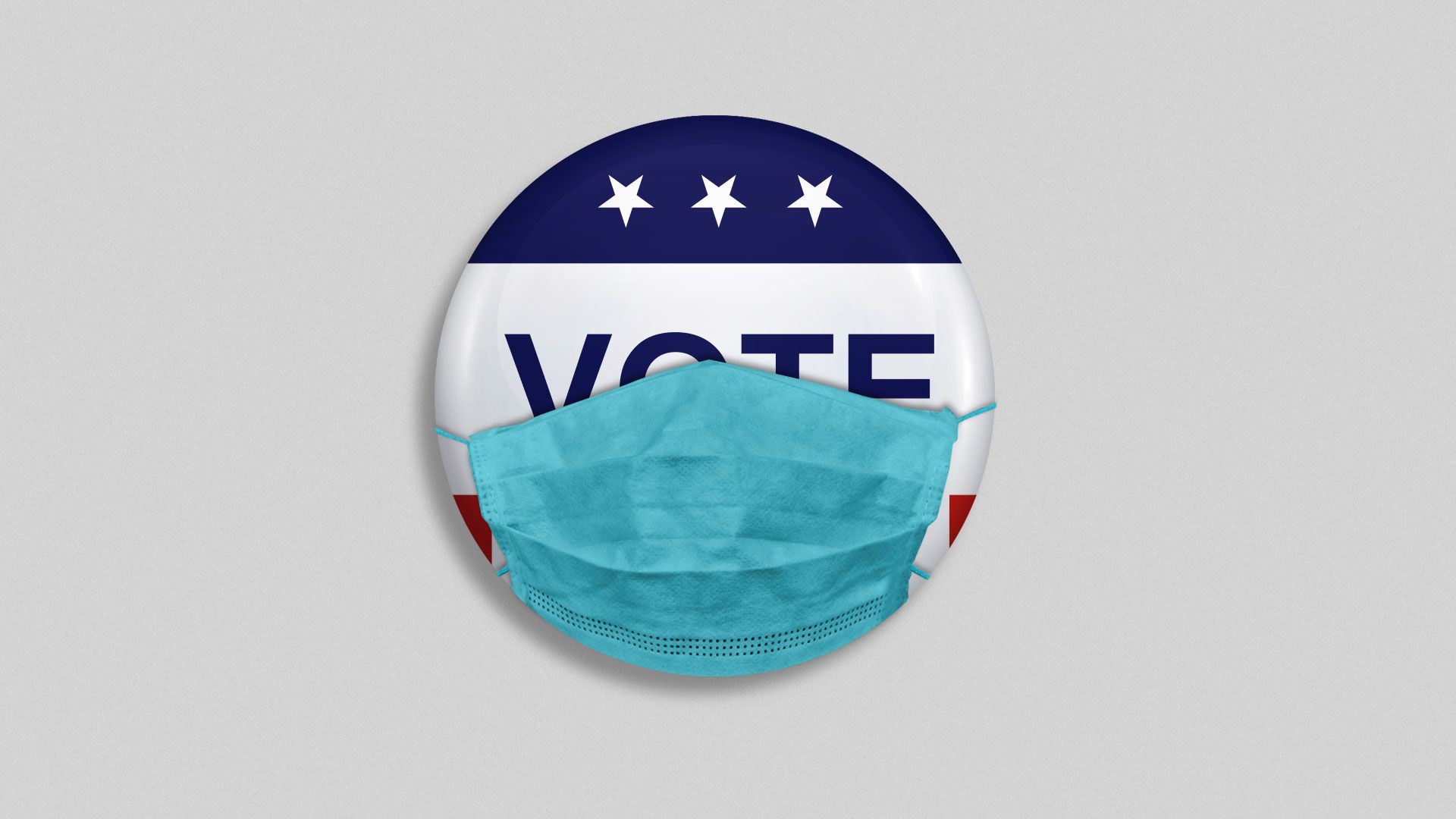 Cancelled rallies, debates with no audiences, contingency plans for conventions and ballot-casting — this is campaigning in the age of the coronavirus, Axios White House and politics editor Margaret Talev reports.
State of play: President Trump and Democratic rivals Joe Biden and Bernie Sanders all cancelled large-scale events this week and rolled out coronavirus policy platforms.
Louisiana is postponing the state's Democratic primary until the summer.
Democratic National Committee chairman Tom Perez told Axios' Jonathan Swan in an HBO interview taped March 9 that he has no plans to cancel this summer's convention in Milwaukee. But the DNC is monitoring the situation "every single day."
Tomorrow's Democratic debate moved from Arizona to CNN's Washington studio with no live audience, and Univision's Jorge Ramos withdrew as a moderator because he may have been exposed to the virus.
The bottom line: Politics is fundamentally about engaging people. This is America's biggest test of what it means to campaign without crowds in the modern age — whether disenfranchisement and lower turnout are inevitable, or virtual interactions can fill the void.
Go deeper: Margaret and Dan talk about the impact on campaigning.
8. Remote everything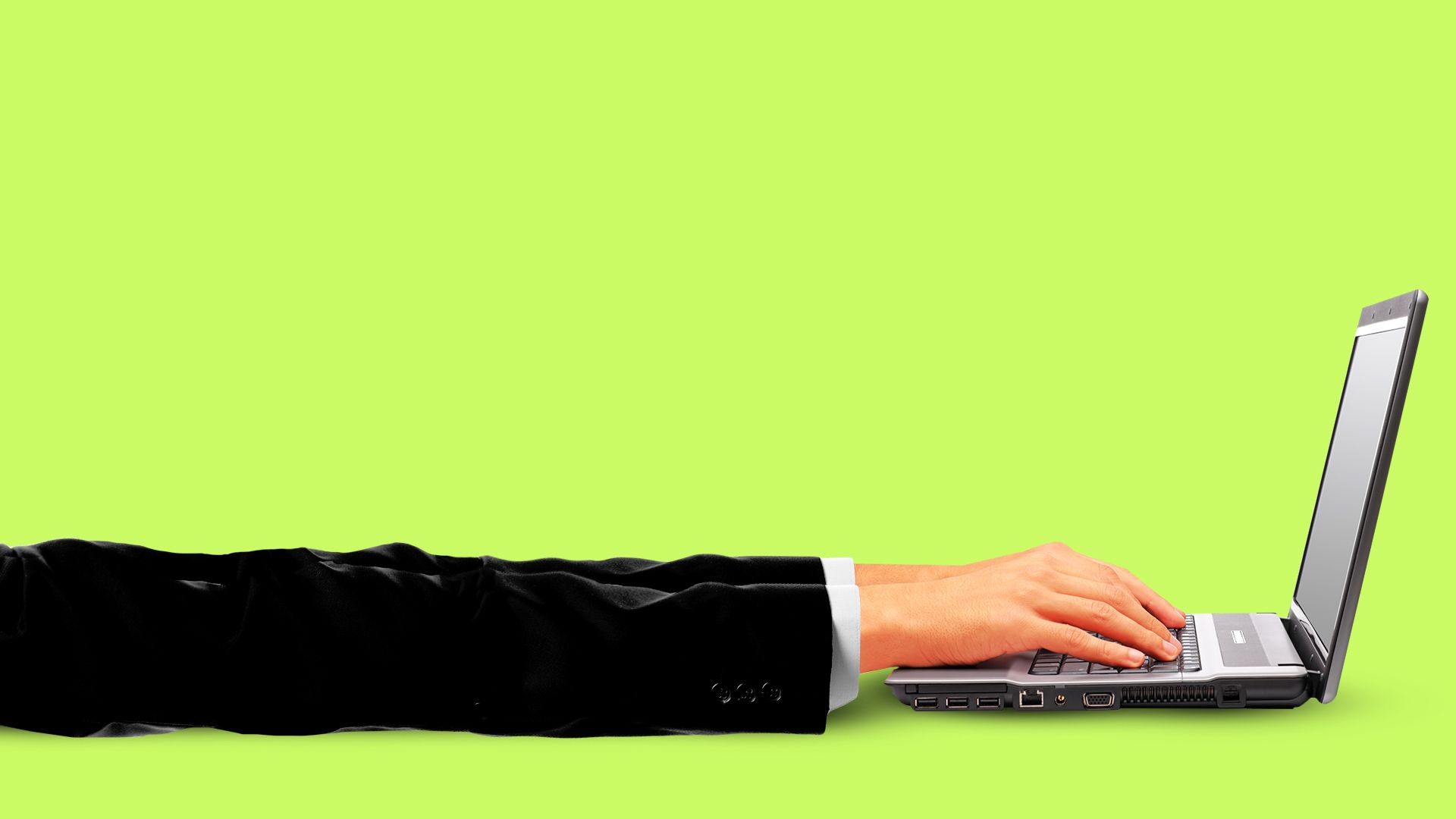 The pandemic is triggering a grand experiment in remote work, Axios' Erica Pandey reports.
Why it matters: Working from home isn't a new concept, but the country's sudden switch to telecommuting en masse has the potential to accelerate shifts in how we live, work and learn.
And the disruption in habits and procedures could have lasting effects.
It's not as simple as just closing offices and classrooms. Most companies and universities aren't built for the virtual world.
They're filled with managers and professors who value face-to-face interaction.
And, as Axios' Ina Fried reported this week, there are many jobs that just can't be done remotely.
The bottom line: The coronavirus could be the catalyst that gets firms to adopt remote work policies in far greater numbers than we see now.
9. Cities confront coronavirus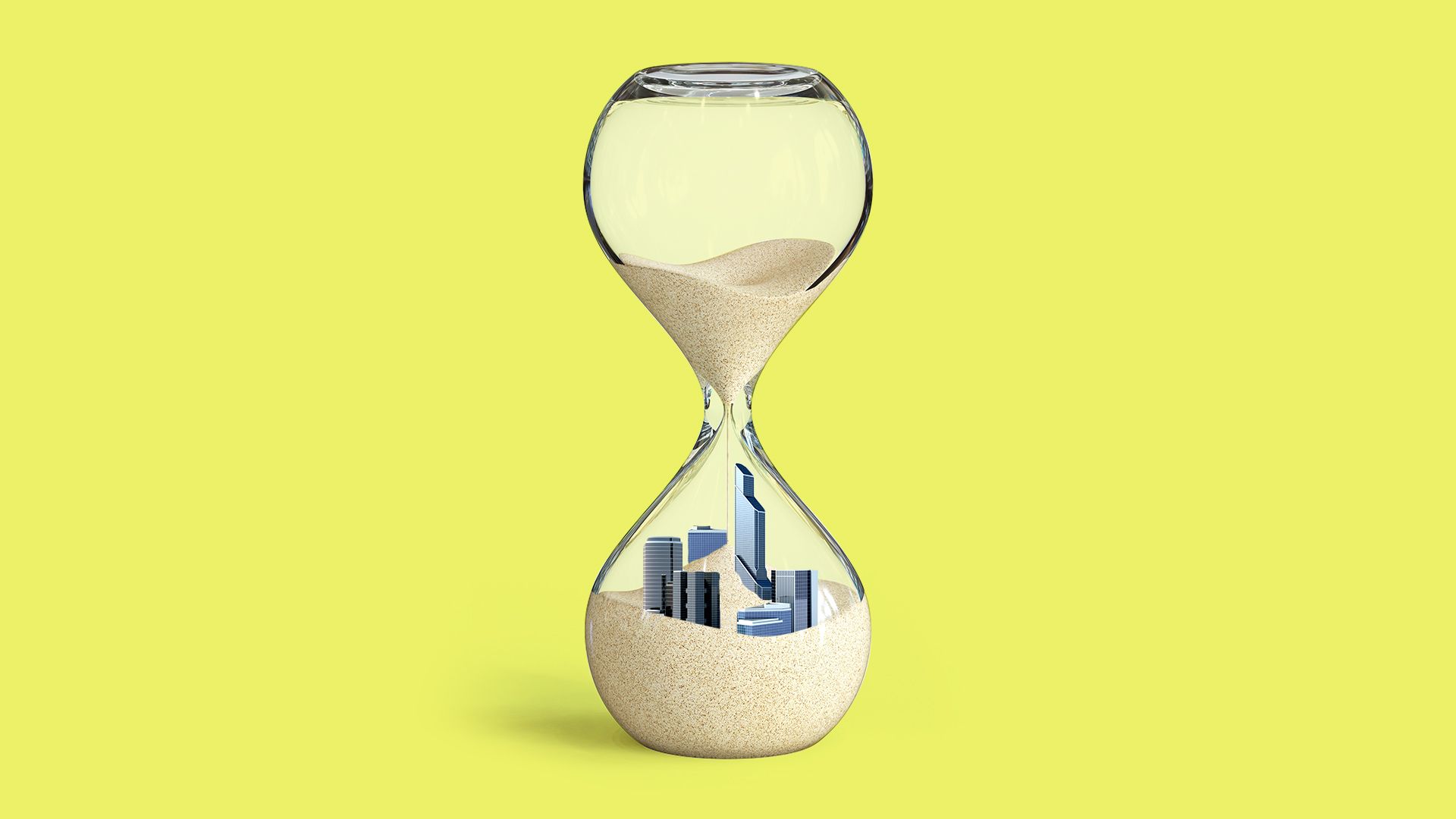 City officials are on the front lines of the heightened anxieties, crippling demands and high-pressure decision-making as the coronavirus infiltrates more communities, Axios cities correspondent Kim Hart writes.
What's happening: Mayors and other city leaders are texting and calling each other to share updates and strategies while many feel they have not been getting enough information directly from the federal government.
Cities are facing the unique challenge of keeping essential services running while their own staff is working remotely or, worse, getting sick themselves.
First responders are having to self-isolate as they are exposed to COVID-19, leading to a rapidly dwindling pool of trained emergency medical workers.
Several cities are calling on utilities to temporarily refrain from cutting off power and water services.
What to watch: Facing significant revenue loss and rapidly rising costs, expect cities to have to dip into reserve or general fund budgets to keep over-taxed programs and services afloat.
Up to $50 billion will be made available to local municipalities and states as part of Trump's national emergency declaration.
Go deeper: Kim digs into city challenges with Dan.