Axios Future
December 18, 2019
Welcome to Future. I'd love to hear what you think of 2019's penultimate issue.
Send your thoughts to me by replying to this email or shooting a note to [email protected] Your Saturday steward, Kaveh, is at [email protected]
Today, I've got 1,210 words — a 4.5-minute read. Let's start with...
1 big thing: An unsettling future for American jobs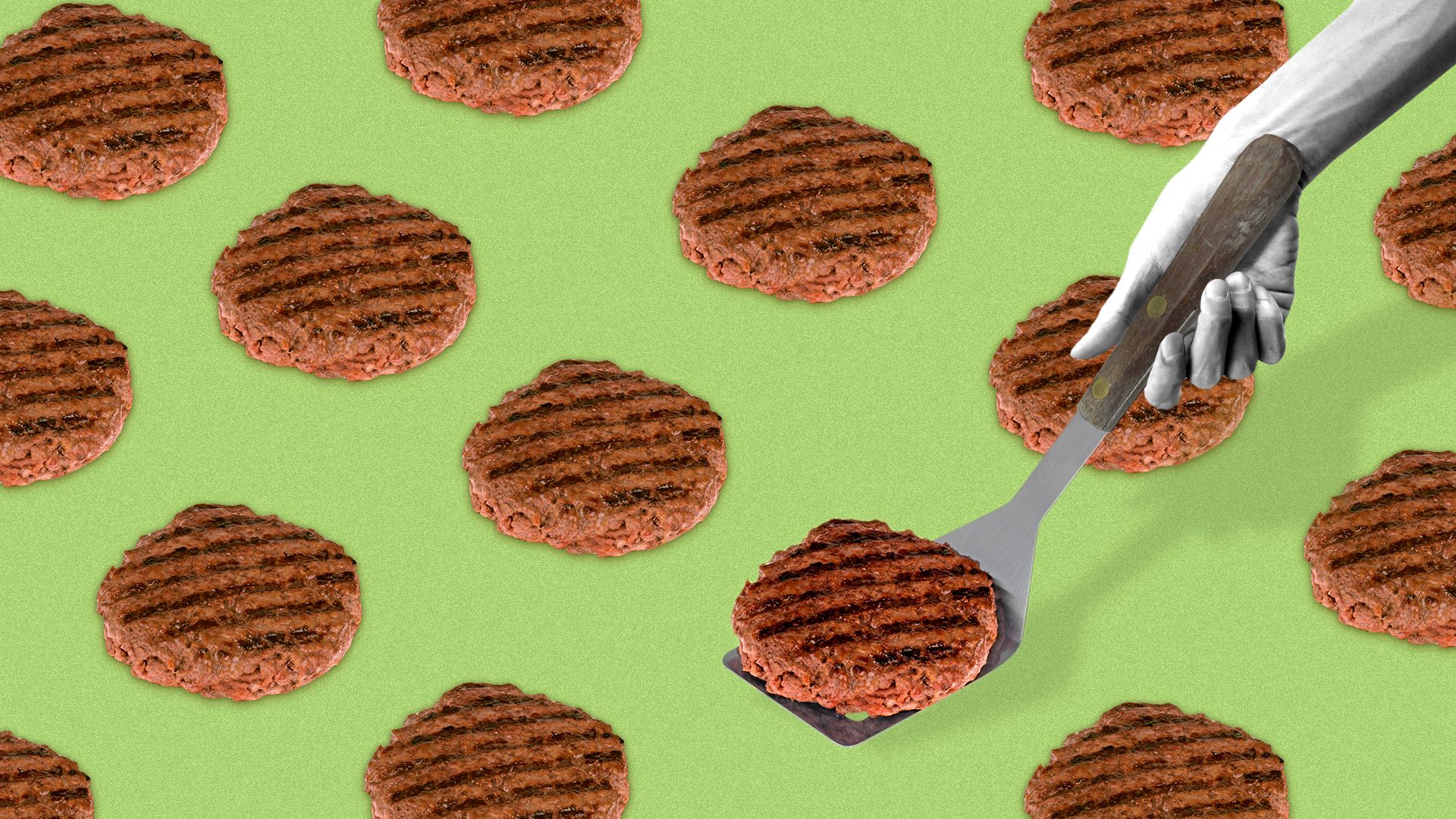 The U.S. economy is besting expectations for job growth, and the unemployment rate is at its lowest in several decades — but the other side of the story is that millions of jobs out there just aren't good enough.
Why it matters: Almost half of all American workers are stuck in low-wage jobs that often don't pay enough to support their lives, lack benefits and sit squarely inside the automation bullseye.
By the numbers:
There are 53 million U.S. workers — around 44% of the total workforce — who work in jobs with a median hourly wage of $10.22 and median yearly earnings of $18,000, according to a November Brookings study that examines low-wage work.
Around a quarter of low-wage workers are the only earners in their households.
"The storyline from the jobs reports is the result of looking at an incomplete set of measures," says Martha Ross, co-author of the Brookings report. "We do have to look at the quality of the jobs we are creating."
The big picture: For decades, the job market has seen steady polarization, Jed Kolko, chief economist at Indeed, says. There's been growth in high-wage jobs in tech and finance in big cities, and there's been a similar surge in jobs at the lower end — but the middle has hollowed out, primarily due to the collapse of manufacturing.
The labor market is tightening, which ought to push wages up, but that's not necessarily happening, says Kolko. While pay for low-wage jobs has been increasing in the last couple of years, that growth is not keeping up with inflation or the rise in housing costs.
On top of that, millions of low-wage jobs — such as in retail, food service, home health care or the gig economy — don't have robust benefits packages (if any) and don't have predictable schedules. "All of this is part of what makes a job a good job," he says. "The wage growth for lower-wage industries is encouraging, but there's lots to worry about."
Low-wage work is more pervasive in parts of the country that have been left behind by the winner-take-all cities on the coasts, Brookings found.
And there are a number of cities where low-wage occupations make up the majority of jobs: Las Cruces, New Mexico, and Jacksonville, North Carolina (both 62%); Visalia, California (58%); Yuma, Arizona (57%); and McAllen, Texas (56%).
This will be an increasingly important question for local leaders, says Ross. "What does it mean when almost two-thirds of the jobs in your region are low wage?"
Minorities are disproportionately impacted by low-wage work. Per the study, 54% of black workers and 66% of Hispanic workers are low wage, compared to 37% of white workers.
What to watch: Polarization in the job market is projected to get worse. At the same time, low-paying jobs in the retail and restaurant industries are among those with the highest automation potential. Says Ross: "The question of these low-wage jobs disappearing or changing means we have to think about how to support these workers. I think, as a country, we are terrible at doing that."
2. Amazon's formidable shipping arm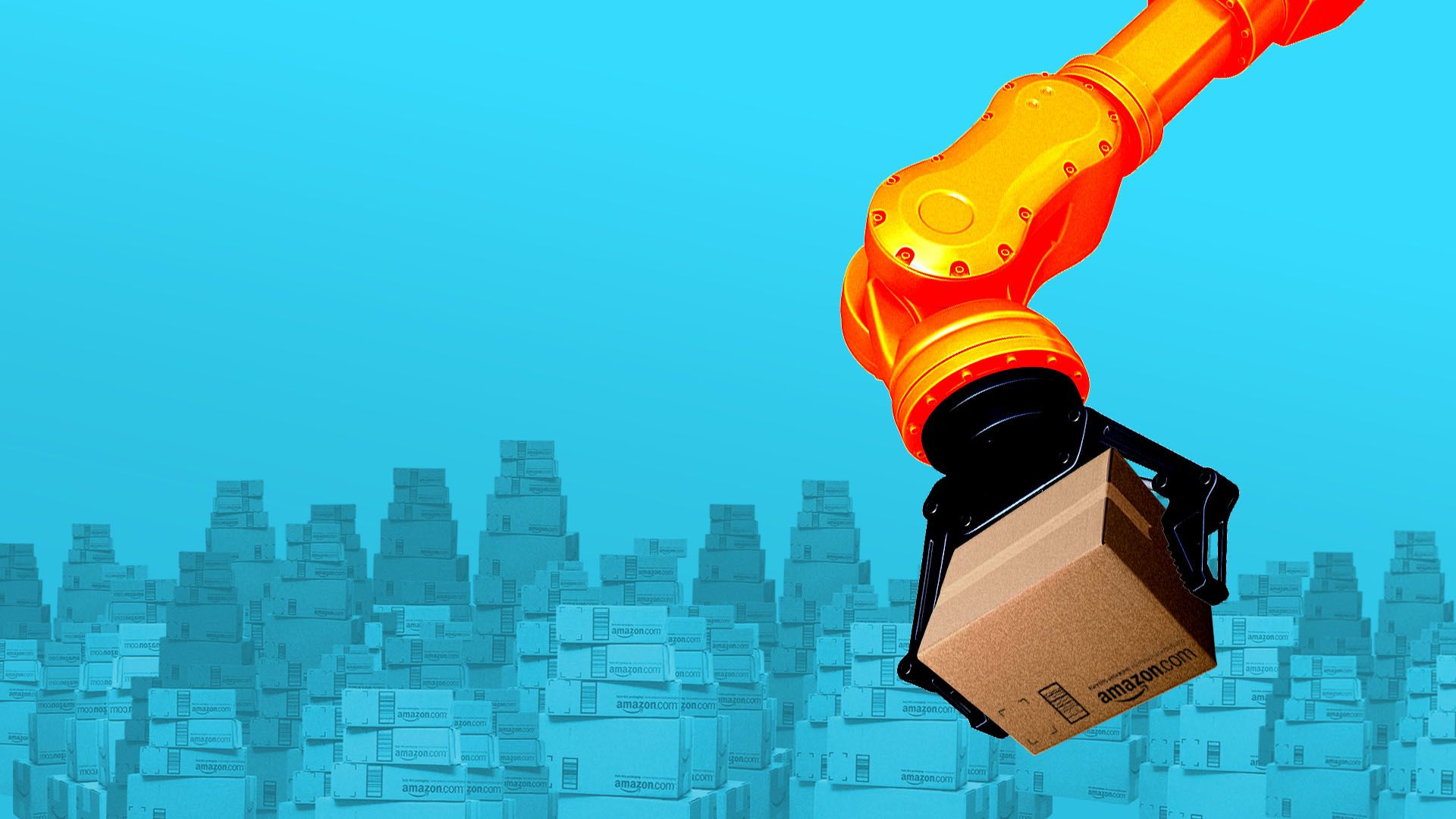 After conquering e-commerce and cloud computing, Amazon is claiming its spot at the very top of the massive shipping industry this holiday season.
Why it matters: Logistics might make your eyes glaze over, but it's one of the key businesses of the future — and it could become Amazon's next windfall. The industry is already worth $1.5 trillion, and it'll get even bigger as more and more people order everything online.
By the numbers: Cyber Monday was Amazon's highest volume shopping day ever. And Americans will spend a record $135 billion online in November and December, Spencer Soper writes in Bloomberg's tech newsletter today.
What's happening: Amazon is already the leading shipper of its own packages (delivering about 48% of them). The tech giant is adding vans, jets, workers and warehouses to become an even more formidable shipper.
Amazon's rise is putting legacy shippers at risk. After brushing off the e-commerce giant as a competitor for years, FedEx CEO Fred Smith called it a threat this year.
The two companies have cut ties. FedEx chose not to renew its ground and air delivery contracts with Amazon.
And just this week, Amazon — which is consumers' most-trusted brand to deliver their holiday gifts in time — is banning its third-party sellers from using FedEx for ground deliveries. It's effectively a no-confidence vote in FedEx, writes Soper.
FedEx reported weaker-than-expected earnings this week and revised its 2020 earnings outlook down. The stock is down around 10% today.
The stakes: Amazon is already the subject of antitrust investigations in the U.S. and Europe, and its shipping prowess could strengthen opponents' arguments.
"Given its scale & dominance of this market, Amazon is essentially operating as a regulator of shipping companies," notes Stacy Mitchell, co-director of the Institute for Local Self-Reliance, a nonprofit research and advocacy group that opposes concentrated economic power.
3. Overlooked in the 2020 census
About a quarter of the U.S. population — and more than 8 in 10 residents of Detroit — live in areas likely to be difficult for the census to accurately count next year, according to census data analyzed by the Associated Press, Axios' Stef Kight and Courtenay Brown report.
Why it matters: "Hard to count" often translates to underrepresentation. The 2020 census will be the basis for allocating political power and government funding for the next decade.
State legislatures will refer to the newest census data in redrawing congressional districts next year. The population counts will determine how many congressional seats each state will receive.
The updated data will inform politicians of the demographics, economic status and family structures of the people they represent.
The big picture: As the nation rapidly moves toward a minority white society, one study this year found that next year's census could see the worst undercount of black and Latinx people in 30 years.
By the numbers: In half of U.S. census tracts nationwide, more than 20% of the population is predicted to not respond to the initial census questionnaire.
86% of Detroit's population lives in hard-to-count areas — the highest of any city due to the tens of thousands of abandoned homes there, according to AP.
New Mexico (41%), California (40%), Texas (39%) and Nevada (37%) have the highest share of people living in areas with low census response rates.
The bottom line: Undercounting has long been an issue for racial and ethnic minorities, giving the issues these communities care about even less political weight.
4. Worthy of your time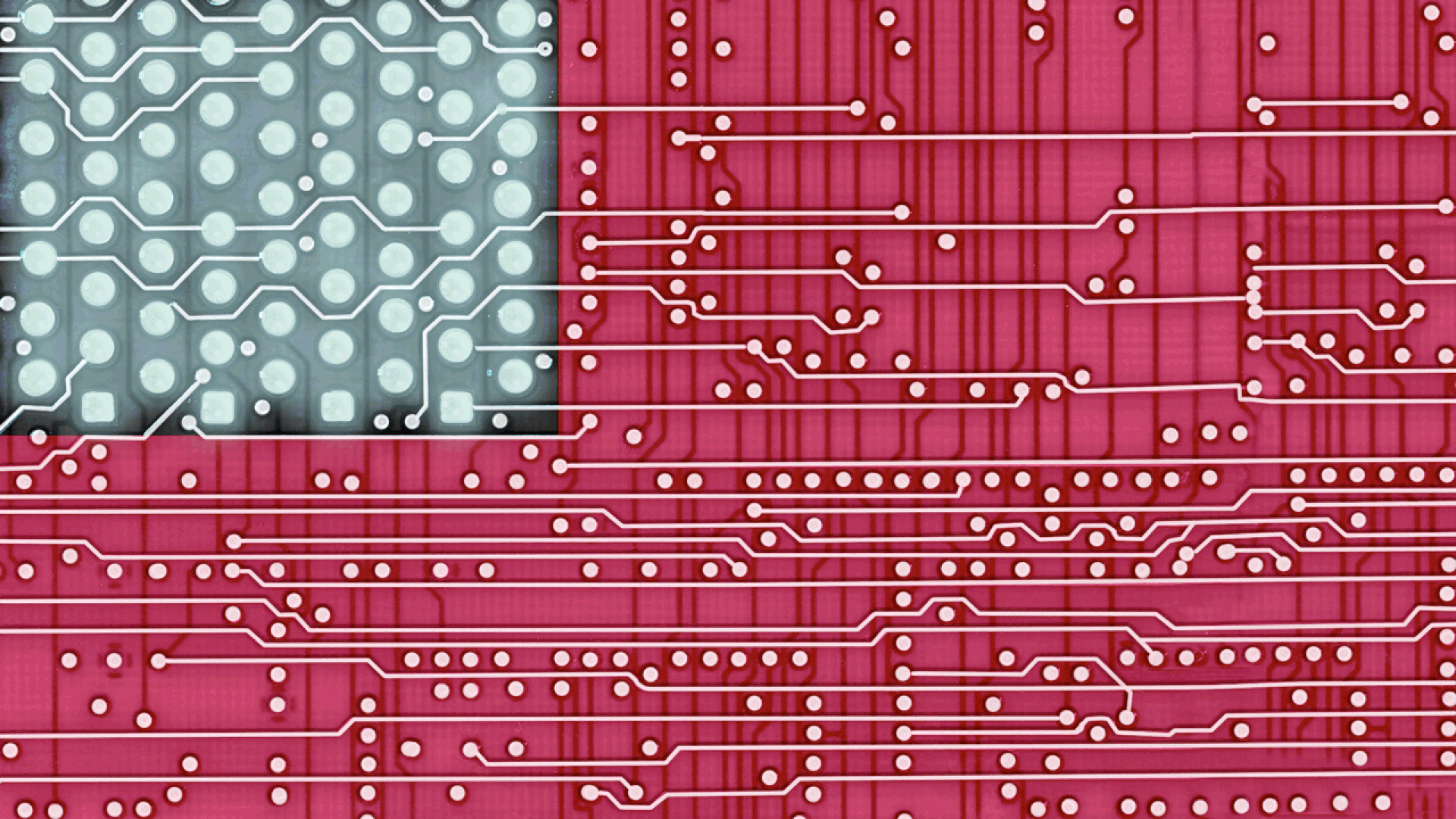 A threat to American AI talent (Kaveh Waddell — Axios)
America after climate change, mapped (Sarah Holder — CityLab)
Holiday delivery and the future of retail (Kaarin Vembar — Retail Dive)
How Amazon wields power in the tech world (Daisuke Wakabayashi — NYT)
The one-traffic-light town with speedy internet (Sue Halpern — New Yorker)
5. 1 fun thing: Cuffing season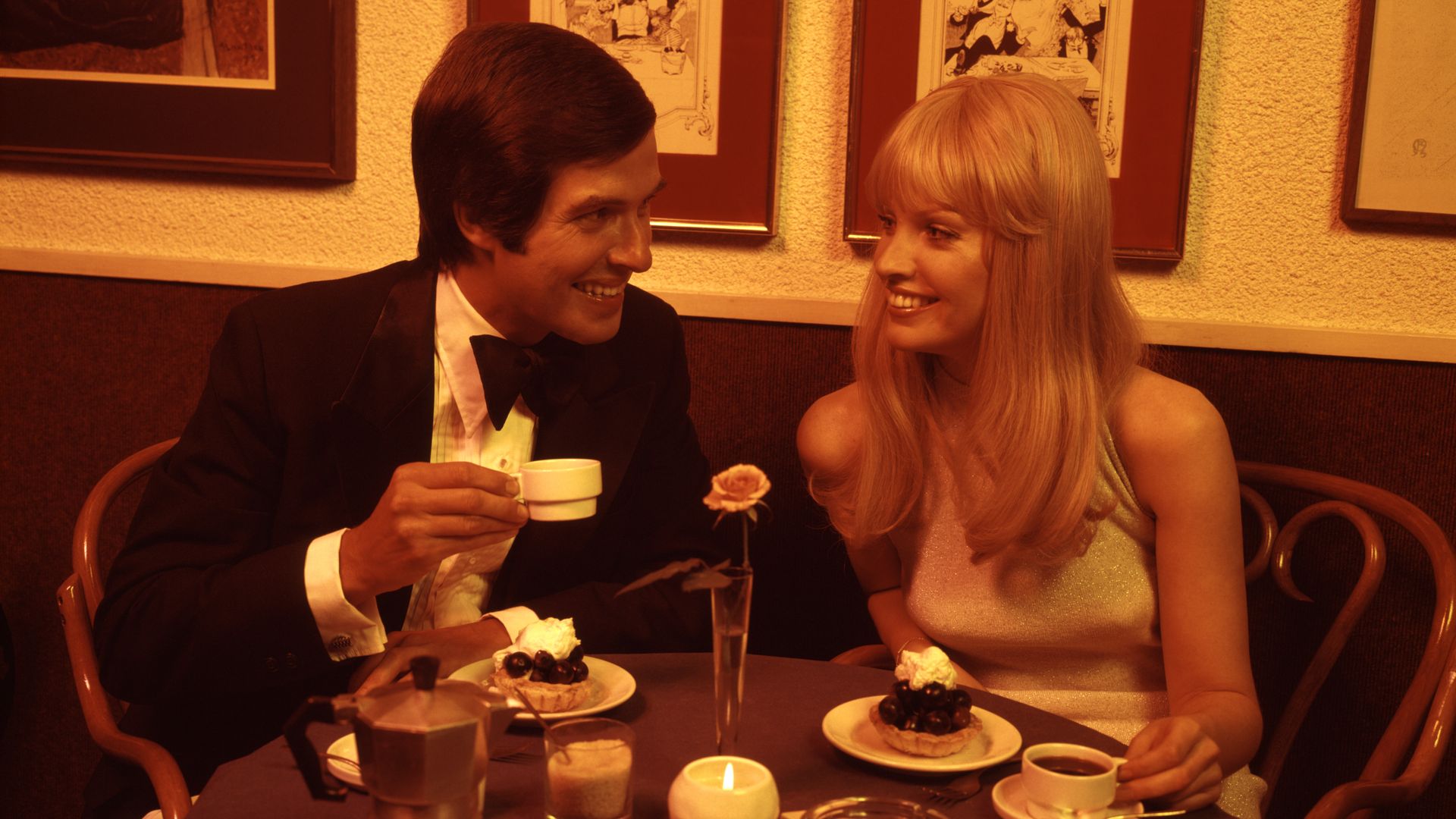 We're in the heart of cuffing season, which is the popular millennial term for the winter months when people stop dating around and pair up with someone to spend the cold, snowy days with.
To that end, dating apps are seeing a flurry of activity.
Bumble projects it'll pick up 3 million new users in the period between Thanksgiving and the Sunday after New Year's Day (Jan. 5)
That day is dubbed "Dating Sunday" because it's consistently the busiest day for online dating — likely because the holidays are over, and you're now staring down a cold, lonely winter.
The big picture: Bumble has close to 80 million users worldwide. Per the company's analysis, there will be around 20 million in-app messages sent on Jan. 5 alone. Last year, Tinder told Bustle that it saw 44 million matches on Dating Sunday.