Welcome back. We're going to try a change here at FoW and move the newsletter's publication date to every Wednesday, so as to be in the middle of the weekly news mix. We'll see how it goes and let us know what you think — about that, or anything else. Just reply to this email, or drop me an email at steve@axios.com. Meanwhile, please invite your friends and colleagues to join the conversation.
Let's get to the newsletter, starting with the subject of ...
https://www.axios.com/newsletters/axios-future-e7482507-fecf-4c65-87a4-457d23749166.html?chunk=0#story0
1 big thing: Dangerous professions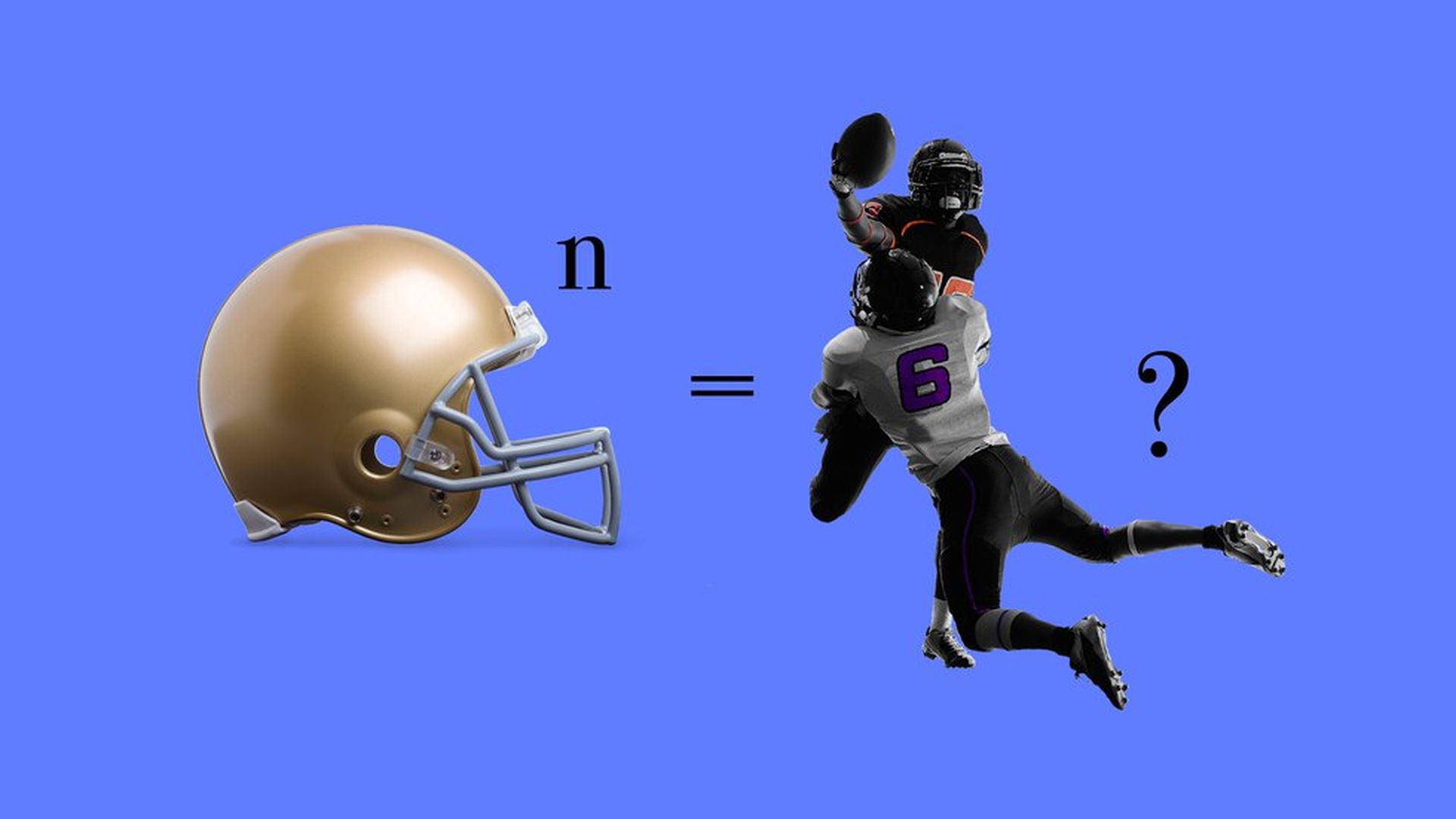 For pure danger, there are a few professions to choose from — soldier, coal miner and firefighter among them. But for the combined tantalizing potential of glory, glamor, peril and riches, there may be no better job than professional football player.
Now, the peril part is an increasingly outsized and palpable dimension of the game. Some of those in and around it are dropping out: Baltimore Ravens lineman John Urschel, out at the age of 26, and ESPN commentator Ed Cunningham, who says he can no longer cheer for the sport. When he retired in 1992 at 29, Jets wide receiver Al Toon called the sport "modern-day gladiating."
But NFL players — like all those plying the dangerous professions — know what they are getting into, right? Or should greater safety be forced on the game?
We spoke to four experts on professional danger: two football observers, a boxing journalist, and a retired CIA operative.
What they said: Erin C. Tarver, a professor at Emory University, suggests that we only imagine that football players fully grasp their exposure to CTE. "We need to consider what truly informed consent to this outcome requires, and whether it's possible," she writes. But Michael Rosenthal, editor-in-chief of Ring magazine, said boxers, and by extension football players, are in fact well aware of what they face at work. "They, and athletes in other dangerous sports, must take full responsibility for their fate," he said.
https://www.axios.com/newsletters/axios-future-e7482507-fecf-4c65-87a4-457d23749166.html?chunk=1#story1
2. Shorting Amazon's rivals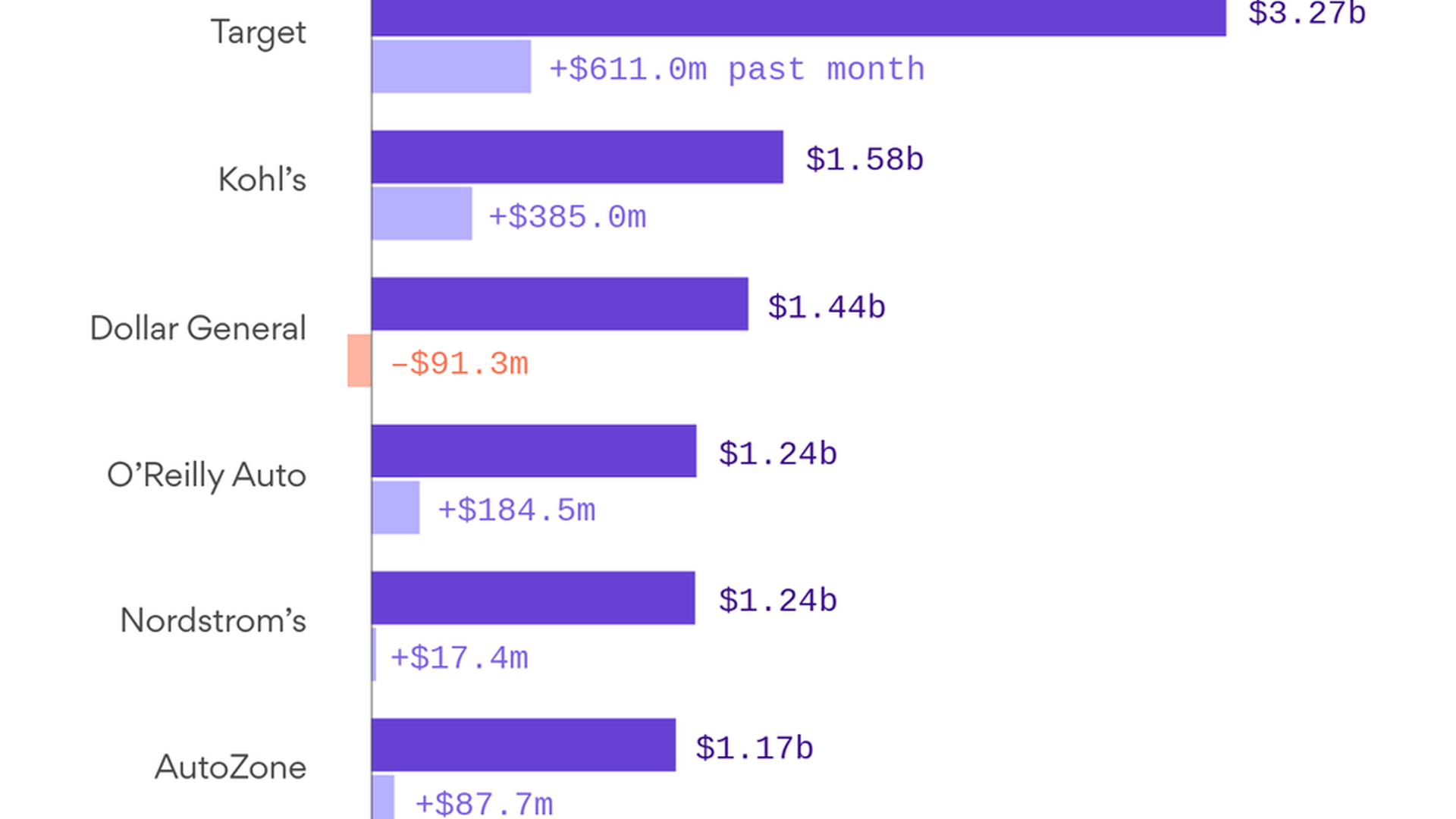 Few bets have been shrewder this year than wagering on Amazon's success, and against its competition. Short-sellers share an increasing consensus that Amazon will not only continue to weaken its retail rivals, but soon dominate markets for fresh groceries and auto parts, writes my colleague Chris Matthews.
Look at a colossal one-way bet against Amazon's top 10 retail rivals: "If a trader went long an equal amount of Amazon.com and shorted these ten securities, they would have been up 40% for the year," says Ihor Dusaniwsk of financial analytics firm S3 Partners. "A $100 million long Amazon position coupled with an equal weighted portfolio of the top ten Retail Sector shorts would have made $40 million in mark-to-market profits."
https://www.axios.com/newsletters/axios-future-e7482507-fecf-4c65-87a4-457d23749166.html?chunk=2#story2
3. Looking at 74 economies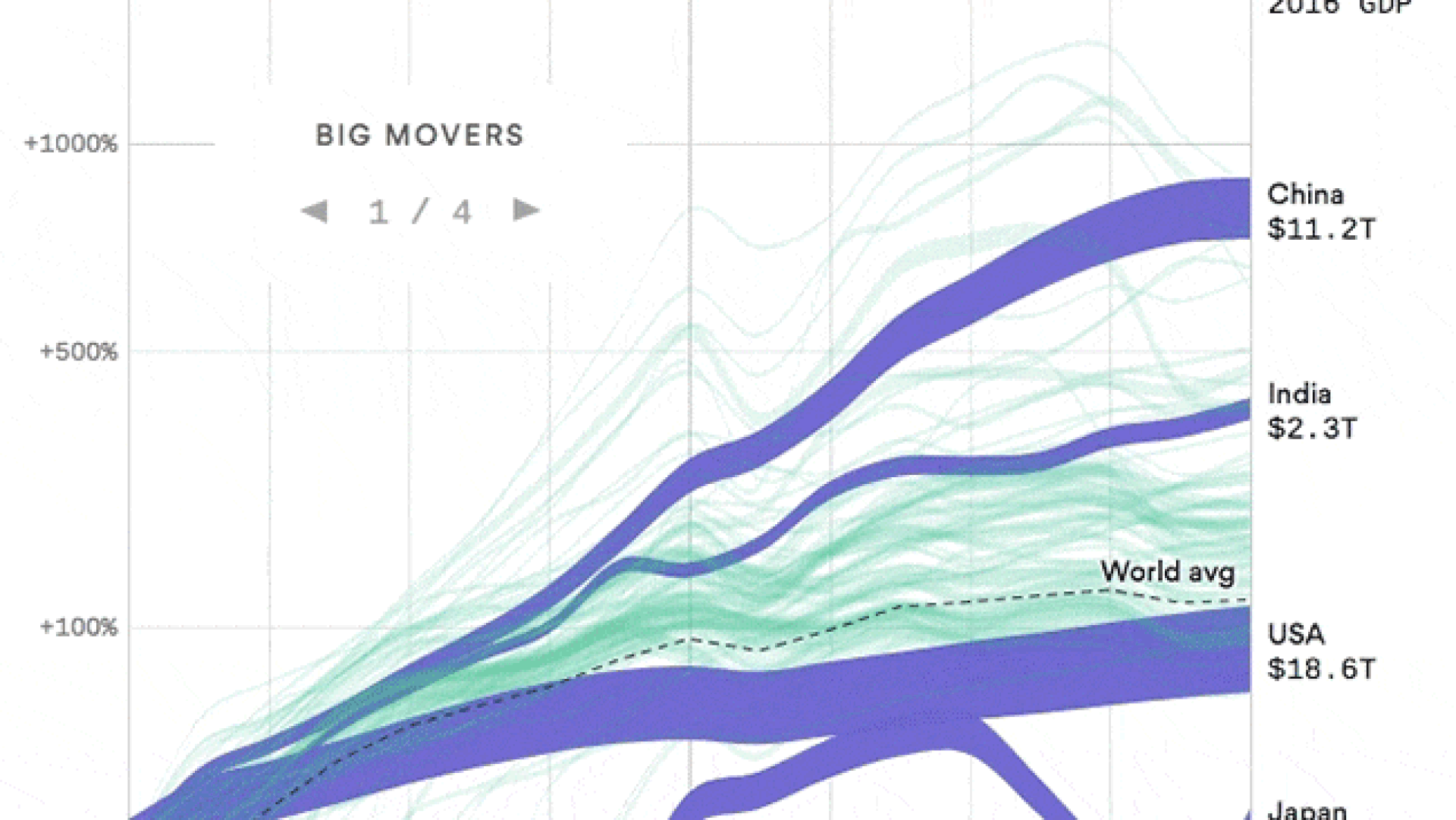 China has had an unsurprising economic century, churning out billionaires, slashing poverty and seeking to dominate ever-more industries of the future. But how about Uzbekistan, Vietnam and Ethiopia, all of which have had their own unsung, dynamic spurts since 2000?
At a time of serious challenge to globalization and open trade, the leading economic policies of the last quarter century, my colleagues Andrew Witherspoon and Neal Rothschild take a look at how 74 economies are performing. In the chart above, they highlight some notable cases, with an eye toward the future of the global economy.
The chart dramatizes some unexpected outcomes: few countries have been more roiled than Sudan, disintegrating into two nations and experiencing a long, civil war. Yet its economy has grown well through the period. And, though Angola has been hit by the oil slump, its economy grew by 13 times.
https://www.axios.com/newsletters/axios-future-e7482507-fecf-4c65-87a4-457d23749166.html?chunk=3#story3
4. Quick takes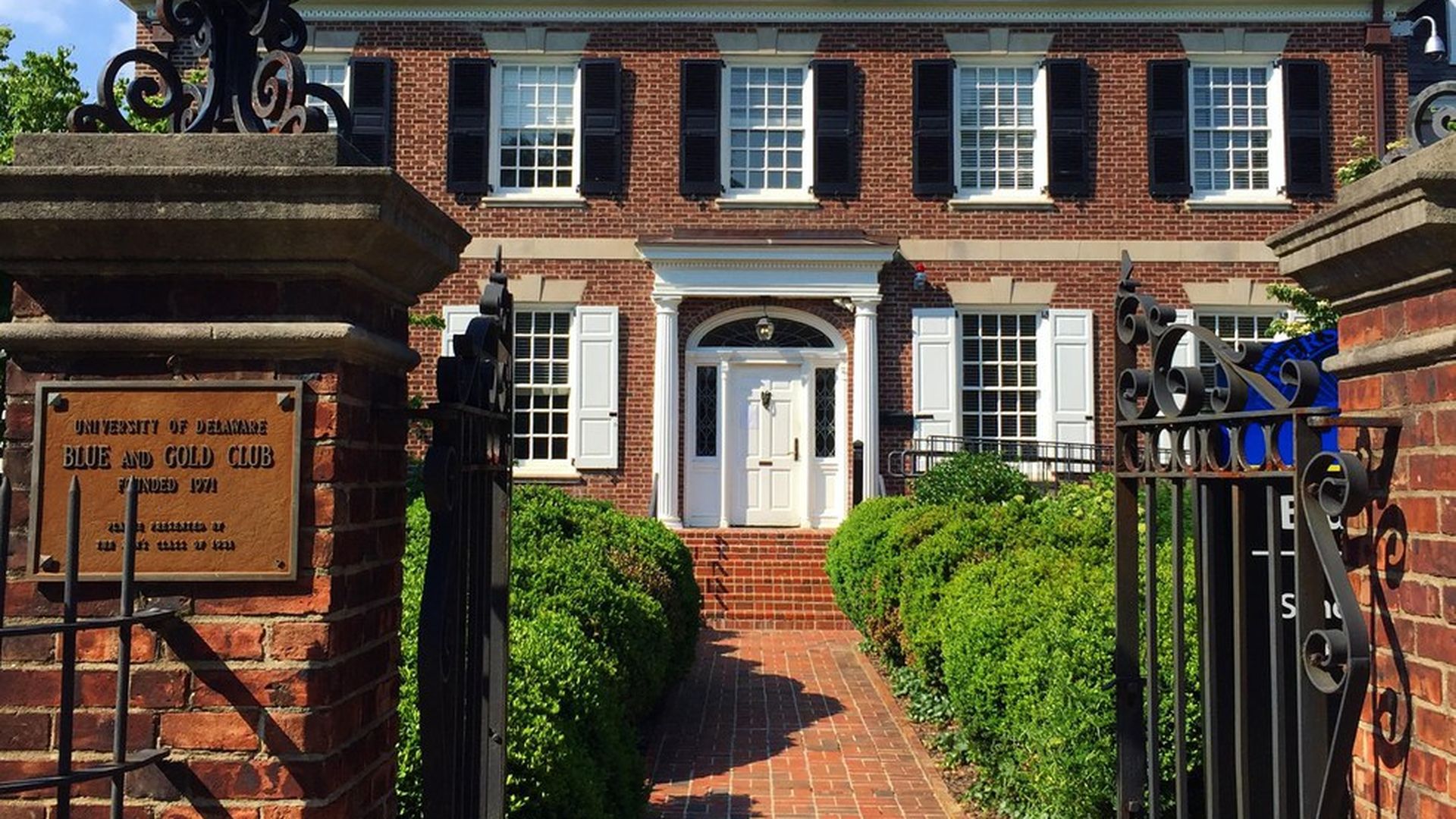 Biden comes out against universal basic income: The Joe Biden Institute is launching Tuesday at the University of Delaware, and the emphasis the first semester will be the future of work. In a blog post tomorrow, the former vice president will push back against the "Universal Basic Income," or UBI, one of the most popular suggested solutions to the massive eradication of jobs that's feared because of automation. UBI is a check to every American adult, but Biden thinks that it's the job that is important, not just the income. Biden will quote his father telling him, "It's about your dignity. It's about your self-respect. It's about your place in your community." Biden will host an event at 4 pm Tuesday in Wilmington, with speakers including Biden; Elaine Chao, the secretary of transportation; and Mary Kay Henry, president of the Service Employees International Union. It will be livestreamed here.
Taxing Big Tech: There is a growing movement in the EU to impose a heavy levy on Big Tech, per the Financial Times. If it goes ahead, the levy would be a radical shift from the current system. But it reflects a global change of mood that sees something not entirely public spirited about the market power and tax practices of Amazon, Apple, Google and Facebook. In the so-called LuxLeaks scandal in 2014, documents showed that Big Tech was often using complex structures to pay near zero tax. Now, France and Germany are among 10 EU countries (of 27) that have signed a letter supporting the idea of taxing their gross revenue, rather than profit, a figure that can be subjective.
https://www.axios.com/newsletters/axios-future-e7482507-fecf-4c65-87a4-457d23749166.html?chunk=4#story4
5. Worthy of your time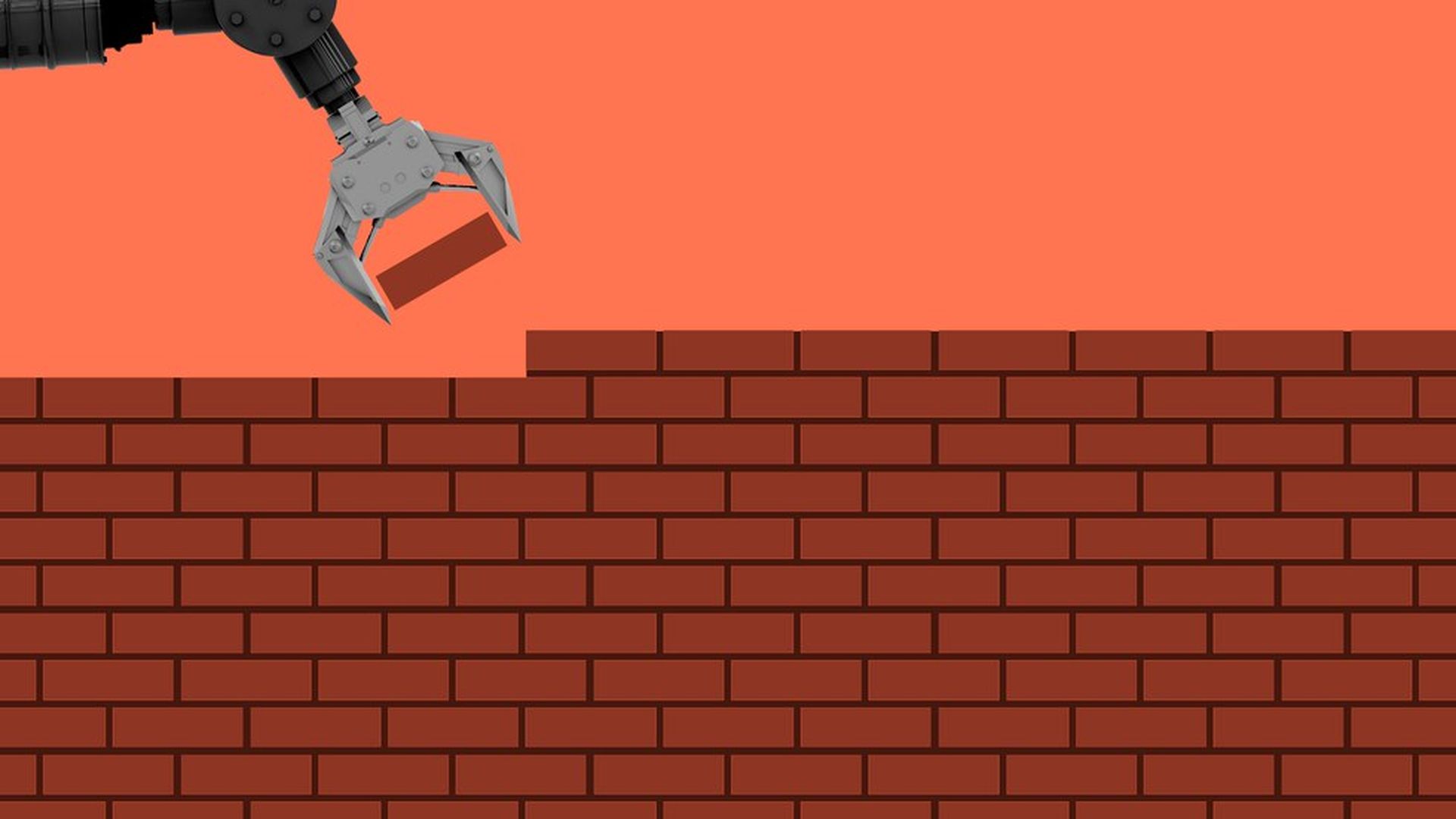 https://www.axios.com/newsletters/axios-future-e7482507-fecf-4c65-87a4-457d23749166.html?chunk=5#story5
6. 1 fun thing: A name game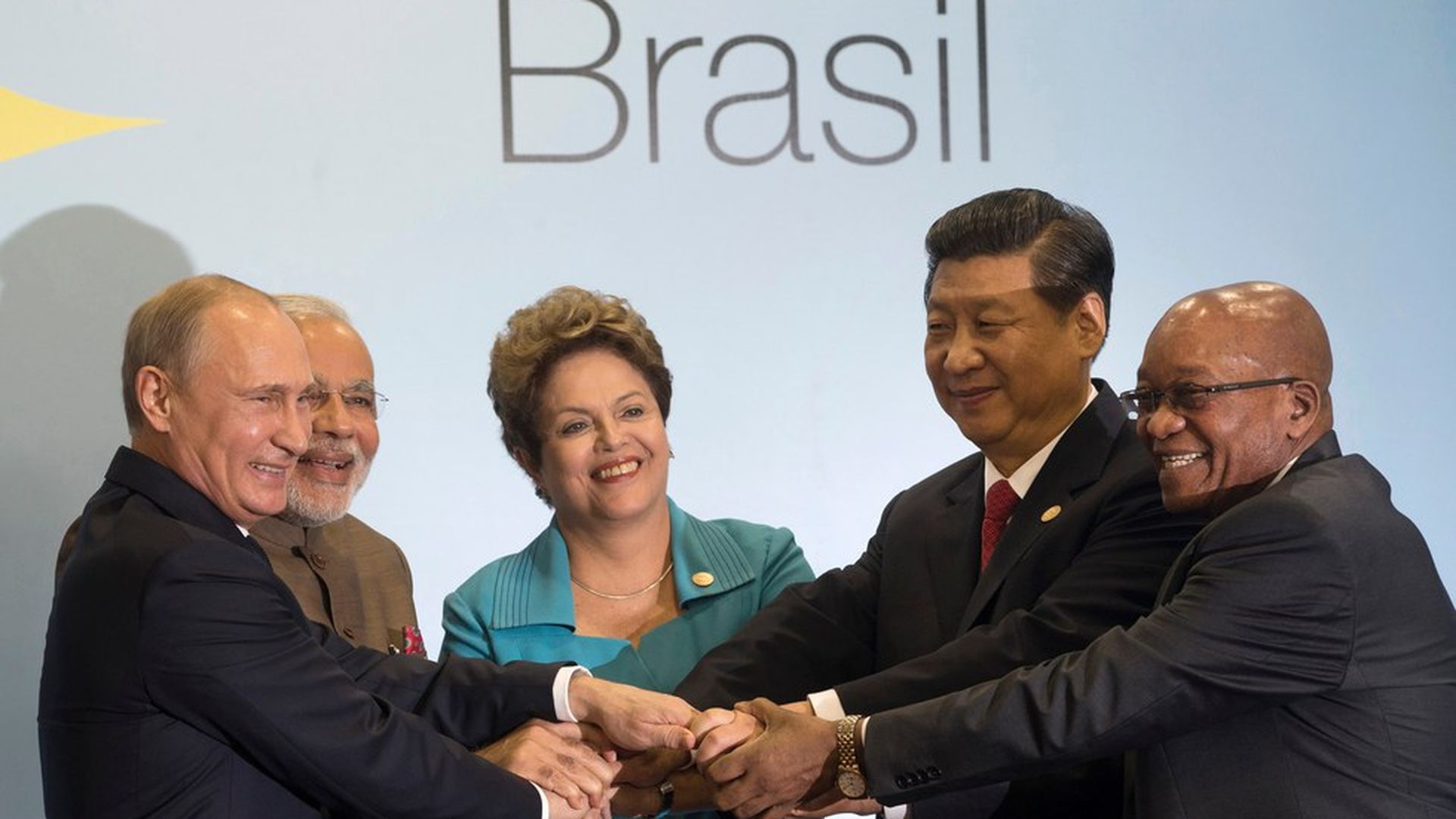 Back in 2001, Goldman Sachs's Jim O'Neill foresaw a new economic future — a somewhat surprising new set of countries becoming the mightiest economic forces on the planet. He called them the "BRIC" nations, and the monniker took hold: Brazil, Russia, India, China became a runaway hit investment strategy, and the countries themselves embraced their anointed new global role (photo above), adding South Africa to become BRICS.
Today, apart from China, the romance of BRICS is largely in shambles, the victim of economic reality. But a new grouping of giants has captured much imagination — Big Tech. By that, it's usually meant Amazon, Apple, Google, Facebook and often Microsoft. But people are having trouble inventing an acronym for them with the ring of BRICS.
In Europe, especially France, newspapers have for years used GAFA.
Some people speak of FANG and FAANG (adding Netflix), but it misses the point, referring not exclusively to big tech.
Wishing to hold on to its franchise, Goldman itself has suggested FAAMG. So has UBS. But if you are going that direction, why not FAMAG? And is either superior to GAMAF?
Alas, none of these rolls off the tongue. Any ideas?