Axios Future
February 24, 2021
Welcome to Axios Future, where we're experimenting with shorter, punchier subject lines.
Let me know if you clicked and liked it, and if you didn't click, then I guess we're not actually having this conversation.
If you haven't subscribed, do so here.
Today's Smart Brevity count: 1,864 words or about 7 minutes.
1 big thing: Falling sperm counts could threaten the human race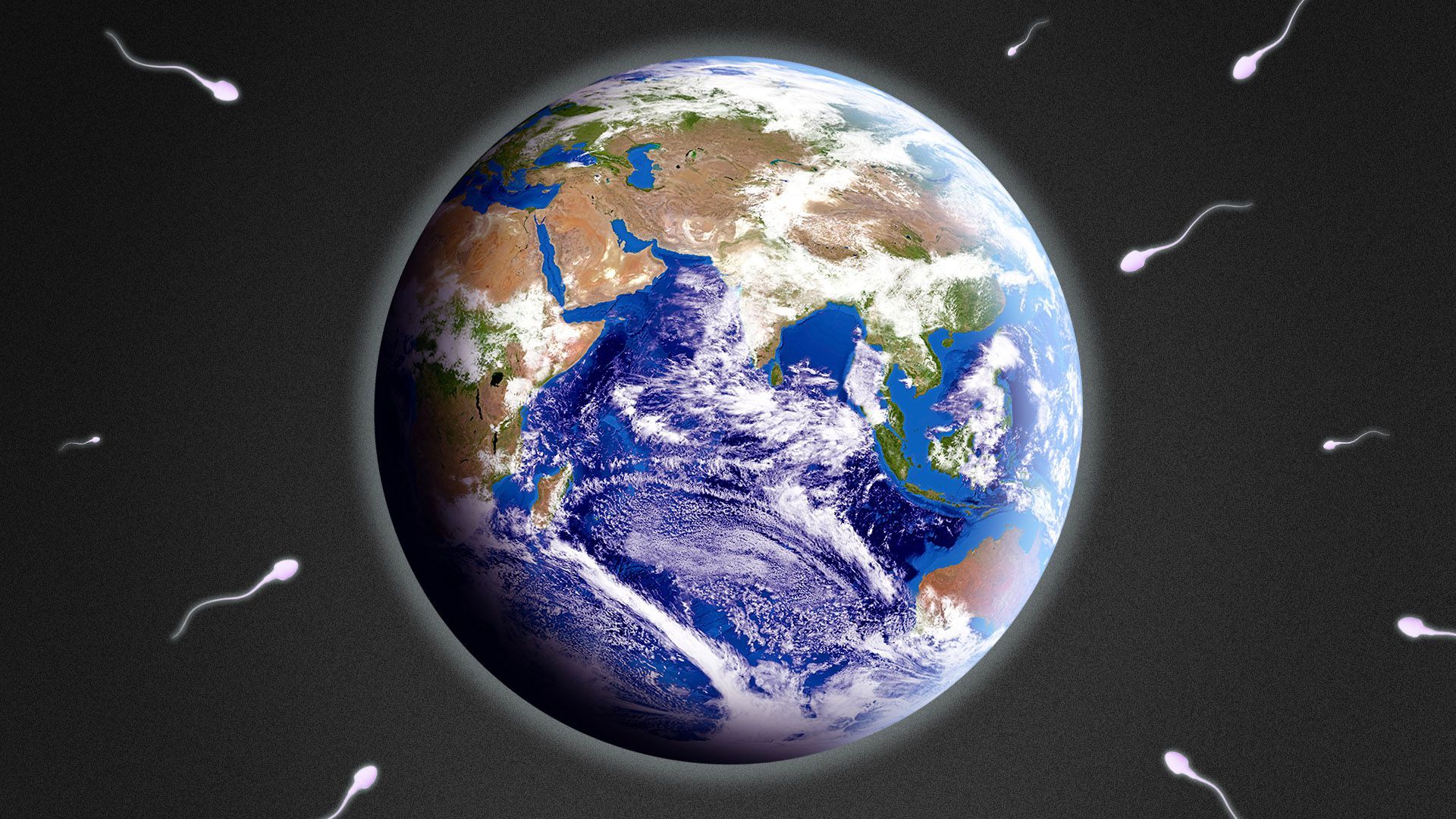 A new book makes the case that sperm counts have been falling for decades — and a major reason is chemicals in the environment that disrupt the body's hormonal system.
Why it matters: The ability to reproduce is fundamental to the viable future of any living thing. If certain chemicals are damaging our fertility over the long term, human beings could end up as an endangered species.
What's happening: In 2017, Mt. Sinai Medical School epidemiologist Shanna Swan co-authored a sweeping meta-analysis that came to a startling conclusion: Total sperm count in the Western world had fallen 59% between 1973 and 2011.
Together with falling testosterone levels and growing rates of testicular cancer and erectile dysfunction, that translated into a 1% increase per year of adverse reproductive changes for men, according to Swan.
Driving the news: Now Swan has written up her conclusions in a new book with a foreboding title: "Count Down: How Our Modern World Is Threatening Sperm Counts, Altering Male and Female Reproductive Development, and Imperiling the Future of the Human Race."
"If you look at the curve on sperm count and project it forward — which is always risky — it reaches zero in 2045," says Swan, meaning the median man would have essentially no viable sperm. "That's a little concerning, to say the least."
By the numbers: The global fertility rate — the number of births per woman — has fallen from 5.06 in 1964 to 2.4 in 2018.
Yes, but: There are numerous factors connected to falling fertility rates that appear largely unconnected to sperm counts.
Still, there's a gap around the world between the number of children people say they want and the number they actually have, which indicates at least some of the decline in the fertility rate isn't wholly voluntary.
The big picture: Swan and many of her colleagues point the finger at chemicals in the environment that disrupt hormones or endocrines.
These include phthalates and bisphenol-A, known as "everywhere chemicals" because of their ubiquity in things like plastics, pesticides, cosmetics and even ATM receipts.
The other side: As Swan herself notes, there are other factors at play impairing male and female fertility beyond environmental chemicals, including smoking tobacco and marijuana and rising levels of obesity.
Trade groups — and some scientists — have pushed back against studies that connect endocrine-disrupting chemicals to fertility problems.
Our thought bubble: A growing number of scientific institutions have raised the alarm about endocrine-disrupting chemicals, and Swan puts together a strong case that impaired fertility is real and its causes go beyond separate health problems or lifestyle choices.
The bottom line: "The current state of reproductive affairs can't continue much longer without threatening human survival," Swan writes.
2. Bringing the VC approach to global health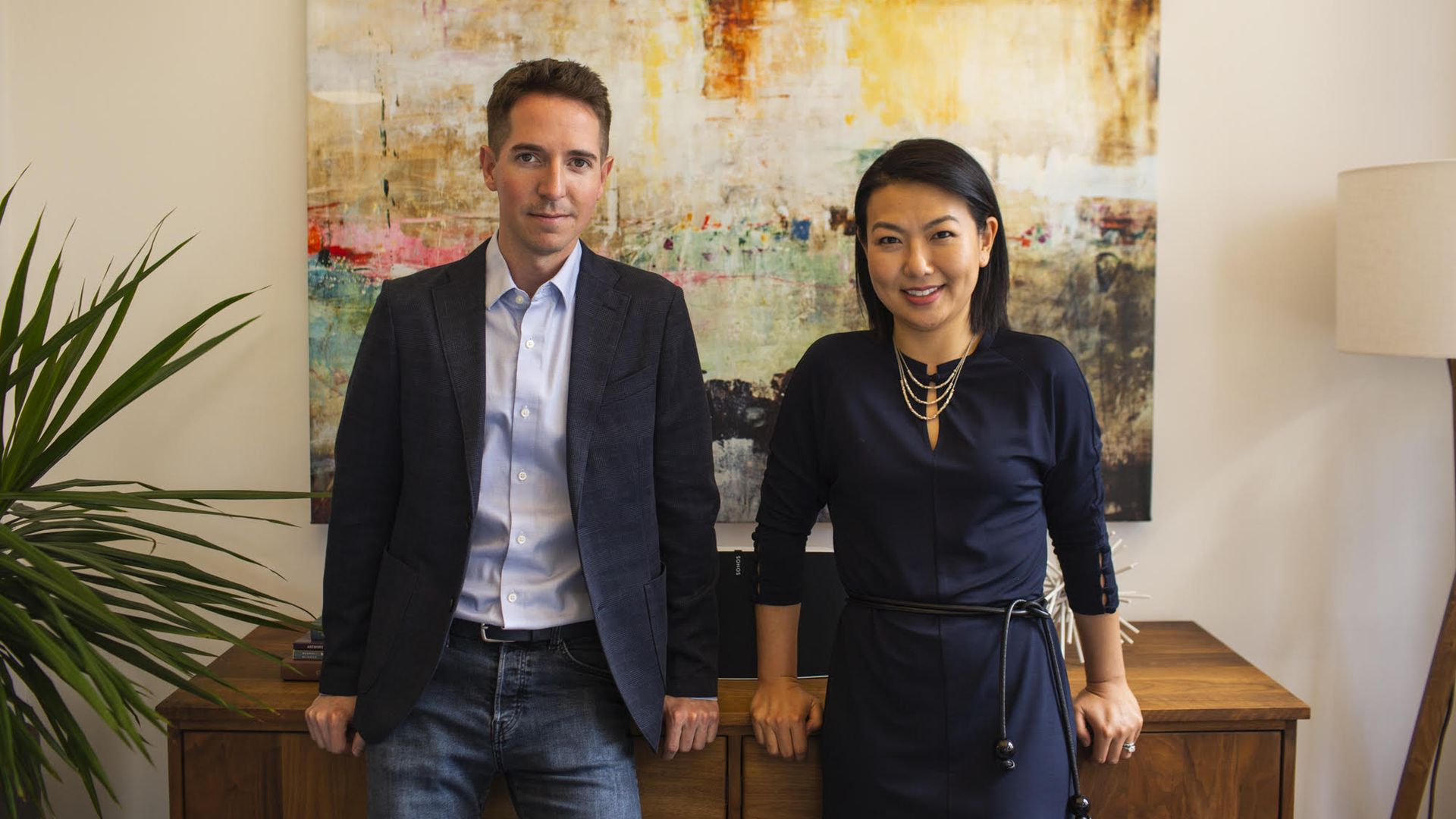 A new venture capital firm has raised hundreds of millions to invest in medical innovations specifically designed to help people in developing countries.
Why it matters: While health care venture investing is booming, few investors focus on diseases and conditions that primarily affect poorer countries. Adjuvant Capital sees a social and business opportunity in that gap.
Driving the news: Last week, New York-based VC firm Adjuvant Capital announced that it had raised $300 million in its debut fund.
The fund — which finished its raise in December — is backed by investors including the Gates Foundation, which contributed $75 million.
How it works: Run by two veterans of global health financing, Adjuvant Capital has already invested in more than 10 companies that target conditions like rabies and yellow fever — diseases that have largely been controlled in rich countries but still wreak havoc in the developing world.
"We asked, 'Why aren't the capital markets doing more to invest in technologies that we think have been significantly undervalued and that can have this huge impact on public health?'" says Glenn Rockman, Adjuvant's founder and managing partner.
Among the companies Adjuvant has funded are Evofem Biosciences, which makes a nonhormonal contraceptive gel for women, and Lagos-based 54gene, which uses pan-African genetic data for drug and vaccine development.
What they're saying: Both companies demonstrate Adjuvant's aim to support technologies that directly benefit people in the developing world — and in the case of 54gene, a company that was founded there, says managing partner Jenny Yip.
"We take a carrot and stick approach" to global access, says Yip. That means guiding companies on access but also asking them to sign "legally binding commitments."
The bottom line: Global health is a global problem, which means health care venture funding needs to flow to companies that serve the entire globe.
3. Expanding online education for U.S. workers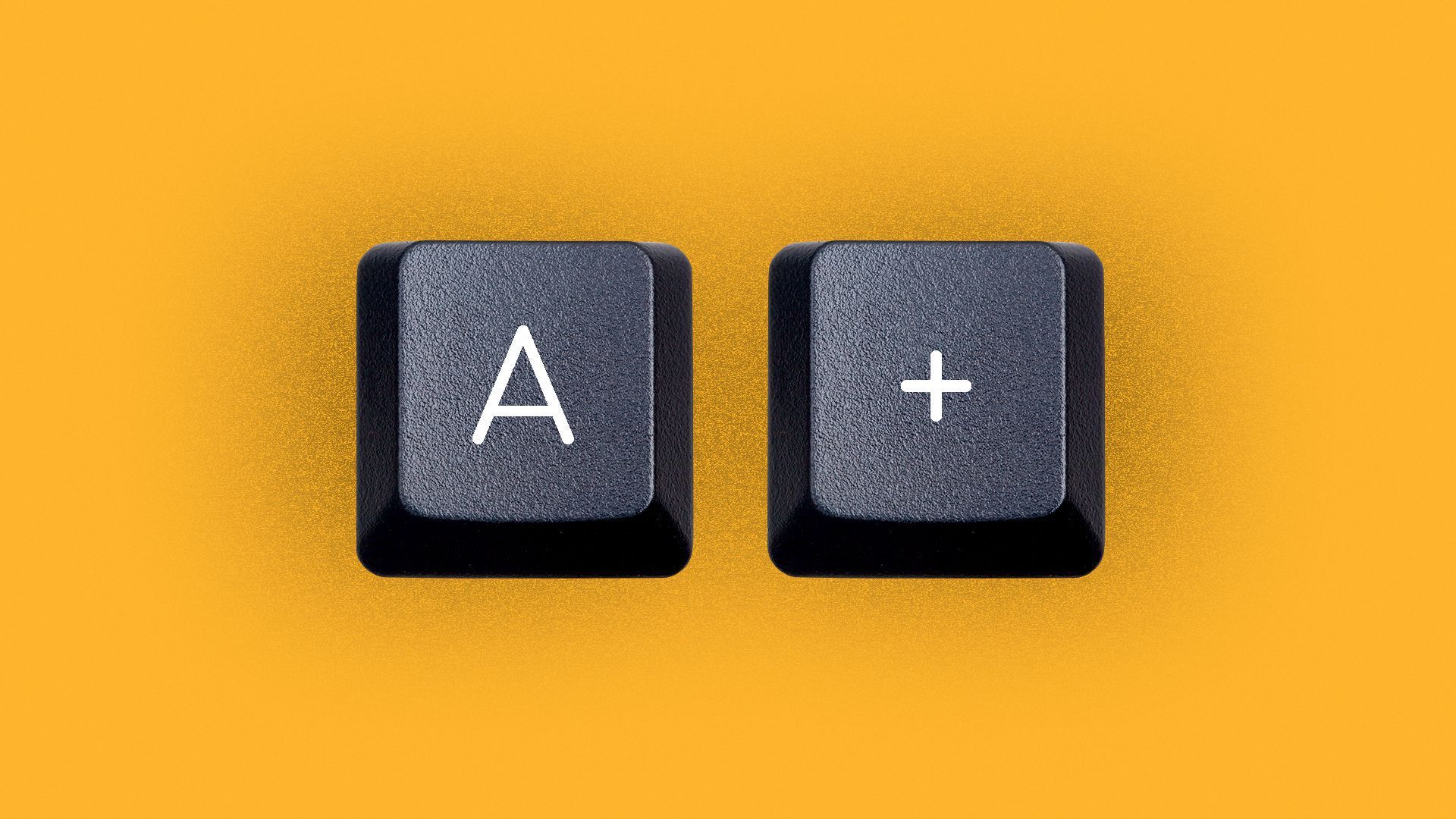 2U, a major provider of remote college and professional training, is partnering with a company that works on education reimbursement to expand online schooling opportunities for U.S. workers.
Why it matters: American workers need affordable help to reskill for the age of automation, but existing higher education opportunities often leave them unprepared and laden with debt.
Driving the news: On Tuesday, 2U announced a partnership with Guild Education, which helps employers offer educational opportunities to their workers, to expand 2U's online offerings with major universities to Guild's corporate partners.
How it works: 2U is a longtime player in remote higher education, partnering with more than 75 nonprofit colleges and universities — including Morehouse College and the London School of Economics — to provide hundreds of digital education programs, from undergraduate degrees to professional short courses.
The Guild's technology platform helps major corporations like Chipotle and Walmart offer education and upskilling to their workers, with tuition paid for by the company.
The partnership is aimed at making it easier for Guild's corporate partners to pay for classes, degrees and professional certificates offered by 2U's network of universities, expanding the range of educational opportunities at a moment when reskilling has become increasingly important for employees in all lines of work.
Context: The business of higher education is under pressure from the pandemic and increasing attention is being focused on the cost and value of a college degree.
Guild CEO Rachel Carlson notes that for all the attention on what COVID-19 has done to what most people might think of as the traditional college experience, the majority of American higher education learners "will never spend a night in a dorm."
While remote college might seem like a bad deal to those expecting — and paying for — the traditional experience, Guild's learners are attending college for the job skills. "They're asking, 'Does this align with my career? Does it work with my work schedule and family?'" says Carlson.
The bottom line: Access and cost remain real barriers to the kind of education American workers need.
Expanded online education could help fill the gap, provided it offers meaningful value.
4. Energy jobs of the future
A new analysis shows a lot of potential for regions with a high share of fossil fuel jobs to benefit from wind and solar development — with the right policies in place, my Axios colleague Ben Geman writes.
Why it matters: The idea of a "just transition" in the energy sector is discussed a lot in climate policy plans, including President Biden's recent executive order.
An aggressive shift to low-carbon energy to fight global warming creates risks for places where employment and the wider economy benefit from fossil fuel industries.
Enter the Brookings Institution analysis of counties with dense concentrations of oil, gas and coal-related employment that also have high renewables potential.
The big picture: The paper finds "impressive overlap between where fossil fuel jobs are now and where renewable energy generation could be."
"A quarter of the counties in the U.S. with the greatest potential for both wind and solar electricity generation are also fossil fuel hubs."
It also concludes that targeted policies to make that happen could lower political barriers to emissions-cutting policies.
The intrigue: They find that of the 155 congressional districts with high potential in at least one of the renewable technologies, 91 are represented by GOP lawmakers.
But, but, but: The right policies are needed for successful transitions, the paper argues, and it's pretty clear-eyed about the opportunities but also the challenges.
5. Worthy of your time
Could a single vaccine protect against COVID-19 and future coronaviruses? (Emily Mullin — Elemental)
Forget booster shots — scientists are aiming to create a true universal coronavirus vaccine.
The shoddy science behind emotional recognition tech (Dave Gershgorn — OneZero)
Human expressions of emotion are far from universal, which means that AI doesn't actually know what you're feeling.
A mental trick to make any task less intimidating (Laura Vanderkam — Forge)
Try picturing yourself on the other side of doing it, which is why I am now imagining myself collapsed on the couch watching "Baron Noir" post-newsletter.
Does Gen Z care so little because Millennials care too much? (Jude Ellison Sady Doyle — Gen)
6. 1 sci-fi thing: "Children of Men"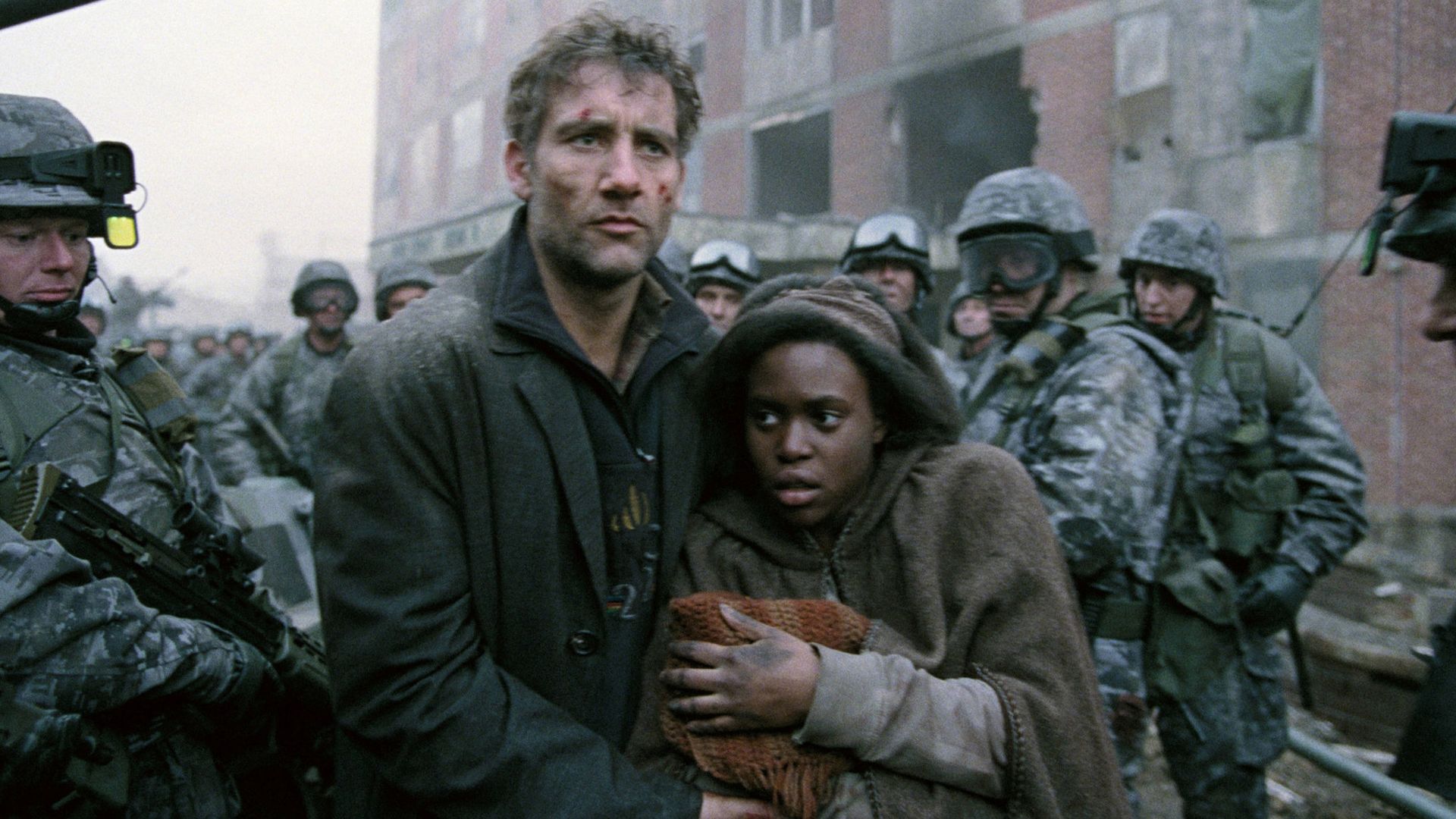 Fears of an infertile future bring to mind one of my favorite books-turned-movies: "Children of Men."
Why you should watch (and read): Both P.D. James' dark 1992 novel and Alfonso Cuarón's brilliant 2006 film explore an increasingly timely question: What meaning can be found in a world that seems to lack a future?
How it plays: The novel and the film — both set in England in the near future — share a premise: At some point in the recent past, human beings across the world stopped being able to reproduce.
In the novel, this is specifically because sperm counts dwindled to zero, while in the film, the reasons remain mysterious.
As a result, humankind faces eventual extinction — but not the kind of dramatic, sudden event usually portrayed in dystopian stories.
Instead, the world falls into a prolonged despair, because as Clive Owen's protagonist remarks in the film, "Since women stopped being able to have babies, what's left to hope for?"
Yes, but: In both works, a single baby is suddenly born, providing a spark of hope — and setting off a race for the future.
James' novel is well worth reading for her dyspeptic meditations on a gray and childless world, but Cuarón's movie was rightly recognized by New York magazine as perhaps the greatest film of the 21st century, even though it lost money and was largely shut out at the Oscars.
His plot points proved prophetic: a Britain that walls itself off from the rest of Europe, a refugee crisis that inspires authoritarian populism, a population that seeks refuge in the numbing effects of drugs and TV.
But his direction is even more astounding, including a single-shot tracking sequence near the climax that is considered one of the finest and most harrowing in cinematic history.
Plus: It has Owen, the perfect James Bond who somehow never became James Bond, and Michael Caine as a very stoned former journalist.
The bottom line: The novel and the film have different endings but come to the same conclusion: We count on the future to give the present meaning.
And we risk that future at our peril.