We are changing our name to Axios Future, reflecting super-interesting, broader coverage that a number of you have been asking for, and that I myself am keen to learn more about. This is on top of an expansion of frequency to two days a week. I explain more below.
As usual, please let me know what you think by hitting reply to this email or messaging steve@axios.com. Thanks for subscribing, and please consider inviting your friends and colleagues to sign up.
https://www.axios.com/newsletters/axios-future-c49da24e-b690-4355-bcbe-dff38fa63578.html?chunk=0#story0
1 big thing: The future writ larger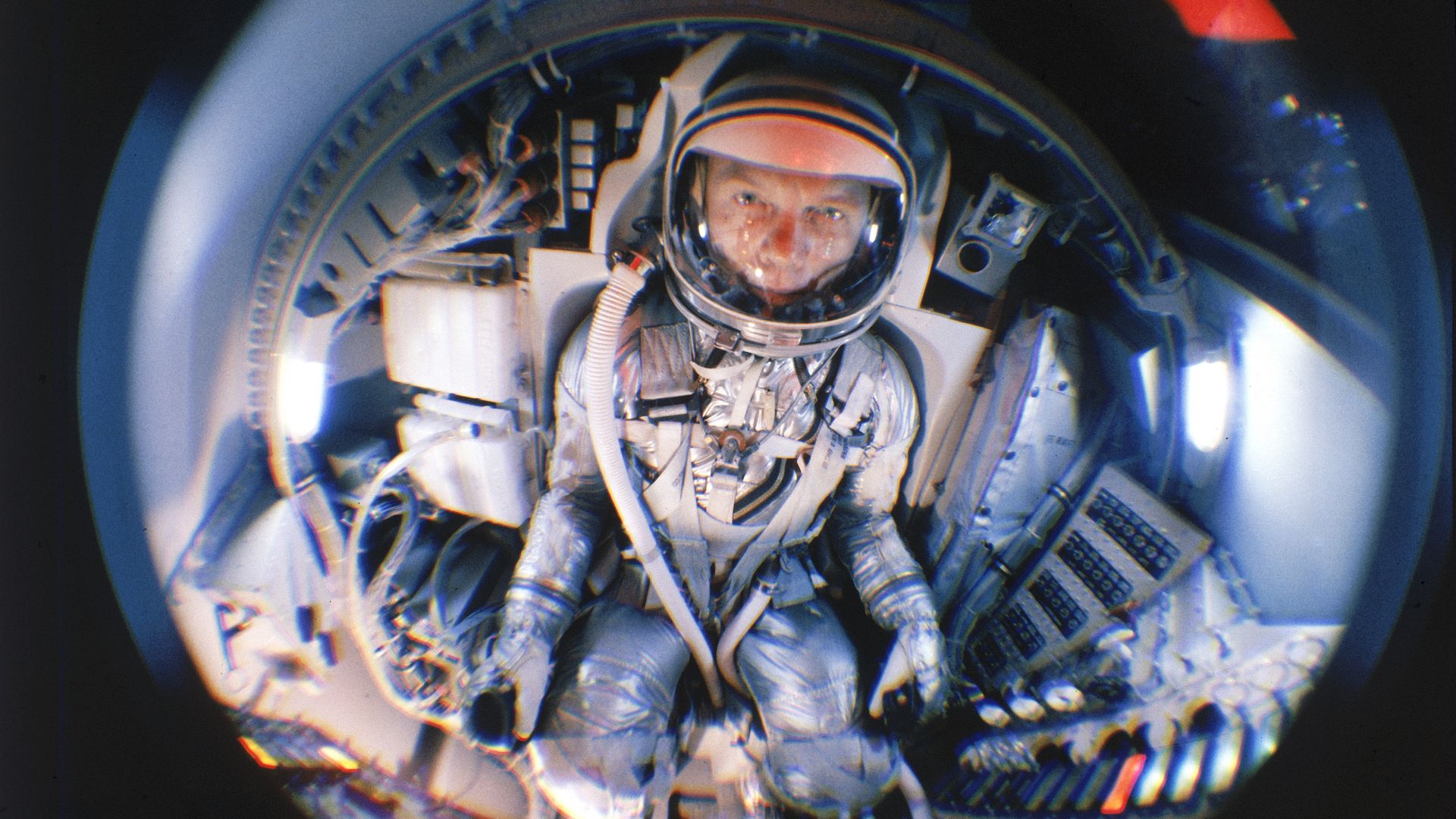 What became quickly clear when we launched this newsletter as "Future of Work" 11 months ago is that we were covering the biggest stories on the planet. And that our primary subject matter — artificial intelligence, robotics and the transformation of retail — was impacting much, much more than just jobs. Work is among several large changes underway.
Our rebranding is an attempt to take account of that recognition.
What you'll notice starting today is some tip-toeing further into topics that until now we have only touched on — the future of mobility, cities, genetics, blockchain and more — with our core focus remaining largely the same.
Please let me know what you think — in particular, what we ought to write about.
https://www.axios.com/newsletters/axios-future-c49da24e-b690-4355-bcbe-dff38fa63578.html?chunk=1#story1
2. The most important electric vehicle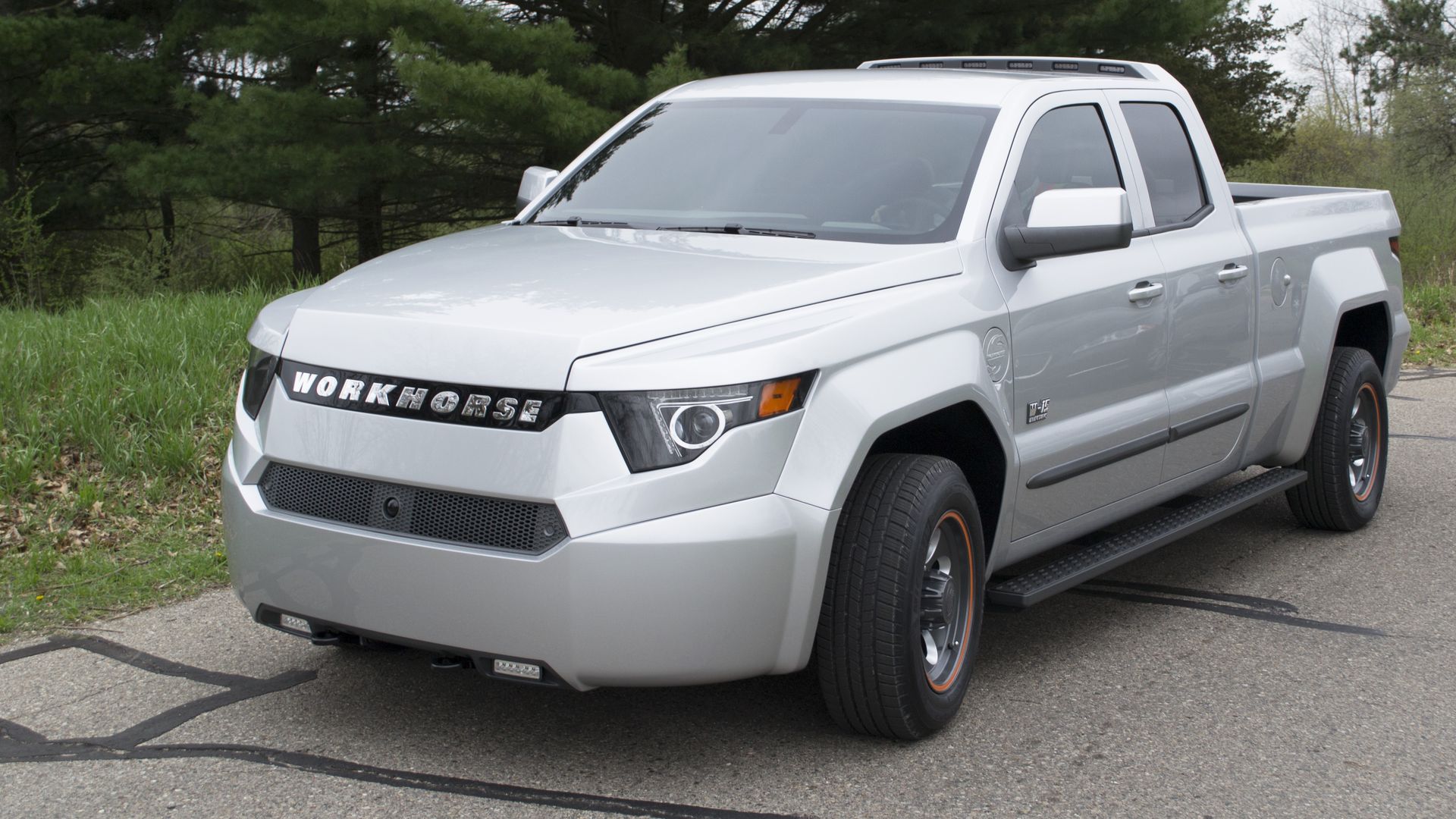 The future of electric vehicles in the U.S. is the SUV and the pickup truck.
The reason is the market: Almost all the conversation around electrics and autonomous vehicles centers on sedans. The world's major carmakers — VW, BMW and GM — have all said they intend to sell mass-market electrics in the U.S. But to do so, they will have to manufacture what consumers are buying.
Last year, pickups, SUVs and crossovers were about three-quarters of all light vehicle sales in the country.
Apropos of those sales, by 2020, 90% of Ford's vehicles will be trucks and SUVs, the company announced last month. (Among those will be a single light hybrid electric pickup, with no announced plans to go fully electric.)
At least two pickup protypes appear to be nearing commercialization, including the Workhorse W-15 (pictured above).
In a tweet in December, Tesla CEO Elon Musk — who already produces the Model X SUV — said a pickup truck will come right after the 2020 rollout of the crossover Model Y.
In a paper last year, Venkat Viswanathan and Shashank Sripad at Carnegie Mellon University said current lithium-ion batteries could power an electric pickup such as the ultra-popular Ford F-150.
It would go 200 to 250 miles on a charge, and cost about $50,000.
Go deeper: Read the whole post.
https://www.axios.com/newsletters/axios-future-c49da24e-b690-4355-bcbe-dff38fa63578.html?chunk=2#story2
Bonus: A drive in Model 3, unit 3,601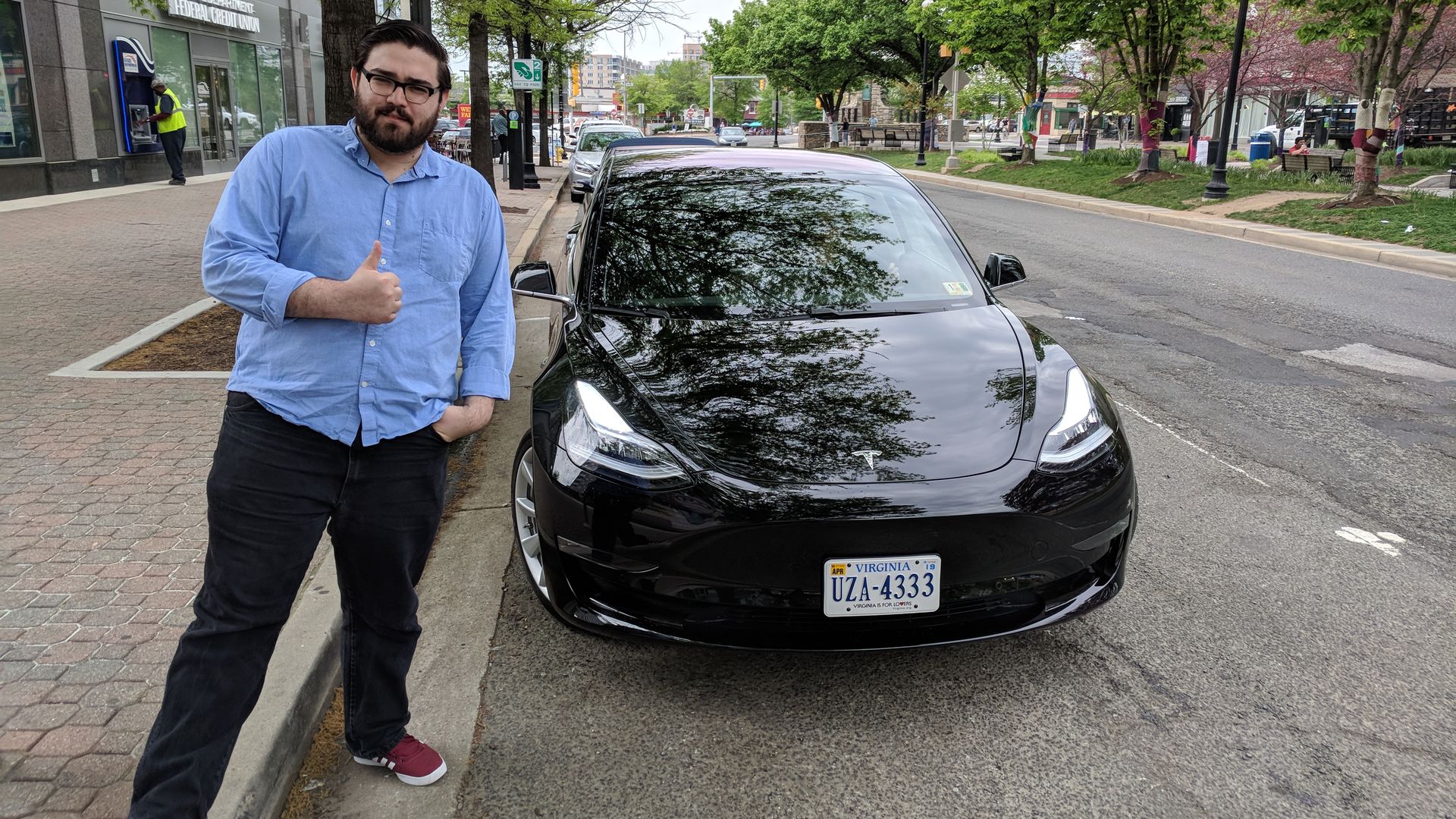 It was not a pickup truck, but a Tesla representative brought an electric Model 3 by the office last week — the 3,601st off the assembly line, according to a plate attached to the car. My colleague Laz Gamio (above) and I took it out for a drive lasting between 30 minutes and an hour.
Quick takes:
It was as sleek, gizmo-filled and fast as we'd heard.
At $57,000 for this version of the car, the interior felt spartan, particularly if electric rivals Audi and BMW conform with their usual standard for this price range and deliver plusher models.
In an earnings call last week, CEO Elon Musk said full autonomy will be ready by the end of next year, but our experience suggests that completely hands-off driving may take longer.
What it was like: Just as you felt the first time you held an iPhone, the sensation was that electric vehicles with autonomous features are the future.
What's coming next: The company, currently making only this fully fitted version, will turn out the stripped-down $35,000 model. And future Model 3s will allow you to control its features by voice, such as "look for a parking space," "switch on the lights," and "move the seat forward."
https://www.axios.com/newsletters/axios-future-c49da24e-b690-4355-bcbe-dff38fa63578.html?chunk=3#story3
3. Why Americans aren't seeing wage hikes
Amid the tightest labor market in a generation, long-strapped Americans are seeing only small wage hikes, and economists say companies seem determined to hold onto wide profit margins as long as they can before forking over more.
Why it matters: Stubbornly flat wages and living standards are one reason for broad political disgruntlement in the U.S.
Quick take: Economists have struggling to grasp why companies are not feeling forced to pass on bigger wages to attract and keep workers despite two years of steadily dropping joblessness, reaching 3.9% last month, the lowest since 2000. But an increasing consensus is this simple conclusion — because they can.
"As long as firms have the clout to hold back pay increases, they will," Jared Bernstein, chief economic adviser to Vice President Joe Biden during the Obama administration, told Axios today.
The background: In the 2000 plunge to 3.9% unemployment, wages increased by 4% on average. Today, companies across industries and the country complain of an employee shortage, yet on average they raised wages by just 2.6% last month.
Among reasons cited by economists:
A new underlying structure: Productivity growth is lower, people are more or less permanently out of the work force with drug addiction and criminal records, and unionization numbers are much smaller.
Business trends: Companies are becoming more automated and industries more concentrated, says Martha Gimbel, research director at Indeed.
But, but, but ... Mark Zandi, chief economist at Moody's Analytics, alternatively cites the quarterly Employment Cost Index, which shows a 2.9% wage increase last quarter. He predicts that the number will rise to 3.5% this time next year and closer to 4% by the end of 2019.
Go deeper: Read the whole post.
https://www.axios.com/newsletters/axios-future-c49da24e-b690-4355-bcbe-dff38fa63578.html?chunk=4#story4
4. A roar from the AI small fry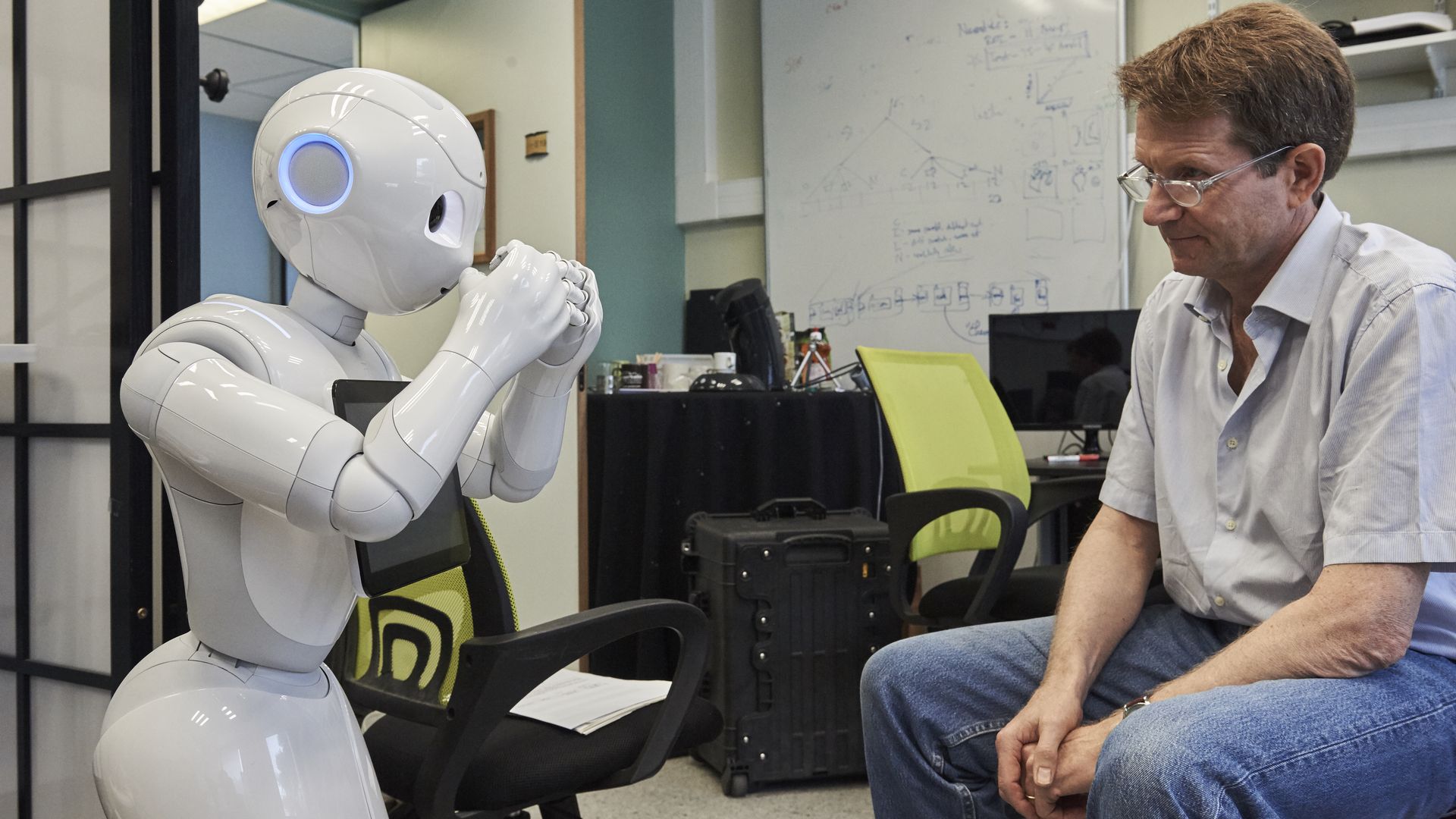 The U.S. and China are locked in a determined race to dominate the future of artificial intelligence. But, with hundreds of billions of dollars and geopolitical supremacy at stake, Europe is moving to block any untrammeled triumph by the two.
Quick take: Experts call AI a transformative technology in the same league as electricity, and say the two big great powers — the U.S. and China — are positioned to dominate it as it creeps into consumer, business and military use. But in recent weeks, the EU and the U.K. have announced an explicit aim to grab part of the commanding heights of AI.
"We are determined to have a world-leading place in AI in the decades to come," Matthew Hancock, Digital Secretary with the U.K. government, tells Axios.
The bottom line: With the announcements, the EU and the U.K. resemble the state-level effort mounted by Beijing with its Made in China 2025 program to own the technologies of the future. The U.S. effort in AI is still dispersed among companies and universities, in particular Google, and American experts have said the absence of state-level organization could leave the U.S. behind China.
Go deeper: Read the whole post.
https://www.axios.com/newsletters/axios-future-c49da24e-b690-4355-bcbe-dff38fa63578.html?chunk=5#story5
5. Worthy of your time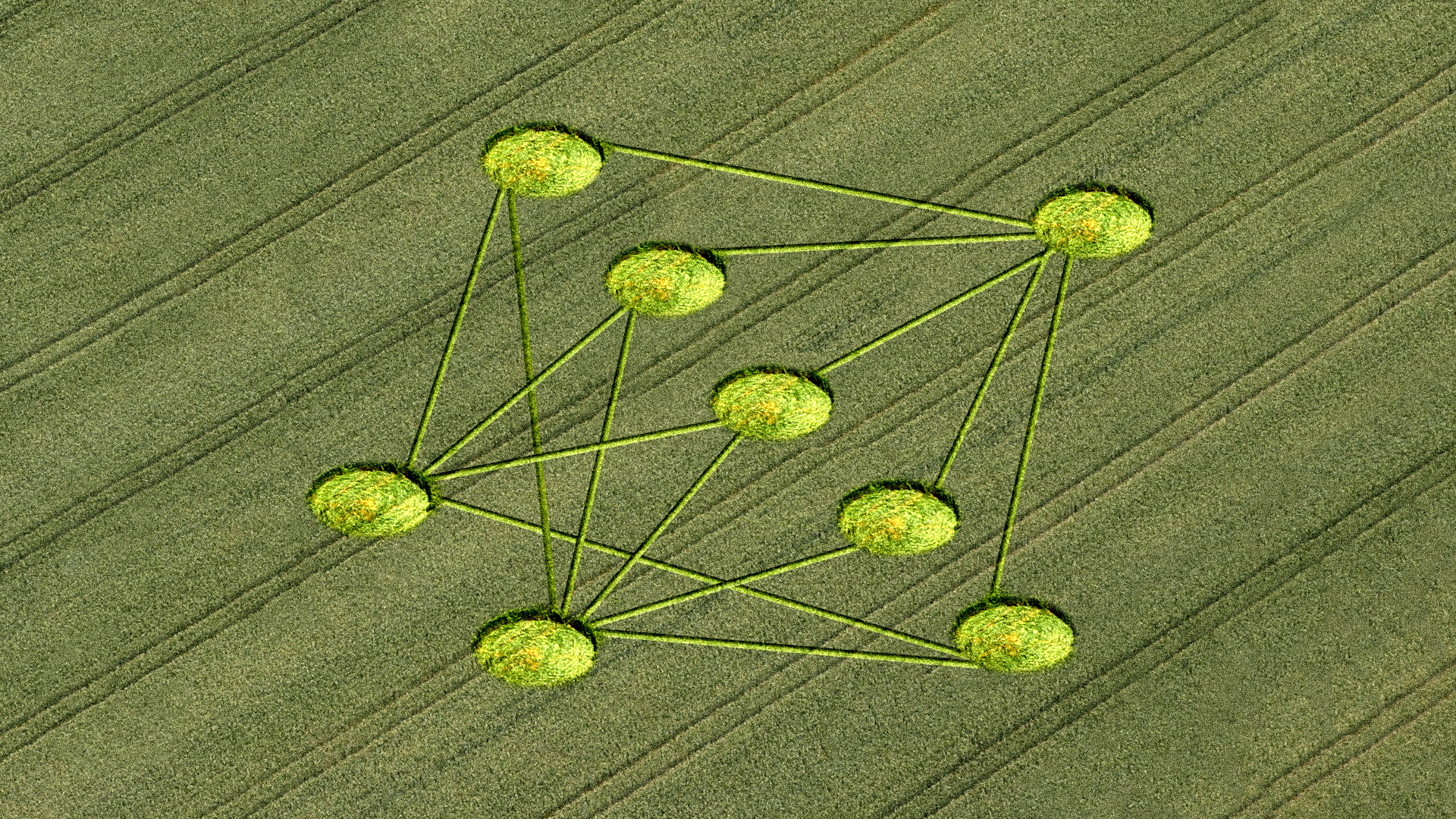 https://www.axios.com/newsletters/axios-future-c49da24e-b690-4355-bcbe-dff38fa63578.html?chunk=6#story6
6. 1 sweet thing: Musk and Buffett's candy clash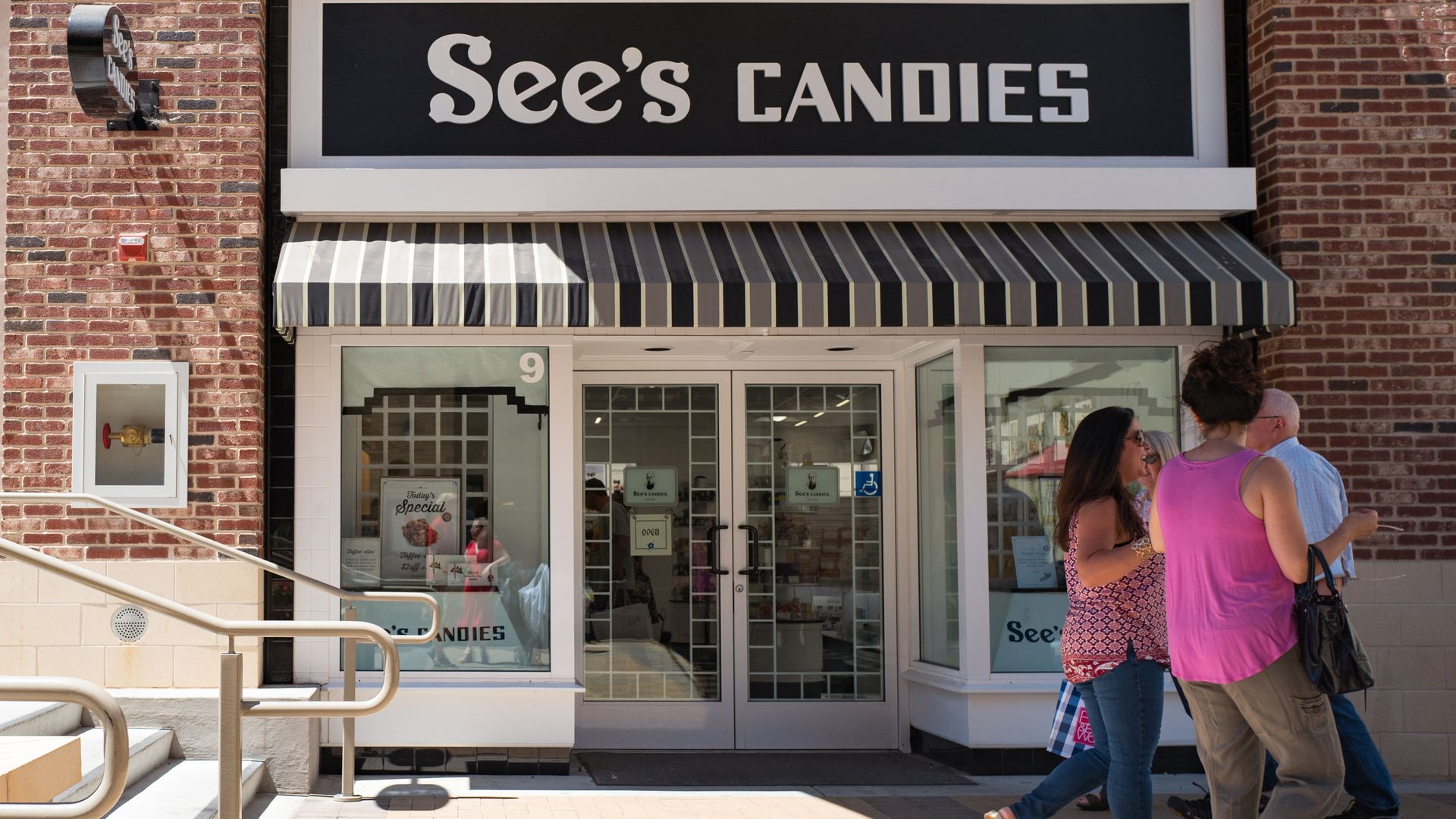 Elon Musk says he's starting a candy company, a direct challenge to Warren Buffett's most trumpeted moat of all — the market power enjoyed by iconic See's Candies, which the investment titan has owned for four decades.
What's going on: In a to-and-fro in recent days, Musk has scorned one of Buffett's primary investment principles — to buy companies enjoying a type of monopolistic power that he calls a "moat," reports Fortune's Jen Wieczner. And Buffett has defended his theory. "Elon may turn things upside down in some areas," Buffett said, "(but) I don't think he'd want to take us on in candy. There are some pretty good moats around," report Bloomberg's Katherine Chiglinsky, Noah Buhayar and Sonali Basak.
This was a red cape for the super-competitive Musk, who fired off successive tweets yesterday evening: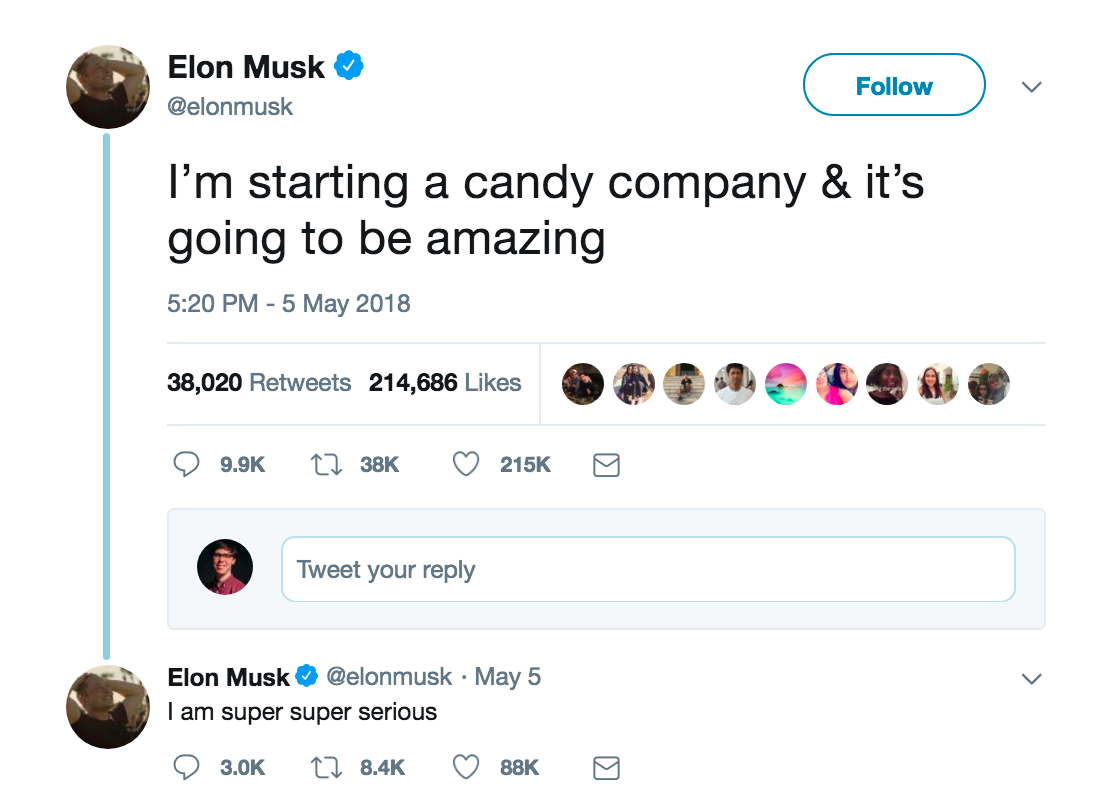 Notwithstanding his assertion, no one knows if we are going to see Musk candy any time soon. But he seemed to be enjoying himself. After a few hours of more tweets, he ended with this: