Axios Future
September 02, 2020
Welcome back to Axios Future. Bryan is off this week, but he left us the keys and a story to get us started.
Today's newsletter is 1,480 words, about a 5-minute read.
1 big thing: Botched coronavirus response foretells dark future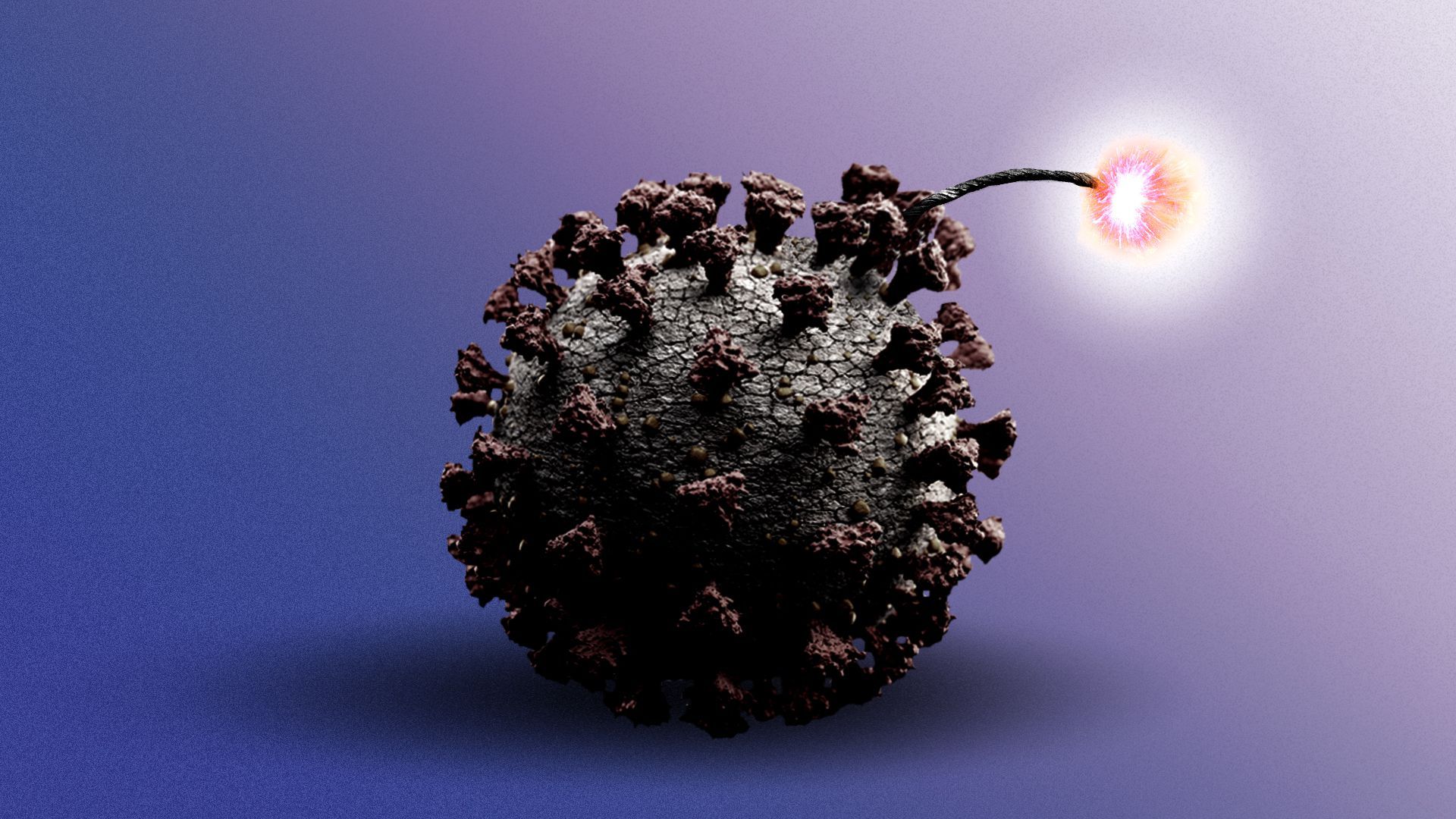 America's failures in handling the coronavirus pandemic bode ill for our ability to deal with climate change and other threats that loom on the horizon, Bryan writes.
Why it matters: America's ongoing struggles with the coronavirus have caused tremendous human and economic pain.
But what should worry us for future disasters that could be far worse is the way the pandemic has exposed deep political divisions and a disinformation ecosystem that muddies even the hardest facts.
What's happening: Despite more than 180,000 deaths from COVID-19, the U.S. remains fatally divided over how to deal with a pandemic that will surely last for months more, if not longer.
While much of the criticism of the U.S. response to COVID-19 has been directed at the White House, along with the lack of a clear national plan to deal with the outbreak, many states run by Democrats have also struggled to handle the pandemic.
New York City has suffered more than 238,000 cases and more than 23,000 deaths, meaning that at least 1 in every 365 people in America's biggest city have been killed by the disease.
The experience of the pandemic should set off alarm bells about how ready — or not — the U.S. is to deal with future threats.
The next pandemic — whether natural or human-made — could be far worse than COVID-19, as projected by a 2019 tabletop exercise put on by the Johns Hopkins Center for Health Security. 65 million people globally died in that fictional outbreak.
Unlike the COVID-19 pandemic, which presents itself as a present threat, climate change is far more slow-moving, yet no less devastating over time. If we struggle to handle a threat that we can watch killing us, it will be that much more difficult to stop one that can feel invisible.
Unforeseen catastrophic threats — call them "x-risks" — lay before us. We don't know what they might be, but handling them will require the ability to create political unity, which the coronavirus has shown is lacking.
The biggest danger comes down to misinformation and the ease with which it now spreads around the country.
The bottom line: As bad as these last several months have been, it'd be foolish to assume that COVID-19 is the worst the future could throw at us.
2. The renewable threat to biodiversity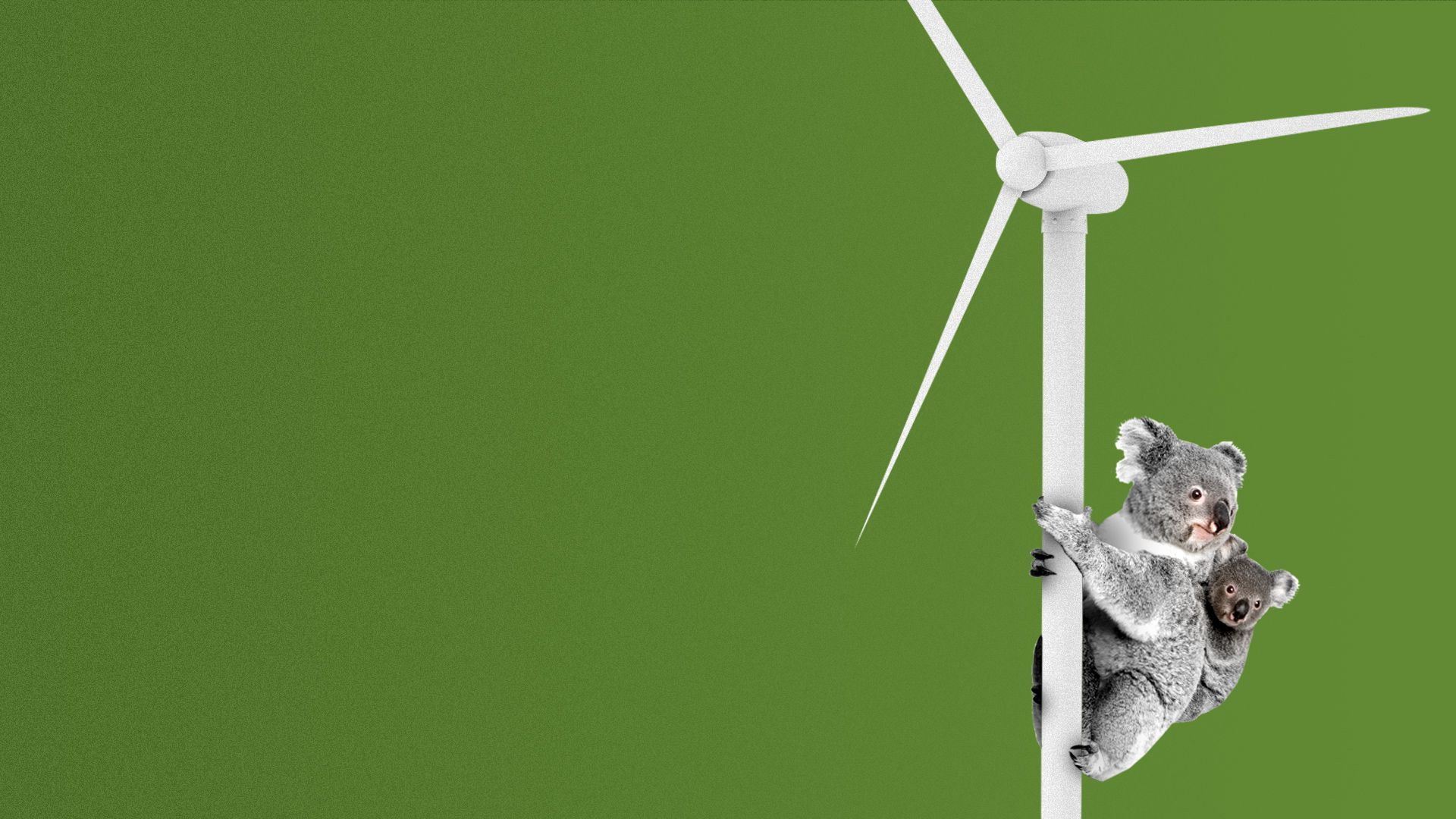 Expanded mining for materials used in renewable power technologies and electric cars could harm vulnerable species and ecosystems absent better planning, new research suggests.
Why it matters: The peer-reviewed paper in Nature Communications explores a sticky problem as it warns of exacerbated habitat loss and degradation from mining, Axios' Ben Geman reports.
The tech needed to fight one threat to biodiversity — climate change — can create other big risks unless policymakers act "urgently" on the matter, the researchers found.
It's not a far-off threat either. A new Financial Times feature explores how increased mining in Indonesia for nickel, an EV battery component, will create more marine waste.
How it works: The researchers looked at tens of thousands of "pre-operational, operational, and closed" mining sites for dozens of materials, many of which target supplies needed for clean energy applications.
It then draws a 50-kilometer radius around them to assess their "spatial coincidence with biodiversity conservation sites and priorities."
They find that mining "potentially influences" almost 50 million square kilometers.
8% of that overlaps with "protected areas," 7% with "key biodiversity areas" and 16% with "remaining wilderness."
Yes, but: Simon Evans of the climate news and analysis site Carbon Brief cautions via Twitter that the analysis assumes an extremely wide potential impact radius (again, 50 kilometers) around mining sites.
"[O]f course it's possible to think of potential impacts that can extend a long way, but as a default for all mines I don't think it is that meaningful," Evans tweeted.
The big picture: Greatly expanding climate-friendly energy and transport means a much higher demand for materials like lithium, copper, cobalt and more.
As the International Energy Agency puts it, rising deployment is set to "supercharge demand for critical minerals."
The paper's authors, writing in The Conversation, cite World Bank estimates that demand for a suite of critical materials could grow by 500% by 2050.
The bottom line: "Careful strategic planning is urgently required to ensure that mining threats to biodiversity caused by renewable energy production do not surpass the threats averted by climate change mitigation and any effort to slow fossil fuel extraction and use," the paper concludes.
The "good news" is "many of the required materials also exist outside areas important for conservation," lead author Laura Sonter of the University of Queensland in Australia tells The Guardian.
3. COVID-19 changes weather reporting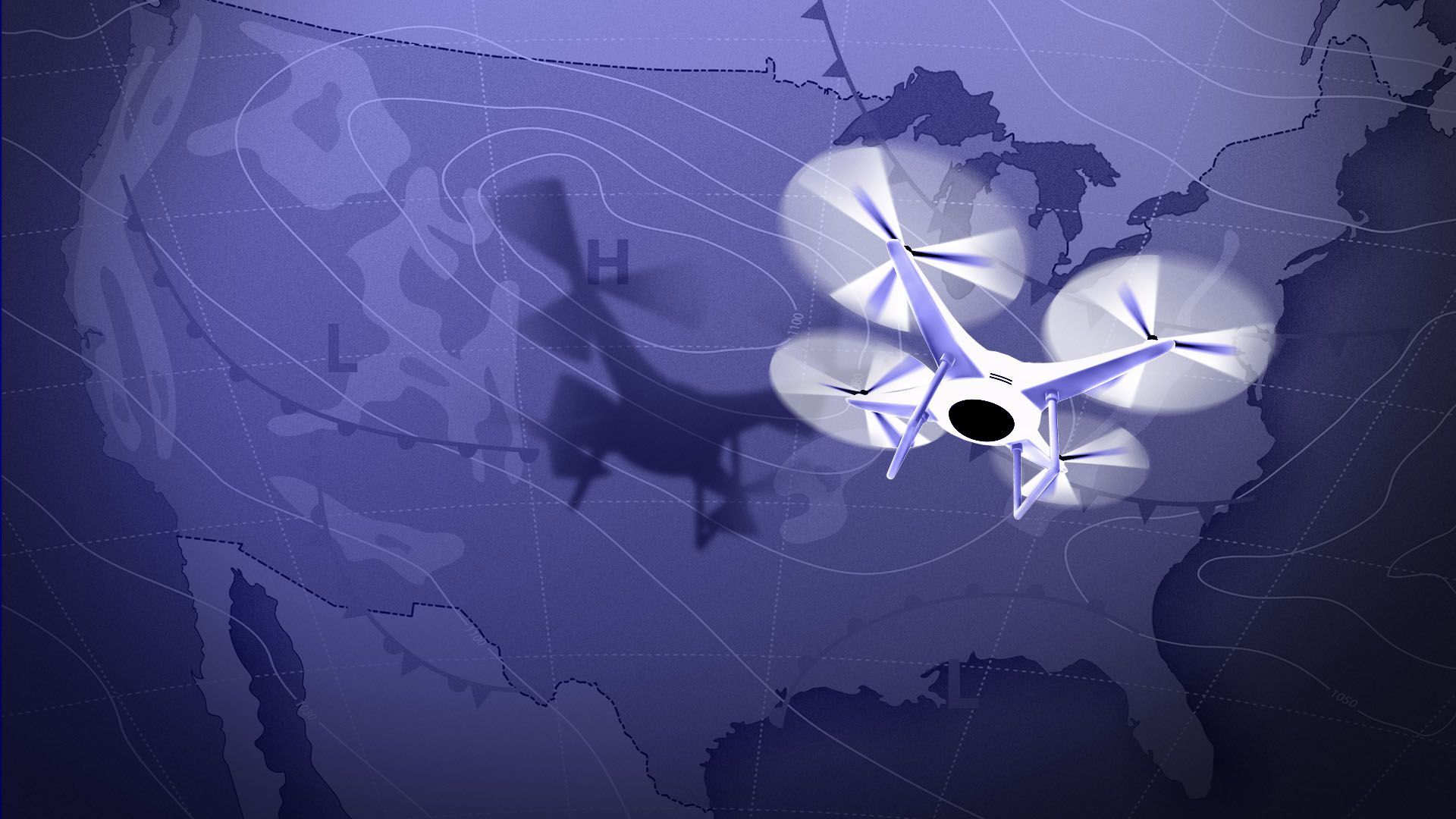 The coronavirus pandemic has forever changed the way weather is covered, executives at weather news companies tell Axios' Sara Fischer.
What's happening: News companies that specialize in weather coverage are using new tools for their reporting in the pandemic era of outdoor gatherings and social distancing.
Drones: Nora Zimmett, senior VP of programming at The Weather Channel, tells Axios that the network has started using drone coverage to do more on-the-ground storytelling at a social distance. "We are seeing an uptick in usage of unmanned 360-degree cameras," she says. "There's a lot of really interesting storytelling you can do."
Air-quality forecasting: Steven Smith, president of AccuWeather, says the company launched a partnership with Plume Labs to do air-quality forecasting, especially in places impacted by wildfires. "In some cases, it's life-saving information," Smith says.

"We were among the first to do on-air experiments and demonstrate how virus particles travel in humid vs. dry air and what that looks like," says Zimmett.

Indoor humidity: AccuWeather also launched a product that gives users an understanding of how humid indoor climates might be and what actions to take based on certain humidity levels. "As the virus and signs of virus continue to evolve, information about how long the virus lives on surfaces and doors is becoming critically important," says Smith.
4. Worthy of your time
Robot boats leave autonomous cars in their wake (Christopher Mims — WSJ)
Elon Musk's Neuralink is neuroscience theater (Antonio Regalado — MIT Tech Review)
China's use of AI in its COVID-19 response (Emily Weinstein — CSET)
The first scientific utopia still matters 400 years later (Brian Merchant — OneZero)
5. 1 manufacturing thing: Building factories in cells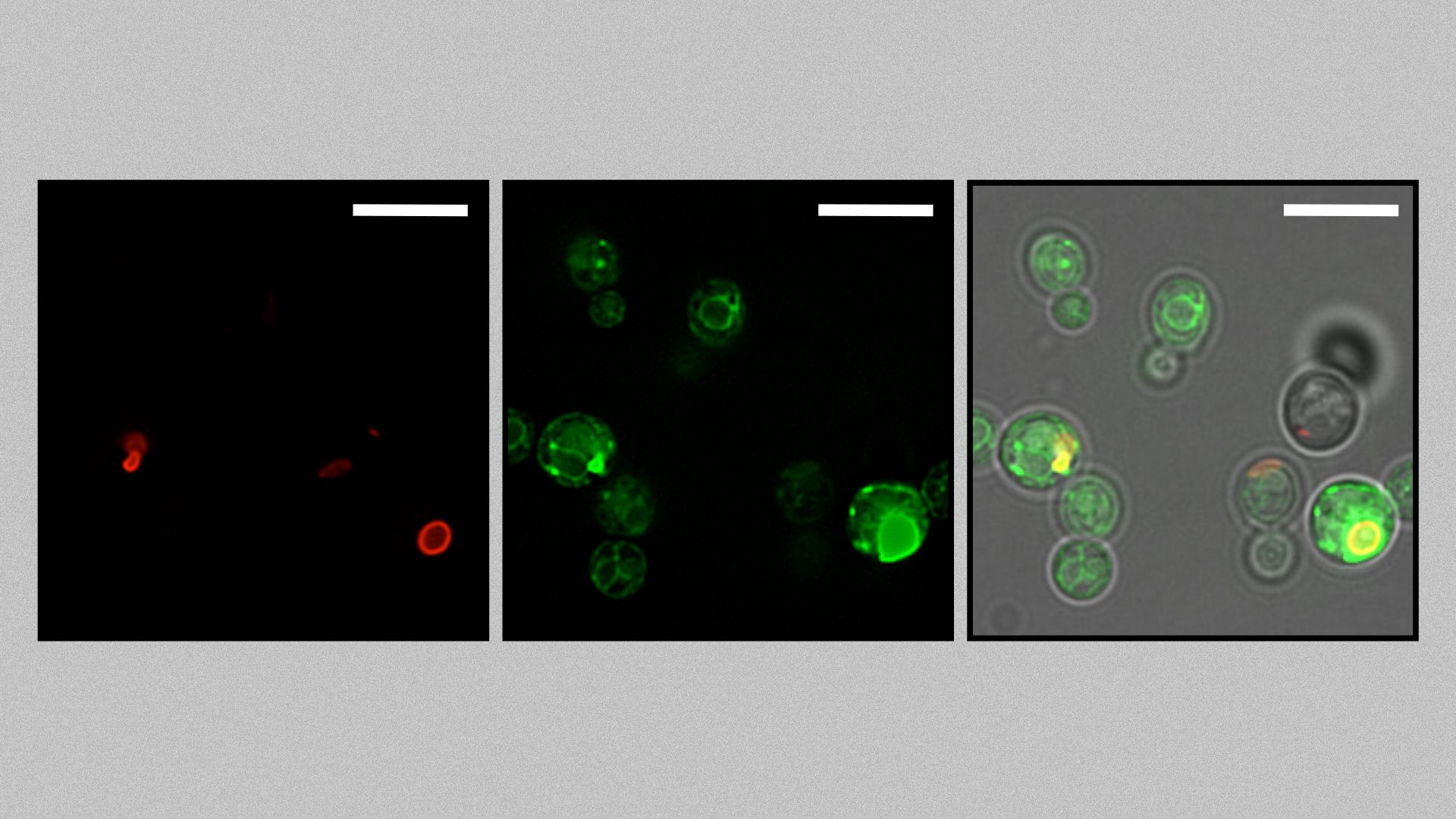 Yeast cells can be engineered to produce chemical compounds in drugs used for treating Parkinson's disease and other disorders, synthetic biologists report today.
Why it matters: Typically the compounds, called tropane alkaloids, are extracted from nightshade plants. But geopolitical tensions, natural disasters and crises like the COVID-19 pandemic — none of which we are currently short on — can make the supply chains for these and other plant-based medicines vulnerable.
How it works: Plants make tropane alkaloids via complex processes involving multiple enzymes and proteins that convert molecules and move them between different parts of the plant and different cell types and their machinery.
Prashanth Srinivasan and Christina Smolke of Stanford made 34 modifications to the DNA of yeast in order to mimic the plant's process for creating two medicinal compounds, hyoscyamine and scopolamine.
The researchers integrated 26 genes from 10 different organisms to create the cellular factory, which includes enzymes that move molecules between cells and their different compartments — essentially the assembly line.
Cells have been engineered to produce other compounds, but this is "the first time this type of fully integrated whole-cell engineering approach has been done in the field," says Smolke.
What's next: The proof-of-concept reported today in the journal Nature shows how small amounts of the compounds can be produced.
To reach commercial production levels, the yeast's productivity would have to be increased by 100,000-fold.
Smolke, who is also CEO and co-founder of Antheia, a company that is trying to scale up production of medicines produced using synthetic biology, says within a few years a team could optimize the efficiency of their engineered system to produce the necessary amounts.

Yeast is an ideal factory because researchers know how to grow the microbe in order to produce ample amounts of desired product.

Yes, but: There can still be challenges. Researchers have been able to use yeast to make artemisinin, a compound typically extracted from wormwood plants for use as an antimalarial drug, but they struggled to scale it economically.
The big picture: One of Smolke's visions for synthetic biology is being able to create a manufacturing pipeline that can respond quickly to drug demands.
When there is a shortage of a drug, an engineered yeast system could be put in a fermenter and pump out the compound in a few days versus the years it might take to adjust the size of the crop being grown on the other side of the world, harvest the plants and extract the product, says Smolke.