Axios Future
March 01, 2019
1 big thing: The big American robot push
In a challenge to the narrative of a declining American advantage in the global tech race, U.S. factories are installing record numbers of robots, and elite universities, endowed with huge new contributions, are adding vast centers to study artificial intelligence.
Steve and Kaveh write: As we have reported previously, China has a massive global lead in the absolute number of new factory robots, and it is pouring large sums into developing AI. But the twin U.S. trend lines — a surge in university research spending and the spike in robots — suggest a still-robust competition to dominate technologies of the future.
Robot-makers shipped 35,880 robots to U.S. factories last year, 7% more than in 2017, according to a new report from the Robotics Industry Association (RIA). And the balance shifted from a heavy dominance of auto-making robots to many more bots in the food, semiconductor and plastics industries.
For a couple of years, U.S. executives have said a widely forecast wave of AI and new robotization has been slow to arrive. But Alex Shikany, who leads market research for the RIA, said the trend in robot deployment suggests an inflection point.
"Robots are getting better, cheaper and more versatile and therefore can be used more effectively in more industries," says Rob Atkinson, president of the Information Technology and Innovation Foundation.
Add to that Big Education: In a ceremony today, MIT celebrated the creation of a $1 billion College of Computing, anchored with a single $350 million contribution from Stephen Schwarzman, CEO of private equity firm Blackstone. The college was announced in October.
In an interview with Axios, Schwarzman said his aim was in part to keep the U.S. competitive with countries like China.
But he also said he is worried that "if AI is allowed to develop in an unchecked way, it could end up creating significant dislocations in society."
Schwarzman said that one mission for the new college is "to make sure everyone understands the power of the technology and when it should be applied."
Researchers must keep a clear eye on "keeping technology under control," he said, and not surging headlong into advances and deployments without contemplating the consequences. "Just because it's cool isn't necessarily good enough," Schwarzman said.
But, but, but: Even as U.S. industry and top universities invest in future technologies, China is vastly outpacing the West in national planning and investments in AI and robotics, experts say.
"The position in this country has been to let the market dictate what happens with tech and science, and I think that's going to prove to be a catastrophic mistake," says Amy Webb, a professor at NYU and author of a "The Big Nine," a forthcoming book on the future of AI.
2. Walking, the smart phone, and death
U.S. pedestrian deaths are up about 35% since the introduction of the iPhone, as the American love affair with smartphones and SUVs has profoundly heightened the risks of walking.
Last year, 6,277 pedestrians were killed on U.S. roads, the highest number in three decades, according to the Governors Highway Safety Association. That's a 4% increase from the 5,977 people killed while walking in 2017.
The 2018 number is a projection based on adjusted data for the first half of the year, the association said.
Experts have long blamed smartphones for distracted driving deaths, and Kara Macek, an official with the governors association, laid the blame in part on the proliferation of the devices, trucks and SUVs.
Trucks and SUVs "are more lethal when they hit a pedestrian," Macek tells Axios.
"Drivers are less focused on driving," she said. "Whether they are looking at a phone or mentally distracted, or drunk, or on drugs, the problem seems to be getting worse, not better."
3. Inequality — through dog parks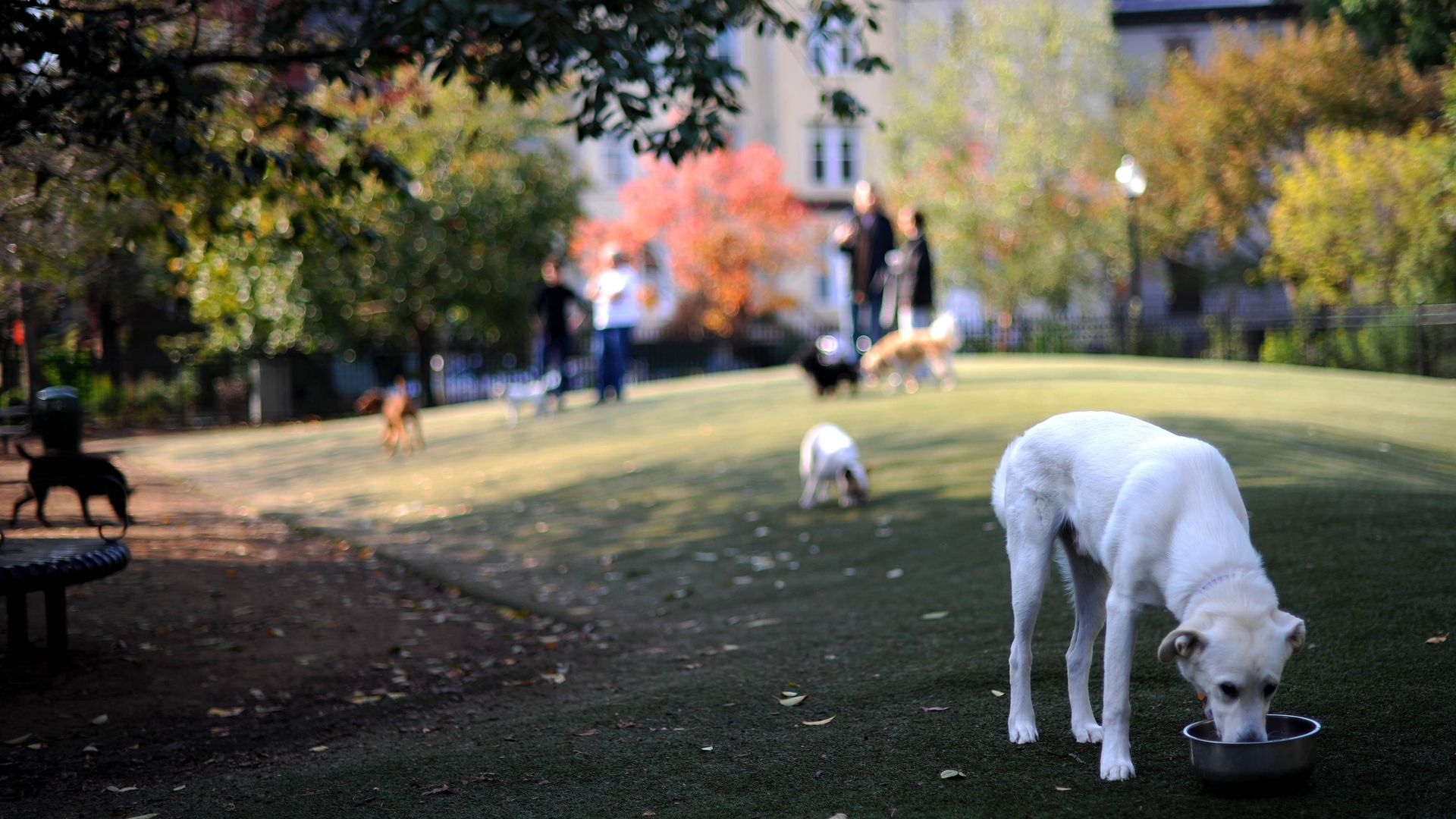 In yet another example of stark income inequality in the U.S., the dogs of wealthier households live better lives than those with lower-income owners.
Erica writes: Dog parks are getting fancier and fancier, with bright green artificial grass to play on and splash pools to cool off in, but these dream canine playgrounds are only in certain areas.
An analysis by City Lab counted just two dog parks in Chicago's predominantly black and low-income neighborhoods.
Compare that to the 22 parks in the city's richer, whiter areas.
Why it matters: Areas without dog parks had much higher rates of leash law violations, CityLab found.
"The consequences of not having a local off-leash, dog-friendly area fall disproportionately on people of color in Chicago — another example of over-policing historically disadvantaged communities," reports CityLab's Kriston Capps.
4. Worthy of your time
The coming climate-related business failures (Sheelah Kolhatkar — New Yorker)
No one reads privacy policies (Kim Hart — Axios)
The massive "Top Doctor" scam (Marshall Allen — ProPublica)
How drivers will fare in Uber and Lyft IPOs (Maureen Farrell — WSJ)
America's cities are running on 1980s software (Romy Varghese — Bloomberg)
5. 1 stolen thing: A Florida coin heist gone wrong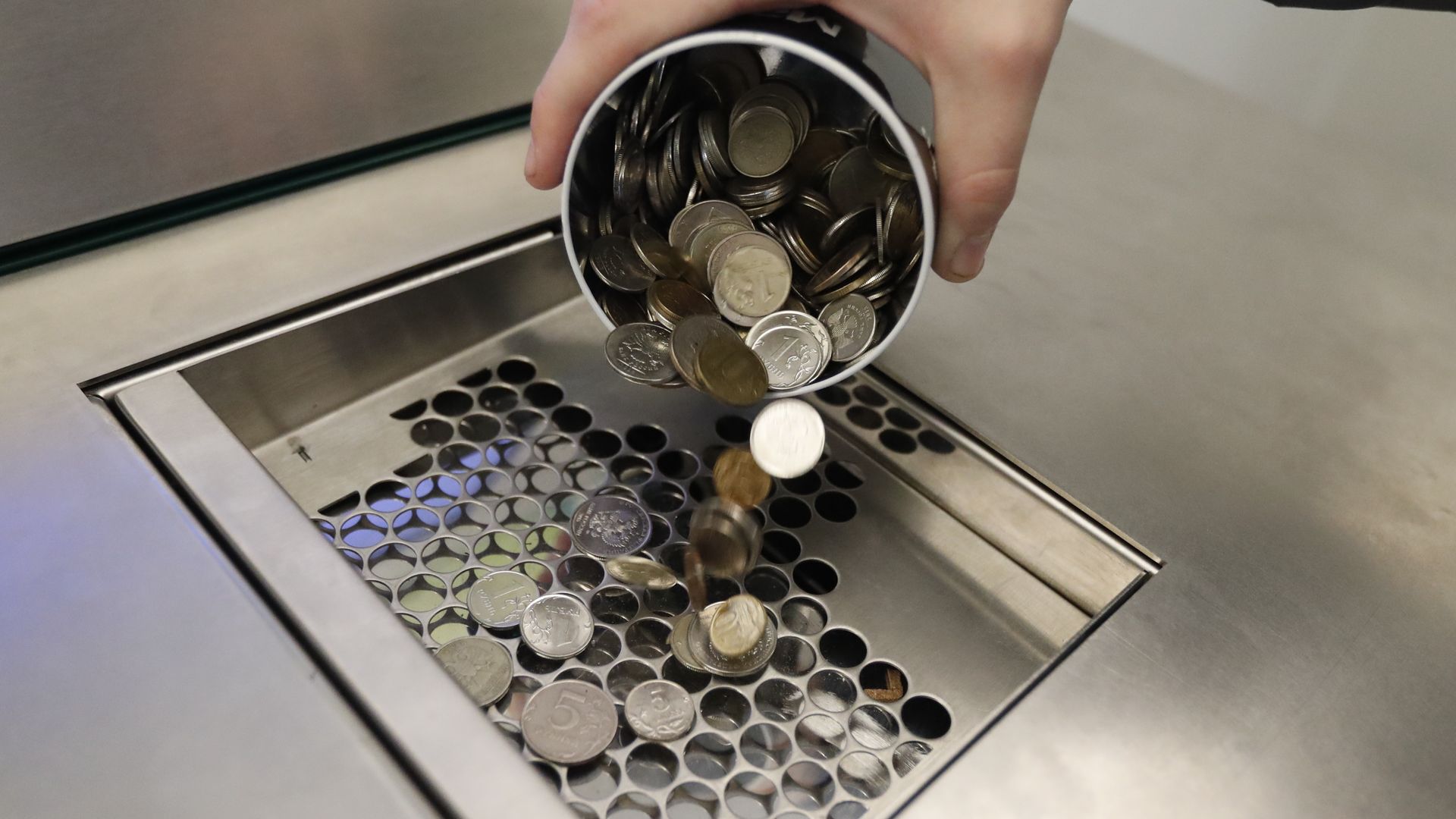 A thief in North Palm Beach, Florida, stole tens of thousands of dollars worth of collectible coins from an acquaintance's office — and then ran them through a coin machine, which returned him a tiny fraction of the coins' face value in grocery store credit.
Kaveh writes: "He easily had $33,000 worth, and he dumped it in a Coinstar machine," the victim told the Palm Beach Post. What he got back was enough for "a couple of 12-packs of beer," the Post reported.