Welcome back, and thanks for your emails this week — I read and try to respond to them all. We snagged an early copy of the new book by the "Second Machine Age" gurus, Andrew McAfee and Erik Brynjolfsson. Let me know what you think, and what we're missing. Just reply to this email, or email steve@axios.com.
https://www.axios.com/newsletters/axios-future-9117c3bf-d44f-465a-b870-8ccb18705eb2.html?chunk=0#story0
1 big thing: Tech giants spend like they're nations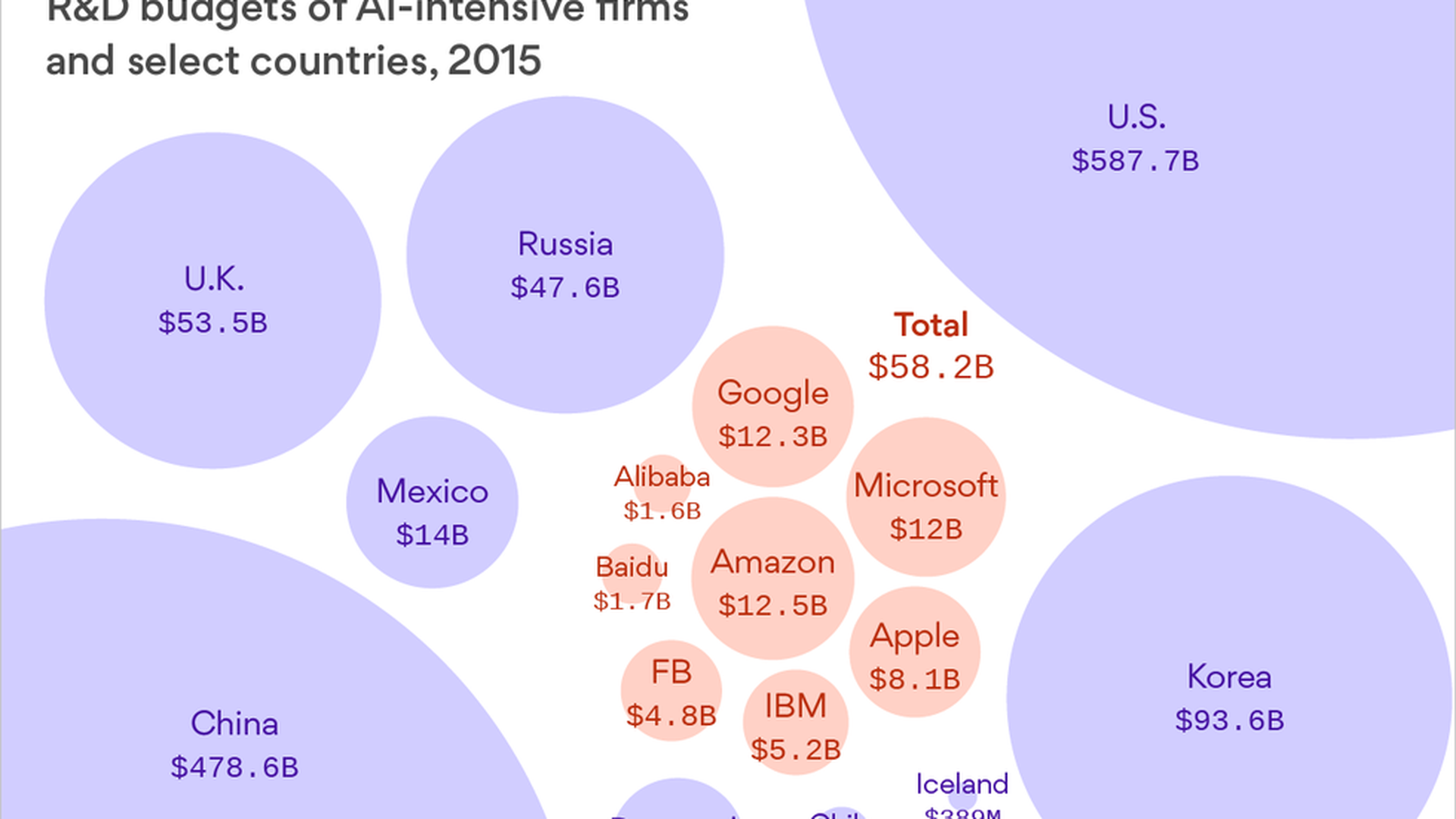 For decades, corporate America has spurned big-lab research-and-development spending, the type that delivered the dizzying and broad tech and economic progress of the last century. But a belief that artificial intelligence is going to drive the next big economic wave has led today's largest companies — like Google, IBM and Microsoft — to revert to the old, ambitious R&D model. And their Chinese competitors — Baidu and Alibaba — aren't far behind.
The five companies listed above — plus Amazon, Apple and Facebook — combined are investing more in R&D than many entire economies. In 2015, for instance, the entire U.K. economy — companies and the government — invested $53.8 billion in R&D, less than the $58.2 billion posted by the big eight, as seen in the chart above.
Go deeper: My colleague Chris Matthews explains why this new trend matters, and what it means for economic inequality.
https://www.axios.com/newsletters/axios-future-9117c3bf-d44f-465a-b870-8ccb18705eb2.html?chunk=1#story1
2. Scaring grocery stores worldwide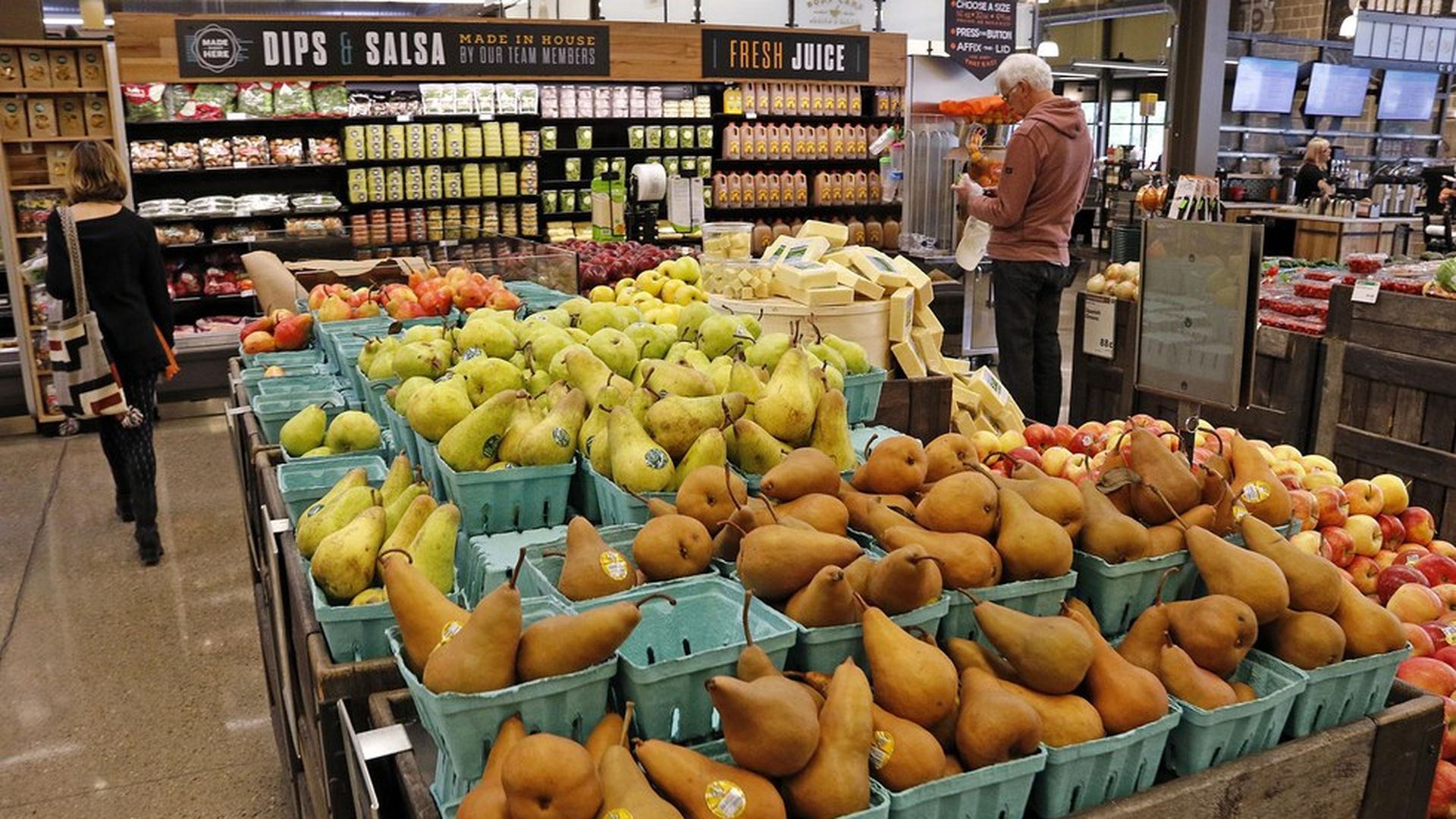 In the 1970s, oil behemoths — then kings of the corporate world — bought up department stores, beef canners and even the Barnum & Bailey Circus. Now, it's the turn of the big five U.S. tech companies:
What was most surprising about Amazon's $13 billion acquisition of Whole Foods is its juxtaposition against CEO Jeff Bezos' years of denunciations — and destruction — of brick-and-mortar chains.
What's next?
We already have Silicon Valley moving in on Detroit's turf, creating a tense contest for who will dominate self-driving vehicles.
To the degree that the deal is a signal of a wave to come, don't look for the tech giants to mimic the oil companies and venture far from their core businesses.
Amazon is unlikely to order a mass firing of workers, which would risk disrupting the successful Whole Foods brand.
Go deeper: I look at The Washington Post example for how Bezos could treat Whole Foods.
https://www.axios.com/newsletters/axios-future-9117c3bf-d44f-465a-b870-8ccb18705eb2.html?chunk=2#story2
3. Get rich in the new age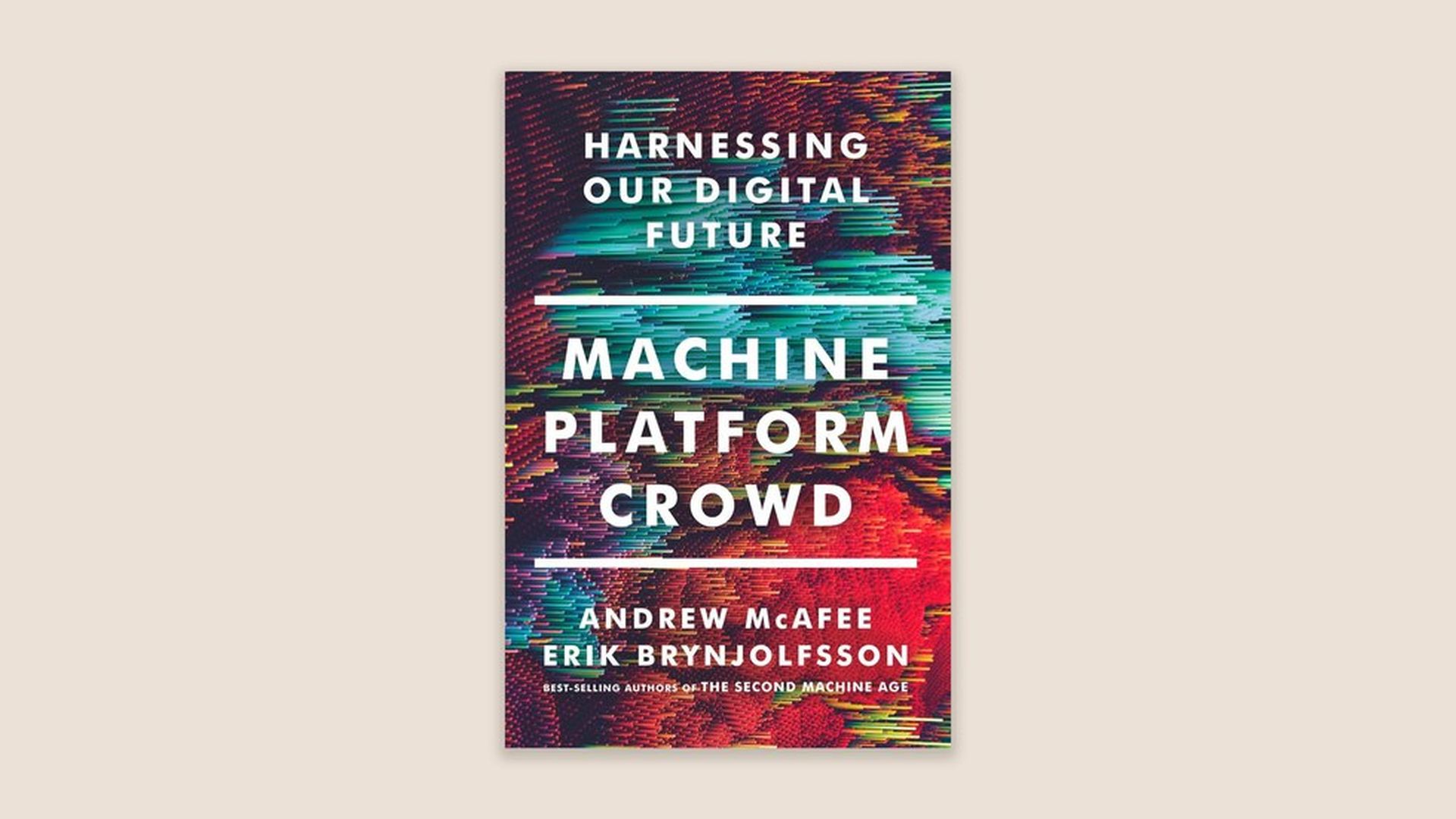 In 2014, MIT economists Andrew McAfee and Erik Brynjolfsson created a new zeitgeist with a book declaring The Second Machine Age — a time of technological advancement as revolutionary as the first machine age, which saw the widespread adoption of electricity and the automobile.
We got ahold of a copy of their new book, Machine, Platform, Crowd, a sequel that comes out in the U.S. on June 27. It is a guide for business leaders through the thicket presented by artificial intelligence, tech companies with tremendous reach, and the power of the crowd.
A thought bubble from Chris Matthews: This is a smart roadmap for business executives. Not so much for society, for whom the authors have a simple message: buckle your seat belts and kill before being killed. That's not good enough. Our political leaders, for starters, sorely need instructions for navigating internet-fomented hacking and cyber crime.
Go deeper: Read Chris's review.
https://www.axios.com/newsletters/axios-future-9117c3bf-d44f-465a-b870-8ccb18705eb2.html?chunk=3#story3
4. We're getting old; we'll need robots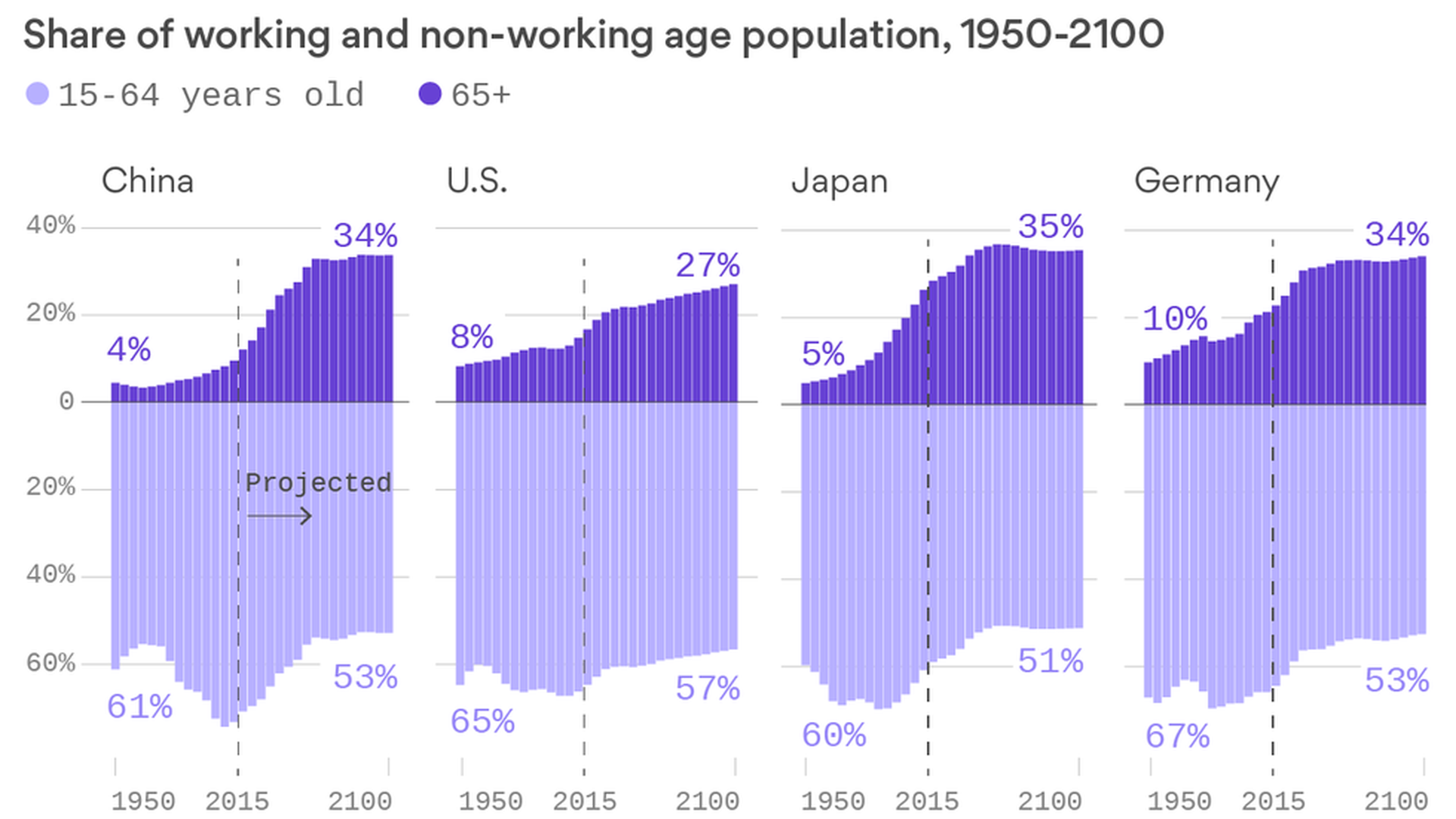 To say that Japan's population will shrink over the next 83 years is an understatement. According to official state figures, the country will go from about 126 million people today to about 50 million in 2100, a 60% plunge.
Moreover, the makeup of Japan's population will utterly change, too. From about 15% of the population, people 65 and older will be 35% in 2100. And the working age population taking care of the old is shrinking: in 1970, Japan had 8.5 workers to support every retired person; in 2050, the number will be 1.2.
These are devastating numbers, and, as you see in the chart above, they reflect the trend in most of the world. Right now, the median age across the planet is around 29. In 2100, it will be 42. When you exclude Africa, the whole world will be, on average, 60 or older in just over three decades.
All of which is to say there is good reason for the development of elderly care robots. Many robot companies are focusing on just this area of development. Watch this video of iRobots CEO Colin Angle, speaking to Axios about how the elderly can "age gracefully in place."
Go deeper: read the rest of the story here.
https://www.axios.com/newsletters/axios-future-9117c3bf-d44f-465a-b870-8ccb18705eb2.html?chunk=4#story4
5. Health care is a jobs bonanza, except when it isn't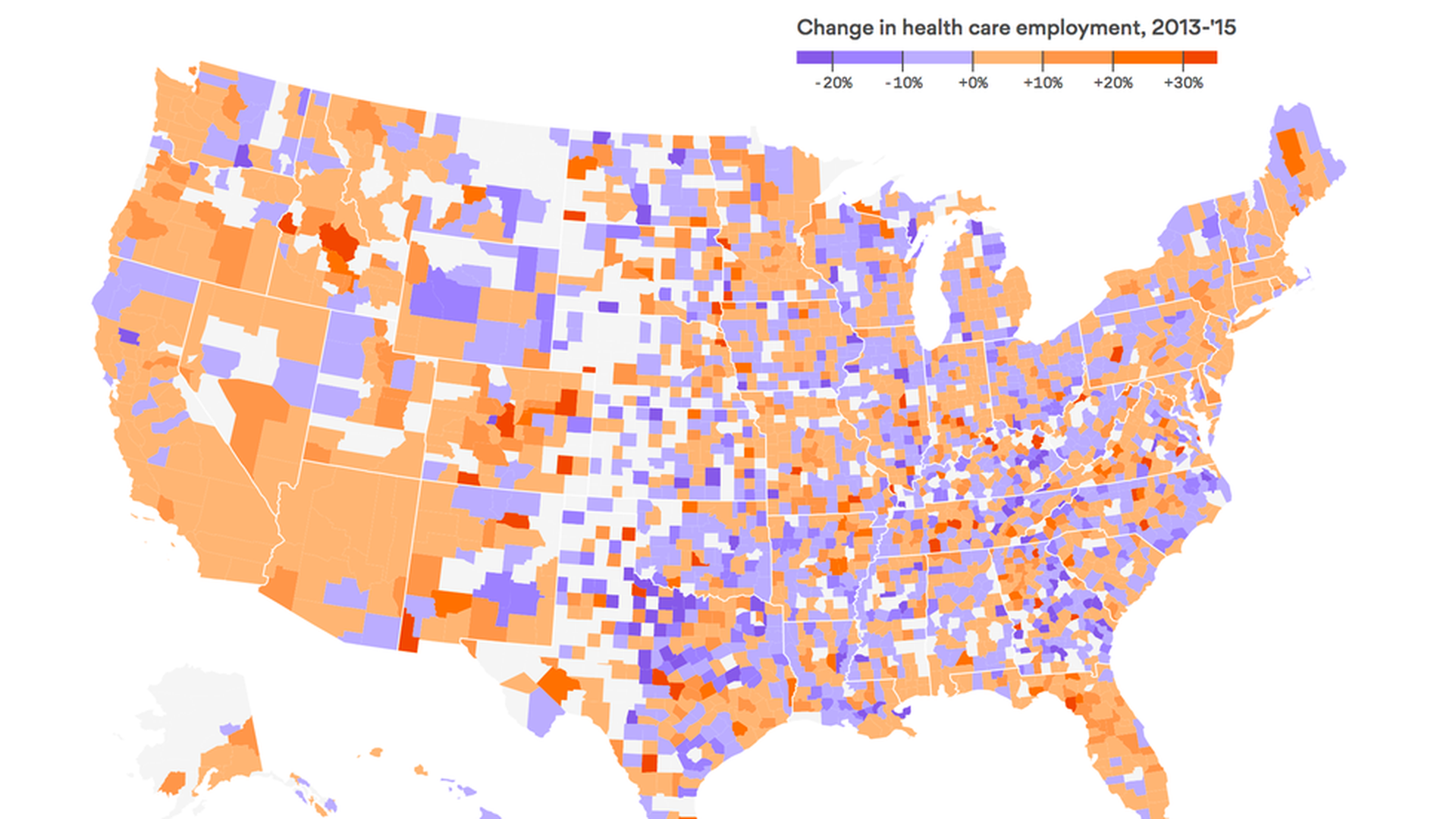 The U.S. economy has had one, big, reliable source of increased employment over the last decade — health care, which has added jobs all the way through, including during the 2008-09 recession, which ripped through other sectors.
But this growth hasn't been evenly distributed — health jobs have been a bonanza for Californians and New Mexicans; but east of the Rockies, not so much.
In many counties, the number of health care jobs actually fell between 2013 and 2015, after implementation of the Affordable Care Act (in the map below, brown indicates up to 20% added employment between 2013 and 2015. Blue is up to minus 20%.). Nationally, health jobs rose to 19.2 million in 2015, up from 18.6 million two years earlier. (We reported last week on the relationship, by state, between increased jobs and health care coverage.)
Why it matters: If the Republican-controlled Congress cuts coverage, that could slow down job growth. But this map shows winners and losers in terms of health care employment, and suggests that some places could lose more, and others gain, should a new law be enacted.
Go deeper: The interactive version of the map, as well as the local data.
https://www.axios.com/newsletters/axios-future-9117c3bf-d44f-465a-b870-8ccb18705eb2.html?chunk=5#story5
6. Worthy of your time
A few stories we liked from Axios and across the Web:
https://www.axios.com/newsletters/axios-future-9117c3bf-d44f-465a-b870-8ccb18705eb2.html?chunk=6#story6
1 fun thing: The age of automated restaurants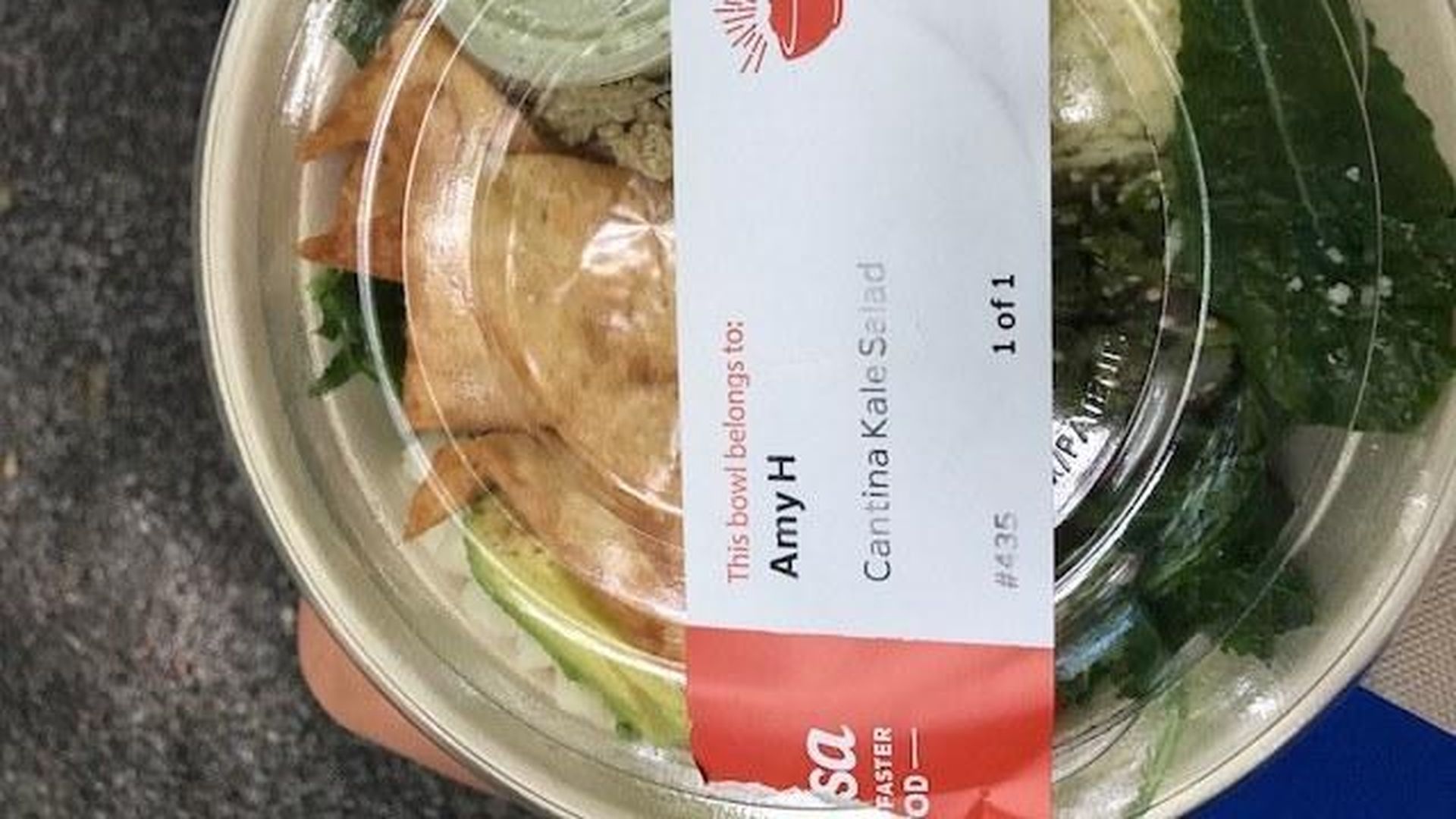 Technically speaking, Eatsa isn't new: this automated restaurant opened two years ago in San Francisco, and now is also in DC and New York. But, with "a vibe straight out of The Jetsons," it has a decidedly new feel, according to my colleague Amy Harder, who visited one the other day in New York. Her report:
"A friend told me about this place on Madison — a futuristic restaurant, she called it. If the future is fast and employee-less, Eatsa is definitely that: it was five minutes or less from order to pick-up. I spoke with a worker who said she alone was watching the whole place.
"How it works: I wanted the kale salad (which as you can see above turned out to be scrumptious). All you do is step up to an iPad, punch in your order, swipe your chip — it was less than $9. Before I knew it, a number showed up next to my name on a big board, leading me to an electronic cubby where the salad was waiting, filled with corn, cheese, quinoa and avocado. I tapped the glass, and was gone."