Axios Future
March 18, 2020
Welcome to Axios Future, and thank you for all the tips on working at home with kids. Here's one from me — if you're forced to do a radio interview in the bathroom, lock the door.
If you haven't subscribed, do so here.
Feedback is very welcome, especially about the mix of pandemic to non-pandemic content. Email

[email protected]

, or just reply to this email.
Axios will be hosting a live virtual event Thursday, March 19, on the coronavirus and pandemic preparedness. Join us at 9am ET live for this in-depth discussion that will cover the impact of the crisis. Register here.
Today's issue is 1,585 words, a 6-minute read.
1 big thing: An endurance test with no clear end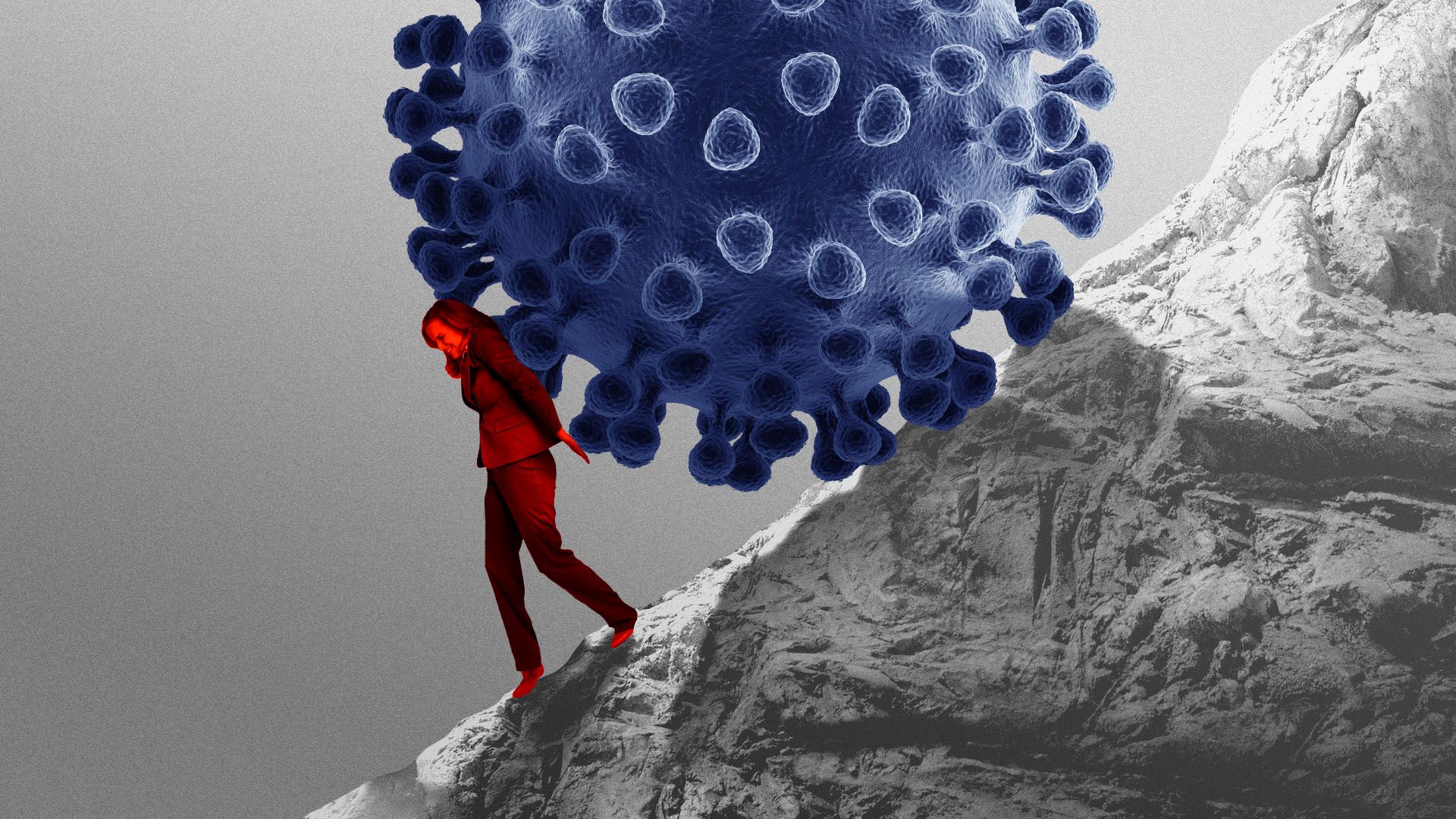 Two aspects make the COVID-19 pandemic unlike any disaster we've experienced in memory: its global nature and its unknown duration.
Why it matters: As the coronavirus spreads around the country, we'll need to fight a medical war on all fronts at the same time, stressing our ability to respond. And we may need to keep up that fight — and the disruptive social distancing accompanying it — for months or longer.
Background: It's tempting to search for historical precedents, like 9/11 or Hurricane Katrina.
But as much as the morning of Sept. 11 shifted the course of history, most Americans were directly untouched by the attack and its aftermath. A month after 9/11, U.S. stock markets had regained their pre-attack levels.
Hurricane Katrina killed over 1,800 people and cost an estimated $161 billion in current dollars, making it the most expensive natural disaster in U.S. history. But those affected could find safety and aid outside the disaster area, and America's economy barely experienced a blip.
Be smart: COVID-19 will not be like those experiences, both in terms of the disease itself and how we're forced to respond to it.
New York Gov. Andrew Cuomo, whose state has the most confirmed cases in the U.S., warned on Monday of an "impending catastrophe when this wave of growth crashes on the hospital system." But while neighboring states in a conventional disaster would be able to lighten New York's load, now every governor and local leader knows they need to prepare their own systems for the coming crash.
The pandemic, and the responses needed to contain it, is also set to cause perhaps the only other global catastrophe beyond a major war: a worldwide recession. The stock market has plummeted, and across the U.S., applications for unemployment benefits are multiple times normal levels.
"This is really the first truly national disaster aside from war or the 1918 pandemic," says Scott Knowles, a disaster expert at Drexel University.
Waging a multifront health and economic war against the pandemic will be difficult enough. But scientists warn we may need to keep up that fight for months longer.
A startling study published by Imperial College in London forecast well over a million deaths from COVID-19 in the U.S. if the disease were largely allowed to run its course. Strict suppression efforts could significantly reduce that toll, but such measures might have to be in place until a vaccine could be widely distributed — as long as 18 months.
The New York Times reported on a federal plan presented to President Trump that warned of critical shortages of medical equipment and consumer items during the pandemic. On Wednesday, Trump told reporters he would invoke a Korean War-era law to force industry to ramp up production of medical supplies.
"This is the defining global health crisis of our time. The days, weeks and months ahead will be a test of our resolve, a test of our trust in science and a test of solidarity."
— Tedros Adhanom Ghebreyesus, WHO director-general at a media briefing
The bottom line: It will be a long haul.
2. It isn't democracy vs. authoritarianism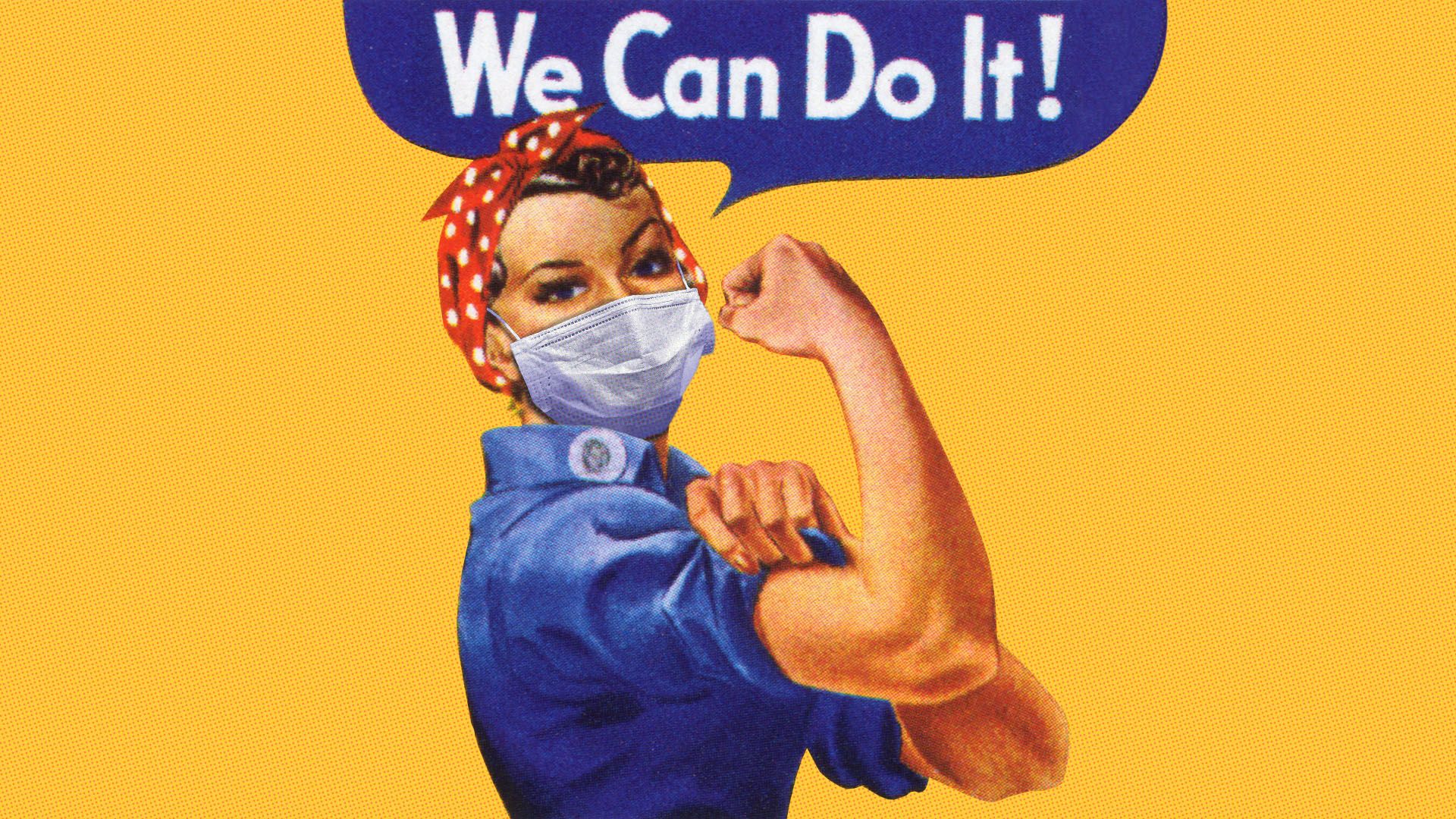 Many of China's measures to combat the coronavirus aren't authoritarian: They are the kind of total social mobilization that happens during war, Axios China reporter Bethany Allen-Ebrahimian writes.
Why it matters: Democracies are perfectly capable of taking extreme measures when necessary.
Reality check: Citywide quarantines, travel restrictions and obsessive public health checks aren't authoritarian. They're the kind of total mobilization that happens during major national crises such as war, regardless of the system of government.
Democracies have a long history of successful mobilization, and they have mechanisms that both enable extreme policies and bring them to an end when they are no longer needed, to prevent authoritarian creep.
What to watch: Fundamental questions about the health of our governance today and the effectiveness of our leadership suggest the United States may not rise to the occasion as well as it did almost 80 years ago.
3. Study finds limited nuclear war has global effects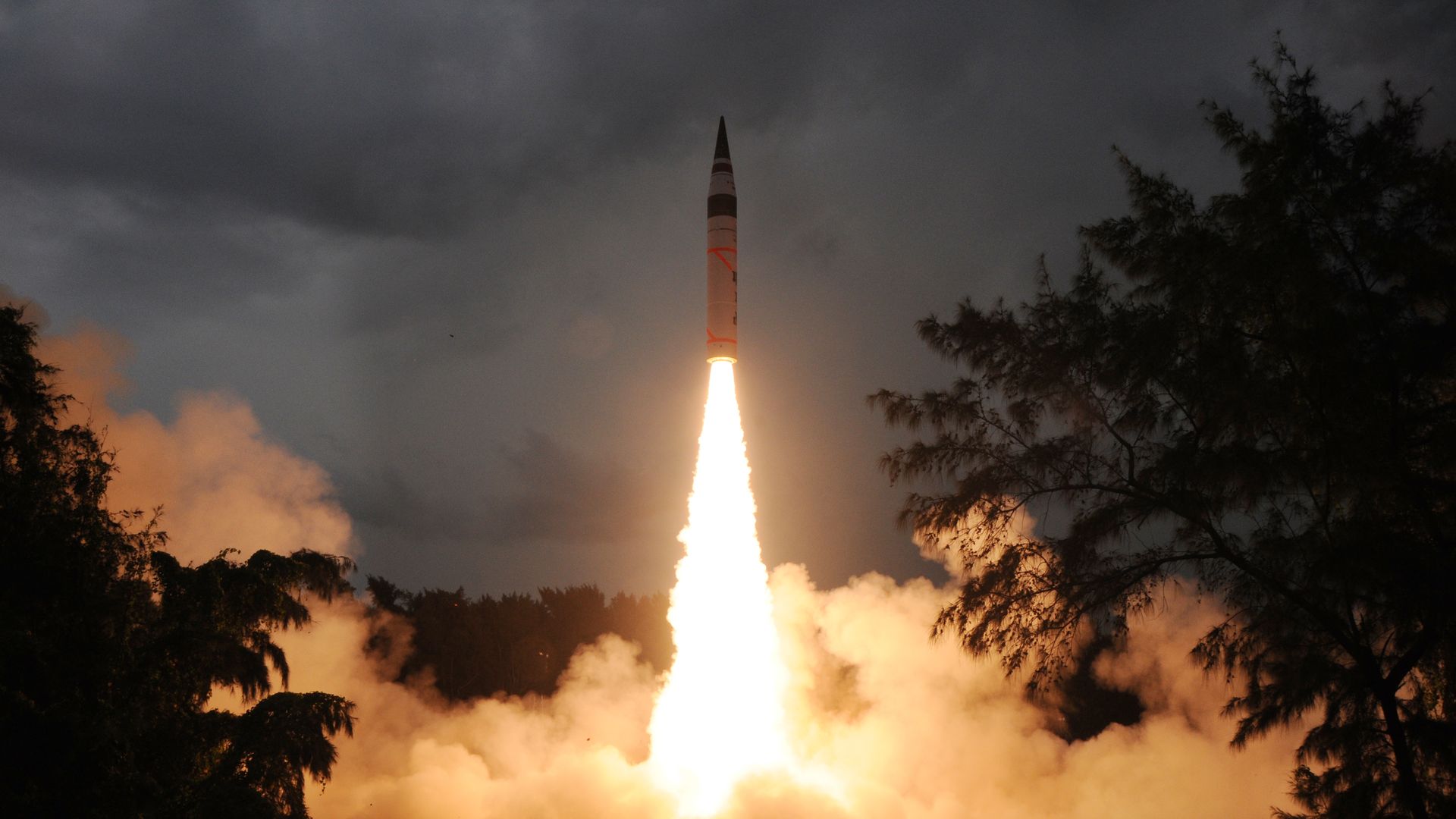 A new study argues that a nuclear war between India and Pakistan would cause global cooling and planet-wide food shortages.
Why it matters: Scientists have long debated the climatic effects of nuclear war. New computer models show even a comparatively limited nuclear exchange could have global impacts on food production that would eclipse the worst famines in documented history.
In a study published Monday in the Proceedings of the National Academy of Sciences, researchers led by Jonas Jägermeyr of the NASA Goddard Institute for Space Studies used sophisticated computer models to predict what would happen in a nuclear war that would be both more limited and more likely than a full-scale one: a conflict between the geopolitical rivals India and Pakistan.
The team found that even in an exchange of 100 Hiroshima-sized bombs — less than 1% of the current global arsenal — the resulting firestorms would launch about 5 million tons of soot into the stratosphere.
From there, the soot would spread around the globe, absorbing sunlight and lowering global mean temperatures by 3.25ºF for at least five years.
As a result, the production of top cereal crops like rice and wheat would fall by an average of 11% during that period, with tapering effects in the years that follow.
Context: The study also has important implications for a world groaning under the sudden shock of the coronavirus. "Even though the situation is very different, we're seeing how it would feel if consumers were suddenly not able to buy food," says Jägermeyr.
The bottom line: The world isn't short of things to worry about, but the effects of a nuclear conflict between India and Pakistan are likely even worse than we might have imagined.
4. Prepping for the pandemic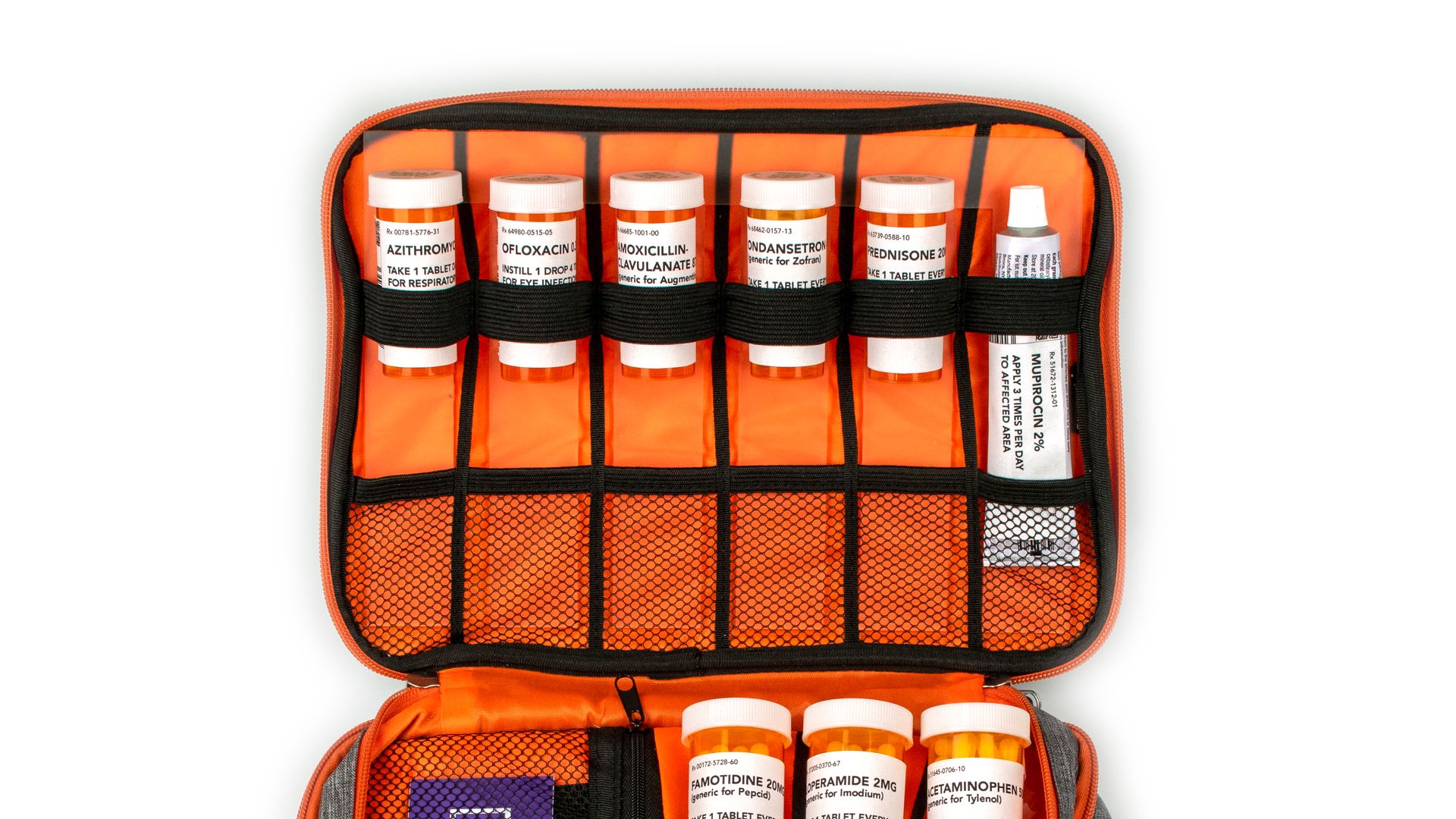 An emergency room physician's startup is offering kits of medicines to help customers should they be cut off from care during the pandemic — or any other time.
Why it matters: Duration Health mixes telemedicine with a survivalist mindset to sell medical go-bags — basic prescription drugs someone might need while traveling or trapped at home. Though the company launched months before the pandemic, it has gained new relevance in the quarantine era.
Duration Health was founded by Benjamin Jack, a working ER doctor in the Philadelphia area. Jack wanted to put together an emergency medical kit for himself, both for travel and for "general preparedness," he says. But even as an MD, Jack found it difficult to obtain the basic drugs he'd want in a crisis.
What resulted was Duration Health.
The company confers with customers via videoconference to determine their medical needs and drug sensitivities, puts together a kit and ships it out by mail.
The package is meant less to supplement a customer's existing prescriptions than to provide antibiotics and other drugs that could be useful in an emergency. "Getting a kit is like being able to have urgent care anywhere," says Jack.
By the numbers: Prices for the kits — which aren't covered by insurance — vary according to the prescriptions they contain. The baseline model is $499.
The bottom line: Jack wouldn't reveal sales numbers, but says the company has seen a marked uptick in interest since COVID-19 began making the headlines. As city shutdowns grow, the impulse to prep for a medical emergency at home is only going to grow.
5. Worthy of your time
Coronavirus is exposing America's shameful selfish streak (Joel Mathis — The Week)
As polls show that a significant chunk of the public doesn't intend to follow social distancing measures, this essay contrasts our self-interested moment with the public sacrifice of World War II.
How World War II almost broke American politics (Joshua Zeitz — Politico Magazine)
But the Ken Burns-style nostalgia for the homefront during the war obscures just how fractious American politics were at the time, as this 2019 essay demonstrates.
A fiasco in the making? (John Ioannidis — STAT)
Ioannidis, a medical researcher who gained prominence by showing that many popular studies can't be replicated, makes a controversial argument that we could be overreacting to COVID-19. See a response here.
Coronavirus will revive the all-powerful state (Pankaj Mishra — Bloomberg Opinion)
For better or for ill, the pandemic will inevitably strengthen the power of governments as they use emergency measures in response.
6. 1 sci-fi thing: "Code 46"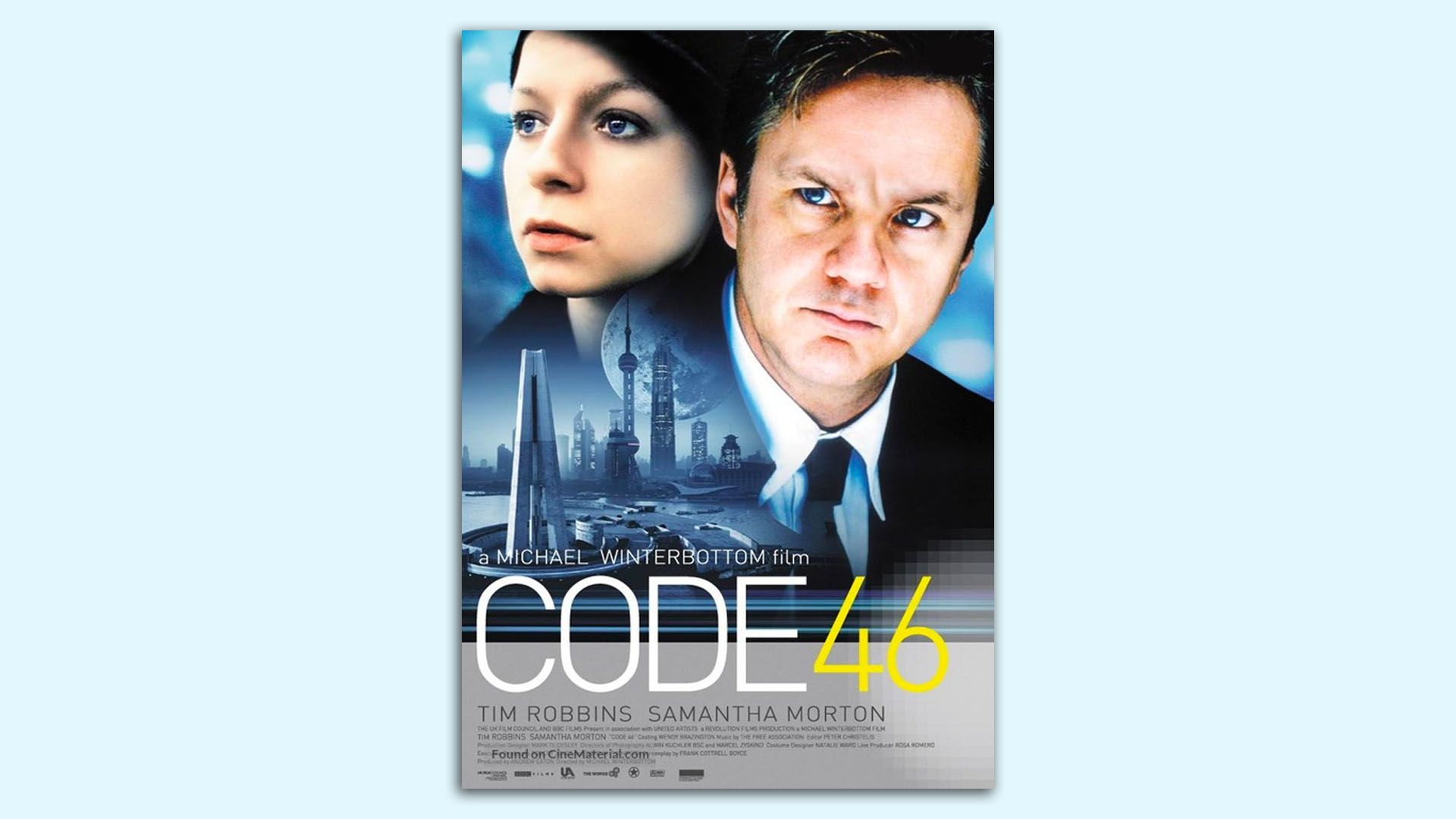 Since we'll be home for the duration, this newsletter will be highlighting bingeable content with Future themes.
This edition: the 2003 genetic dystopia "Code 46."
Why you should watch it: In the near-future of "Code 46," China appears to be one of the few functioning economies left, genetic tinkering is rampant, and people can be prevented from traveling to certain countries because of disease. So, nothing at all like today.
Directed by British filmmaker Michael Winterbottom, "Code 46" focuses on an insurance adjuster played by Tim Robbins who is sent to Shanghai to sniff out workers suspected of forging "papeles" — documents required for people to transit between countries. He meets and falls in love with Maria (Samantha Morton), though it turns out that on a genetic level, they may share more than just their passion.
Of note: One of the most brilliant things about "Code 46" is the way it deftly sketches its future world in a few strokes.
Everyone speaks mostly English, even in Shanghai, but they drop in foreign phrases like "ni hao" and "par avion," indicating the existence of a global pidgin.
Robbins' character works for a company called "the Sphinx," which is technically in insurance but actually regulates the movement of people around the world through intensive data-gathering and surveillance.
The prevalence of a deadly infectious disease means that many people are denied permission to travel unless they can prove immunity — hence the need for forged "papeles."
My thought bubble: So much in "Code 46" envisioned the world we live in today and the one that might endure after the pandemic — a world where individual health becomes the subject of pervasive surveillance. And yet the movie's main concern is human cloning — a fear from 2003 that has yet to become real in 2020.
Also, the electronic score by the Free Association rocks.