Axios Future
November 13, 2019
Welcome back to Future. I'm coming to you from Detroit today, where it was 9°F when I trekked to breakfast this morning. Thanks to those of you who sent me lovely restaurant recommendations and notes about the city. I'll try some of those places this week!
Let me know what you think of today's issue by sending a note to [email protected] or replying to this email. Kaveh, who anchors Saturday's Future, is at [email protected]
I have 1,205 words for you this evening — a 4.5-minute read. Starting with...
1 big thing: An uncertain future for workers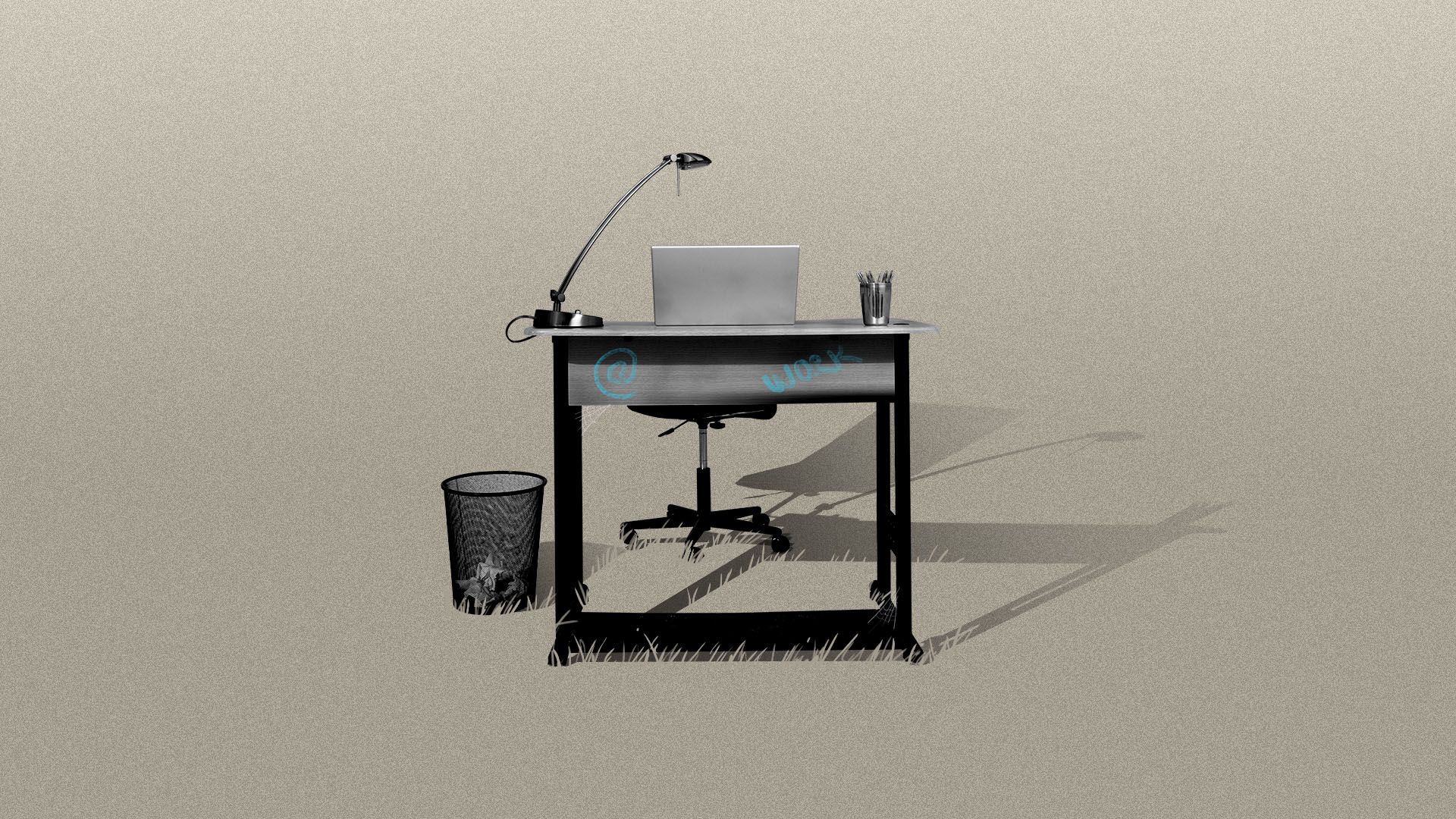 DETROIT, Mich. — There's no better symbol of what the American worker's life used to look like than Detroit: a stable, lifelong career at a booming factory, a union membership and a pension.
The big picture: Workers' lives in the future won't look like that. Already, new technologies and the gig economy are breaking down those very forces of stability that defined jobs over the last century — and the future of workers hangs in the balance.
That great upending was the theme at the Fulcrum Conference on the future of work here in Detroit, where I moderated a panel this morning.
One of the undeniable impacts of technology is "weakened worker power," says Michelle Miller, a panelist and the co-founder of Coworker.org, a peer-based platform for workers.
What's happening: Technologies developed to connect people and serve as equalizers have, in many cases, pulled people apart and exacerbated existing inequities in the workplace.
Gig work: Companies like Uber, Lyft and Postmates are employing armies of gig workers, and Amazon is contracting tens of thousands of people to drive its delivery vans. While these are new opportunities for flexible work, enabled by the tech boom, these jobs are also leaving millions of workers without benefits. "Even at the most well-intentioned firms, these workers don't have the same standing as full-time employees," Miller says.
Automated managers: Some companies are even using technology to track workers' performance. Consider Amazon's automated productivity tracker in its fulfillment centers, which can warn and even fire employees without any human supervisor input.
Automated recruitment: Startups are also rapidly developing and marketing resume readers and other recruitment software to human resources departments. But many of these tools have shown bias. "This is saying a robot is less biased than a human, and that's just not true," says Diane Antishin, a panelist at Fulcrum and VP of HR at DTE Energy in Detroit. "We need to think of the biases that are built into these tools."
On top of these trends, workers' bargaining power is dwindling. In 2018, 10.5% of Americans were part of unions, according to the Bureau of Labor Statistics. That's down from around one-third of Americans in the 1950s.
Yes, but: The rise of gig work and remote work comes with a slew of perks, too, experts say. New types of jobs that allow workers to set their own hours or work from home can bring people into the workforce who otherwise might not have been able to enter it.
The bottom line: Companies are still designed to cater to full-time employees who work out of big factories or offices. "Workplaces need to change," says Yrthya Dinzey-Flores, who spoke at Fulcrum and was most recently a VP at Warner Media Group. "And there is still this refusal to change."
Go deeper: The two-faced freelance economy
2. Hope for laggard cities
In an age of superstar cities, in which 25 bustling metros account for half the country's economy, some under-the-radar cities and rural areas are thriving, Kaveh writes.
Why it matters: Much of the country is in search of a playbook that can bring in even a fraction of the riches that have rained on the economic frontrunners.
The big picture: The rift between superstars and laggards is in danger of widening, worsening political polarization as it goes.
It's a bleak outlook for the areas left behind — but it's not that great for the superstars, either.
These cities — notably San Francisco and Seattle — have been buried under homelessness and traffic as they exploded uncontrollably in recent years.
Driving the news: A report released today by Emsi, an economic analysis firm, charts the cities that the company deemed most attractive to talent, with some unexpected results.
"There's a lot of talk out there about the superstar cities on the coastal metros that are taking all the jobs," says Josh Wright, an EVP at Emsi. But, he says, "there are places all over that are doing a lot better than people think."
Emsi ranked every county in the U.S. based on six variables it says contribute to attracting talent. They include job growth, migration flows, education and job openings for skilled work.
Among big cities, Jacksonville, Florida; Phoenix; and Las Vegas came out on top.
The top smaller metros — cities with fewer than 100,000 people — were Lake Charles, Louisiana; Macon, Georgia; and Waynesboro, Georgia.
Unlike traditional tech hubs, the front-running Jacksonville isn't built around a single industry or company. The top jobs, Emsi says, are in the ubiquitous restaurant and hospital sectors — but the area has been boosted by new Amazon and Wayfair distribution centers.
For smaller cities, an anchoring corporate headquarters or university can be a boon. But there's hope even for those without a flagship institution.
Cities are finding success with "placemaking," says Kristin Sharp, a partner at Entangled Studios, an education consulting company. That means they're figuring out a brand that convinces people to move there — or, often, move back home after a stint in a bigger city.
Much of this is built around quality-of-life factors. Think Boulder's outdoorsy beer scene or Detroit's mansions that are cheaper than a Brooklyn studio.
What's next: Automation threatens to throw the balance even further off-kilter. New jobs are likely to accrue to already advantaged super-cities, while the losers stand to lose even more.
Go deeper: The cities where low-wage workers are being left behind, from Kim Hart's Axios Cities newsletter.
3. $1 billion in one minute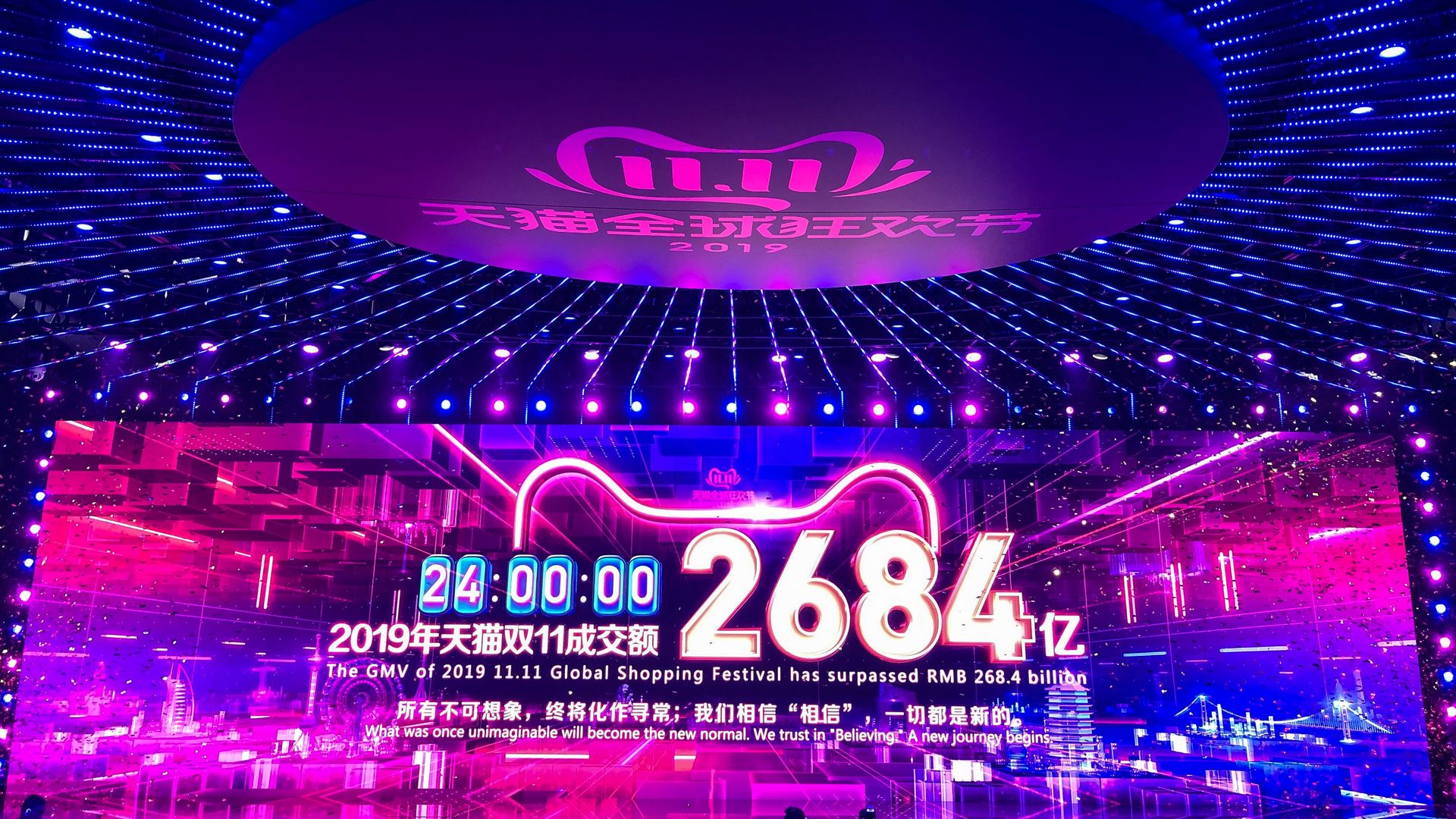 In the first minute of Singles Day — China's Black Friday equivalent — Chinese e-commerce giant Alibaba did $1 billion in sales. Within one hour, it was $12 billion, which is nearly double the estimated $7 billion Amazon pulled in during its 48-hour Prime event in July.
The big picture: With a market of 1.4 billion Chinese consumers and a growing presence throughout Asia, Alibaba is becoming an increasingly formidable force in the global economy.
This years' Singles Day raked in a total of $38 billion and even drew Taylor Swift as a performer.
Alibaba launched 1 million new products on the day of the event, per Coresight Research.
Some of the top-performing Singles Day brands were American companies, Coresight Research notes. Apple, Nike, Gap and Olay were among the leading sellers.
What's next: Alibaba Group is moving forward with a secondary stock listing in Hong Kong that could raise more than $15 billion by the end of November, per multiple media reports.
This would rank as the ninth-largest equity float of all time, or 10th if Saudi Aramco somehow gets out first, with Alibaba's New York IPO currently in top position, Axios' Dan Primack reports.
4. Worthy of your time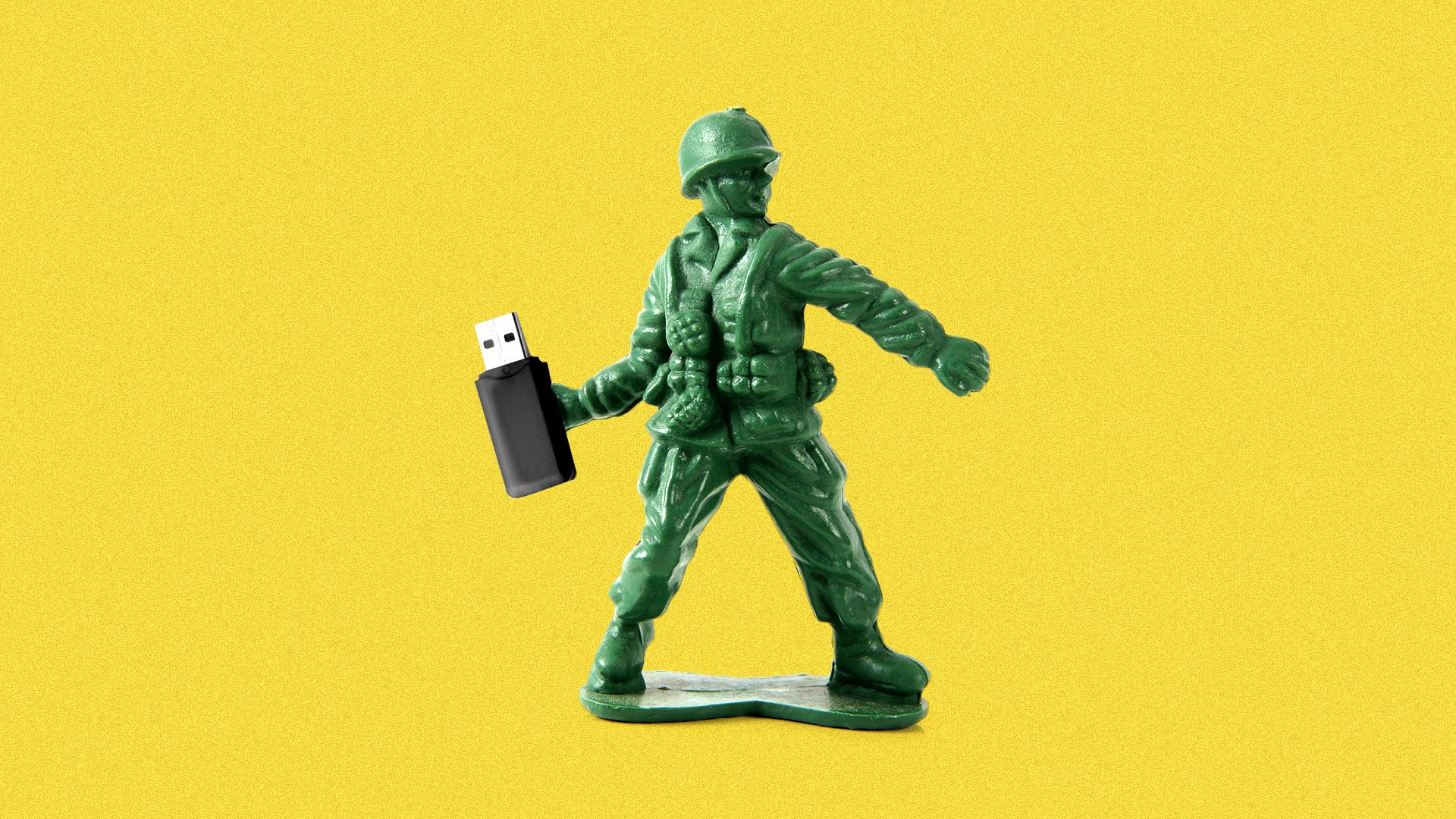 Data is the new antitrust battleground (Margaret Harding McGill — Axios)
The surprising science of generational conflict (Brian Resnick — Vox)
The business cost of ignoring mental health (Cynthia Koons — Bloomberg)
Wikipedia's colossal gender gap (Jessica Kantor — Fast Company)
Selling burgers — not sex (Tiffany Hsu — NYT)
5. 1 cashless thing: Mega-growth in India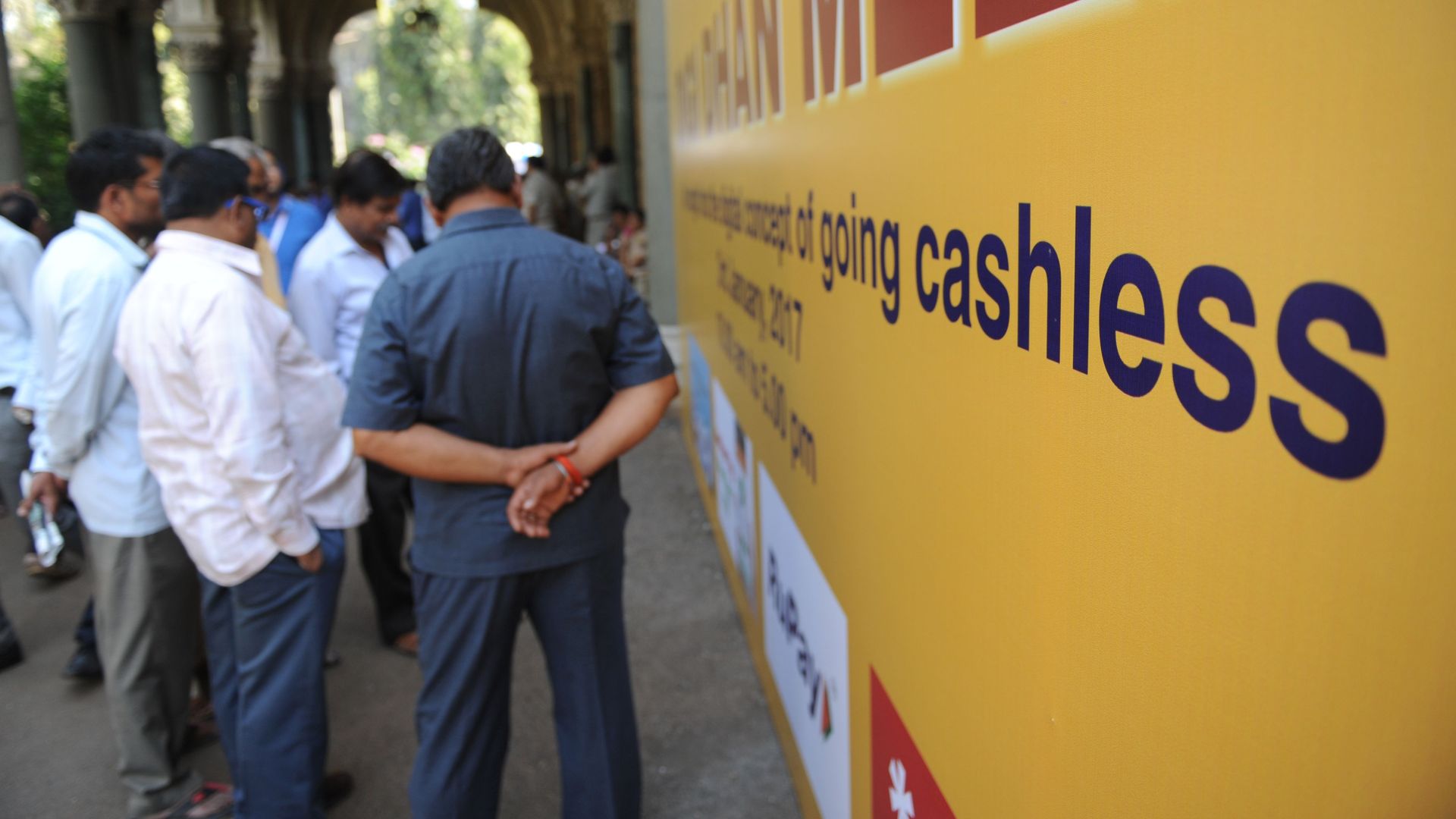 Americans continue to rely on their credit cards, while the rest of the world rapidly moves toward mobile payments.
China is the clear leader, with nearly half of the population paying for goods with their phones. But the fastest growth in the adoption of e-payments is happening in India.
"Digital transactions in India increased by 55% last year, compared with 48% in China and 23% in Indonesia," per Quartz. And India pulled 86% of its currency out of circulation in 2016.
Why it matters: By 2022, mobile payments from companies like Alipay, WeChat Pay and others are projected to account for nearly 50% of global e-commerce sales, Axios' Dion Rabouin reports.
Retail titans like Amazon, Walmart and Alibaba are pouring billions in investment into India, betting that as it moves away from a cash-based economy, it'll be the world's leading market for commerce.