Axios Future
May 08, 2021
Welcome to Axios Future, where I'm very thankful for all the toddler-friendly food ideas readers sent in after the last edition.
I'm now taking volunteers for anyone who wants to come over and make him eat them.
If you haven't subscribed, I'm going to keep asking.
Send feedback, tips and your preferred workweek length (see item 2) to

[email protected]

.
Today's Smart Brevity count: 1,811 words or about 7 minutes
1 big thing: The end of quarantine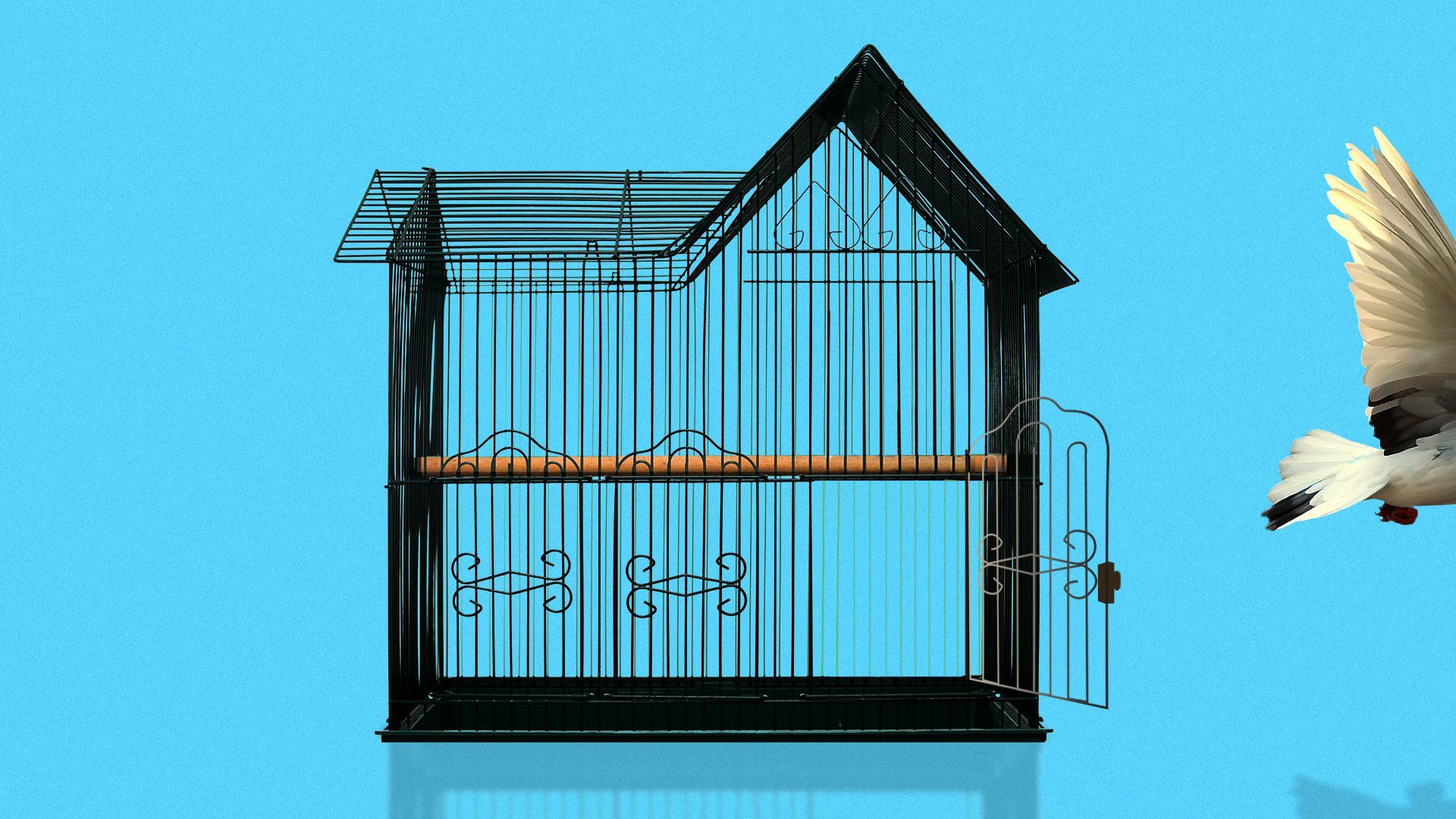 Long quarantines were a necessary tool to slow the COVID-19 pandemic during its first phases, but better and faster tests — plus vaccines — mean they can be scaled back considerably.
Why it matters: Quick tests and regular surveillance methods that identify who is actually infectious can take the place of the two-week or longer isolation periods that have been common for travelers and people who might have been exposed to the virus, speeding the safe reopening of schools and workplaces.
Driving the news: This week the UK launched a study to find out whether daily COVID-19 testing could serve as a better alternative to the 10 days of self-quarantining currently required by the government's public health agency.
Up to 40,000 people in England who are identified as close contacts of COVID-19 patients will be given a week's worth of rapid coronavirus tests and told to test themselves each morning for seven days.
Those who test negative in the morning and develop no symptoms will be exempt from the quarantine order and allowed to leave their homes to carry out essential activities.
Background: Though the two terms are often confused, quarantines are different than the self-isolation that is still needed for people who test positive for COVID-19.
State of play: Although recent updates have loosened the requirements somewhat, official CDC recommendations still state that anyone who has been in close contact with a COVID-19 patient should stay home for 14 days after their last exposure, unless they've been fully vaccinated or have recovered from COVID-19 within the last three months and have no symptoms.
The catch: Quarantines take a major toll on society, especially for those who can't easily skip in-person work and for children who might miss weeks of in-person school.
The Washington Post reported this week that a single school district in Ohio had 5,172 student quarantines in the fall semester alone, a situation that has been repeated at schools throughout the country.
"Quarantine is like taking a sledgehammer and saying whether you're infected or not, we're going to put you in jail for 14 days in your home just in case," Michael Mina, an epidemiologist at the Harvard T.H. Chan School of Public Health, said in a recent briefing.
By the numbers: A health economics paper published late last year argued that replacing a strict quarantine program with screening that relies on inexpensive rapid COVID-19 tests could recapture hundreds of billions of dollars in lost economic output.
What's next: The authorization and increasing availability of rapid COVID-19 tests offer a way to quickly separate close contacts who actually contracted the disease and are infectious from the larger number who aren't.
One expert put it this way to me: If people glowed green when they were infectious, we wouldn't need to do quarantines. Rapid testing is essentially our ability to see people turn green.
The bottom line: It's no longer the spring of 2020 — we can address COVID-19 spread with a precision that will save lives and the economy.
2. The COVID-driven case for a 4-day workweek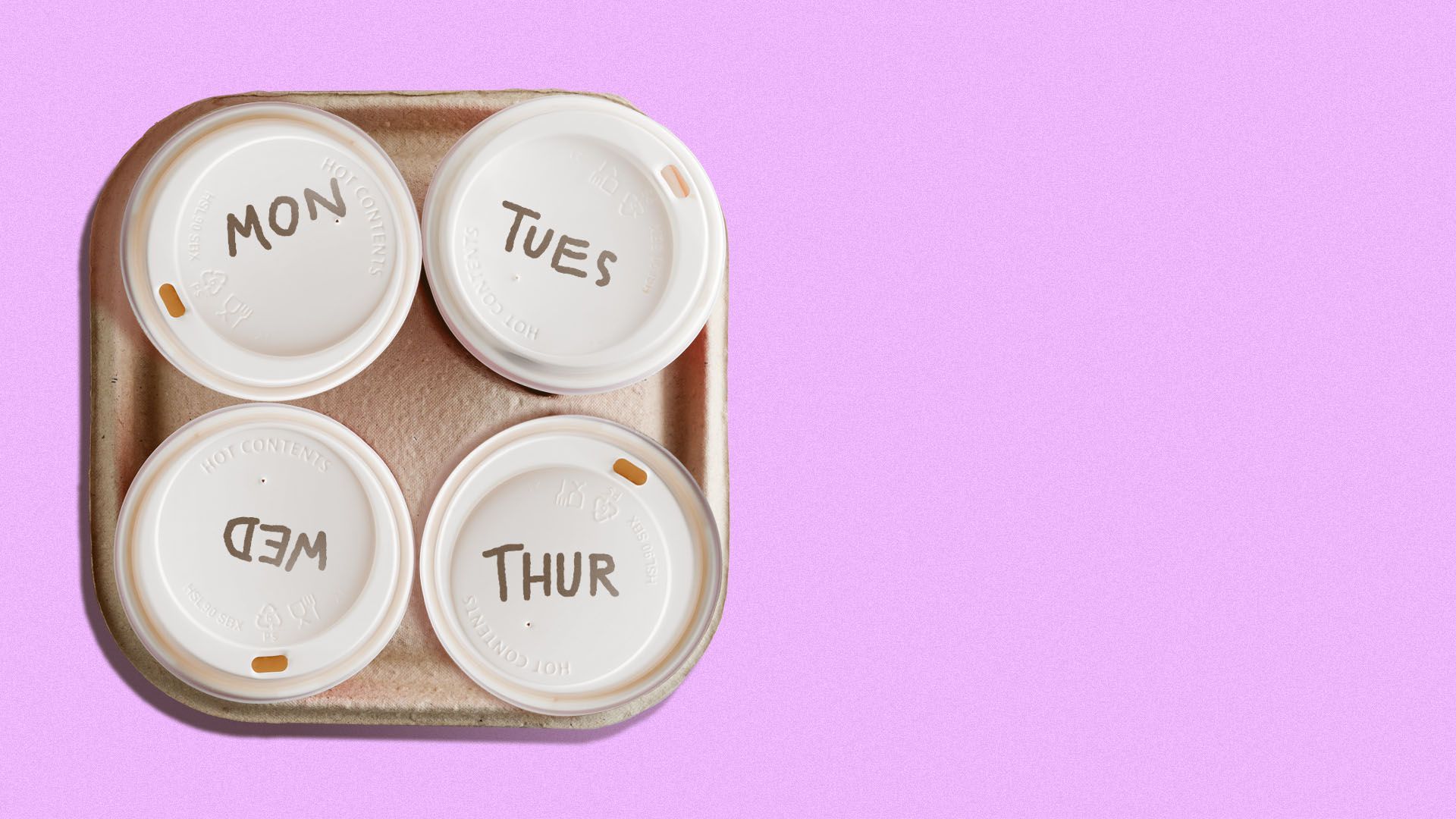 The pandemic has boosted interest in implementing a four-day workweek.
The big picture: The shift to remote, often asynchronous work has already shredded the old 9-to-5, five-day workweek. Giving employees the option to take an extra day off could help companies improve retention, stave off burnout and even increase productivity.
What's happening: Online jobs platform ZipRecruiter recently reported that postings mentioning a four-day workweek have tripled over the past three years.
Late last year, Unilever — citing a shift to focusing on job output rather than time — began experimenting with a four-day workweek for the employees in its New Zealand offices.
The Spanish government earlier this spring proposed a three-year pilot project designed to help companies transition to a four-day workweek. While in Japan — a nation so office obsessed it has a word for death from overwork — the government is considering a proposal to grant employees an extra day off work.
By the numbers: A 2019 study found almost two-thirds of businesses with a four-day week reported increased productivity, and Microsoft Japan found a 40% increase in productivity when employees could take an extra day off.
What they're saying: "With a four-day workweek, you might imagine you're losing 20% [of productivity]," says David Rock, CEO of NeuroLeadership Institute, a neuroscience-backed consultancy. "What you're actually gaining is a big bump in terms of creativity because people have more quiet and more rest."
The catch: For a four-day workweek to really be effective, adds Rock, it needs to actually be four days — no implicitly requiring employees to fit five days of work into four.
Another key point is giving employees as much individual autonomy over their schedule as possible, something that should be easier when workers are less tied to both the clock and the office.
The bottom line: "The mantra going forward should be maximizing autonomy and managing for fairness," says Rock.
3. The wealthy exodus from superstar cities
Pandemic-induced remote work is chipping away at a recent trend of Americans staying put — but only for the well-off, my Axios colleague Erica Pandey writes.
Why it matters: Telework has been lauded as a geographic equalizer, allowing talented people from all over the country to go for jobs in superstar coastal metros. But the benefits have largely been limited to wealthier workers — so far.
What's happening: Researchers analyzed around 100,000 moves over the last year and found high-income individuals — those earning more than $100,000 a year — accounted for less than half of all movers, but made up 75% of those who said they were moving because of telework opportunities.
"Reasons for moving are very different among high-income households and low-income households," says Peter Haslag, a professor at Vanderbilt who led the study.
High-income households are moving out of cities like San Francisco and New York to places like New Hampshire, Arizona and Florida, primarily for the natural beauty and lifestyle, says Haslag. They cite the pandemic as the main reason for moving.
Low-income households' destinations are more scattered, and their reasons for moving are related to work or cost-of-living, as was largely the case before the pandemic.
But, but, but: These moves could still contribute to a more geographically equitable economy, says Susan Wachter of the Penn Institute for Urban Research.
Higher-income workers are the vanguard of a new "distributed urbanism," she says.
If the migration out of big cities continues, more and more people — across all income levels and job types — could join the trend.
Wealthier people moving to new regions bring with them capital that can revitalize those places, spurring new businesses and jobs. And continuing movement out of the superstar cities may push more companies to move to all-remote models, making it possible for even more people to leave.
The bottom line: "The movement out of San Francisco and New York is extraordinary," Wachter says. "I don't see it as a one-time phenomenon. I see it as a years-long trend that's just beginning."
4. Money alone won't reduce declining birthrates
After data released this week showed that U.S. fertility hit its lowest level since the 1970s — and that the "COVID baby boom" was largely a bust — some commentators argued that a primary factor was lack of government and business support for families
The big picture: Enhanced aid for parents and families would help mothers get back into the workforce, but it's unlikely to significantly change America's falling birthrate.
By the numbers: If lack of support were the main driver, you'd expect that countries with more generous benefits for parents and children — such as Scandinavian nations like Norway or Sweden — would have been exempt from the fertility drop.
Yes, but: Even if it likely won't reverse the fertility slide, enhanced family aid is still worth doing, if only to ease the substantial financial burden on current parents and make it easier for mothers — who have disproportionately lost jobs during the pandemic — to return to the workforce if they desire.
5. Worthy of your time
Devised for diabetics, a glucose monitor attracts the famous and well-connected (Betsy Morris — Wall Street Journal)
The hot new thing is to use wearables to know your blood sugar levels at all times, but the data may have little actual value.
How cities will fossilize (David Farrier — BBC Future)
Even the greatest modern metropolises will fall one day — but the ruins they leave behind will be very different than ancient cities.
What does COVID teach us about climate change? (Tim Harford)
COVID-19 and climate change are both huge modern problems, but their differences are more instructive than their similarities.
How to build freestanding public restrooms that are clean and safe (Andrew Giambrone — MIT Tech Review)
Simply building restrooms that are actually usable by people on the street would go a long way to making streets more livable.
6. 1 not-good thing: The smoldering embers of Chernobyl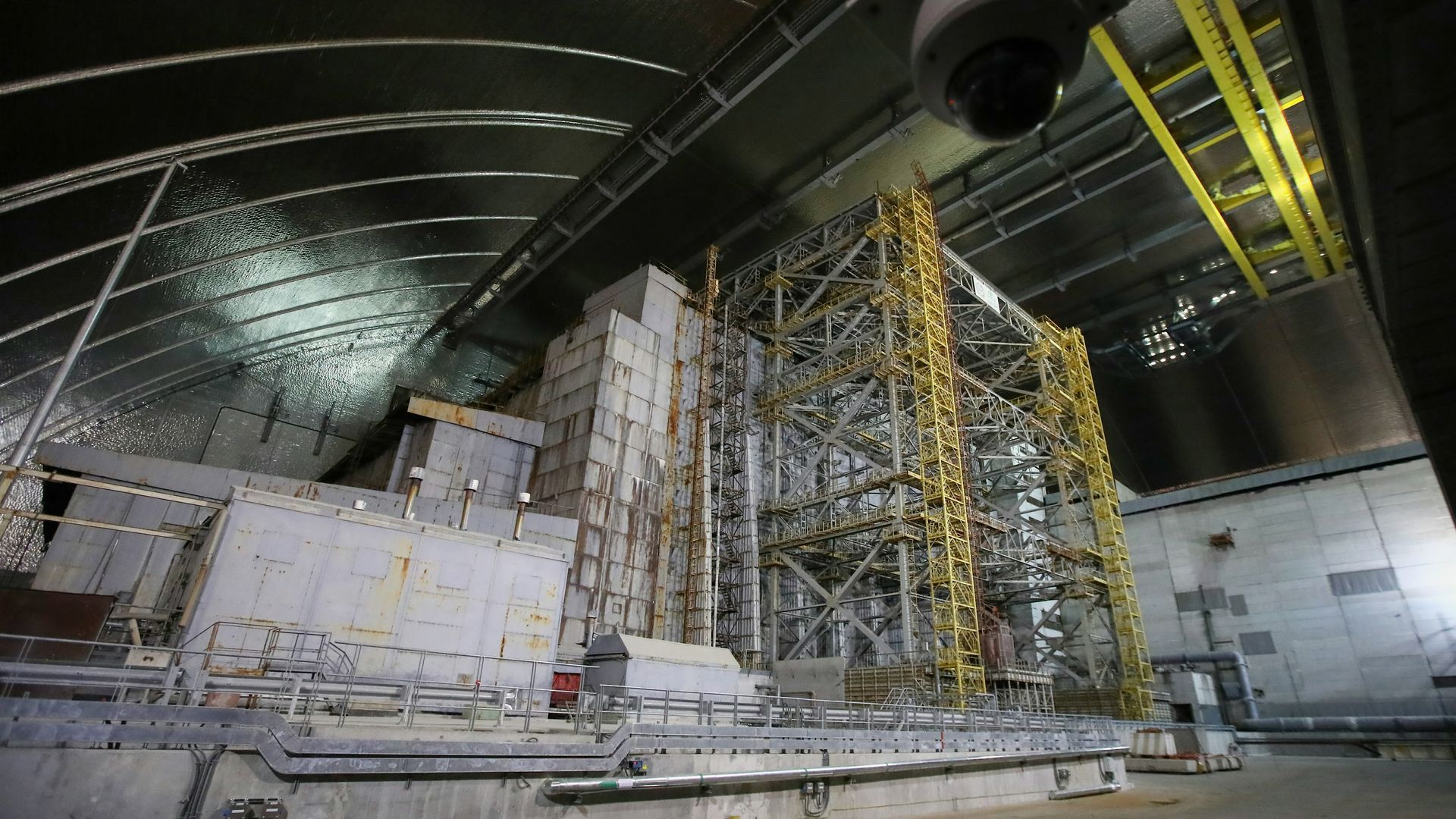 Fission reactions are active again inside the ruins of Chernobyl — 35 years after it was the site of the worst nuclear accident ever, reports Richard Stone in Science.
Why it matters: Did I mention the part about "worst nuclear accident ever"? If fission reactions accelerate exponentially, it could lead to what one expert called "an uncontrolled release of nuclear energy."
Such an accident would still be far from a full-scale meltdown, but "uncontrolled" and "nuclear" are still two words you do not want in the same sentence.
What's happening: The threat of another accident was supposed to be all but eliminated after the $1.8 billion New Safe Confinement was placed over the plant's original concrete-and-steel shelter in 2016.
But Stone reports sensors are tracking a rising number of neutrons, a sign of ongoing fission, in a buried part of the plant.
An explosive reaction could damage the original shelter and fill parts of the plant with radioactive dust, though it wouldn't be much of a threat to surrounding areas.
What's next: Radiation levels in this part of the plant are too high for scientists to get close enough to install sensors that could give them a better picture of what's happening, but one possibility is to build a robot that's radiation-proof enough to install boron cylinders that could soak up neutrons to halt any fission.
The bottom line: Unless it's a sequel to the great HBO show of 2019, I think we'd all prefer it if Chernobyl can stay out of the headlines.