Axios Future
November 20, 2019
Welcome to Future. After spending last week in the Motor City, I'm devoting this week's issue to the triumphs and challenges Detroit has seen as it pulls itself back from bankruptcy and confronts its future.
I'd love to hear your thoughts on today's newsletter. Just reply to this email or hit me at [email protected] Kaveh, who's in your inbox on Saturdays, is at [email protected]
Today, I've got 1,201 words for you — a 4.5-minute read. First up...
1 big thing: The new Detroit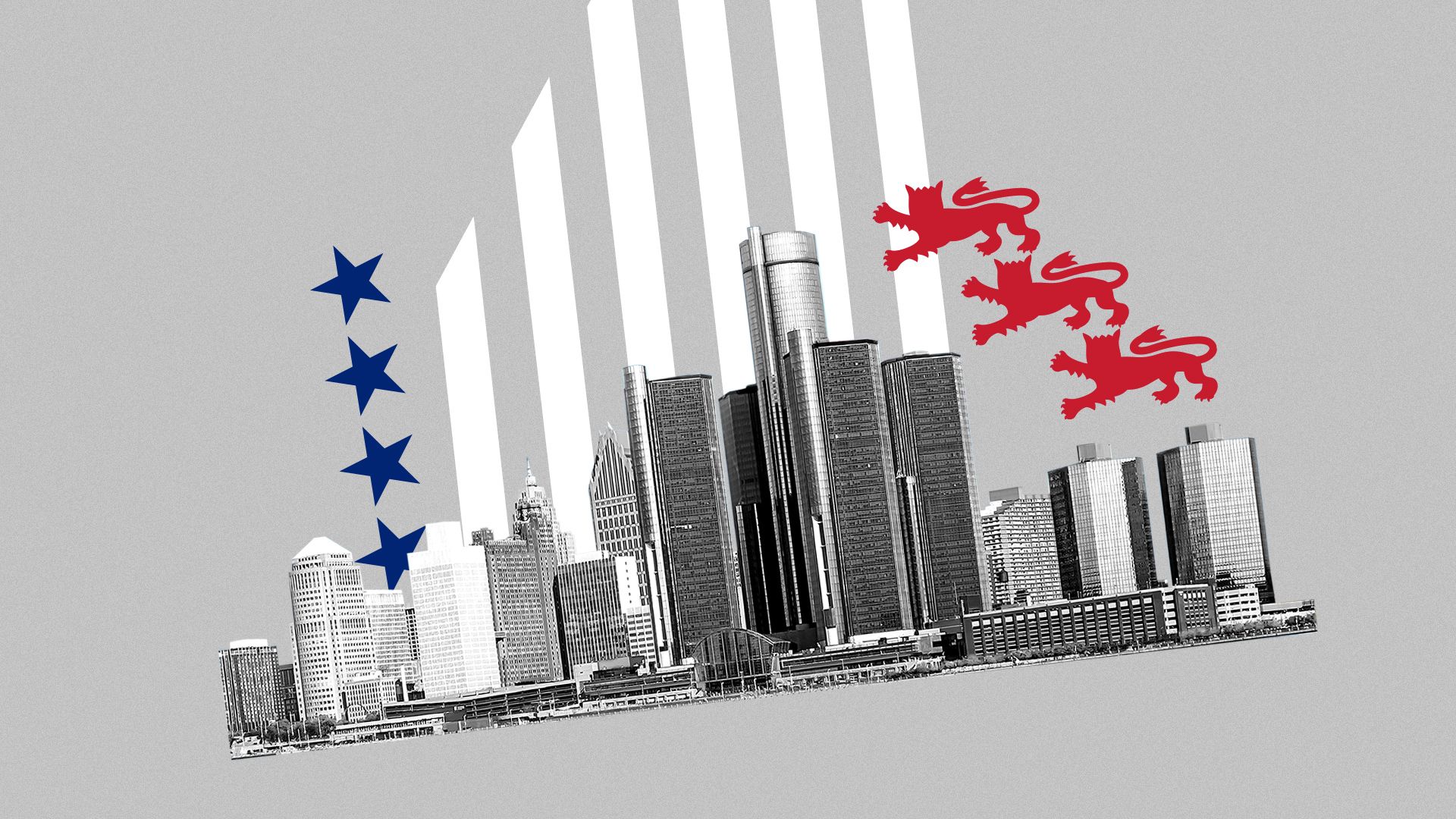 For decades, the world has pointed to Detroit as a symbol of the entire Rust Belt and the decay of American manufacturing. But the city is attempting to change that narrative — and succeeding.
Why it matters: Detroit may be the starkest example, but its story is mirrored in dozens of U.S. cities — Columbus, Pittsburgh and Toledo among them — that have shared its challenges and are embarking upon comebacks of their own.
What's happening: The mayor's office, nonprofits and Detroit's Fortune 500 companies are coming together to turn the city around. Detroit is changing so fast that its transformation over the last decade was visible from outer space.
In the last 10 years, Detroit has turned many of its longtime problems around — and attracted jobs in industries that will shape the future.
I toured the site that used to be home to Hudson's — once the country's biggest department store and the crown jewel of Detroit's downtown. It's turning into a new, futuristic skyscraper with shops, office space and a hotel. Dan Gilbert, the billionaire co-founder of Quicken Loans, is behind that project as well as much of the development around the rest of downtown.
While automakers are — and likely always will be — the major employers in the region, a slew of new industries have come to town, including fintech, cybersecurity, health care IT and retail, says Ned Staebler, vice president of economic development at Wayne State University, in the heart of Detroit.
On top of that, autonomous vehicle makers are targeting Detroit due to its roots in the car business. Waymo is putting a factory in Detroit, and Ford is turning an abandoned train station in the city into its AV center.
And the city has pulled in some Big Tech. Microsoft has an office downtown, and LinkedIn just announced plans to build a big outpost in Detroit.
But, but, but: Many of the economic and demographic trends that are shaping the future of American cities are working against Detroit and cities like it.
Robotics and AI are taking over — or deeply altering — jobs in advanced manufacturing, which remains a key pillar of Detroit's economy.
The city keeps getting beat out by superstar metros in the war for talent and jobs. Detroit worked hard to get Amazon to build its second headquarters in town, but lost to D.C. "A lot of cities wanted it, but we wanted it the most," a person familiar with Detroit's bid told me.
And while Detroit has made big strides in its reinvention, it's still losing people — despite efforts to bring in new people and get college graduates to stay. "The population number is the number by which we either win or we lose," Mayor Mike Duggan told the New York Times.
In 1950, Detroit had 1.85 million people, making it the fourth-largest city in the country. Today, the population has dwindled to under 675,000, a 100-year-low, largely due to the decline of the once-kingly automakers.
2. An uneven comeback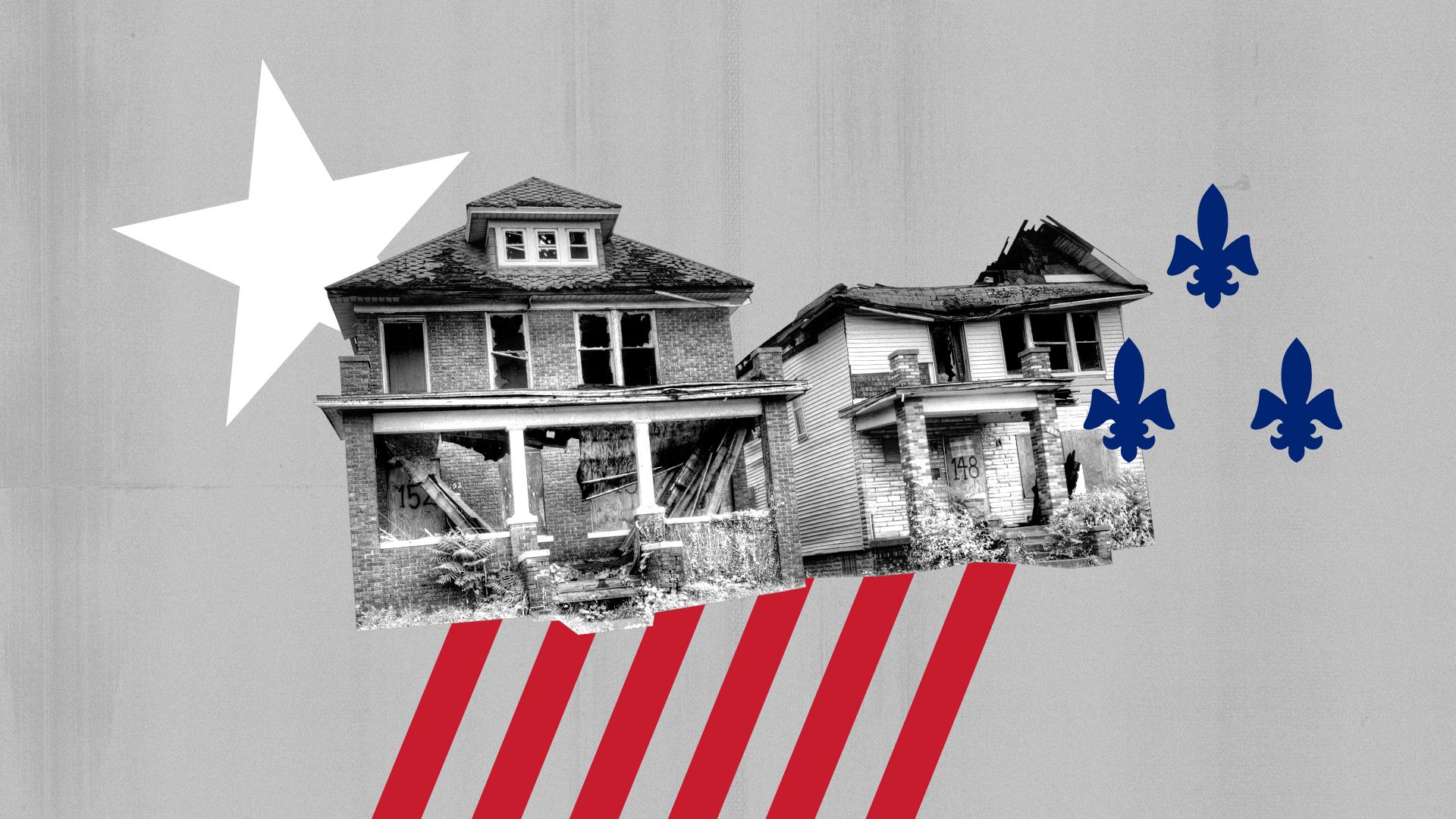 Detroit is coming back, but the bulk of that transformation has been limited to 7 square miles — the downtown core — according to recent research from scholars at Michigan State University and Wayne State University. For context, the city is 139 square miles.
Why it matters: Like Detroit, many laggard cities are beginning to catch up with the thriving metros, but often the transformation is uneven — limited to wealthier residents living in the richest neighborhoods.
"We've has some green shoots of progress, but there is a very commonly held sense that we aren't even close to done yet," Staebler says. "We won't be until we're inclusive about who gets to participate."
The city's poverty rate is around 38%, per the census. Compare that to the 12.3% national poverty rate.
In the downtown core, Detroit sees openings for new restaurants or shops or salons nearly every week. But outside of downtown, entire streets remain empty. The city has demolished about 20,000 blighted homes since 2014.
Student performance at the city's public schools ranked worst in the country in 2018, reports the Detroit Free Press. Among Detroit fourth-graders, 4% scored at or above proficient in math and 5% did so in reading. The nationwide figures for proficiency in math and reading at public schools were 40% and 35%, respectively.
But, but, but: The revitalization of any place starts with downtown, and Detroit is working to re-create what's happened within those 7 square miles across the city.
For example, city and county leaders are working on a big-ticket expansion of public transit, as lack of access to transportation is one factor that's keeping many away from job opportunities.
Says Staebler, "I'm optimistic that people won't just settle for, 'Downtown's looking good, so our work's done.'"
3. AI comes for Detroit
Detroit has already seen scores of blue-collar workers displaced by the rise of robots. Now, as AI and machine learning get sharper, the city once again finds itself at the epicenter of automation-fueled unrest.
What's happening: While robots upend factory work and trucking in the middle of the country, AI and machine learning are coming for white-collar jobs in big cities. Detroit is poised to get hit on both ends of the spectrum.
The big picture: "AI will be as central to the white-collar office environment as robotics has been to the production economy," said Mark Muro, senior fellow and policy director of the Metropolitan Policy Program at the Brookings Institution. "They'll fundamentally change what work is and what humans do. And no one gets a free pass."
A new analysis released Wednesday by Brookings overlaid the keywords in AI-related patents with job descriptions to get a more detailed understanding of which jobs are most likely to be affected by AI — and where they are.
Industries at risk: Carmakers and clothing makers are using AI for advanced manufacturing on production lines — that's far more complex than the routine, task-oriented automation that most robots power. Digital services like software publishing and computer system design also show high exposure, along with professional services like purchasing and agricultural work.
Cities highly exposed to AI disruption: established or emerging tech hubs like San Jose, Seattle, Salt Lake City, Boulder and Huntsville. Also, agricultural centers like Madera and Salinas in California and logistics and advanced manufacturing hubs like Greenville (South Carolina), Louisville and Detroit are at risk.
The bottom line: White-collar work is poised to face the same turmoil as jobs at the lower end of the wage spectrum. But the higher-earning workers — who are likely to have more education and more diverse skills, as well as bigger bank accounts — will be far better prepared to navigate the tectonic shifts, Muro says.
Go deeper with the full story.
4. Worthy of your time
Detroit's shrinking working age population (Kim Hart — Axios)
Reviving a crumbling city (Monica Davey — NYT)
Highway to hell: The rise and fall of the car (Oliver Wainwright — The Guardian)
The story behind Detroit's comeback (Amelia Duggan — National Geographic)
Detroit's schools race into the digital future (Koby Levin — Chalkbeat Detroit)
5. 1 fun thing: Old Detroit meets new Detroit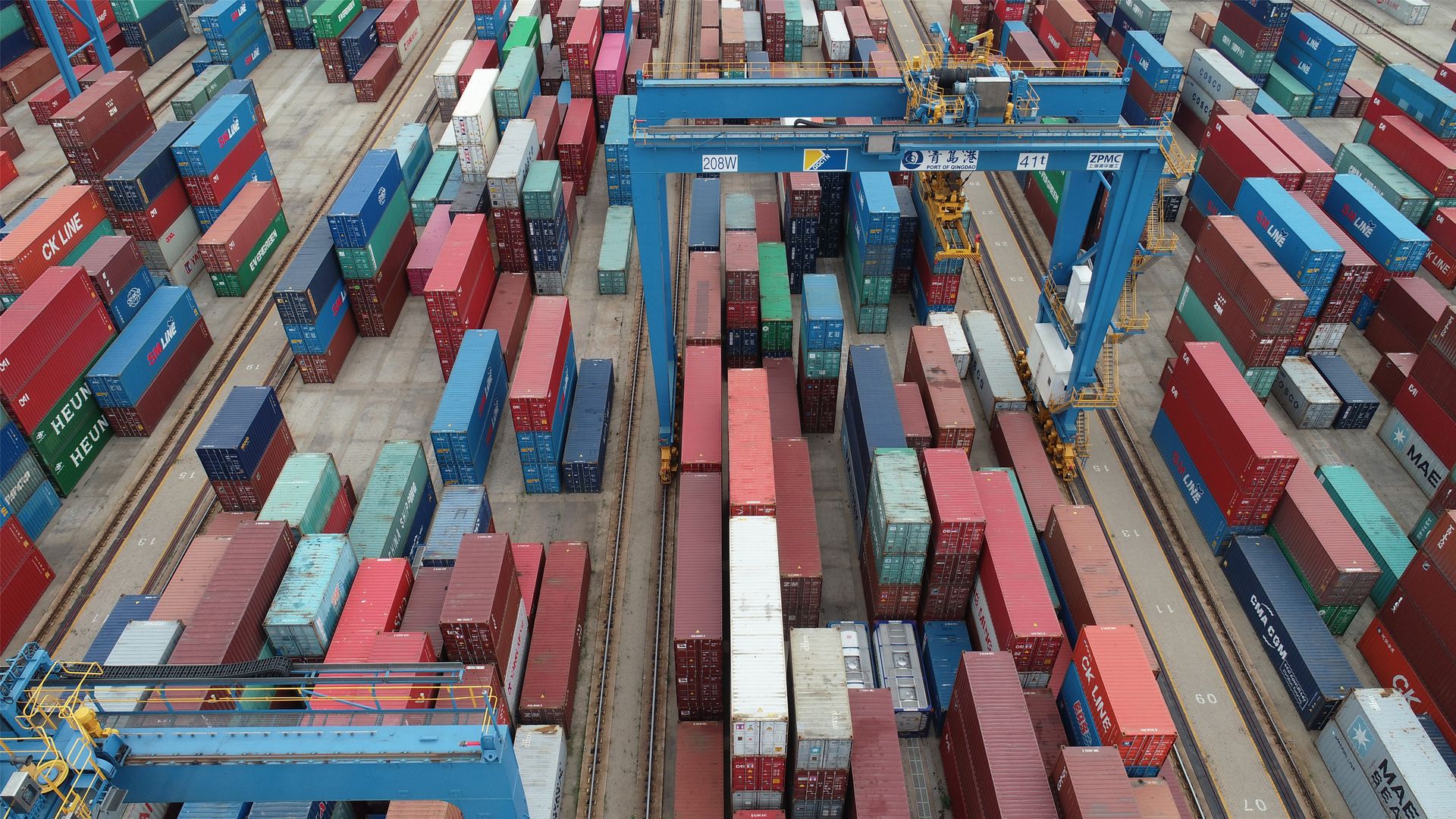 In its heyday, the Port of Detroit — the largest seaport in Michigan — sent cars to the world.
Now, some innovative Detroiters are taking old shipping containers from that port and turning them into places to hang out.
When I was in Detroit, I ate dinner at Takoi, a hip Thai restaurant serving interesting cocktails and small plates — all inside a shipping container in the middle of a parking lot.
There's also the Detroit Shipping Company, which took nearly two dozen old shipping containers and created an indoor space with a beer garden, upscale food vendors and shops.