Axios Future
April 22, 2020
Welcome to Axios Future, where we are about to hop on a Zoom call to talk about how sick of Zoom calls we are.
Thanks for the feedback. Send more to

[email protected]

or reply to this email.
If you were forwarded this newsletter, subscribe here.
Today's issue is 1,756 words, a 6.5-minute read.
1 big thing: How to make it to Earth Day 2070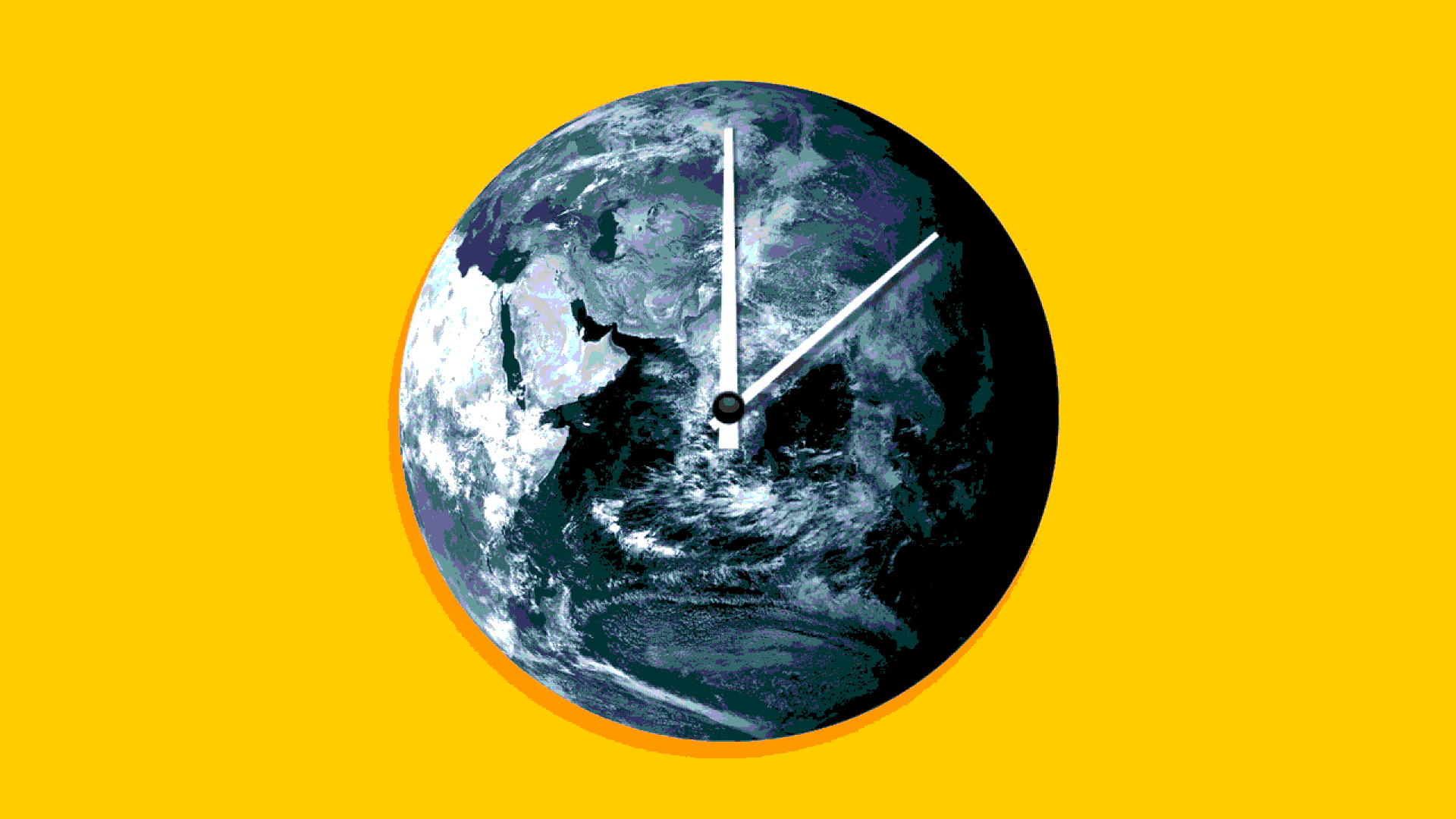 The 50th anniversary of the first Earth Day today is a chance to look back at environmental progress — and forward to the enormous challenges that remain.
The big picture: By many measures, the air and water in the U.S. is far cleaner than it was in 1970, thanks in no small part to the activism that helped create Earth Day. But the next 50 years will require leaps of innovation to address climate change.
The state of play: Perhaps the most significant indicator of just how far behind we're falling on climate change is something that, on the surface, would seem like a positive: the drastic drop in carbon emissions due to COVID-19 lockdown policies.
According to research firm Carbon Brief, global carbon emissions could fall by around 2 billion metric tons this year, equivalent to 5.5% of last year's record emissions. That would represent the biggest drop since World War II.
Yet UN projections say holding global temperature rise below 1.5°C would require even greater annual emission reductions of 7.6% over the next decade.
"If this is all we get from shutting the entire world down, it illustrates the scope and scale of the climate challenge, which is fundamentally changing the way we make and use energy and products," Costa Samaras, a climate scientist at Carnegie Mellon University, told E&E News.
My thought bubble: The COVID-19 experience is giving us an object lesson in what happens when the growth that drives the global economy halts and goes in reverse. It is not pleasant, and it's not an experience most of the world would choose to undergo voluntarily, even to save the climate.
What this means is that our best chance to ensure the 100th Earth Day is better than the 50th Earth Day is going to be through innovations that allow growth to continue without adding to the burden of climate change.
Regulations and global treaties like the Paris Climate Agreement will surely play a role, just as laws like the Clean Air Act helped drastically reducing air pollution. But carbon, unlike other pollutants, is so central to human activity that dislodging it can't be accomplished solely by legislative fiat — even if there were the political will to do so.
What they're saying: "What we're experiencing today is a warning of things to come," says Clinton Moloney, managing director of sustainability solutions at ENGIE Impact. "Companies need to reconfigure their business models to continue to grow while decoupling from resource consumption and delivering on the Paris Climate Agreement."
Flashback: In 1970, the threat of climate change had barely scratched public consciousness. But it was impossible to ignore just how filthy and unhealthy America's environment had become.
Cities treated rivers as little more than sewers, culminating in Cleveland's heavily polluted Cuyahoga River literally catching fire in 1969.
Air quality around major cities was just as bad, resulting in smog and other forms of air pollution that posed a direct and visible threat to human health.
The environmental movement that launched the first Earth Day was massive — by some estimates, a tenth of the U.S. population participated in events that day — and it helped spur the bipartisan passage of major legislation, which in turn led to visibly cleaner water and air today. But those same decades saw the rise of climate change as a global threat — and we've been nowhere near as successful in addressing it.
The average atmospheric concentration of CO2 — the single factor that most directly drives global warming — has risen from 325 ppm on the first Earth Day to 410 ppm now.
Average global surface temperatures have risen by nearly 1°C (1.8°F) since 1970.
Annual global carbon emissions have more than doubled since the first Earth Day, and they hit an all-time high last year.
The bottom line: The first 50 Earth Days added up to a mixed environmental success, but the next 50 will be far tougher.
2. The new "peak oil" could be demand, not production
Fifteen years ago, the world was worried it would run out of oil, yet this week the crude market cratered, with prices for American oil temporarily going negative.
The big picture: While the recent price crash is largely due to unprecedented drops in demand for oil because of COVID-19 lockdown policies, technological advances over the past decade unlocked new supplies in the U.S. and elsewhere.
The result is an oil glut that could keep prices low for years.
Background: The idea that the world would eventually run out of oil was prominently put forward by an American geologist named M. King Hubbert who predicted in 1956 (mostly accurately) that U.S. oil production would peak in the early 1970s. The theory received a boost in 1998 when Scientific American published an influential article by a pair of geologists arguing that global oil production would soon be unable to keep pace with rising demand.
In the years that followed, global oil prices kept rising, eventually passing $100 a barrel in early 2008.
The increase in prices, as well as projections of future decline in production in countries like the U.S., led to fears the world was approaching "peak oil," after which supplies would inevitably decline, prices would skyrocket and economic collapse would follow.
But, but, but: The opposite happened. The fracking revolution, which allowed oil companies to drill for new supply in places like western Texas and North Dakota, inverted projections like the one in the chart above. U.S. oil production began rising, adding millions of barrels a day to the global market.
By September 2018, the U.S. passed Russia and Saudi Arabia to become the world's biggest oil producer, and by the following year, the country was a net petroleum exporter.
What's next: It's a bad time to be in the oil business, but the world is a long way from getting off crude, with global demand passing 100 million barrels a day before the COVID-19 crisis. Still, with alternative energy and electric vehicles on the rise, it's not impossible to imagine the true peak oil we could be facing is peak demand, not peak production.
The bottom line: Unexpected technological change reliably overthrows our predictions about the future — which doesn't stop us from making them.
3. New: The Axios app is here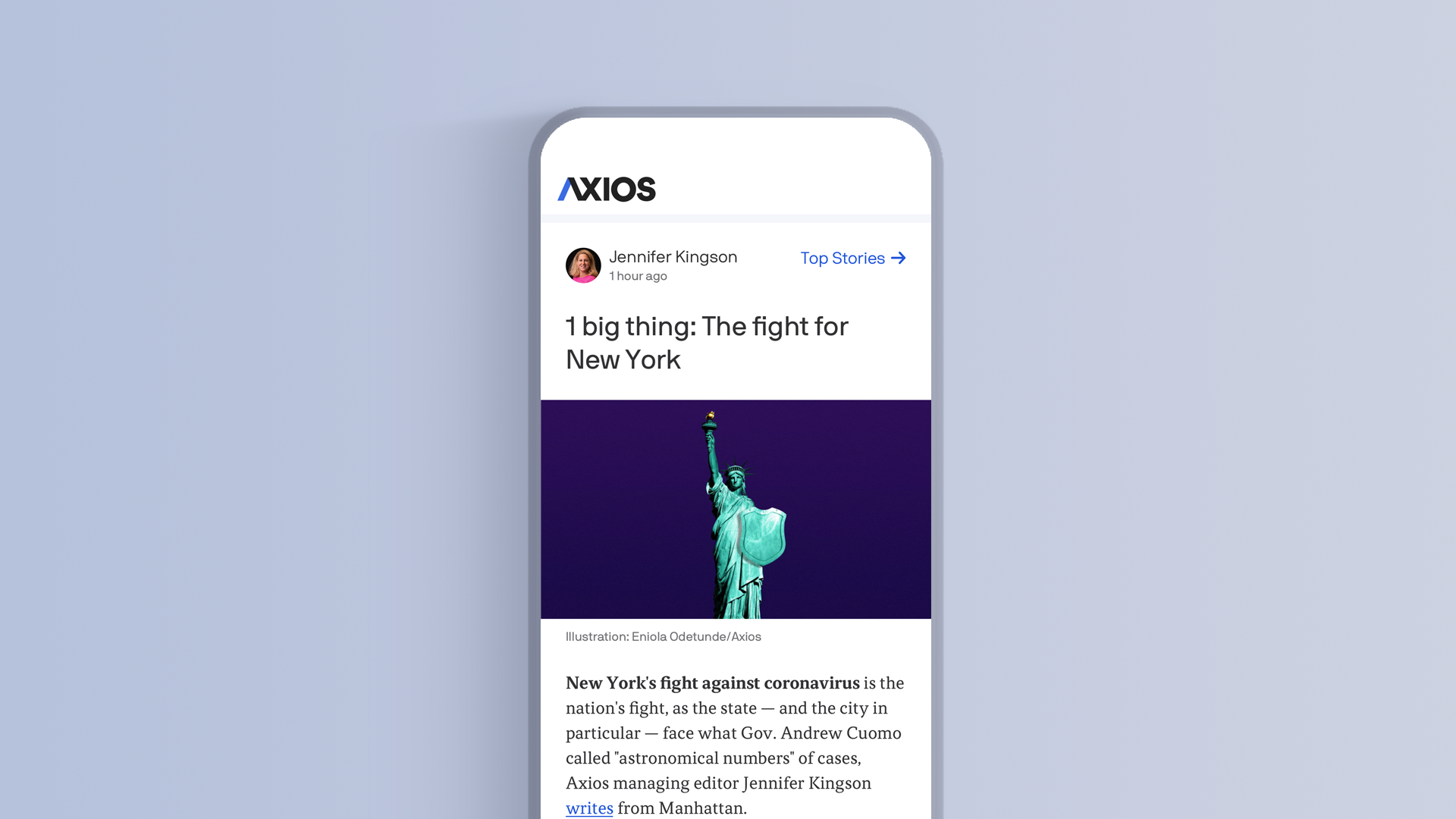 You asked for it! We're unveiling an Axios mobile app — an efficient, elegant experience that I'm anxious for you to try.
Why it matters: 
One convenient place: Now you can enjoy all your Axios newsletters and stories in one easy-to-access mobile location. 
It looks amazing: The app's design is sophisticated, yet simple — allowing you to intuitively consume news in Axios' signature Smart Brevity™ format.
Experience more Axios: The app captures our thinking on the future of news and newsletters — a watch-listen-read experience that includes more interaction with our journalists. You can sign up for push notifications for breaking news and get exclusive updates from me throughout the day. 
What's next: Please download the Axios app on your iPhone or Android device.
Have thoughts on the new app? Please reply to this email, or send them to 

[email protected]

.
4. How immigration impacts the future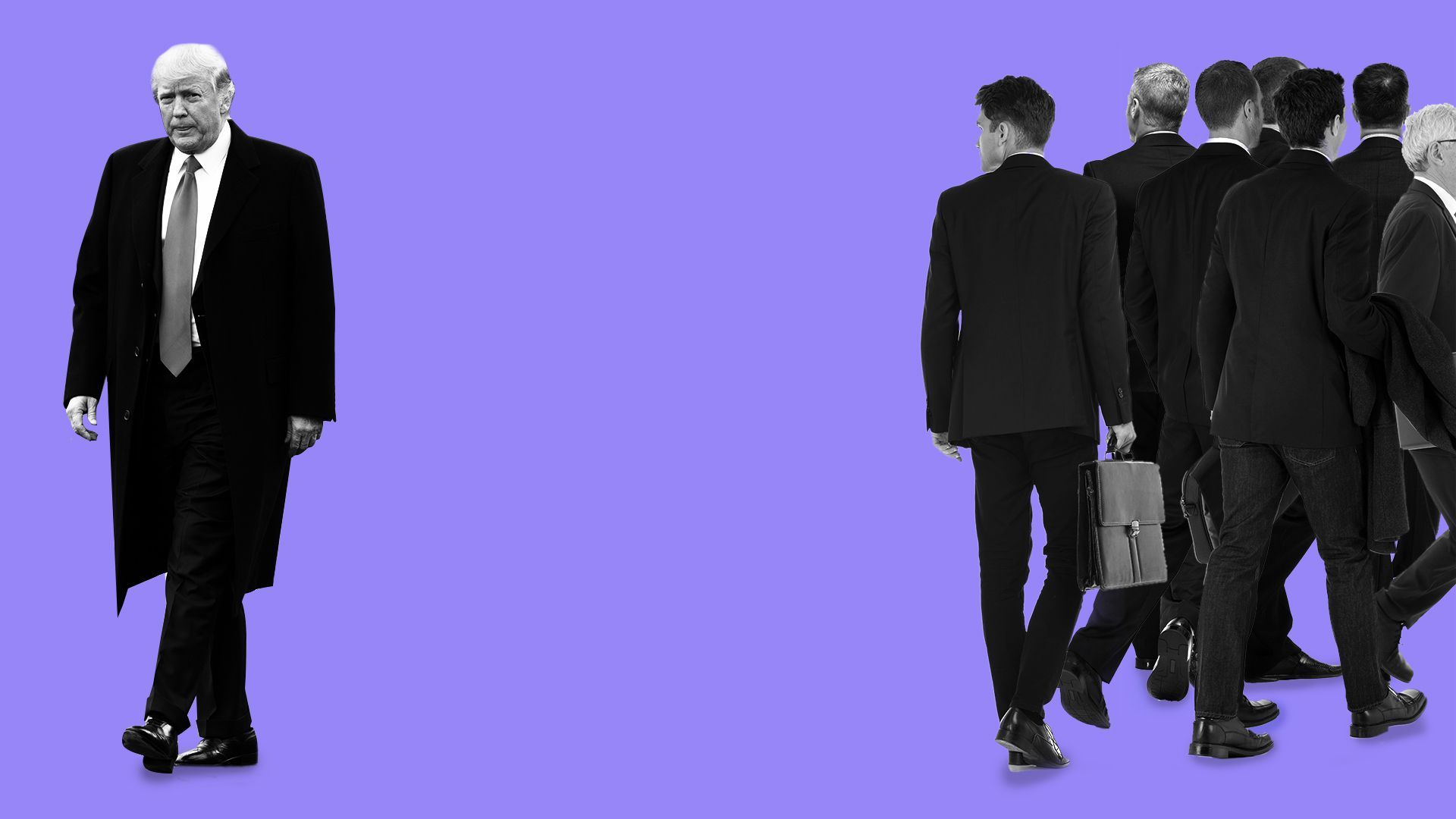 President Trump's announcement on Tuesday that he would temporarily suspend some kinds of immigration to the U.S. for 60 days will put pressure on hospitals and companies that depend on foreign expertise.
Why it matters: Immigrants make up a significant proportion of health care workers and the overall STEM workforce.
Driving the news: The order will only apply to individuals seeking permanent residency, not those entering the U.S. on a temporary basis, my Axios colleagues Stef Kight and Alayna Treene report.
After the 60-day period, the administration will reevaluate whether to extend or modify the order.
The order may have little impact in the short term, as travel between the U.S. and other countries has essentially halted due to the coronavirus pandemic.
Without immigrant labor, the U.S. response to the coronavirus would likely have been even worse than it already is.
Immigrants make up 17% of health care workers, 24% of direct care workers and 21% of doctors, according to Ali Noorani, the executive director of the National Immigration Forum.
"The bottom line is that immigrants are responding to the pandemic shoulder to shoulder with U.S. citizens," Noorani says.
My thought bubble: Over the longer term, cutting off immigration risks depleting a major source of innovation at a moment when the U.S. needs new ideas and new companies more than ever.
Eric Yuan, the CEO of the suddenly all-important video conferencing company Zoom, is one of many tech leaders who were born outside the U.S. Of the 2019 Fortune 500, 225 were founded by first- or second-generation immigrants.
"High-skilled immigration is critical for both the short-term recovery and long-term growth of the U.S. economy," says Richard Burke, CEO of Envoy Global, which helps companies manage the visa and immigration process.
5. Worthy of your time
Last call for the bayou (Smithsonian Channel)
A series of five mini-docs available for free on the channel's website tells the stories of coastal Louisiana's most threatened — and resilient — communities.
Inoculation (NPR — TED Radio Hour)
Top thinkers from the famous TED conference share lessons about past pandemics, and what they can teach us about COVID-19. Bonus: you get to spend time with the show's excellent new host Manoush Zomorodi.
How the COVID-19 pandemic may reshape U.S. hospital design (Jeremy Hsu — Undark)
As U.S. hospitals deal with a flood of coronavirus cases, new temporary designs may help prevent them from becoming overwhelmed.
Why most post-pandemic predictions will be totally wrong (Rob Walker — Marker)
We tend to assume that major crises like the pandemic will result in massive changes in behavior. They do — but rarely in the way we think.
6. 1 quarantine thing: Virtual restaurants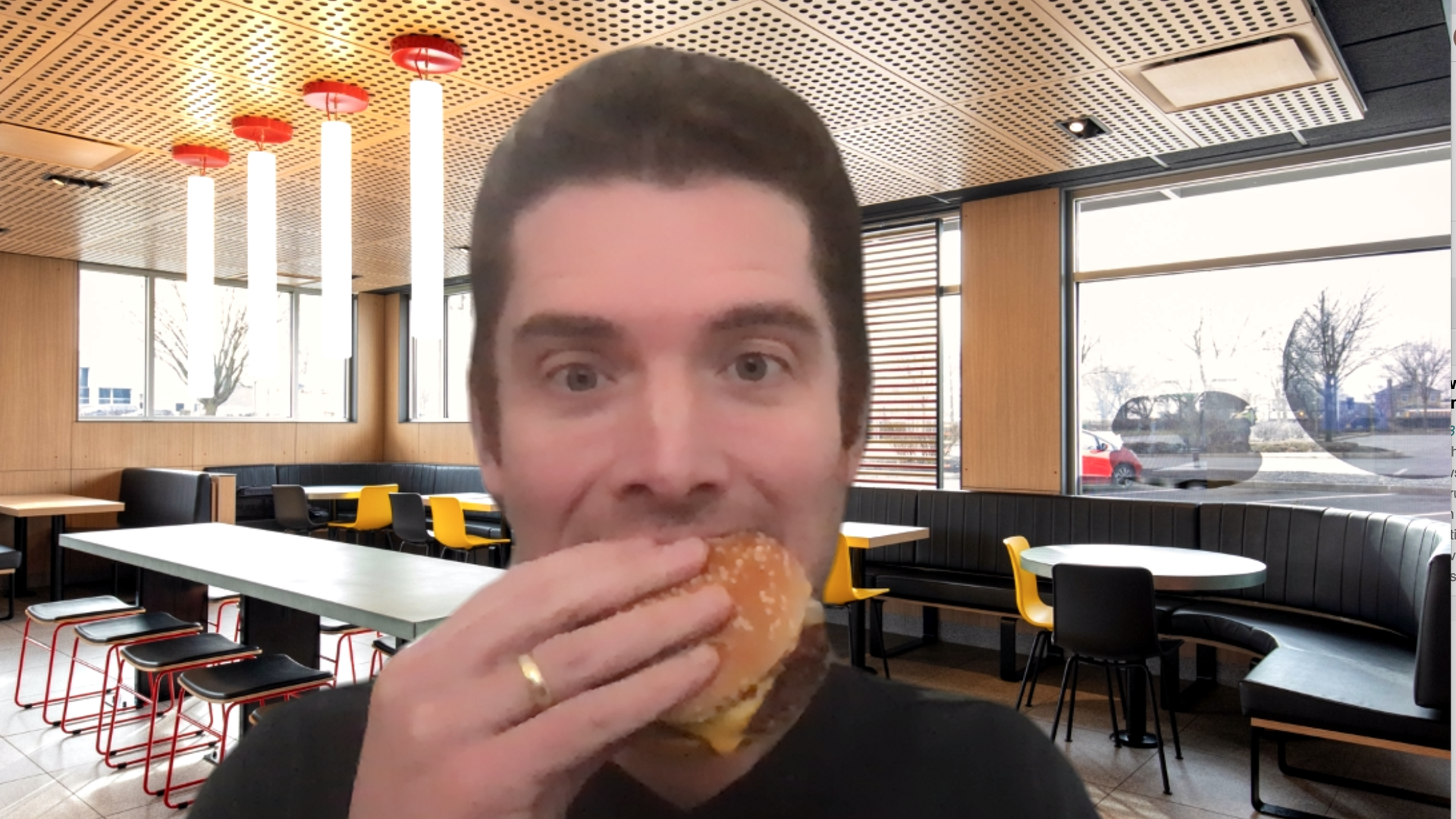 Food delivery startup DoorDash is offering virtual backgrounds of restaurants like Auntie Anne's, Outback Steakhouse and Chili's.
Why it matters: With restaurants almost universally closed to diners because of social distancing rules, a virtual Zoom background of a McDonald's is just about the only way you can meet up with your friends for a Big Mac.
Restaurants have been forced by the coronavirus to switch to delivery and takeout service. That's been a boon for delivery apps like GrubHub or Uber Eats, but scarfing your burger at home alone isn't quite the same experience as going out to eat.
Enter DoorDash's "Lunchroom" initiative. The company has made available for download virtual backgrounds shot in some of the most popular restaurants DoorDash offers delivery from.
Want to do a Zoom call featuring yourself eating in a virtual Cracker Barrel, a Panera or a Cheesecake Factory? This is your chance. (Another setting is "the Moon," and I can only imagine what the delivery fees are there.)
What they're saying: Some food critics are less than impressed.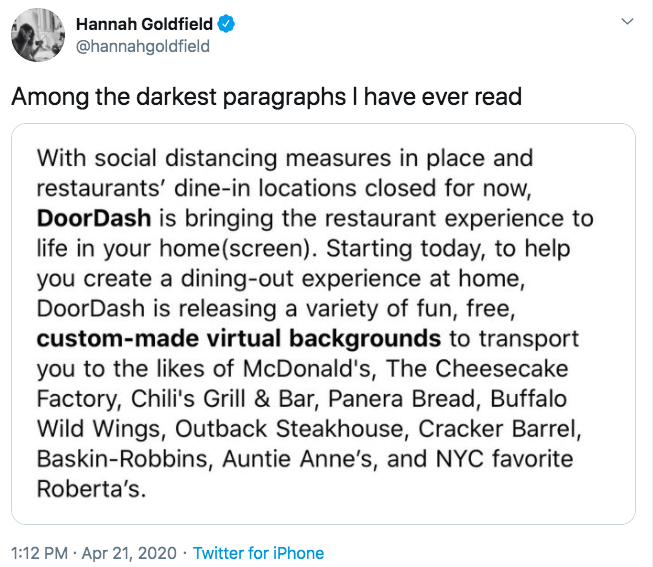 The bottom line: Like so much else happening in the quarantine era, a virtual Zoom restaurant background for a remote food date is both innovative and a little depressing.