Welcome back ... We have more news! Axios is launching its twice-weekly World newsletter by David Lawler starting tomorrow evening. Make sure you register here.
Please invite your friends and colleagues to join the conversation on the Future of Work. Tell me anything on your mind, including about what you are reading here and in the daily stream. Just hit reply to this email, or message me at steve@axios.com. Let's start with ...
https://www.axios.com/newsletters/axios-future-28cc3a3c-27af-4989-bff6-37d34314dbf1.html?chunk=0#story0
1 big thing: The jobs' cost of the tariffs war
In addition to the multi-day bloodbath on Wall Street, the U.S.-China tariffs war will cost 190,000 American jobs thus far and shave a smidgen of GDP growth from the economy, according to projections by Mark Zandi, chief economist at Moody's Analytics.
What they're saying: For months, President Trump has continued to gripe about the cost to U.S. workers of the U.S.-China trade imbalance. But, if Zandi is more or less right, the tit-for-tat trade attacks that he set off last week will cut close to a month's average growth in U.S. jobs and will slice off 0.14% from this year's growth in GDP.
"And the economic costs will mount quickly if the back-and-forth tariff hikes continue," Zandi tells Axios.
While that may already look like trade war, Eurasia Group president Ian Bremmer tells Axios that it's not. It's closer to posturing.
"Trump's supporters and China will continue to create off ramps from the worst outcomes," Bremmer says.
And Trump himself tweeted today that there is no trade war.
Yes, but: If what's been announced does get implemented —"[t]hat will mean goods are more expensive, companies will be less profitable, the average worker gets hurt," Bremmer says.
How long this will last: GeoQuant, a New York research firm that uses artificial intelligence, says to expect at least a month more of trade-induced mayhem in the stock market.
https://www.axios.com/newsletters/axios-future-28cc3a3c-27af-4989-bff6-37d34314dbf1.html?chunk=1#story1
2. The age of low pay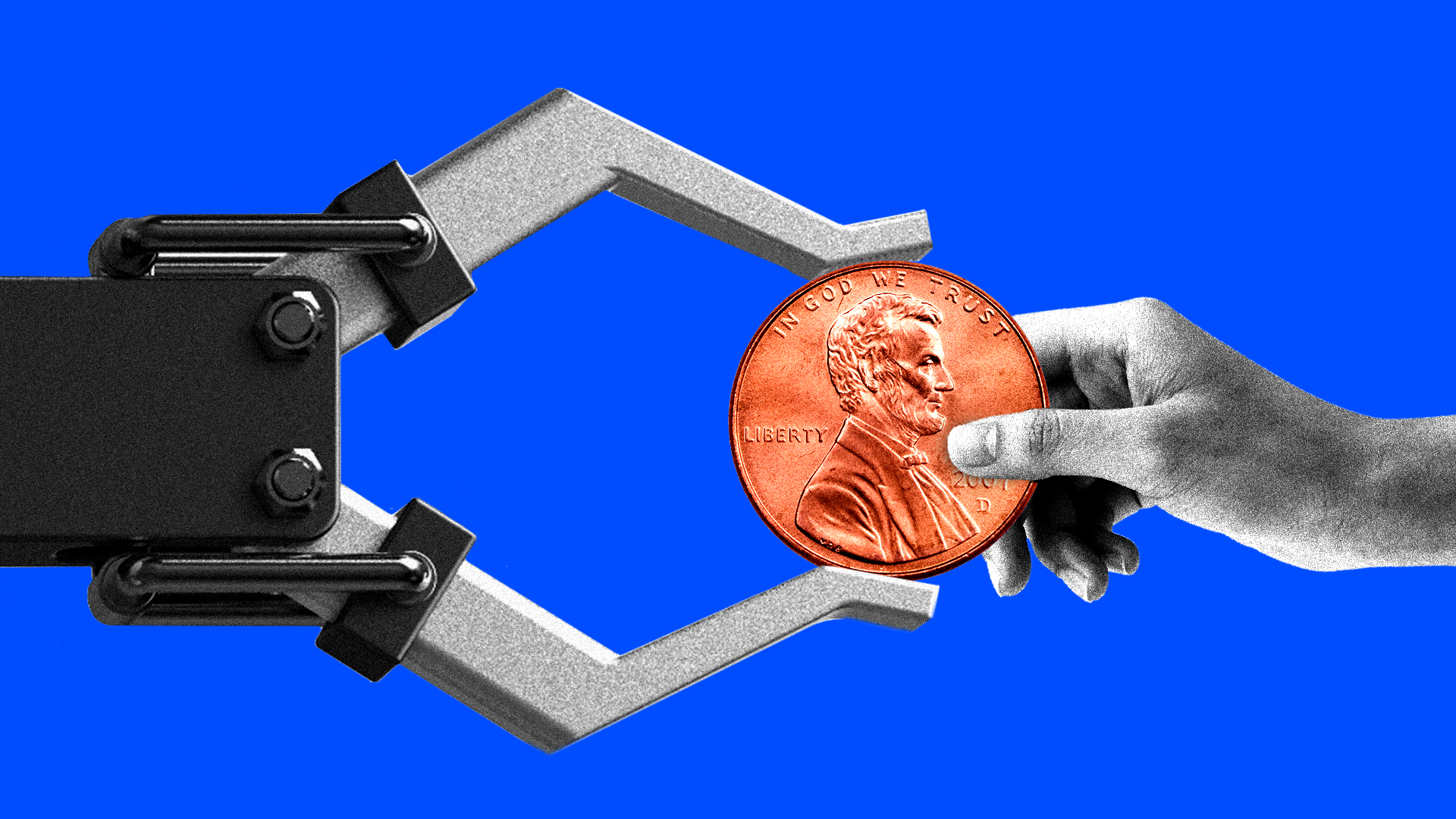 The last few months have seen a rash of studies on a coming automation apocalypse, and analysts are moving to a few targeted worries about the future of jobs. Their thought process goes something like this:
There may be a long, deep economic disruption lasting decades and taking millions of jobs.
The economy will eventually come out of it.
But wages for most jobs may be too low to sustain a middle-class lifestyle.
Important background: In the 19th century, it took about six decades for U.S. wages to recover after the first industrial age automation of the 1810s. And the agriculture-to-industrial shift of the 20th century lasted four decades.
What's next: Karen Harris, managing director of Bain's Macro Trends Group, forecasts that the new automation wave could displace 2.5 million workers a year. That compares with 1.2 million a year in the agricultural upheaval from 1900 to 1940, after adjusting for population.
"The coming disruption may be most disruptive to the workforce in a hundred years," Harris says.
Key issue: Economists seem to agree it'll be wages, and not jobs themselves, to watch.
MIT's Andrew McAfee, co-author of "The Second Machine Age," tells Axios that companies are not creating the middle-class jobs that were the backbone of the economy for more than a half-century. "I'll start to calm down when old-fashioned middle class jobs come back. I'm just not seeing that," he says.
Brookings' Mark Muro says wage disparity is increasing. "Automation will affect everyone, but will create more problems for different groups — young people perhaps, those less educated, groups that already receive less training and less education."
https://www.axios.com/newsletters/axios-future-28cc3a3c-27af-4989-bff6-37d34314dbf1.html?chunk=2#story2
3. Canada's heist of big brains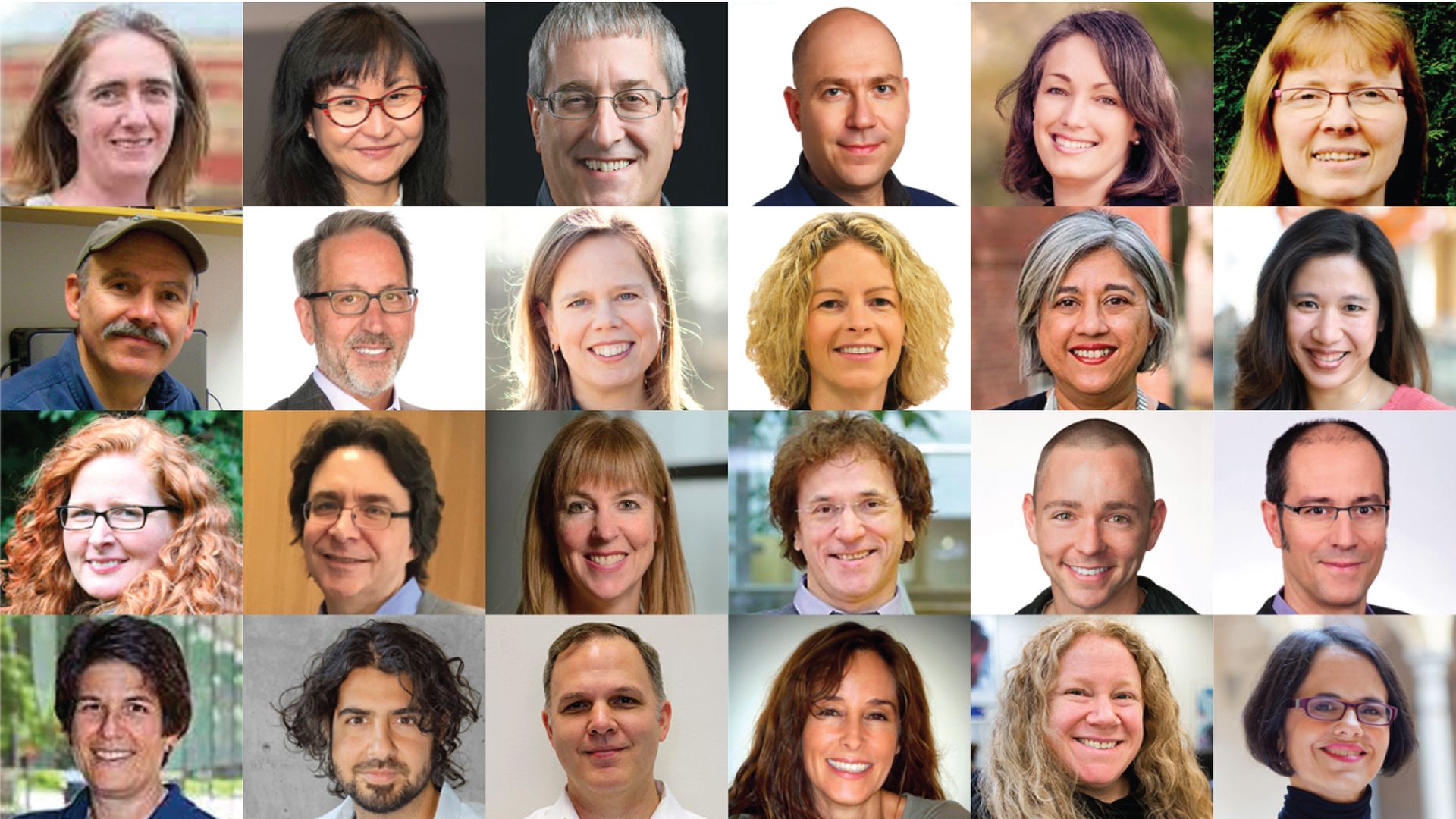 Seoul-born Wendy Hui Kyong Chun, a professor at Brown University known for her work on fake news, is moving to Canada. So is Alan Aspuru-Guzik, a Harvard chemistry professor working on quantum computing and AI.
What's going on: They are among 24 top academic minds around the world wooed to Canada by an aggressive recruitment effort offering ultra-attractive positions, seven-year funding arrangements — and, Chun and Aspuru-Guzik said in separate interviews with Axios, a different political environment from the U.S.
Chun, who grew up in Canada and has lived in the U.S. since 1992, said she will launch a new "digital democracies group" at Simon Frazier University in British Columbia, which will take on the problem of the online echo chamber.
She spoke of wanting to live in a country "with a strong commitment to public education, funding research and universal health care."
"That makes a real difference to society," she said.
She added, "Some of my friends work in climate research. Funding for that is disappearing and that's disturbing."
Aspuru-Guzik tells a similar story. He will become a professor of computer science at the University of Toronto. He will have a concurrent position at the Vector Institute, an AI research center where Geoffrey Hinton, the father of machine learning, is chief scientific adviser.
After 20 years in the U.S., Aspuru-Guzik worried watching the rise of the Christian Right and then the Tea Party. When Trump won election in 2016, he said that was the final straw.
https://www.axios.com/newsletters/axios-future-28cc3a3c-27af-4989-bff6-37d34314dbf1.html?chunk=3#story3
4. Labor stirs to action...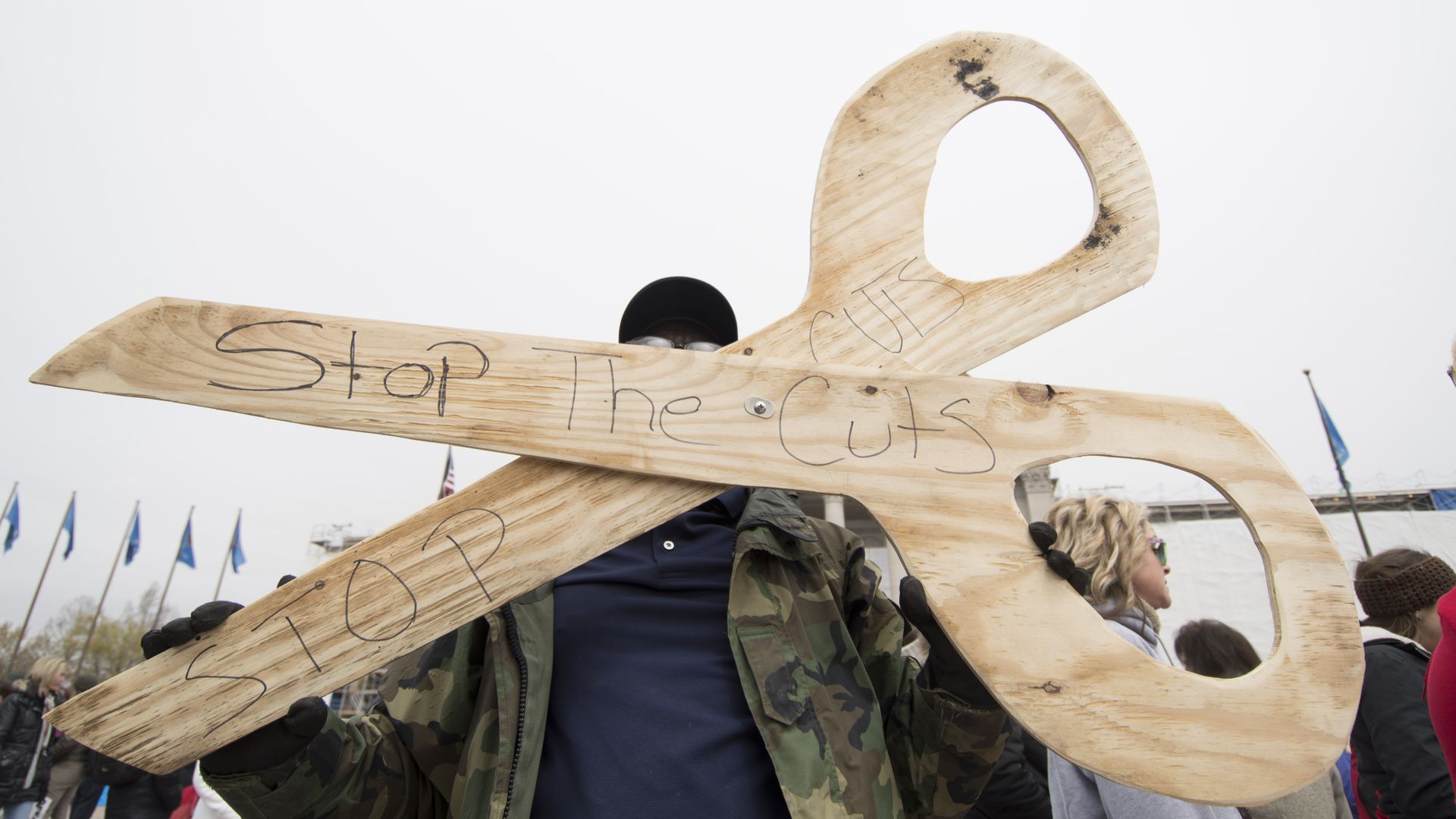 The burgeoning U.S. teacher strikes suggest a potential picture of the dystopian future. Walkouts in Oklahoma, Kentucky and West Virginia are the latest example of a red state uprising against years of wage stagnation caused by tight-fistedness in public spending, writes NYT's Dana Goldstein.
The walkouts continue today, per The Republic's Kaila White. And they are being watched in states like Arkansas, where there are the same complaints, reports the Arkansas Times' Benjamin Hardy.
More labor actions are expected, according to Randi Weingarten, president of the American Federation of Teachers. She says the labor activity is triggered in part by Trump's tax cuts, which hit a raw nerve after years of cutting to the bone.
The money crunch is another reason, Weingarten says, pointing to the fact that 29 states spend less on education than they did in 2007, a year before the financial crash.
"I expect teachers will be more willing to engage in walkouts," she said.
Between the lines: In Kentucky, teachers say they have not seen a pay raise in a decade. When the legislature offered them 15% to 18% increases, they said it wasn't enough when averaged over the void of years, write the AP's Sean Murphy and Bruce Schreiner.
https://www.axios.com/newsletters/axios-future-28cc3a3c-27af-4989-bff6-37d34314dbf1.html?chunk=4#story4
...as wage growth slows
Wages are going up, but the growth is shrinking, says Glassdoor chief economist Andrew Chamberlain.
By the numbers: Wages should be rising an average of 3%–4% given the tightness of the job market, Chamberlain says.
According to official data from the U.S. Bureau of Labor Statistics, wage growth was a lower 2.6% in February.
Yes, but: Glassdoor data — based on a survey of 100,000 salaries posted by the jobs site every month — show even lower growth, shrinking to just 1% last month.
The bottom line: Chamberlain attributes the stagnation to poor growth in productivity. If worker productivity is rising as measured by what's made each hour, ordinarily wages should rise because they can charge more for their labor.
But hourly productivity is not rising, hence neither are their wages. "I don't think anyone has an answer for that," he said.
https://www.axios.com/newsletters/axios-future-28cc3a3c-27af-4989-bff6-37d34314dbf1.html?chunk=5#story5
5. A foreign gaze on Amazon and Tesla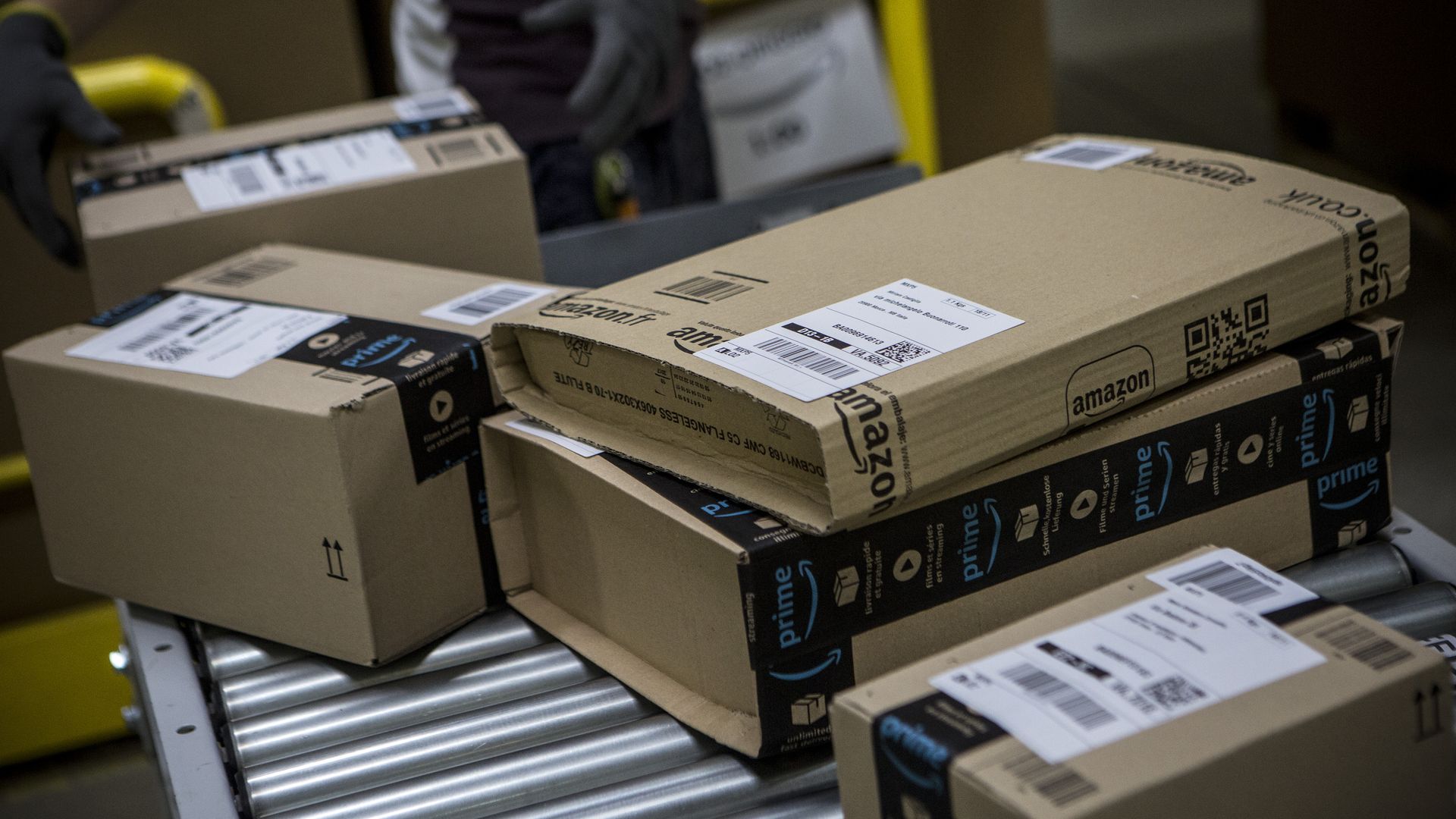 Trump's attacks on Amazon could put the company under added tax scrutiny by foreign governments, according to a report by Wells Fargo.
Tweet attack: Ken Sena, a senior analyst with the bank, said Trump's multi-day Twitter rant regarding retail closures and his "perceptions of Amazon tax evasion stand to play well to some foreign and state governments who conceivably share the president's concerns." Sena wrote:
"As the potential exists for the rhetoric and tweet barrage to intensify, we see the president's actions as potentially stirring additional scrutiny of Amazon, beyond the Federal government, particularly where tax is concerned."
"This is likely true even though many of us remember the Presidential debate where we heard from the President how not paying federal taxes 'makes me smart.'"
Amazon declined to comment.
Tesla's potential hit: Brian Johnson, an analyst with Barclays, says Tesla may become another victim of Trump's most recent tirades, in this case from his trade tariffs against China.
China has added a 25% levy on top of an already-existing import tariff on foreign cars. Currently, a Tesla Model S 100D costs $148,000 in China, versus $94,000 in the U.S. The new tariff would go on top of that.
Last year, Tesla sold 17% of its cars in China. Unlike most other carmakers, Tesla doesn't manufacture any vehicles in China.
https://www.axios.com/newsletters/axios-future-28cc3a3c-27af-4989-bff6-37d34314dbf1.html?chunk=6#story6
https://www.axios.com/newsletters/axios-future-28cc3a3c-27af-4989-bff6-37d34314dbf1.html?chunk=7#story7
7. 1 unhappy thing: millennial optimism drops
American under 35 have been more optimistic than those over 55 every year since 1960, when the University of Michigan began tracking the sentiment. No longer. For the first time in 58 years, older people are sunnier than younger Americans.
Buzz: Torsten Slok, chief international economist at Deutsche Bank, tells Axios that the trend goes two ways — younger people seem to have become more pessimistic, and their elders more optimistic.
Younger generation optimism peaked in 2014 to 2015, then fell steeply.
Older Americans saw a large spike up coinciding with the 2016 election.