Welcome back from the holidays. Now is a great time to invite your friends and colleagues to join the conversation. Tell me anything on your mind, including what you think about what you are reading here and in the daily stream. Just reply to this email, or reach me at steve@axios.com. Let's start with ...
https://www.axios.com/newsletters/axios-future-27fb532d-688e-4291-9815-0c8bc96ebe87.html?chunk=0#story0
1 big thing: A furtive e-commerce coup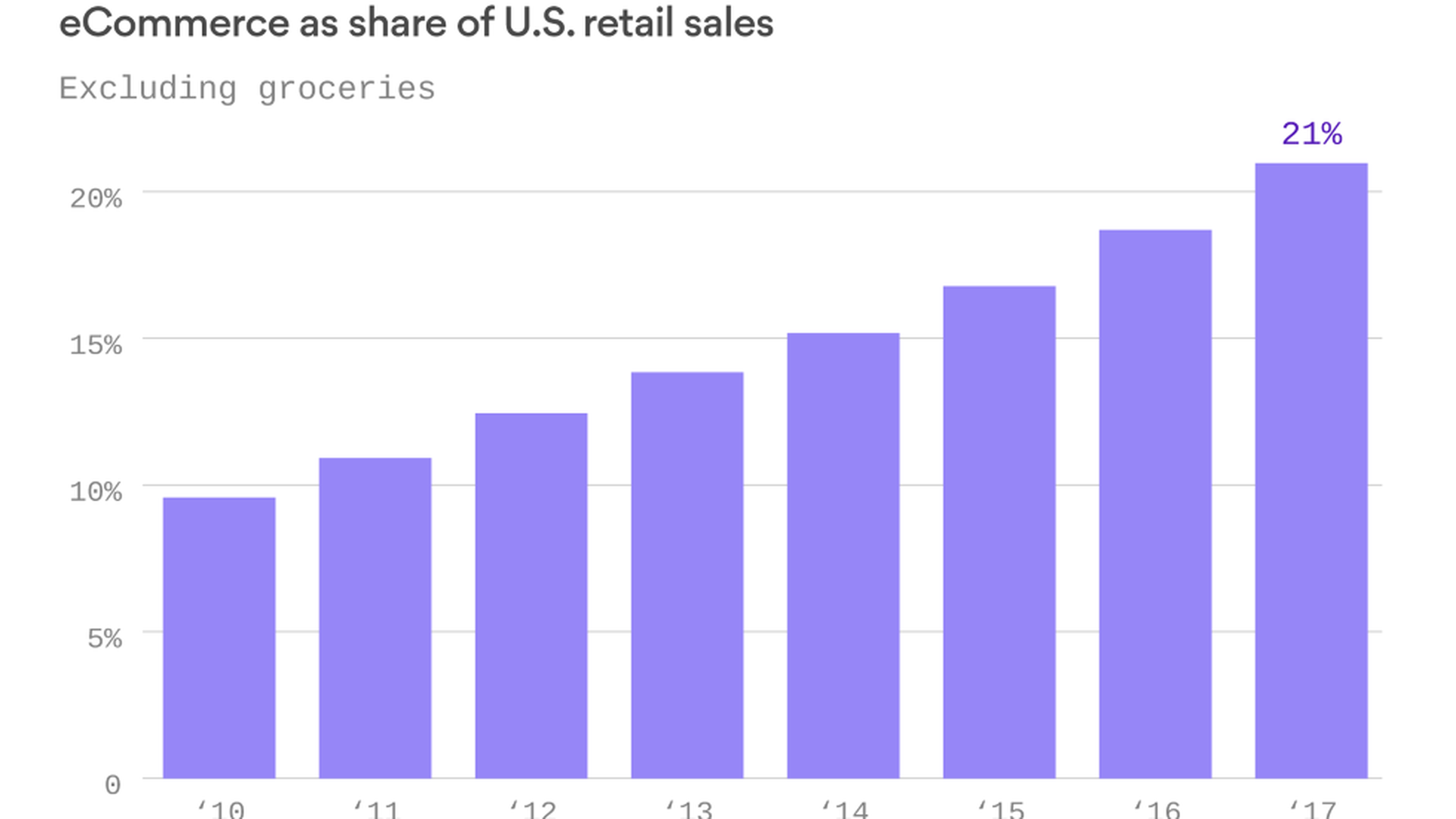 E-commerce sales may be twice as high as generally reported, according to a new calculation by Thomas Paulson, who runs Minneapolis-based Inflection Capital Management.
Buzz: Rather than 9% of retail sales — as reported by the Fed and other sources — Paulson says Amazon and other e-commerce companies grabbed 21% of total U.S. retail sales last year. In 2016, it was 18.7% and the last time the rate was still at 9% was in 2010, he added.
What's happening: Few people buy cars or gasoline online and there are not many who buy groceries or restaurant meals on the internet. Yet, when analysts, such as the Federal Reserve Bank of St. Louis, measure the bite that e-commerce outfits are taking from brick-and-mortar retail, they generally include such purchases.
Why it matters: The impact, Paulson tells Axios, is to vastly understate the scale of the U.S. e-commerce industry, and to overstate the devastation in traditional shops.
"Amazon's gross margin rate is up substantially over the last six years because it has been raising prices and gotten into higher-priced products," Paulson said.
https://www.axios.com/newsletters/axios-future-27fb532d-688e-4291-9815-0c8bc96ebe87.html?chunk=1#story1
2. Amazon's big profit ...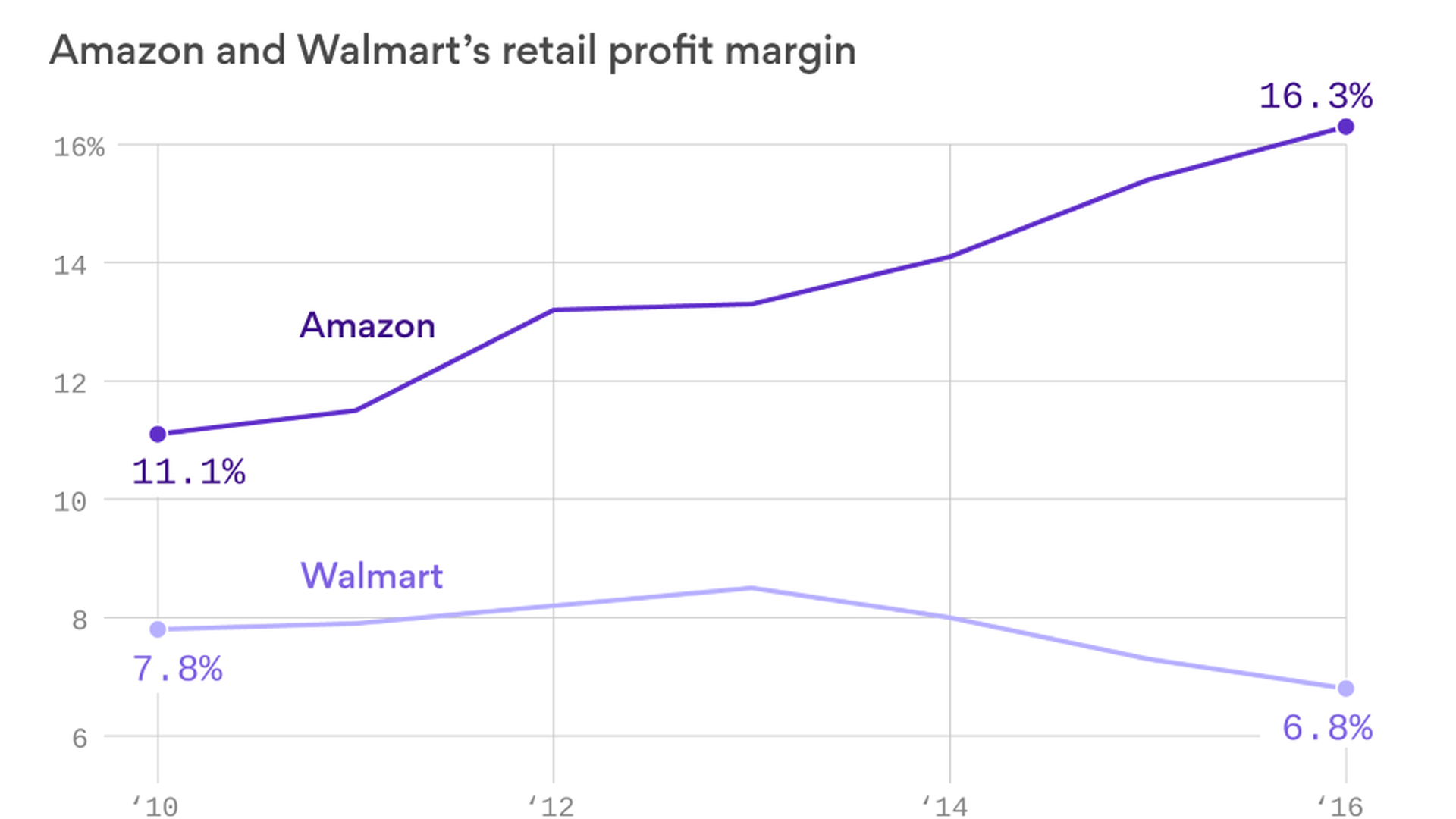 The other misnomer about Amazon is its profitability. The conventional wisdom about the e-commerce giant is that its prices are so low that it earns no money. But Paulson points out that when you strip out its enormous investment in itself, Amazon earns exceptional profits.
By the numbers: After spending for expansion, such as developing its market in India, China and Europe, along with other costs such as taxes, Amazon earned about 16 cents on every dollar in 2016 sales, Paulson says. That is 140% higher than Walmart, Amazon's greatest competition at the moment, which compares with 6.8 cents after deduction for taxes, losses from its .com expansion, and other costs (see chart above).
Why it matters: Walmart's gross revenue is far greater than Amazon's — $485.9 billion in 2016, compared with $136 billion for Amazon. And Walmart is earning big net profits now. But Amazon's higher margins — and its upward trajectory — are a signal for what could be coming down the road if CEO Jeff Bezos decides to start delivering more cash to shareholders.
https://www.axios.com/newsletters/axios-future-27fb532d-688e-4291-9815-0c8bc96ebe87.html?chunk=2#story2
... and in 2018, the continued brick-and-mortar implosion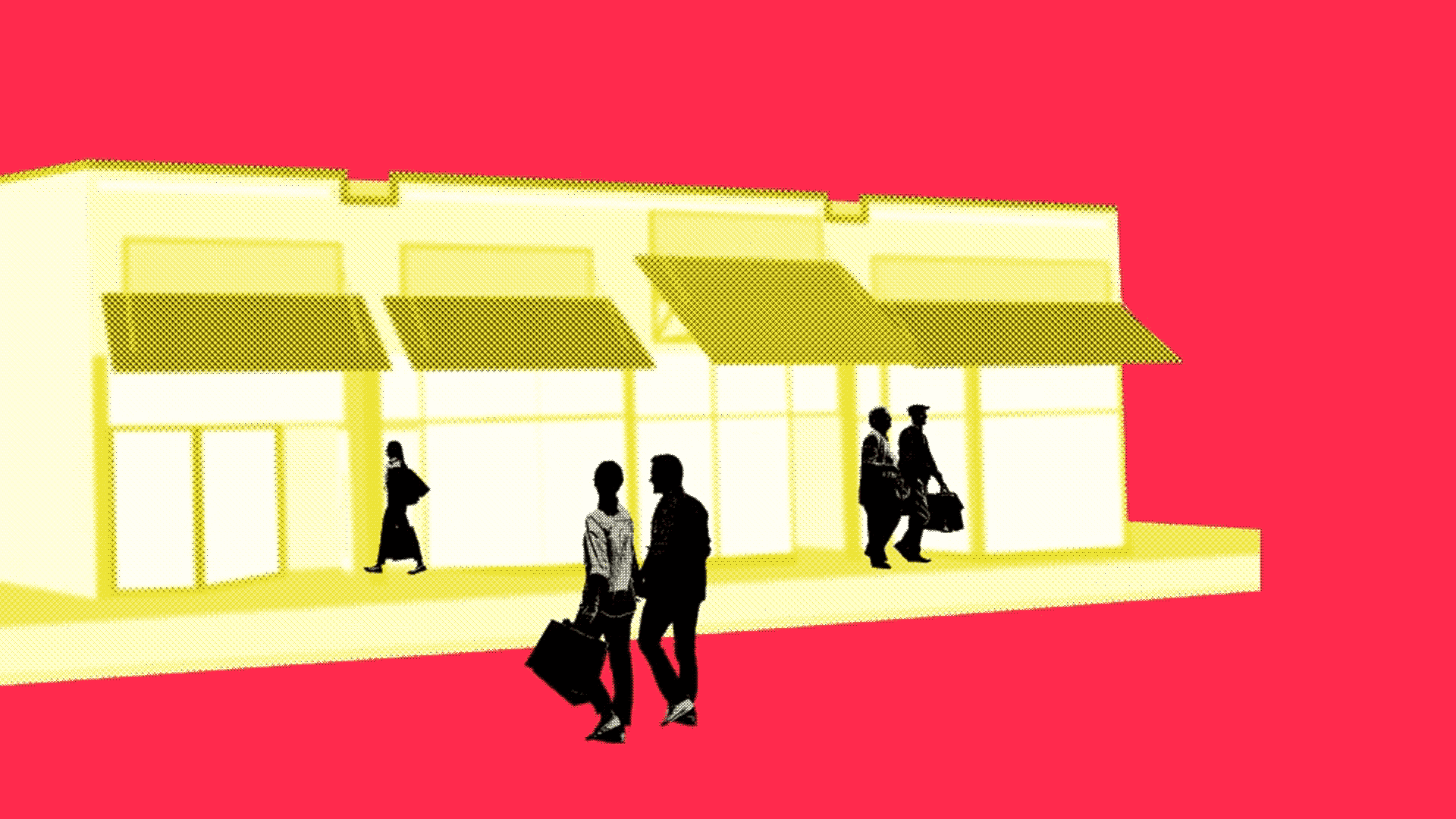 After its worst year since the financial crash, Big Retail appears to be headed for more bloodletting: There were $5.7 billion in retail defaults last year, and Fitch expects the number to rise to $7 billion in 2018, a 23% surge. If it occurs, that would be stunning, as retail already accounted for a whopping 30% of all 2017 defaults, when 50 retailers declared bankruptcy.
Who's in the most danger: According to Fitch, it's Sears, Neiman Marcus, J Crew, Talbots, Lands' End and Cole Haan.
The big question: Will "experiential" retail, as they call their experiments in transforming physical stores, succeed in getting people offline, into their shops, and — most importantly — buying.
Also look for retailers to use more augmented reality to bring products right into their customers' home. Ikea is leading the way, letting customers see how furniture would look in their homes before they buy.
https://www.axios.com/newsletters/axios-future-27fb532d-688e-4291-9815-0c8bc96ebe87.html?chunk=3#story3
3. Kaepernick's right-to-work lawsuit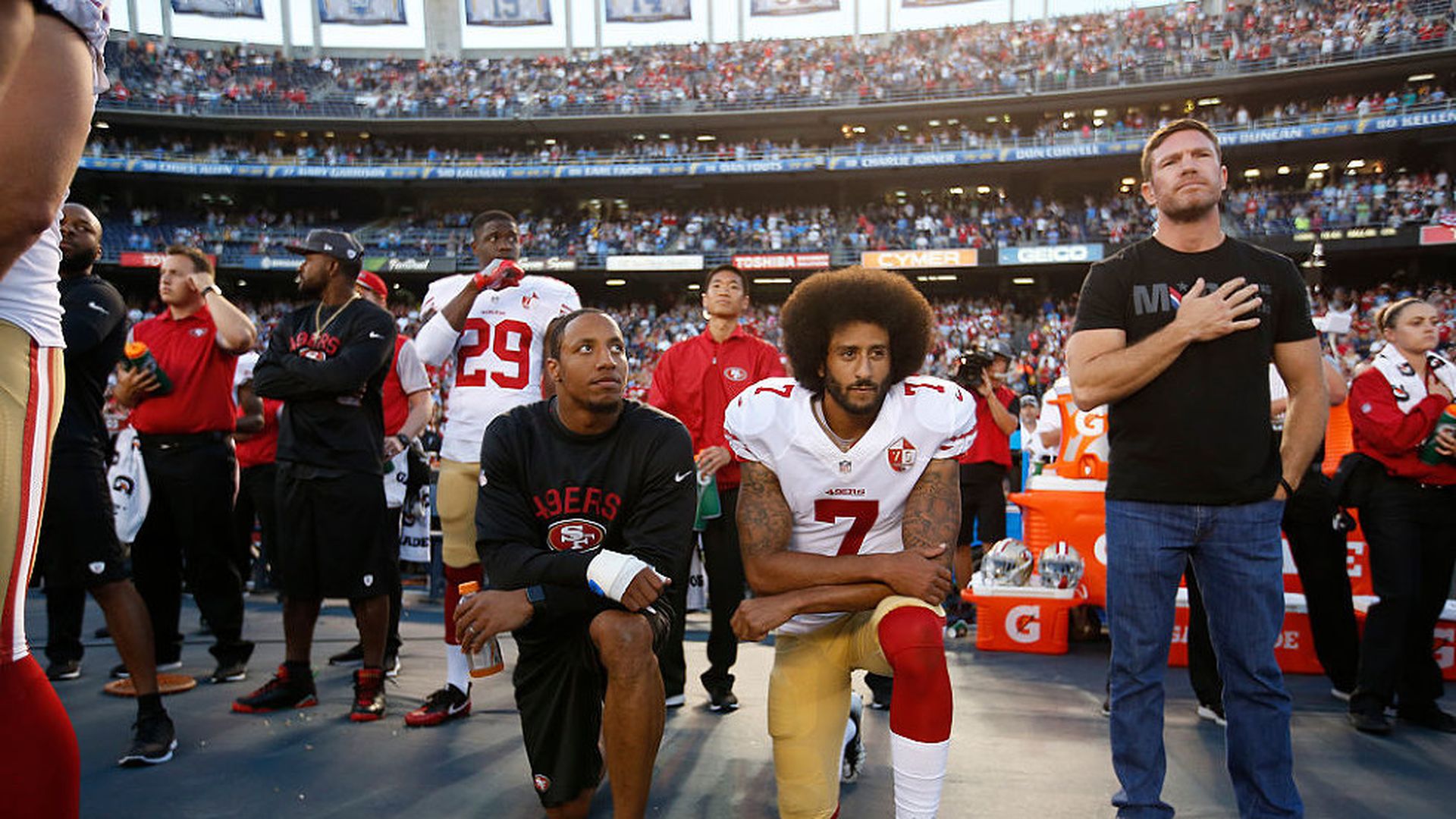 Lawyers for the NFL are expected this week to begin handing over documents sought by NFL quarterback Colin Kaepernick in his lawsuit alleging collusion to keep him from working. Kaepernick accuses the league of blackballing him because of his political protest of the treatment of blacks at the hands of police.
Legal experts say he will have a tough time proving his case, but his lawyer Mark Geragos tells Axios that's because they don't understand the law.
Why it matters: The case is highly politicized. Since Kaepernick began going down on one knee during the national anthem before his games in 2016, dozens of other players followed suit, making him a proud symbol for black athletes and others sharing his views. At the same time, he became a lightning rod for critics, including President Trump who called him unpatriotic.
The background: In 2012, Kaepernick led the San Francisco 49ers to the Super Bowl, their first appearance since 1994. The team reached the conference final the next season, but failed to get to the playoffs for the next three seasons, and Kaepernick opted out of his contract in March 2017. He has not played since.
The fine print: There are 64 quarterback slots in the league when you count backups, and several have been signed since Kaepernick became a free agent, some of whom seemingly have lesser ability than him.
The NFL collective bargaining agreement bars the teams from deciding collectively "to negotiate or not to negotiate with any player."
Brad Snyder, a law professor at Georgetown, tells Axios that it will be difficult for Kaepernick to prove the agreement was violated — that there was collusion among the teams. "It's very possible that all the teams came to this same conclusion that, 'We don't want to hire this guy.' That's not illegal."
But Geragos says that to prove his case he needs only an implied agreement among one or more teams. "We are confident that at a minimum we will be able to prove that the [Collective Bargaining Agreement] impliedly was violated by circumstantial evidence. We expect that direct and express evidence exists as well."
Both the NFL and Kaepernick declined to comment.
Go deeper: Read the whole post.
https://www.axios.com/newsletters/axios-future-27fb532d-688e-4291-9815-0c8bc96ebe87.html?chunk=4#story4
4. Big driver shortage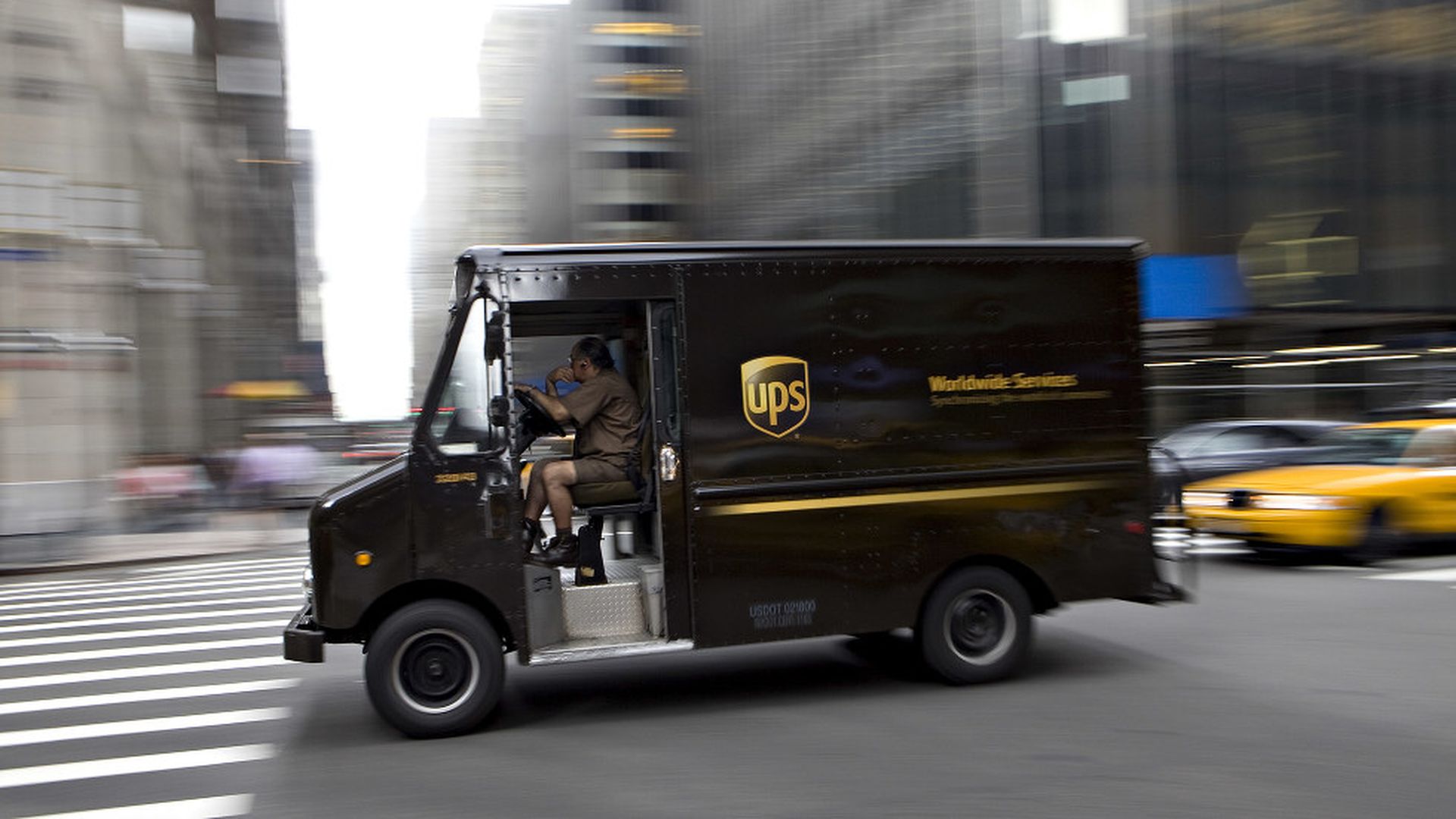 An offshoot of the "Amazon effect" is an explosion in the number of job listings for delivery truck drivers. Listings rose to the No. 3 spot with 44,000 listings in 2017, which is a 19% increase over 2017, according to Monster chief marketing officer Jonathan Beamer.
Quick take: Some time in the future, many of these jobs may vanish as autonomously driven trucks take to the road. But, if humans are to be removed from the picture, that will require a system for smoothly dropping off packages on doorsteps as well.
As of now, the surge in these jobs has come almost out of nowhere — in 2014, they were No. 25 on the Monster list. And the firm expects 110,000 more such truck-driving openings over the coming decade.
Key fact: "Active truck utilization" is a measure of how many trucks are needed versus the number available. The 10-year average is 93%, reports the FT's Gregory Meyer. But last year it rose to 100% — meaning there is no wiggle room in the system. One result is surging prices to hire trucks, and rising wages to attract and retain drivers.
Companies are offering stock options and signing bonuses to attract drivers. Look at the listings at Indeed, another jobs site.
https://www.axios.com/newsletters/axios-future-27fb532d-688e-4291-9815-0c8bc96ebe87.html?chunk=5#story5
5. Worthy of your time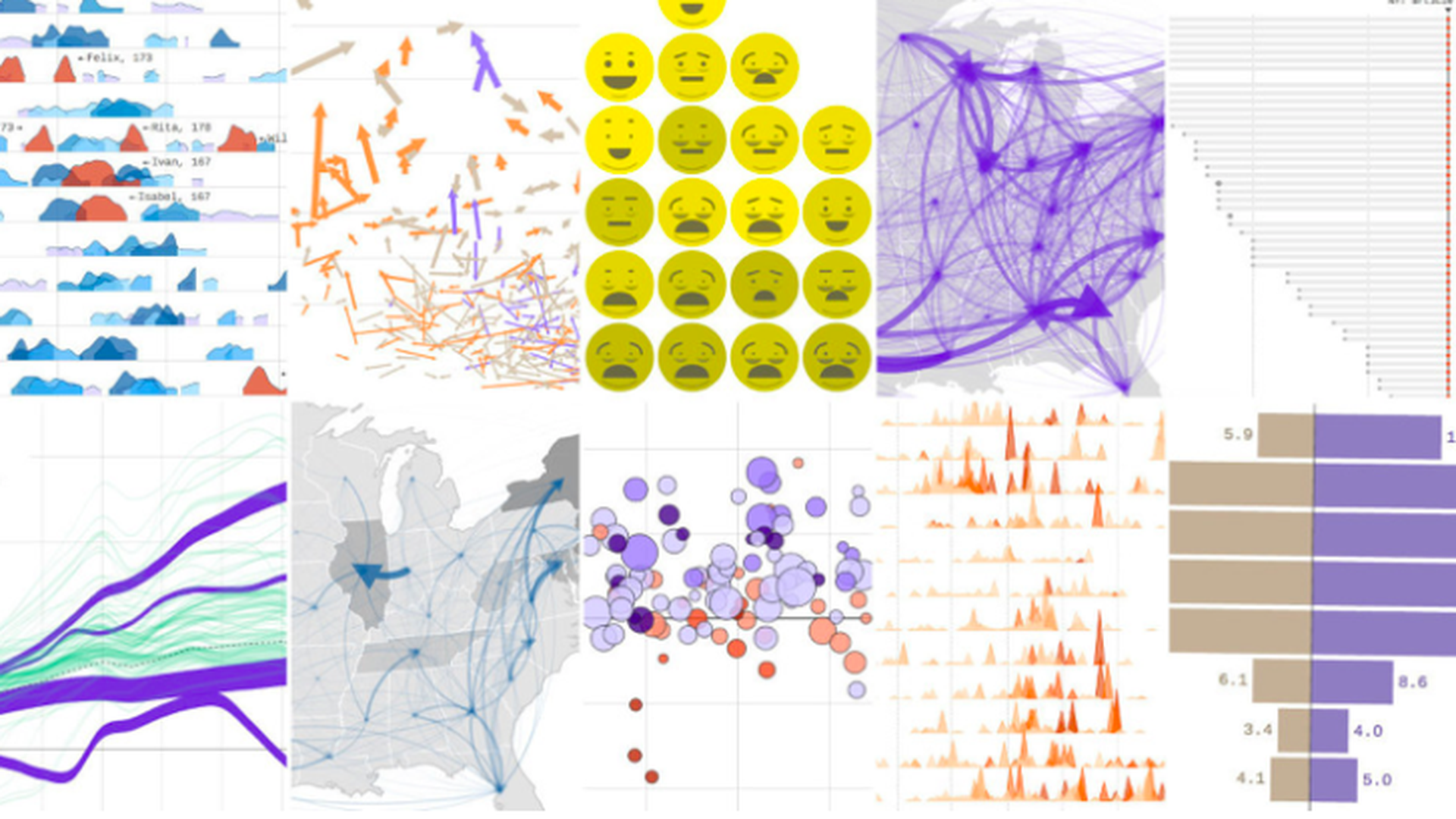 https://www.axios.com/newsletters/axios-future-27fb532d-688e-4291-9815-0c8bc96ebe87.html?chunk=6#story6
6. 1 extreme weather thing: private firefighters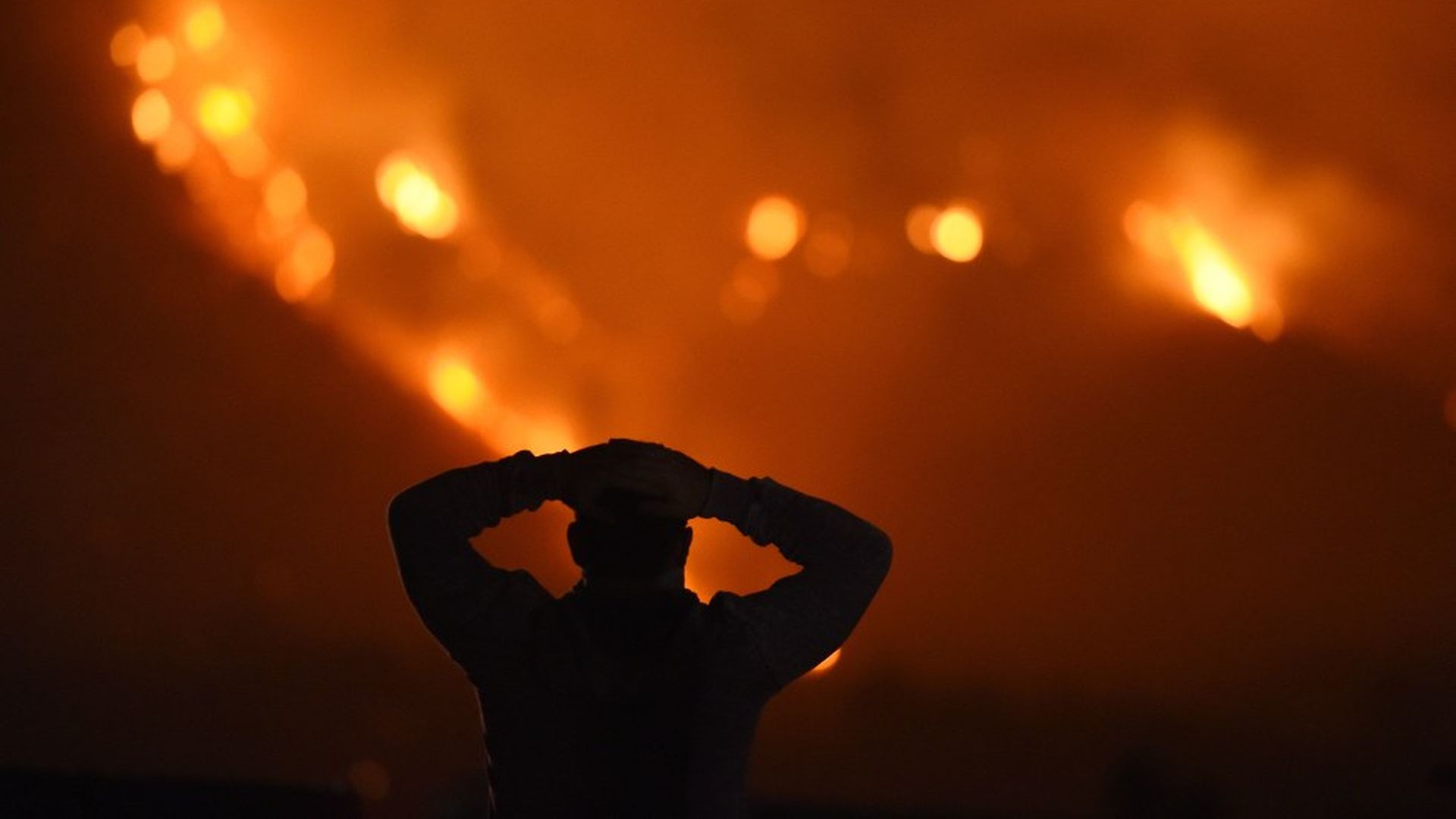 The Thomas Fire in California has been burning for a month, destroying some 282,000 acres, or 440 square miles in two counties. About 92% of it was contained as of yesterday, officials said. In addition to the roughly 8,300 firefighters battling the flames in Thomas and other California areas over the last couple months are private firefighters — trained professionals who are protecting super-expensive houses.
These firefighting contractors are hired by insurance companies that are on the hook for homes sometimes worth $2 million and more, writes the Santa Barbara Independent's Kelsey Brugger. In certain fire-prone zip codes, some insurance companies require policyholders to buy policies covering the cost of such firefighters, reports the WSJ's Leslie Scism.
The pay for such dangerous work varies wildly. An ad on the internet is offering private firefighters in the Santa Barbara County city of Goleta $13 to $20 an hour. That seems to be the going rate for a lot of firefighters across the West, although the city of Redding was offering $85,848 to $135,612, according to another ad.
Go deeper: Read the whole post here and watch some of these firefighters up close in this WSJ video.