April 11, 2019
1 big thing: When middle class isn't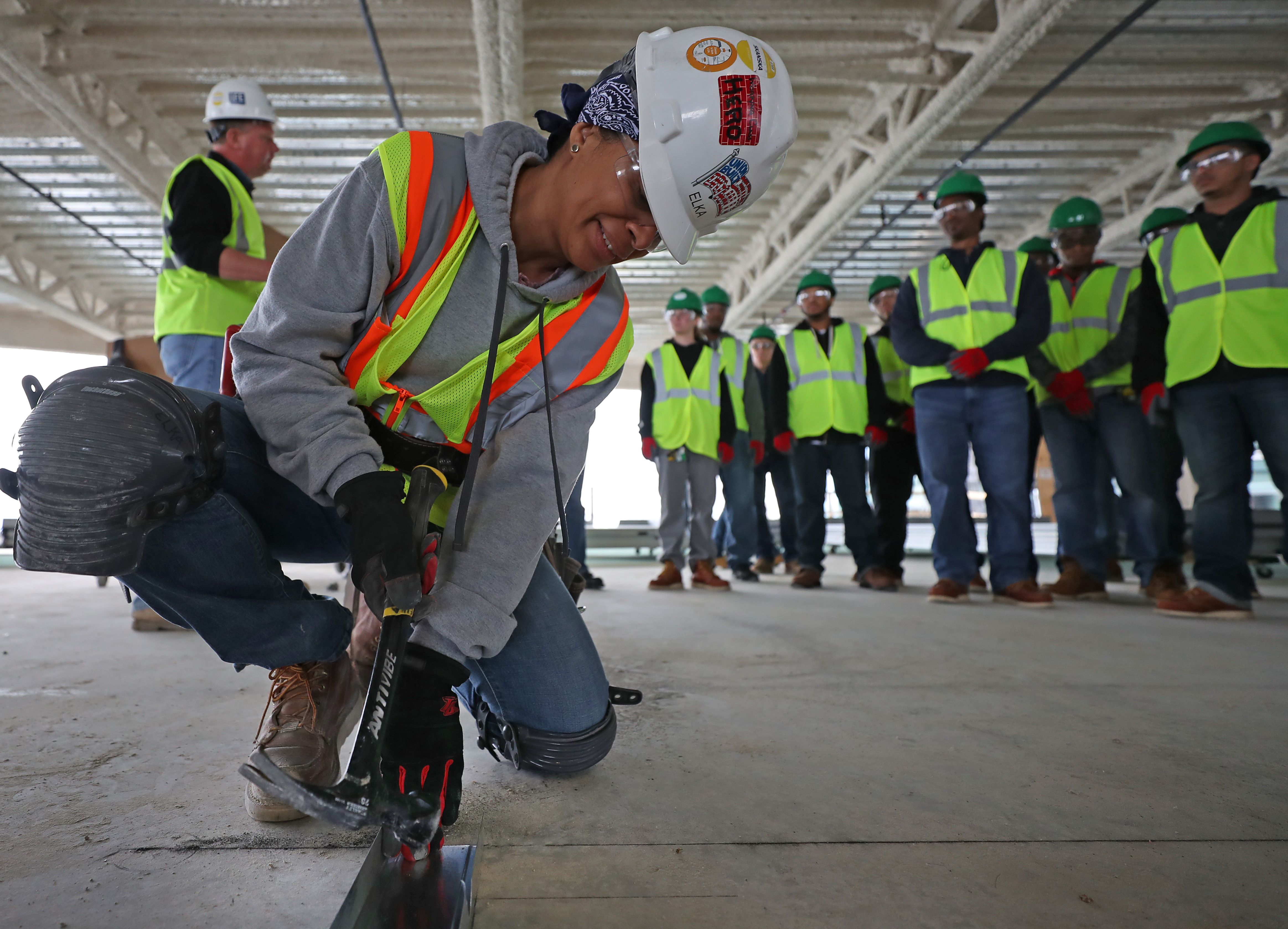 A primary complaint about the current U.S. economy has been the hollowing out of "middle-skill jobs" — the type of work that people with high school educations and substantial training could do and earn a "middle wage."
But even if such jobs were restored, it would not mean a revival of America's battered middle class.
That's because middle-wage jobs largely do not pay a middle-class salary.
Confused? So were we.
What's happening: Since the early 1970s, the American middle class has shrunk to about half of all families, from about 60%, according to Pew, a trend that's taken on more importance since the financial crash, becoming a substantial feature of the nation's broad disaffection.
Digging into the economic fallout, study after study has noted the deindustrialization of numerous states, such as Ohio, Pennsylvania, Michigan and Wisconsin, resulting in tens of thousands of job losses.
But while many of those jobs once paid middle-class wages, the collapse of unions and other factors have much-reduced the pay. Now, the same jobs are said to pay "middle wages," but do not suggest a ladder to the actual middle class.
An example: In 1972, the average American union carpenter earned the current equivalent of $33.55 an hour — about $70,000 a year. Today, a carpenter earns $20.23 on average, about $42,000 annually, according to Indeed.
The difference in dollar terms is of course enormous. But it's arguably more in terms of what it buys. In the 1970s, it was a ticket to the middle class, with the then-accouterments, including a home, a reasonably new car and possibly even a summer vacation.
Today's average carpenter salary is at the very bottom of the middle class, which begins at about $40,000, according to Pew, and does not typically put a worker in a position to purchase the 1970s middle-class lifestyle.
The background: In 1948, unionized auto industry workers achieved a major breakthrough — an agreement from the industry on a "basic wage." Over the subsequent decades, the symbol of the basic wage was $20 an hour, a threshold that spread, representing the bottom of the union wage ladder.
By 1979, 23% of all U.S. hourly workers earned at least $20. Then it began dropping, to 18% in 1989 and 16% in 2000.
Today, economists and other experts typically call $15 an hour "middle wage;" the top of the middle-wage scale can be a little over $20. Since the financial crash a decade ago, some three-quarters of new jobs have paid around $15 or less an hour. As of 2015, 42% of all workers earned $15 or less per hour, according to the National Employment Law Project.
Why it matters: Language matters. Use of the phrase "middle wage" projects the impression of a middle-class job. That they are not suggests a degradation of what it means to be middle class — now, to be middle class, you must earn a "high wage."
"I would expect that most people that earn $15 an hour, especially if they are in higher-cost areas and have a family to support, are not able to live what they believe to be a middle class life given the increased costs for housing, education, and health care, and the fact that these costs are increasing far faster than wages," said Al Fitzpayne, who runs the Future of Work Initiative for the Aspen Institute.
Go deeper: The problem with automation
2. A worldwide census from the sky
Using local census data and satellite imagery, Facebook says it has developed a high-definition map of every building in most of Africa, a first step in its plan to chart the entire world's population.
Kaveh writes: Detailed maps of where people live can help aid workers quickly respond to natural disasters or disease. They're also vital to Facebook's plans to distribute the internet around the world — and, by extension, get more people on the platform.
Details: "Crisis mapping," in which volunteers contribute to maps that relief organizations rely on, has become a popular way to help aid efforts after a disaster.
It's usually a manual process that requires contributors to study satellite imagery and add what they see to maps.
Facebook today announced a system that automates the process with computer vision. The company is distributing the maps for free, and will use the results for its own internet connectivity projects.
"Facebook's project is an example of how we'll understand the planet far better with the right data," says Mark Johnson, CEO of Descartes Labs, a startup that uses satellite imagery to track natural resources.
Johnson says mapping projects that depend on satellite imagery are changing science.
"We're going from sampling a small amount of data and extrapolating [from] it to a world of constant observation, allowing us to have a near real-time understanding of human activity," he tells Axios.
How it works: To figure out where people actually live inside of often-enormous and largely empty census tracts, Facebook engineers started with an algorithm that chucked out every part of the map that clearly didn't have a building in it, based on satellite photos. Then, they used a second AI system to test the remaining 11.5 billion tiles — each covering an area of roughly 100 by 100 feet — for buildings.
Aid workers have used previous versions of Facebook's population maps to deliver electricity to rural Tanzania, or to visit 100,000 houses in Malawi in just three days to tell residents about measles and rubella vaccines.
3. China's misunderstood edge
America is holding on to a narrow lead in a number of new technologies that will shape the future, but China is rapidly catching up.
Erica writes: Per a new report from the Information Technology and Innovation Foundation, China is closing the gap — and even edging ahead — as an innovator.
In 2008, China filed a tenth as many patents as the U.S. under the international Patent Cooperation Treaty. But, last year, China nearly closed the gap, filing 81% as many.
China is catching up to the U.S. in the development of supercomputers. In 2008, China had a twentieth of the number of supercomputers that the U.S. had, but by 2018, it had twice as many.
Over the last 10 years, China's expenditures on R&D grew from 33% of that of the U.S. to 76%.
The bottom line: The lead does appear to be slipping away as the pace of China's catch-up keeps accelerating. On R&D investment, "China could become #1 next year," Harvard professor Graham Allison tells Axios.
And for the U.S. to lose its upper hand in these emerging technologies could hurt American national security and economic well-being for decades to come.
"The trajectories of both sides transform yesterday's chances for science and tech cooperation into tomorrow's flashpoints for conflict," says Allison.
4. Worthy of your time
Microsoft research could be helping Chinese surveillance (Madhumita Murgia, Yuan Yang - FT)
Phone addicts are the new drunk drivers (Ina Fried - Axios)
Age of robot farmers (John Seabrook - New Yorker)
The secret trust scores companies use to judge us (Christopher Mims - WSJ)
Asia's worst aging fears are coming true (Mitsuru Obe - Nikkei Asian Review)
5. 1 ironic thing: Don't fall for the…
Kaveh found this car in a Stanford University parking lot this week.
Perhaps the owner of this Tesla P85D — a car that retailed north of $120,000 when it was released — made their money off AI hype. Or, they think AI is hype — slang for cool. Or maybe it's just an inside joke.
In any case, the driver better hope that AI isn't all hype if they're letting Autopilot, Tesla's semi-autonomous driving system, take the wheel on highways.