https://www.axios.com/newsletters/axios-future-24e943e9-2c0c-4339-9f4c-22a8888c3674.html?chunk=0#story0
1 big thing: About those health care jobs...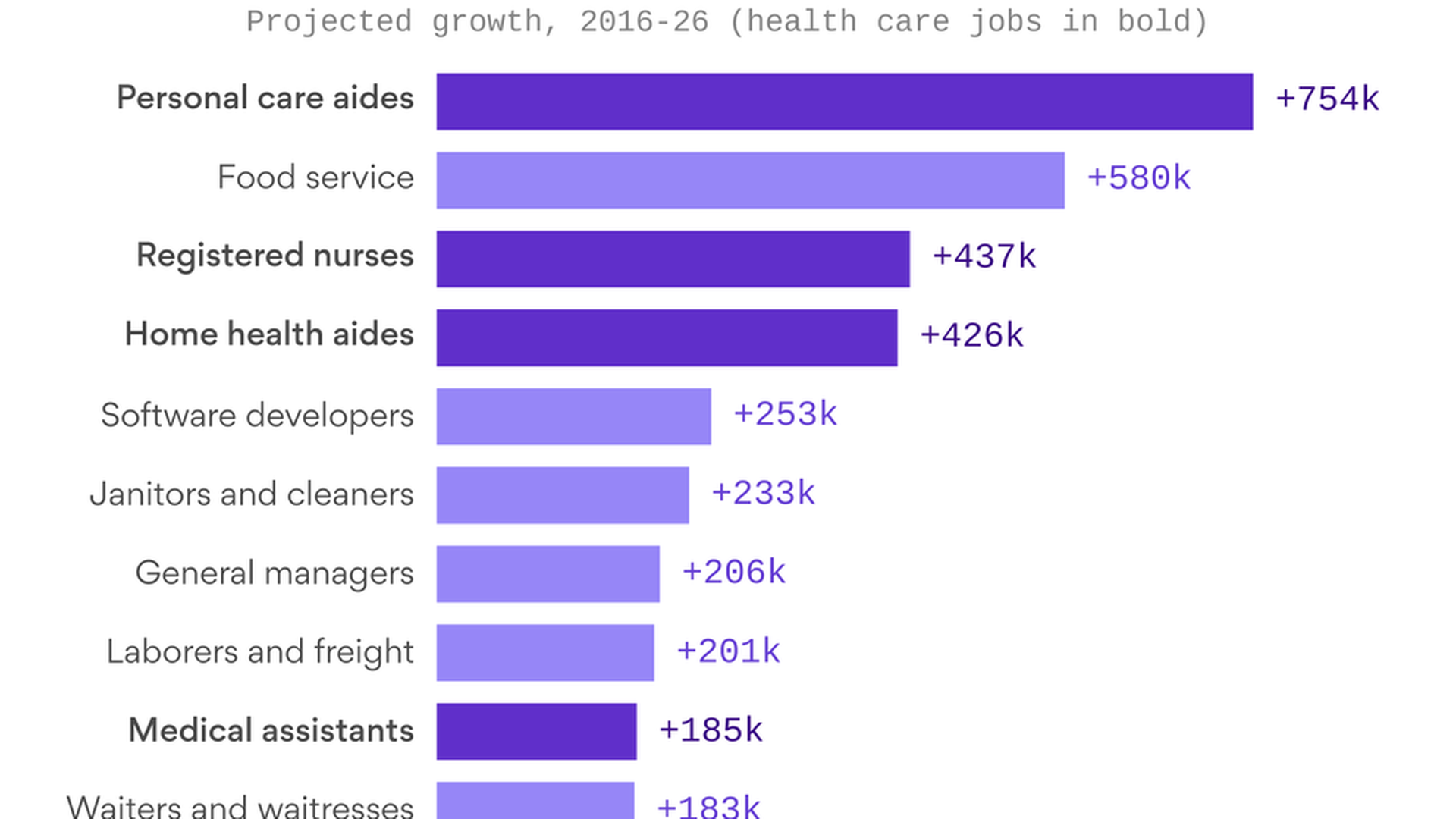 Health care and education — attending to the rapidly aging U.S. population and educating the young — will account for almost half the new employment created over the next decade (see the chart above). But an economist says this projected jobs expansion may fall short as it runs into efforts to contain taxes and medical costs, especially in regions that voted overwhelmingly for Donald Trump.
The details: The top line in a new report by the U.S. Bureau of Labor Statistics is that the hollowing out of the middle of the job market — the leading dynamic in the deep economic dissatisfaction across the manufacturing and rust belts — is likely to continue over the next decade, writes my colleague Chris Matthews.
In its new 10-year projections of job growth, the BLS said middle-class employment will continue to shrink as a share of the total pool, suggesting deepening inequality and political polarization.
And Jed Kolko, chief economist with Indeed.com, writes that the slowest job growth will be in metro areas in the South and Midwest, places where Trump outperformed in 2016 on his promises of economic revitalization.
The news doesn't get better: The best guess by mainstream economists on where the most new jobs will be created — based on demographics — is in elder care and education. But Michael Mandel, an economist with the Progressive Policy Institute, says that size of expansion is unsustainable.
"These jobs are not for free," he says. "We're paying for them through taxes, and we're paying for them with higher prices."
According to Mandel, health care and education employment growth is masking an even worse outlook for these regions.
In the heartland states of Illinois, Indiana, Iowa, Kansas, Michigan, Minnesota, Missouri and Nebraska, the number of jobs in health care and home assistance rose by 11% from 2000 through 2016, even as the age-adjusted population rose by just 4.9%
If you take away these jobs, the heartland states lost 1.1 million jobs, while the rest of the country gained more than 3 million jobs.
https://www.axios.com/newsletters/axios-future-24e943e9-2c0c-4339-9f4c-22a8888c3674.html?chunk=1#story1
2. AI and geopolitics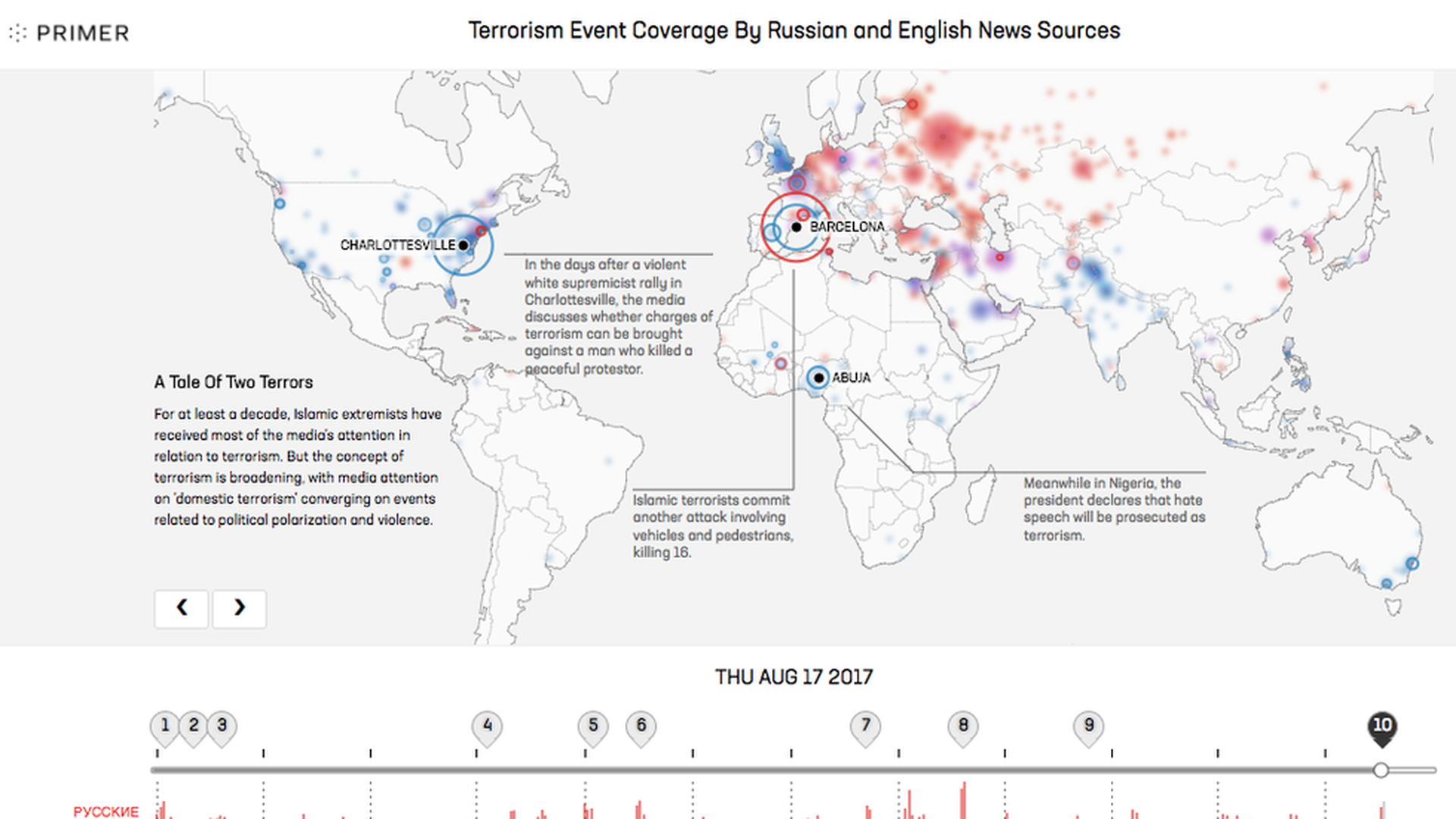 There is one central problem confounding the CIA, hedge funds and the largest retail enterprises: too much data. The world and its actors have never seemed more complex, and yet, with no way to absorb a meaningful part of the information out there, events appear harder than ever to understand.
A business opportunity: We are seeing a slew of startups promoting artificial intelligence as a solution. The latest is Primer, which says it sorts millions of news sources, and then crystallizes what's important in concise, natural language.
Why it matters: It will take time to gauge the accuracy of tools like Primer's, and its founder Sean Gourley says it does not supplant human intelligence. But it — and rival products — appears to be a solid first crack at breaking through the mountain of data weighing down our best analysts, and shaping it into useable bites.
The details: Primer has $14.7 million in venture funding, including from the CIA's venture capital arm In-Q-Tel and Zachary Bogue, husband of former Yahoo CEO Marissa Mayer. Gourley's initial clients include Walmart, the Singaporean sovereign wealth fund and one or more of the U.S. intelligence agencies (under the rules of the game, he cannot be told who his precise intel clients are).
Gourley tells Axios that his objective is for Prime to do the job of a junior analyst, not a top-level expert.
That means cutting through the first three or so hours of a typical analyst's day by having Prime sort through news sources and providing, in plain English, a few takeaway thoughts. "You can sound pretty smart and bring up things that others didn't think about," Gourley said.
https://www.axios.com/newsletters/axios-future-24e943e9-2c0c-4339-9f4c-22a8888c3674.html?chunk=2#story2
3. The rap on degree inflation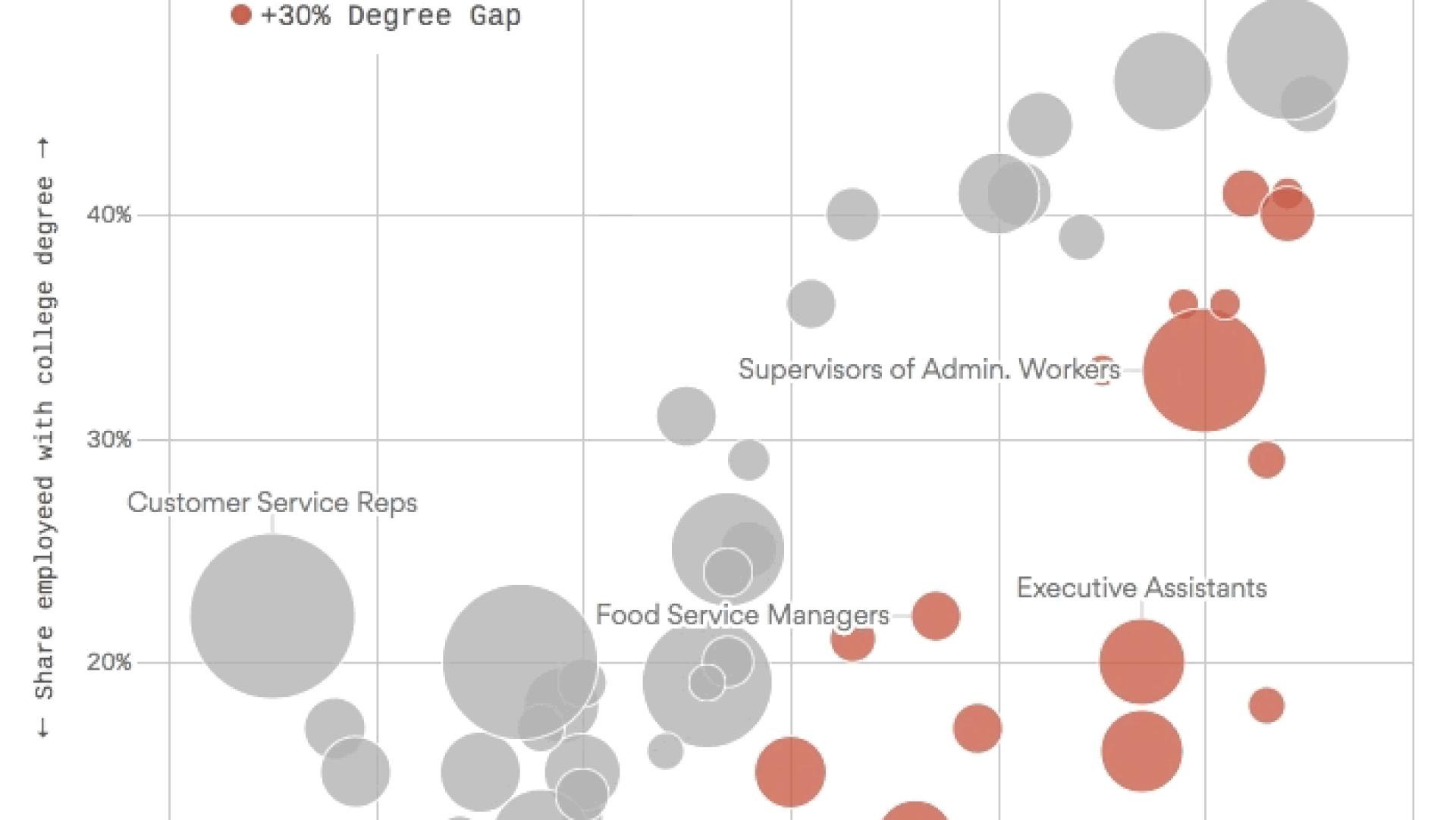 A growing number of U.S. employers are requiring bachelor's degrees for jobs that have long been performed by workers without them, contributing to a rise in income inequality, according to a report published today.
Why it matters: The report, by Harvard Business School, Accenture and Grads of Life, estimates that 6 million American jobs are at risk of "degree inflation," a result of employers increasingly using a bachelor's degree "as a proxy for a candidate's range and depth of skills."
Be smart: This is an overlooked thread in the economic and political turbulence in both rural and urban U.S. areas. "This phenomenon is a major driver of income inequality," Joe Fuller of Harvard Business School tells Chris Matthews. "We're hollowing out middle-class jobs and driving everyone to the extremes of the income spectrum."
The number of U.S. job openings has reached an all-time high. Yet more than 13 million Americans — the vast majority with less than a four-year college degree — are unemployed or working part time when they want full-time positions.
https://www.axios.com/newsletters/axios-future-24e943e9-2c0c-4339-9f4c-22a8888c3674.html?chunk=3#story3
https://www.axios.com/newsletters/axios-future-24e943e9-2c0c-4339-9f4c-22a8888c3674.html?chunk=4#story4
5. 1 fun thing: A strike against the daily grind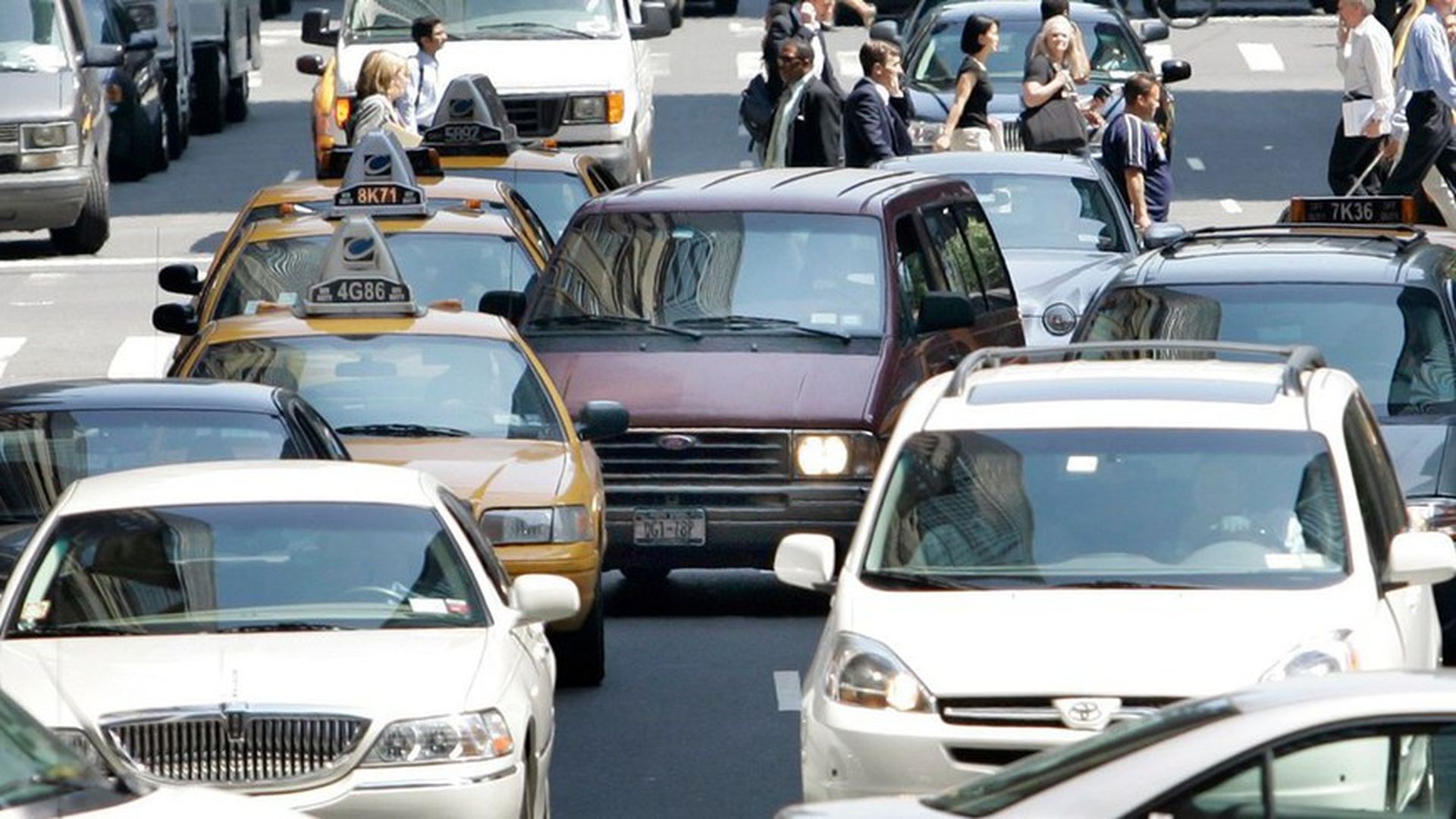 You know the routine — wait at one red light, only to meet another at the next intersection, and another. In cities, we are spending 40% of our time idling, according to Stephen Smith, a professor at Carnegie Mellon University.The numbers: The time adds up: the average American spends 42 hours a year in traffic — almost two complete days, says Inrix, an analytics firm. And for New Yorkers — theirs is 89 hours, equalling an entire week. Something new: In Pittsburgh and Atlanta, drivers are now more systematically moving along major streets, the result of the installation of intelligent traffic systems designed by Smith. Using cameras, radar and radios, the systems figure out on the spot which lights should be red, and which green.Why it matters: Smith says our traffic systems have not changed in a half-century. Down the road, we will have self-driving cars. Before then, though, we can enjoy less road anxiety.Cities and companies are catching on to the chance to use new technologies to get people through lights faster. There are apps that tell you when a light will turn green. But Smith notes that none of them actually changes the lights according to what is going on in real-time. His systems cost about $20,000 per four-way intersection.Read the rest of the post here.