Have your neighbors signed up?
Today's Smart Brevity count: 1,088 words, a 4-minute read.
What else should we write about this summer? Hit reply to this email or message me at steve@axios.com, Kaveh Waddell at kaveh@axios.com and Erica Pandey at erica@axios.com.
Okay, let's start with ...
1 big thing: The zoning puzzle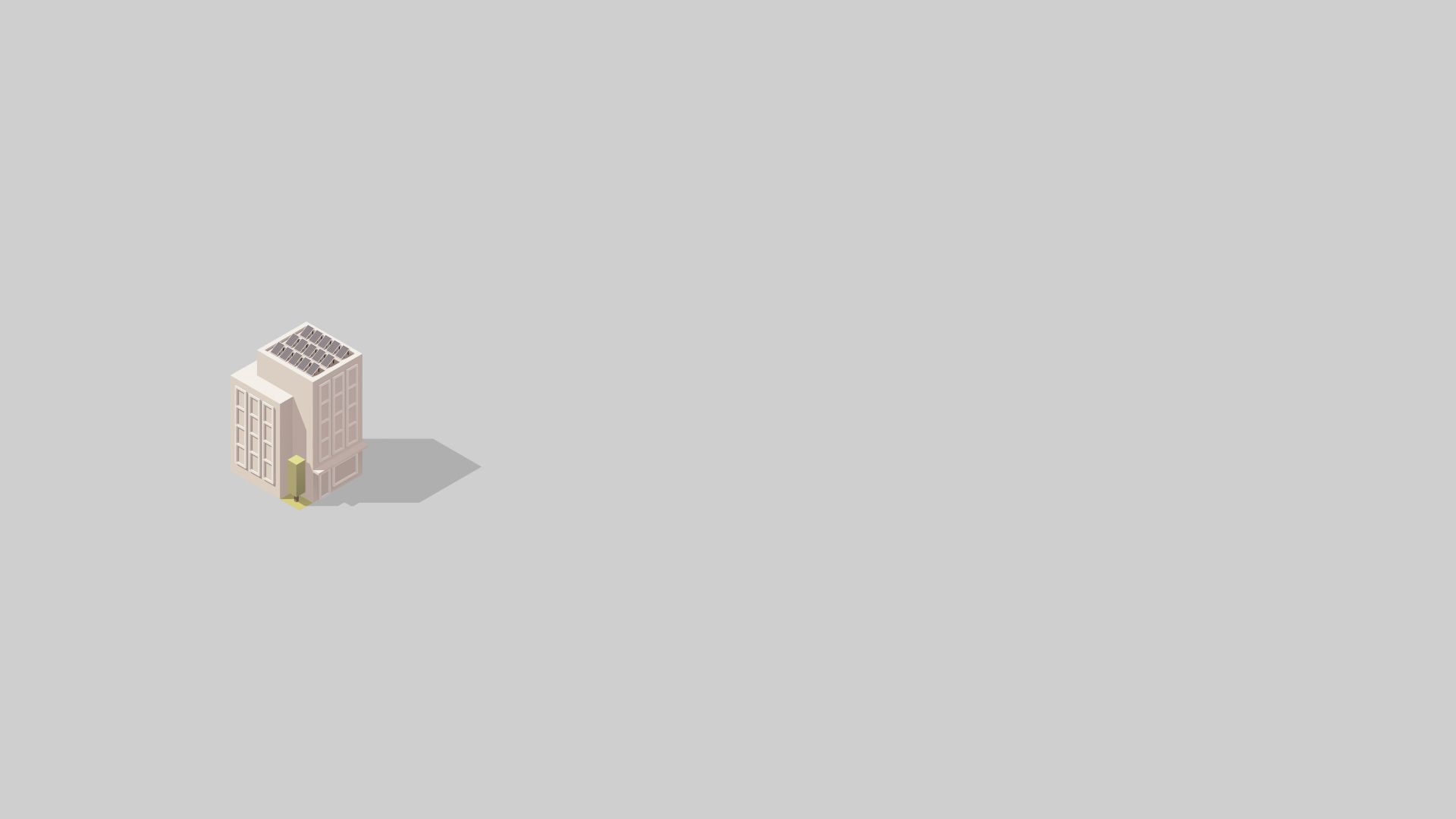 Booming companies have attracted millions of workers to America's tech hubs, but for all the population growth, the vast majority of these cities are still largely comprised of single-family homes with backyards.
Why it matters: There's not nearly enough space to house everyone, and the limited supply is driving costs to dizzying heights. Changing the laws to address the issue means brawling with stubborn residents and powerful corporations — and as of now, even with thousands of homeless people on the streets in these tech havens, no one seems ready to compromise.
The big picture: Zoning restrictions limit cities from getting denser and, according to some experts, are the primary drivers of exploding housing costs in places like San Francisco, Seattle and Austin. Adding apartments, condos and multi-family dwellings would start to drive prices down, these experts say, but the laws are often rooted in racism and are difficult to change.
The housing crisis is affecting everyone in superstar tech hubs, but has fallen particularly hard on low-income residents and people of color. Historically, cheaper apartments or multi-family dwellings house more lower-income and non-white residents.
"Look back to see what the incentive was for zoning rules created decades ago, and often they have race and segregation at their center," says Diane Yentel, CEO of the National Low Income Housing Coalition. "Before these laws, the country wasn't really segregated by race."
By the numbers: In the past five years, average home prices in U.S. tech hubs have skyrocketed, pricing out families, communities of color, and single people as well.
San Francisco's average home price ballooned 69% from $800,000 in December 2013 to $1,350,000 in December 2018, per Point2 Homes.
San Jose jumped 58% to $965,000.
Seattle surged 66% to $699,000.
Austin jumped 33% to $301,000.
Those same cities are overwhelmingly zoned for houses from the 1950s, according to data from UrbanFootprint that was first reported by the New York Times.
San Francisco's zoning laws allocate 53% of land to detached, single-family homes.
San Jose: 94%
Seattle: 81%
Austin: 68%
"We've been way too flatfooted on housing, and we still are," says Seattle Council member Teresa Mosqueda. "But we can't possibly keep up with this growth."
What's happening: Several company towns are trying to add affordable housing options, but they are finding that the reigning firms are resistant to these efforts.
Amazon staunchly opposed a "head tax" in Seattle that would have charged companies $275 per employee, per year, generating around $48 million in recurring revenue for the city. The company later donated around $5 million for affordable housing.
Amazon did not respond to an email.
Twitter CEO Jack Dorsey has fought certain taxes to alleviate homelessness in San Francisco.
The other side: Some companies have put lobbying power and money toward addressing the housing crisis in their hometowns.
Microsoft, Amazon's neighbor in the Seattle area, recently gave $500 million to support low- and middle-income housing in the city.
Salesforce CEO Marc Benioff backed a San Francisco bill — the same one Dorsey opposed — that requires businesses to pay for homelessness services and has donated $30 million of his own cash to the cause.
2. The Amazon jobs explosion in Ohio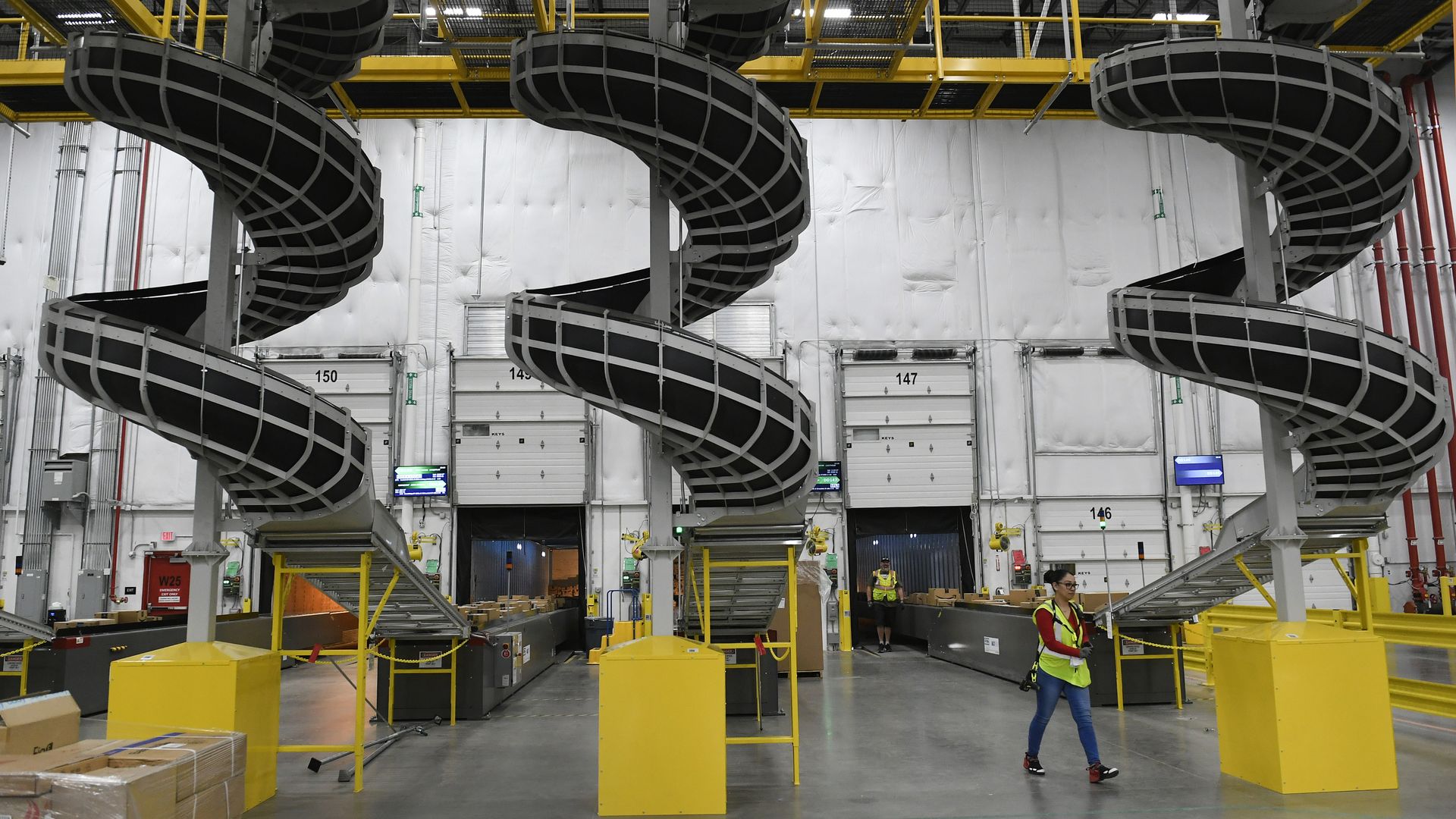 In 2015, there were fewer than 50 Amazon employees in Ohio. By the end of this year, that number will approach 9,000, Erica writes.
What's happening: The jobs boom is due to a string of warehouse openings. Amazon now has seven distribution centers in Ohio — two on the sites of former malls — and it is building an air hub near Cleveland.
The big picture: In all, Amazon says it employs more than 125,000 people in some 100 U.S. warehouses.
Ohio has always been a top destination for such logistics hubs — half of the U.S. population is within a one-day drive from Columbus. Several Ohio cities were also bidding for Amazon's tech jobs — and Columbus even made the top 20 list for HQ2.
But as we reported from Columbus, superstar cities on the coasts continue to vacuum up the lion's share of tech jobs while many smaller metros are left with warehouses or data centers.
Says Mark Muro of the Brookings Institution: "Thousands of fulfillment jobs, which will likely be susceptible to automation in the coming years, aren't what will change the geography of tech and smooth over the nation's imbalances."
3. The toll of fast, distracted and drunk driving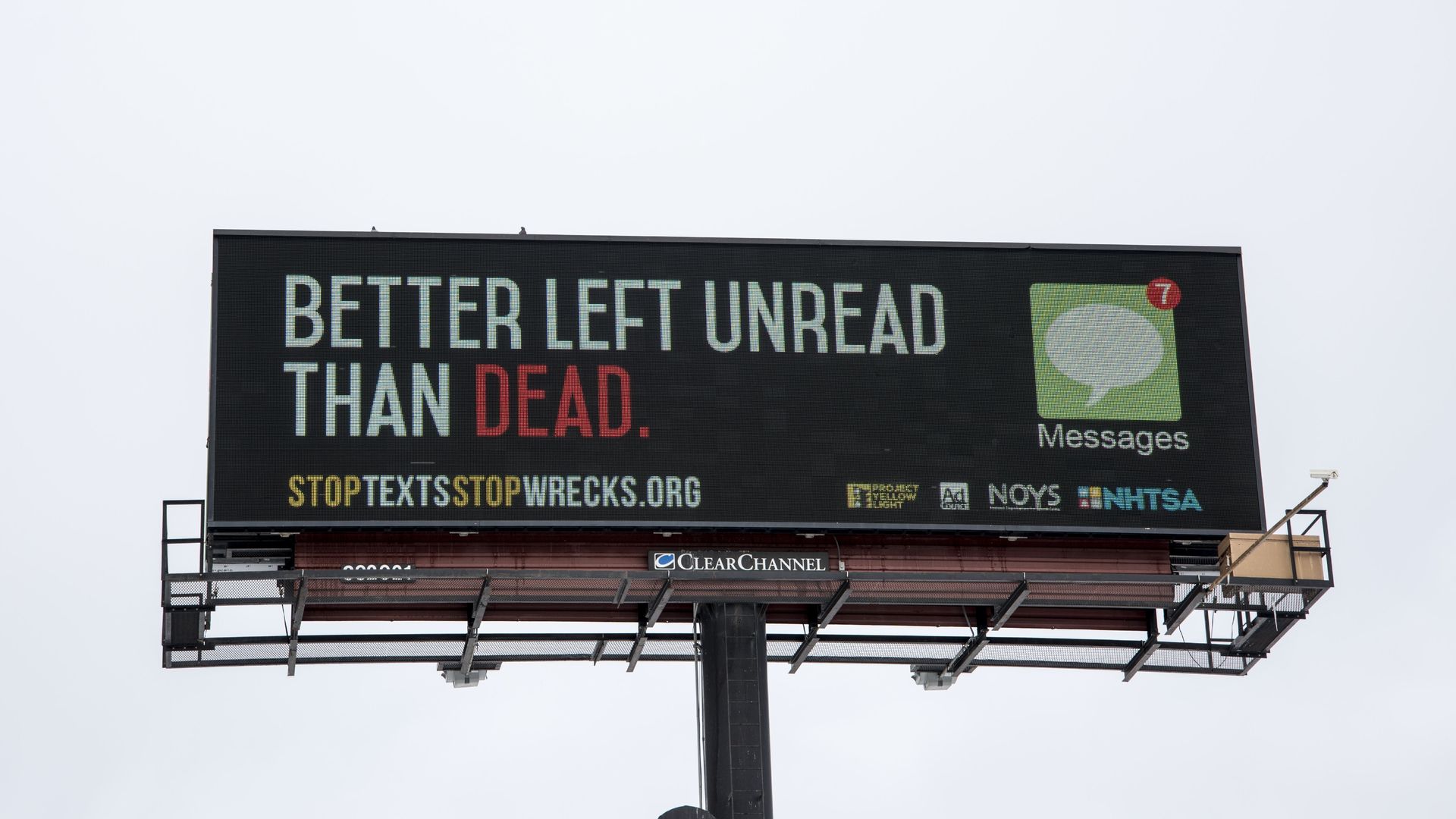 Some 624,000 people have been killed on U.S. roads since 2000, far more than the 535,000 who died in the two world wars, reports the Washington Post's Ashley Halsey.
A third of the driving deaths involved speeding, drunk and distracted driving.
When driverless car advocates argue that the future technology will be safer than current vehicles, this is the statistic they are talking about.
4. Worthy of your time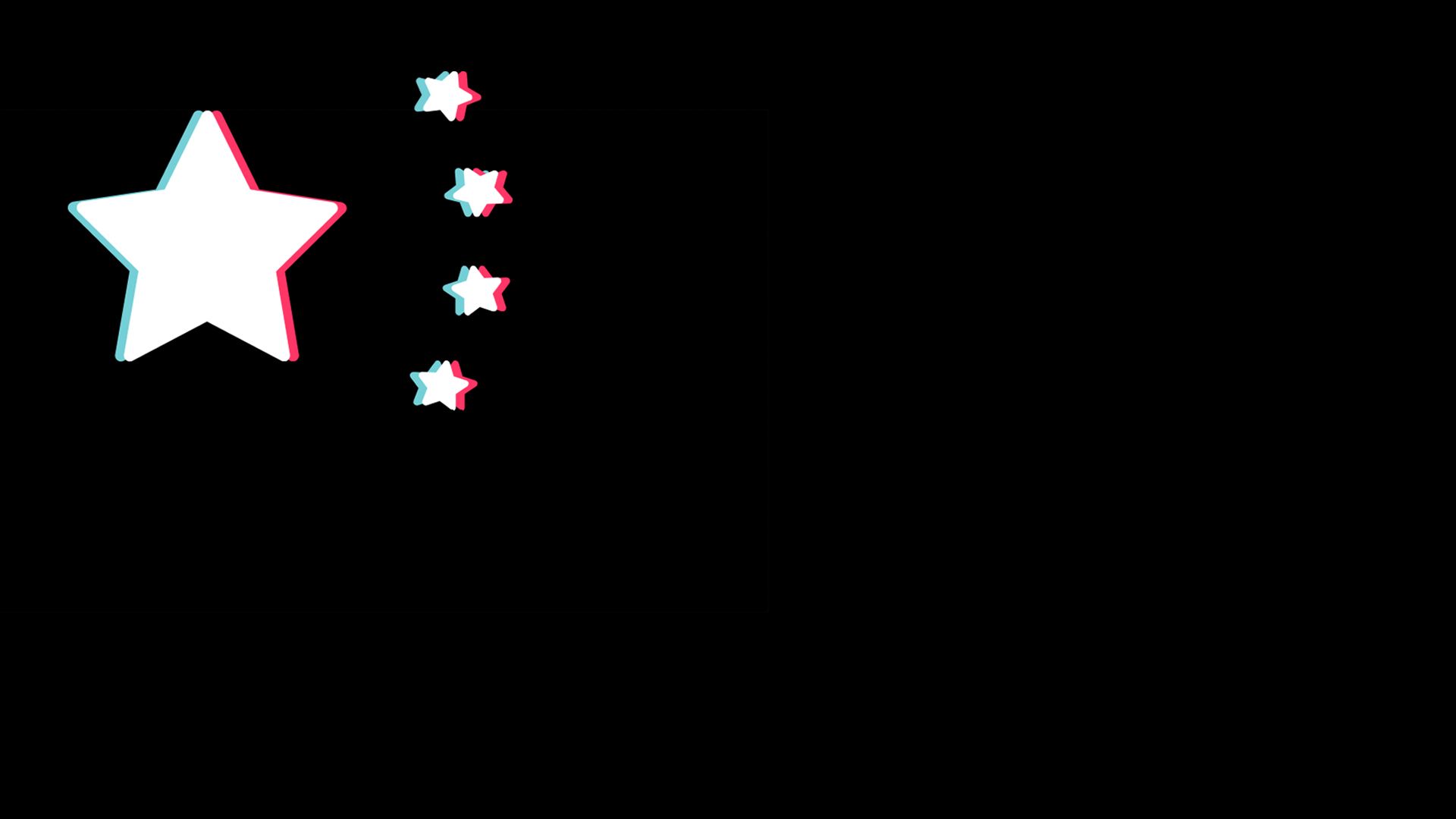 What being an app food delivery guy is really like (Andy Newman — NYT)
China's 15-second video weapon (Shane Savitsky — Axios)
Down the Satoshi rabbit hole (Evan Ratliff — Wired)
The science of Moon walk denial kookery (Rich Cohen — Paris Review) (h/t Don Van Natta)
Bezos' convenience-store dream (Brad Stone, Matt Day — Bloomberg)
5. 1 fun thing: Erica's weekend on scooters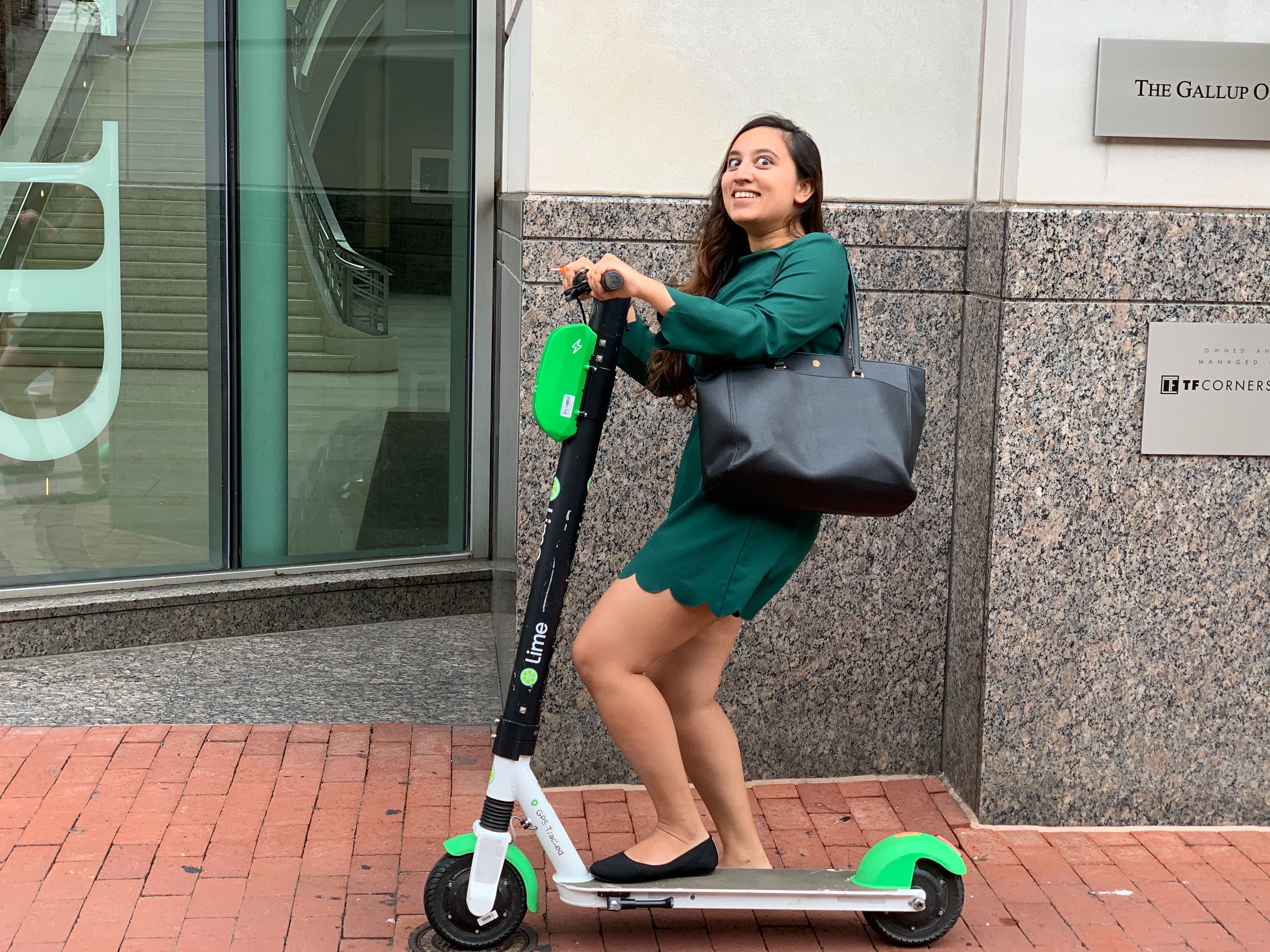 Erica today in D.C. Photo: Kaveh Waddell/Axios
Erica writes: I spent many weeks making fun of people zooming down D.C.'s 18th Street on scooters, finding it especially amusing when I spotted a middle-aged man in a suit with a briefcase scootering along.
But after this weekend, I'm a convert.
I rode a scooter for the first time on Friday night because my boyfriend, visiting from New York, had never tried one before and wanted to see what the buzz was about.
For a few minutes, it was mildly terrifying. Those things go fast.
But I quickly got addicted. Over the course of the weekend, I spent around $60 on four different scooter apps — including one beautiful $13, 39-minute ride around Kalorama, which houses several embassies and some of the fanciest houses in the city.
Now, I've got a definitive ranking of all of D.C.'s scooters.
Bird is best by a long shot. It's smooth, stable, and really easy to control the speed. Intermediate speeds are very useful during rush hour.
Spin is fun (and scary) because of its speed. While the rest clock in at under 12 miles an hour, Spin gets up to at least 15.
Lime, which has a partnership with Uber, as well as Lyft's scooter, are meh. They do the job, but they're not very good at going medium speeds. At least they've got proper hand brakes.
Jump, also owned by Uber, can feel downright dangerous. Sometimes it'll accelerate super quickly on you, and the brake is a toggle switch which isn't easy to use.
Note: I haven't yet tried Bolt, the yellow scooters that have just arrived in D.C. A colleague says, "Those aren't worth trying."