Axios Future
January 25, 2020
Welcome to Future, and happy Saturday!
Send me ideas or feedback on today's issue. Reply to this email or send me a note at [email protected]
I've got 1,008 words for you today — a 4-minute read. To start...
1 big thing: The American Dream — in crisis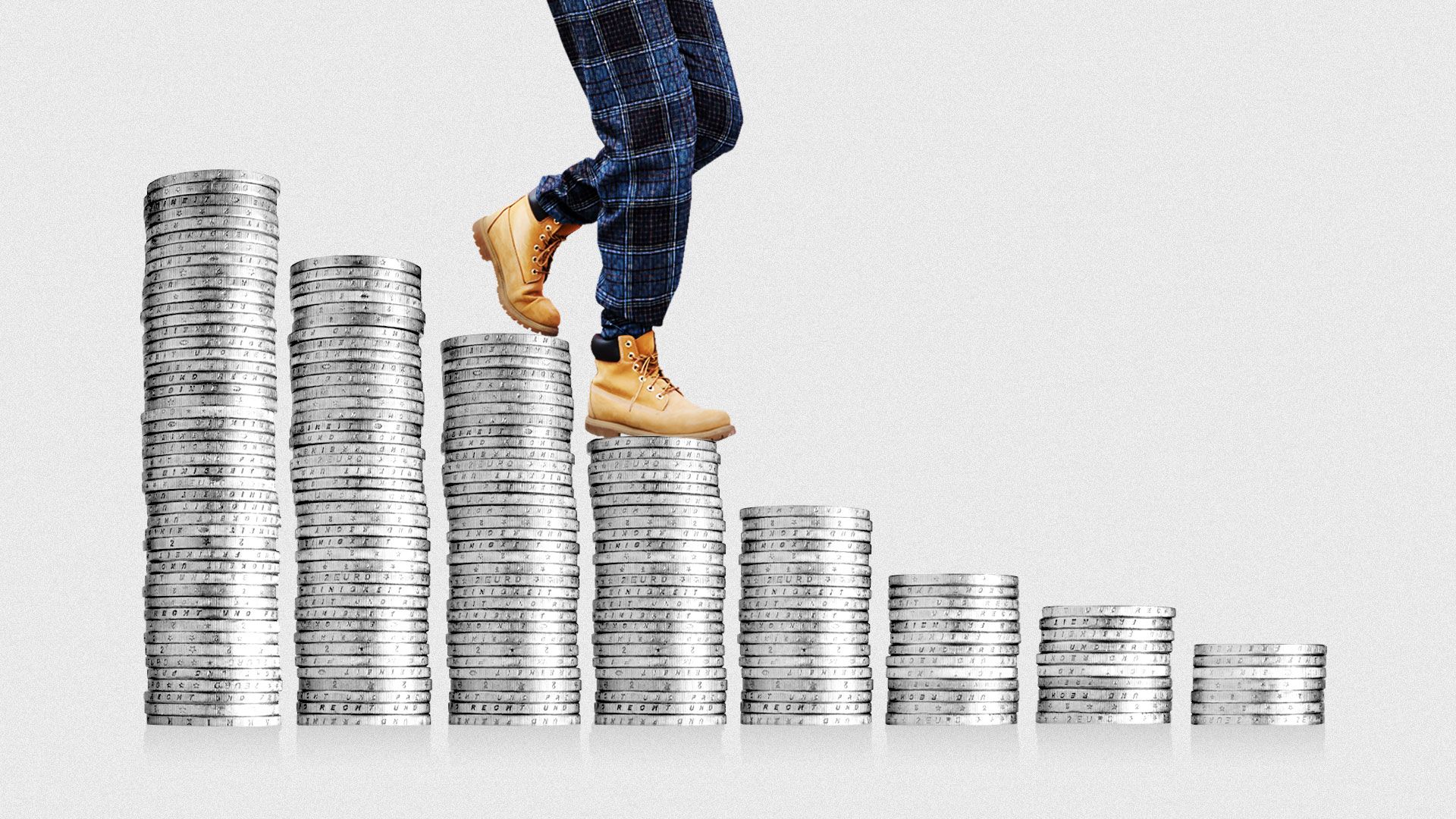 The American Dream's promise of a better life if you work hard enough is fracturing.
The big picture: Socioeconomic mobility in the U.S. is at its most sluggish in history. Not only are fewer Americans living better than their parents, but there's also a growing number of people doing worse than their parents.
By the numbers:
The World Economic Forum released a report this week in Davos that ranked the United States 27th in the world for social mobility. The top five nations were Denmark, Norway, Finland. Sweden and Iceland.
In a recent study, researchers from UPenn, Northwestern, the University of Nebraska and the Census Bureau looked back as far as 1850 and concluded that socioeconomic mobility in America is at its worst ever.
Per the study, around 60% of people born in the 1940s did better than their parents, compared to 40% of those born in the 1980s.
And just 15% of 1940s kids lived worse than their parents, compared to 30% of people born in the 1980s.
"Most parents expect that their kids will do better than them," says Xi Song, a professor at UPenn and one of the researchers. But now that happens for less than half of kids.
There's a stark racial gap when it comes to mobility, Stanford law professor Ralph Richard Banks writes in a New York Times op-ed.
"Black boys who grow up rich are twice as likely as their white counterparts to end up poor."
"And of those black boys who start life poor, nearly half will remain so in adulthood, while more than 2 in 3 of their white peers will escape the poverty of their youth."
And mobility depends on where you grow up, too.
As we reported earlier this week, kids' earning potential and life expectancy hinge on the neighborhoods where they were born.
"For moving from the bottom of the income ladder to the top, the South offers the worst odds in the United States," per NYT.
On top of that, areas with low social mobility in the U.S. also have larger life expectancy gaps between the rich and the poor, per another UPenn study out this week.
The bottom line: Worsening income inequality paired with stagnant socioeconomic mobility is defining today's America. And these trends will impact everything from public health to how people vote in 2020.
2. A surge in the "jobs of the future"
The last quarter of 2019 saw a big jump in demand for a bundle of jobs that could dominate the future, per an index tracked by the IT services firm Cognizant.
Why it matters: "The notion that there's gonna be a jobs apocalypse has been with us for the last decade, but the data shows that's not coming to pass," says Rob Brown, VP of Cognizant's Center for the Future of Work.
The backdrop: For over a year, Cognizant has been tracking U.S. hiring for 50 jobs that it deems forward-looking, with statistics going back to 2016 pulled from the Bureau of Labor Statistics via Burning Glass, a jobs database.
Cognizant's Jobs of the Future Index includes jobs in AI, transportation, health care, human resources and more.
That demand for these jobs of the future is growing faster than demand for all jobs is a bright spot in the ongoing discussion about how tech will upend the future of work. Yes, automation and AI will disrupt jobs, but they will — and already do — create a host of new occupations and wholly new industries.
But, but, but: There's still a dire lack of job training in the U.S. — a necessary step to prepare workers for the future of work.
All of Cognizant's jobs of the future — both high skill and low skill — are tech-infused, and companies will need to train and retrain employees to prepare them for these roles, says Brown.
"The road to the future of work runs right through HR," he says.
Go deeper: Browse the jobs of the future
3. New York City fights the cashless future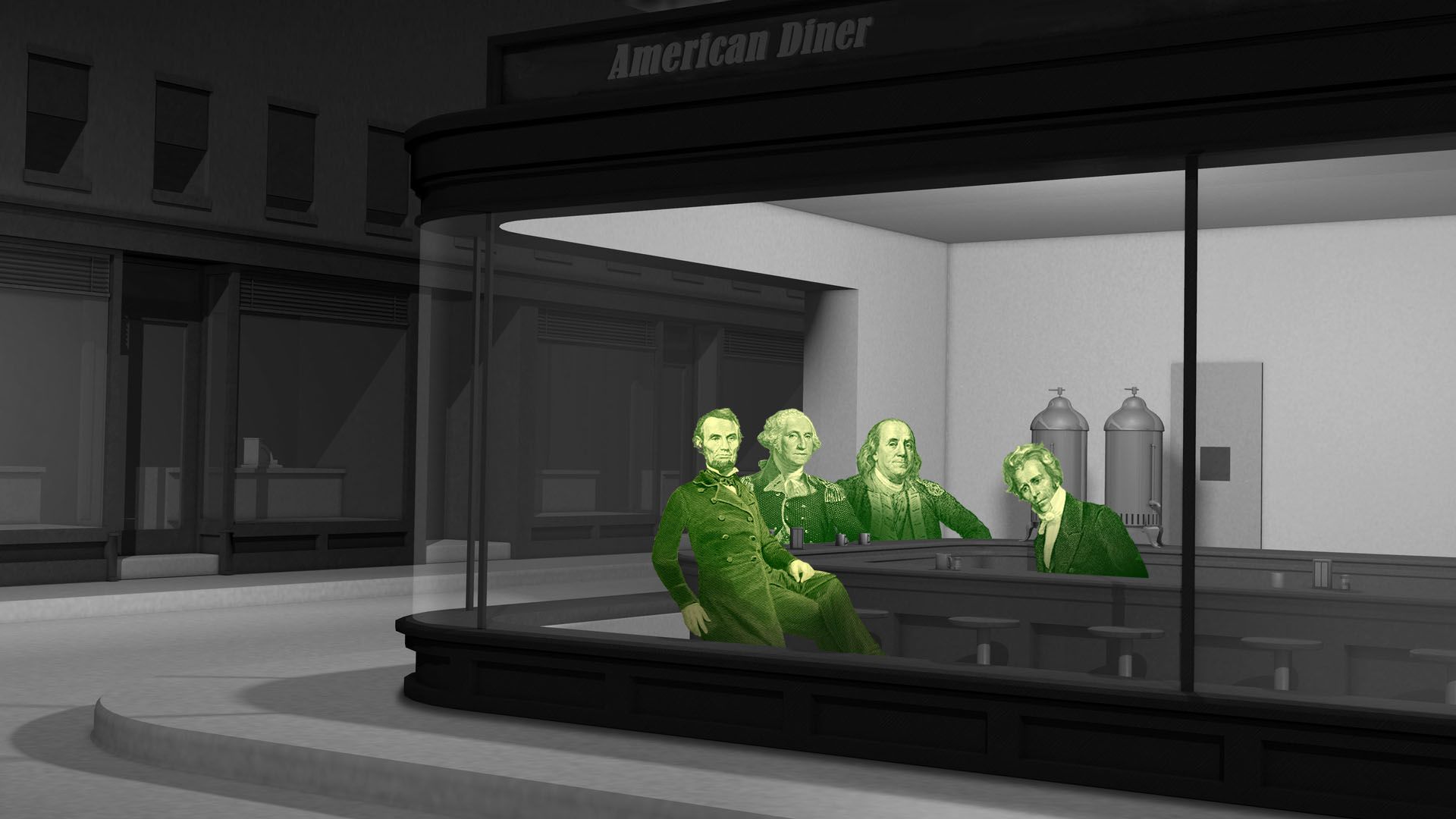 In yet another blow to the cashless revolution, New York City lawmakers passed legislation banning stores from going cash-free this week.
What's happening: Several stores — including Amazon Go, Sweetgreen and Shake Shack — are leading an effort to do away with cash. But cities are fighting back, saying that stores that don't accept cash discriminate against millions of Americans, mostly the poor, elderly and immigrants, who don't use credit cards. New York follows Philadelphia, San Francisco, New Jersey and Massachusetts in banning cashless stores.
By the numbers: Around 30% of all U.S. business is still done in cash, not credit cards. And close to 14 million Americans are unbanked.
The big picture: As we've reported, there's a global race to speed up checkout, with companies betting that cash-free is the future of retail.
China is in the lead. Over the last two years or so, Chinese e-commerce giants Alibaba and JD.com have wholly eliminated cash in hundreds of stores.
American counterparts Amazon and Walmart are only starting to debut such technology in a few flagship locations, but they're running into cashless bans.
What to watch: Cashless stores, like Amazon Go, are adding cash as an option to comply with the bans in big cities. But paying with cash at these high-tech stores that are explicitly built to be cashless adds a lot of hiccups, as a Business Insider reporter discovered.
4. Worthy of your time
Climate change's threat to business (Dion Rabouin, Amy Harder — Axios)
Trapped inside TikTok (Joanna Stern — WSJ)
Betting against Elon Musk (Dana Hull — Bloomberg)
The voyage to the end of ice (Shannon Hall — Quanta)
The threats to Singapore's perfect economy (Peter Guest — Nikkei Asian Review)
5. 1 fun thing: Filming ourselves in the bathroom
"The American bathroom is the stage set of the moment," writes the New York Times' Taylor Lorenz.
What's happening: Maybe it's the lighting, maybe it's the privacy, or maybe it's the mirrors. Whatever the secret sauce is, bathrooms are increasingly becoming American teenagers' favorite places to take selfies and film TikTok videos.
Videos shot in the bathroom consistently get more likes and comments than other clips, TikTokers told Lorenz. They've dubbed it the "bathroom effect."
"When you see someone walk into the bathroom, it's like a cliffhanger but in the beginning," TikToker Evan Alberto told her. "You open the door, you point the camera at the mirror, it's a hook."