Welcome back. Please invite your friends and colleagues to join the conversation. Tell me anything on your mind, including what you think about what you are reading here and in the daily stream. Just reply to this email, or reach me at steve@axios.com. Let's start with ...
https://www.axios.com/newsletters/axios-future-1200c236-29b3-4438-9b66-424ac1dbde83.html?chunk=0#story0
1 big thing: The working homeless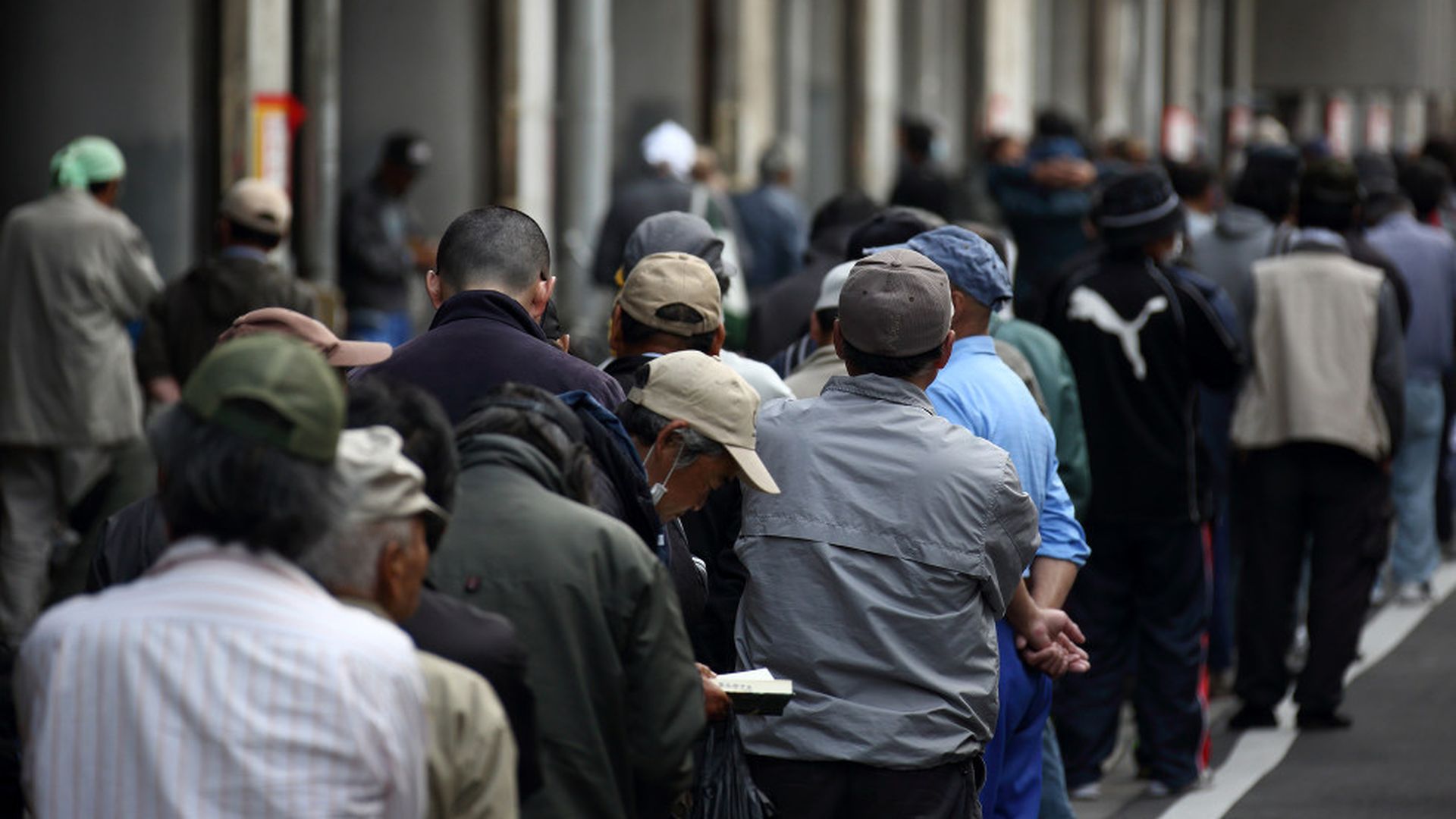 In big cities across the U.S., thousands of people trudge off to work in the morning but — lacking enough money for sky-high rent — are living at night in homeless shelters, cars, RVs, side streets and parking lots, often with their entire family.
The big picture: For a couple of months, we have heard about the problem of working homelessness in the tech hubs of Seattle and San Francisco. But there is a similar plight elsewhere.
An invisible problem: Cities only rarely keep track of their local working homeless, and the federal government does not collate raw data that could more sharply define the scale of the problem. To write this story, my colleague Shannon Vavra and I called agencies, shelters and experts around the nation.
Some overall numbers: Josh Leopold, a researcher at the Urban Institute, says the percentage of homeless people who work may be close to 25%, perhaps a little more. Megan Hustings, director of the National Coalition for the Homeless, suggests higher percentages — 40% to 60% of the homeless float in and out of both part- and full-time work, she says.
Three of the cities:
Washington, D.C.: 22% of homeless single adults and 32% of adults in homeless families are employed, according to a 2017 report by the Washington Council of Governments. The city has 11,128 homeless people, according to official figures.
New York: About 70% of about 60,000 people living in the city's homeless shelters are families, and 34% of the families include a working adult, Arianna Fishman of the city's Department of Human Services tells Axios. Women in Need, the city's largest provider of shelter, said that 53% of the homeless mothers in its residences are working.
Chicago: In a Point in Time survey on Jan. 26, 25% of the 4,100 homeless people in shelters said they were employed.
https://www.axios.com/newsletters/axios-future-1200c236-29b3-4438-9b66-424ac1dbde83.html?chunk=1#story1
2. The debate over inequality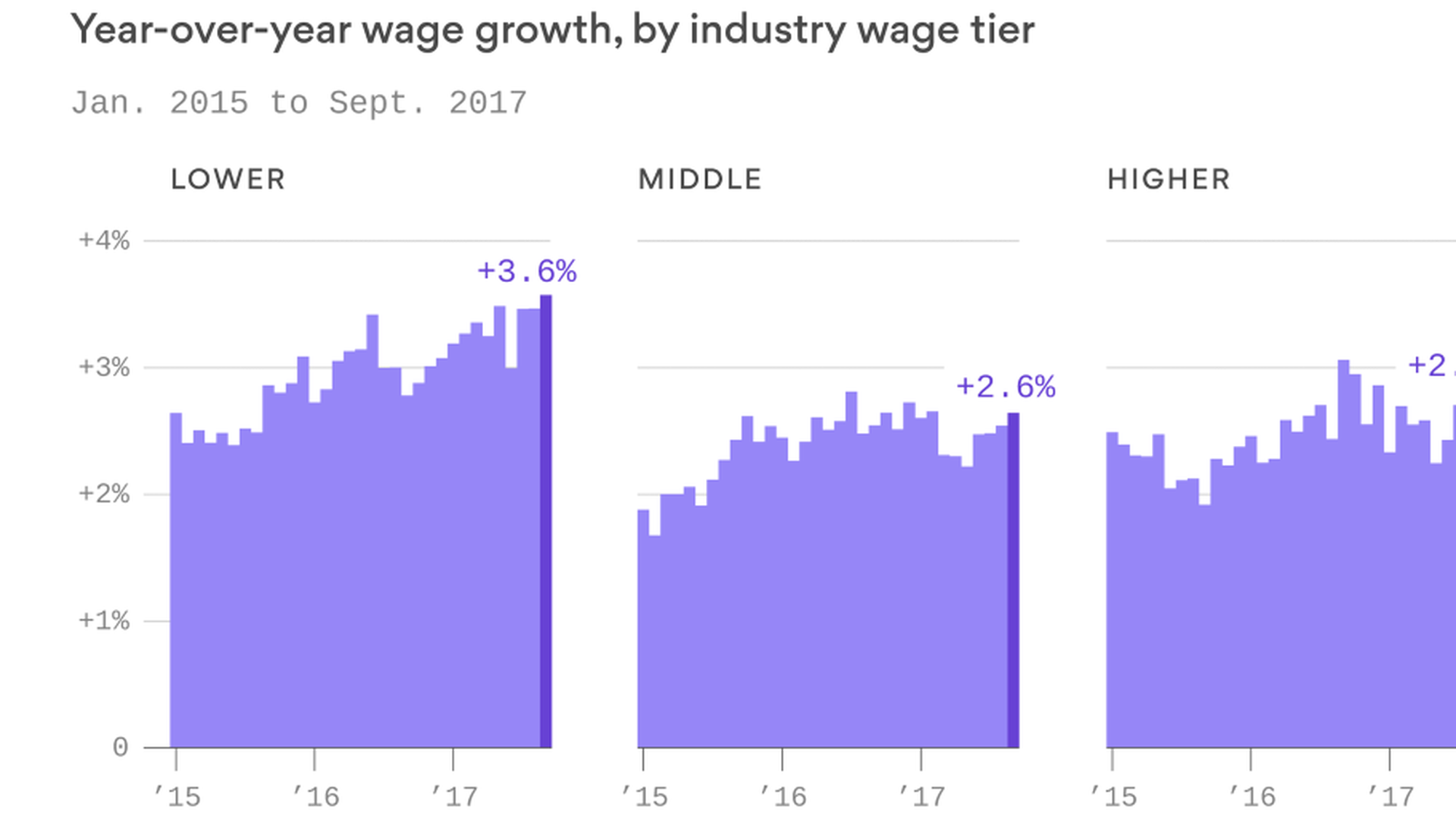 Last week, we reported that the wage inequality gap in the U.S., a primary source of the polarization among Americans, has been shrinking. For five straight quarters, wages have been growing the most for U.S. workers with only a high school diploma.
But readers pushed back:
"Surely you're kidding?" writes James Harvey, executive director of the National Superintendents Roundtable. The percentage wage increase is better for high school graduates, he says, but the dollar increase still favors the rich. A 3.3% raise for someone making $20,000 a year is $660 — only an eighth of the $5,000 raise going to someone earning $500,000 and getting a 1% increase.
Upwork CEO Stephane Kasriel tells me, "The 1% is doing a lot better, and for the 30% and 40% at the bottom, it keeps getting worse."
Quick take: The times do indisputably favor the rich.
When adjusted for inflation, U.S. wages are up only 10% from almost a half-century ago.
Wealth held by the top 1% has surged. It rose to 38.6% of the total in 2016, from 36.3% in 2013, the Fed said in a report in September, while the bottom 90%'s wealth has fallen for almost three decades.
Yes, but: There are, in fact, signs of an improvement in the fortunes of ordinary people, and wages and salaries are among them, says Jed Kolko, chief economist at Indeed. Kolko wrote the blog post on which we were reporting.
Wages and salaries reflect 77% of total pre-tax money income, which includes interest, dividends and income from property, according to this BLS report (pages 8-9).
Thought bubble: Inequality is not an absolute metric. If it were, ordinary people could legitimately lash out about the 1% whether they themselves were doing well or not. Regardless of concentrated wealth, it remains notable that wages are no longer stagnant or dropping in real terms — the numbers point to growing paychecks, and more jobs, for those whom the economy has been leaving behind.
A final thought: I am grateful for the time everyone took contributing to this conversation. Please keep the notes coming as we follow this story in the coming months and beyond.
https://www.axios.com/newsletters/axios-future-1200c236-29b3-4438-9b66-424ac1dbde83.html?chunk=2#story2
3. "This is a casino, not an investment"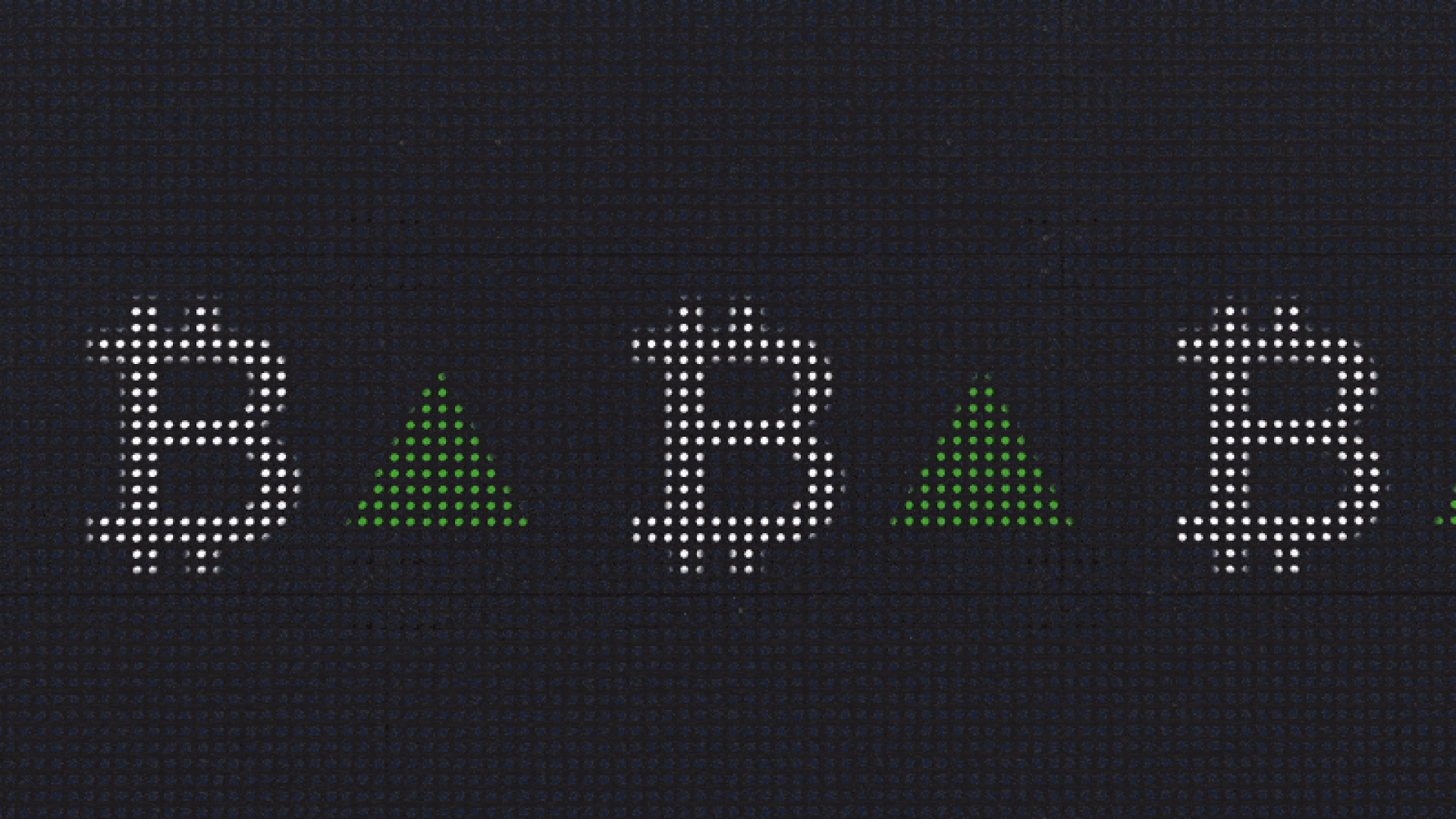 Bitcoin is up about 1,700% since the start of the year. Some attribute the surge to ordinary, if enthusiastic, investment, along with the forces of supply and demand. Others say it's a bubble, and that it will ultimately burst.
Joe Borg, president of the North American Securities Administrators Association, a grouping of state securities officials, suggests it's the latter. "This is a casino," he tells Axios, "not an investment."
It's increasingly ordinary people from around the world who are making the gamble that bitcoin prices will keep going up, in some cases taking out home equity lines of credit.
Those borrowing on their homes, Borg says, are mostly millennials and young baby boomers.
"They seem to think anything electronic is a game," Borg said. "There are entrepreneurs who run Facebook, and they put this in the same category."
The fever is especially heavy in Asia. Ordinary South Koreans are the most aggressive bitcoin investors, in addition to people from Hong Kong, Japan and Vietnam, report the WSJ's Steven Russolillo and Eun-Young Jeong. Together, they account for almost 80% of global bitcoin trading.
https://www.axios.com/newsletters/axios-future-1200c236-29b3-4438-9b66-424ac1dbde83.html?chunk=3#story3
4. A robot in college
Bina48 appears to be the world's first robot college student. Along with 31 classmates, she took a 16-week course this fall in the Philosophy of Love, taught at Notre Dame de Namur University, in Belmont, Calif. She graduated with a grade of "superior quality."
Quick take: William Barry, who taught the class, worked with Bina48's artificial intelligence developers to make her ready for college rigor. He tells my colleague Khorri Atkinson the aim was to improve the robot's ability to "communicate and build rapport with human classmates" plus help dispel students' fear of AI.
"We wanted to start the conversation with students not from a place of experiential fear, but as a place of opportunity," he says. "We're teaching an artificial intelligence about how we want it to help us in the flourishing of humanity."
How it works: Bina48 was designed to "learn" by capturing a mosaic of general knowledge that any college student would have — what Barry calls "mind files" — in addition to specific information about the course. Along the way last semester, Bina48 was able to modify her store of knowledge in line with what she was learning, Barry says.
What's next: Bina48 is signed up for an "Ethics of Emerging Technologies" course next semester.
https://www.axios.com/newsletters/axios-future-1200c236-29b3-4438-9b66-424ac1dbde83.html?chunk=4#story4
5. Worthy of your time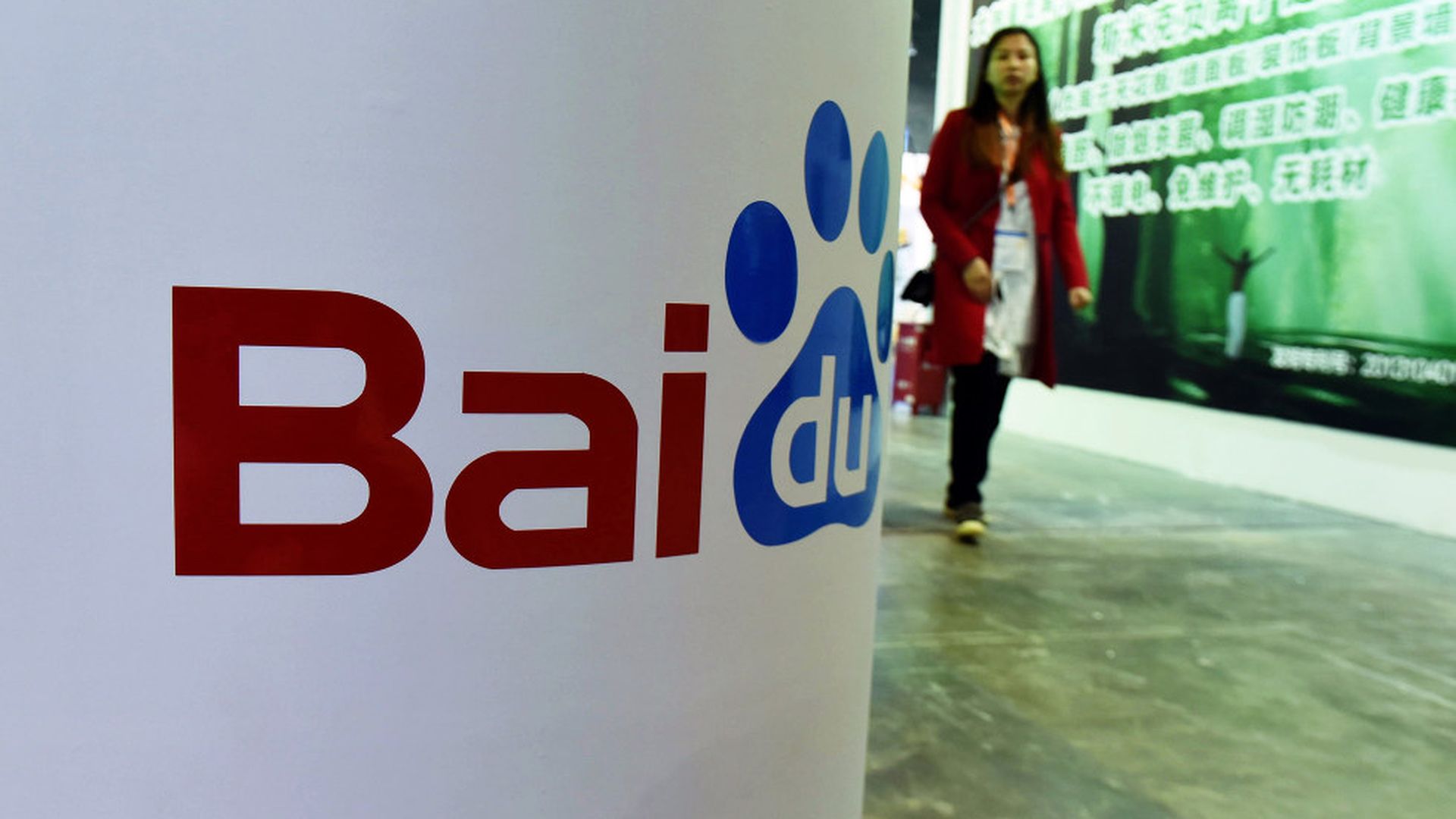 https://www.axios.com/newsletters/axios-future-1200c236-29b3-4438-9b66-424ac1dbde83.html?chunk=5#story5
6. 1 fun thing: Working dogs
For several years, dogs have been among the biggest stars on Instagram, with hundreds of thousands of followers and enormous advertising deals.
The reason? Many Instagram users trust dogs more than humans models.
Axios' Shane Savitsky writes about a business that has honed in on that trust of dogs, called The Dog Agency. It was started by Loni Edwards, a Harvard-trained corporate lawyer until two years ago.
The details: Her company manages about a hundred pet clients — dogs, cats, pigs and hedgehogs. The majority have hundreds of thousands of Instagram followers.
You might have heard of Harlow and Sage (1.6 million Instagram followers), The Dogist (2.9 million), and Tuna (1.9 million).
Edwards cites an "incredibly powerful" campaign that she did for makeup manufacturer Urban Decay, a makeup brand, involving numerous "pet influencers," as they are called in the trade.
Why it matters: In an age where brands and platforms are radically rethinking how ads are produced and delivered to consumers, animal influencers produce sponsored content that people actually choose to follow and engage with.
"People are going to get ads — whether it's banner ads, whether it's influencer ads," Edwards tells Axios. "But they want to see them in a way that's going to make them smile."