https://www.axios.com/newsletters/axios-future-07f2be55-be8a-4bc9-b90a-13cd24a77868.html?chunk=0#story0
1 big thing: rock-bottom pay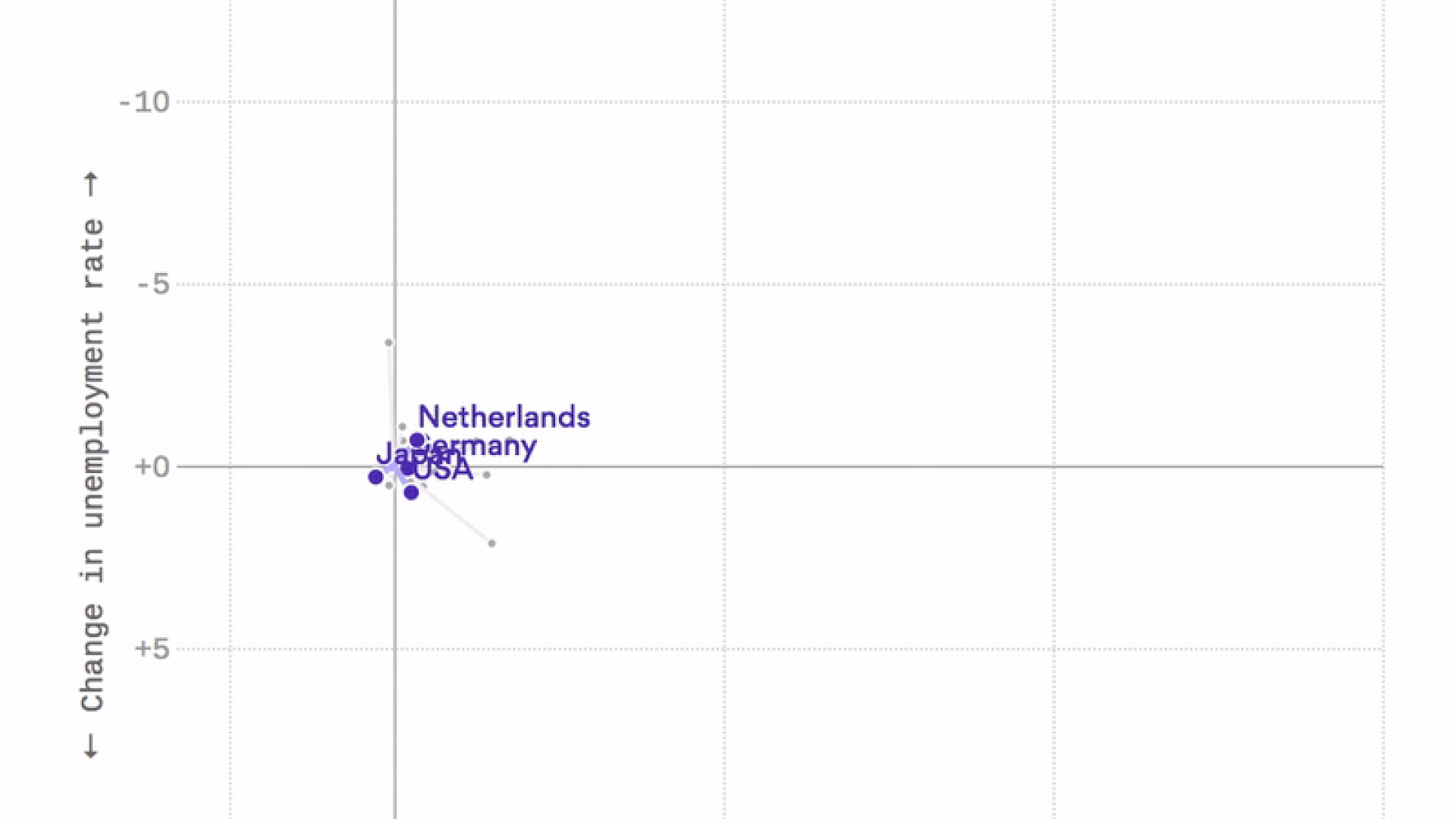 For many years, the economic rules were supported by both common sense and the data: When unemployment falls, wages rise soon after. But since the turn of the century and before, that relationship has broken down across the developed world, according to data from the OECD.
Stagnant wages aren't just an American problem: Workers in the wealthier nations are facing similar headwinds, like declining union membership, increased competition from foreign workers in a global marketplace, and slow productivity growth. But no one knows precisely why economics are failing to observe the traditional supply-and-demand rules.
The question is not academic: Frustrated by stagnant income, fears for their children's future, and the deterioration of their towns and cities, ordinary people in the U.S. and across Europe are taking it out on migrants and mainstream politicians, shaking up the western-led political system.
Look here for the complete interactive by my colleague Lazaro Gamio.
https://www.axios.com/newsletters/axios-future-07f2be55-be8a-4bc9-b90a-13cd24a77868.html?chunk=1#story1
2. Coming home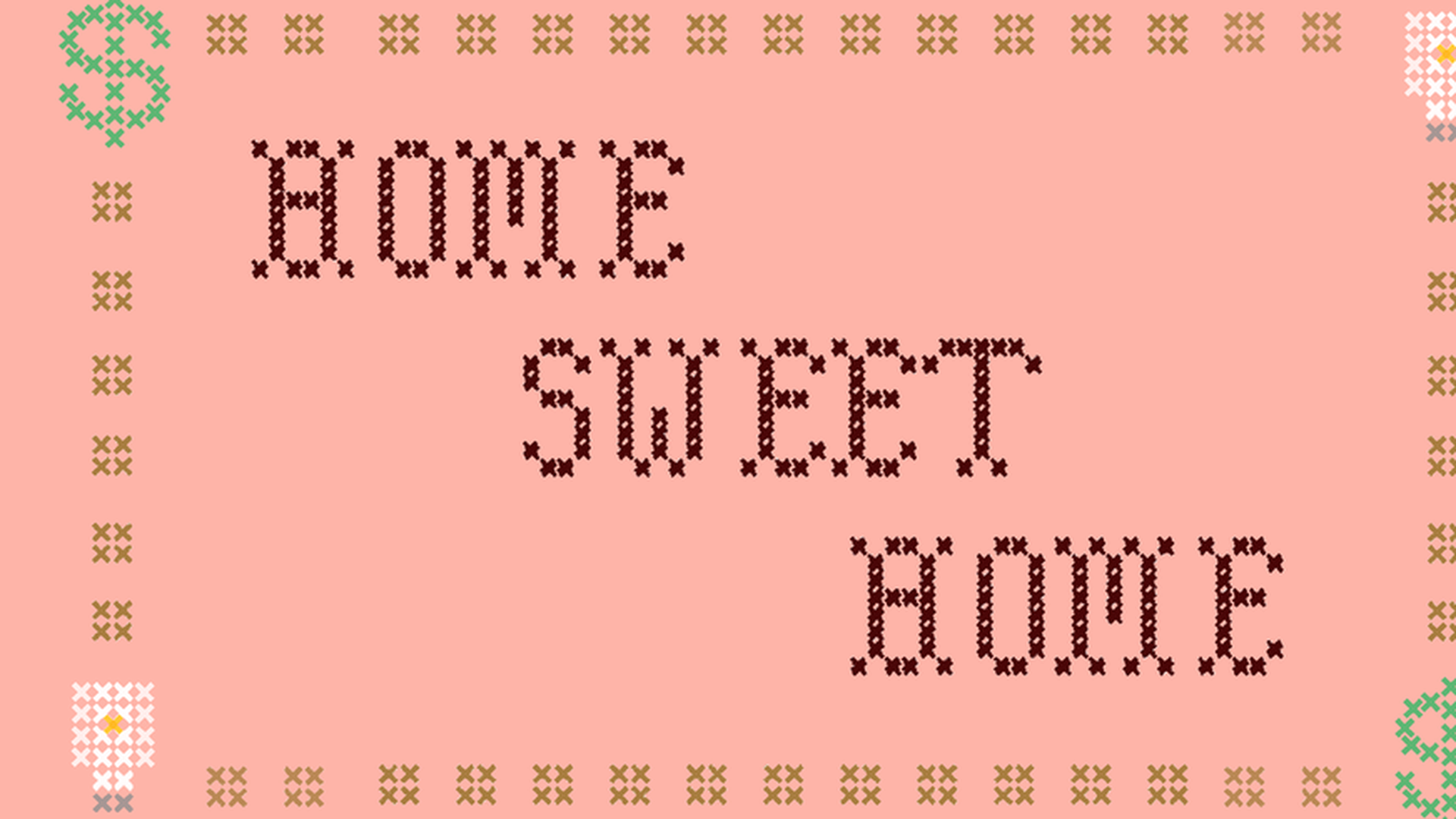 It's no secret that many Midwestern cities have lost population as jobs have evaporated in recent decades. But while traveling through four cities last week, my colleague Kim Hart heard a surprising number of people talking about the opposite: the younger generation coming back home.
Why it matters: Over the last three or so decades, many young graduates left their home towns for larger cities like San Francisco, New York and Chicago, creating a brain drain at home. But fast forward seven or eight years, and they get married, look at buying a house, think about starting a family — and want the lifestyle they grew up with.
Here are some of the people Kim spoke with:
Jesse Vollmar grew up on a farm in rural Michigan. His farm management software startup, FarmLogs, raised funding through the Y Combinator program in San Francisco, so he moved there. But all his customers were Midwestern farmers. "Every time we wanted to get in front of a customer, we had to get on a plane," he said. So he moved his company to Ann Arbor in Michigan. As a result, "we've gained more trust with customers. ... We're not seen as some technology company from Silicon Valley telling them how to run their business."
Michigan native Nathan Labenz graduated from Harvard, then moved to New York and on to San Francisco to start his company Waymark, which creates automated video ads. He was surprised when he read about Twitter opening an office in Detroit, and decided to make the move back. He lost a few investors in the process — " few people thought it was weird," he said. But he doesn't regret the decision. "It was the right move."
Haley Altman moved from Indianapolis to San Francisco to work at the law firm Wilson Sonsini. She moved back a few years ago and left an equity partner position at the firm to start her company Doxly, a legal transaction management platform. "This is where my family is, and it's where I want to raise my family," she said.
https://www.axios.com/newsletters/axios-future-07f2be55-be8a-4bc9-b90a-13cd24a77868.html?chunk=2#story2
3. Bonus video: Axios' Hart talks about tech in the Midwest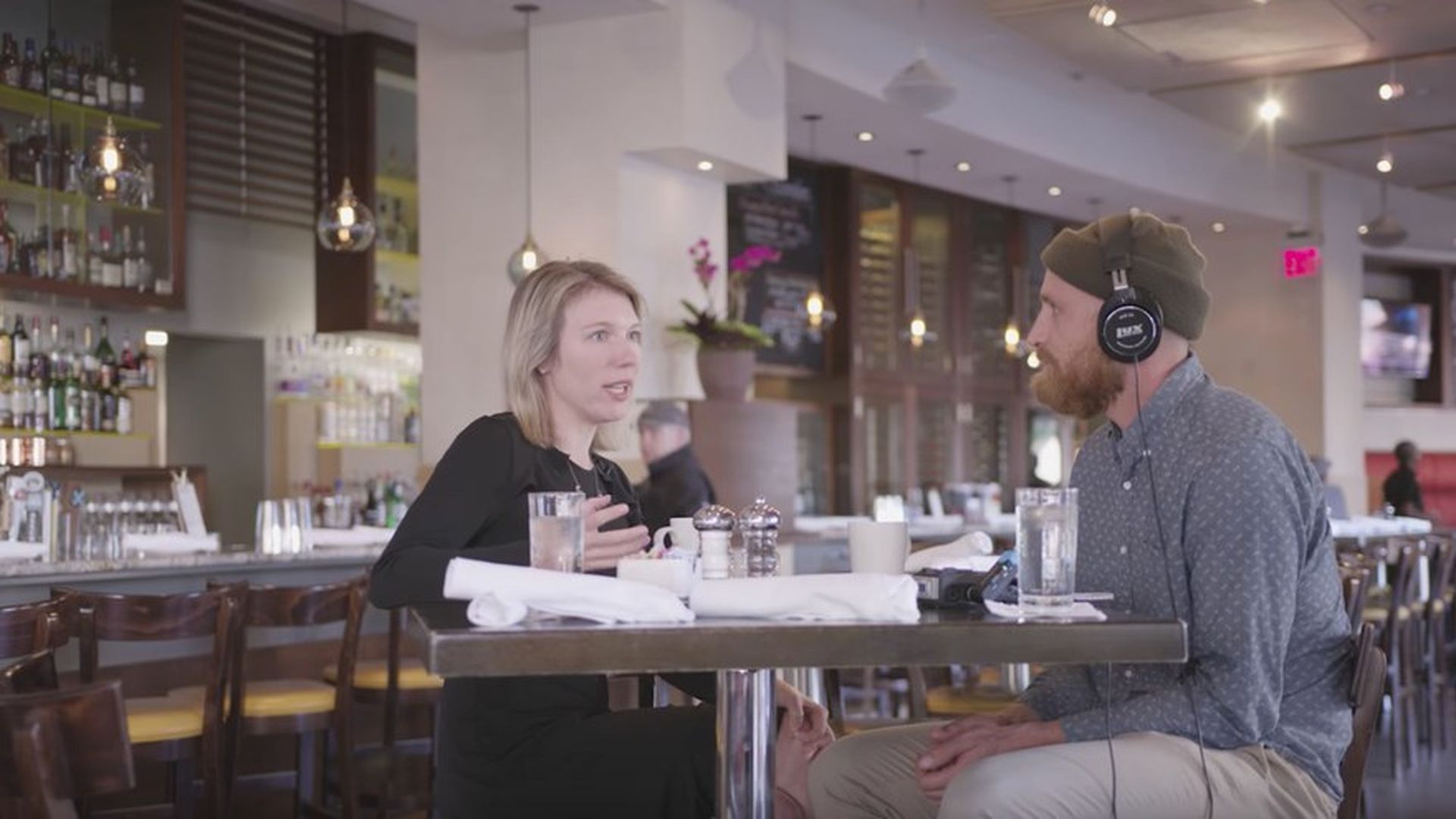 Watch Kim speak with the Axios video team about her trip across the Midwest with Steve Case. Case, CEO of Revolution, the VC firm, has taken several "Rise of the Rest" tours over the past three years to highlight innovation in cities that are typically overlooked by venture capital investors. Revolution itself focuses on companies in non-traditional tech hubs between the coasts.
https://www.axios.com/newsletters/axios-future-07f2be55-be8a-4bc9-b90a-13cd24a77868.html?chunk=3#story3
4. Life in the warehouse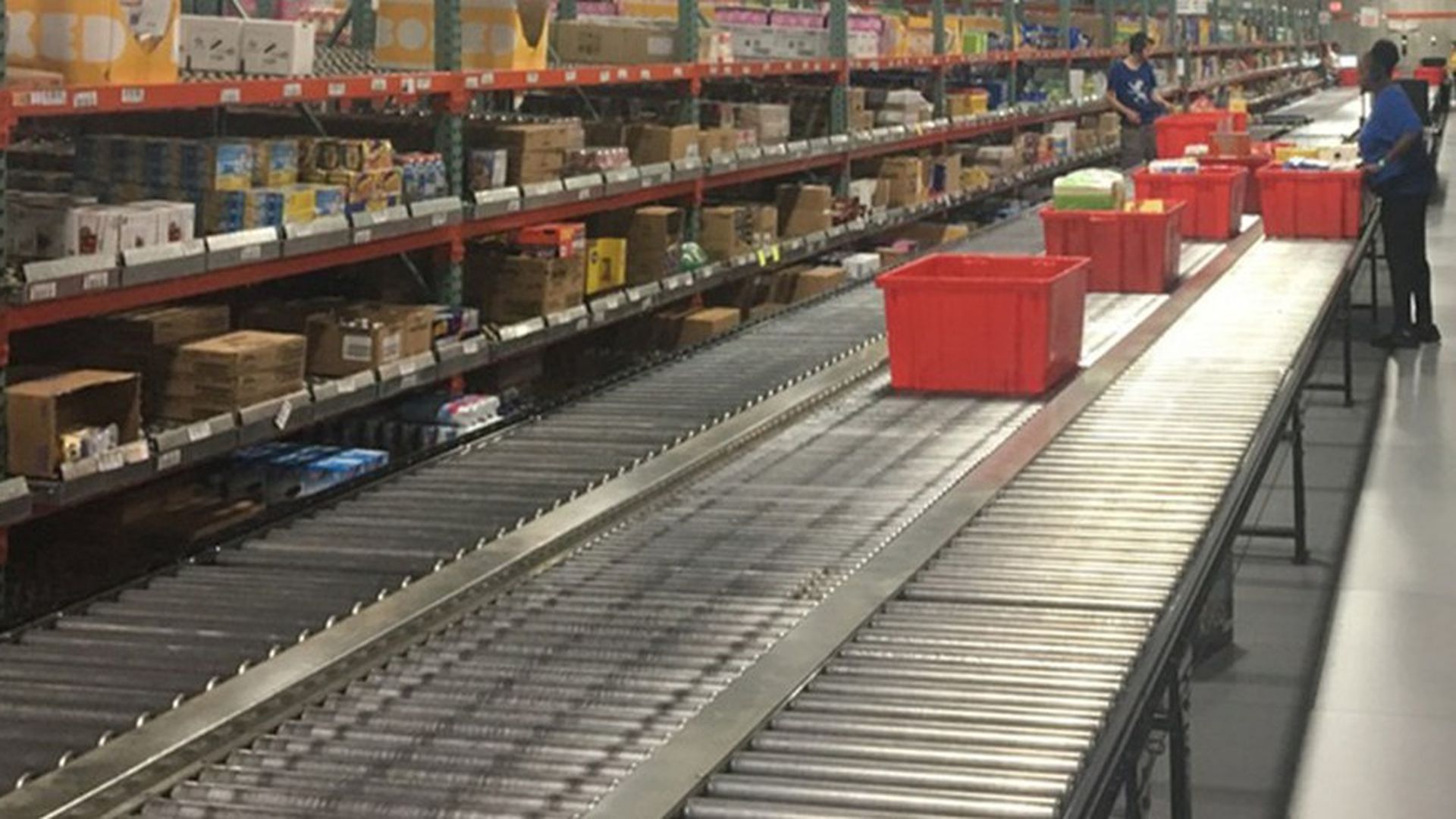 At Boxed headquarters in Union City, NJ, you'll find lighthearted employees working right alongside an automated picking machine that retrieves items without human help, and two miles of conveyor belts that move items faster than people can possibly do so. The online retailer, a competitor of Costco and Sam's Club, has attracted years of fawning publicity for carrying out all this automation at its warehouses without laying off a single employee, and even raising salaries.
The cruel twist: Boxed is shrinking the number of added workers required for expansion — one executive told my colleague Chris Matthews that to triple business at the warehouse, he'll only need to hire 33% more labor. That aligns with an axiom of automation — that jobs offering the best chance of rising pay are usually in industries that are growing and at the same time adding labor-saving technologies, before the number of jobs eventually declines.
To meet demand, Boxed CEO Chieh Huang says he must add both technology and workers. And Boxed may end up being an outlier to the larger trends — after all, Amazon, too, is reporting big hiring plans even while automating aggressively.
But the bigger picture is a process that is disruptive to workers' lives. "We find that industry-level employment robustly falls as industry productivity rises, implying that technically progressive sectors tend to shrink," writes MIT's David Autor, who examined 19 countries over 35 years, and showed that automation doesn't kill overall employment, but reduces jobs within automating sectors.
https://www.axios.com/newsletters/axios-future-07f2be55-be8a-4bc9-b90a-13cd24a77868.html?chunk=4#story4
5. Worthy of your time
https://www.axios.com/newsletters/axios-future-07f2be55-be8a-4bc9-b90a-13cd24a77868.html?chunk=5#story5
6. 1 singular thing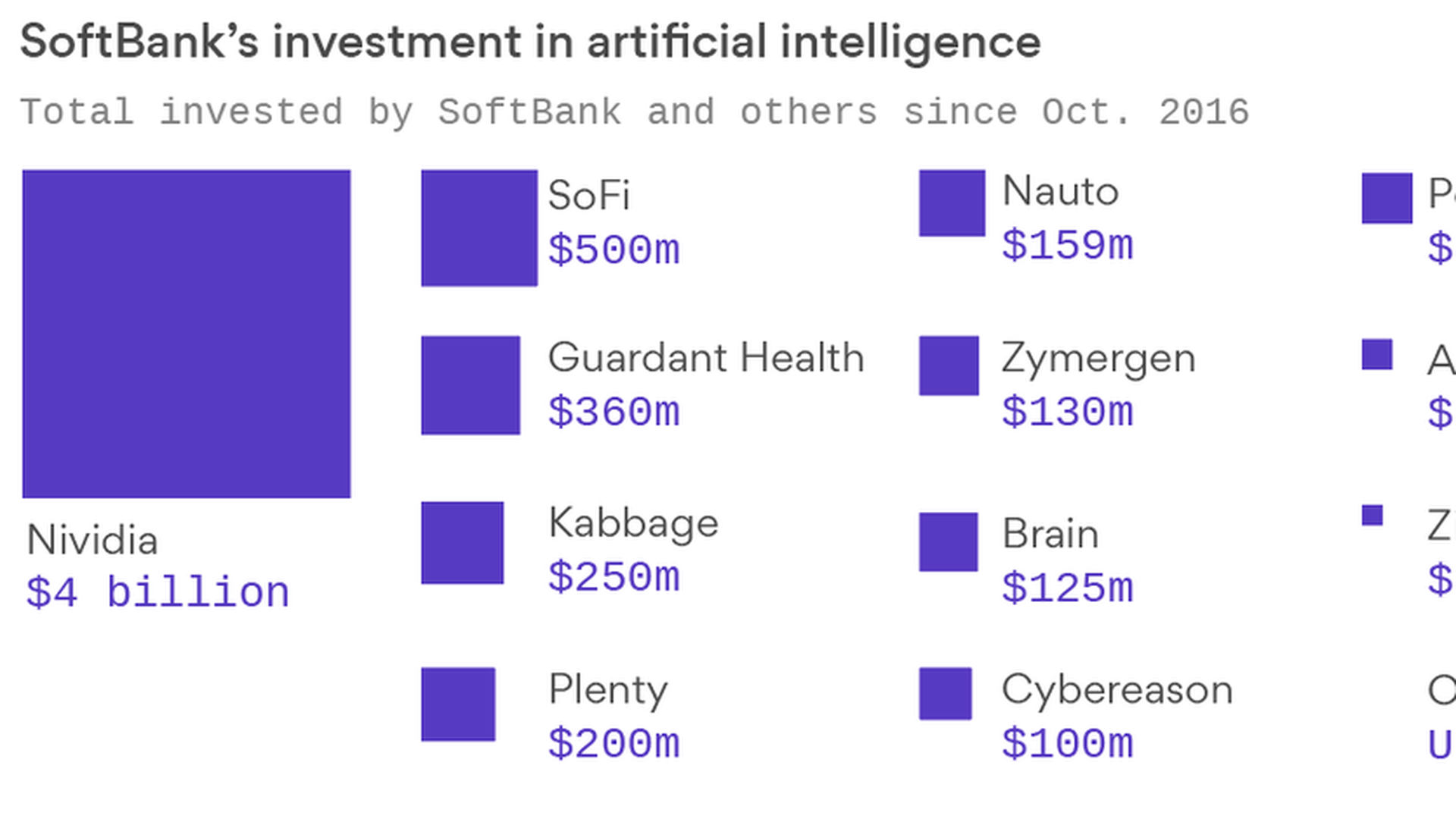 In a Sept. 20 speech in New York, Masayoshi Son, founder of the Tokyo company SoftBank, forecast that by 2047, the Earth will be populated by an equivalent number of humans and robots — 10 billion each. And the robots, he said, will be "smarter than mankind." Over the last year, Son has been investing in that moment, which the tech community calls the "singularity."
Son's objective: When it comes to artificial intelligence, Son appears to intend to be every bit as big or bigger commercially than the U.S. and Chinese tech titans otherwise believed to be dominating AI research — Alibaba, Facebook, Google, Microsoft, Tencent, and so on. Toward that aim, Son's $93 billion Vision Fund has put down large investments in at least a dozen promising AI startups (chart above).
Looking for outright acquisitions: Son also has been vacuuming up companies. In June, he acquired two serious robotics companies — Boston Dynamics and Schaft — for undisclosed sums. "What is my belief and vision for this investment? I have only one belief — [the] singularity," he said in New York.